Crochet Bee
This post may contain referral/affiliate links. Please read my disclosure for more info.
I love him. This crochet bee, that is! Isn't he cute? I had so much fun crocheting him.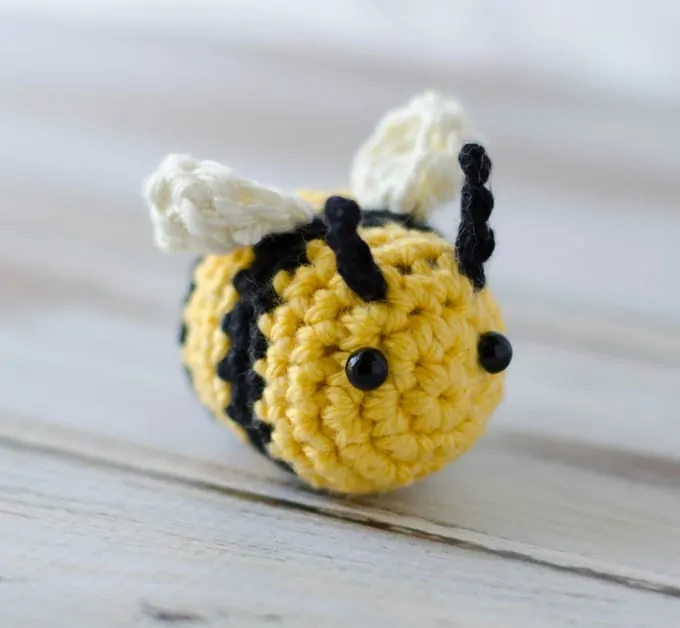 I've added some fun touches to make this guy just right and I think you'll enjoy this crochet bee pattern as much as I do!
What is it about bees? A real bee? Yeah. No, thank you. I stay out of their way. But an adorable drawing of a bee, a bee in a logo or on a sign, or a stuffed toy? Yeah. I love that! There's something about that high contrast of yellow and black that oozes cuteness.
And this little guy.. this crochet bee? Yep. He stole a little piece of my heart, I think. He's a little guy. He'll fit right into your hand. And I can almost imagine a little one zooming him off to great adventures!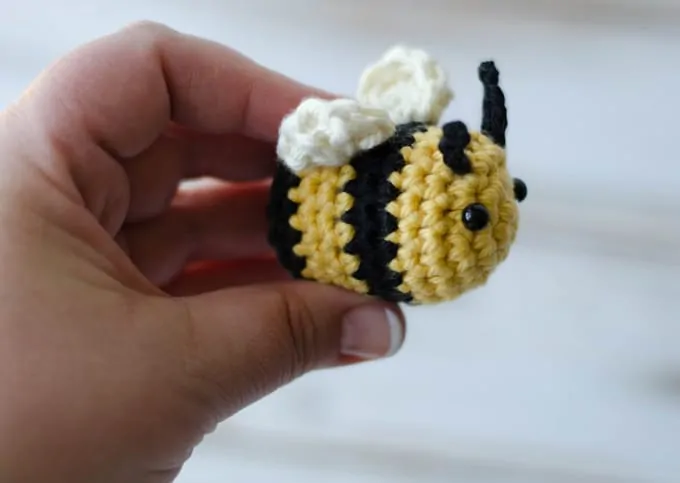 This fun bumblebee design is very quick and easy to make. You'll have one done in an evening. I made my guy out of Hobby Lobby's 'I Love This Cotton' yarn. This crochet bee would also work up nice in an acrylic or wool worsted weight yarn or even crochet thread for a mini bee.
For a bigger amigurumi bee, try working the pattern in chunky yarn or jumbo-sized chenille yarn. Just be sure to choose a crochet hook appropriate for the size yarn you choose. You'll also need larger sized plastic safety eyes and, of course, more yarn and fiberfill stuffing.
This popular crochet bee pattern starts with a magic ring and uses basic crochet skills such as the chain stitch, single crochet stitch and double crochet stitch. For perfect stripes be sure to read how to crochet a jogless join. And if you haven't tried an single crochet invisible decrease, this is the prefect project to try out the technique!
Crochet Bumble Bee Pattern
Here is what you will need:
Resources and tutorials you may find helpful in following this pattern: Crochet Abbreviations, US to UK Crochet Conversion Chart. Find links to stitches on the "Tutorial" menu: Getting Started will show basic stitches used in many patterns and Crochet Stitch Dictionary shows our growing collection of crochet stitch tutorials.
**Be sure to read how to crochet a jogless join for perfect stripes!**
Size: 2-1/2" long (end to end) by 2" tall (from bottom of belly to tip of wing)
Body
With yellow yarn, make a magic ring
R1: 6 sc into ring (6 sts).
R2: 2 sc in ea st around (12 st)
R3: *sc in next st, 2 sc in next st, repeat from * around (18 st)
R4-5: sc around (18 st) Change to black in very last stitch.
R6-7: With black, sc around. Change to yellow in last stitch
R8-11: With yellow, sc around (18 st) Change to black in last stitch
R12: With black, sc around. (18 st)
Take time out to insert safety eyes. The safety eyes go between rounds 2 & 3 and there are about 7 stitches in between. Refer to photo for placement. Stuff bee body with toy stuffing and continue stuffing as you finish up the body.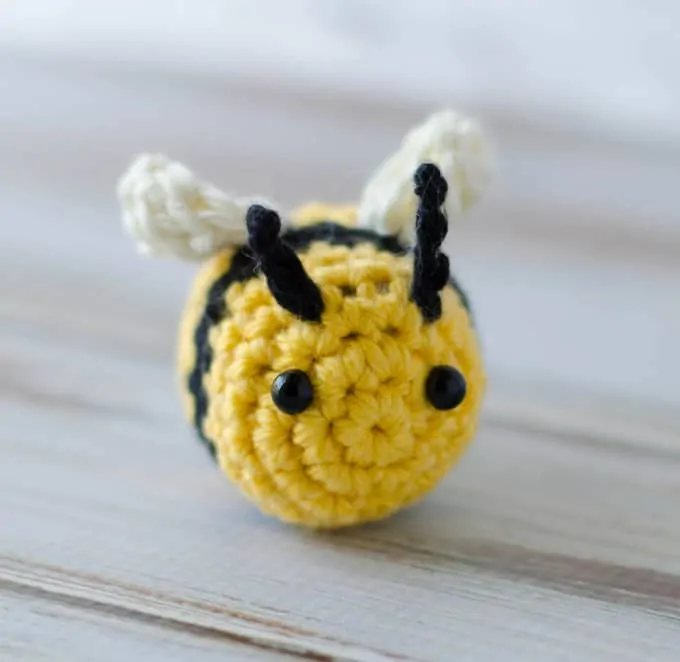 R13: *sc in next st, sc next 2 st together. Repeat from * around (12)
R14: sc next 2 st together (6).
R15: sc next 2 st together (3). Fasten off, leaving a long strand for sewing. Make sure bee is firmly stuffed, then thread the yarn end onto the tapestry needle. Weave opening closed. Fasten off and weave in end.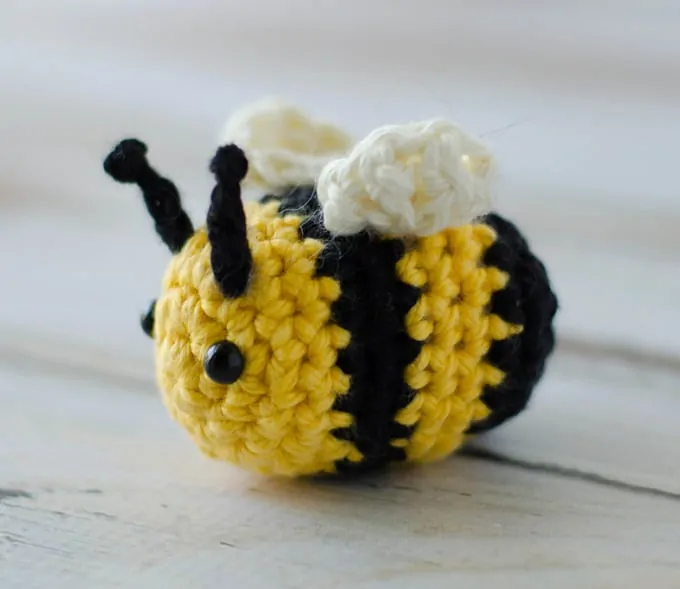 MORE LITTLE CROCHET PATTERNS
If you are loving this bee pattern so far you might also like to check out these other cute patterns:
Related: Small Crochet Projects
Antennae
With black yarn, chain 10. Fasten off, leaving a long end. Take this end and tie a knot very close to the end of the chain. Pull tight and cut yarn close to knot. Carefully take the other end (the one without the knot) and pull it through the head and stuffing. Pull out enough so that it looks like there are 2 antennae sticking out from the bee's head. There are about 3 stitches in between the antennae and they are located right above the eyes.

When you are satisfied with the antennae placement, carefully make a knot close to the opposite end of the chain and cut yarn close.

Wings (make 2)
The wings are made by making a magic ring and working several stitches into the magic ring as follows:
With ivory color yarn, make a magic ring.
R1: Inside the ring, work the following: sc, hdc, dc, 3 tr, dc, hdc, sc. Cut yarn, leaving some length for sewing, using an invisible join, attach the end and start of the wing together. Weave in end to make join secure, then sew the wing onto the top of the body. Repeat for the 2nd wing.
Take a moment to adore your Crochet Bee Plush Amigurumi! Love him so much! You just might want to fill up a whole crochet beehive with them! Am I right?
Explore More Crochet Patterns
Do you love crochet as much as I do? I think you're going to love these other fun crochet patterns:
If you're game for a little crochet amigurumi kit you might enjoy my Woobles review too! So fun!
I love seeing your finished projects! If you enjoyed making the Crochet Bee toy pattern I'd love to see yours on Instagram, be sure to tag me @crochet365knittoo. If you are on Facebook, stop over to the Crochet 365 Knit Too Facebook page or pop over to the Crochet365KnitToo Club and share a photo! I'd love to see your work!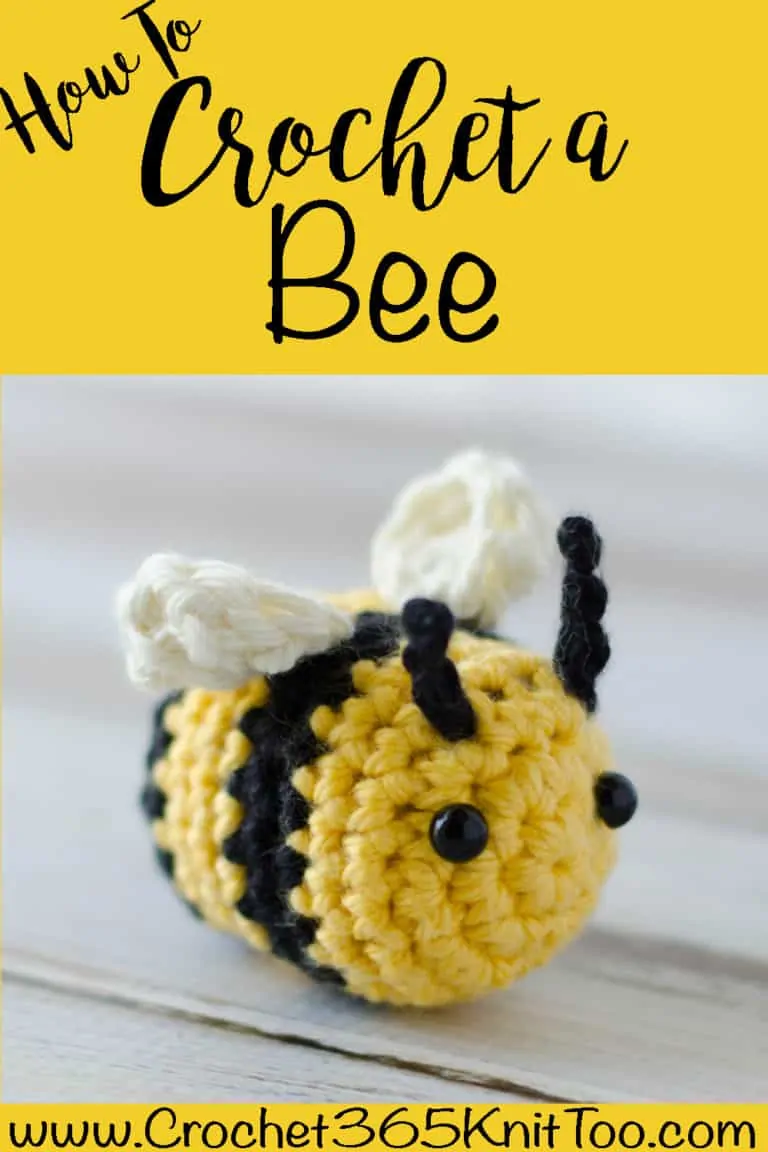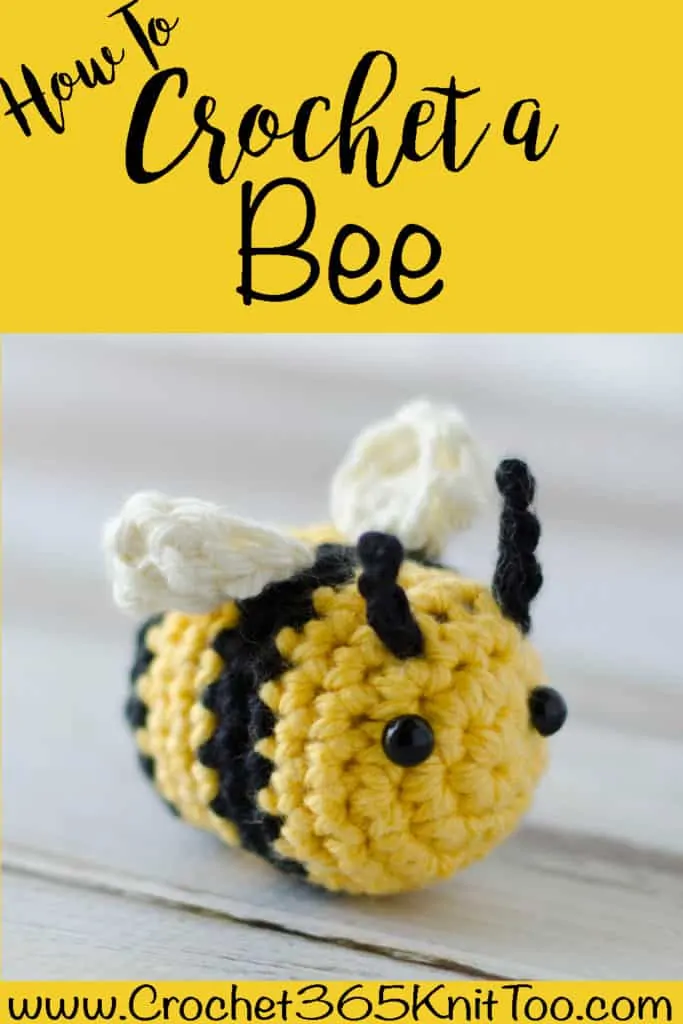 SaveSave
SaveSave
SaveSave
SaveSave
SaveSave
SaveSave
SaveSave
SaveSave
SaveSave