Crochet Gnome: Perfect Makes for Any Season
This post may contain referral/affiliate links. Please read my disclosure for more info.
Is the reason we love a crochet gnome because of the outdoor decorations, or did someone in your life happen to mention Gnomeo and Juliet one too many times in your presence?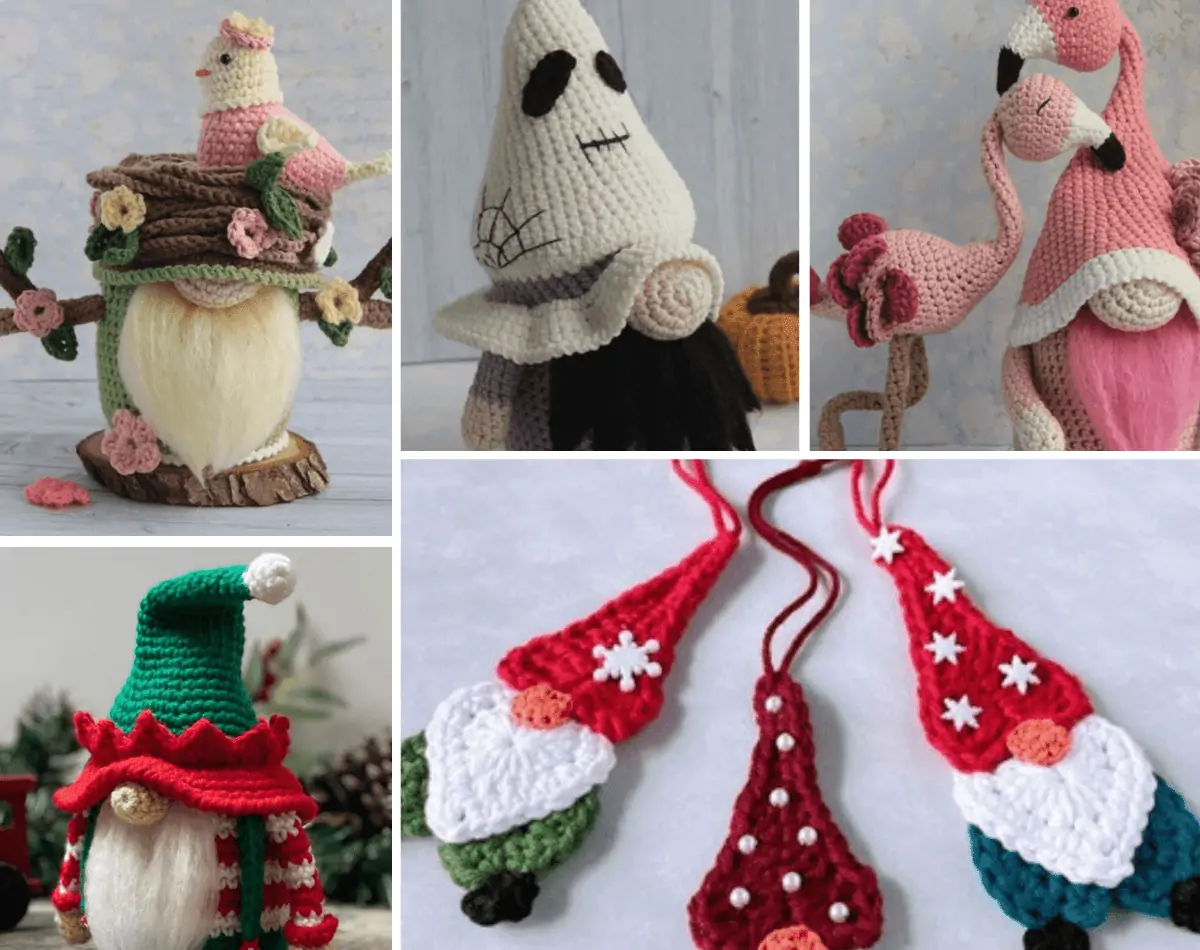 Whatever the case, these crochet gnomes are guaranteed to win over your heart and have you wanting to grab your yarn and hook to start crocheting away.
If you're like me, your crocheting plans are influenced by the season (or sometimes, what season you wish it could be). For this crochet gnome pattern collection, I've done the leg work to break it up into seasons and bring you the best crochet gnomes I can find so you have to look no further to find exactly what you're in the mood for.
Most of these patterns use a variety of basic crochet stitches, so make sure that you know how to work a single crochet stitch, double crochet stitch, and slip stitch (sl st) before you start these adorable patterns.
Spring Gnomes
Oh Spring, the season of flowers and warm temperatures here in Michigan. I love to see more florals in my crocheting as soon as the weather starts to warm up and these gnome patterns are no different.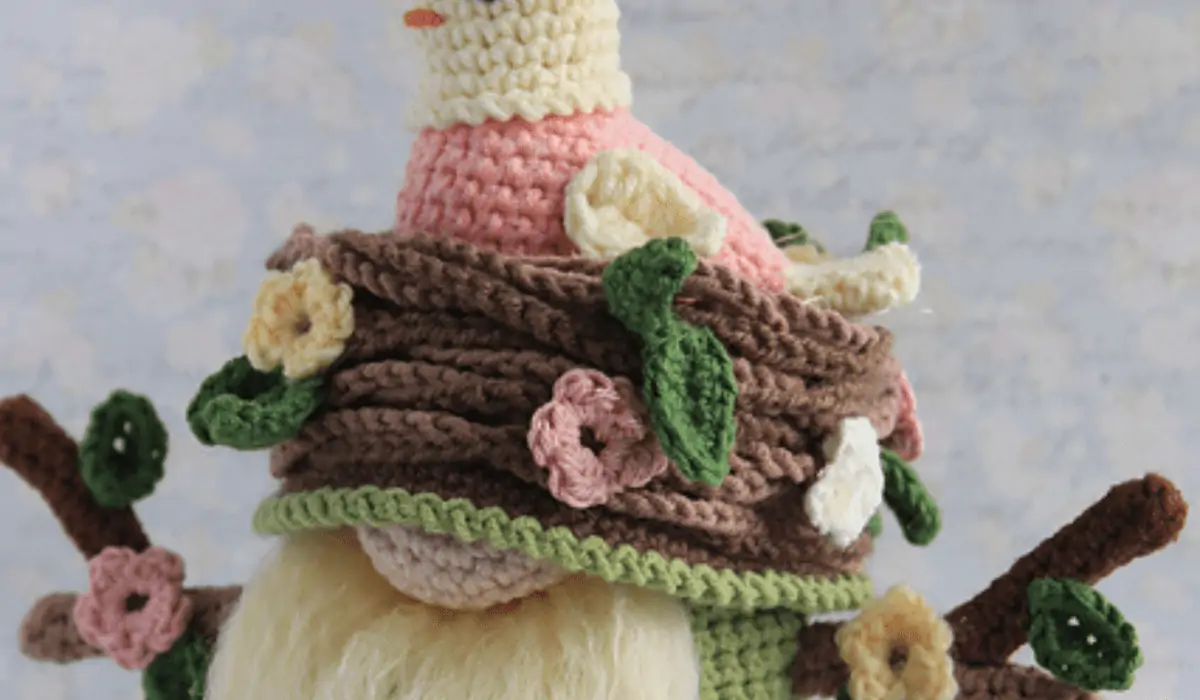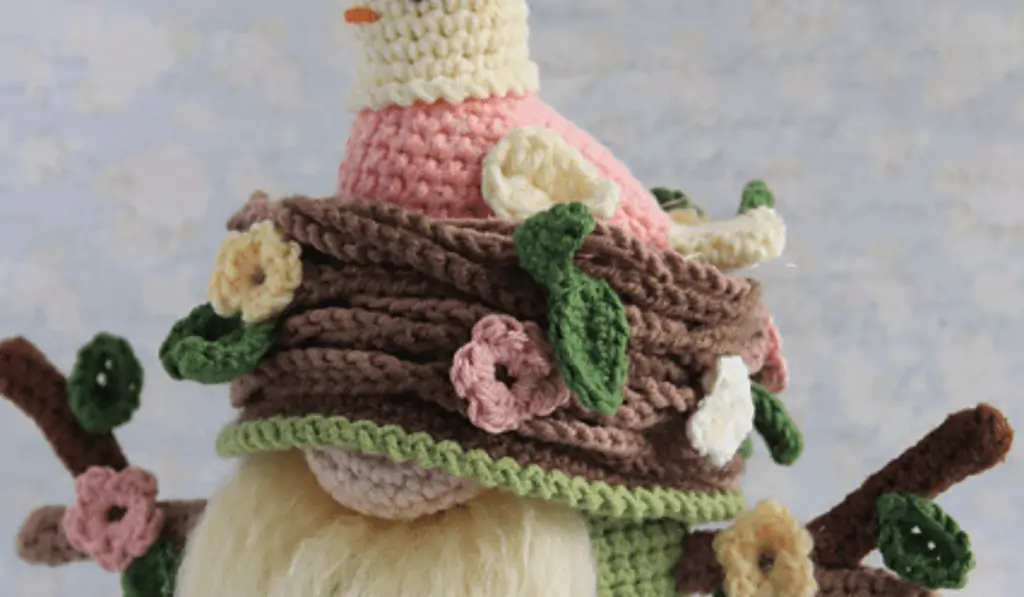 Bird nests just scream springtime to me. This floral gnome crochet pattern from PamPino Store is absolutely adorable. Maybe it's something about the way this cutie brings out so many different tree elements, I am not sure. But whatever it is that I love so much, this beauty would be a beautiful feature of anyone's spring decor.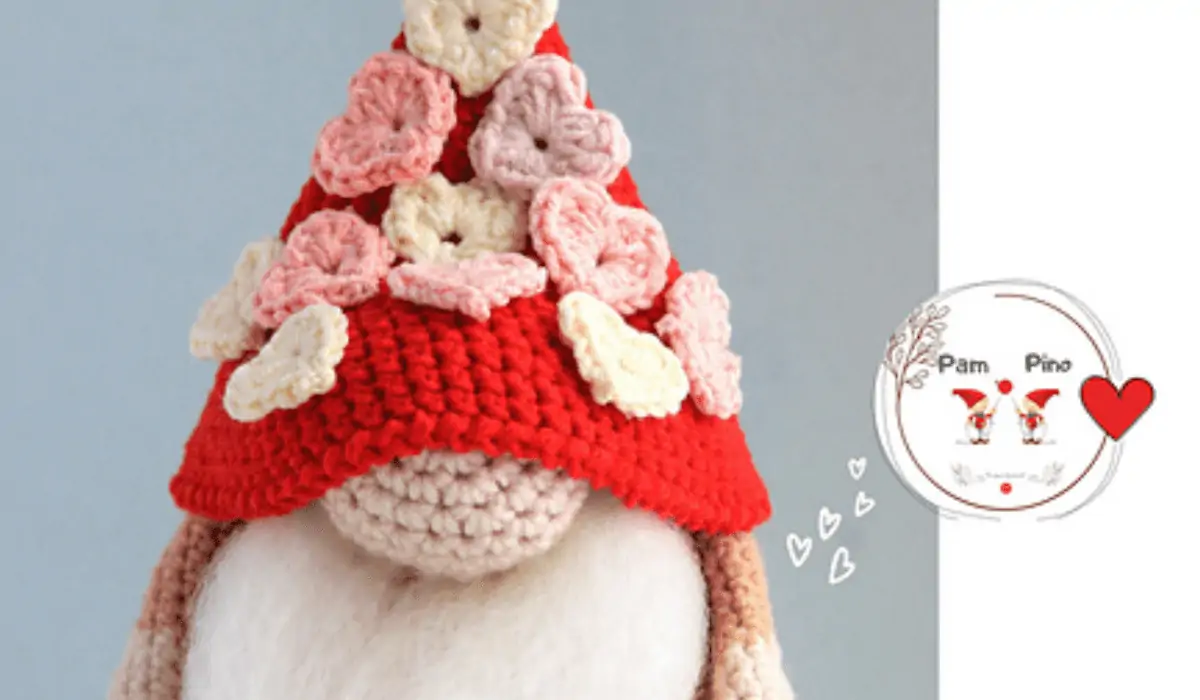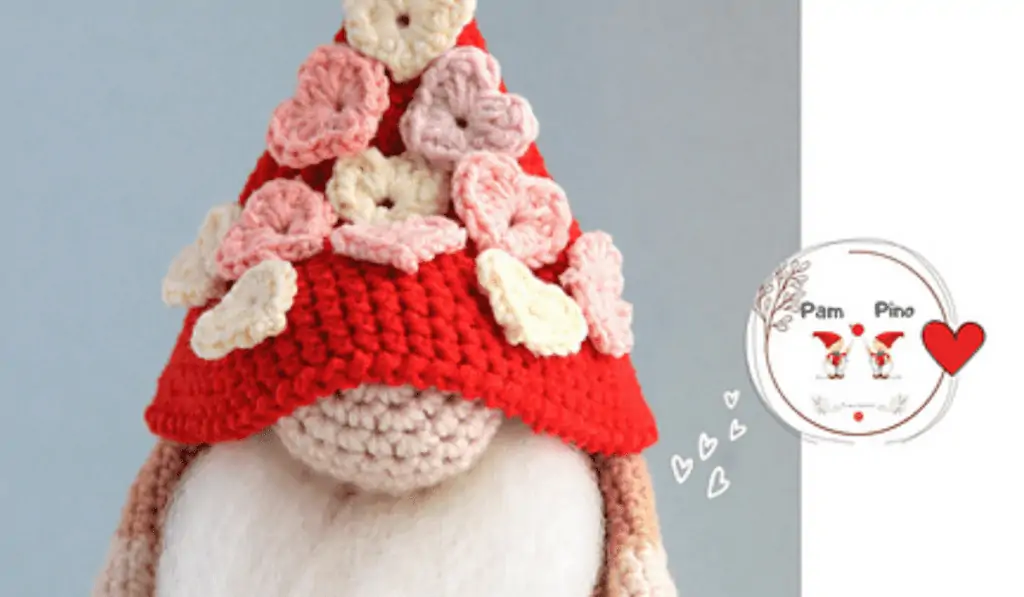 Valentine's day has all of our hearts, I am sure. Whoever you're giving your heart to this year, they're absolutely sure to adore PamPino Store's loveable heart crochet gnome! Even if you are just making this for yourself, I am sure your hook is itching for this one.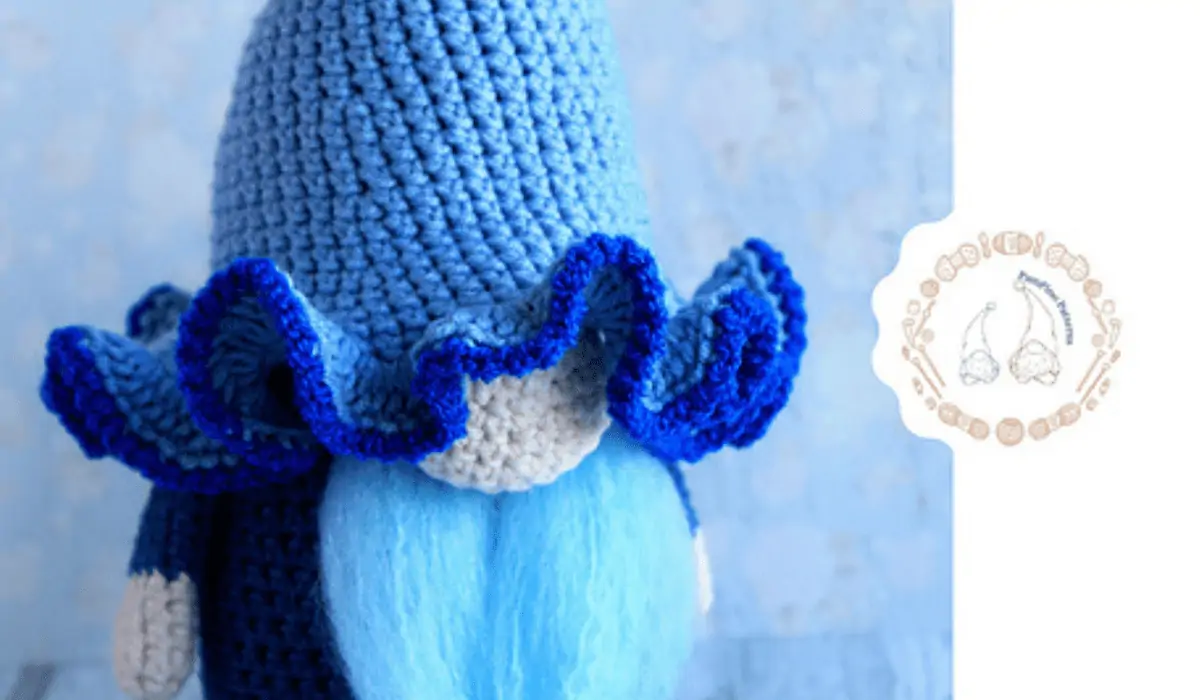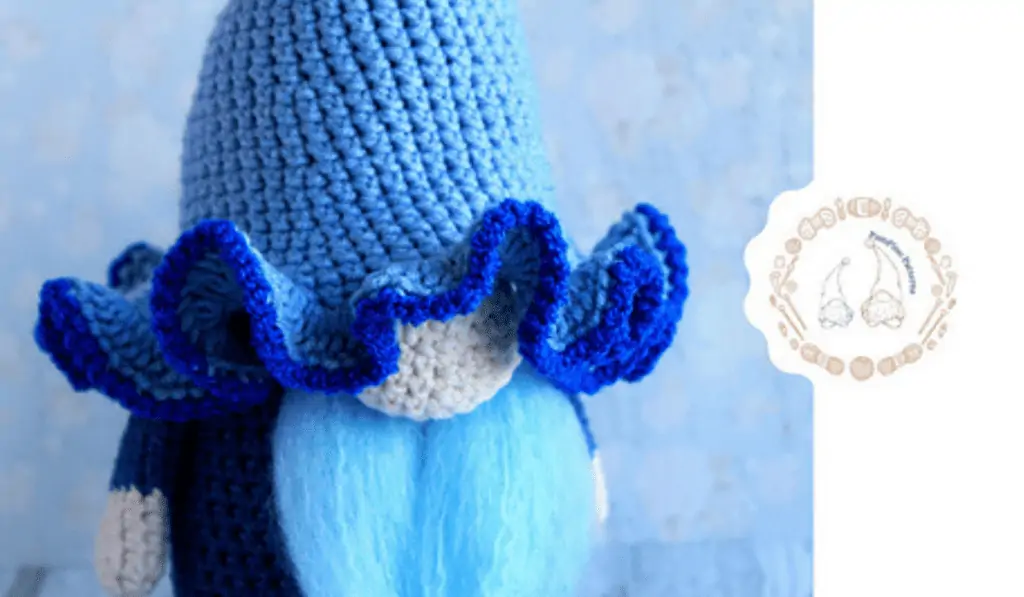 I am loving this blue monochromatic crochet gnome pattern by PamPino Store! Using the flower as the gnome's hat is such a fun way to incorporate this beautiful blue bell. Classic blue may have been the color of the year for 2020, but it's truly the color of the year every year in my heart.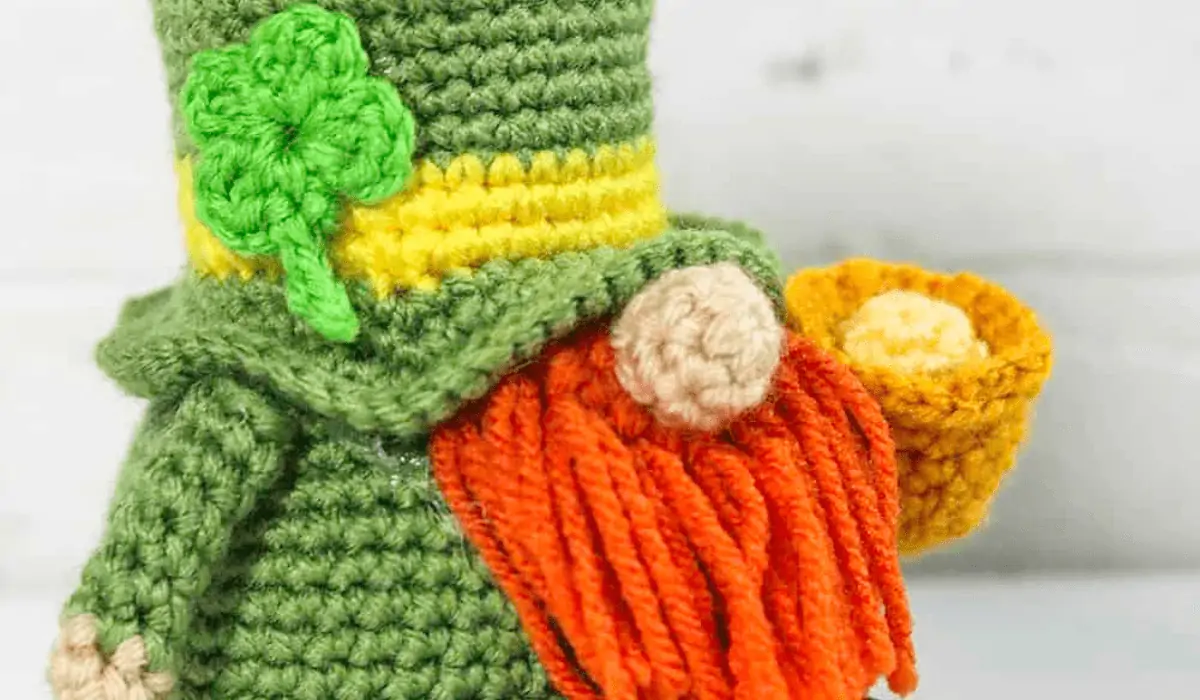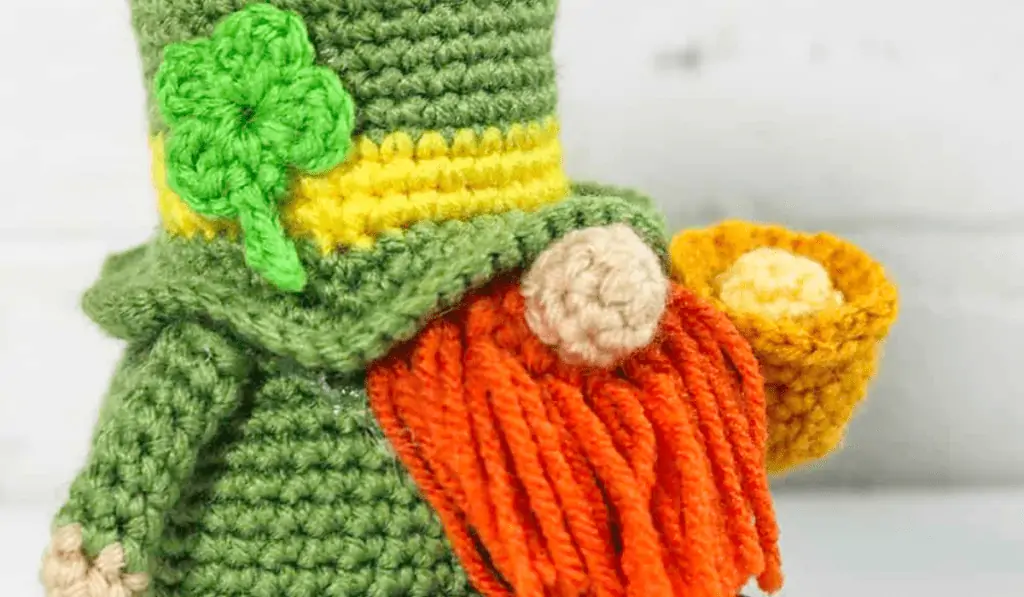 Feeling lucky? Well, you will once you make yourself one of Winding Road Crochet's leprechaun gnomes! This free crochet pattern is so green and festive with that adorable little shamrock. Fun fact, there actually is a leprechaun museum over in Dublin, Ireland. So maybe make a few of these crochet gnomes and take some cute pictures? Just an idea. Whatever you do with these cuties, you'll never regret them.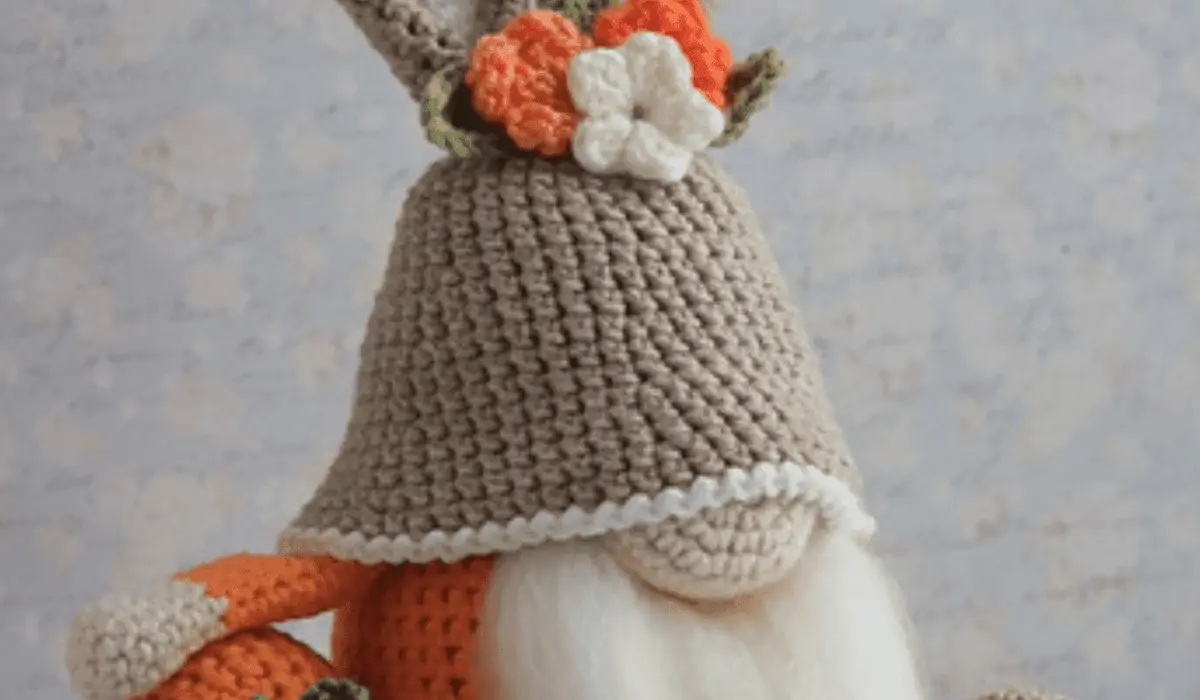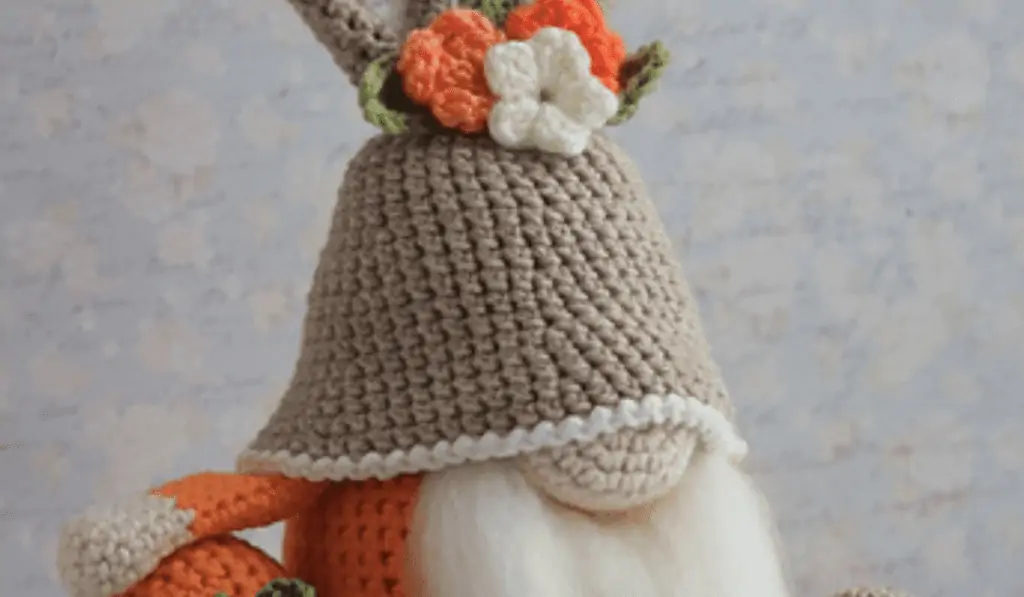 Who wouldn't want this cute bunny crochet gnome decorating your house during the Easter season? PamPino Store even includes a carrot to complete the look. The bright orange yarn is a delightful compliment to the light brown yarn of the bunny ears. Also, can we talk about the stitch of the leaves on the carrots? How cute!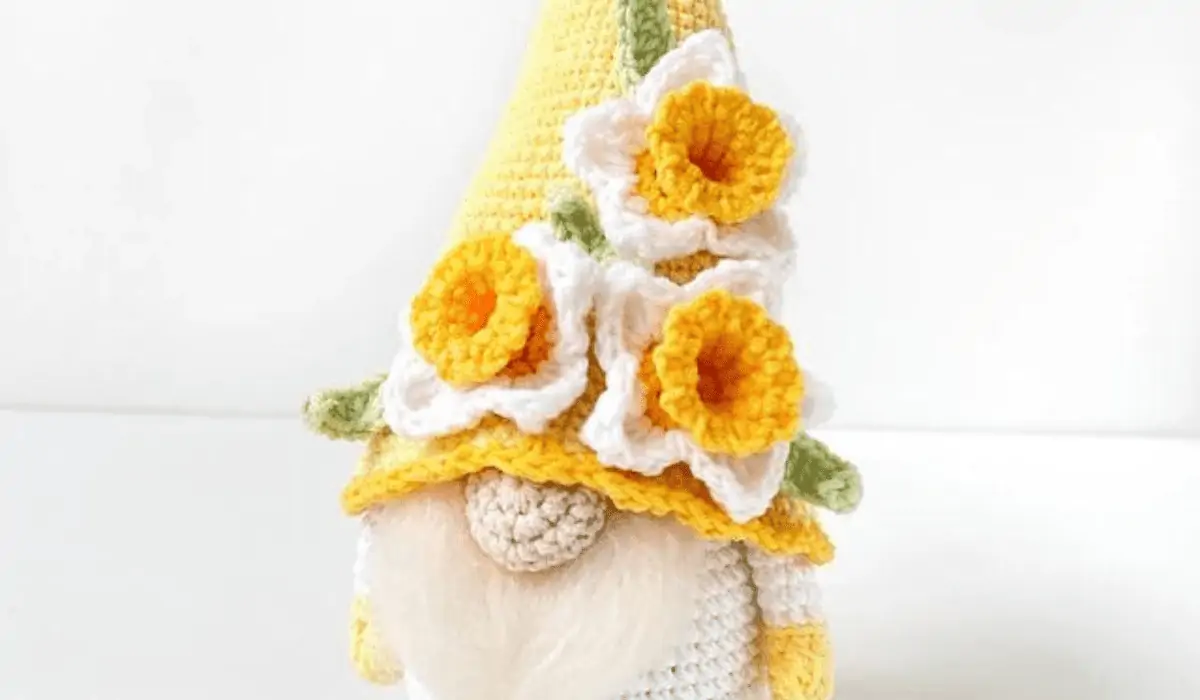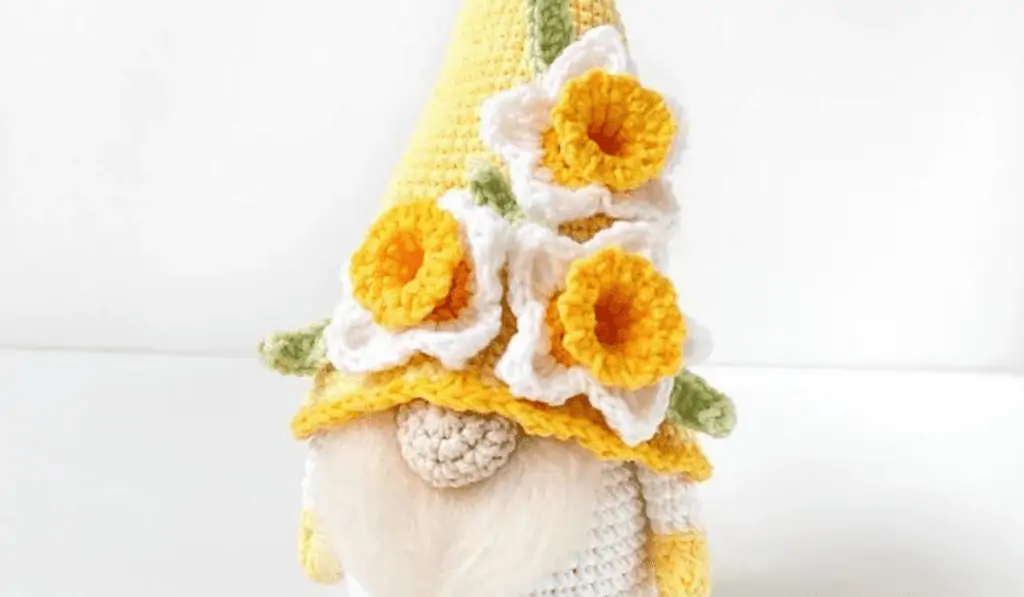 Doesn't this yellow just make you smile? I love these flowers Happy Dolls Handmade put on the gnome's hat! So much beautiful detail. I'm sure that just looking at those flowers has you itching to grab your crochet hook and get to work.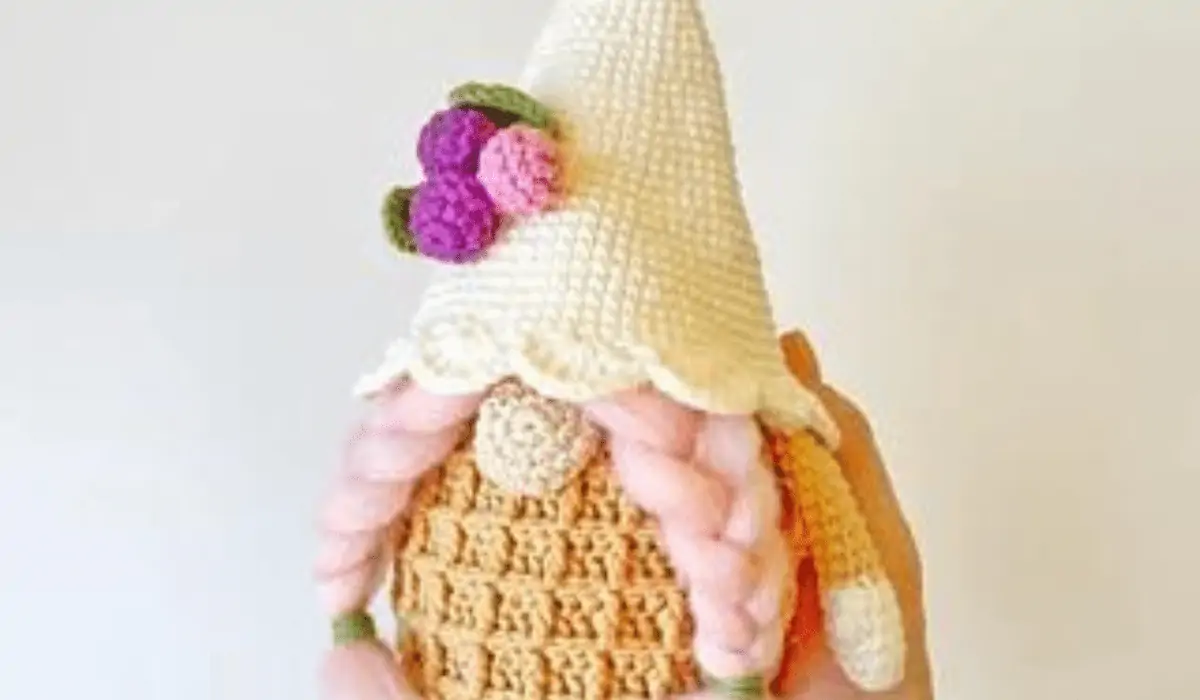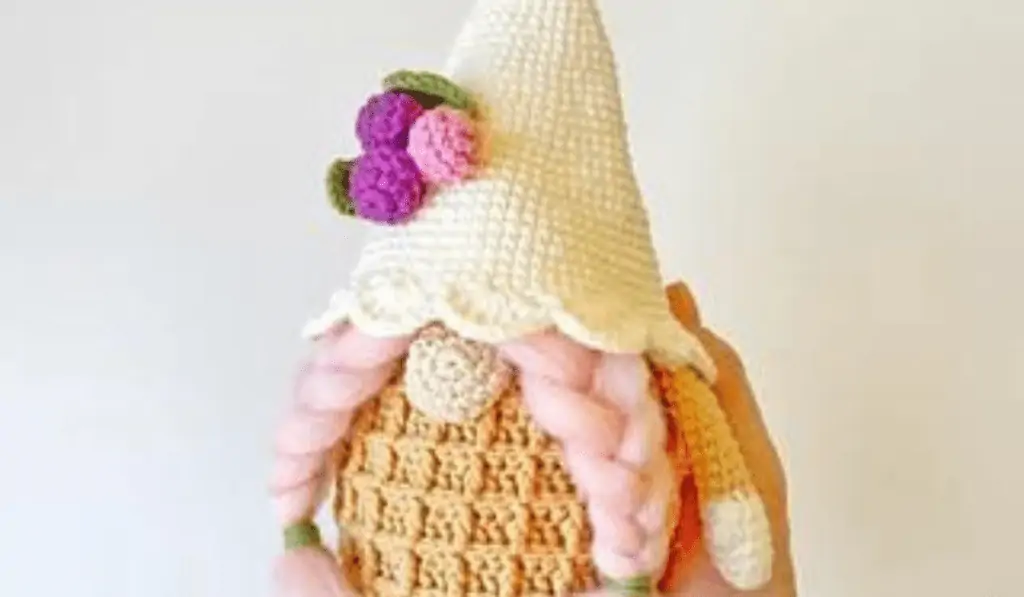 With the waffle stitch, this crochet gnome by Happy Dolls Handmade looks almost like a delicious ice cream cone. The beige yarn of the cone is absolutely adorable, especially paired with the pink of the gnome's hair. Plus, no one can say no to ice cream.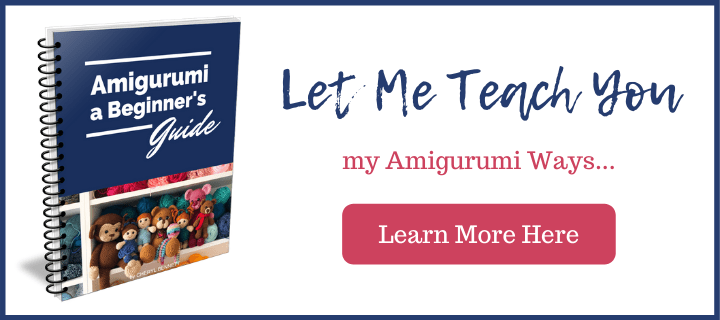 Summer Gnomes
Oh, Summer! The season where we grab the suntan lotion and head to the beach. While you're waiting for your summer vacation to start, grab your hook and yarn so you can start going over your vacation plans as well as make some of these beauties to add to your home.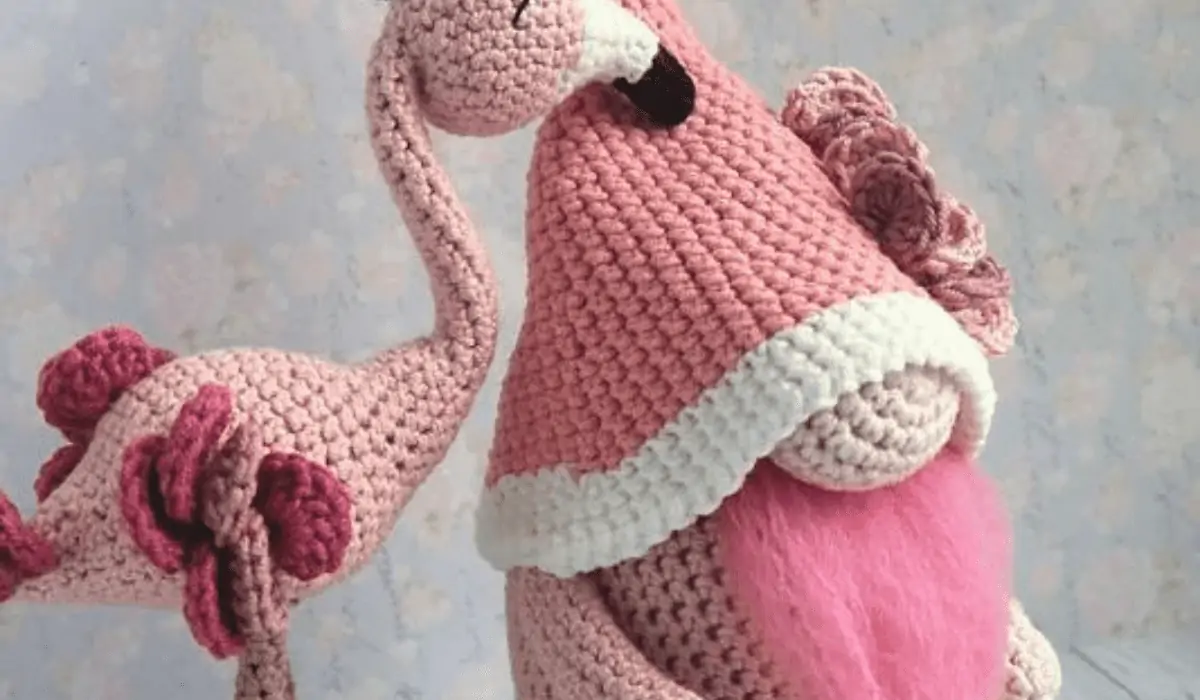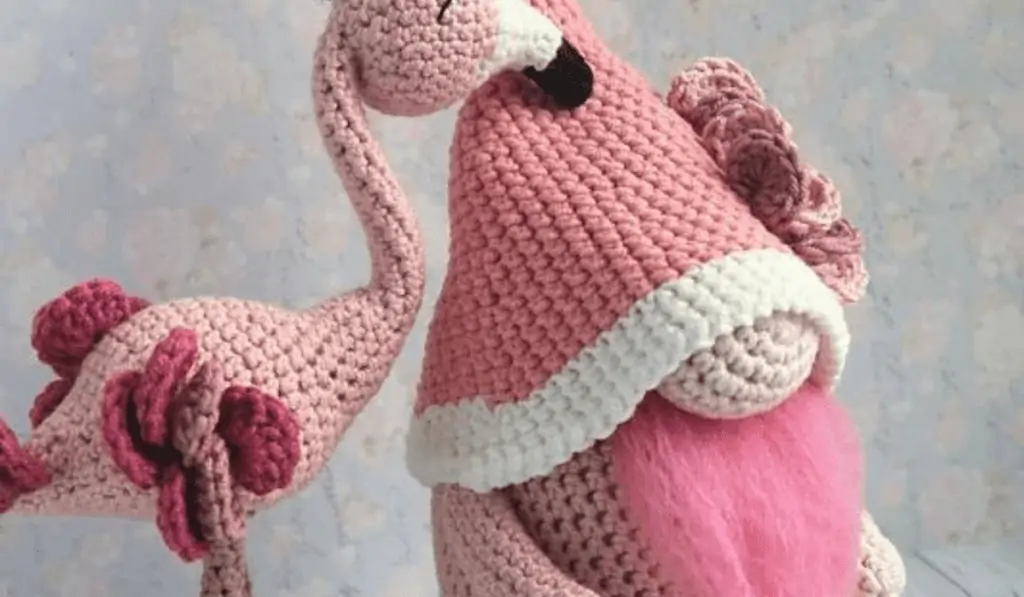 Two is better than one, especially when it comes to this monochromatic moment. I love that PamPino Store's crochet gnome has a flamingo head for a hat. This pink yarn is so beautiful, it's definitely putting me in a summer mood already.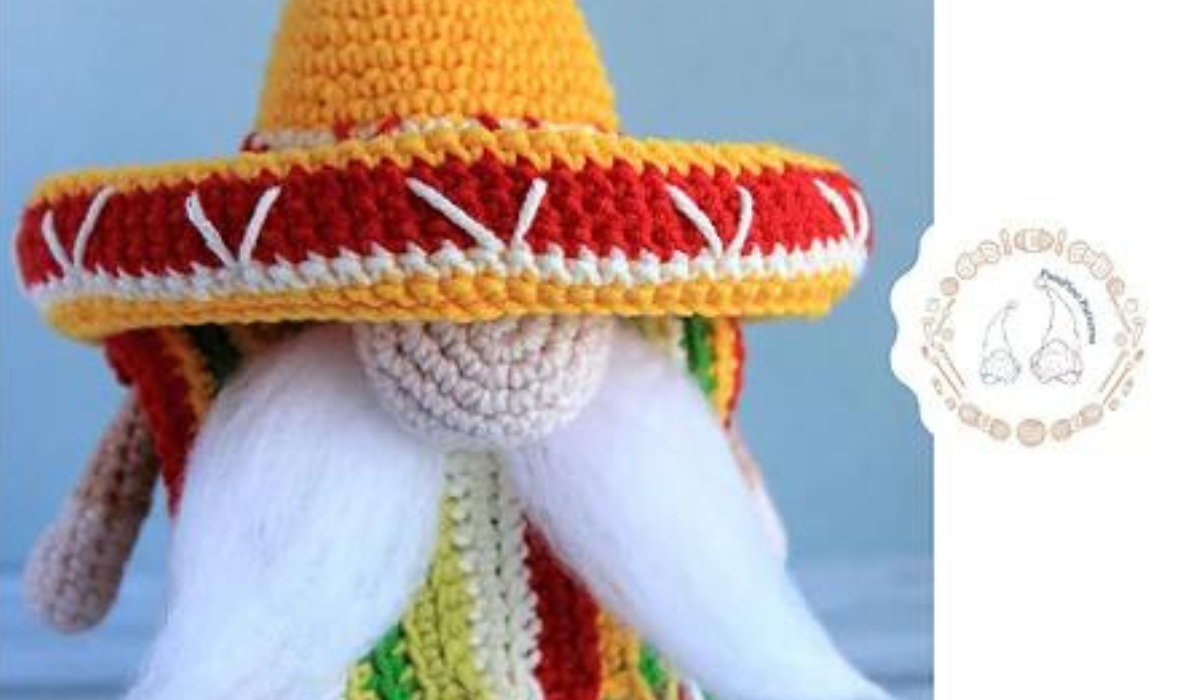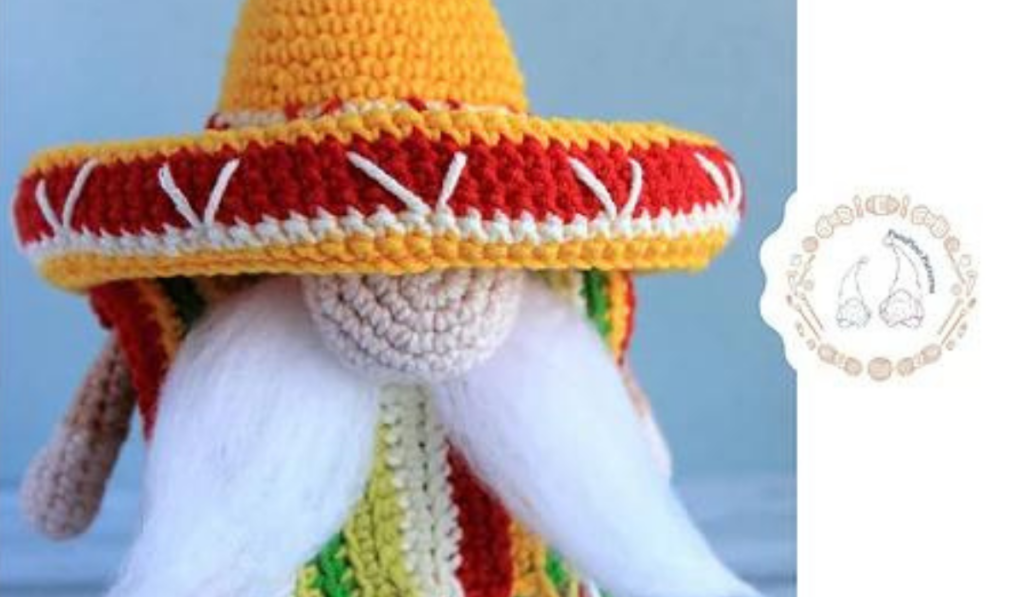 Looking for some crochet decor for Cinco de Mayo? Look no further! PamPino Store has the cutest little Mexican gnome I've ever seen. Plus, this is a pattern where you could change up the yarn colors of the pancho if you wanted and add different colors from your home to tie him in.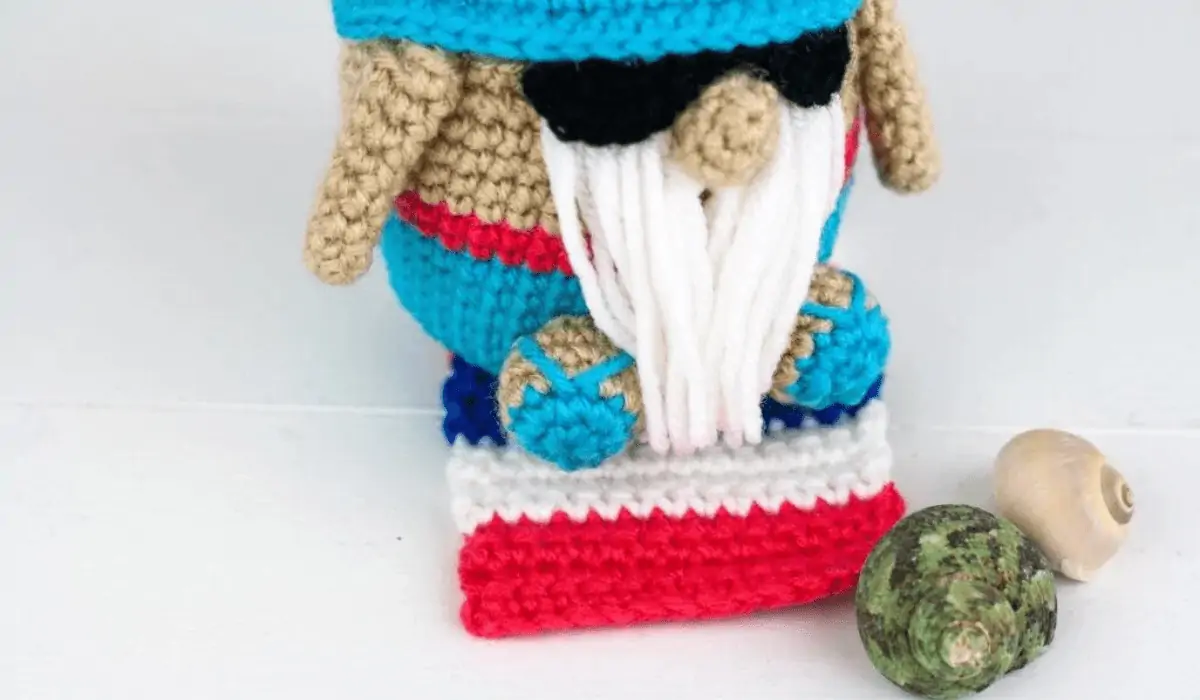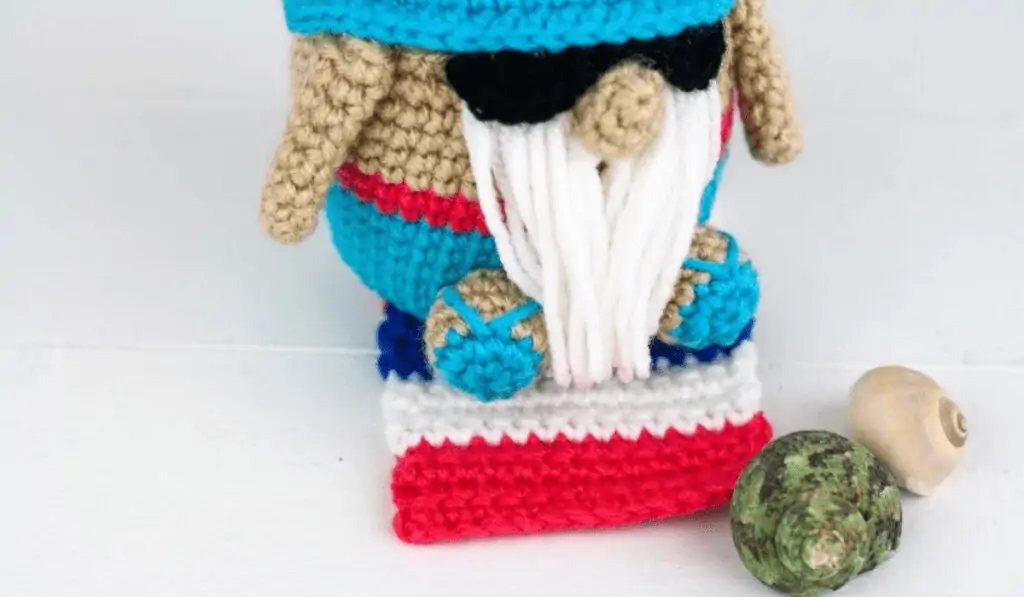 This guy from Winding Road Crochet will have you begging for a beach day! Those crochet gnome flip-flops just crack me up. Make sure you make the beach towel for this little guy so he can get all the Vitamin D he could possibly need. Maybe the best news of all, this is a free pattern! So, let your friends know so that they can enjoy a cute free crochet pattern too.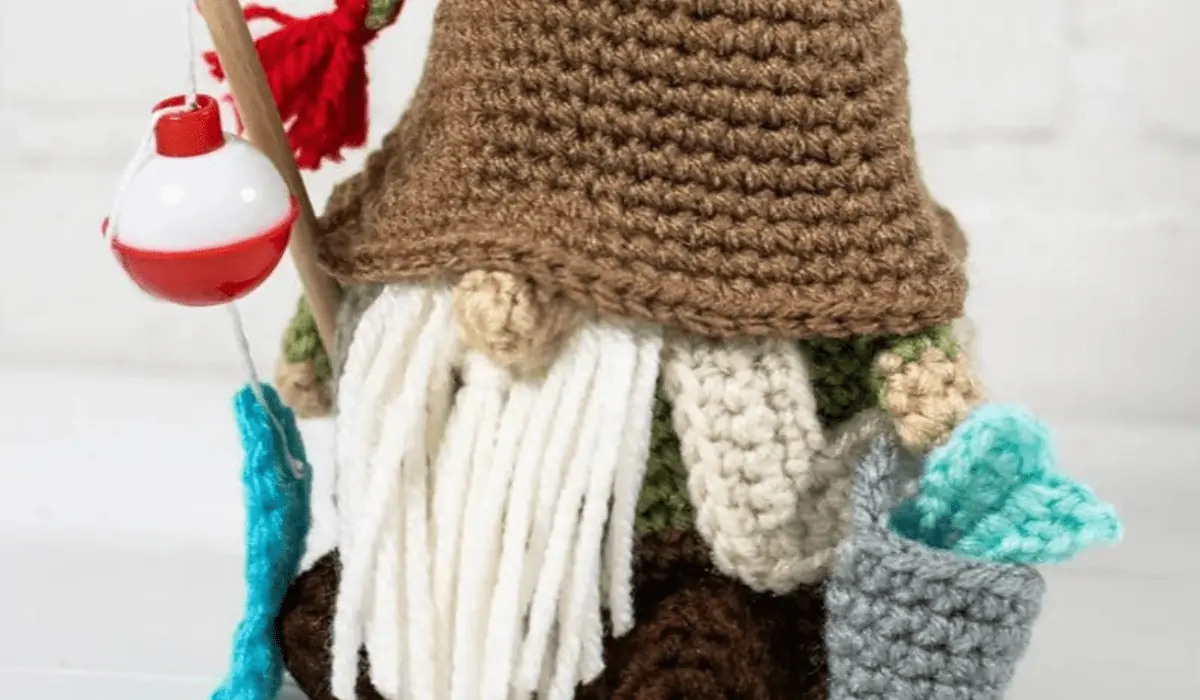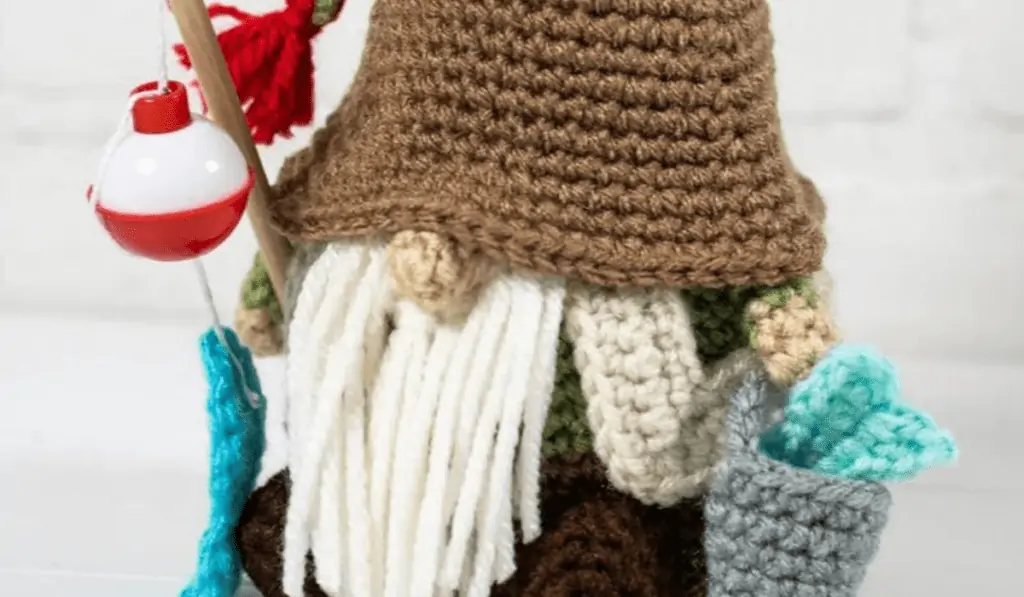 Looking for a gift for that fishing fanatic in your life? This gnome by Winding Road Crochet takes the cake! The fact that this pattern also included a little yarn fish really caught my eye and made me love it even more.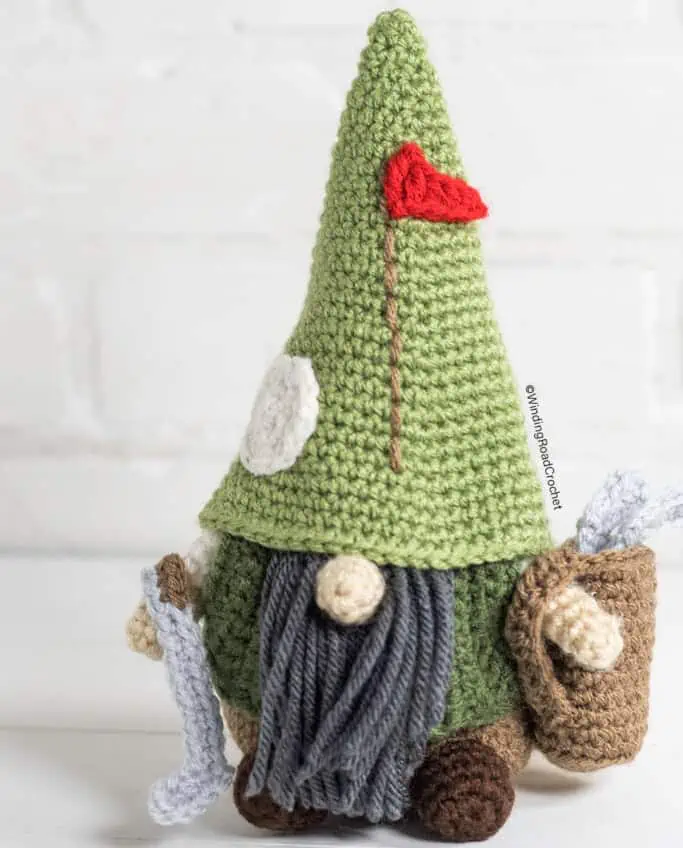 In my husband's world, as soon as the snow thaws, it's golf season! This adorable golf gnome pattern by Winding Road Crochet is perfect for the golf lover in your life. My brother in law is a great golfer too and even has his own Golf Review website! Here's to your next hole in one!
MORE AMIGURUMI PATTERNS

If you love the gnome patterns, you might also like to check out these other patterns in my Tamingo Series:
1. Rachel // 2. Lucy the Ladybug // 3. Gigi the Giraffe
Fall Gnomes
Fall is the season of cider mills and falling leaves over here in Michigan. It's also the start of the colder season, which is right when I find myself grabbing my crochet hook and yarn as I start knocking out some projects.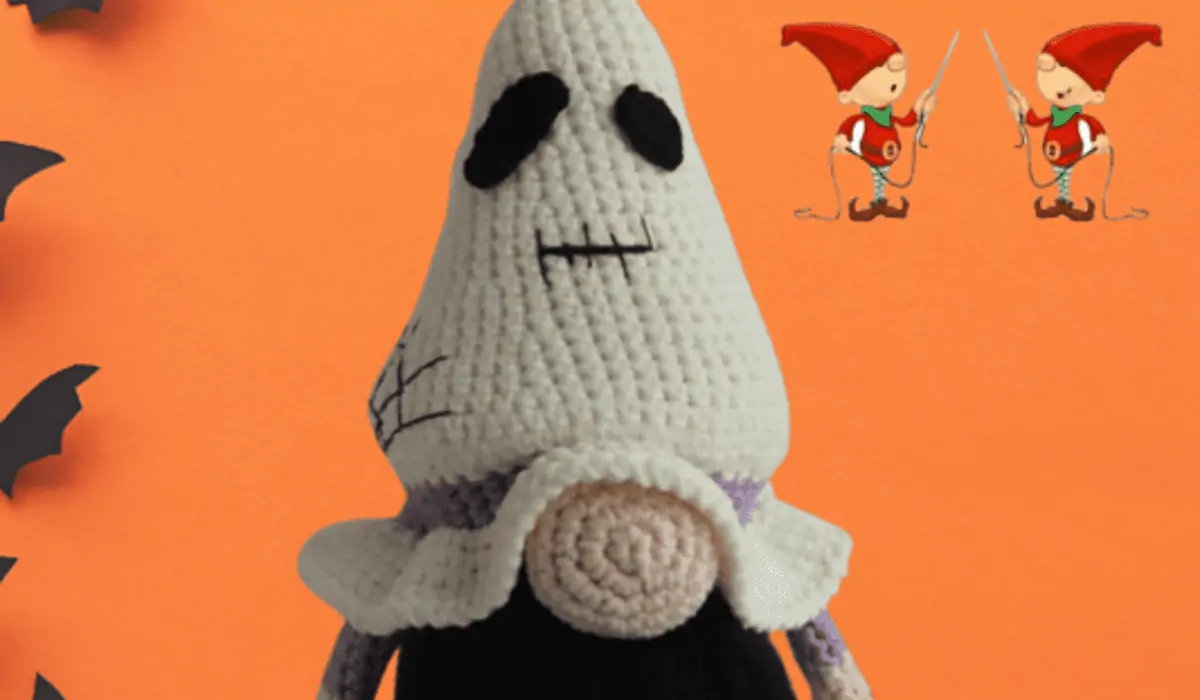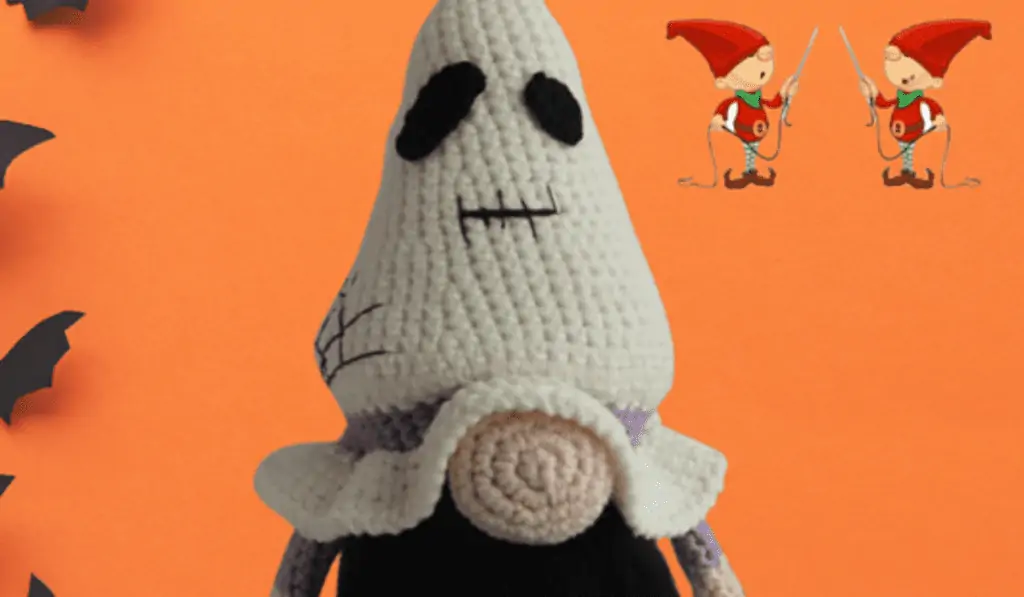 Feeling spooky? How cool is this spiky black beard on PamPino Store's ghost gnome? And this spiderweb on the hat is a great added touch.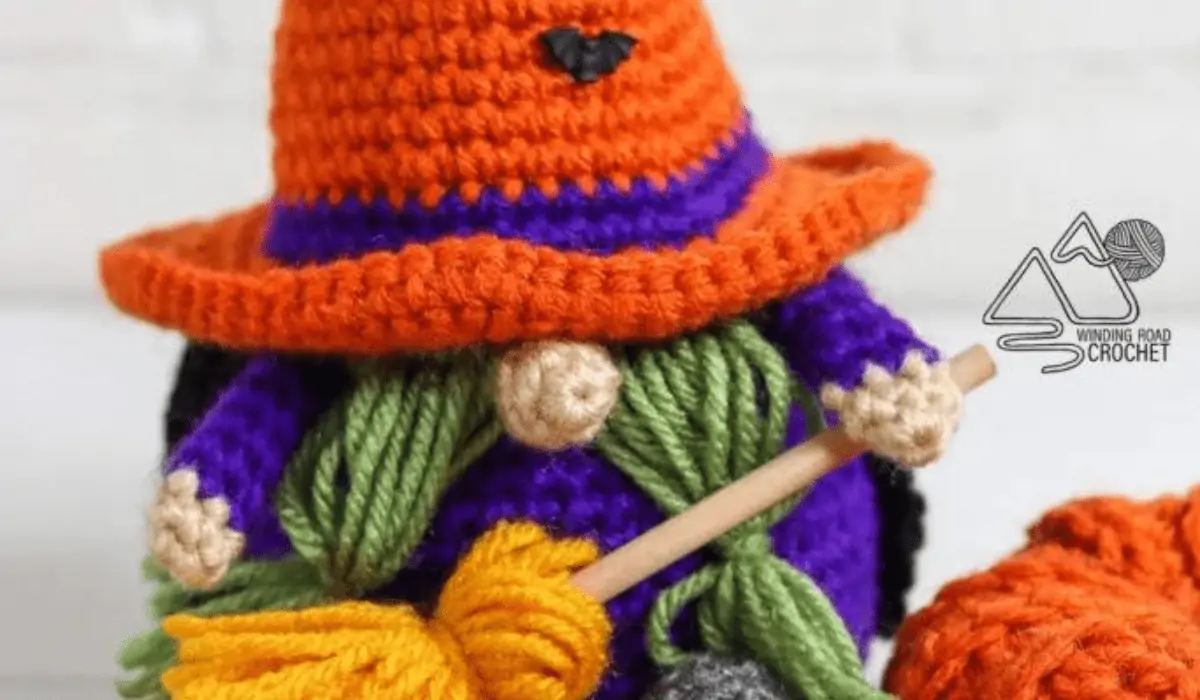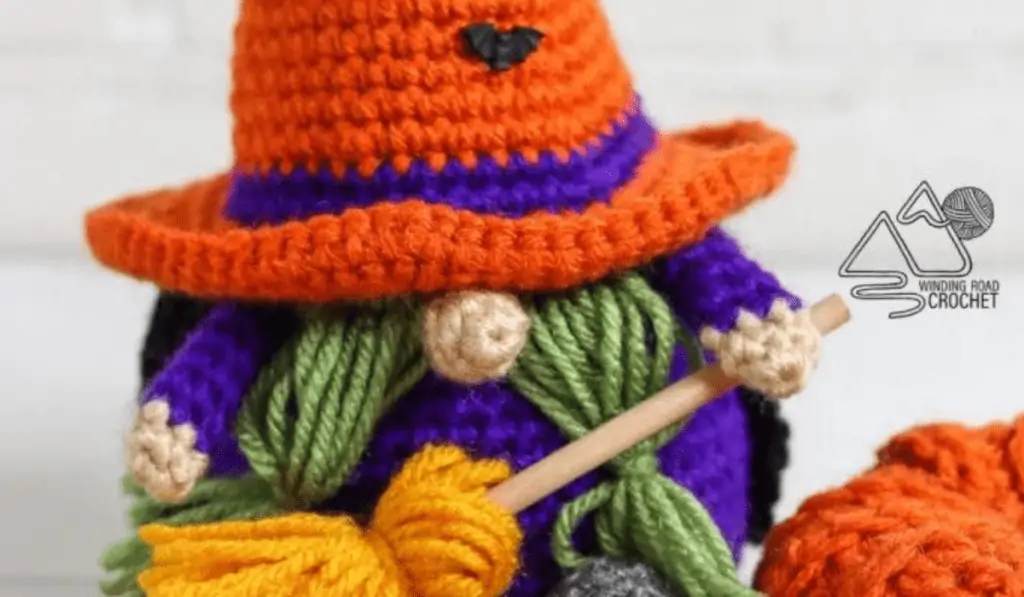 I love this green yarn hair on Winding Road Crochet's witch gnome. Such a fun Halloween decor piece to add to your home this year. Also, the yarn broom is such a cute touch. One of my favorite things about this crochet gnome pattern is that it can be made entirely of yarn, so if you're all out of other supplies, you can totally dig into your yarn stash and get to work on this gnome.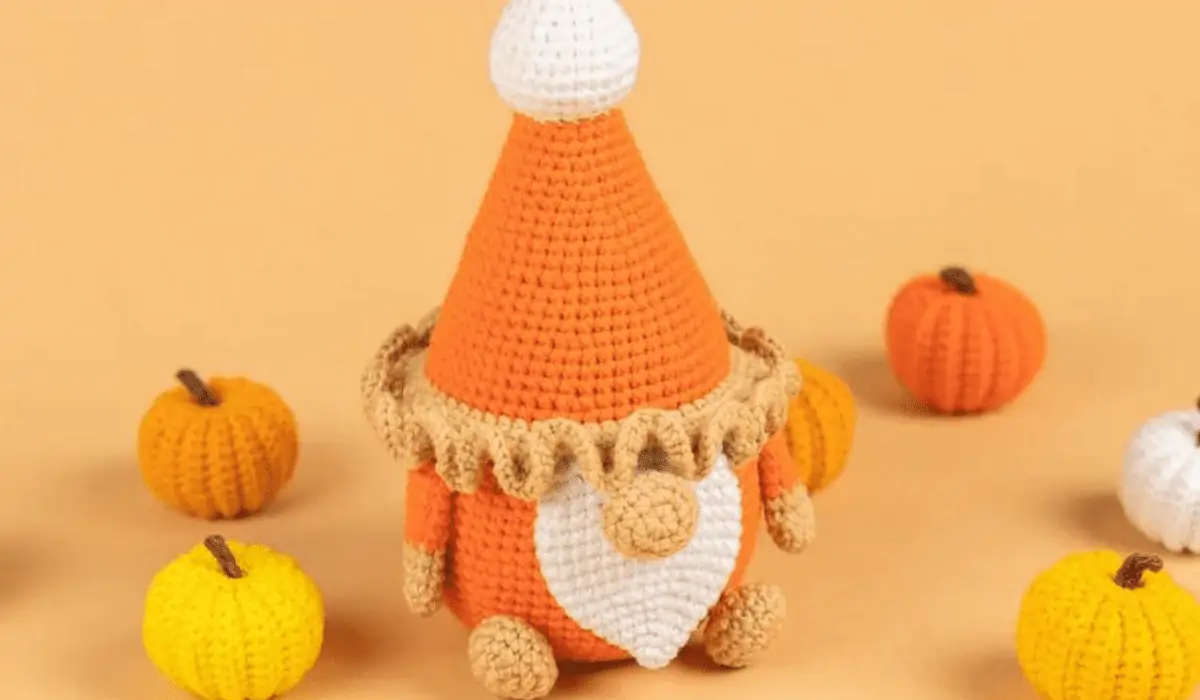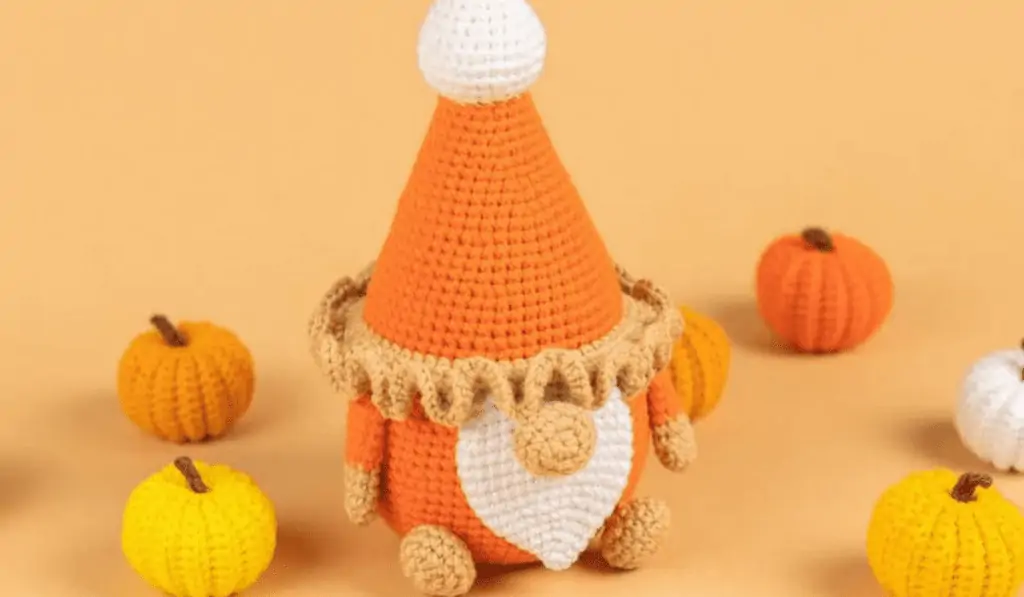 This guy is going to have you craving pumpkin pie. Mufficorn's crocheted little dollop of whipped cream out of yarn is absolutely to die for! Also, the beige yarn that makes up the "crust" of the hat is such a cute touch.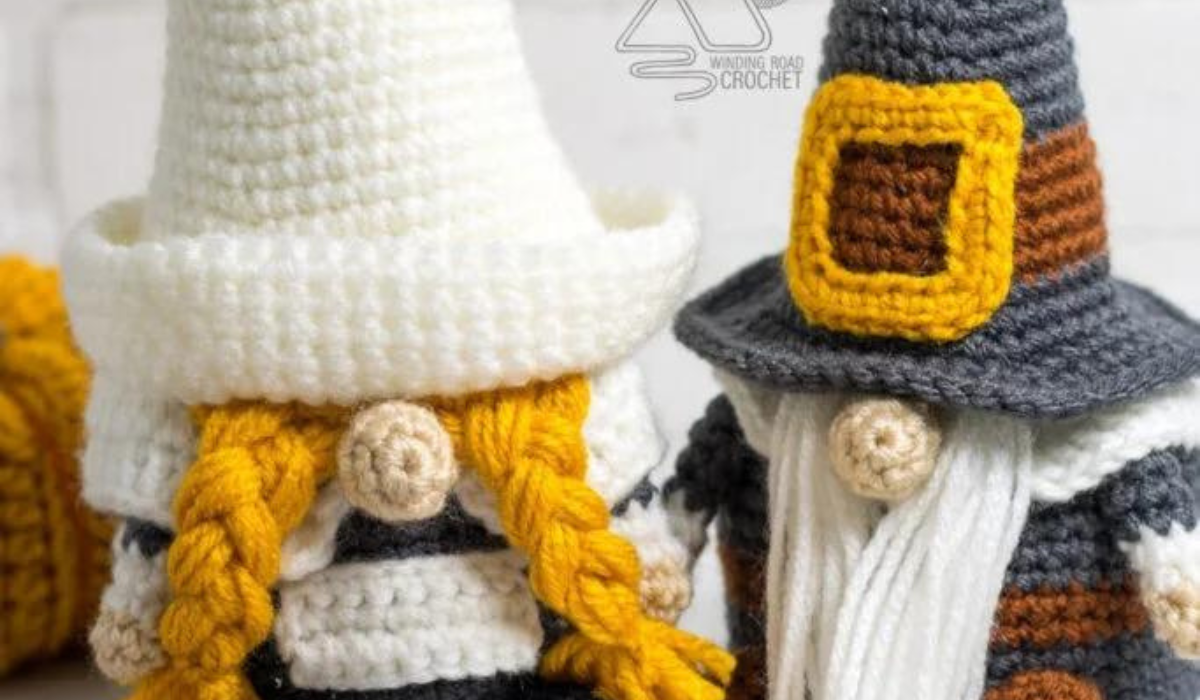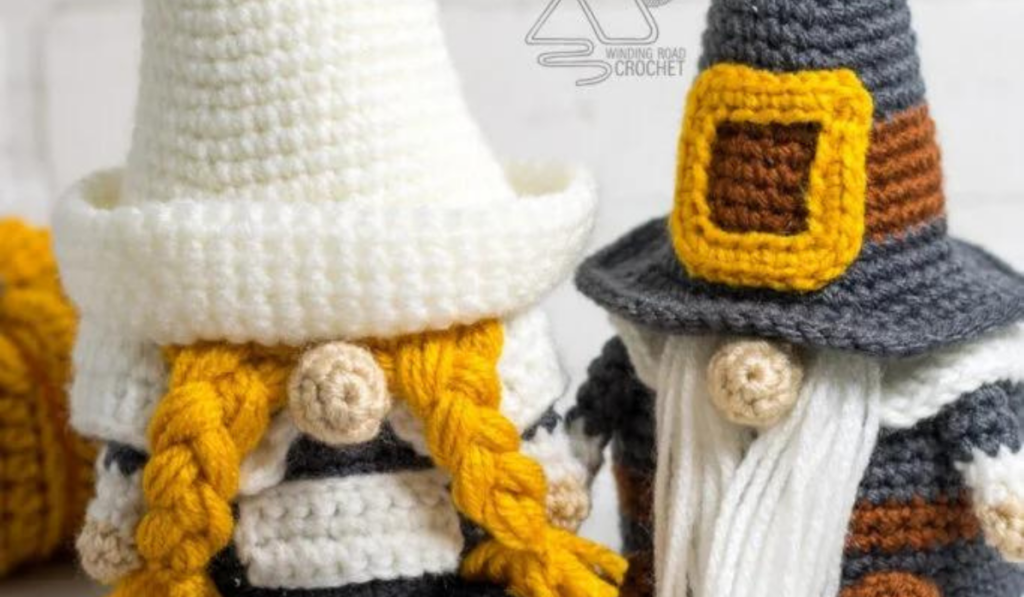 These pilgrims are making me crave Thanksgiving food. These gnomes created by Winding Road Crochet are super cute. This is another pattern that exclusively uses yarn, which I think is a fun challenge.
Winter Gnomes
Winter is the best season to curl up with a cup of hot chocolate, turn on your favorite movie, grab your crochet hook, and get to town one some projects. What would put you in a better mood to create than some Winter patterns?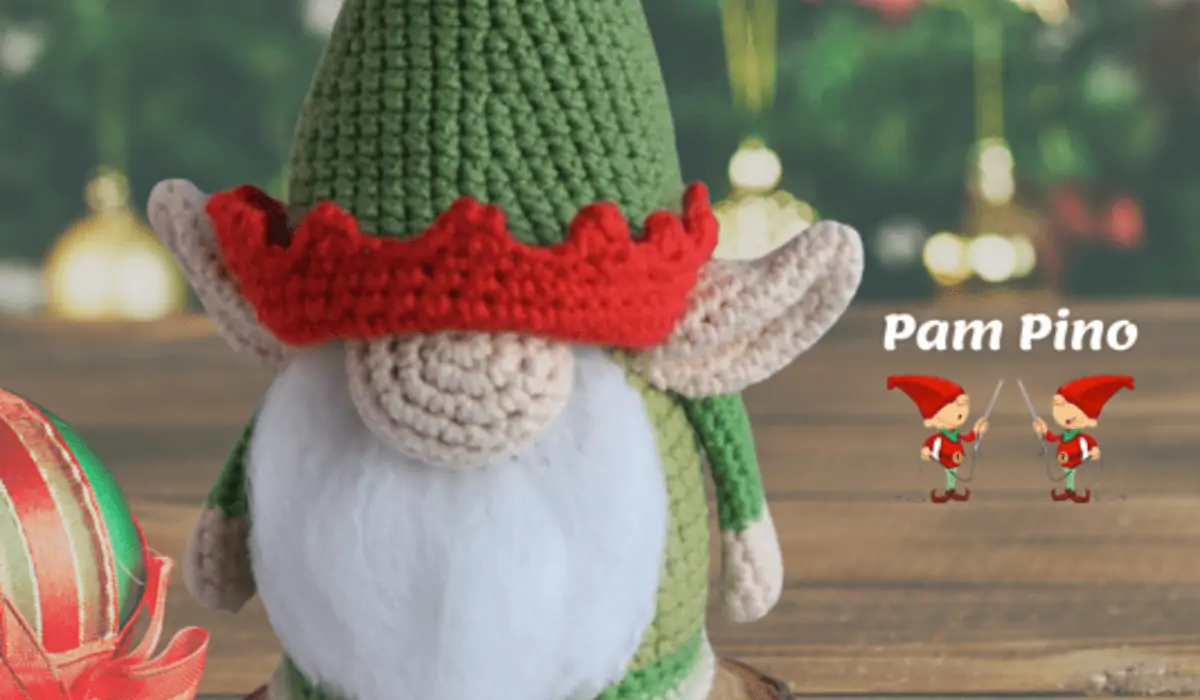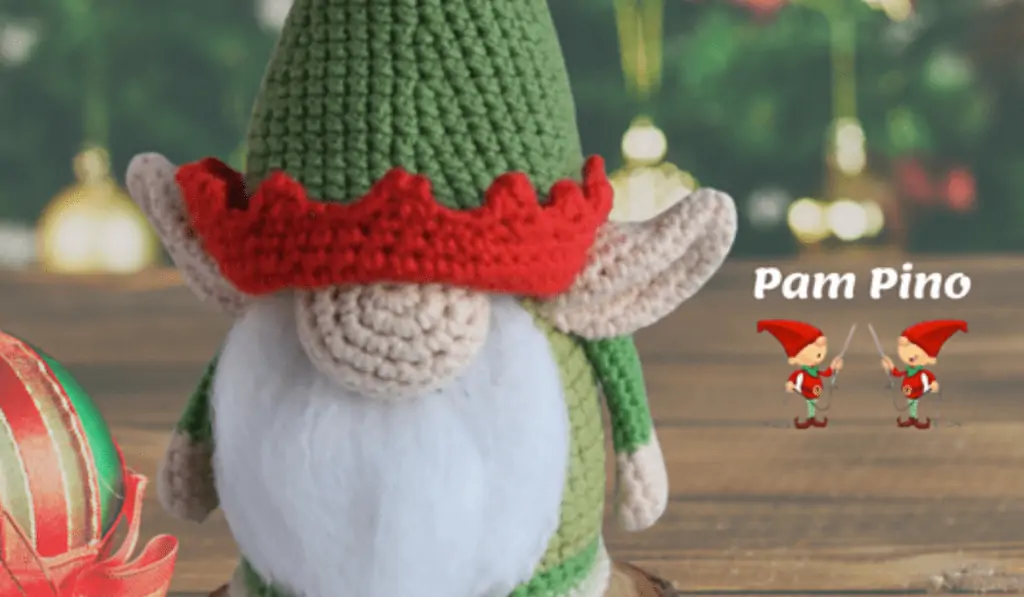 As soon as I see an adorable little elf, I cannot help but think about Christmas movies. PamPino Store's Christmas elf gnome is just so darn cute! The little bell on top is just such a nice touch as well. Plus, he would look very cute next to a Santa gnome, don't you think? You could have an entire gnome north pole!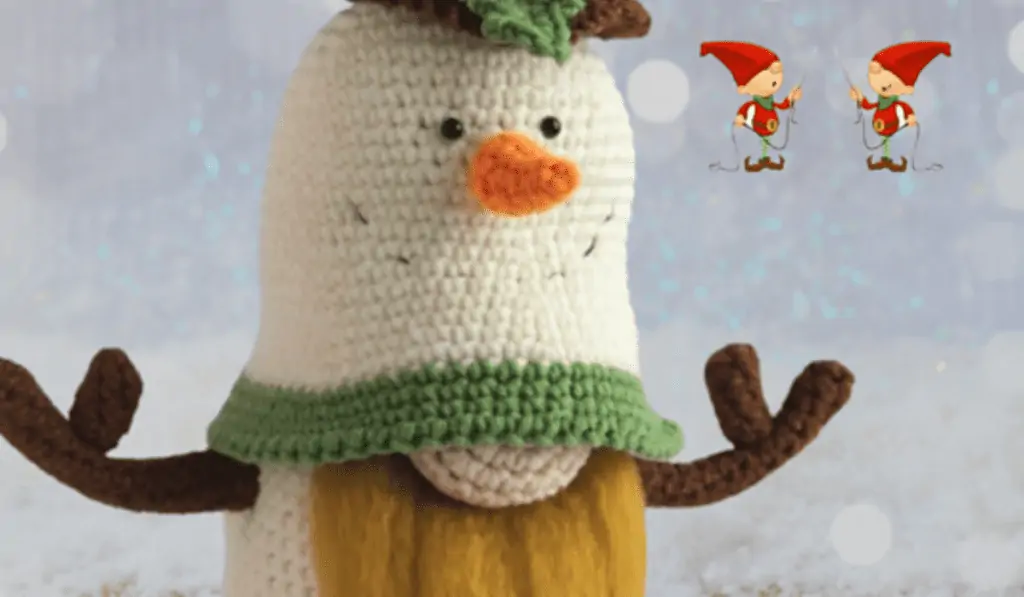 This snowman crochet Christmas gnome by PamPino Store is so cute! I can't get enough of the little hat with the crocheted holly berry and leaves. Plus, this would be a lovely Christmas gnome for your friends and family that live somewhere without snow so that they can bring a little piece of winter inside.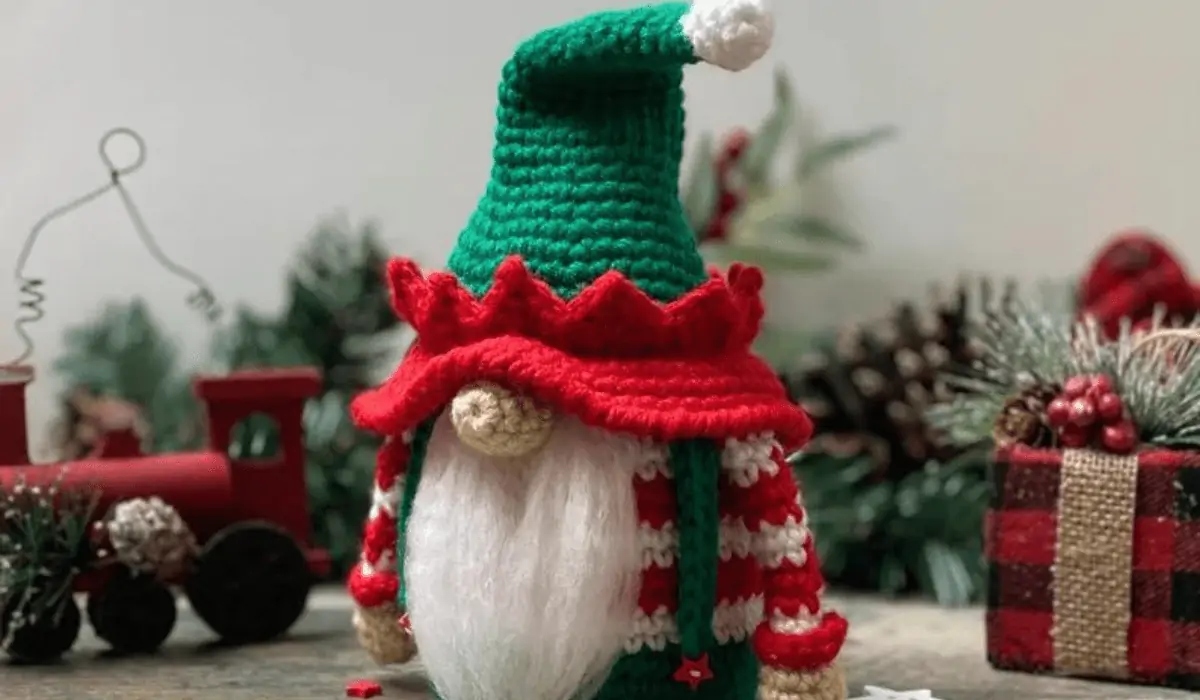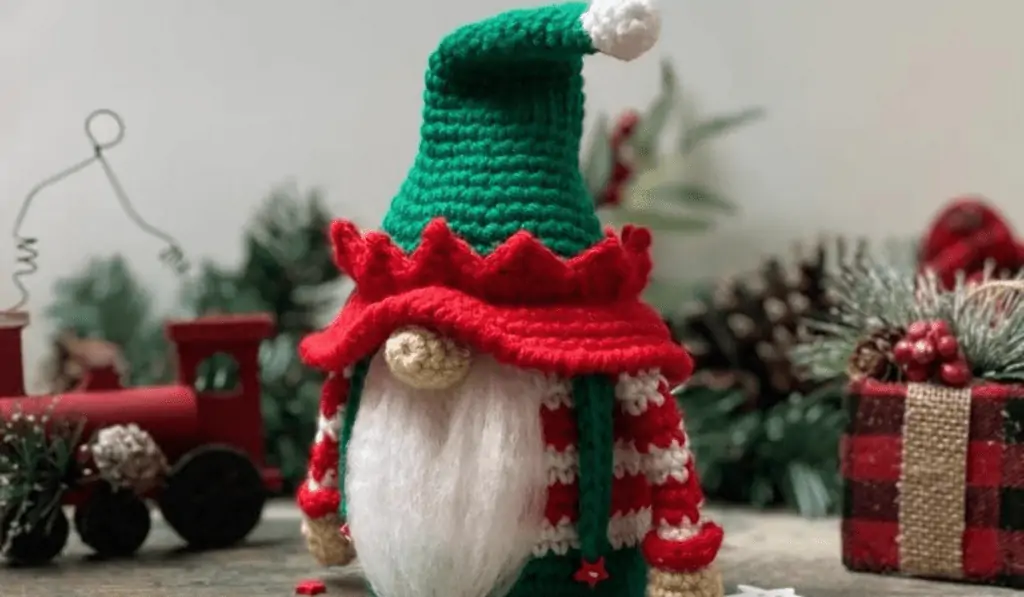 This Christmas elf gnome is sure to get you in the holiday spirit. These colors from Crochet Gnome Mania's Christmas gnome crochet pattern just exude cheer. Now, all you need is a Santa Claus gnome to complete your north pole masterpiece.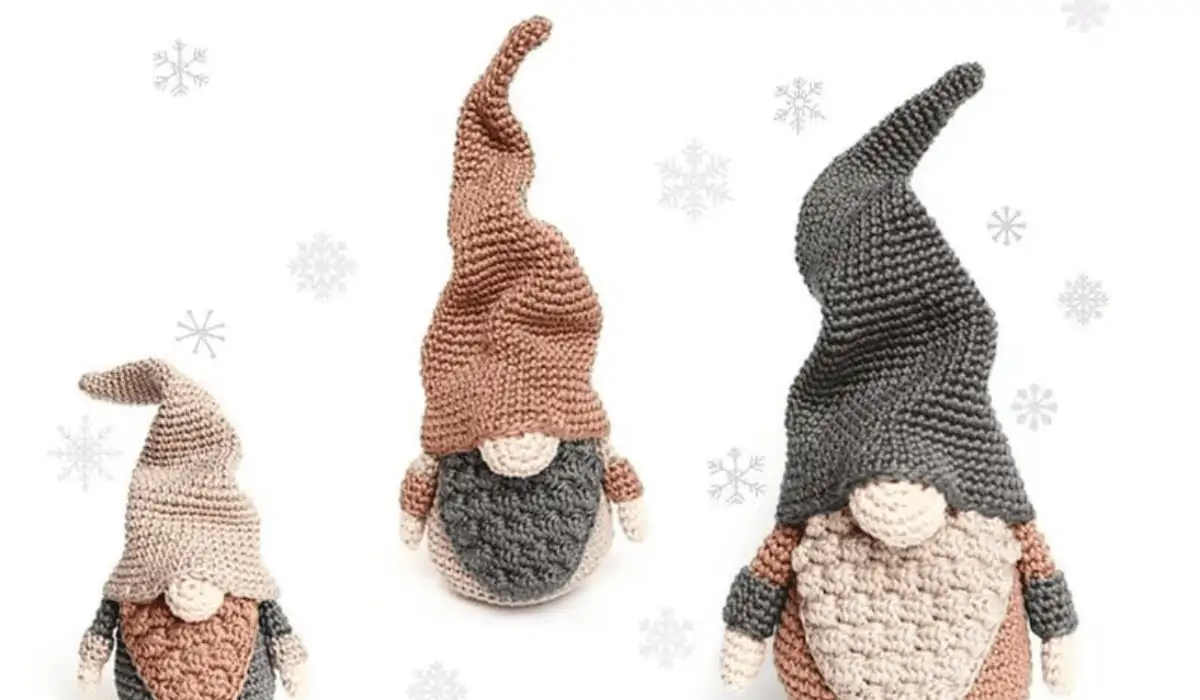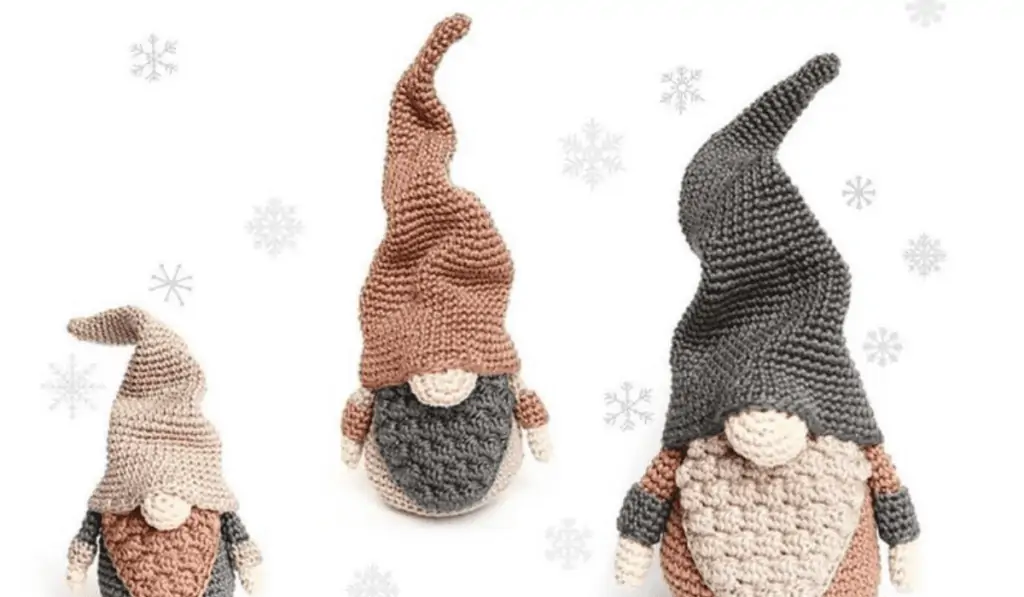 How cute are these crochet gnome beards? I love Ro Kiki's style for these, simple but such a classic Santa gnome pattern. These are the perfect DIY Christmas gnome for this holiday season. Also, with a bit of finagling, you could probably make these into a crochet gnome ornament since there are three different sizes.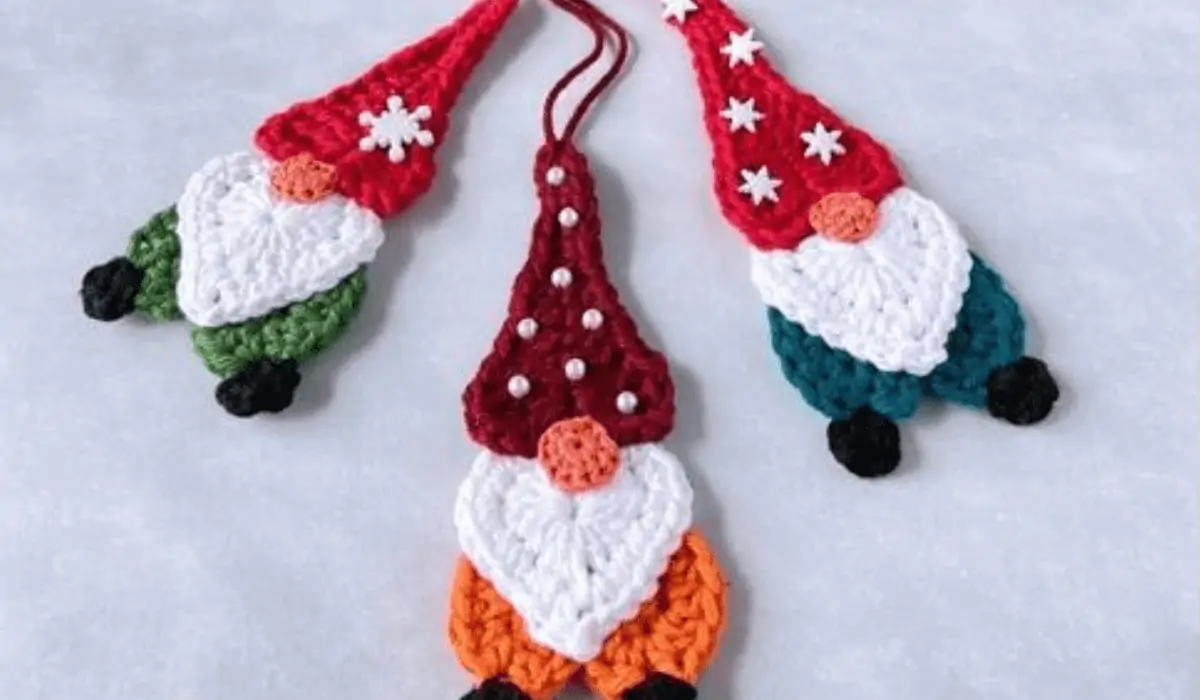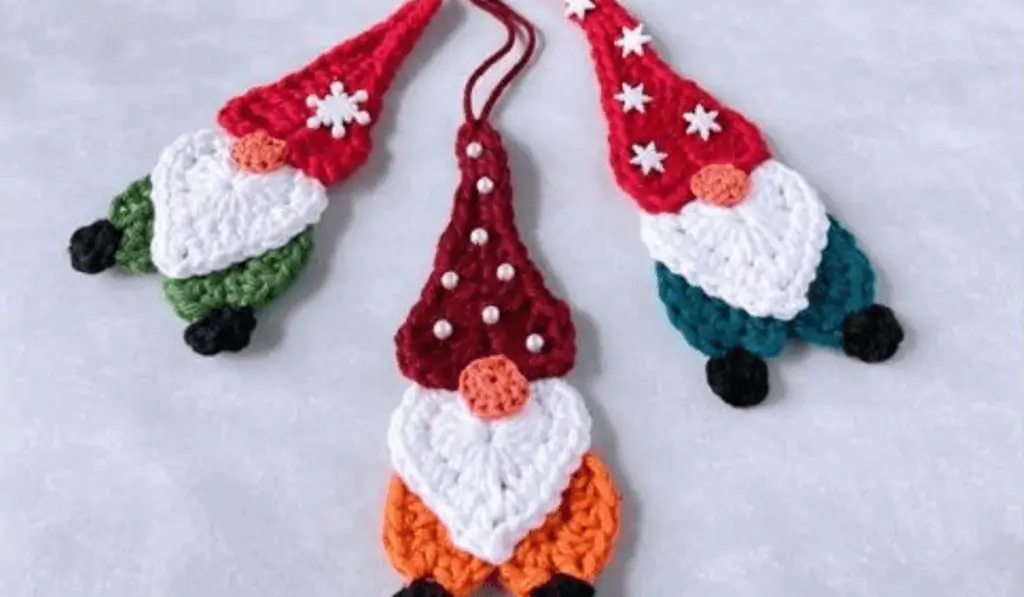 Looking for a cute crochet gnome Christmas tree ornament? Golden Lucy Crafts gives some fun variety in these easy Christmas gnome ornament decorations. I feel like everyone needs a Christmas elf gnome on their Christmas tree this year and this pattern is such a cute option.
With different hat options, you could make a bunch of crochet ornaments for yourself and give everyone in your family a crochet gnome ornament as well. If you think about it, you could stick to all red and make this a super cute Santa gnome Christmas ornament as well! It would be such a nice touch to your Christmas gnomes collection without overwhelming your home decor.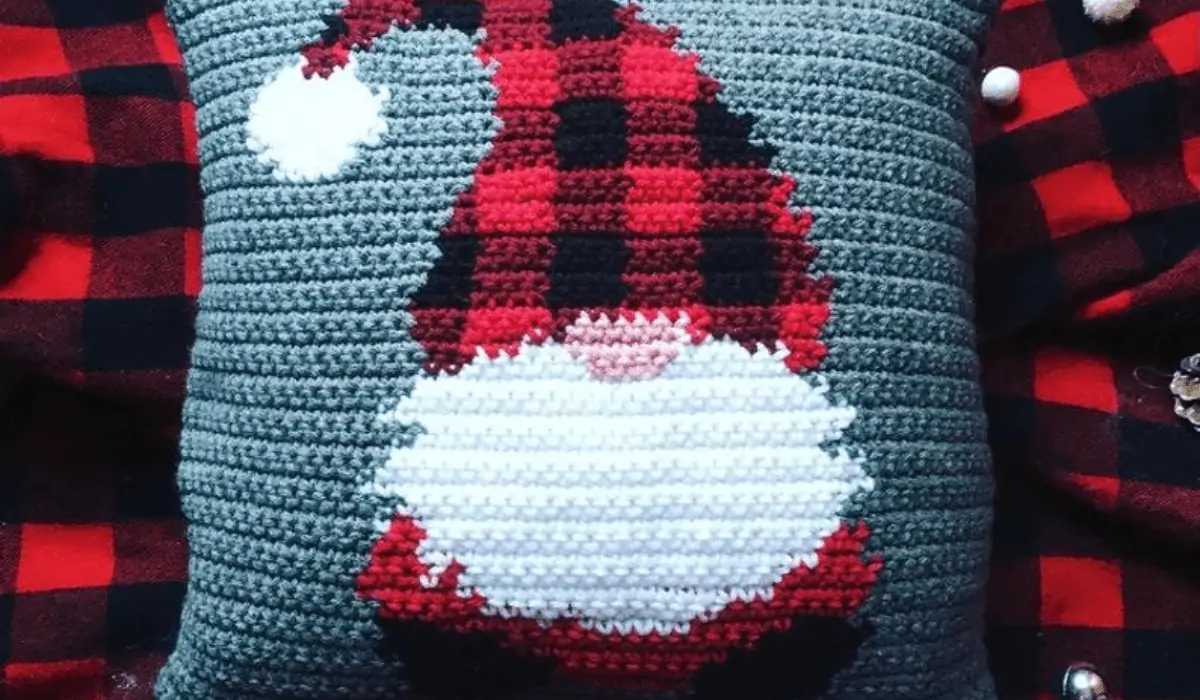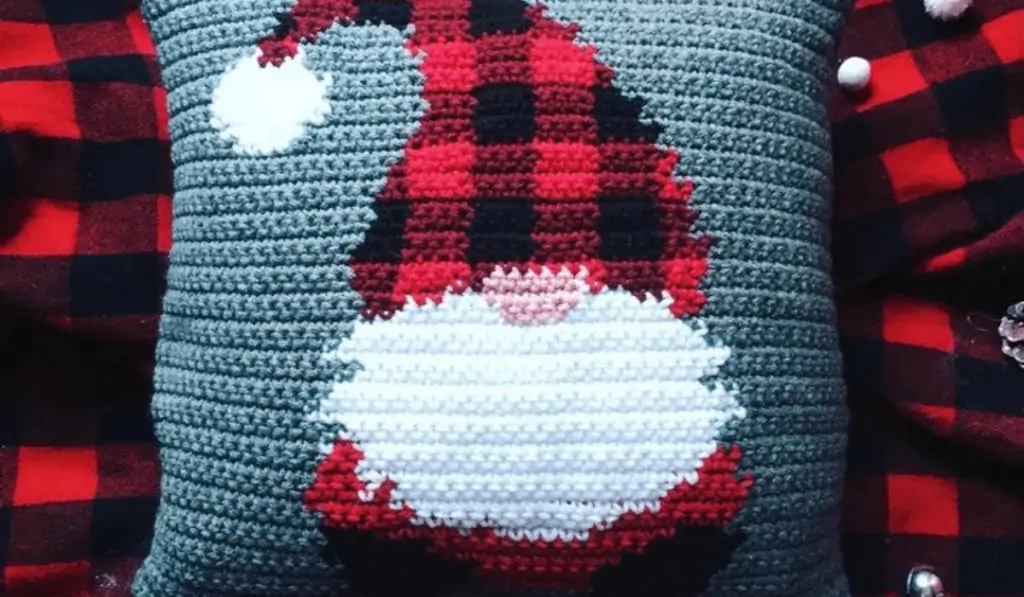 Are you looking to jazz up your throw pillows for the holidays? Donovan Creations CA has this adorable plaid Scandinavian Santa gnome crochet pillow pattern that is sure to warm up your home for Christmas this year. Who knew a Santa Claus gnome would win my heart on the Christmas decorations front! If you have yet to make a Scandinavian Christmas gnome pattern, this may just be the perfect piece to fit into your home.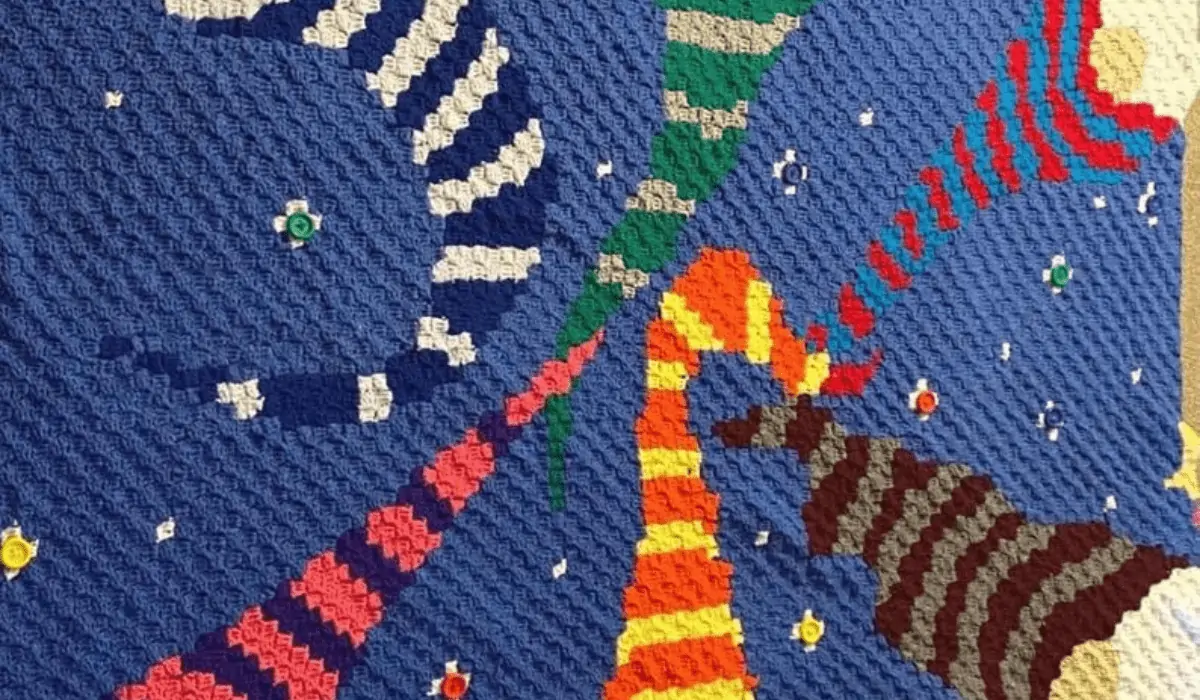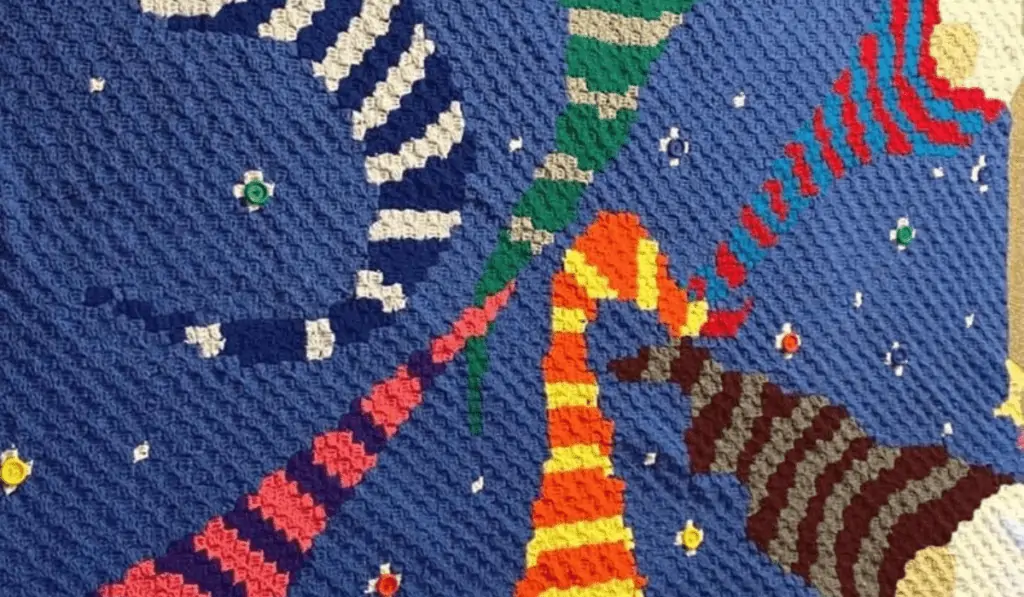 You truly cannot go wrong with a throw blanket. This blanket crochet pattern by Pretty Things by Katja is so colorful and fun, plus, it looks super cozy. This pattern is perfect for anyone who's got a yarn stash full of different colors that are simply begging to be used.
Other Adorable Gnomes
Now that we made it through the seasons, I had to include some other adorable options. These gnomes will look great all year round, no matter the season.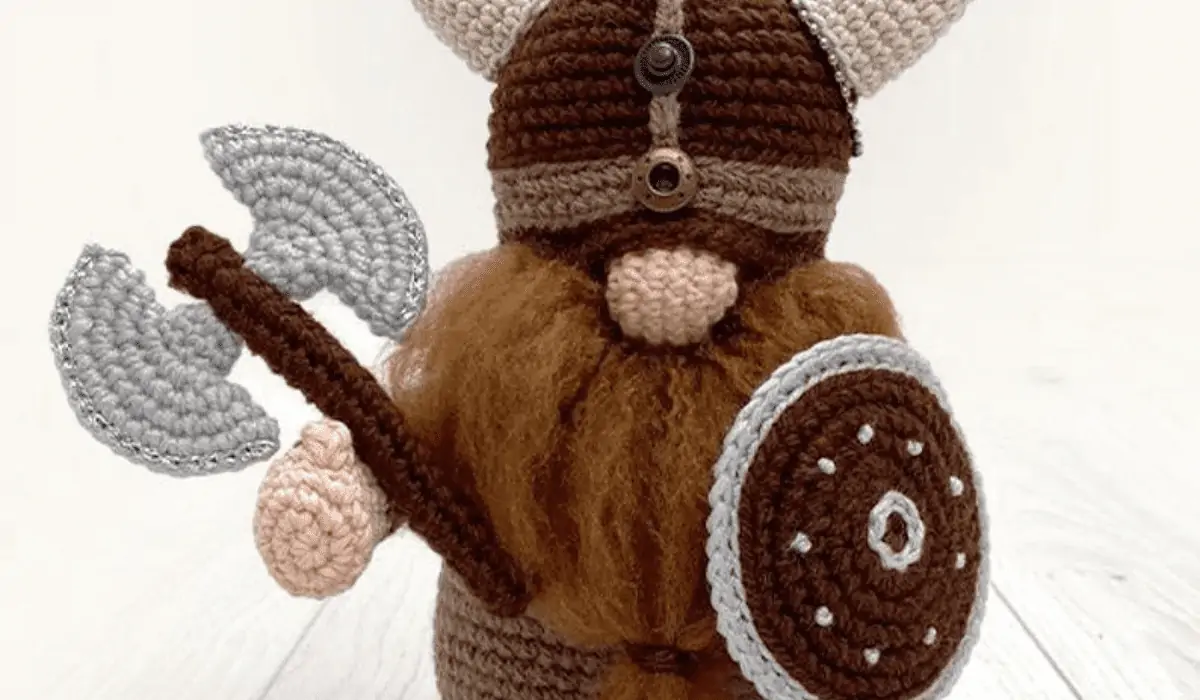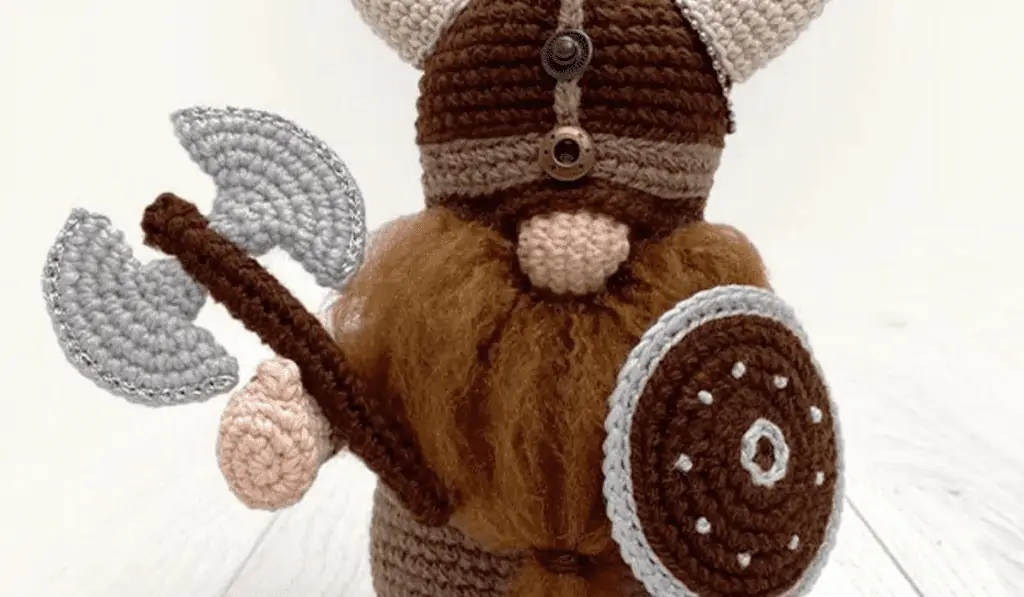 I love the details Cosy Patterns puts into this viking gnome's helmet! If you've been trying to decide what to make with your brown and beige yarn in your yarn stash, this is the perfect option. Plus, whoever you make it for (or if you simply cannot give it away and keep it for yourself) is sure to absolutely love it.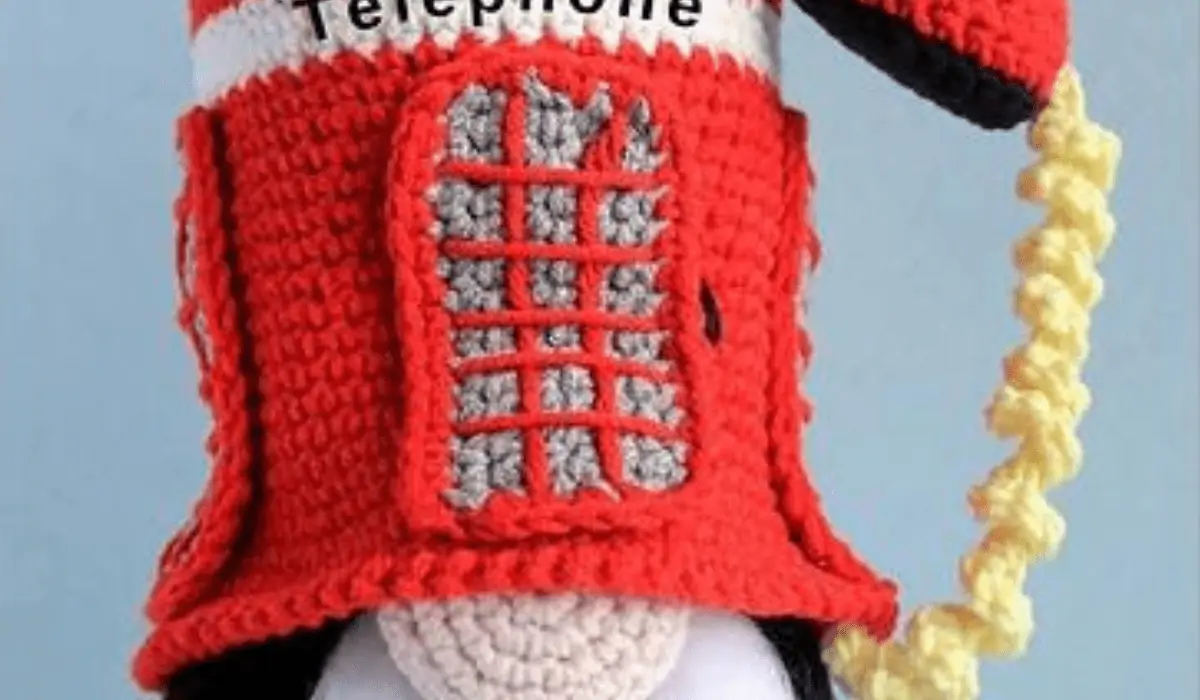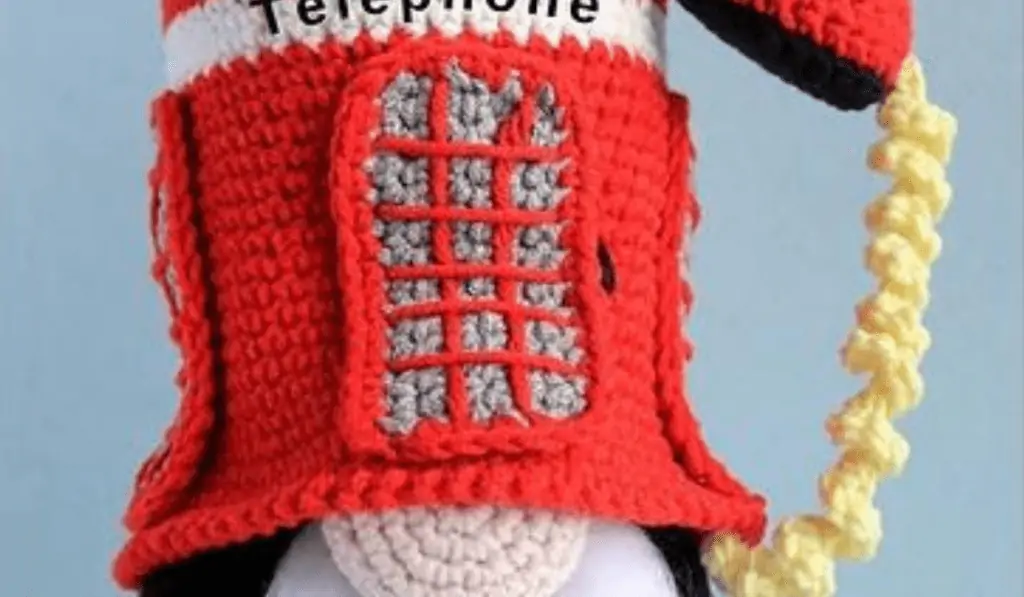 This gnome crochet pattern by PamPino Store is such a fun idea. Maybe you can make this gnome and put it by your phone charger at night to see if it will ward away telemarketers.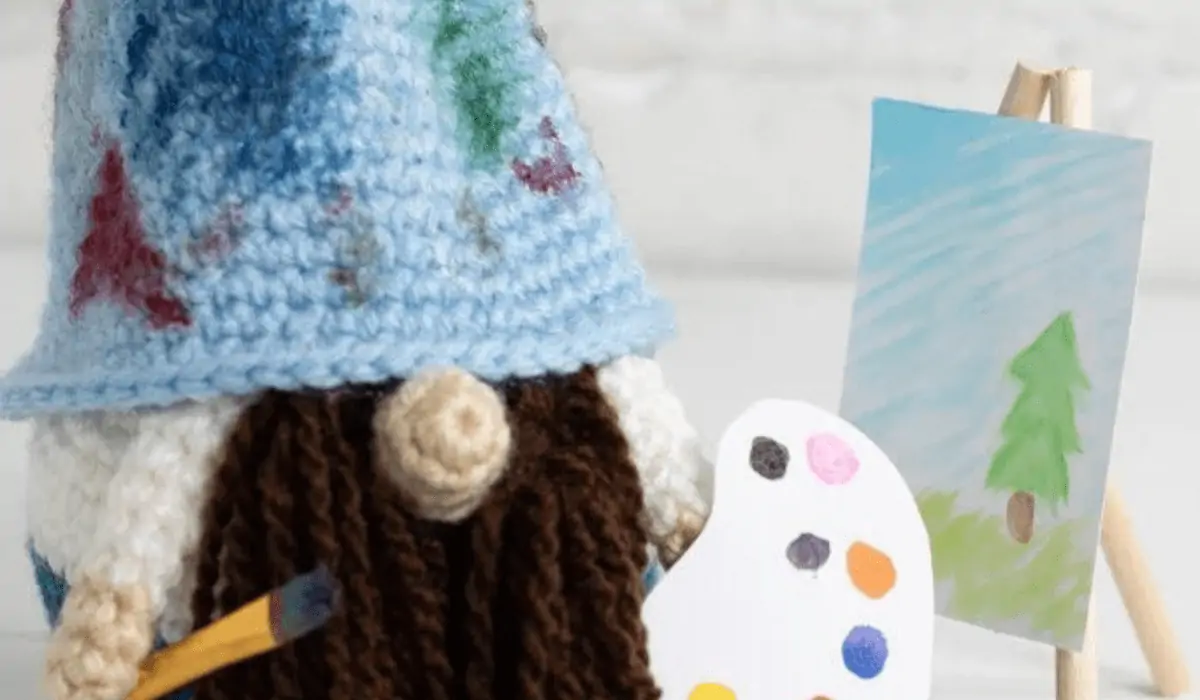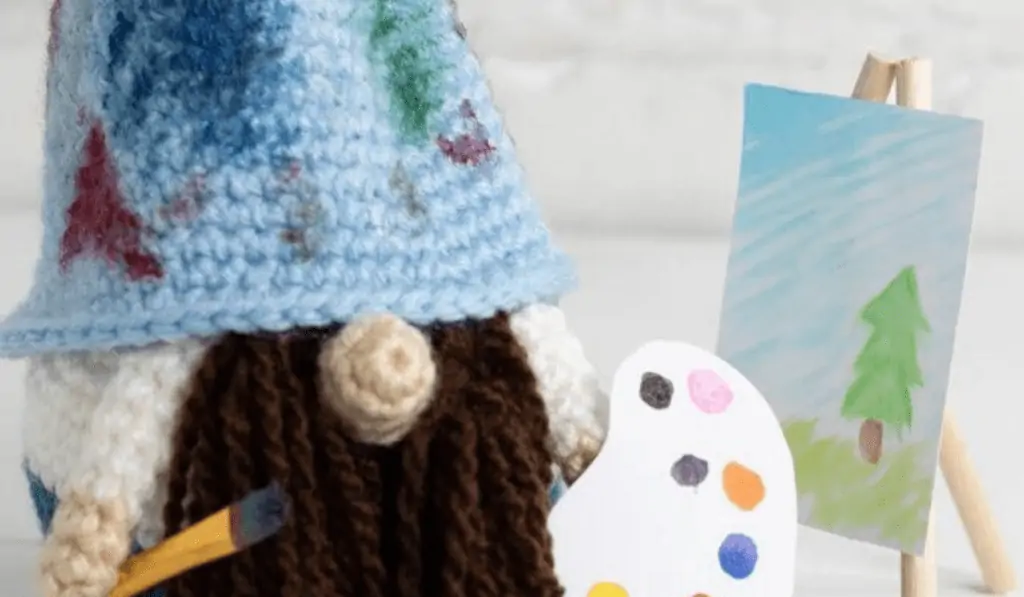 Does this remind anyone else of Bob Ross? I am loving the paint splatters that Winding Road Crochet put on this crochet artist gnome's hat. Such a creative crochet pattern, and the easel and paint supplies are such a nice touch. This gnome would be a delightful gift to the artist in your family.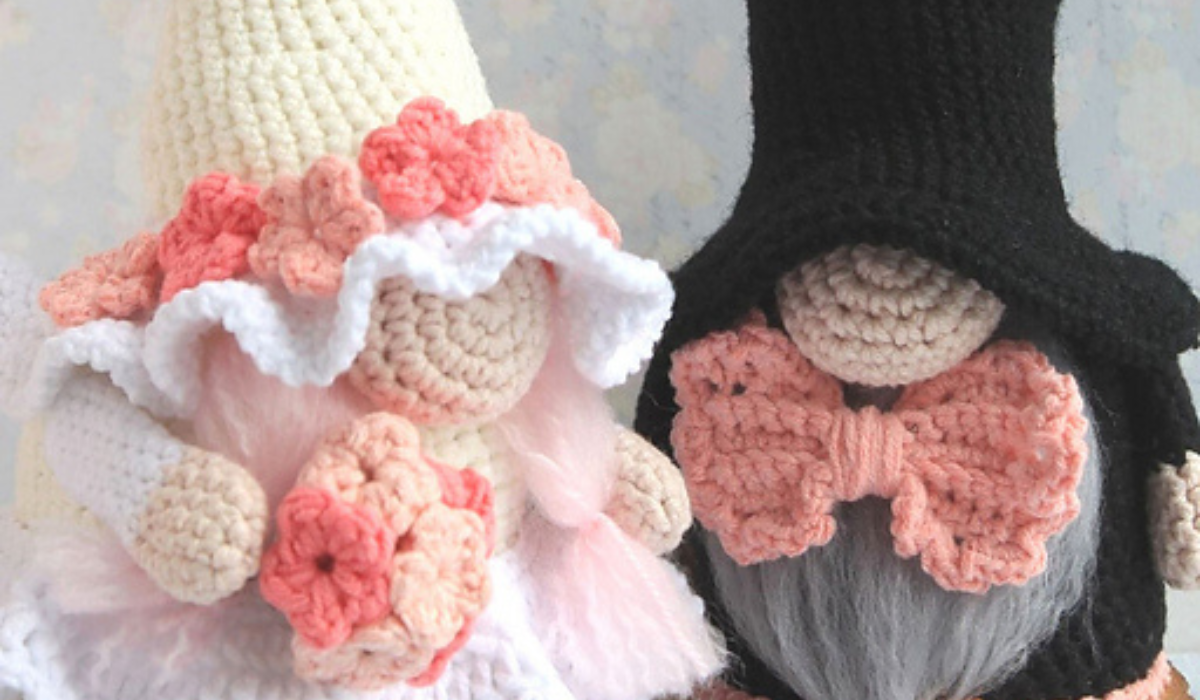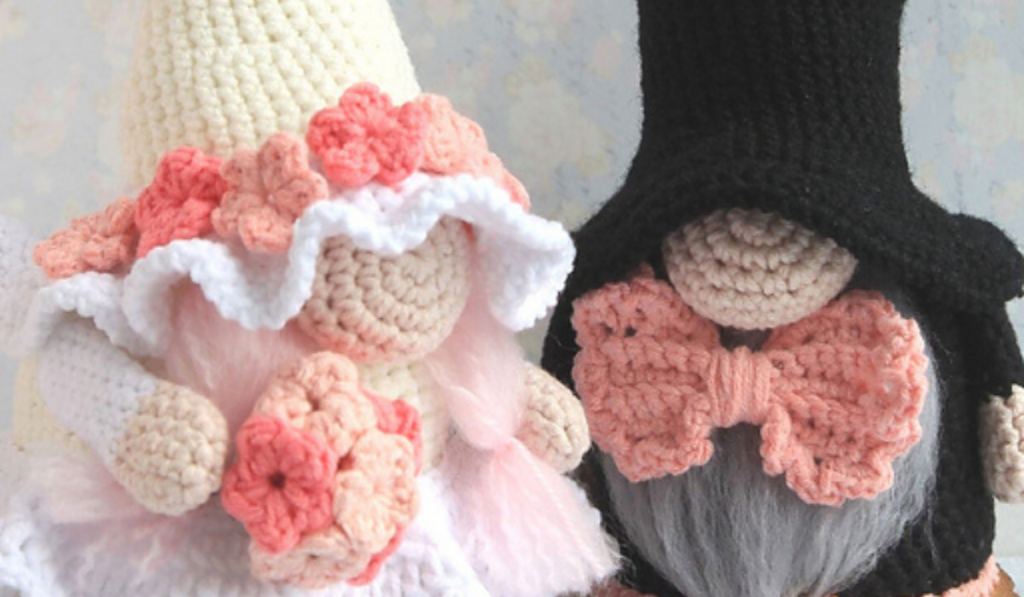 Looking for a handmade wedding gift? This gnome couple from PamPino Store is so cute and fun! You can also change out the pink and add in the couple's wedding colors to make it extra special for them. It also gives you an excuse to bring out the beautiful white yarn you've been holding onto.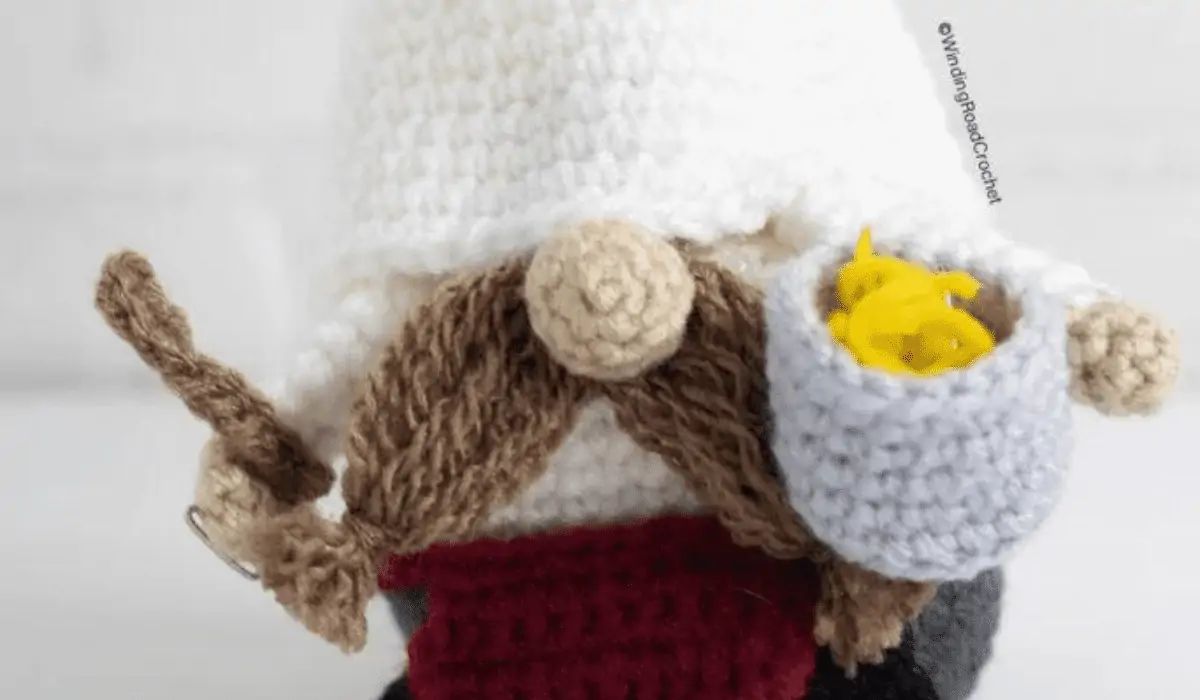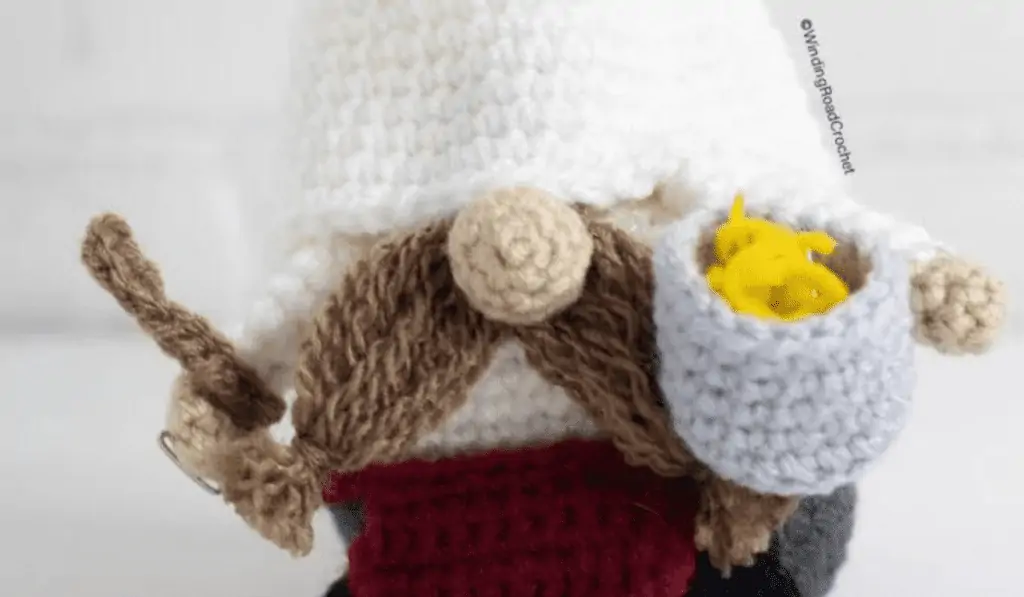 Mmm, I can almost smell the deep dish goodness in Winding Road Crochet's pizza chef gnome's hands. Honestly though, everyone loves pizza and I can simply imagine this little guy watching over the kitchen as you try out new and delicious recipes.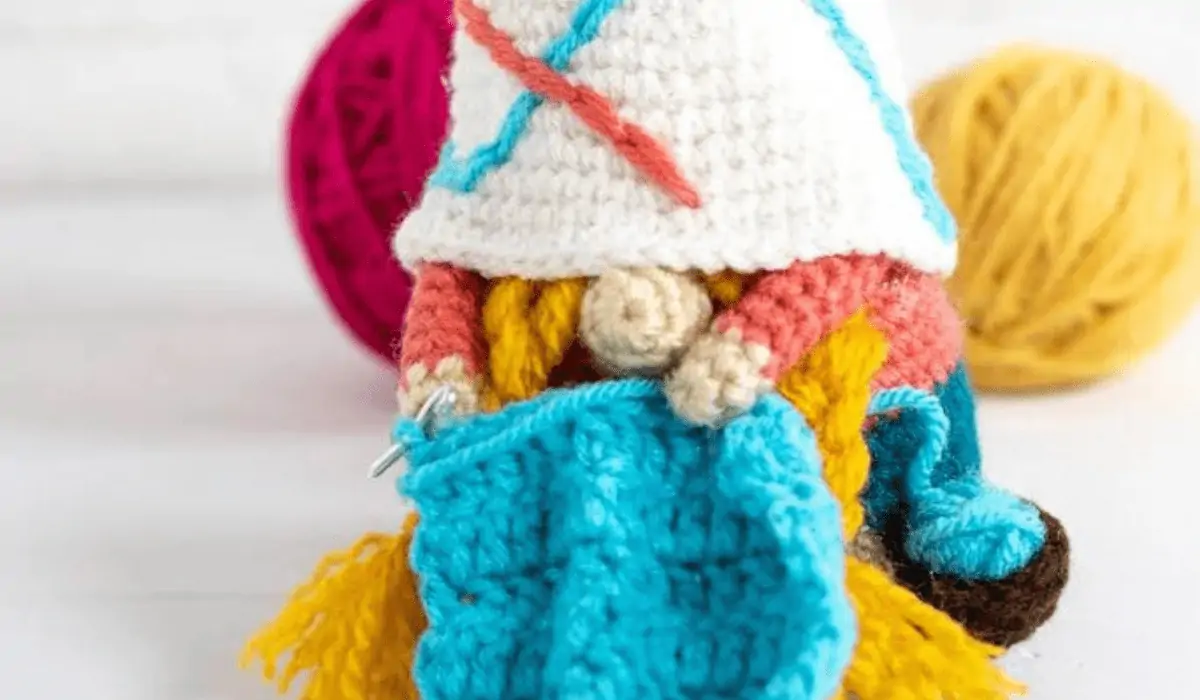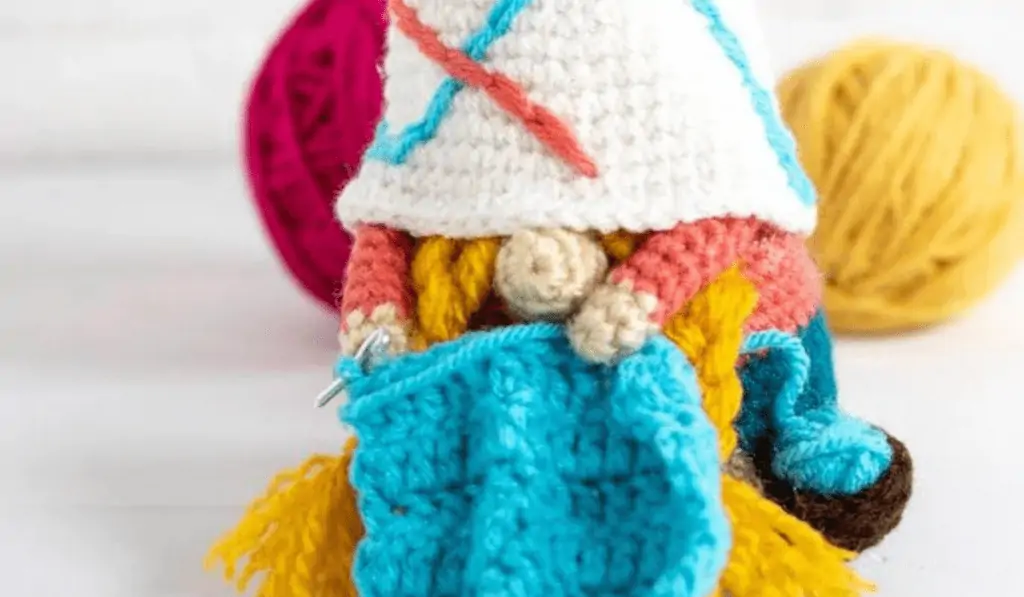 Looking for the perfect gift for that crochet buddy of yours? What better than this Winding Road Crochet gnome that can crochet with you. Can't have a round-up post about crochet gnome patterns without a crochet gnome crocheting!
I love seeing your finished projects! If you enjoyed making one of my patterns I'd love to see yours on Instagram, be sure to tag me @crochet365knittoo. If you are on Facebook, stop over to the Crochet 365 Knit Too Facebook page or pop over to the Crochet365KnitToo Club and share a photo! I'd love to see your work!