Yarn weights.  What an odd term, right? Like yarn weighs next to nothing?  And there are differences?  Sigh.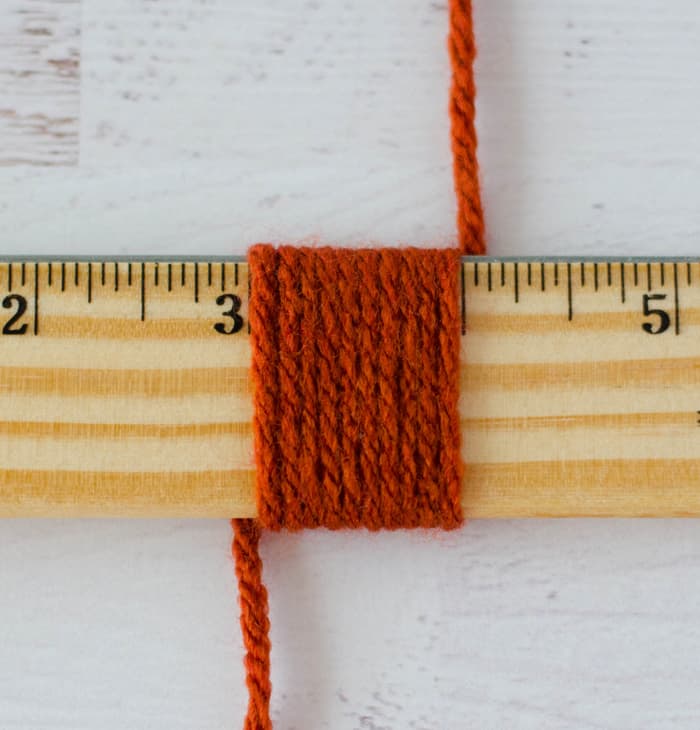 Yarn weight has little to do with weight and more to do with the thickness of a yarn strand.  It's important to know and understand for a variety of reasons.  First, if you're following a pattern and want to substitute a yarn, you will need to find a yarn that is similar weight to what was used in the pattern. That way your gauge and the size of your finished item turn out to be the same as the pattern, especially important for garments.
Second, different yarn weights perform differently than yarns in other categories.  Some are naturally suited for certain types of projects.
And if you think yarn "ply" has anything to do with "yarn weight", you would be wrong.  A strand of yarn is made up of one or more yarn plies that are twisted together.  Any yarn weight can have one ply or many.
Yarn weight refers to the thickness of the yarn strand.  One way to determine yarn weight is to look at the number of strands per inch.  To do this, wrap yarn around a ruler or a pencil so that the strands sit neatly next to one another.  Then count the number of strands that fit in a 1 inch space.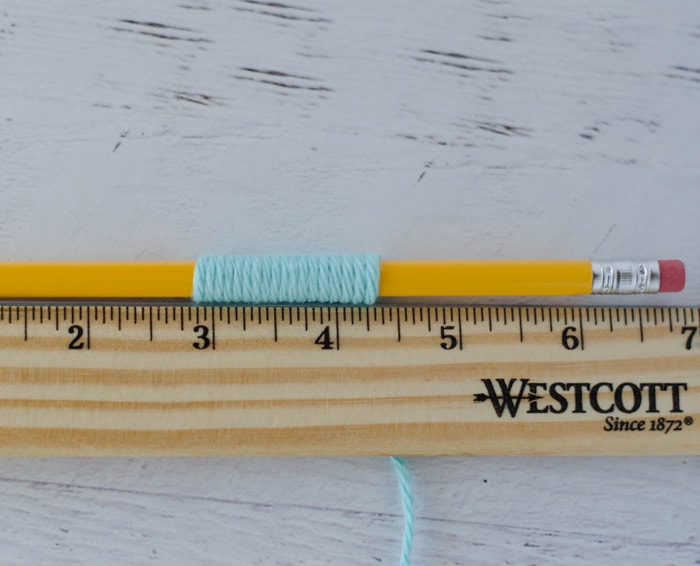 While this is a very accurate way to figure out yarn weight, it is often not practical.  You might not have the ability to determine wraps per inch when you are shopping online or don't have access to the original yarn used for comparison.
Thankfully, the yarn industry has developed a standardized system of 8 yarn weights and many manufacturers list the yarn weight symbol right on the yarn band.  But don't fret if they do not.  You can use the information along with the stitch information included on the band to determine the yarn weight for yourself.  Read on to learn more about the 8 yarn weights.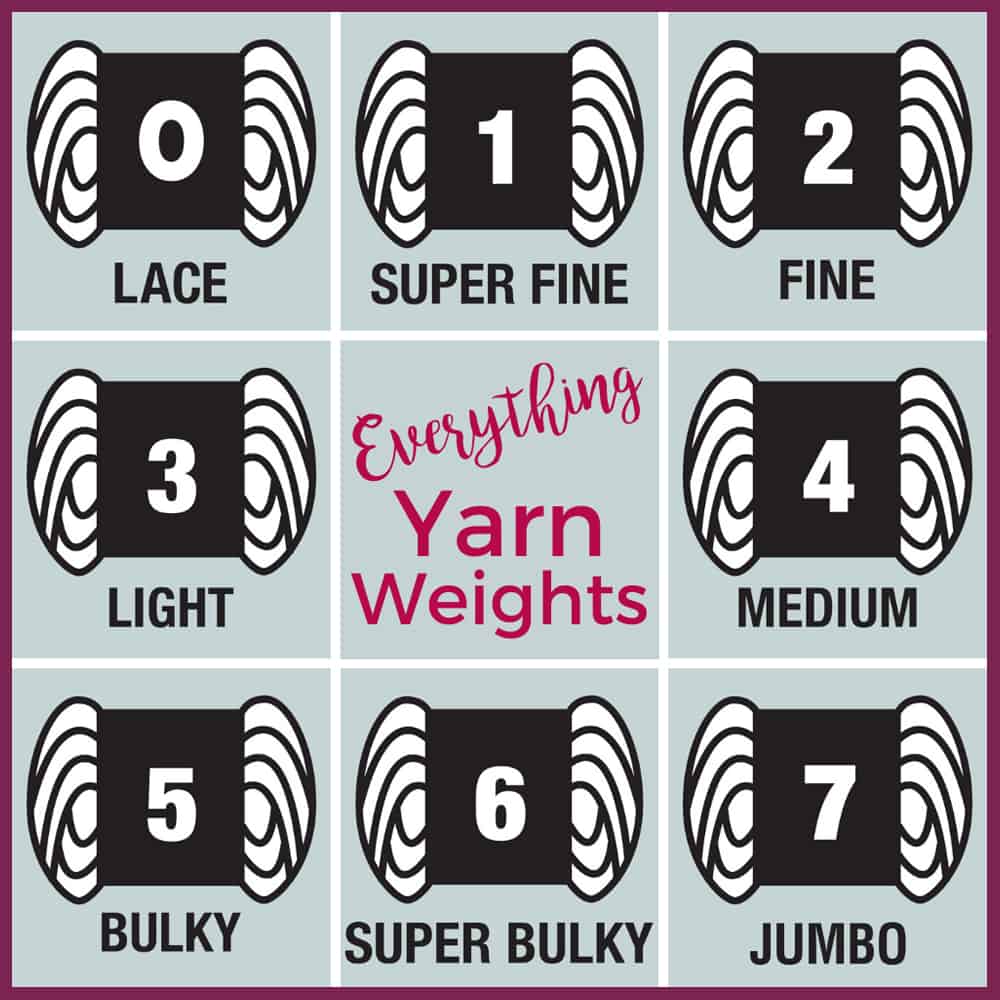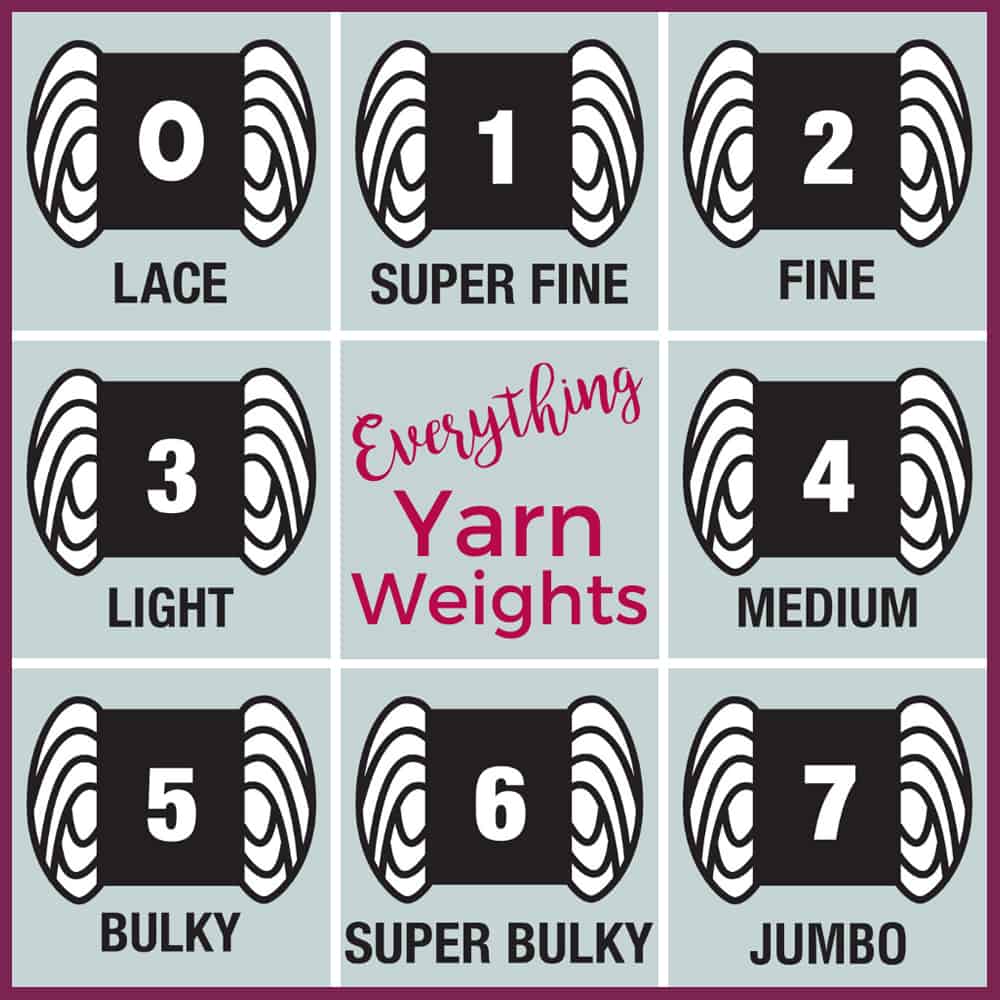 The higher the yarn weight, the thicker the yarn.  The thicker the yarn, the fewer stitches per inch.  In the UK and Europe, yarn weights are often referred to by their number such as "number three yarn" instead of "DK weight".  In the United States, makers will usually use the descriptive name such as "worsted weight" instead of "number four yarn".  Let's dive into the details so we can all speak the same yarn language:
0 – Lace (Fingering, 10 count Crochet Thread).  It has 30 or more wraps per inch (wpi).  Lace Weight yarn is very thin and delicate.  It's often used in lace work, shawls and doilies.
1 – Super Fine (Sock, Fingering, Baby).  It has 14 wraps per inch (wpi).  Super Fine yarn is very lightweight.  It's great for socks, baby items and shawls.  Many lacy items are also made from Super Fine weight yarn.
2 – Fine (Sport, Baby).  12 wraps per inch (wpi). Sport weight yarn is great for baby items (like booties and sweaters), socks, wraps and other delicate accessories.  Sometimes it is even used for very lightweight afghans.
3 – Light (DK, Light Worsted). 11 wraps per inch (wpi).  Often just referred to as DK weight yarn, this is a great in between weight for garments and heavier baby items.  DK (which stands for Double Knitting) weight yarn is also wonderful for afghans and amigurumi.
4 – Medium (Worsted, Afghan, Aran).  8-9 wraps per inch (wpi). Worsted weight yarn is easy to work with and is a great all-purpose size yarn.  Great for afghans, hats and other projects.  Worsted weight yarn is a very common and frequently used yarn weight.
5 – Bulky (Chunky, Craft, Rug).  7 wraps per inch (wpi). Bulky yarn is about twice as thick as worsted weight yarn.  Use it with a larger hook to make sweaters, scarves, hats, rugs and throws.
6 – Super Bulky (Roving).  5-6 wraps per inch (wpi). Super bulky yarn is a thick yarn that is great for quick makes.  Try it for thick cowls, scarves and hats.
7 – Jumbo (Roving).  1-4 wraps per inch (wpi). Jumbo yarn is the thickest yarn weight and a recent addition to the standards list.  Added in 2014 to classify the super thick yarns used for arm knitting and crocheting. If you're looking for an ultra thick and quick afghan, try Jumbo yarn.
More Crochet Tutorials
If you love this Guide to Yarn Weights, you might also like to check out these other great crochet tutorials.  You can find all the Getting Started posts here.


1. Crochet Stitch Heights //   2. Parts of a Crochet Stitch //  3. How to Check Gauge in Crochet
International Differences in Yarn Weights
Historically yarn weights were always classified by plies in the United Kingdom.  Back in the day a 2-ply yarn was a lace weight and a 3 ply yarn was a DK weight.  Now plies do not correlate to yarn weights.  It is very possible to have a 1-ply bulky weight yarn just as easily as a 1 ply fingering yarn.
The UK also refers to an "Aran" yarn weight.  This falls into the "4-Medium" yarn weight category.  However an Aran weight yarn is typically thicker than a worsted weight yarn in the United States.
Yarn weights are important to consider when making any project.  If you are following a pattern and want to substitute a yarn, find a similar yarn to the original and work a gauge swatch before starting the project.  If you are designing or want a specific look and feel, be sure to consult the yarn weight chart to determine the best yarn weight for your project.
Here's a handy chart from the Craft Yarn Council: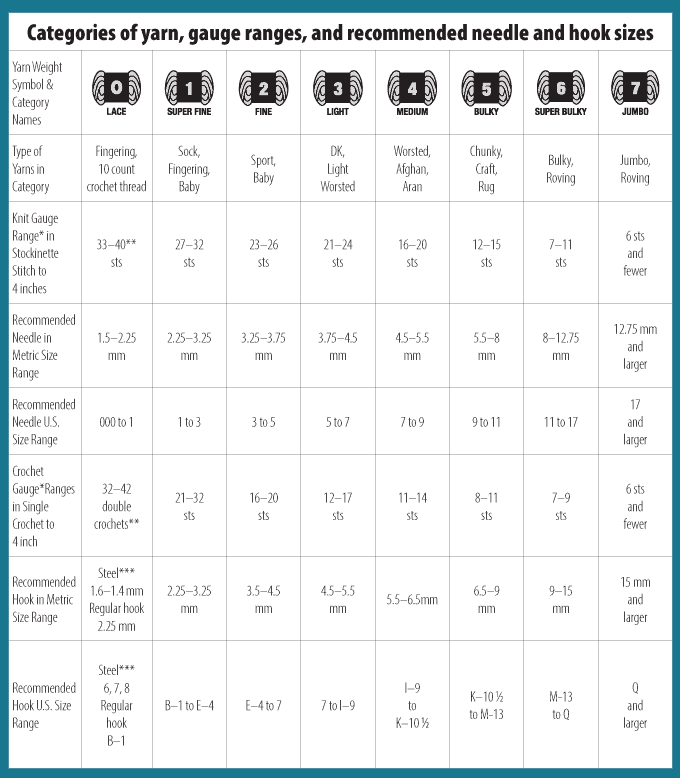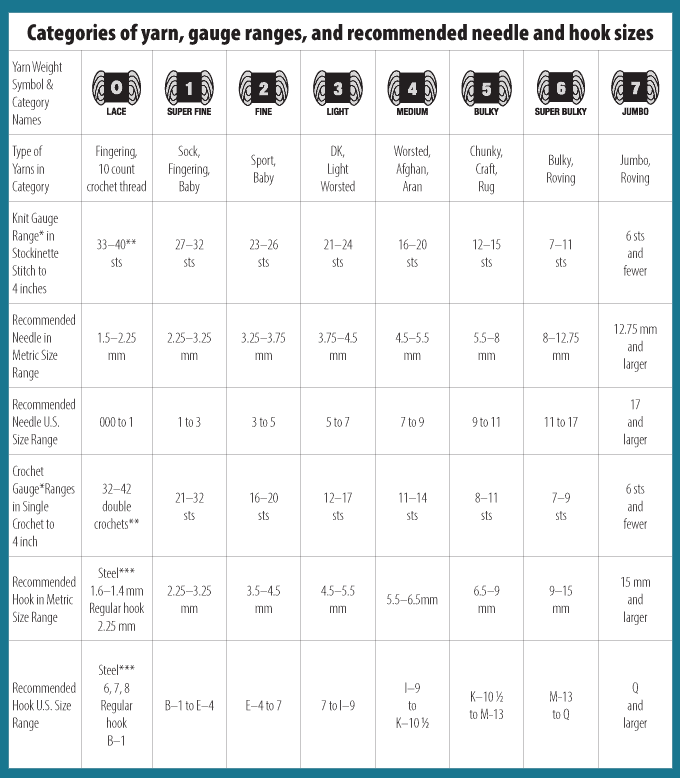 I love seeing your finished projects!  I'd love to see your Crochet 365 Knit Too makes on Instagram, be sure to tag me @crochet365knittoo.  If you are on Facebook, stop over to the Crochet 365 Knit Too Facebook page or pop over to the Crochet365KnitToo Club and share a photo!  I can't wait to see your work!