Yarn weights.  What an odd term, right? Like yarn weighs next to nothing?  And there are differences?  Sigh.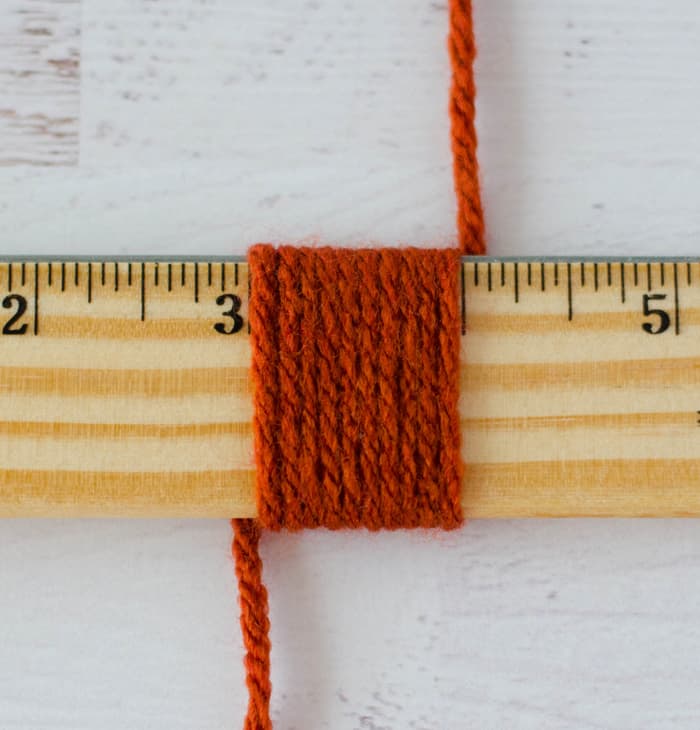 Why Care About Yarn Weight?
For most crochet projects, yarn weight is an important consideration to make sure the end result is what you expect!  Yarn weight is what makes your finished piece soft and drapey or stiff and firm.  It also greatly affects gauge.
When you know your yarn weight, it will be easier to choose a yarn that works best for the project at hand.
How Does Yarn Weight Affect Crochet?
It's important to know and understand yarn weight for a variety of reasons. Here's why:
If you're following a pattern and want to substitute a yarn, you will need to find a yarn that is similar weight to what was used in the pattern. That way your gauge and the size of your finished item turn out to be the same as the pattern, especially important for garments.
Different yarn weights perform differently than yarns in other categories.  Some are naturally suited for certain types of projects.
Understanding yarn weights make it easier to shop yarn from all over the world
Yarn weight gives a clue to the most suitable crochet hook or needle for a project
What is Yarn Weight
Yarn weight has little to do with the yarn's actual weight (or heaviness) and more to do with the thickness of a yarn strand.  And if you think yarn "ply" has anything to do with "yarn weight", you would be wrong.  A strand of yarn is made up of one or more yarn plies that are twisted together.  Any yarn weight can have one ply or many.
Yarn Thickness Affects Your Project in Several Ways
How your project looks. Is it whisper thin?  Or thick and firm?
How your project feels.  Is it lightweight with a lot of drape?  Or is it heavy, warm and very thick?
How long will your project take to finish.  Thick yarns with large hooks make for fast work!
Different Kinds of Yarn
But wait.  Aren't there different kinds of yarn?  And doesn't that affect things too?  You bet!
There are many different yarn fibers mostly broken down into three categories:
Animal: such as wool or silk
Plant:  Such as Cotton or Bamboo
Man-Made: Such as Acrylic
If you want to learn more about fibers, I have an awesome post for you called Fiber 101.  Be sure to check it out to expand your yarny knowledge!
Yarn Standards
So we now know that yarn weight refers to the thickness of the yarn strand.  But how do we group different weight yarn into categories?  There are a few different standards:
Standard yarn weights from the Craft Yarn Council
Ply – A system based on the number of yarn plies. The ply system is most commonly used in the UK, Australia and New Zeeland
WPI (Wraps Per Inch).  This is a way of determining yarn weight based on how many wraps of a  yarn can fit into a one inch space.
Yarn Standards from the Craft Yarn Council
In my opinion the Yarn Standard system from the Craft Yarn Council is the easiest and best option.  The Craft Yarn Council divides yarn into 7 categories based on yarn thickness as follows:
0 – Lace
1 – Super Fine
2 – Fine
3 – Light
4 – Medium
5 – Bulky
6 – Super Bulky
7 – Jumbo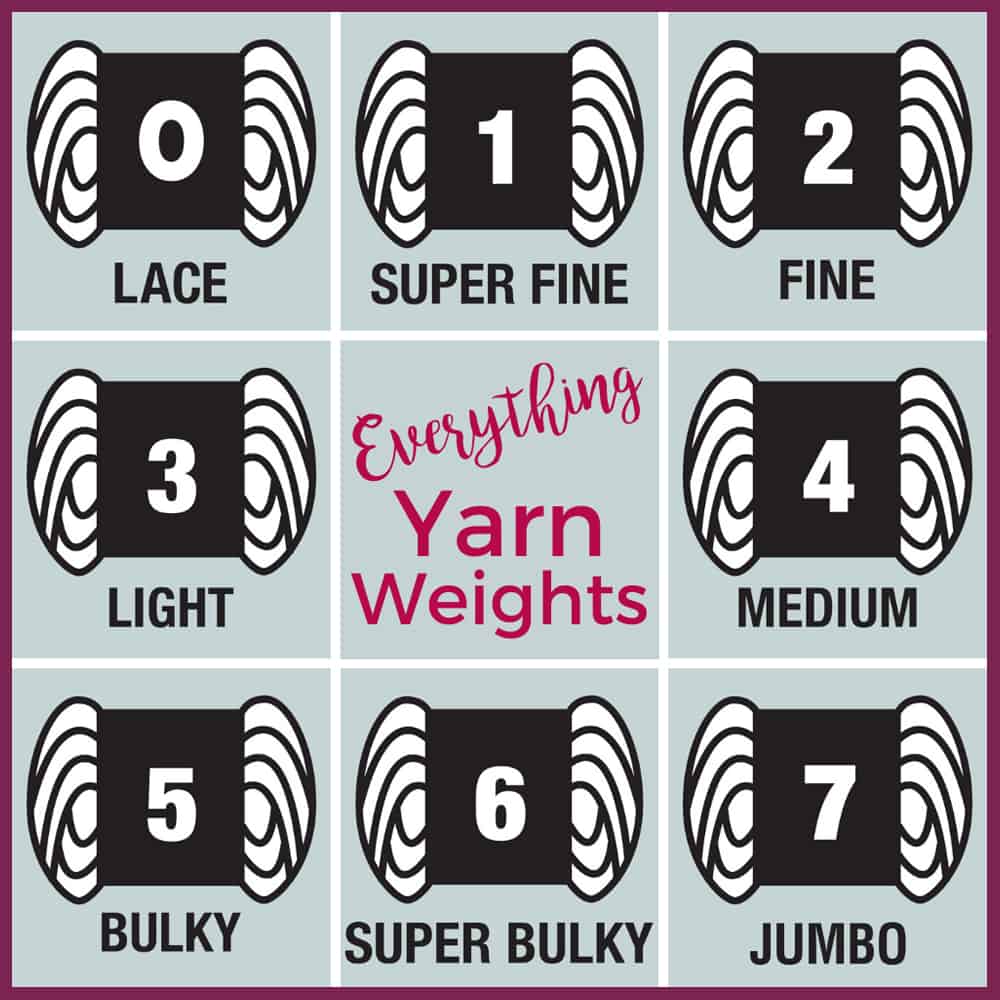 The standards include an easily recognizable symbol with the yarn weight number that many manufacturers place on the yarn bands (see above).  This makes it so easy to determine if another yarn will substitute for your project.  Just look at the yarn weight in the pattern you are following and find the same yarn weight in another yarn!
Using Ply Information To Determine Yarn Weight
If all plies of yarn were created equal, this method might actually work.  After all, it makes sense that 2 plies would be thicker than 1 ply, right?  However, in todays world there is no consistency between plies.  You can have one very thin, spider-like ply or one very large thick ply.
Yarn Weight and Ply
What is ply exactly?  To understand, you must know how yarn is made.  Yarn is made of fibers that are spun together to make them smooth and strong.
First fibers are spun in single strands with either a "S-twist" or a "Z-twist".  If you think about how the letter "S" is formed compared to the letter "Z", you might realize that they move in opposite directions.
After the first strands are spun , two or more strands are spun together in the opposite direction to make the final yarn strand. So if the first strands were spun in a "S-twist" then the second spinning would be in a "Z-twist".  Interesting, right?
Technically the process of twisting the strands together is called "to ply yarn". A single strand of yarn is called a "single" but most people will call it "single ply" instead.
The number of plies determine the "ply" of yarn.  For instance, 2-ply yarn is created from twisting two singles, 3-ply from 3 singles and so forth.
Plied yarn is typically stronger than single strand yarn.  But as mentioned earlier, there can be a lot of variation in strand size.  A one ply yarn can be thicker than a 3 ply yarn, for instance.  Thus, using "ply" as a standard is problematic.
How to Determine Yarn Weight with WPI
What if you pick up a skein of yarn and it's not labeled with the yarn weight number? One way to determine yarn weight is to look at the number of strands per inch.  To do this, wrap yarn around a ruler or a pencil so that the strands sit neatly next to one another.  Then count the number of strands that fit in a 1 inch space.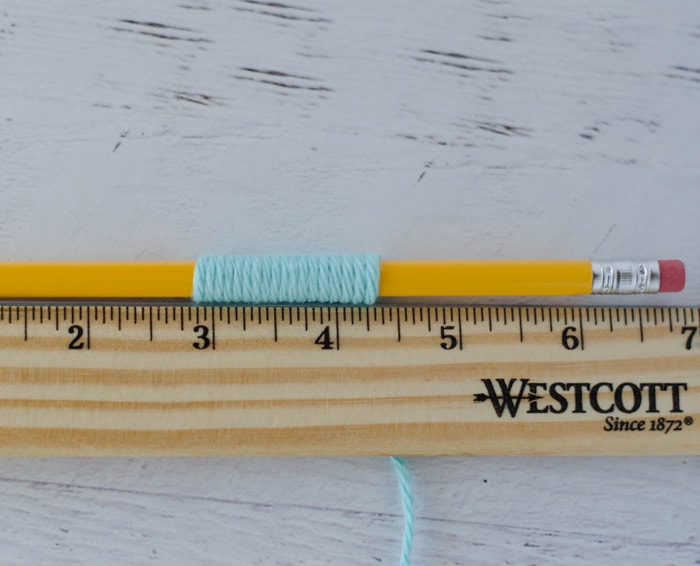 To be honest, this is a very accurate way to figure out yarn weight.  But to rely solely on this method is often not practical.  You might not have the ability to determine wraps per inch when you are shopping online or don't have access to the original yarn used for comparison.
Thankfully, the yarn industry has developed a standardized system of 8 yarn weights and many manufacturers list the yarn weight symbol right on the yarn band.  But don't fret if they do not.  You can use the information along with the stitch information included on the band to determine the yarn weight for yourself.  Read on to learn more about the 8 yarn weights.
Yarn By Weight
The higher the yarn weight, the thicker the yarn.  The thicker the yarn, the fewer stitches per inch.  In the UK and Europe, yarn weights are often referred to by their number such as "number three yarn" instead of "DK weight".  In the United States, makers will usually use the descriptive name such as "worsted weight" instead of "number four yarn".
Let's dive into the details so we can all speak the same yarn language:
0 – Lace (Fingering, 10 count Crochet Thread)
It has 30 or more wraps per inch (wpi).  Lace Weight yarn (Also called fingering weight yarn) is very thin and delicate.  It's often used in lace work, shawls and doilies.
1 – Super Fine (Sock, Fingering, Baby) 
It has 14 wraps per inch (wpi).  Super Fine yarn is very lightweight.
It goes also goes under the names thread, cobweb and light fingering.  It includes the thinnest yarns used for light and delicate work.  It's great for socks and shawls.  Many baby items are made with baby weight yarn.  Lacy items are also made from Super Fine weight yarn.
2 – Fine (Sport, Baby)
12 wraps per inch (wpi). Sport weight yarn is great for baby items (like booties and sweaters), socks, wraps and other delicate accessories.
Whenever I knit socks, I always use yarn from this category for lightweight super comfortable socks that fit in my shoes similar to regular store bought socks.
Sometimes this weight is even used for very lightweight afghans.
3 – Light (DK, Light Worsted)
11 wraps per inch (wpi).  Often just referred to as DK weight yarn, this is a great in between weight for garments and heavier baby items.  DK (which stands for Double Knitting) weight yarn is also wonderful for afghans and amigurumi.
DK weight is probably the most common weight yarn outside the United States.  It makes beautiful afghans with a lovely drape that are both cozy to snuggle under and looks very pretty draped over a couch or chair.
I also love DK weight yarn for amigurumi.  Because of its smaller weight, I have "more room" for stitches and can get greater detail into my pieces that way!  My Marcy doll, for instance, is made in DK weight yarn.
4 – Medium (Worsted, Afghan, Aran)
8-9 wraps per inch (wpi). Medium weight yarn (also called worsted weight yarn or aran yarn) is easy to work with and is a great all-purpose size yarn.  Great for afghans, hats and other projects.  Worsted weight yarn is a very common and frequently used yarn weight, especially in the United States.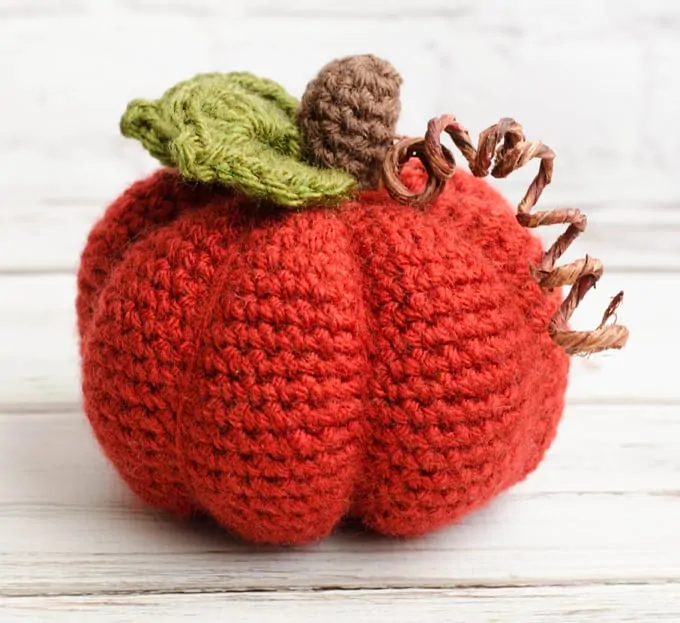 I use worsted weight for almost every project you'll find on my site, like this cute crochet pumpkin.  I love it in my Onward and Upward Afghan and Happy Lark Blanket.  And doubled up it works great in all my wine cozies.
5 – Bulky (Chunky, Craft, Rug)
7 wraps per inch (wpi). Bulky yarn is about twice as thick as worsted weight yarn.  Use it with a larger hook to make sweaters, scarves, hats, rugs and throws.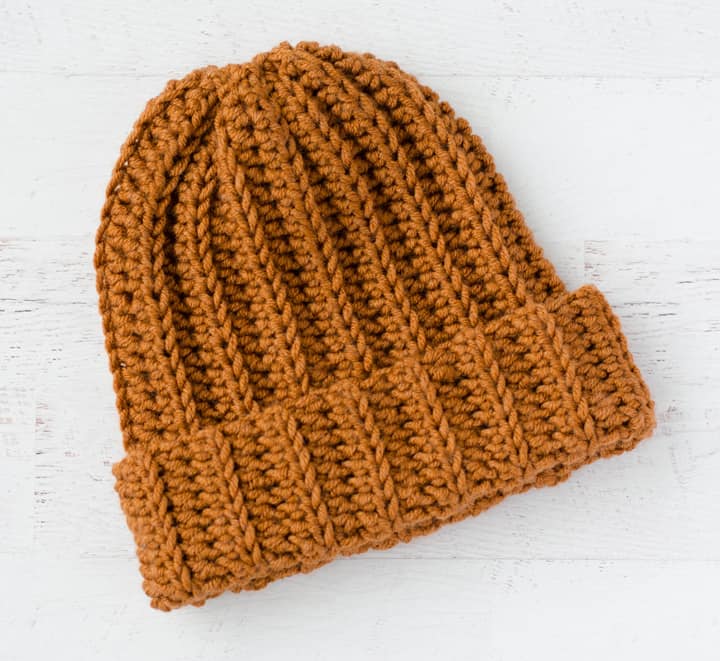 I especially love making a warm and cozy hat like this Ribbed Wonder Hat!  It goes quick and makes a warm hat.  Win-Win in my book!
6 – Super Bulky (Roving)
5-6 wraps per inch (wpi). Super bulky yarn is a thick yarn that is great for quick makes.  Try it for thick cowls, scarves and hats.
Lately this yarn is becoming more and more available at local craft stores and crocheters are loving it for thick and quick afghans and home decor items!
7 – Jumbo (Roving)
1-4 wraps per inch (wpi). Jumbo yarn is the thickest yarn weight and a recent addition to the standards list.  Added in 2014 to classify the super thick yarns used for arm knitting and crocheting. If you're looking for an ultra thick and quick afghan, try Jumbo yarn. Or maybe you'd like to take up arm crocheting or knitting, where your hand and arm are your hook!  Jumbo yarn is up to the task!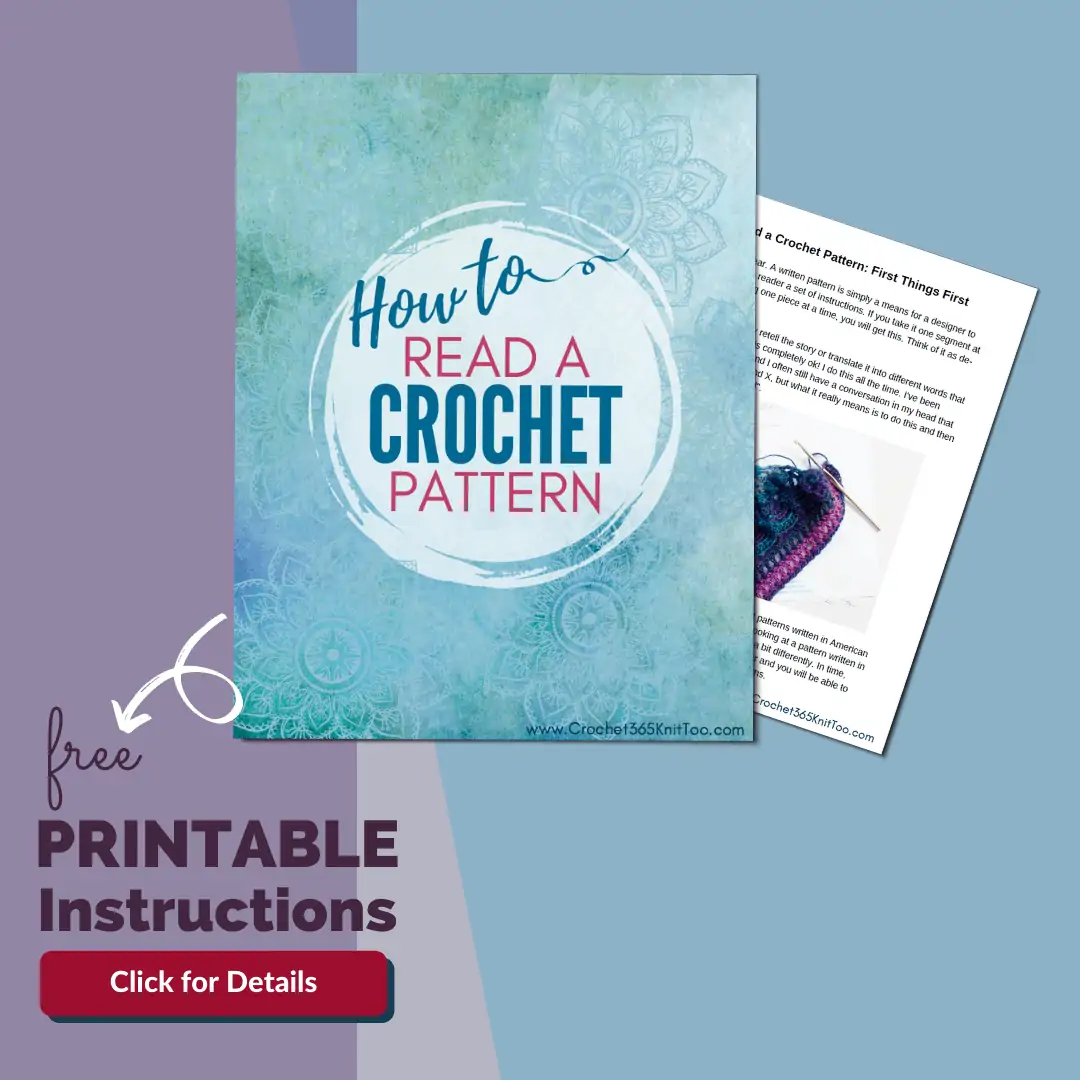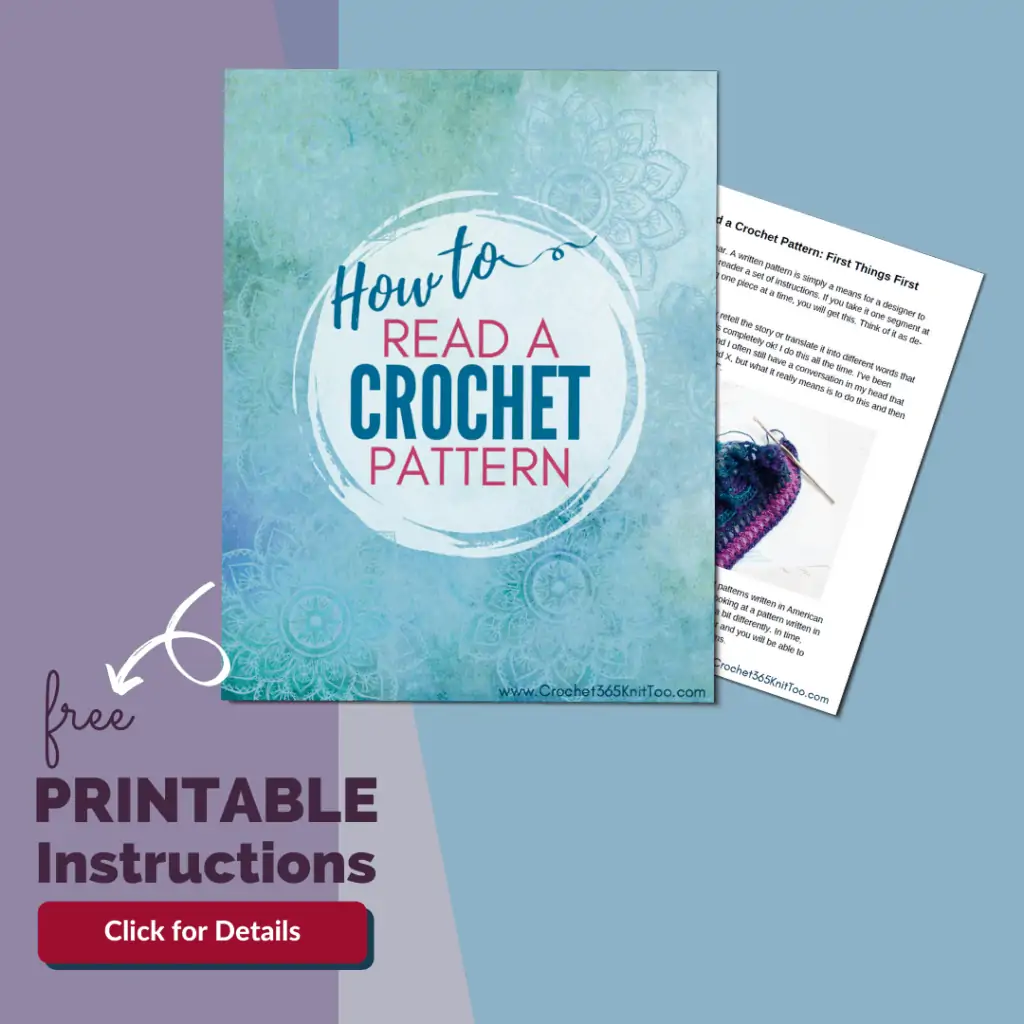 More Crochet Tutorials
If you love this Guide to Yarn Weights, you might also like to check out these other great crochet tutorials.  You can find all the Getting Started posts here.

1. Crochet Stitch Heights //   2. Parts of a Crochet Stitch //  3. How to Check Gauge in Crochet
International and Historical Differences in Yarn Weights
Historically yarn weights were always classified by plies in the United Kingdom.  Back in the day a 2-ply yarn was a lace weight and a 3 ply yarn was a DK weight.  Now plies do not correlate to yarn weights.  It is very possible to have a 1-ply bulky weight yarn just as easily as a 1 ply fingering yarn.
The UK also refers to an "Aran" yarn weight.  This falls into the "4-Medium" yarn weight category.  However an Aran weight yarn is typically thicker than a worsted weight yarn in the United States.
Yarn weights are important to consider when making any project.  If you are following a pattern and want to substitute a yarn, find a similar yarn to the original and work a gauge swatch before starting the project.  If you are designing or want a specific look and feel, be sure to consult the yarn weight chart to determine the best yarn weight for your project.
Here's a handy chart from the Craft Yarn Council: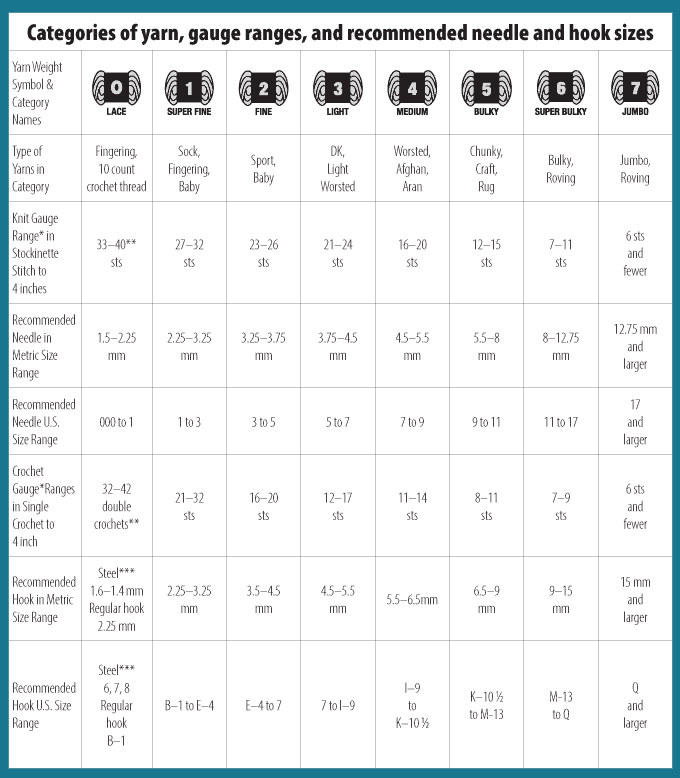 What Size Hook or Needle Do I Use?
One thing I really love about the Yarn Standards chart above is that it gives some guidance to what hook size typically works best for a particular yarn weight.  The correct hook size is the one that gives your project the right gauge.  To read more about calculating gauge and why gauge even matters, click here.
Hook size also affects the drape of the finished project.  For instance, if I'm making an afghan and it is coming out too stiff and firm, I will often start over with a larger hook.  The larger hook creates larger stitches which in turn makes a fabric that drapes a little more.
Final Thoughts on Yarn Weights
Armed with all the information on yarn weights you have just increased your yarn know-how!  You now understand what yarns are best for what projects. You know how to make good substitutes.  And you might even find yourself putting more thought into yarn selection for your next project.
Understanding fibers, yarn weights and gauge really is the key to your inner designer!  Go forth and crochet, my friend!  You've got this!
I love seeing your finished projects!  I'd love to see your Crochet 365 Knit Too makes on Instagram, be sure to tag me @crochet365knittoo.  If you are on Facebook, stop over to the Crochet 365 Knit Too Facebook page or pop over to the Crochet365KnitToo Club and share a photo!  I can't wait to see your work!