Crochet Hook Sizes – Everything You Need to Know
A crochet hook size chart just might be the best thing you never knew you needed.  As it turns out, crochet hooks come in a variety of sizes. And crochet hook sizes vary depending on the country you live in and the brand of crochet hook you purchase. You want to choose the best crochet hook for your project but you might be getting confused about all those crochet hook sizes!  It's not you.  It IS confusing. But not to worry because I'm going to explain it all in this post.  Let's dive in.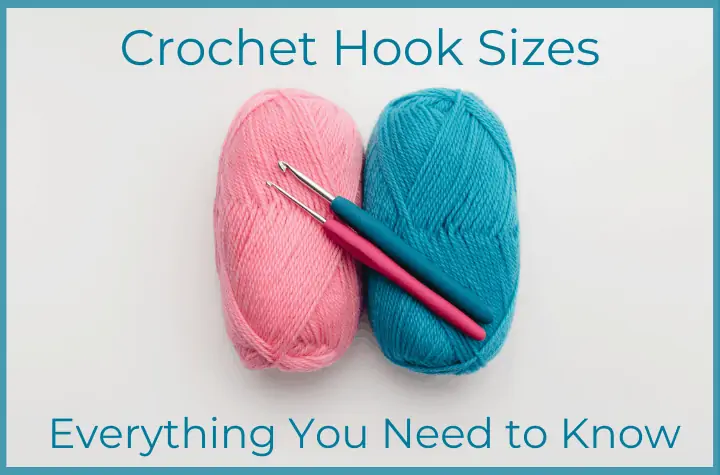 Does The Size of A Crochet Hook Matter?
It depends, but mostly, yes, a crochet hook size matters.  The look and feel of a finished crochet project depends on the combination of yarn used and hook size.   A large hook will produce a loose, more drapey crochet fabric and a small hook will produce a firm, more dense fabric. Crochet patterns will indicate the size of hook and yarn needed. So be sure to pick the correct crochet hook size to achieve the same result as the designer.
Sometimes you need to change crochet hooks to achieve the same gauge the pattern indicates. When crocheting, we all crochet slightly different than each other-some looser and some tighter-it's completely normal to have to adjust your crochet hook size.  Be sure to check out my post on crochet gauge for more information.
When matching someone else's finished size doesn't matter, the size of the crochet hook you choose can be up to you.  For instance, when I crochet an afghan or amigurumi I don't mind if my finished project is slightly smaller or bigger than the pattern designer so I will pick my favorite hook for a particular yarn.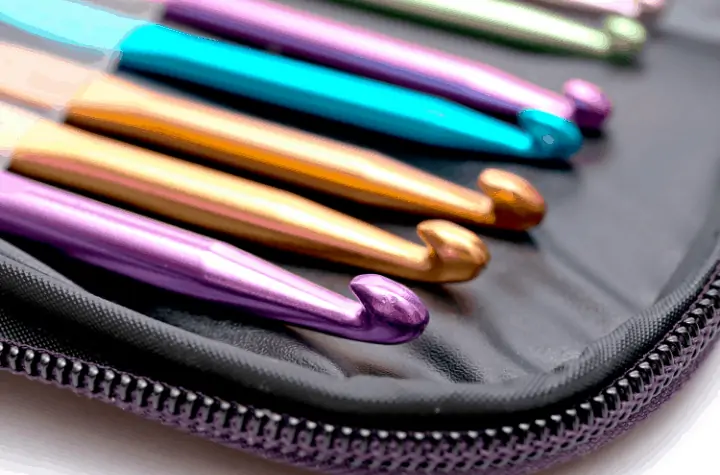 What Are All The Sizes of Crochet Hooks?
Crochet hook sizing can be very confusing.  It may come as a surprise that different countries have different size hooks. Or rather, the hooks are called something different depending upon which country you live in. Here in the United States you will generally find crochet hooks listed by "letter".
Often the hook manufacturer will also list the millimeter equivalent. To further complicate things, sometimes manufacturers have different millimeter sizing for a particular hook-so a Size G in one brand might not be the same size as a Size G in another brand!
Sometimes a crochet pattern or a crochet hook will be labeled with 3 different sizes:  a letter, a number and a millimeter (mm).  Other times it will just indicate one size hook and you are left to determine what hook you really need!
Crochet Hook Sizes
The easiest way to end crochet hook confusion is to understand the difference between "measurement" and "label".  Ultimately, the size of a crochet hook is determined by the diameter of its shaft.  The shaft is the area on the hook where the yarn loop is formed.
Most crochet hook manufacturers label their hooks with both a labeling system AND a metric measurement.  If you can re-program your brain to understand that the measurement is the most important piece of information, you will conquer the crochet hook confusion.
The "label" the manufacturer uses – whether that is a lettering or numbering system – is merely the manufacturer's way of indicating the size of the hook.
Get in the habit of identifying the correct millimeter hook needed for a project and converting that to your preferred brand hook's size.  These crochet hook size charts will help you convert common crochet hook sizes.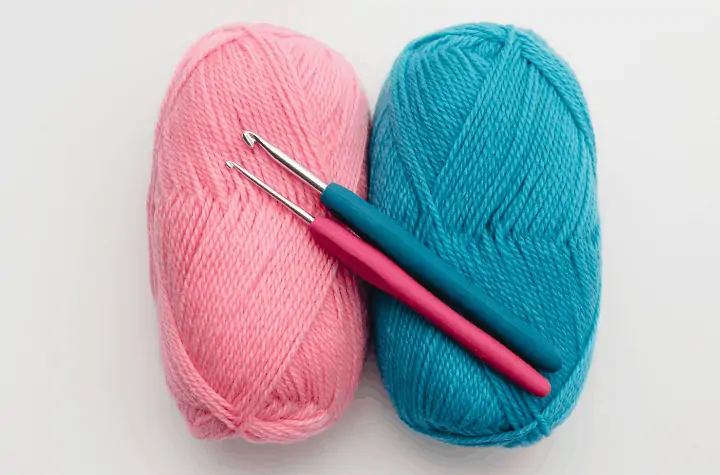 Regular Crochet Hook Conversion Chart
The following chart shows standard crochet hook sizes commonly used for sock weight yarn to super bulky yarn. In the US notice that the higher the number or letter, the larger the hook.  In the UK, the numbering system works in reverse with the higher numbers representing the smallest hooks.
Crochet Hook Conversion Chart
| Metric | US | UK |
| --- | --- | --- |
| 2.00 mm | – | 14 |
| 2.25 mm | B-1 | 13 |
| 2.50 mm | – | 12 |
| 2.75 mm | C-2 | 11 |
| 3.25 mm | D-3 | 10 |
| 3.5 mm | E-4 | 9 |
| 3.75 mm | F-5 | – |
| 4.00 mm | G-6 | 8 |
| 4.25 mm | G | – |
| 4.50 mm | 7 | 7 |
| 5.00 mm | H-8 | 6 |
| 5.50 mm | I-9 | 5 |
| 6.00 mm | J-10 | 4 |
| 6.50 mm | K-10.5 | 3 |
| 7.00 mm | – | 2 |
| 8.00 mm | L-11 | 0 |
| 9.00 mm | M/N-13 | 00 |
| 10.00 mm | N/P-15 | 000 |
| 12.00 mm | O-16 | – |
| 15 mm | P/Q | – |
| 15.75 mm | Q | – |
| 16 mm | Q | – |
| 19 mm | S | – |
Steel Crochet Hook Size Chart
Crochet thread or lace weight yarn requires steel crochet hooks.  In the US and UK both the numbering systems, while different from one another, use a higher number for the smallest hook and a smaller number for the largest steel hook. This chart of thread crochet hooks will help you get the correct hook size for your lace project.
Steel Hook Conversion Chart
| Metric | US | UK |
| --- | --- | --- |
| .75 mm | 14 | – |
| .85 mm | 13 | 7 |
| 1 mm | 12 | 6-1/2 |
| 1.1 mm | 11 | 6 |
| 1.3 mm | 10 | 5-1/2 |
| 1.4 mm | 9 | 5 |
| 1.5 mm | 8 | 4-1/2 |
| 1.65 mm | 7 | 4 |
| 1.8 mm | 6 | 3-1/2 |
| 1.9 mm | 5 | 3 |
| 2 mm | 4 | 2-1/2 |
| 2.1 mm | 3 | 2 |
| 2.25 mm | 2 | 1-1/2 |
| 2.75 mm | 1 | 1 |
| 3.25 mm | 0 | 0 |
| 3.5 mm | 00 | – |
Choosing the Right Size Crochet Hook
So you might be thinking, 'ok, I see how the different crochet hooks are labeled' but I still have questions:
How Do You Know What Size Hook to Use?
Larger crochet hooks are used with thicker yarns (or chunky yarn) and smaller hooks are most often used with a thinner yarn.  Here are some ways you can tell which hook size you need for your project:
Yarn Label:  The yarn label is a great place to find out all kinds of information about the yarn, including the fiber content and suggested crochet hook and knitting needle sizes.
Sometimes the hook information will be presented in a square.  Other times it just states the information.  Usually there is a drawing of a hook or a crossed set of knitting needles.  The label will indicate the mm size of the hook and sometimes will include the hook letter too.
Pattern Instructions:  If you are following a pattern, the designer will tell you the correct hook size for the project.  It's best to start with the size hook the designer recommends to ensure your project turns out the same size.  You should work a gauge swatch to make sure that you are achieving the same results as the designer.
Gauge Swatch: It's a good idea to work a gauge swatch as indicated in the written pattern directions and then compare that to the gauge of the pattern.  If your gauge swatch turns out too big, then use a smaller hook.  If your gauge is too small, then try a larger hook. Read my post about how to check gauge in crochet for more information on why gauge is important and how to measure it.
Crochet Hook Sizes Frequently Asked Questions:
How do you know what size crochet hook to use?  There are really two ways to look at this question.  If you are following a pattern and you want your project to turn out the same size as the designer, then use the hook size that gives you the same gauge as the designer.  The best way to do this is to start with the recommended hook size, then work a gauge swatch and change the hook size if you need to make the finished item bigger or smaller.  Be sure to read my post on crochet gauge for more information.
How does hook size affect crochet?  Hook size and yarn work together to form crochet fabric.  A larger crochet hook will make each stitch and the entire project bigger.  Because the stitches are looser, the fabric will have more drape.  Conversely, a smaller crochet hook will make a project smaller.  Tighter stitches mean a denser fabric.  So you may wish to go with a larger crochet hook on a project like a shawl where drape is important and choose a smaller crochet hook for projects like amigurumi when a dense fabric with no stuffing peeking through is the goal.
How can I tell what size hook I have if it is not labeled? If you're like me, you might own a crochet hook that has incomplete labeling, such as a letter but no corresponding number or metric measurement.  Lucky for us there is a handy gauge tool that includes an area for measuring crochet hook sizes in millimeters.  Simply insert the shaft of your hook into a hole until it fits and then note the corresponding millimeters. (You can use the same holes to measure a knitting needle too!)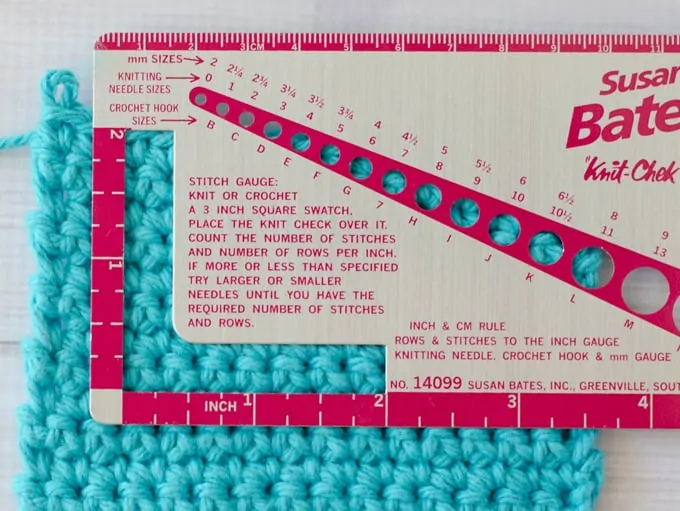 How many crochet hooks do you need to crochet? The number of crochet hooks you need in your crochet toolbox depends on the type of work you enjoy making.  Many crocheters find that they gravitate towards the same few crochet hook sizes.  I crochet almost exclusively with worsted weight yarn and find that I use hooks in the 3.75mm to 5.50 mm range the most with a 4.00 mm G hook and a 5.00 mm H hook my two most favorite.
Note that this applies to regular types of crochet hooks.  If you are making a tunisian crochet project, you will need a special tunisian crochet hook.
Is there a size 7 crochet hook? Yes, there IS a size 7 crochet hook!  A size 7 crochet hook is a 4.50mm crochet hook and is right between a G and a H hook, if you're using the US terminology.  We tend to not use this size often in the United States, but we really should as there is quite a gap between a 4.00 mm G hook and a 5.00 mm H hook!
What crochet hook size matches what yarn weight? While there are definitely some hooks better suited for one weight over another, there is not a consensus on this.  The Craft Yarn Council, for instance suggests a 4.5mm – 5.5mm weight yarn for DK weight yarn and a 5.5mm – 6.5mm hook for worsted weight yarn.  However, I routinely use a 4.00mm up to a 5.50mm hook for worsted weight.  It really depends on the desired outcome for the project.
What happens if I use a bigger crochet hook? Using a bigger crochet hook means that the crochet work will be bigger and have more drape.  Depending on the desired result this could be a good thing or a not-so-good thing.  Sometimes we need to use a different sized hook to get the same end result as the original designer.  Often when people ask this question, though, they are wondering if they can substitute a hook size they have and still get the results the desire.  The answer really depends on the project. Is the size important?  If it's not, you can often go up or down a crochet hook size or two without much impact.  Just know that it will likely affect the amount of yarn you need, so plan your yarn purchase accordingly.
More Getting Started Tutorials
If you love learning all things crochet, you might also like to check out these getting started crochet guides.  You can find all our Getting Started Crochet Tutorials here.

1. Ultimate Guide To Crochet Hooks //  2. How to Hold A Crochet Hook //   3. How To Read A Crochet Pattern 
What happens if you use the wrong crochet hook? Most people asking this question are really wondering what happens if they use a hook sized differently than the pattern.  As stated earlier, this is really a matter of understanding that larger sized hooks make for larger finished items and smaller sized hooks make for smaller items.  And understanding that sometimes you need to use a different sized hook than the designer to achieve the same result.  Once you know all those factors, you can decide the best crochet hook for your project.
What is the best size crochet hook for beginners?  When you are starting to crochet and practicing the skills, it's best to get a hook that is comfortable that will enable you to form correct stitches.  Since we use worsted weight in the United States, I recommend starting with a 5.0mm H hook.  It is a common hook and once you learn how to form stitches with this size it is easy to start crocheting with the other sizes.
What is the most comfortable crochet hook? The most comfortable hook is the one that feels best to you!  This is akin to asking someone their favorite jeans or brand of soda!  Everyone has her own favorite!  Some people like ergonomic crochet hooks, aluminum crochet hooks or plastic hooks.
My favorite crochet hooks are the Clover Armour hooks. The sizes are the most consistent of the brands and they can be found locally and online very easily. Most are aluminum hooks but the largest sizes are out of ABS resin plastic. All of the Clover Armour hooks have a comfortable elastomer rubber handle..
What is the most popular crochet hook size? Most experts pick the H/8 5 mm crochet as the most popular size crochet hook.  It's my personal favorite too!
What size crochet hook is best for amigurumi?  Amigurumi require a dense fabric so that the stuffing does not show through. Once again, choose a hook to correspond to your chosen yarn.  For worsted weight yarn, I typically use a 3.5mm – 4.00 mm hook.  A DK weight yarn would require a smaller hook. Looking to up your amigurumi game?  Check out my free amigurumi tips here.
Crochet Hook Sizes:  The Final Word
I think our crochet world would be a better place if we focused on two things in regards to crochet hook sizes.  First, size is really a measurement, NOT a label.  So instead of thinking of your hook as a letter (as we so often do in the United States), think of it instead in millimeters.  That way, no matter the labeling or number system, we are all talking about the same thing:  the size of our crochet hook.
Second, a crochet hook is a tool towards a result.  We should stop and think first about what hook… whatever size that might be… is going to provide the desired result.  We should use the hook recommendation listed in a pattern as a starting point, knowing that we may need to make an adjustment. An adjustment could be changing a hook or accepting that the finished item might be smaller or larger than planned (and use a different yarn quantity than expected).
We sometimes forget that crocheting is art and that our own crochet techniques and methods affect the result. The beauty is in the doing and the crochet hook is just a tool to get there!
I love seeing your finished projects! If you enjoyed making one of my patterns I'd love to see yours on Instagram, be sure to tag me @crochet365knittoo.  If you are on Facebook, stop over to the Crochet 365 Knit Too Facebook page or pop over to the Crochet365KnitToo Club and share a photo!  I'd love to see your work!