Free Crochet and Knit Journal
Subscribe to my newsletter and get crochet patterns, news, special offers and other crochet goodness straight to your in box!  In your first email you will get access to The Vault, where you can download a free crochet & knit journal and other crochet goodies!  Read on to get all the details on the journal!
Do you ever get SOOO excited about giving a gift that you JUST. CAN'T. WAIT.
Well… that's how I'm feeling RIGHT NOW!  I decided to make a super amazing printable so that you can track every detail of your crocheting and knitting projects!  AND I'm going to GIVE IT TO YOU for FREE!!
The Basics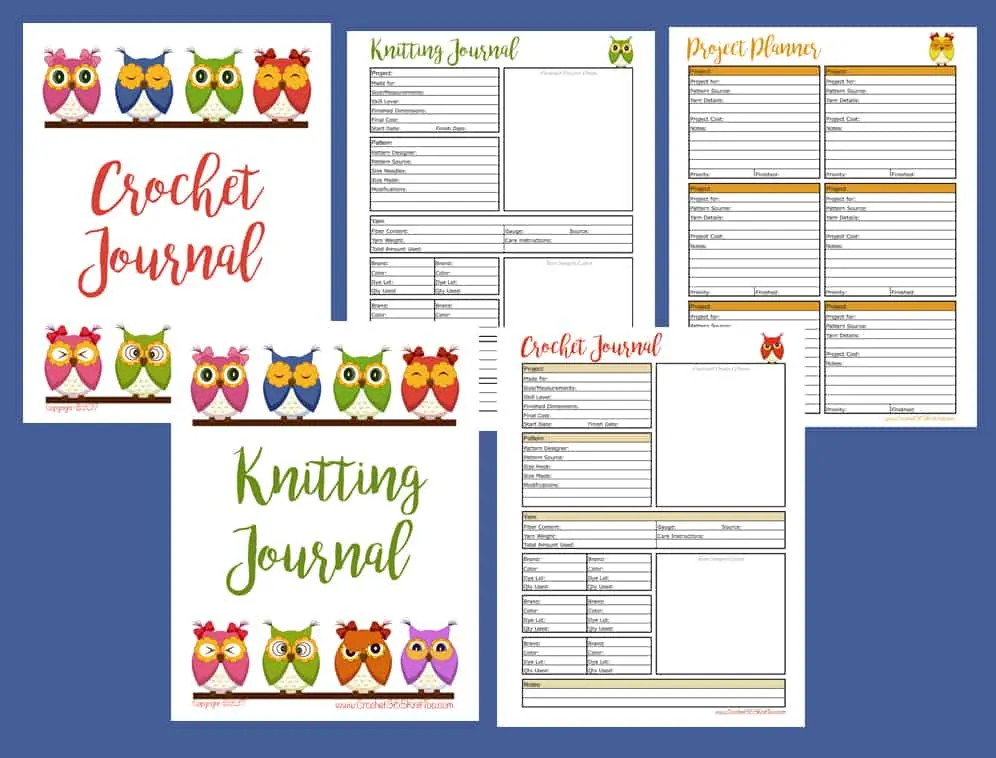 Whether you crochet or knit, you will be able to print just the pages you need.  Make a crochet journal OR a knit journal or mix and match pages to meet your needs.  First up…  Projects!!!  The Crochet Journal and Knitting Journal are designed for you to keep track of all the details of projects you are working on now.  After your project is done, you can refer back to see what size you made, what hooks or needles, yarn.. you name it… every detail, you will have it!  No more wondering..what did I do?
The project planner is for tracking projects that are "in queue"… you know those projects that aren't quite ready to go.  Maybe you're planning for gift giving or maybe you're like me and you have multiple projects in the works!
Track Your Stash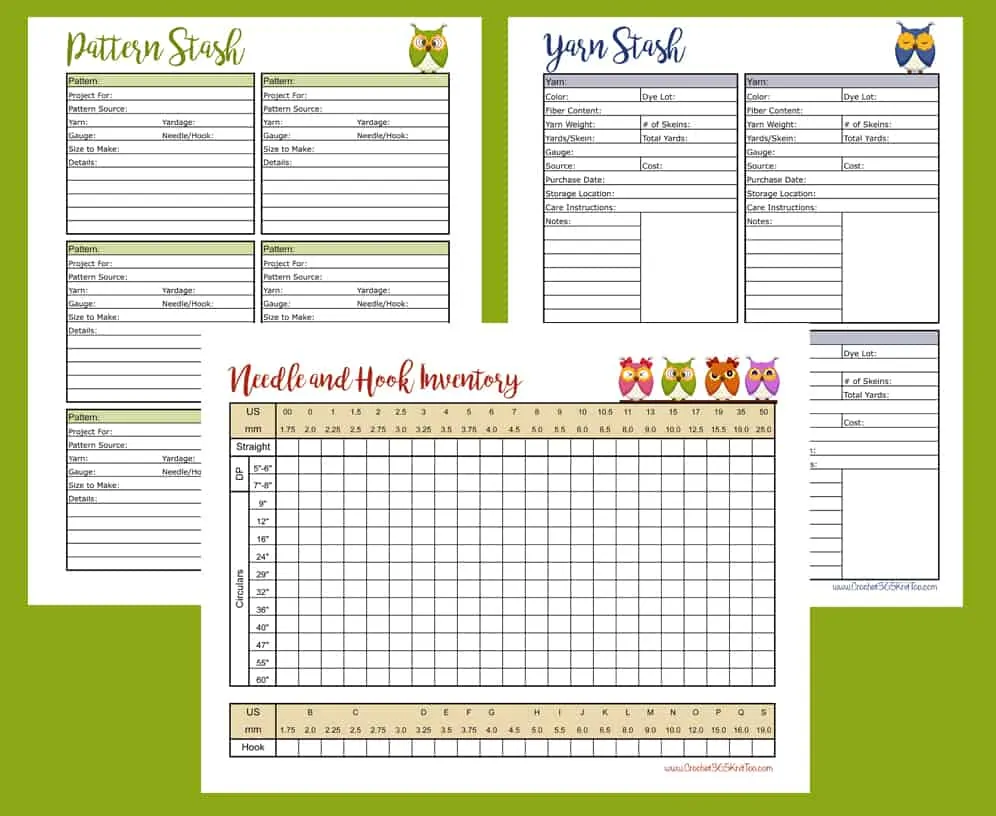 Do you have stash?  Have you ever bought the EXACT SAME brand and color of yarn because you had no idea you actually had it at home?  Or worse yet, you bought the exact same size hook or needle?  (Wow.. I feel like I'm in the Crochet Confessional-LOL)  Wouldn't it be really nice to be able to inventory your yarn and your patterns (or hey.. even know where you PUT your pattern?)  Well now you can track it all.  And the forms are super cute, too, don't you think?
The Rest of The Story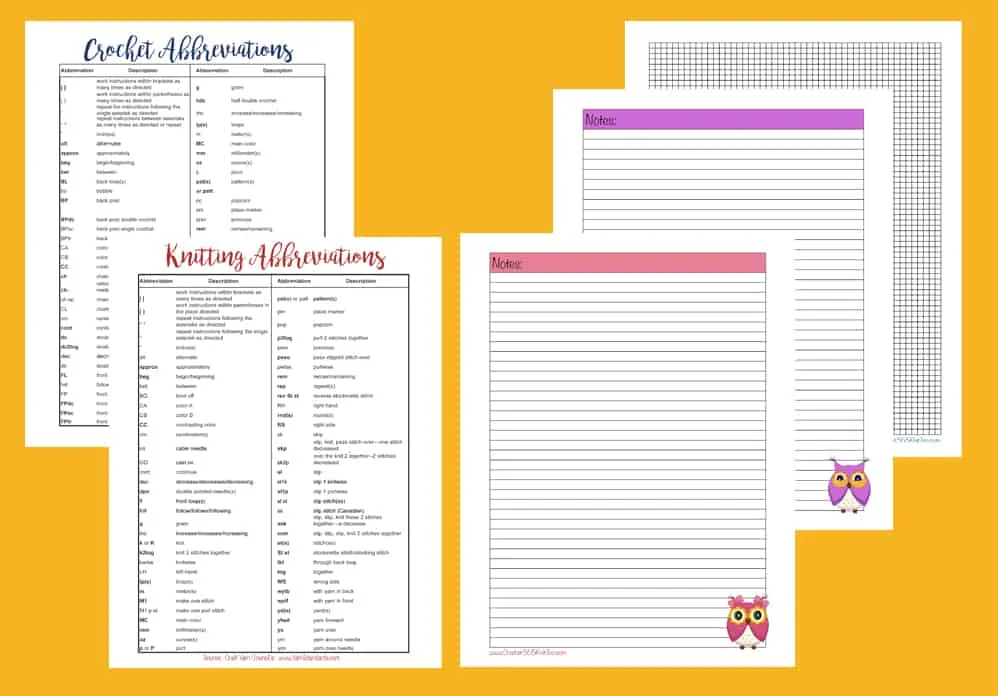 Rounding out this fabulous journal are pages with abbreviations, note pages and graph paper.  YAY!
Print out what you need in the quantity you need.  Then 3-hole punch them and put them in a binder.  OR  Print the cover on heavier paper along with the pages and bring them down to an office supply store and have it spiral bound.  How's that for portability!
Ta Da!  The Collection!!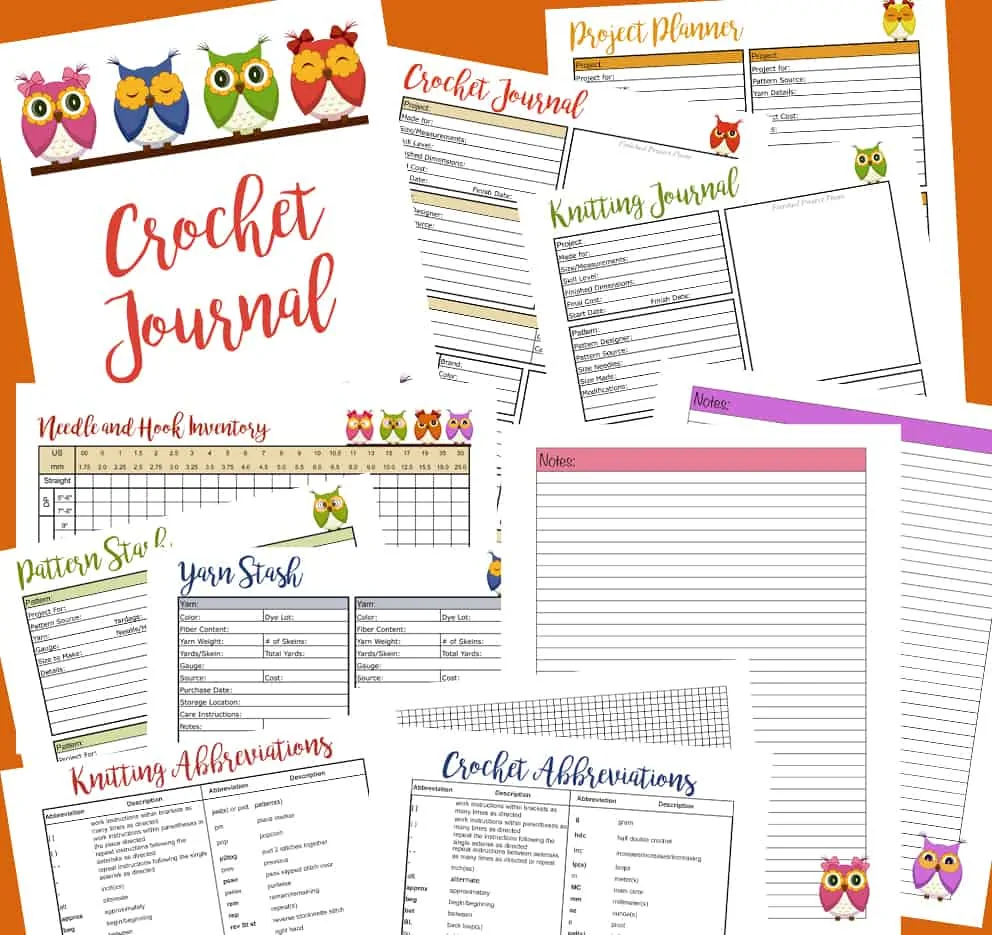 Here's everything!  Do you love it??  I hope you do!  I'd love to see your journal.  Post a picture and tag me on Instagram or post a picture to my Facebook page!
Want In?
The journal and other fun crochet goodies are in The Vault, a special password protected area of my blog, just for my newsletter subscribers.  In the first email after subscribing there is a link and the secret password to The Vault.
I treat my newsletter readers like good friends–you know the kind that you love to hear from that call you once in awhile, but don't drive you crazy.  I email about once a week to tell you about the latest crochet projects on my blog and any other bits of crochet goodness!
If you missed the sign up box, here it is again: