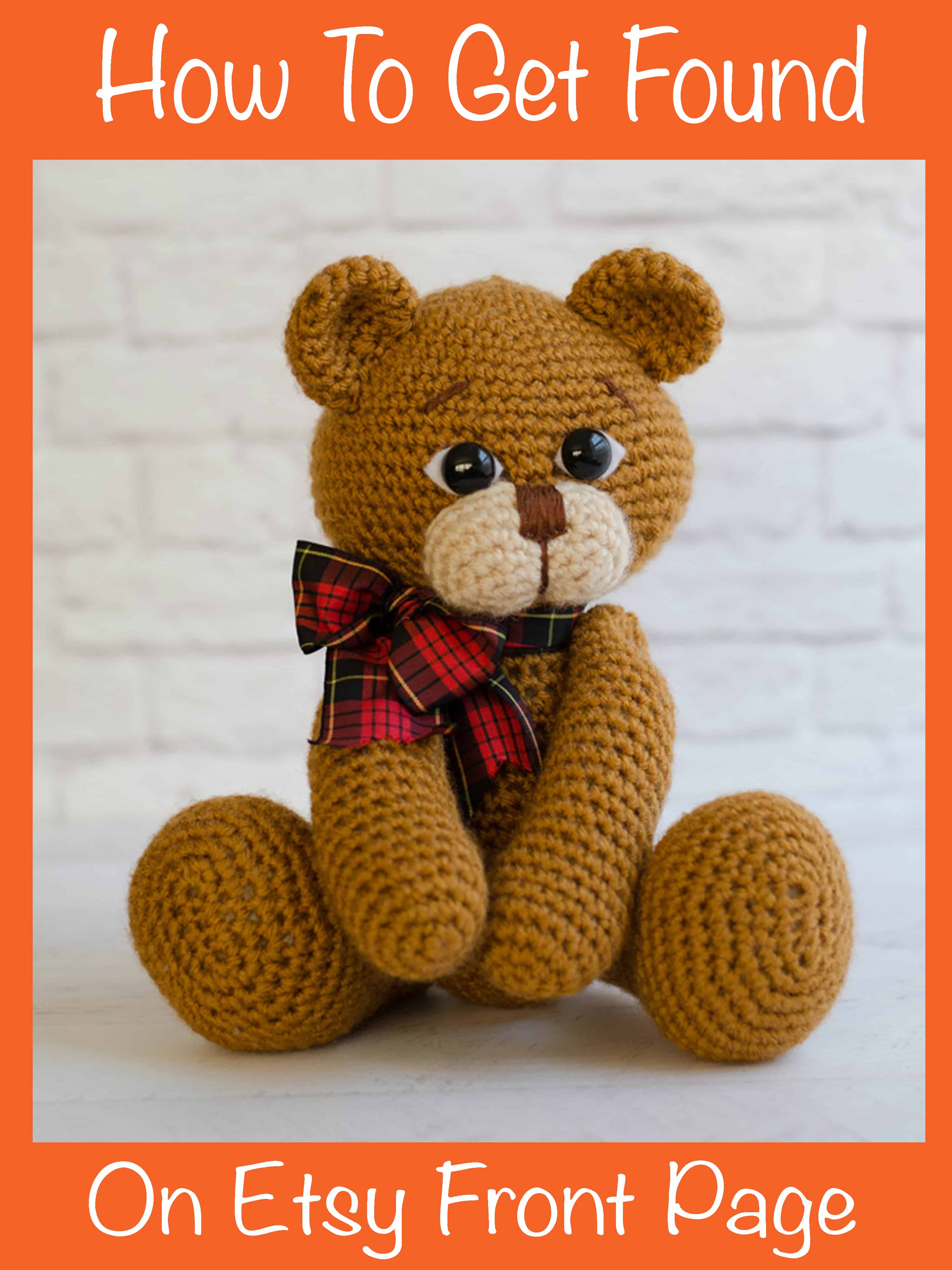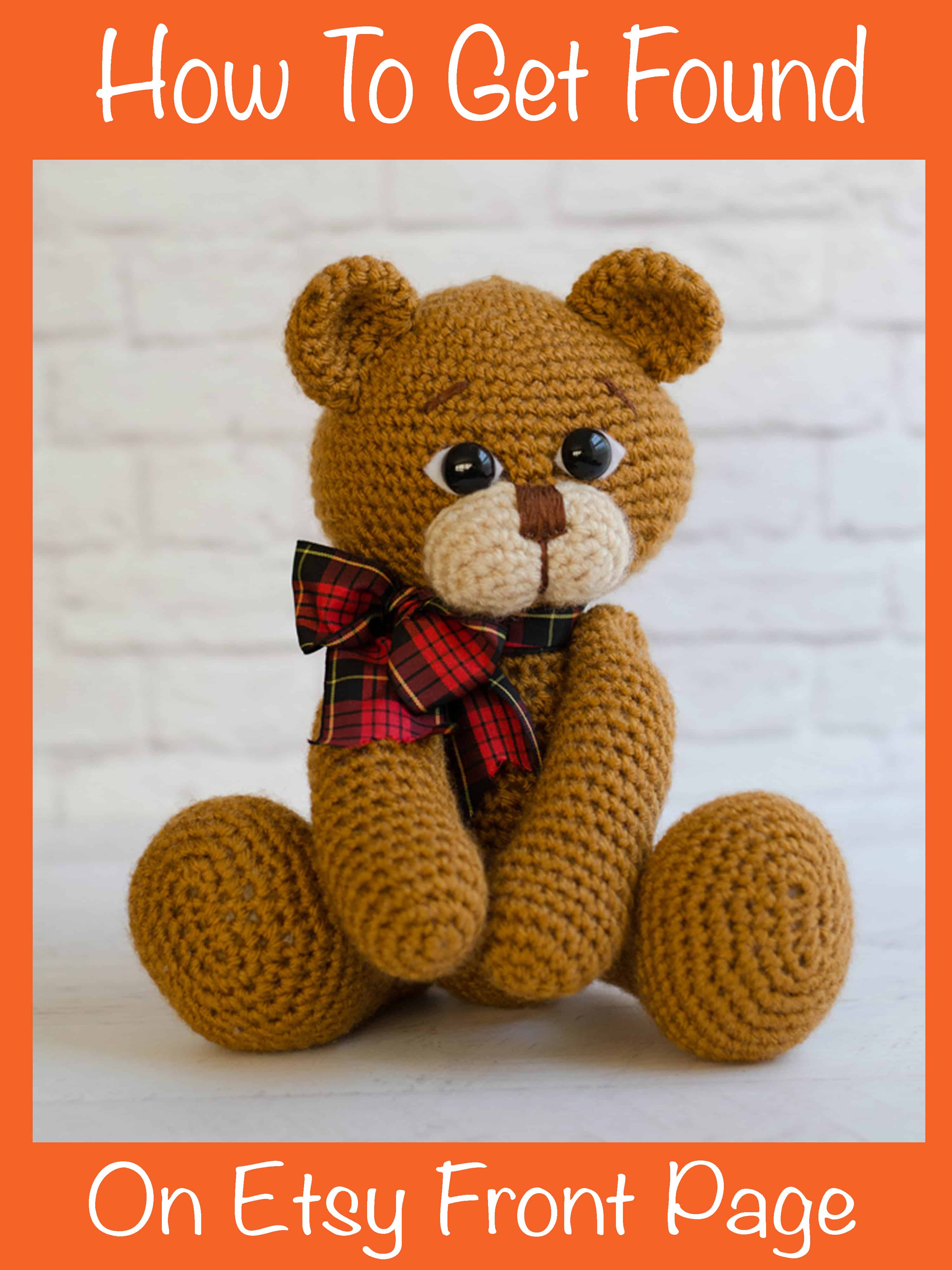 Do you sell on Etsy?  Do you think you'd do much better if you could only, just only, be found on the first page of Etsy search?  Well then today, my friend, this post is for you.  I'm here to tell you what works for me and how I get my listings to the top of the search in Etsy.
If you are thinking that you can make something you think looks good, take a mediocre photo of it on your worn out couch and have it sell like crazy on Etsy, you are mistaken.  You may think your item looks amazing.  And maybe it does. But you must be able to "sell" your product.. to show everyone how amazing it is.. through a computer screen.  But before you can even sell it, your future customer needs to be able to find it, right?! Here's what you need to know to get found on the first page of Etsy search.
First Things First
Today I'm going to assume that you already have a great looking product and that you took amazing photographs.  These things are so, so important to selling on Etsy.  Etsy is a visual marketplace.  And so looking your best is very important.  It matters.  And if you want to sell on Etsy, this needs to matter to you too.  In How to Make a Photo Backdrop I showed you how to make an inexpensive backdrop for your product photography.  But this post is focused on getting your amazing product front and center to your perfect buyer.  Your buyer hasn't met you yet and I'm here to show you how to get found on the first page of Etsy search.
Keywords
The Etsy search bar is a search engine.  Just like Google.  Just like Pinterest.  What all these have in common is that they have the same, main goal:  to delight their reader.  They want to make sure that every time someone searches, they find results that exceed their expectations.  If readers do not..they leave.  So it's important to Etsy to get it right.
They invest a lot of time and resources into complex algorithms that make sure this happens.  And they change and adapt their algorithms all the time.
As online sellers, we need to make sure that when the Etsy computer sees our listings we are effective communicators.  We do this through search engine optimization (SEO).  And a good amount of SEO revolves around keywords.  Several years ago, an online marketer could do something called "keyword stuffing". The marketer could load up an online article with gibberish but include a bunch of the "right" keywords and the page would rank high for the search engines.  The marketer could drive traffic to a website, for instance, and then make lots of money on advertisements on the site.  But the viewer was unhappy because it was bad information and not what the viewer was looking for.
So the search engines got smarter.  As an online seller, you need to put yourself on the same side as the search engine–or in our case–on the same side as Etsy.  This is a key point to understand if you want to learn how to get found on the first page of Etsy. Recognize that both you and Etsy are trying to delight the reader.  So we need good keywords in our listings.  Not too many.  Just the right amount and in the right places.

How to Choose the Right Keywords
Here is how I go about choosing the right keywords.  And, by the way, you can do this before you list your product.  Or, you can (and should) periodically go through your listings and tweak them.  I step away from my product.  And I think like my customer.  I ask myself this question:  If someone wanted to buy my product and they had to search for it, what words would they use to search?  You want to think of the basic concept of what your product is.  For instance, if you have a crochet bear that you call Ralph, you wouldn't make your keywords "Ralph the bear".  Yes, someone could probably search Etsy for that and find you.  But, is that what your customer is searching for?  No.  Your customer is probably searching for "crochet bear".
So go to the search bar and search for the phrase you think your customer will search for.  See what comes up. Do these results look like your product?  If not, why not?  Could you search for something else?  What are the different ways of searching for your product.
If you start typing in the Etsy search bar, a drop down box will appear that will show you what are popular searches.  That can help you target your keywords.
You Have Keywords, Now What?
So you know what keywords you want to focus on.  Now what do you do?  Go back to the search box and search for your keyword phrase.  The first row of listings that come up are ads.  Ignore those.  Those sellers paid for those spots.  The rest of the ads earned their place on the front page.  Etsy determined that those ads are the absolute best of the best for the keyword phrase you just used.
Let's do some market research.  Pick an ad in the 2nd row and click on it.  You are going to be looking at keywords in 4 spots.  It is helpful to put this "ideal" listing next to your listing and let's do some comparing.  It is important not to copy verbatim from the other listing–particularly the description.  Your item is your item and is unique.  What you are doing in this step is looking to see where and how the keywords are place.
Title
How are the keywords listed in the title?  Can you phrase your title in a similar way?  You are going to find that you can often use the same words in a slightly different order.  For keywords, it is important that your phrase words stay together.  So if you keyword phrase is "crochet bear pattern", make sure that those words stay together.  In other words, don't flip it around to say "bear crochet pattern".  That is a different keyword phrase.
Often your keyword phrase will be listed more than once in the title.  Try to make sure that your title has the appropriate keywords but does not sound awkward.  So you wouldn't want to say "crochet bear, crochet bear, crochet bear".  But you could put the words in the title twice and it would be ok.  Etsy allows for a fairly long title so you might as well use up the space the best you can.  Remember.. that title is for your viewer, but it is ALSO for the Etsy search engine.
Description
Make sure that you have your keywords in your description a few times.  I generally just try to be mindful of my keyword phrase and have it flow somewhat naturally.  Take a look at the "ideal" listing.  How does the listing start?  Usually it is somewhat similar to the title.  So looking at the starting words, use something similar.  Read through the "ideal" listing and then your own listing.  Do you feel like you both use the keywords the same number of times?

Categories and Tags
Now take a look at the Category and the Tags section of your own listing.  Want to get found on the first page of Etsy search?  Then you will need to be certain to select the right categories and tags.  The Category section is listed first.  You want to be sure to get this correct.  To find the categories in the "ideal listing" you found, scroll to the very bottom of their listing.  There are a whole list of tags at the bottom.  I bet you never even noticed that before, right?  You will find the categories listed before the tags.  There are a total of 13 tags.  So if there are 16 words/phrases listed, the first 3 will be what that seller used as their categories.
Go to your own listing and use the same categories as the ideal seller.  Remember.  Your ideal seller/listing has already figured out the Etsy algorithm.  You want Etsy to see your product the exact same way.


Now look at the tags.  Etsy gives you 13 tags.  You can see the tags of the ideal listing.  You could choose to use the exact same tags.  I usually use a mix.  Another thing to remember is that this seller is just like you.  They are guessing.  Sometimes I like my own tags better.  I make sure to include the tags that are specific to the keyword phrase I am targeting.  Then I do what makes sense to me for the rest of the tags.  Be sure to use all the tags.
Now what?
Save your listing and give it some time.  Up to a day or two for Etsy to reflect any changes.  Then do another search for the keyword phrase you are targeting and see if you show up on the first page of the search.  I am thrilled if I'm on the 1st page of Etsy.  If not, check several pages to see where you fall.  Not on the first page yet?  Review the steps above on how to get found on the first page of Etsy search and make some more changes.
I hope these tips on how to get found on the first page of Etsy search were helpful to you!


SaveSave
SaveSave
SaveSave