Crochet Hooks: The Ultimate Guide
This post may contain referral/affiliate links. Please read my disclosure for more info.
Crochet hooks are one of the most basic tools in crochet. They come in various shapes and sizes, and knowing which to use for a particular project is essential.Let's cover all the details: the different types of crochet hooks available on the market today, along with their pros and cons so that you can find the perfect hook for your next project!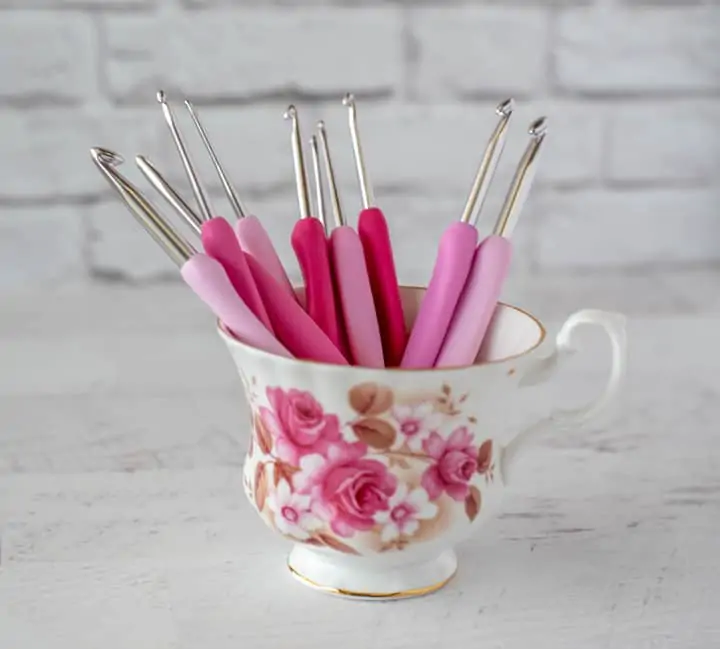 There are a wide variety of hooks available on the market today from very simple plastic hooks to hooks with ergonomic handles.
History of Crochet Hooks
The history of crochet hooks is a bit murky. We know that people were crocheting long before the modern era, but there is not much information on who invented them, where they came from, or when they were first used. We do know that the crochet hook has been around for a long time in one form or another!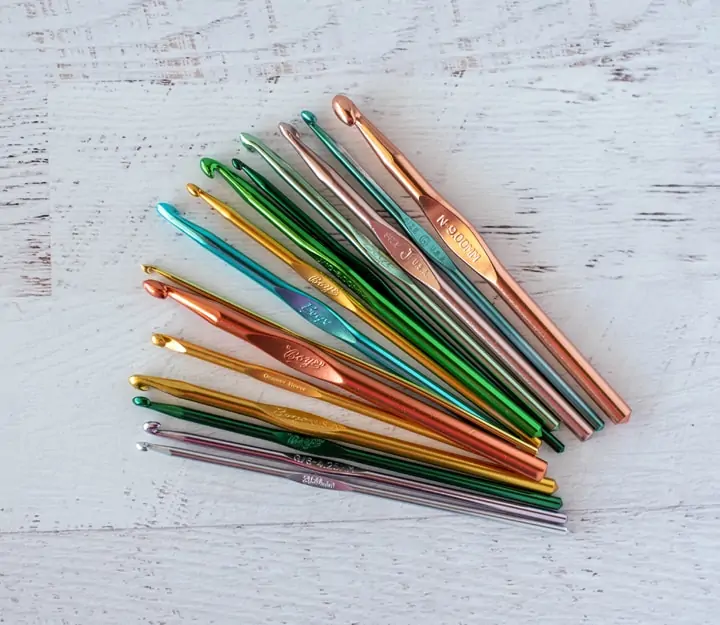 Basic Crochet Hooks
Basic crochet hooks are typically the most popular and easiest to find. They are easy to manipulate and come in a variety of sizes from very small hooks for fine threads to large hooks for very thick yarns.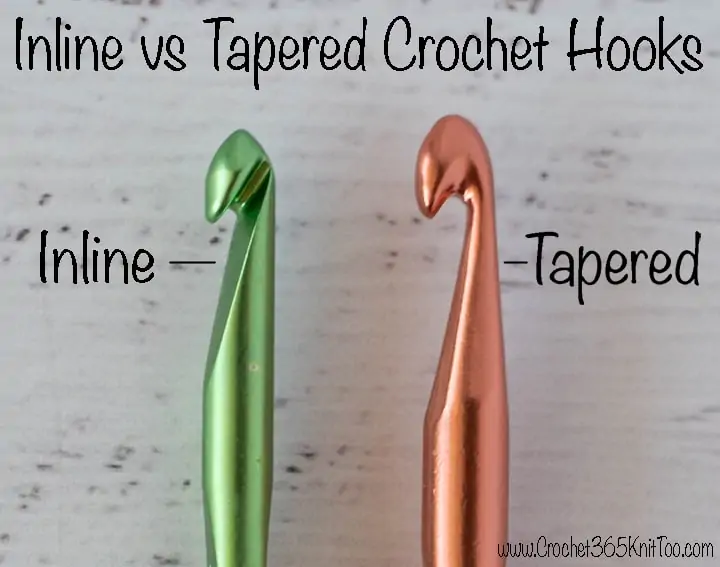 Hooks come in two types: inline or tapered. Inline hooks have a smooth curve that allows them to slide easily against the yarn without snagging. Tapered hooks have a gradual slope from the base to the point which gives more control over stitches and helps with tension.
Crocheters are pretty passionate about their preferred hook style!  I love tapered hooks and find inline hooks hard to use, but other crocheters may disagree!
When most people think of a basic crochet hook, they think of Boye and Susan Bates branded hooks.

Boye Crochet Hooks
Boye crochet hooks are one of the most popular tapered crochet hook brands on the market today. The Boye company was founded in 1909 to help people learn how to crochet and has been making crochet hooks ever since. Boye hooks come in many different sizes and styles, with the most popular being their aluminum hooks. They also make an aluminum crochet hook with ergonomic handles that many people enjoy.
If you're looking for an affordable, easy to find tapered hook, you'll find a Boye crochet hook set top on your list to purchase!

Susan Bates Crochet Hooks
Bates is the oldest operating hook manufacturer in the United States, making crochet hooks since the late 1800's. Bates hooks feature an in-line hook design which was patented in 1944. Early Bates hooks were unbranded or branded with private labels.
Susan Bates crochet hooks come in a number of lines with its Silvalume aluminum hook line as the most popular. These hooks are color coded by size, so it's easy to tell the difference between a blue H hook and a pink I hook, for instance.
Over the years, the head shape of a Bates hook has changed. Depending on when or where your hook was manufactured, you might find that it has a more pointed or rounded head and a deeper or shallower throat. Some say the pointier hook tip is more more likely to split the yarn while others find it helpful to get into a tighter stitch.
All Susan Bates hooks feature the in-line shape. So if you like an inline crochet hook, you'll love a Bates crochet hook set!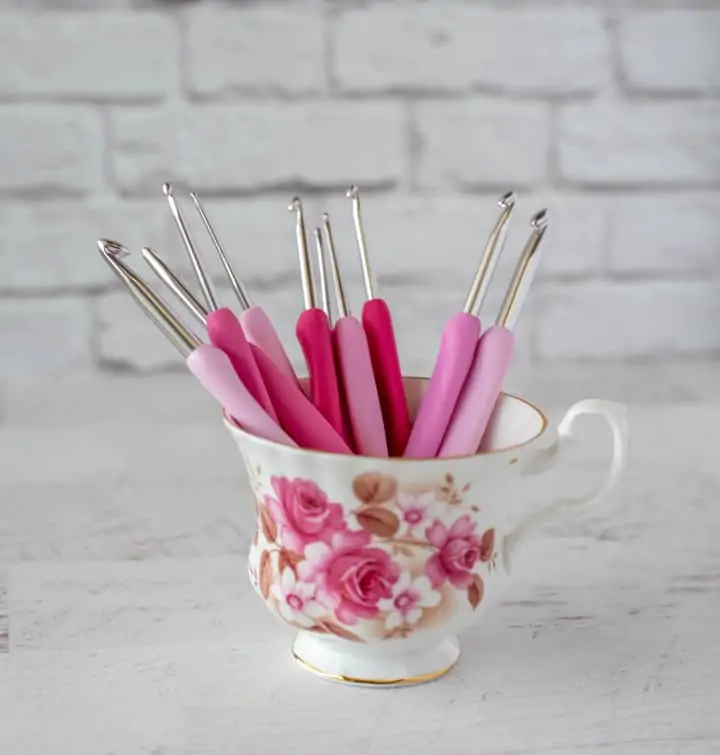 Ergonomic Crochet Hooks
An ergonomic hook is designed to reduce crocheting related pain. The handles are shaped to fit the palm of your hand for a more natural grip, and many come in different sizes so you can choose which one is best for your project.
If you find yourself having a difficult time gripping your hook even after changing your hook grip, an ergonomic crochet hook might be just what you need to ease your crochet related discomfort.  Keep reading to learn about my favorite ergonomic hooks: Clover Armour Hooks and Tulip Etimo Hooks!
Materials Crochet Hooks Are Made From
Crochet hooks come in a variety of materials, including plastic, metal and wood. Plastic hooks are lightweight and the most cost-effective. Metal and aluminum hooks are readily available and are also lightweight.
Wood hooks have an organic feel that is comforting and warm. But they can be more expensive and difficult to find.

Plastic Crochet Hooks
These plastic crochet hooks are lightweight, inexpensive and available in a wide range of sizes. On the negative side, the yarn may not flow as smoothly off the hook and get stuck. Plastic hooks are often not aesthetically pleasing to the eye and can sometimes be so lightweight they are not comfortable for long crocheting sessions.
Aluminum Crochet Hooks
If you're looking for a lightweight material crochet hook, aluminum hooks are a great choice! They are lightweight and very durable. They have a smooth yarn flow and come in a variety of sizes and styles which is great for crocheting projects that require different crochet hook types or if you want a complete crochet hook set! Some aluminum hooks also have an ergonomic handle to reduce pain from crocheting related stress.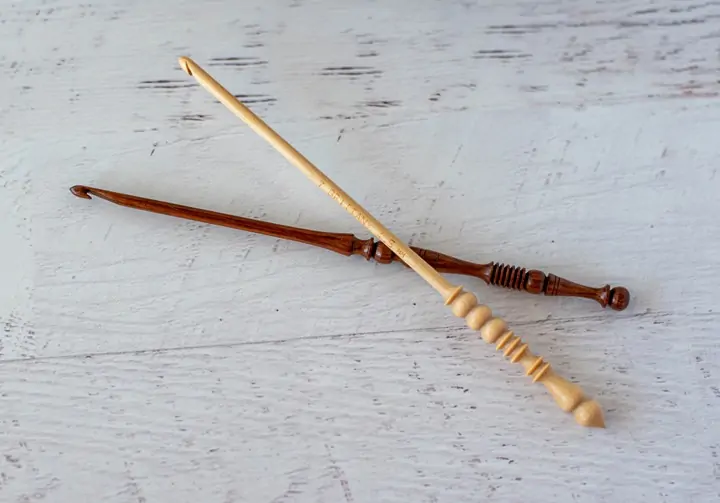 Wood Crochet Hooks
Wood crochet hooks have a smooth yarn flow and make for comfortable for crocheting sessions. Some wood hooks, like Furls brand, are designed with ergonomics in mind, which can be ideal for people who suffer from arthritis. However, they come in fewer varieties and can be difficult to find.

Steel Crochet Hooks
Steel crochet hooks are often used for small gauge yarn such as crochet thread. They can be uncomfortable to crochet with however, so finding a steel hook set with an ergonomic handle is ideal. Steel hooks can be found in a variety of sizes that are not consistent from brand to brand. If you are purchasing a steel crochet hook it is best to look closely at the measurement size of the crochet hook desired as opposed to the size labeled by the manufacturer.

Clover Amour Crochet Hook Set
Are you looking for an affordable crochet hook that offers all the features of more expensive hooks? Look no further than Clover's Amour Crochet Hooks!
Clover Armour crochet hooks come in a variety of different sizes, color coded by size. These hooks are perfect for beginners and advanced crocheters alike because they are made with ergonomic handles that make crocheting more comfortable.
I recommend these crochet hooks for all crocheters and personally own more than one crochet hook set! They are very comfortable to use. The yarn slides nicely off the hook. And they are easy to find in local craft stores and online.

Tulip Etimo Crochet Hook Set
Tulip Etimo Crochet hooks take ergonomic crochet hooks to the next level because they are made for speed too! These hooks have a sleek design that makes them very easy to use even if you crochet quickly or with lots of tension in your fingers because the yarn just glides off the hook.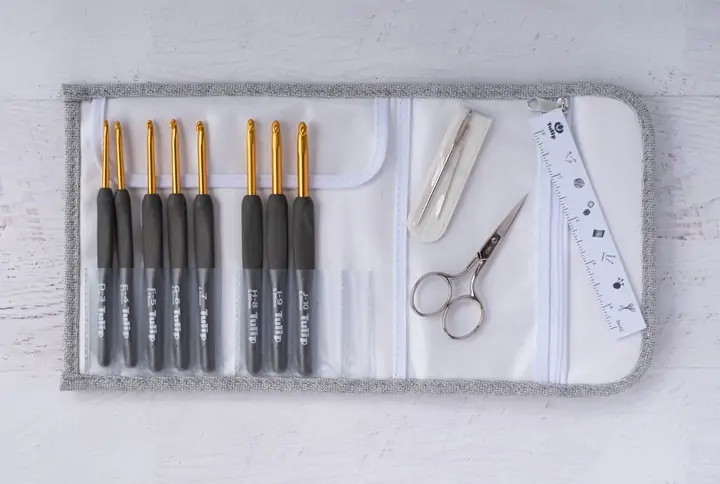 Tulip Etimo hooks are beautiful too. Each hook in a set matches the others, so you will need to look carefully at the labeling of the hook to pick the right hook size for your project.
Crocheting with either Tulip set is a dream and I have to confess… I may even like them more then my beloved Clover hooks (shhh.. don't tell anyone).  The pink and silver Tulip Etimo Rose Crochet Hook set is my favorite.  On the Pro side: they are gorgeous and I love crocheting with them.  On the Con side, there are no 'letters' on these hooks; everything is in millimeter which doesn't exactly line up to a traditional US hook set.
The Gray Tulip Etimo Crochet Hook Set includes the US sizes and you can easily pick up a B & C hook size to fill those 2 extra spots, giving you a really good high quality set.  I don't love the gold tone hook.. call me a creature of habit but the silver tone is just easier on my eyes.  Still, though, this is the best value to get all the most common US sizes.

Lighted Crochet Hooks
If you've ever tried to crochet with dark yarn in a dimly lit room you know why a lighted crochet hook might come in handy. After all you can't exactly crochet with one hand and hold a flashlight with your other hand!
Lighted hooks are designed with a light on the crochet hook itself, which makes for easier crocheting with hard to see dark yarn or in poor lighting conditions. A lighted crochet hook or two in your favorite sizes is a must for every crocheter's tool kit!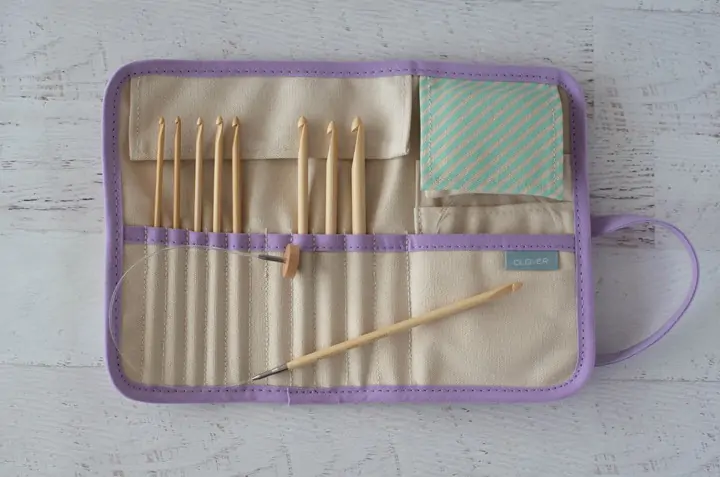 Tunisian Crochet Hooks
Tunisian crochet is style of crocheting with multiple loops on the hook at the same time, similar to knitting. This requires a special long tunisian crochet hook that has a stopper at one end to prevent stitches from slipping off the hook. The result is a beautiful fabric that combines the best of knit and crochet.
Tunisian crochet is sometimes known as Afghan Stitch, Railroad Knitting, Shepherd's Knitting or Cro-hooking.  A big thank you to Clover for providing this beautiful Tunisian Crochet Hook Set for my review.  I hope to dive into Tunisian Crochet sometime soon and this hook set is divine. I can't wait!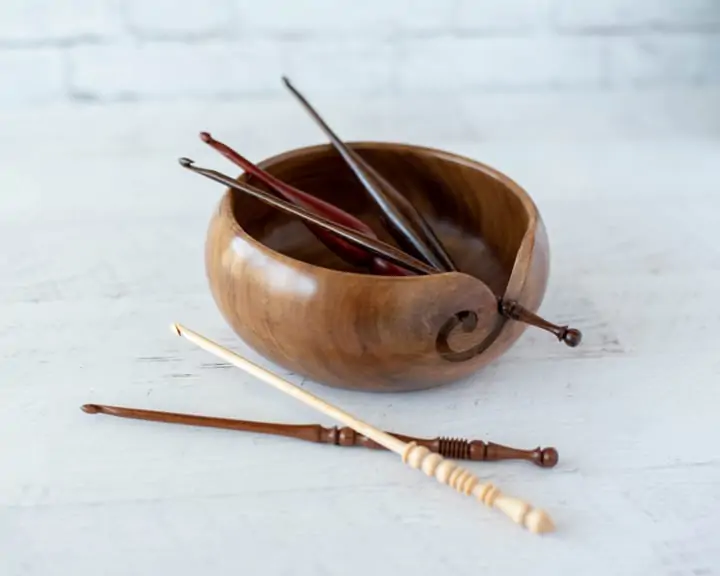 Where Can I Buy Crochet Hooks?
Crochet hooks are available at craft stores, retail and online. For the best selection of hooks it's worth shopping around. I always recommend starting with one hook and trying it out to see what feels the best in your hand before buying a complete crochet hook set.
What Are the Parts of a Crochet hook?
Wondering about all the parts of a crochet hook and all the how-to's to get started?  Be sure to read my post on How To Hold A Crochet Hook!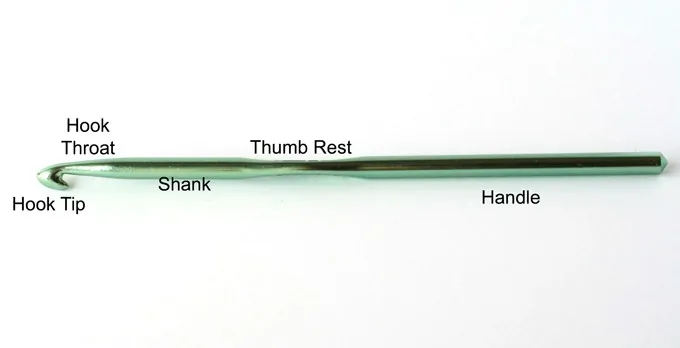 If you're feeling lost in the sea of so many crochet hook sizes you might enjoy this easy crochet hook size chart!
Crochet Hooks: Final Thoughts
As you've probably gathered from reading this guide, there is no single "best crochet hook." There are many different crochet hook brands and styles to choose from on the market today!
The best crochet hook is one that works for you! Some crochet hooks are better suited to certain types of crochet projects, but often it comes down to what feels most comfortable and natural to you.
Hopefully this guide has helped you narrow down your search for the perfect crochet hook for your next project!
Remember.. I love seeing your finished projects! If you enjoyed making one of my patterns I'd love to see yours on Instagram, be sure to tag me @crochet365knittoo.  If you are on Facebook, stop over to the Crochet 365 Knit Too Facebook page or pop over to the Crochet365KnitToo Club and share a photo!  I'd love to see your work!