Parts of a Crochet Stitch
This post may contain referral/affiliate links. Please read my disclosure for more info.
Everything you ever needed to know about the parts of a crochet stitch in one easy to understand post.  Crochet bliss.. I tell you!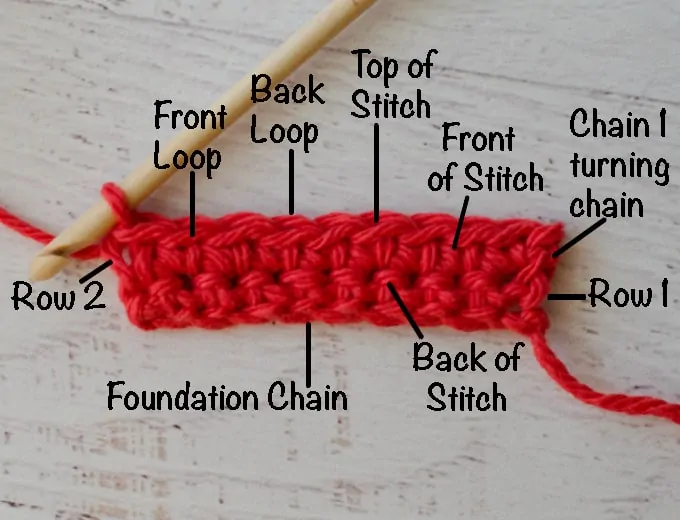 Ever find yourself confused about what part of a crochet stitch is which?  We're about to break it all down in easy to understand terms!  Let's dive in!
Parts of a Crochet Stitch
The two photos tell you everything you need to know to identify the parts of a crochet stitch.  The top photo shows a few rows of single crochet.  When you are following along in a pattern, there might be instructions to "crochet in the back loops" or "crochet in the front loops".  Look at the photos to see what they mean!  If you are crocheting in the round, it might be easy to spot the back loop and front loop because it looks just like the photos.
However, if you are working back and forth, you will be looking at the back side of this piece and maybe it will throw you.  If you're like me, maybe you would turn your work, and think, 'oh no..what's the front?… what's the back?? … Did they change?'  The back loop will always refer to the back loop of the previous row.
The second photo shows a few rows of double crochet.  Notice there are a few more "parts" listed here.  The space between stitches is shown because sometimes a pattern will have you work in between the stitches instead of in the top of the stitch.  It is a different look and one you might want to try if you are designing your own piece.
A double crochet (and taller stitch) has a post.  There are stitches that can be worked around a post that give a distinct ridge to the work.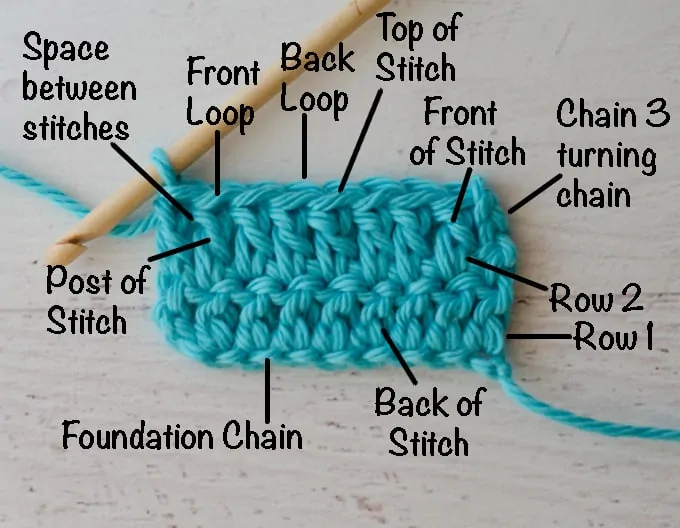 And there you go! You're set for your next great crochet project!
I love seeing your finished projects! If you enjoyed making one of my patterns I'd love to see yours on Instagram, be sure to tag me @crochet365knittoo.  If you are on Facebook, stop over to the Crochet 365 Knit Too Facebook page or pop over to the Crochet365KnitToo Club and share a photo!  I'd love to see your work!