Onward and Upward Scrap Afghan Project
This post may contain referral/affiliate links. Please read my disclosure for more info.
Do you have that kind of friend that sort of busts into the party with an honest to goodness, "I'm here. I'm real.  This is the way I am" kinda vibe?  She doesn't put on airs or pretend to be something she's not.  She just is. And is proud of it.  Well the Onward and Upward Scrap Afghan Project is just that.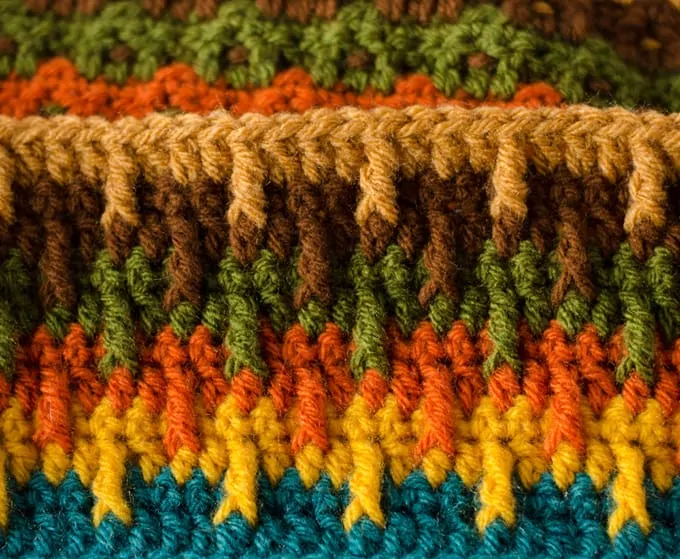 The Onward and Upward Scrap Afghan is just real on so many levels.  First off.. this is an honest and goodness crochet along with me kind of project.  There's no completely finished afghan to show you here.  I'm right here with you at the start of this journey.  We're going to share photos and ooh and aah over each other's progress.  If someone picks amazing colors we're going to tell them how amazing it is.  And if someone's color choice is not so amazing, we're going to squint a bit, tip our heads to get a better look and find something great to say about that too.
Because that's how scrap afghans are.  They are beautiful in the imperfect.  The clash of color.  The unexpected. Because their entire purpose is to use up otherwise discarded, unwanted, but perfectly good yarn and turn it into something useful and warm.  And when it's done, you can cuddle up under it and marvel in your creativeness and ability to make something useful out of practically nothing.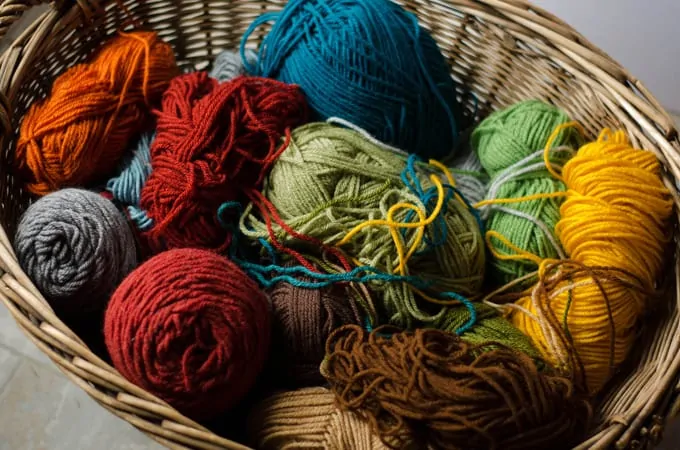 You're not going out to the store and picking out the most amazing yarn color combination.  No.  You are headed right to that stash.  To those partially used skeins, balls and bits of yarn from finished or forgotten projects.  If you have a large stash, like I do, you can go through and toss skeins into a basket or box that you think might look good together.  If not, just gather up what you have because that's what you're using, my friend!
Here are my choices so far: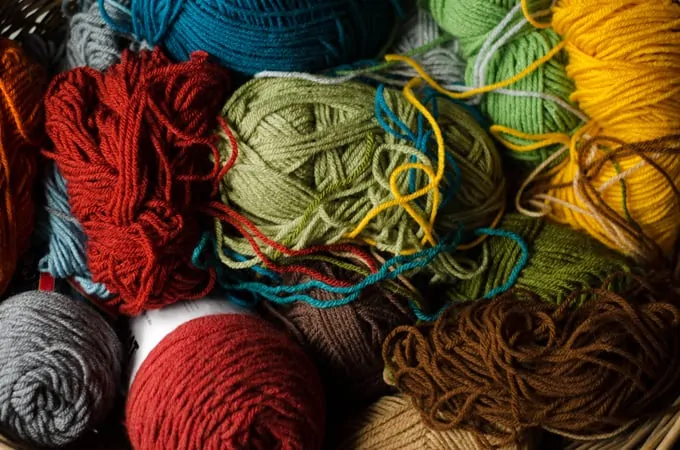 Here are my rules (which you can follow or not):
All yarn used must be broken into skeins.  NO NEW YARN PURCHASES allowed as that defeats my purpose
Make a choice and move on!  So if my chosen "next" color doesn't work, too bad.  This is a scrap afghan project.
We will show our progress over in the Crochet365KnitToo Club on Facebook.  So if you haven't joined yet, head over there to do so.  (Be sure to answer the questions so you can 'get in')
What If I Run Out of Yarn Mid Row
We call this "yarn chicken".  And sometimes you win and sometimes you do not.  As you can see from the above photo, I lost at yarn chicken with this color.  And guess what?!  I really, REALLY wanted to go to the yarn store to get the same color yarn.  (I know.. I just made the rules…and then I wanted to BREAK the rules.)  Sigh.
(Side note: isn't the back of the Onward and Upward Scrap afghan ALSO lovely in its own right?!)
Well, my good friend Jessica, over at Stitching Together talked me down.  Her text said "don't."   Sometimes you need a good friend to tell you "don't".  She's also the kind of friend that says, 'hey, instead of doing like 500 things, maybe you should just pick the 1 thing.'  Everyone needs that kind of friend in their life.
See how easy it is to want perfection though?  And the Onward and Upward Scrap Afghan project is NOT about perfection.  So guess what's happening next?  Yupper.  That beautiful honey gold leftover goodness from the Moxie Bear pattern?  It's coming out.  Rip. Rip. Rip.  Sigh.  It will be sad.  But then it will be done and I will move forward.
So what will you do?  Well you have a couple of choices (and the yarn store is NOT one of them–I know what you're thinking…don't even..)  You can simply change yarns mid row.  GASP!  Yes.  You CAN do this.  It's ok.  It's a freaking SCRAP YARN AFGHAN!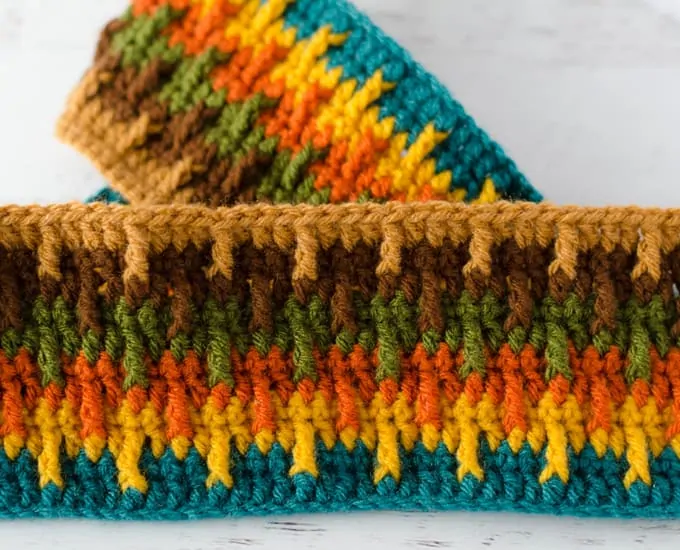 But maybe you're telling yourself there are only certain lengths you're willing to go to for a scrap yarn project.  Maybe the wild color changes and random choices are quite enough to rock your crochet world (thank you very much).  In that case, just rip it out to the previous color change and move on.
To prevent this problem, here is what you do: When using a color in a section when you are certain you have enough, use a kitchen scale to weigh the skein before and after you finish the section.  That will give you the approximate weight of a yarn section.  Write this number down.  Then when you're looking at that lovely gold yarn wondering if you have enough, you can just weigh THAT and make a better decision.
It's All In The Name
I love to choose project names that are meaningful to me.  The Onward and Upward Scrap Afghan Project idea was born as I was packing up for a move.  We're currently in that stage of moving where you don't know where you'll be in 2 weeks: either the deal will fall through and you'll be back to square one OR you'll be happily crocheting in your new living room with a fire going and the dogs at your feet.  It's stressful, yet exciting. New and different.  Just like all new beginnings.  You don't know quite where you're headed, but it's a good thing all the same.
So 'Onward and Upward Scrap Afghan' reflects that change.  I also like how it reflects the journey of the rows of this project.  As you crochet a row..you are working "onward" and the drop-down stitches have an "upward" sort of vibe.  It works, don't you think?
How to Work a Front Post Triple (or Treble) Crochet (FPtr)
If you are unfamiliar with post stitches, check out this post here.  Note that this particular one is worked with a TREBLE crochet.
Here are step by step photos for working the FPtr in this project:

Step 1:
Wrap yarn around hook 2 times (as though you were making a regular TR stitch.  Then insert hook around the post of the double crochet stitch 2 rows down (see above photo).
Step 2:
Then pull up a loop.  This looks like the photo below: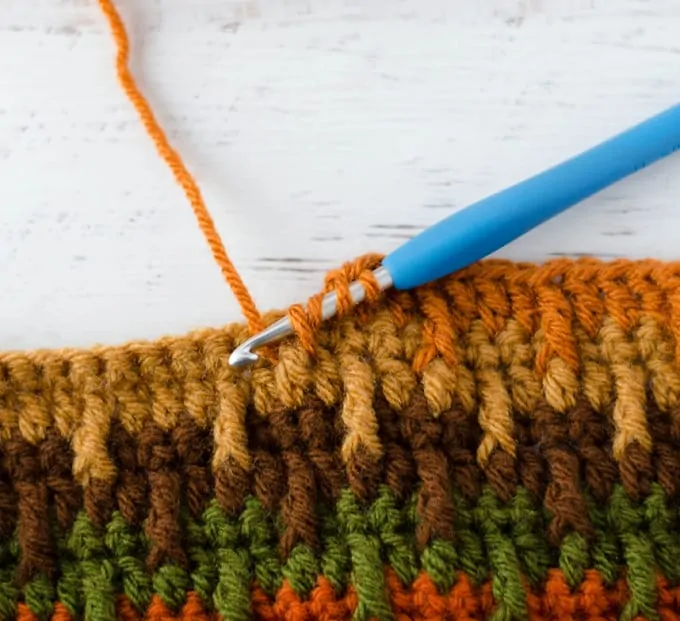 Then, it is just like a regular TR stitch; yarn over an pull through 2 loops on the hook, yarn over and pull through 2 loops, yarn over and pull through last 2 loops.  You can read up on the treble crochet stitch here.
As you are working this stitch, pull up on the stitch so that when you are done, it is level with the other stitches of that row.  You then skip the stitch on the current row and continue working stitches in the next stitches as per the instructions that follow.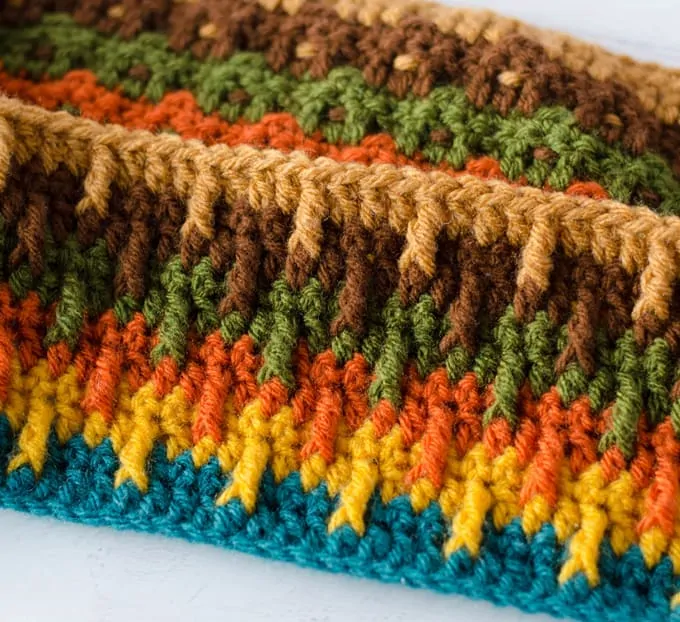 Scroll to the bottom to see how to get a FREE ad-free printable version of this pattern!
Onward and Upward Scrap Afghan
Here is what you will need:
Materials:
A hook that fits your chosen yarn weight.  I'm using an US H8/5 mm crochet hook (these are my absolute favorite hooks I recommend to everyone!)
Worsted weight yarn (or whatever yarn you want).  I'm using mostly Vanna's Choice and Hobby Lobby I Love This Yarn because that's what I have.
BONUS!  Ad-free Printable Version of this Pattern is available in my Resource Library.  Scroll down to learn more!
Resources and tutorials you may find helpful in following this pattern: Crochet Abbreviations, US to UK Crochet Conversion Chart.  Find links to stitches on the "Tutorial" menu: Getting Started will show basic stitches used in many patterns and Crochet Stitch Dictionary shows our growing collection of crochet stitch tutorials.
Size:
Whatever size you want.  I'm making mine 50″ wide and will stop when it is about 60″ tall.  I plan on doing a few rows of single crochet around when I'm done (and will add that bit in to this post when I finish my afghan).  You can choose to do this or not.
Stitch Repeat:
The stitch repeat is 4 stitches.  You will need a multiple of 4 + 3 + 2.  What this means is you should start with a multiple of 4 stitches that you think will be the width you want for your afghan.  You can chain along until it "looks right" and then just make sure the number of chains is divisible by 4.  THEN you need to add a total of 5 more chains.
As an explanation, the "3" part of that gives you the extra stitches after the drop-down stitch so that the left side matches the right side.  And the the "2" part of that is for the chain up for that very stitch of the first row.  If you don't want to think about all that, start with something divisible by 4 and then chain 5 more.
The instructions that follow are for a 50″ wide afghan:
Chain 165.  If you chain tight, you might want to go up a hook size so that the bottom of the afghan is not pulled too tight (this is what I did, by the way).
Row 1:  dc in 4th chain from hook (this is the first stitch now and throughout all dc rows) and dc across the chains.  You should have a total of 163 stitches.
Row 2:  ch 1 (does not count as a stitch), sc across the rows, changing to next color in the last stitch (163 stitches)
Row 3: Using new color, ch 3 (counts as dc here and throughout), dc in next 2 st, *FPtr in the stitch 2 rows below (read above for how to do this), skip the stitch in the current row, dc in next 3 st.  Repeat from * until the end of the row. Note: This row ends with a FPtr followed by 3 dc stitches. (163 st)
Row 4:  ch 1 (does not count as a stitch), sc across row, changing to new color in last stitch (163 st)
Row 5:  Using new color, ch 3 (counts as dc here and throughout), *FPtr in the stitch 2 rows below (read above for how to do this), skip the stitch in the current row, dc in next 3 st.  Repeat from * until the end of the row. (163 st). Note: This row ends with a FPtr followed by ONE dc stitch. (163 st)
Row 6: ch 1 (does not count as a stitch), sc across row, changing to new color in last stitch (163 st)
Repeat rows 3-6 for pattern repeat.
Weaving in Ends
I hate weaving in ends, so what I'm doing is working over the ends in the dc rows.  Then cutting off an leaving a bit.  Then stopping and weaving those back over themselves to make sure they are secure.  That way I don't have a daunting task when I am done.
Finishing and Options
I plan on finishing my Onward and Upward scrap afghan with a few rounds of sc (working 3 sc in each corner).  Once the afghan is complete, I will come back and update this post with finished photos and directions for the border.  If you do NOT want to work rounds of single crochet, you may wish to omit the first and last post stitch when working row 5.  That will give you a bit more of a 'border' around the last post stitch in each row.
I love seeing your finished projects! If you enjoyed making one of my patterns I'd love to see yours on Instagram, be sure to tag me @crochet365knittoo.  If you are on Facebook, stop over to the Crochet 365 Knit Too Facebook page or pop over to the Crochet365KnitToo Club and share a photo!  I'd love to see your work!