Crochet Slang
This post may contain referral/affiliate links. Please read my disclosure for more info.
Get a bunch of crocheters together and they're bound to come up with their own language.  If you've spent anytime in an online crochet group, maybe you've run across these abbreviations and crochet slang.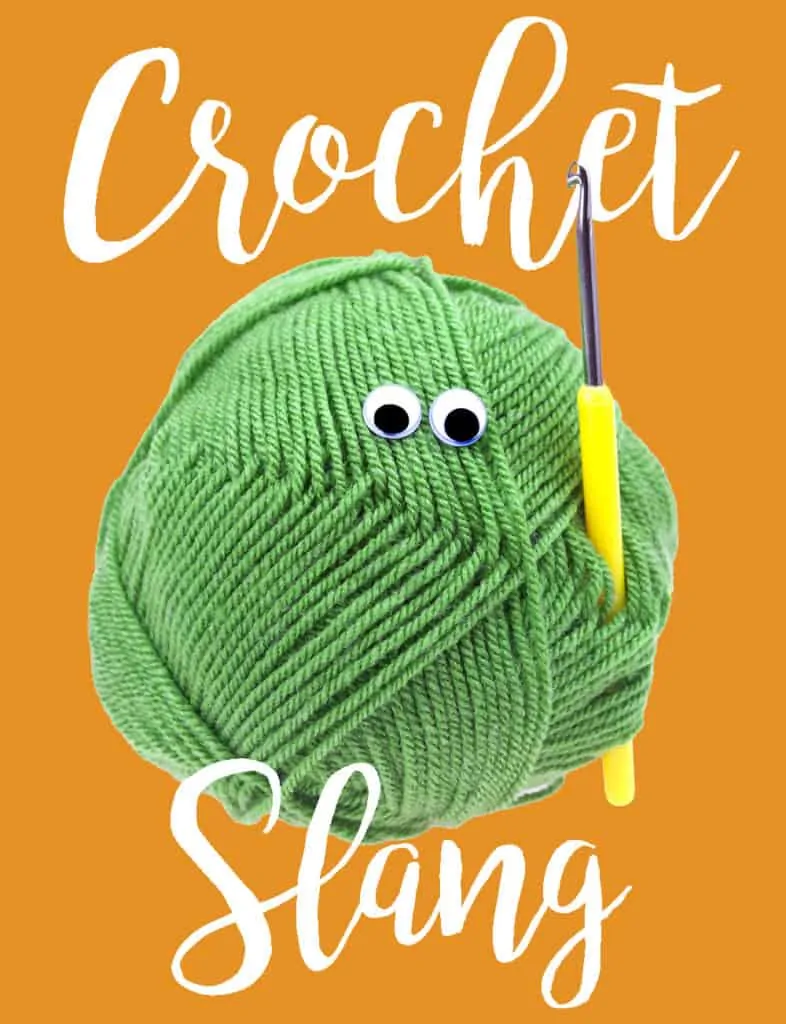 Here's the lingo you need to know.
Ami – Amigurumi
Bistitchual – Someone who crochets and knits
C2C – Corner to Corner crochet technique
CAL – Crochet-A-Long
CROJO – Crochet Mojo
De-Stash – Reducing the size of your yarn hoard
FO – Finished Object
FOTH – Fresh Off The Hook
Freehand, Freeform, Freestyle – Making a project without a pattern
Frog (Frogging) – "Rip It, Rip It, Rip It"; to rip out rows or rounds
HOTH – Hot Off The Hook
HSPY – Haven't Started Project Yet
ISO – In Search Of
JAYGO – Join As You Go
JOTH – Just Off The Hook
LYS – Local Yarn Store
MAM – Mile A Minute Afghan
MGBTC – Must Get Back To Crocheting
OCD – Obsessive Crocheting Disorder
PABLE – Pattern Accumulation Beyond Life Expectancy
Pat/Patt – Pattern
PHD – Projects Half Done
PIGS – Projects in Grocery Sacks
SABLE – Stash Accumulation Beyond Life Expectancy
STASH – Special Treasures All Secretly Hidden
TALC – Take Along Crochet
TIA – Thanks In Advance
TOAD – Trashed Object Abandoned In Disgust
UFO – Unfinished Object
USO – Unstarted Object
WIP – Work In Progress
WIVSP – Work in Very Slow Progress
YAP – Yet Another Project
Yarn Barf – Tangled mess of yarn (as from the center of a skein)
Yarn Bomb – Crochet or Knit decorative art in a public location
Yarn Chicken – Attempting to finish row/project with last bit of yarn
YART – Yarn Acquisition Road Trip
Did I miss any?  Let me know in the comments and I'll keep adding to our list!
I love seeing your finished projects! If you enjoyed making one of my patterns I'd love to see yours on Instagram, be sure to tag me @crochet365knittoo.  If you are on Facebook, stop over to the Crochet 365 Knit Too Facebook page or pop over to the Crochet365KnitToo Club and share a photo!  I'd love to see your work!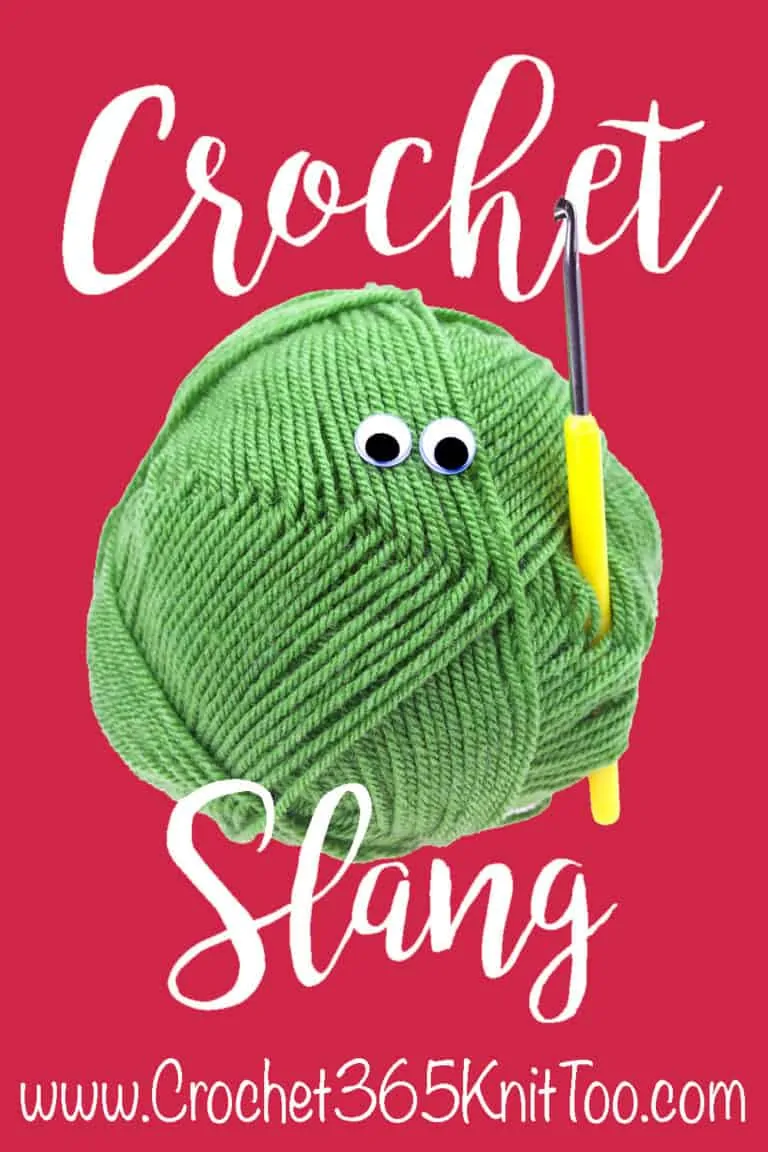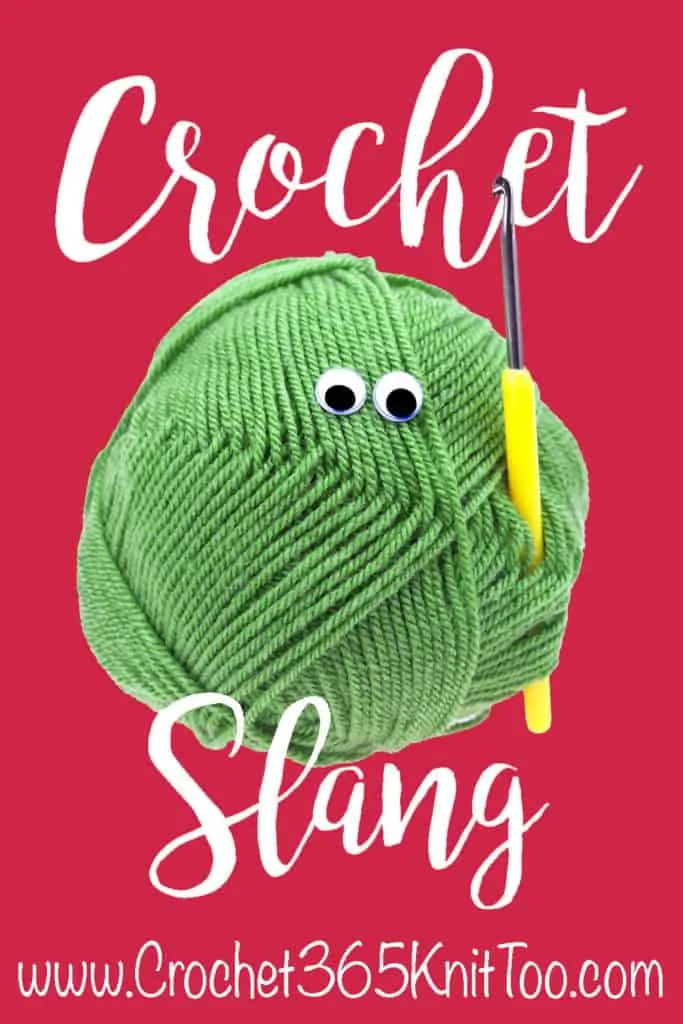 SaveSave
SaveSave