All Washed Up Crochet Washcloth Pattern
This post may contain referral/affiliate links. Please read my disclosure for more info.
This crochet washcloth pattern just might be the best crochet project to fly off your hook. This easy stitch cloth pattern is great as a washcloth for your body or as a kitchen washcloth.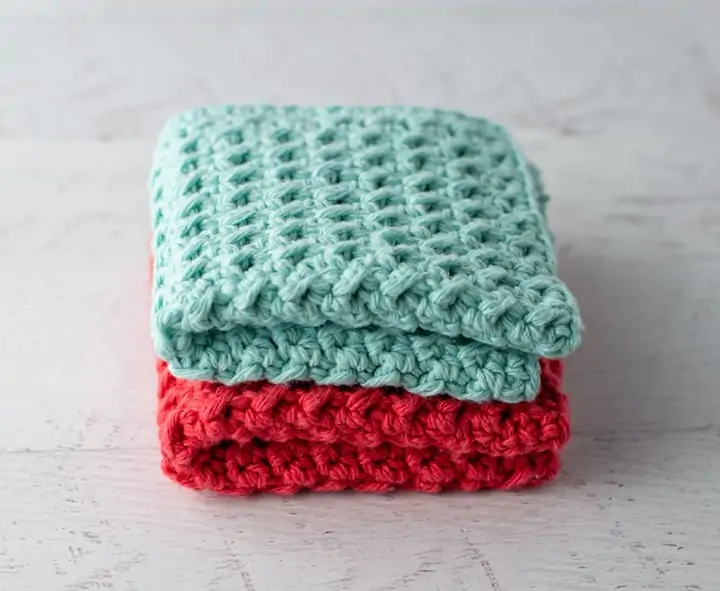 I love an easy crochet pattern like nobody's business. Simple stitches combined with an easy to remember stitch pattern in a crochet project that is really perfect for anyone, yourself included! Enter the All Washed Up Crochet Washcloth Pattern.
Let's talk about what makes this crochet washcloth pattern so amazing. First, the easy stitches. We're working this beauty in the Even Moss Stitch. This particular washcloth only requires three stitches:  Chain stitch, Slip Stitch and Half Double Crochet. That's it! This free crochet washcloth pattern is easy enough for a beginner! If you want get a little fancy you can use an invisible join at the very end, but a normal sl st join works just fine too.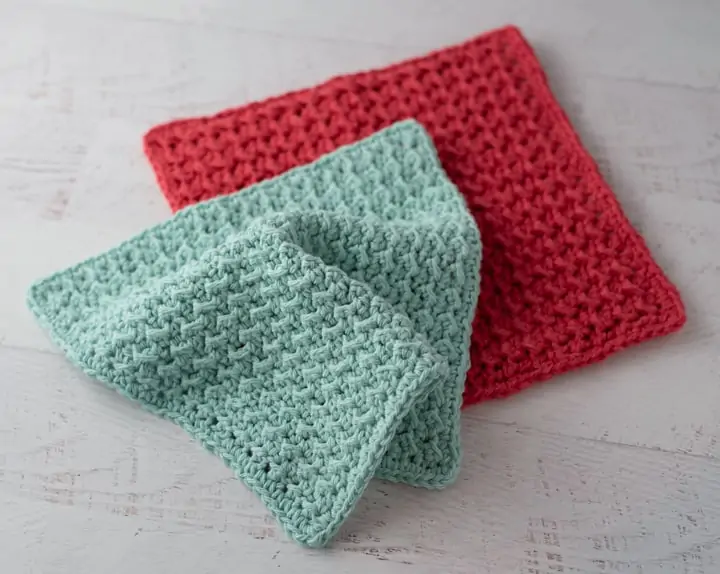 A washcloth and a dishcloth are essentially the same crochet pattern but just with a different use at the end. A crochet washcloth with a bar of handmade soap makes a perfect 'pamper me' gift. And on the kitchen side of things, make a washcloth or two and pair with a crochet kitchen scrubbie for a handmade gift that's also really useful.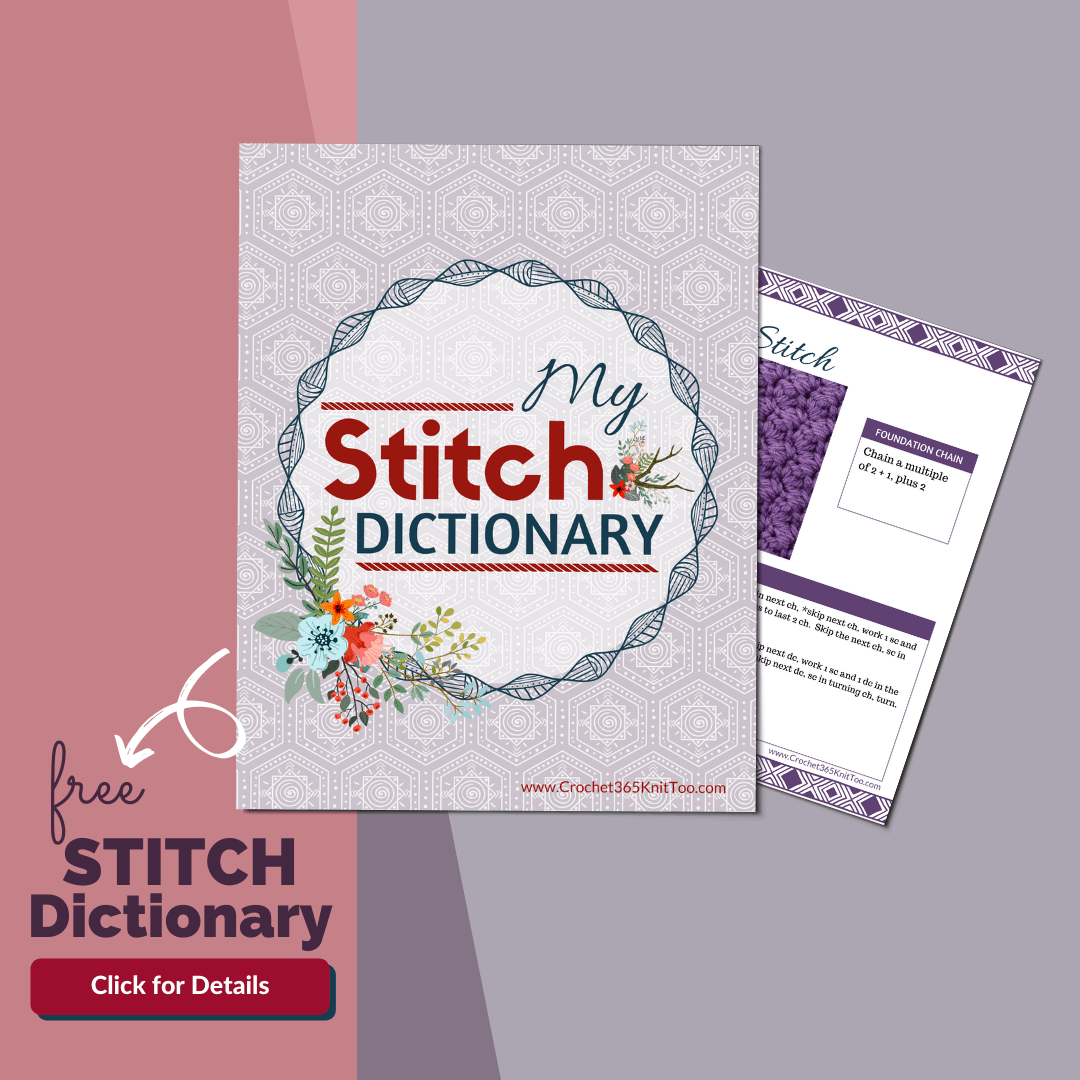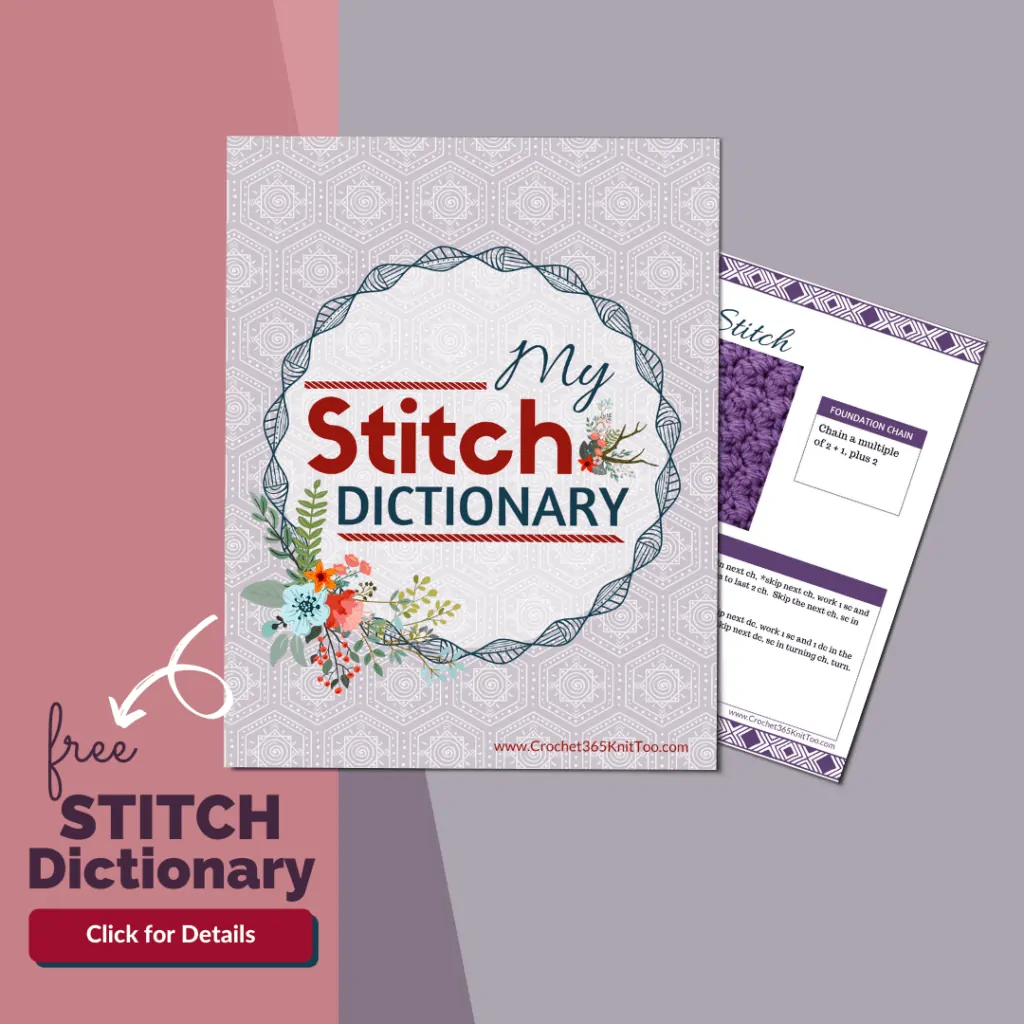 Crochet Washcloth Pattern FAQ's:
Believe it or not, there are a lot of questions about crochet washcloth patterns. Size?  Yarn? Stitches? Here's my best advice:
What Kind of Yarn Do You Use to Crochet a Washcloth? Hands down, cotton yarn is the best for a crochet washcloth. Cotton yarn is absorbant and perfect for all the washing tasks!
How Big Should a Crochet Washcloth Be? This is personal preference, but I find that a square crochet washcloth between 8-10 inches fits most hands well, though I usually prefer something between 8.5-9 inches the best. I also love that the exact size or stitch is not important, so if your crochet gauge is different or your crochet washcloth turns out bigger or smaller than expected, it really doesn't make a difference; it will still be lovely.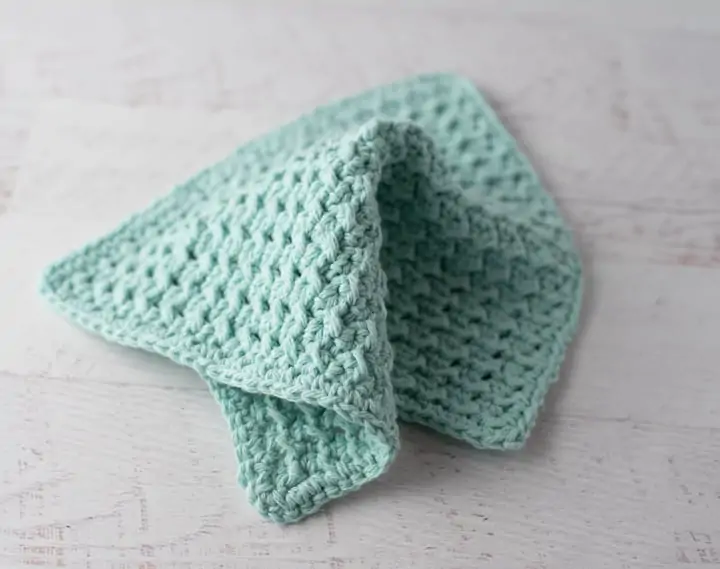 How Many Chains Do You Need for a Washcloth? The trick is to chain enough in a particular yarn weight and pattern to keep the stitch repeat and keep the size between 8-10 inches. I generally chain around 34 with worsted weight yarn, give or take, depending on the stitch pattern.
What is the Best Crochet Stitch for Washcloths? The beauty of a crochet washcloth is that you can use almost any stitch worked to an appropriate size square for a functioning crocheted washcloth. A solid single crochet washcloth or a solid double crochet washcloth can look quite lovely, even though it is a very simple stitch pattern.
What is the Difference Between a Crochet Washcloth Pattern and a Crochet Dishcloth Pattern? Really nothing except what you wash with it! 
MORE CROCHET WASHCLOTH & DISHCLOTH PATTERNS
If you love this crochet washcloth pattern, you might also like to check out these other dishcloth patterns:

1. Seed Stitch Crochet Dishcloth  //   2. Mama's Easy Crochet Dishcloth //   3. Patriotic Dishcloth
Pull out your crochet hook, some yarn and let's dive into this washcloth crochet pattern: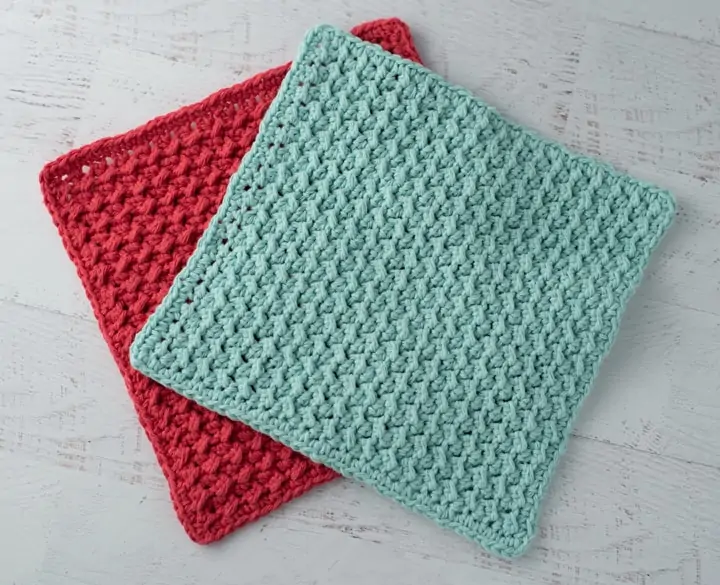 Purchase an ad-free printable version of the All Washed Up Crochet Washcloth Pattern Here
Crochet Washcloth
Here is what you will need:
Resources and tutorials you may find helpful in following this pattern: Crochet Abbreviations, US to UK Crochet Conversion Chart.  Find links to stitches on the "Tutorial" menu: Getting Started will show basic stitches (including the single crochet stitch and the half double crochet) and Crochet Stitch Dictionary shows our growing collection of crochet stitch tutorials.
Gauge is not important in this pattern.  You may use other weights of yarn.  Adjust hook size to fit your needs.  With the yarn and hook size given, my gauge is about 4 crochet stitches (in even moss stitch pattern) to an inch.
Finished Size:  Crochet Washcloth is approximately 8.5″ x 8.5″.
Washcloth Pattern:
Chain 33
R1: Skip first ch, sl st into next ch, *hdc into next ch, sl st into next ch.  Repeat from * across row, turn.
R2-34:  ch1, sl st into next st, *hdc into next st, sl st into next st.  Repeat from * across row, turn. Continue on to border.
Washcloth Border
R1:  Ch 1.  sc evenly around dishcloth, working 3 sc in each corner.  Join with first sc and fasten off.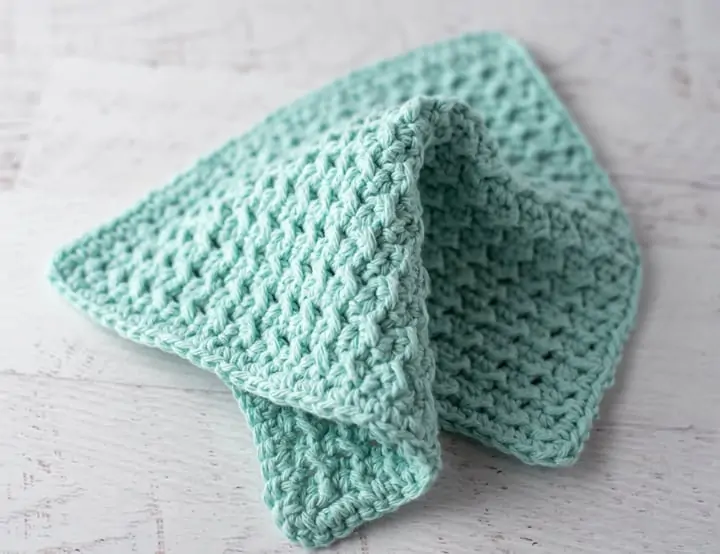 Purchase an ad-free printable version of the All Washed Up Crochet Washcloth Pattern Here
I love seeing your finished projects! If you enjoyed making the All Washed Up Crochet Washcloth Pattern I'd love to see yours on Instagram, be sure to tag me @crochet365knittoo.  If you are on Facebook, stop over to the Crochet 365 Knit Too Facebook page or pop over to the Crochet365KnitToo Club and share a photo!  I'd love to see your work!