Mama's Easy Crochet Dishcloth
This post may contain referral/affiliate links. Please read my disclosure for more info.
Mama's Easy Crochet Dishcloth just might be your new favorite!  Easy to make. Fast. A pattern you can memorize quickly.  These beauties are a joy to crochet!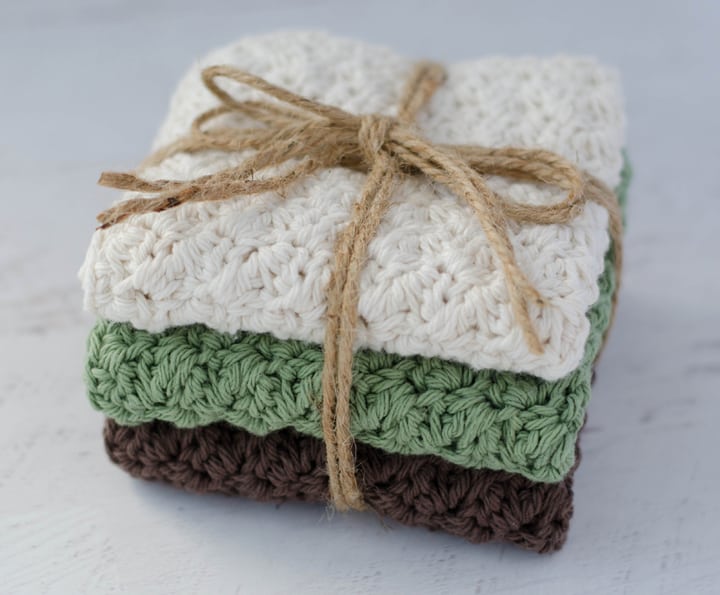 Sigh.  I can't even.  If I say I'm in love with this easy crochet dishcloth pattern am I really saying I love to do dishes?  Because let's be straight here.  While I enjoy a nice and tidy kitchen, I am, in no way, someone who loves that task!  
You know those people who love to clean?  You know the ones.  Any time day or night, you can walk into their house, completely unannounced, and their house is in a beautiful, spotless state?  Yeah..that's NOT me.
My mother is. And at least one of my sisters. But if the neat-clean gene is inherited, well it just jumped right past me. And probably laughed! In fact, if you were standing on my front porch right now and looked in through the front window, you'd likely see a room that vomited yarn, paper and stacks of everything. Because that's blogging central at the moment. My dining room. Yup..that's how we roll here.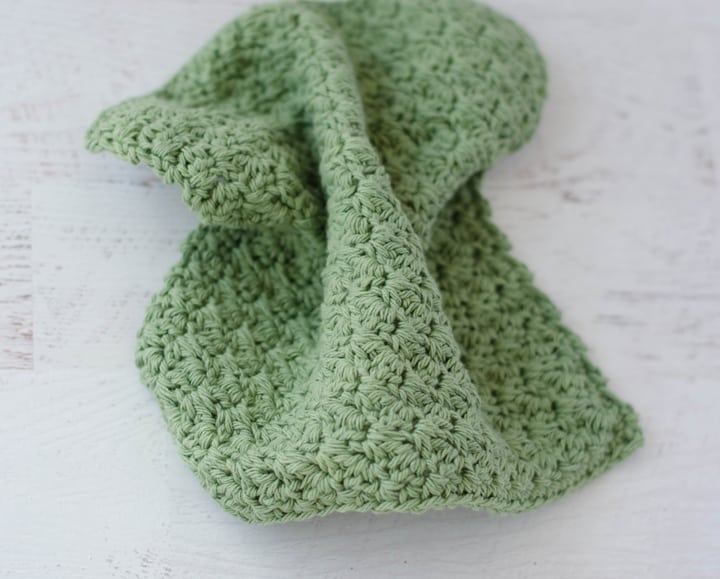 Sigh.  But I do love a good crochet dishcloth and I adore an easy pattern.  And my friends, this easy crochet dish cloth is just the thing.  Grab a skein of crochet cotton, an H/5.00 mm crochet hook, your favorite drink and plop down on your most comfortable chair.  Turn the TV on or maybe kick up your feet for a great conversation with your people.  Settle in and enjoy this textured dishcloth.
It is a perfect pattern for gift giving too. It is a great hostess gift or housewarming gift in a pretty basket. This textured stitch cloth would also be a nice baby shower gift with baby bath products. They are a great seller at a craft fair and if you're feeling adventurous, it would be a fun choice for a baby blanket pattern; just increase in increments of 2 stitches. What a perfect gift!
My favorite yarn for dishcloths and dish towels is cotton worsted weight yarn because cotton is so absorbent. Cotton dishcloths are just so nice to use and the yarn is reasonably priced, making this an economical project too.
MORE CROCHET DISHCLOTH PATTERNS
If you love this crochet dishcloth pattern, you might also like to check out these other dishcloth patterns:

1. Crochet Washcloth Pattern // 2. Patriotic Dishcloth // 3. Seed Stitch Crochet Dishcloth
Let's get going on your next favorite crochet pattern!
Mama's Easy Crochet Dishcloth
Here is what you will need:
Resources and tutorials you may find helpful in following this pattern: Crochet Abbreviations, US to UK Crochet Conversion Chart.  Find links to stitches on the "Tutorial" menu: Getting Started will show basic stitches such as the chain stitch, single crochet stitch and double crochet stitch used in this free crochet pattern.   And Crochet Stitch Dictionary shows our growing collection of crochet stitch tutorials.
Dishcloth is approximately 9″ x 9″. However if yours turns out bigger or smaller it will still be a lovely dishcloth!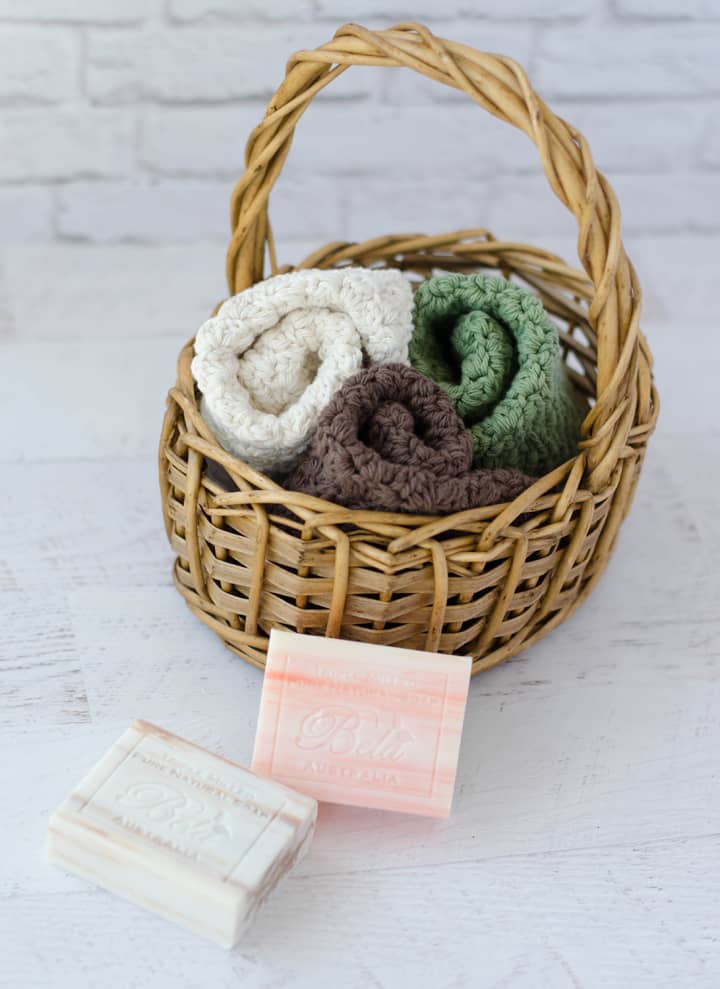 Chain 33
R1: Working in the back bump, sc in 2nd ch from hook and across row. Ch 1 and turn. (32 st) **Note: this row is worked in the back bump of the chain. If you are unfamiliar with the technique, my friend Nicki has a tutorial here you can check out. You can also just work the single crochet row as you normally would. **
R2-26: sc in 1st st, *skip next st, (sc, dc) in next st. Repeat from * to last stitch. sc in last st. Ch 1 turn (32 st).
R27: sc across row. Fasten off, weave in ends.
And there you go. The easiest, best, crochet dishcloth pattern maybe of all time.
Frequently Asked Crochet Dishcloth Questions:
It's easy to get into crocheting dishcloths. After all, they are fun and fast to make. But maybe you have questions! And friends.. I have answers to all your crochet dish cloth questions:
Why Make Your Own Crochet Dishcloths? A crochet dishcloth is fun to make and it's a pretty great gift as well. Almost any stitch can be used in a dishcloth, making it the perfect crochet project for trying out a new crochet stitch. A crochetdishcloth looks great in a textured pattern, like this one. But a solid half double crochet or a double crochet stitch or any other one crochet stitch pattern looks amazing too! You can even add a strand of scrubby yarn along with the cotton yarnto make an extra thick crocheted dishcloth.
How Much Yarn Do you Need To Crochet A Dishcloth? Are you wondering which dishcloth yarn to use or how much yarn you'll need? The best part about crocheting a dishcloth is that it is almost always a one-skein project. So if you find a color you can't pass up, one skein will make a cute crochet dishcloth!
Do Crochet Dishcloths Work Well? A lot of people love the feel of a crochet dishcloth and feel that they absorbant cottonyarn is also good for scrubbing dishes. But, to be honest, a crochet dishcloth is really a personal preference.
What Kind Of Yarn Do You Use to Crochet Dishcloths? Cotton yarn is the best choice for a crochet dishcloth. It's asorbant and a natural fiber making it the perfect yarn of choice!
How Do You Clean A Dishcloth? A crochet dishcloth can be washed with the rest of your laundry. When in use, be sure to ring out the dish cloth really well to avoid any musty smell.
I love seeing your finished projects!  If you enjoyed making the Easy Crochet Dishcloth,  I'd love to see yours on Instagram, be sure to tag me @crochet365knittoo.  If you are on Facebook, stop over to the Crochet 365 Knit Too Facebook page or pop over to the Crochet365KnitToo Club and share a photo!  I'd love to see your work!