Crochet Scrubbies: The Best Thing To Happen in Your Kitchen
This post may contain referral/affiliate links. Please read my disclosure for more info.
Be still my dishwashing heart.  Meet your new BFF for the kitchen:  Introducing the Crochet Scrubbie!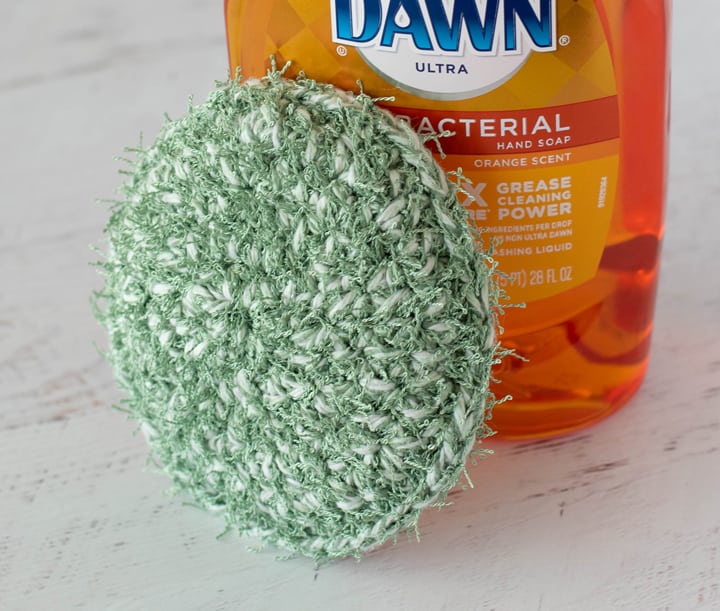 Do you love to do dishes? Do you hate to do them? Maybe you're like me and you like a clean kitchen… which means.. well.. ya gotta do the dishes! But it might as well be a fun as possible, right? Enter these fun and fast crochet scrubbies!
I've had my eyes on the scrubby yarn for a long time, but just couldn't bring myself to crochet something JUST using that scratchy bit of goodness. But when I found a cotton twist yarn that matched a scrubby yarn..well.. I couldn't resist combining the two to crochet a thick crochet scrubbie! One side is smooth cotton and the other side has enough scratchy bits to get the tough spots off your dishes!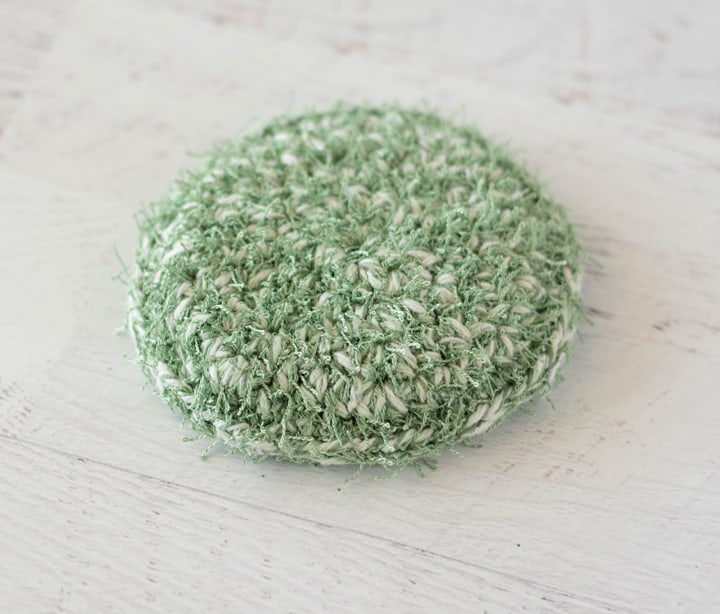 If you've tried another scrubbies pattern in the past maybe you cut some tulle or nylon net into strips with a rotary cutter. Yuck! A scrubbie crochet made that way scratches your hands and is so hard to hook! Not these crochet dish scrubbies!
The secret to my crochet scrubbies is the construction. Each little beauty is 3 layers thick. Two layers are all cotton, worked in a deliciously easy circle! The final layer is worked holding 2 strands of yarn: a strand of the cotton and a strand of the scrubby yarn. This makes this layer just a tiny bit bigger which gives it that look of 'covering' the other 2 layers in the finished crochet scrubbie. Then a quick border and your beautiful crochet kitchen scrubby is complete!
MORE CROCHET KITCHEN PATTERNS
If you love this crochet dish scrubbies pattern, you might also like to check out these dishcloth patterns:

1. Seed Stitch Crochet Dishcloth //   2. Mama's Crochet Dishcloth //   3. Crochet Washcloth
You're going to love this crochet pattern enough to crochet a dish scrubby or two for yourself and maybe even stash a few aside for gift giving later this year. Pair it with a  cotton crochet dishcloth and you've got a hugely functional gift that was quick to make (and so fun on your hook). And maybe you even used up some of that stash yarn while making this fun scrubby pattern. What a win!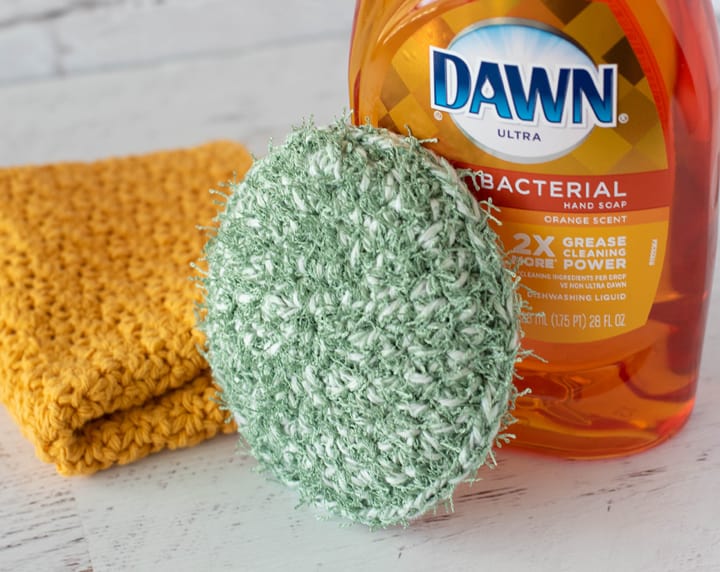 Purchase an ad-free printable version of the Crochet Scrubbie Pattern here
Crochet Scrubbies
Here is what you will need:
Resources and tutorials you may find helpful in following this pattern: Crochet Abbreviations, US to UK Crochet Conversion Chart.  Find links to stitches on the "Tutorial" menu: Getting Started will show basic stitches (including the half double crochet stitch used in this scrubbie pattern) and Crochet Stitch Dictionary shows our growing collection of crochet stitch tutorials.  I really like to use the invisible seamless join when finishing pieces that get sewn together.
Cotton Dish Scrubber Overview:
The scrubby is made in 3 layers.  2 layers are made with 1 strand of cotton.  The 3rd layer is made holding 1 strand of cotton and 1 strand of scrubby yarn.  Finally all 3 pieces are held together and crocheted for the final round.
Crochet Scrubby Cotton Only Layers (Make 2):
Make a magic ring.
R1: 8 hdc into ring (8 sts).  Work in rounds.
R2: 2 hdc in ea st around (16 st)
R3: *hdc in next st, 2 hdc in next st, repeat from * around (24 st)
R4: *hdc in next 2 st, 2 hdc in next st, repeat from * around (32 st)
R5: *hdc in next 3 st, 2 hdc in next st, repeat from * around (40 st).  At the end of round, sc in next st and sl st into the following stitch.  Then fasten off and weave in ends.
Cotton PLUS Scrubby Yarn Layer (Make 1):
Holding one strand of cotton yarn and one strand of scrubby yarn, make a magic ring
R1-5:  Follow instructions for scrubby through round 5, do NOT fasten off.
Now hold all 3 pieces together and work through the last round of stitches, continuing working with one strand of cotton yarn plus one strand of scrubby yarn for the final round as follows:
R6:  *sc in next 3 st, 2 sc in next st, repeat from * around (46 st).  Fasten off and weave in ends.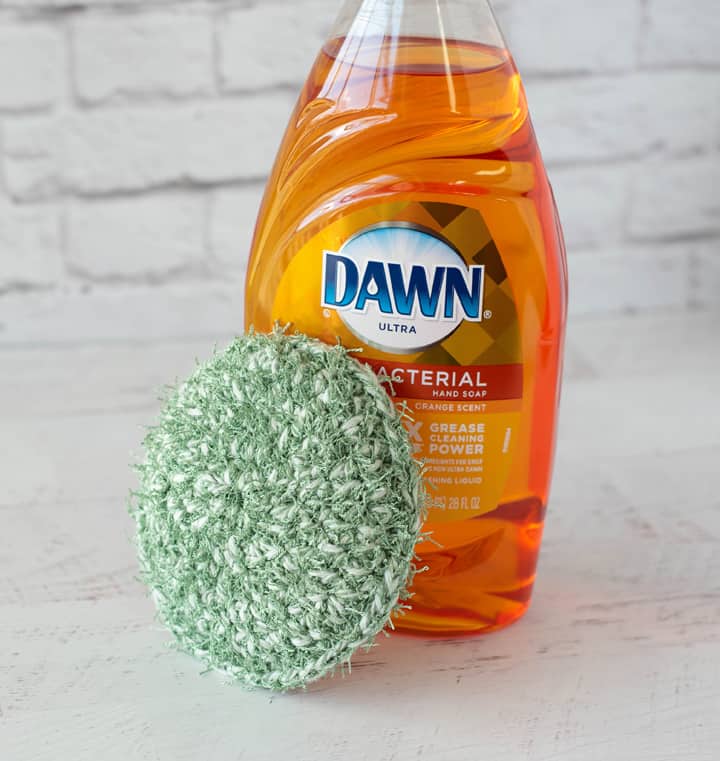 Purchase an ad-free printable version of the Crochet Scrubbie Pattern here
I love seeing your finished projects! If you enjoyed making this Crochet Scrubbie Pattern I'd love to see yours on Instagram, be sure to tag me @crochet365knittoo.  If you are on Facebook, stop over to the Crochet 365 Knit Too Facebook page or pop over to the Crochet365KnitToo Club and share a photo!  I'd love to see your work!