Find Your Next Must Make Frog Crochet Pattern
This post may contain referral/affiliate links. Please read my disclosure for more info.
You haven't found a good frog crochet pattern yet? Maybe you didn't even know you NEEDED a crochet frog?! Well I have you covered, my crochet friend!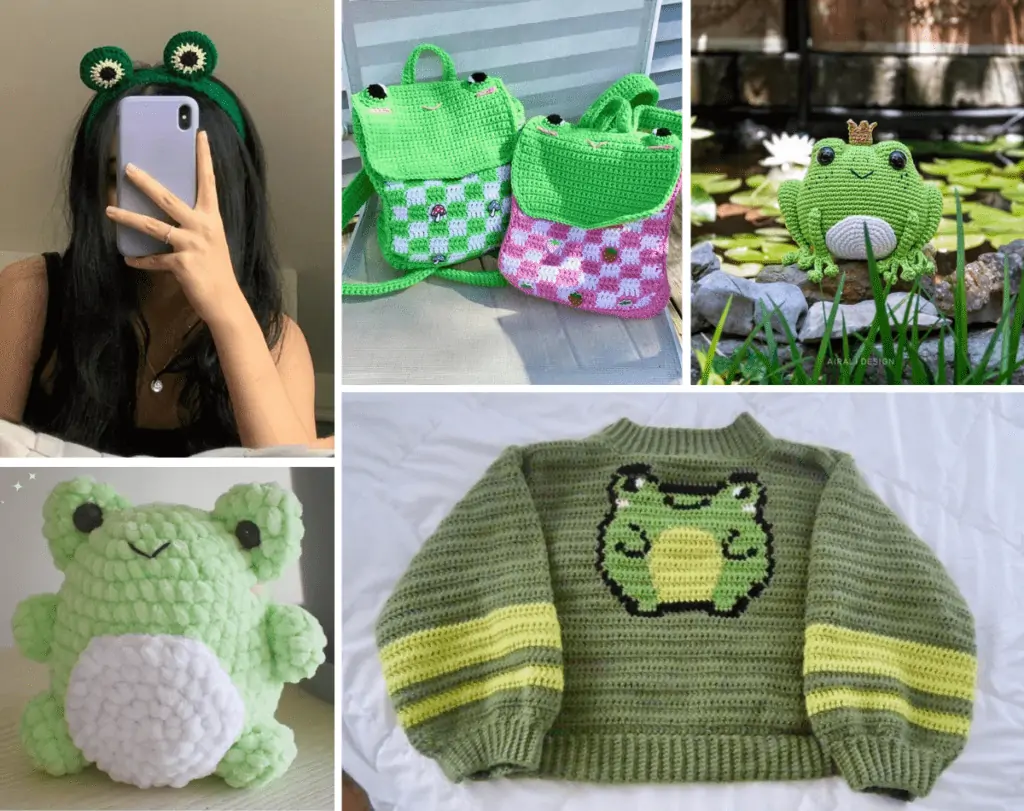 These crochet frog patterns are absolutely going to steal your heart. Whether you've been looking to add to your cottage core aesthetic or you have someone in your life who loves frogs, these patterns are perfect for you!
These patterns require quite a few different crochet materials, so make sure you have yarn (including green yarn, white yarn, black yarn and occasionally pink yarn or yellow yarn), a crochet hook, stitch marker, fiberfill (or another form of stuffing) for amigurumi frogs, yarn needle/tapestry needle, and scissors. Some patterns may require more supplies and equipment, so keep that in mind when looking at different patterns.
Most of these patterns use a variety of basic crochet stitches, so make sure that you know how to work a single crochet stitch, double crochet stitch, and slip stitch (sl st). Since these great patterns won't take a long time to complete, your cute frog is just a few steps away!
Amigurumi Frog Crochet Patterns
It's time to make the crochet frog toy of your dreams. These patterns are just so fun! If you've been looking for your next crochet project, this might just be your sign to make an amigurumi frog.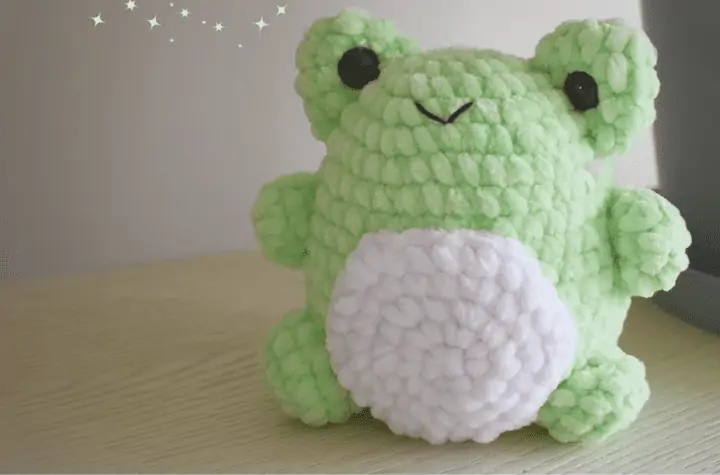 Katie Kitty Craft's Fluffy Frog Crochet Pattern is just precious! The little smile is just way too cute. Whoever you make this adorable amigurumi frog for, they'll absolutely love it.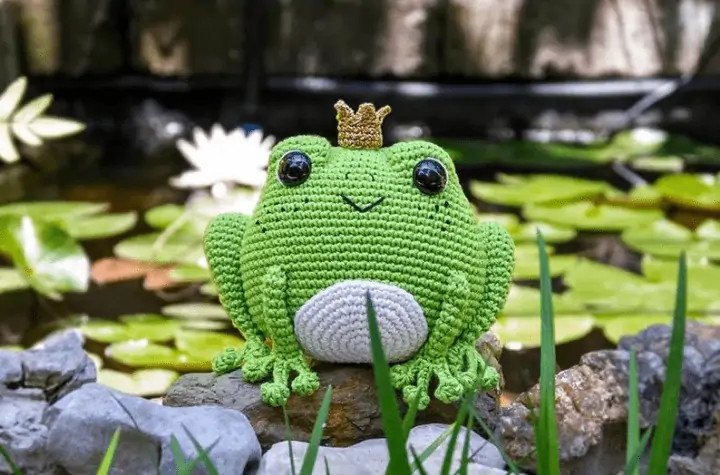 If I had to go around kissing frogs, Prince Perry the Frog by Airali Design is the only frog prince I would risk. I mean, just look at the little face on this frog amigurumi!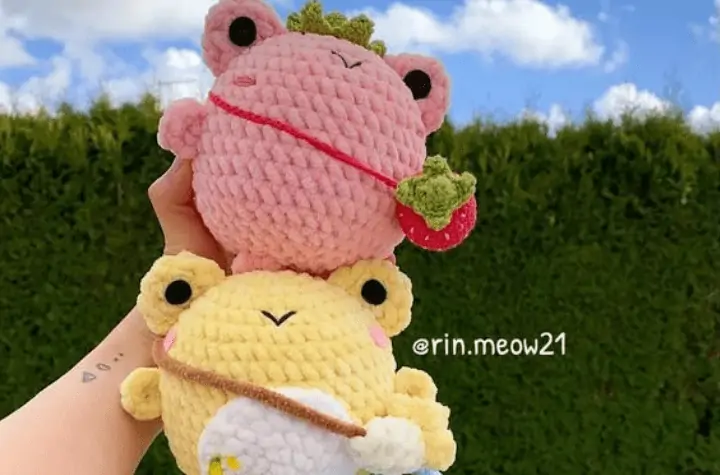 What can I say, I am a sucker for pastels. This three-in-one frog crochet pattern by Rin Meow 21 is super cute! Plus, I really love that adorable strawberry purse accessory.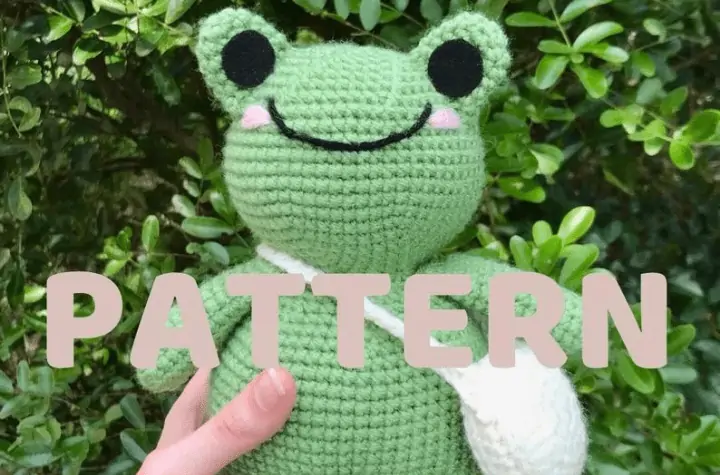 This little amigurumi frog by Allie Crochets Co is ready to go wherever you do with the little handy dandy bag. I really love that this froggy is all smiles because it will be such a positive addition to someone's life.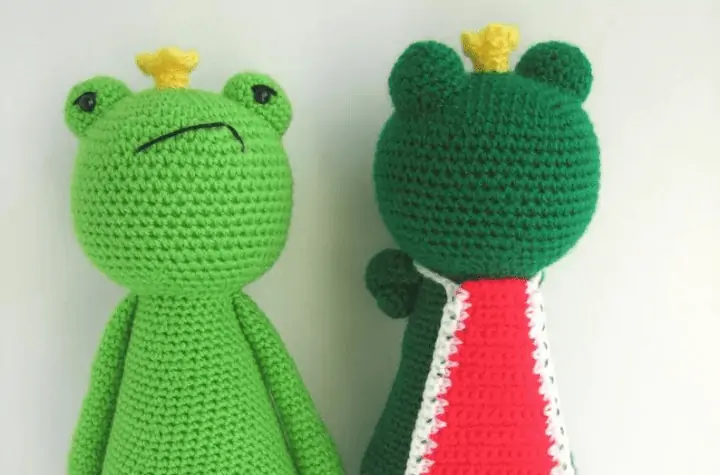 The King Frog Crochet Amigurumi pattern by Little Bear Crochets absolutely warms my heart. He just looks so grumpy, it's so cute! Also, the long body of this frog is the perfect complement to this pattern.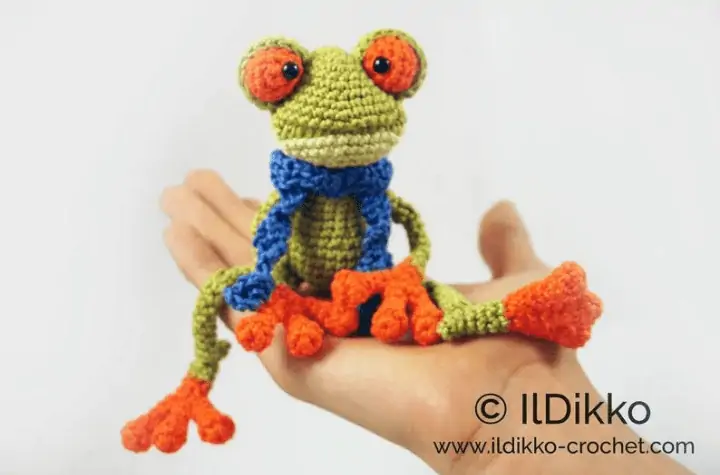 Freddie the Frog by Ildikó is just the cutest little tree frog amigurumi. I really cannot get over the little scarf, it just warms my heart!
This amigurumi frog pattern by Paint it Colorful is a super cute free crochet frog pattern. I just love the little rosy cheeks!
Crochet Frog Bags
These crochet frog bag patterns are so fun! These are the statement pieces that complete your outfit. Really, what is a garden party without a frog?
I really love a nice circular bag, so I really adore this Frog Crossbody Bag by Annhly. The combination of the pink cheeks on the green yarn gives this bag so much character, it's a crochet frog pattern you won't want to pass up.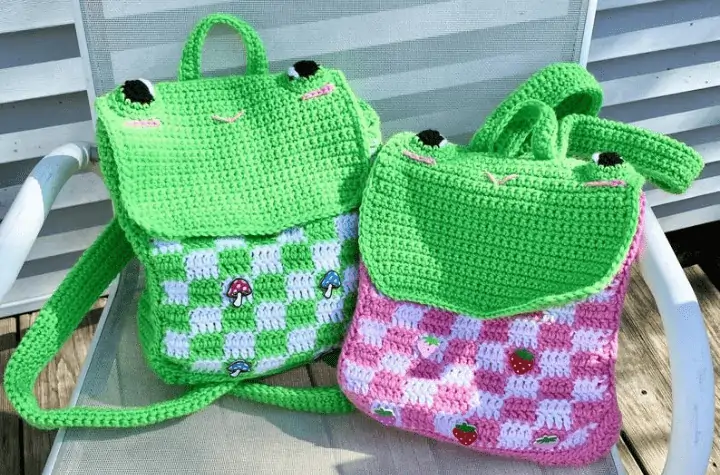 The Strawberry & Mushroom Frog Backpack pattern by Craft Kitty Crochet is perfect for back to school or daily wear, with just enough room for the essentials. The little buttons on this pattern are such a nice touch as well.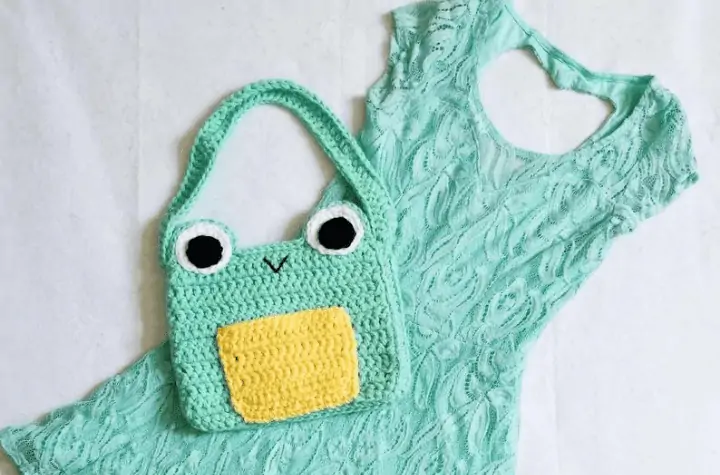 This frog purse and wallet pattern by Millies Crochet House is so darling. This is the perfect crochet frog pattern to take with you wherever you go.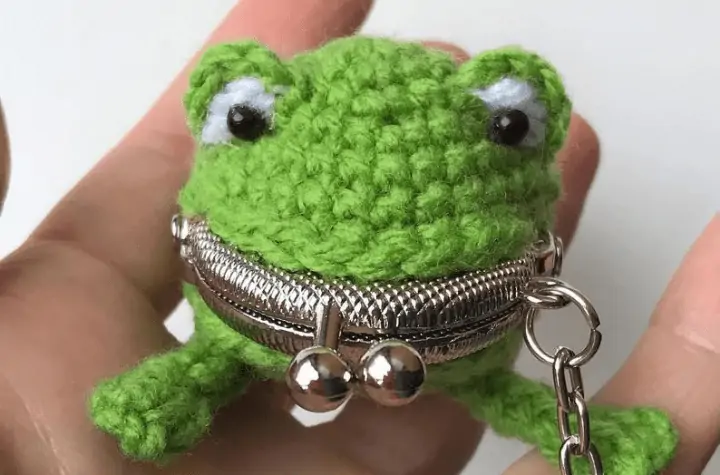 This frog coin purse by Kate and Mom Shop is the perfect addition to any frog bag. Keep in mind, that this pattern uses black beads for the eyes instead of crocheting them.
Frog Crochet Apparel
If you can accessorize a frog, then why can't you wear one? Any one of these crochet frog patterns would look stunning.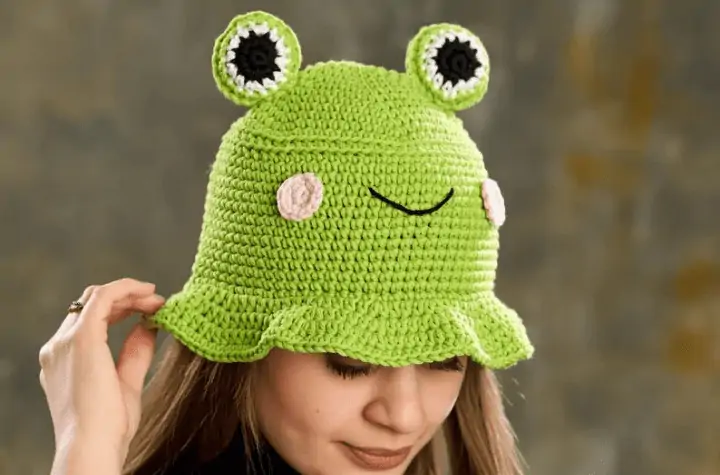 The Frog Bucket Hat by Sea Shop By Deniz is the perfect way to show your love for your reptilian friends. I honestly really love the frog eyes sticking up from the top of the hat.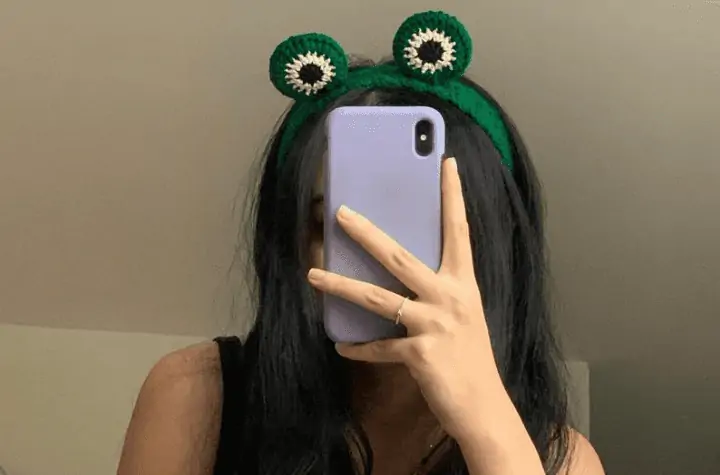 If you don't want to do a whole frog hat, this crochet frog headband by Em Gems US is also a super cute option. This is a great use of scrap yarn if you have some white or black leftover yarn for the eyes. Then just get brown or green yarn for the main color (the headband itself).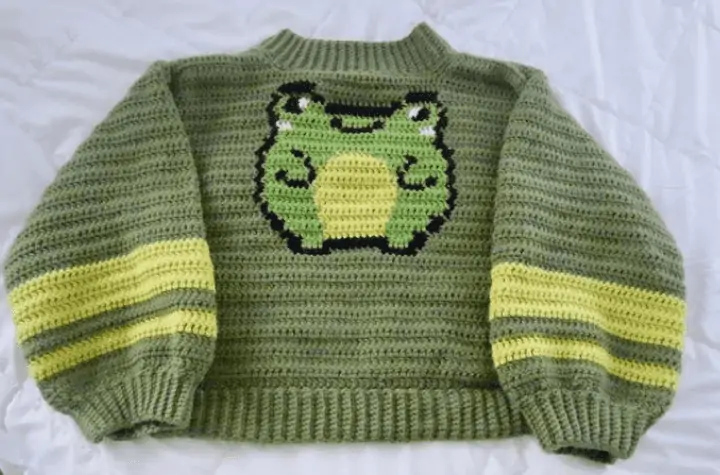 How could you say no to a crochet frog sweater? This pattern by Crochet Strawberry Co is too cute to resist. The frog on this pattern is simply adorable and I love the puffy striped sleeves!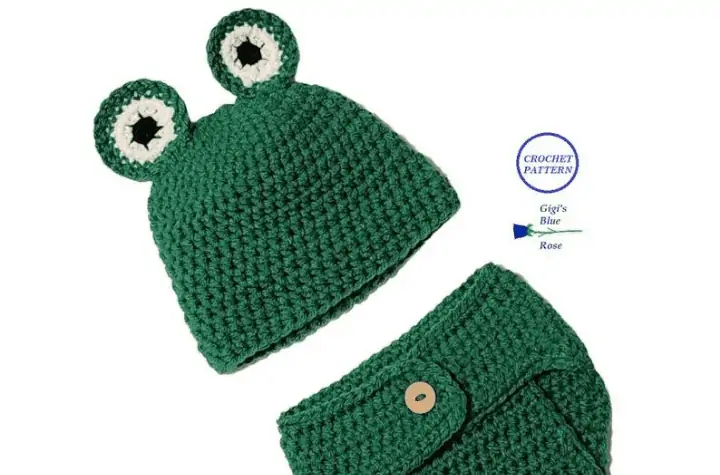 This crochet pattern by Gigi's Blue Rose is perfect for the little frog lover in your life. I really love the diaper cover included in this pattern too (you could use it for other patterns as well).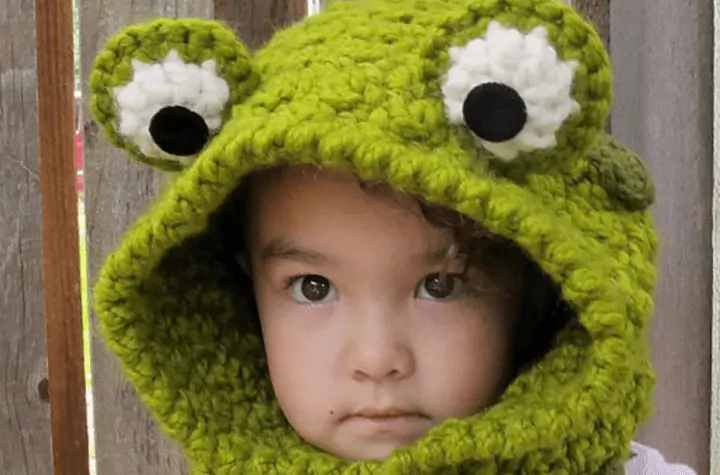 Honestly, no one wears cowls enough. This little frog cowl by The Hat and I is too cute not to share! I love the way the eyes were designed and the flower closure is adorable. This pattern also includes sizes for adults, so if you and your little one want to match you absolutely can!
Now, it's time to try one of these lovely patterns for yourself! Make sure you let me know what pattern you tried in the comments.
I love seeing your finished projects! If you enjoyed making one of my patterns I'd love to see yours on Instagram, be sure to tag me @crochet365knittoo. If you are on Facebook, stop over to the Crochet 365 Knit Too Facebook page or pop over to the Crochet365KnitToo Club and share a photo! I'd love to see your work.