Crochet Easter Eggs
This post may contain referral/affiliate links. Please read my disclosure for more info.
Crochet Easter Eggs.  Sigh.  Nothing says spring like cheery little eggs and these crochet eggs are perfect for the season.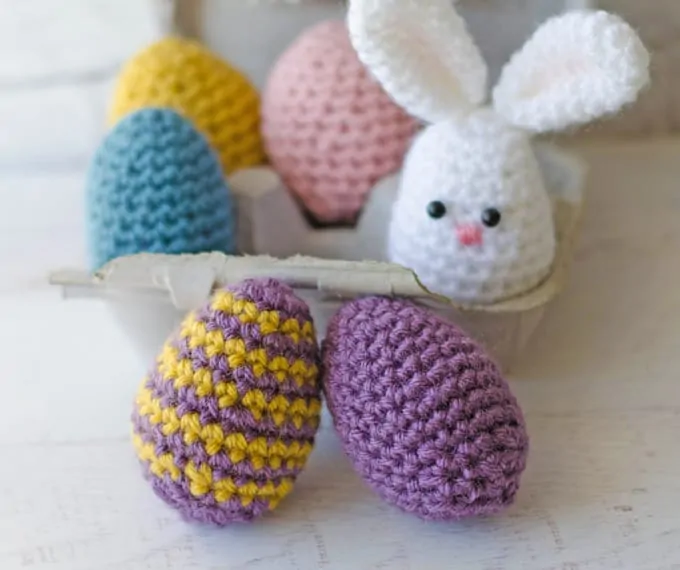 I love Easter. It is everything that is spring.  The sun shining.  The grass growing.  The birds coming back from their winter rest and chirping in the trees.  I love the bright spring colors of flowers poking their heads up in anticipation of sunny, warm days.
Fresh beginnings arising from the cold, dark winter.  Hope springs eternal. And this Crochet Easter Eggs pattern will warm your heart and brighten your spring day.
This is a three-part Easter crochet series.  First, these cute Crochet Easter Eggs, then the Crochet Easter Basket and finally the darling Easter Egg Bunny Pattern.  All three are available together as a set in the ad-free PDF, if you'd prefer.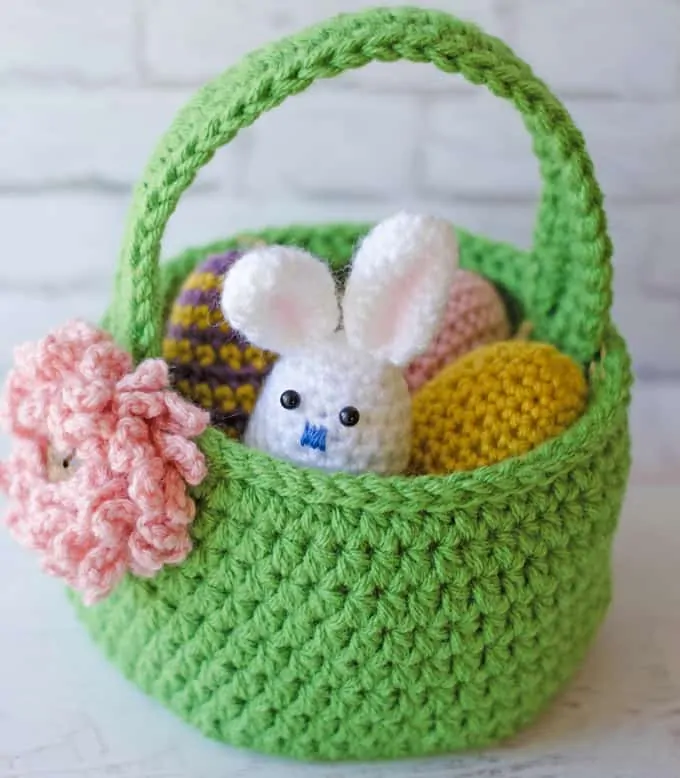 First up, these perfect eggs.  I searched high and low for an egg pattern I liked.  One that was not too pointy and rounded in just the right places.  In worsted weight yarn with a nice sized hook.  Because who wants to crochet eggs forever.  When I couldn't find what I wanted, I experimented until I made just the thing.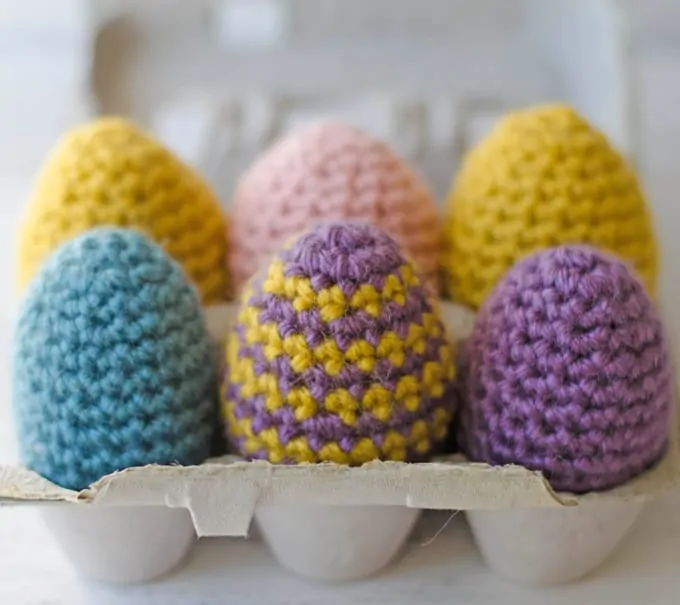 These crochet eggs start at the top so you can see a nice, neat finish and gradually build to chunky, rounded bottom.  You can stuff them full for a jumbo sized egg, or not so full, for a large sized egg.  If you want them smaller than that, drop down a hook size.  Make them with scrap yarn in spring colors.  For a striped egg, just alternate colors.
Purchase an ad-free printable version of all THREE patterns in ONE!
Crochet Easter Eggs Pattern
Here is what you will need:
US H8/5.00 mm crochet hook (here are my favorite crochet hooks)
Worsted Weight Yarn, 10-15 yards for each egg,  scraps are perfect.  I used Vanna's Choice Yarn in: white, pink, dusty blue, mustard, dusty purple
Polyfil stuffing
Tapestry needle and scissors
Resources and tutorials you may find helpful in following this pattern: Crochet Abbreviations, US to UK Crochet Conversion Chart.  Find links to stitches on the "Tutorial" menu: Getting Started will show basic stitches used in many patterns and Crochet Stitch Dictionary shows our growing collection of crochet stitch tutorials.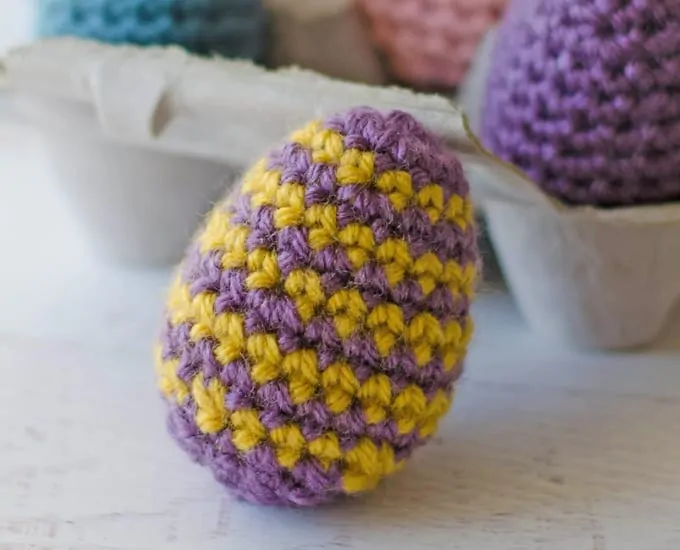 Make a magic ring
R1: 6 sc into ring (6 sts).  Work in rounds
R2:  *2sc in ea st*, repeat * to * around (12 st)
R3:  sc around (12 st)
R4:  *sc in next st, 2sc in next, repeat * to * around (18 st)
R5-6: sc around (18 st)
R7:  sc in next 4 st, 2 sc in next st, sc in next 8 st, 2sc in next st, sc in last 4 st (20 st)
R8:  *sc in next 9 st, 2sc in next*, repeat * to * once (22 st)
R9-10:  Sc around (22 st)
R11:  *sc in next 3 st, sc 2 tog, sc in next 4 st, sc 2 tog, repeat from * once (18 st)
R12:  *sc in next 2 st, sc 2 tog, sc in next 3 st, sc 2 tog, repeat from * once (14 st)  Stuff firmly.
R13:  *sc in next st, sc 2 tog, sc in next 2 st, sc 2 tog, repeat from * once (10 st)
R14:  sc 2 tog around (5 st), sl st to next st.  Fasten off, leaving tail for closing (bottom of egg)  Add any additional stuffing.  Weave the yarn through the opening to gather closed.
Note:  For the Purple and Yellow striped egg, I worked rows 1 and 2 with purple, then alternated yellow and purple, ending with purple in rows 12 -14.  I carried the unworked yarn on the inside of the work when not in use.
Part 2, the Easter Basket, is coming next week and then Part 3 will show you all the details to make the cute Easter Egg Bunny!  If you can't wait…
Purchase an ad-free printable version of all 3 patterns in one!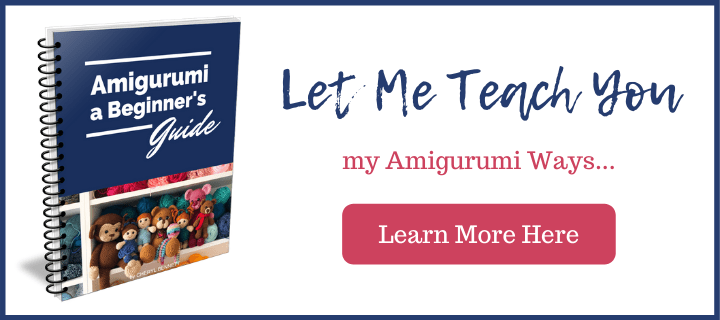 I love seeing your finished projects! If you enjoyed making one of my patterns I'd love to see yours on Instagram, be sure to tag me @crochet365knittoo.  If you are on Facebook, stop over to the Crochet 365 Knit Too Facebook page or pop over to the Crochet365KnitToo Club and share a photo!  I'd love to see your work!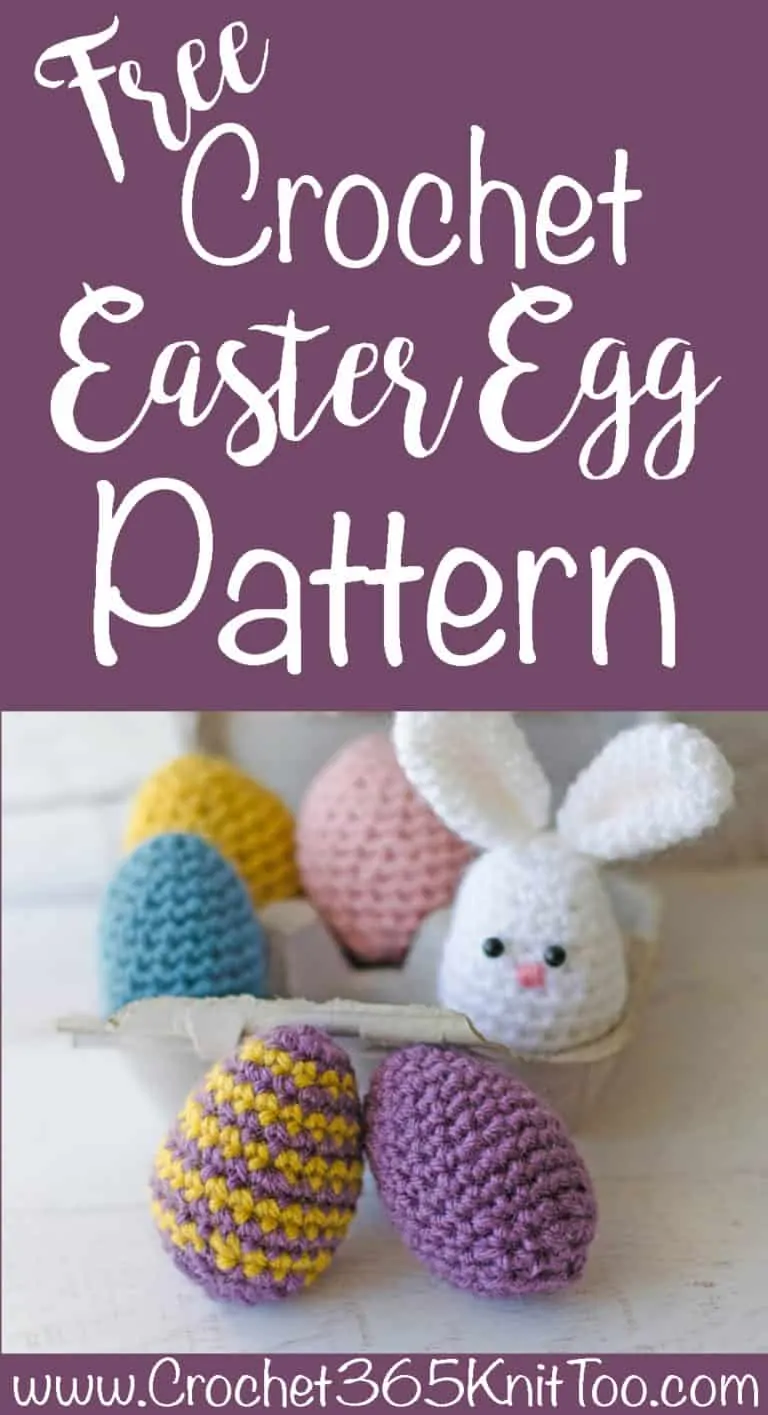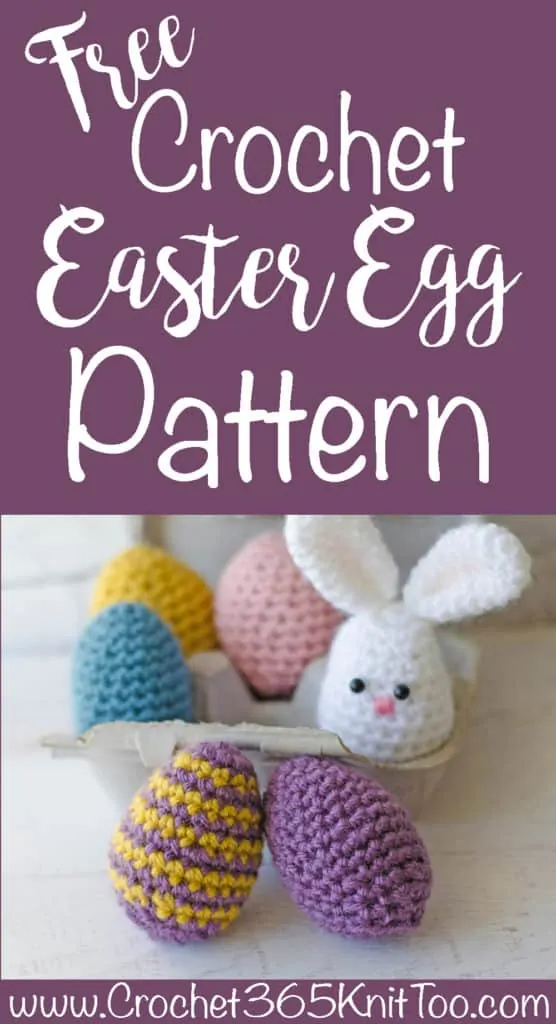 SaveSave
SaveSave
SaveSave
SaveSave
SaveSave