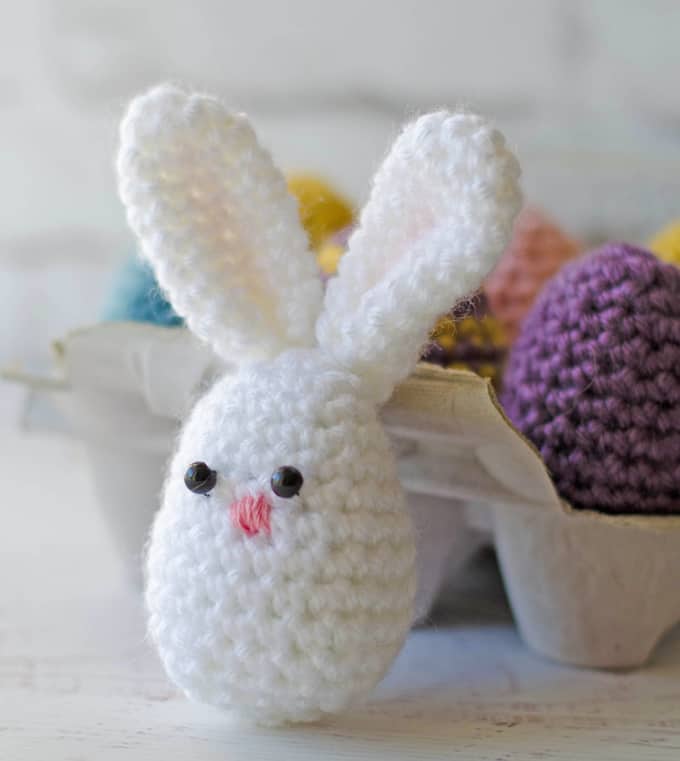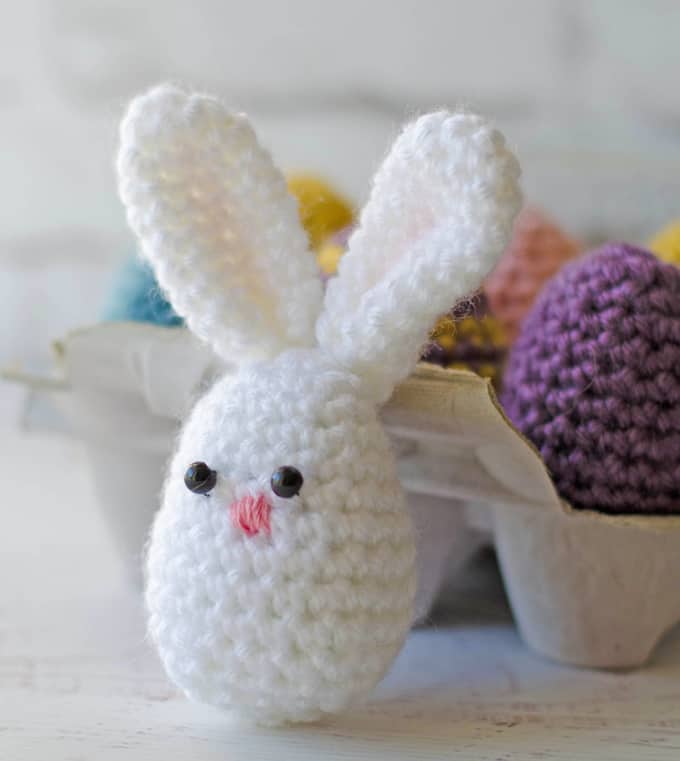 I'm in love with this Crochet Easter Egg Bunny.  So cute!  Don't you think?  It's the perfect conclusion to our 3-part Easter Crochet Series!  And what a way to welcome in spring!First up were the basic crochet Easter Egg Pattern.  Then, last week, we made a darling crochet Easter basket to hold all the goodness.  And this week… this cutie pie ~ This Crochet Easter Egg Bunny!
All 3 patterns are available together in one ad-free bundle!
Crochet Easter Egg Bunny Pattern
Here is what you will need:
US H8/5.00 mm crochet hook (here are my favorite crochet hooks)
Worsted Weight Yarn, Vanna's Choice Yarn in white, about 1/2 oz for each bunny
Polyfil Stuffing
Small 6mm Buttons for Bunny Eyes (optional)
Embroidery floss (bunny noses & eyes if not using buttons)
Blush or pink eye shadow & brush (from Dollar Store), (optional)
Tapestry needle, sewing needle, thread (for button), and scissors
Resources and tutorials you may find helpful in following this pattern: Crochet Abbreviations, US to UK Crochet Conversion Chart.  Find links to stitches on the "Tutorial" menu: Getting Started will show basic stitches used in many patterns and Crochet Stitch Dictionary shows our growing collection of crochet stitch tutorials.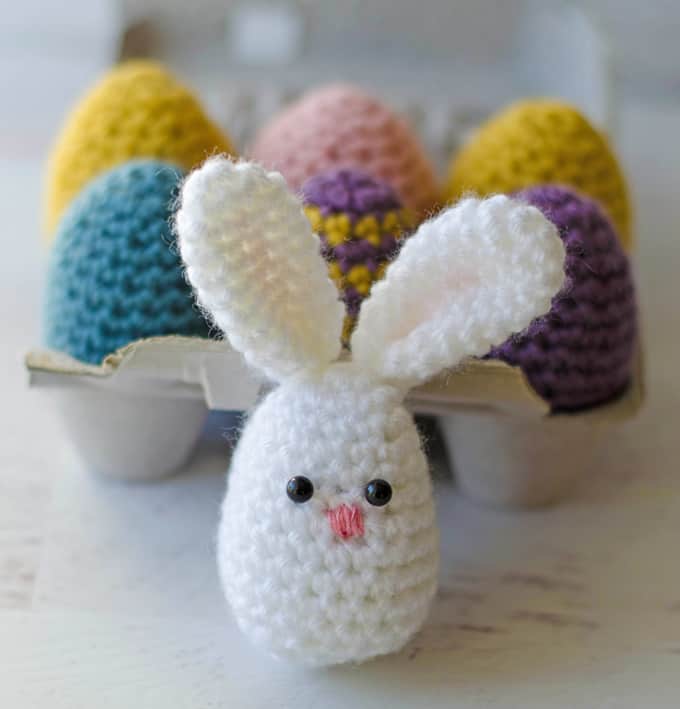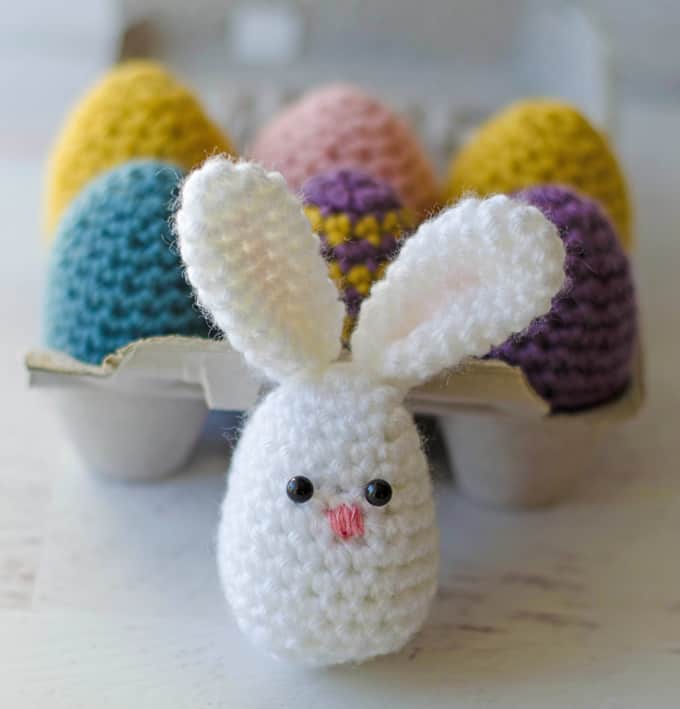 Bunny body:  Make an egg in white, following Crochet Easter Egg Pattern.
Ears (make 2):
Make a magic ring
R1: 5 sc into ring (5 sts).  Work in rounds
R2:  *2sc in ea st*, repeat * to * around (10 st)
R3-9:  sc around (10 st)
R10:  *sc in next 3, sc 2 tog, repeat from * once.  Sl st in next st and fasten off, leaving a long strand for sewing. (8 st)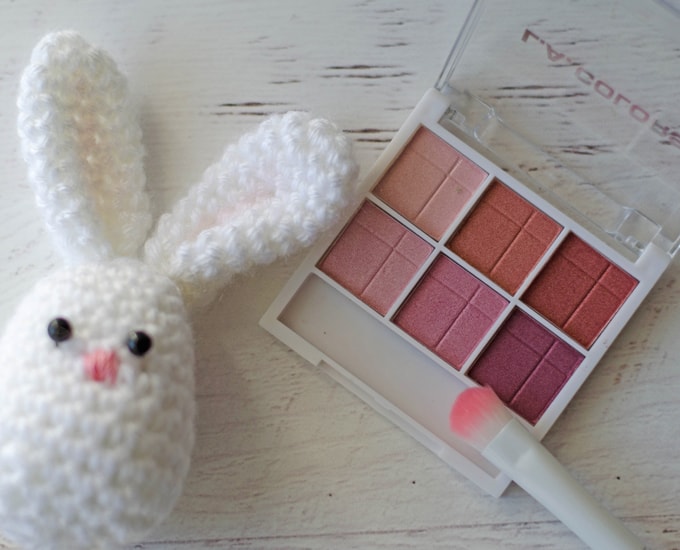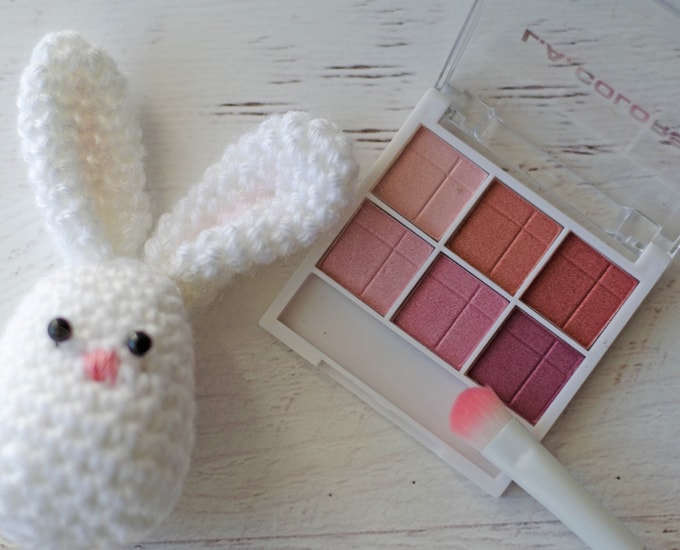 Fold ear in half and sew bottom closed.  Then, using same strand of yarn, sew to top of head.
Repeat for 2nd ear.
Sew on button eyes between rows 5 & 6 of egg, or alternatively, use embroidery floss and a French knot to sew on eyes.
Referring to photo for placement, embroider a satin stitch nose over row 7 of egg.
If desired, add pink to inside of bunny ear using pink blush (or pink eyeshadow) and a brush.  I purchased pink eyeshadow and a brush from the dollar store just to use on crochet dolls and amigurumi.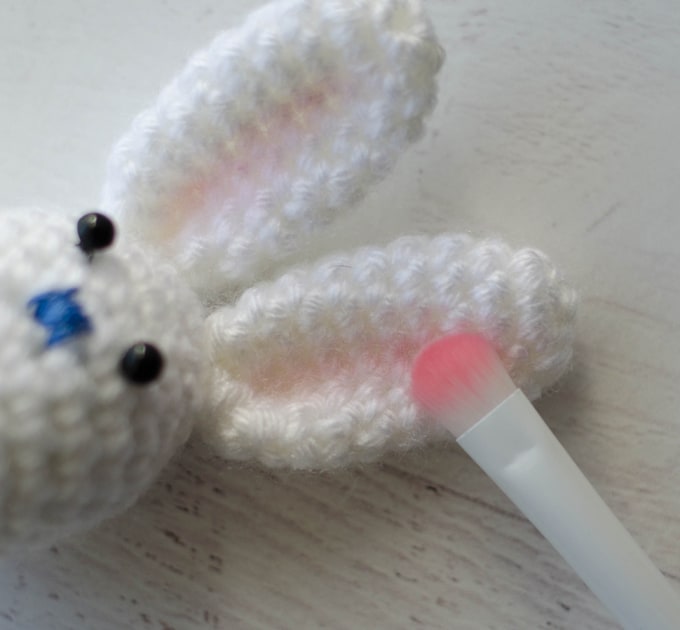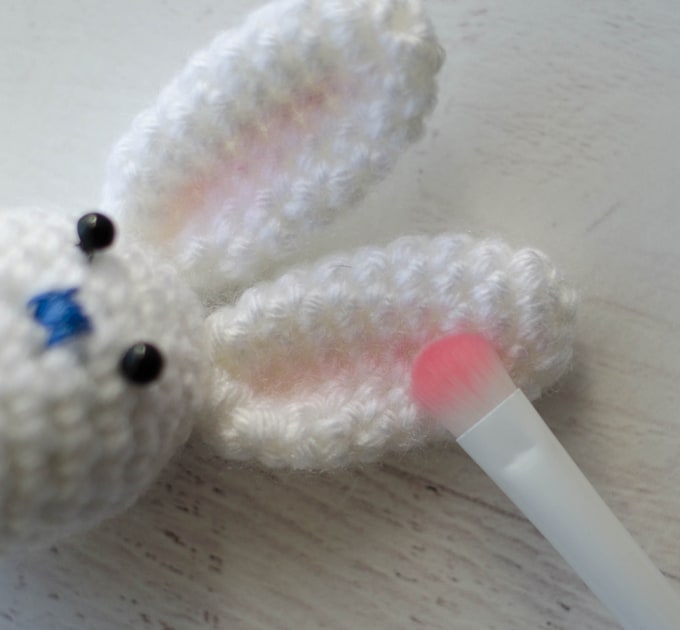 Add the cute Crochet Easter Egg Bunny to the Crochet Easter Basket as a finishing touch!
Purchase an ad-free printable version of all 3 patterns in one!
I love seeing your finished projects! If you share your Crochet Easter Egg Bunny on Instagram, be sure to tag me @crochet365knittoo.  If you are on Facebook, stop over to the Crochet 365 Knit Too Facebook page and share a photo!  I'd love to see your work!
Written pattern copyright Cheryl Bennett 2018, all rights reserved.  Please do not reprint or repost this pattern.  If you would like to share this Crochet Easter Egg Bunny pattern with others, just link to this page.  If you'd like to make items for sale from this pattern, please visit my About page for more information.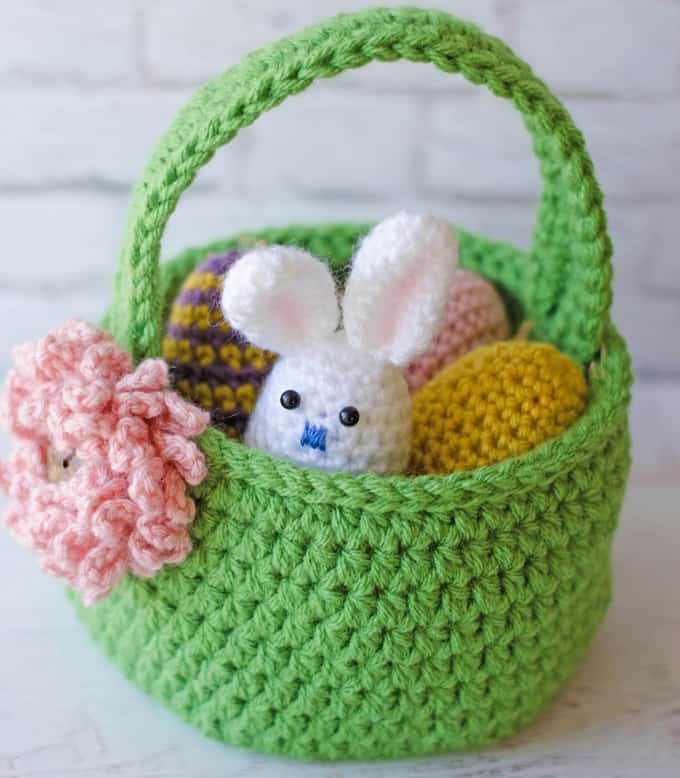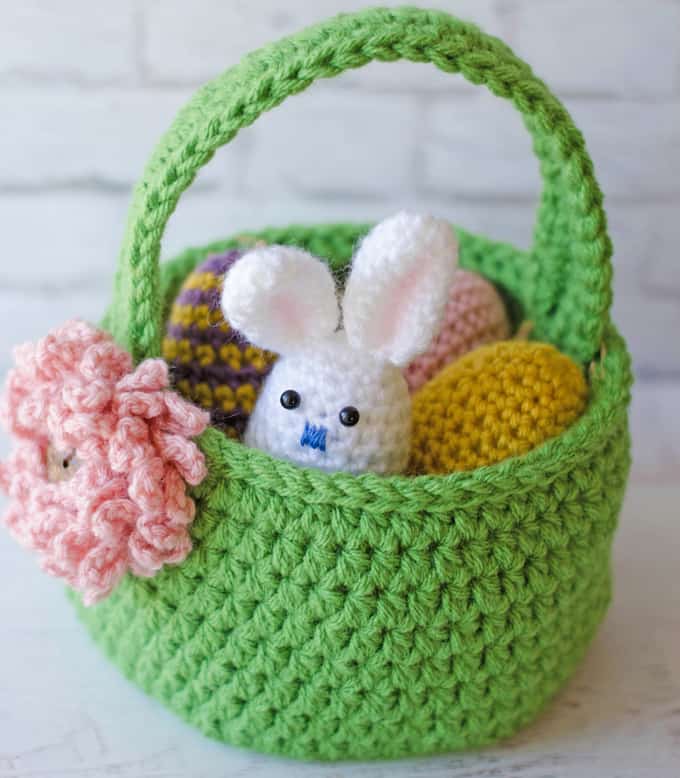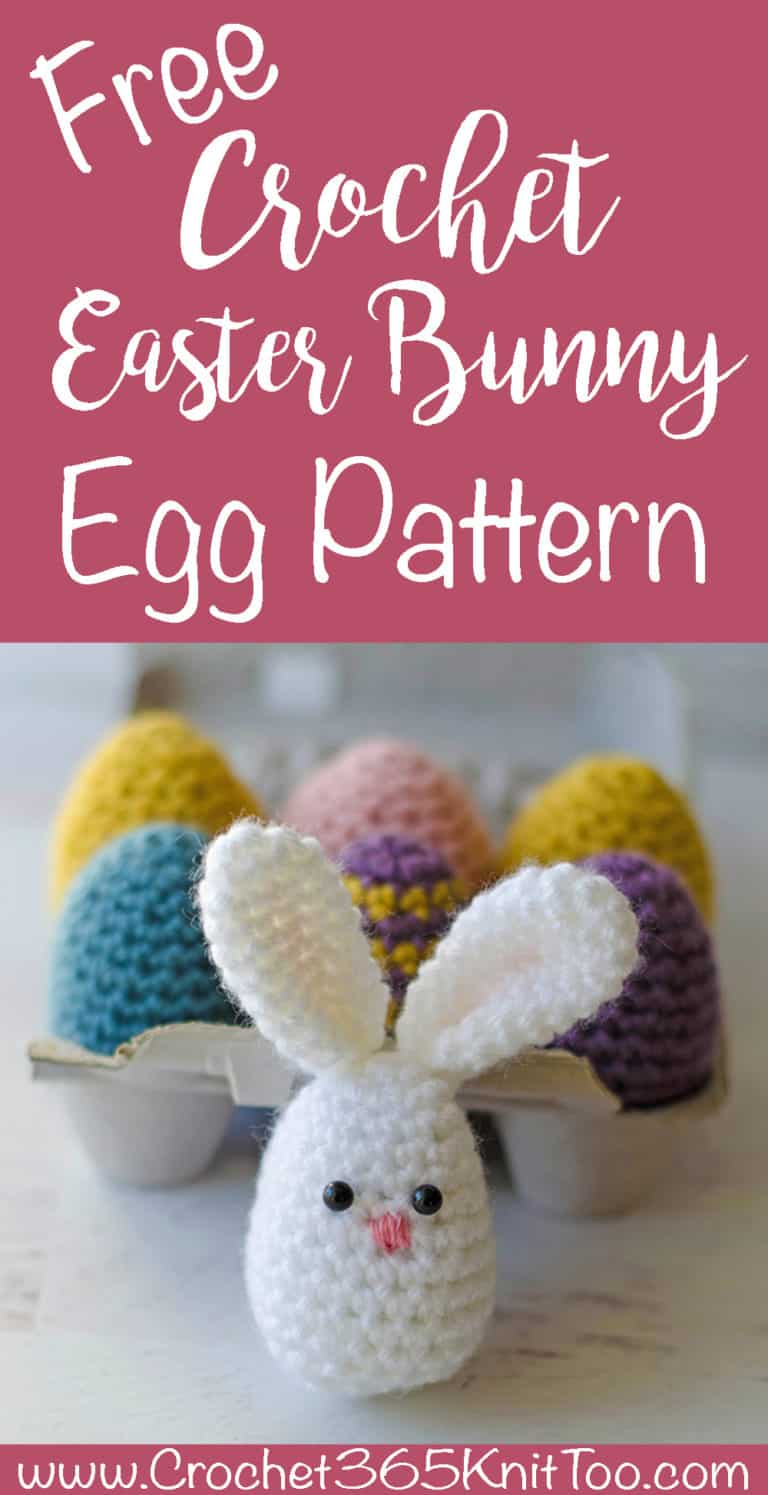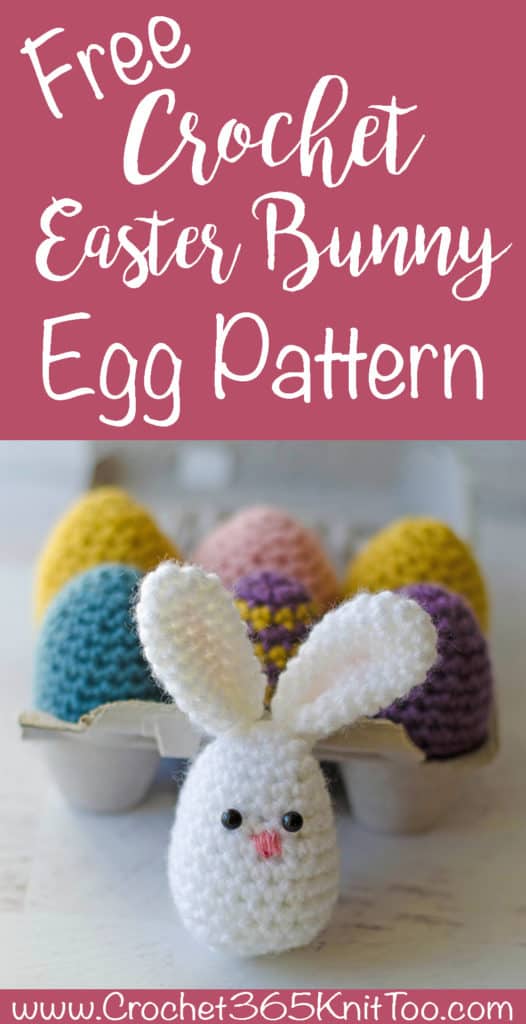 SaveSave
SaveSave