Crochet Butterfly Pattern
This post may contain referral/affiliate links. Please read my disclosure for more info.
One of the first things I ever made for my first home was a crochet butterfly.  I put a magnet on the back and it graced my refrigerator for a long time.  It is long gone now, probably lost among some odds and ends misplaced during a move.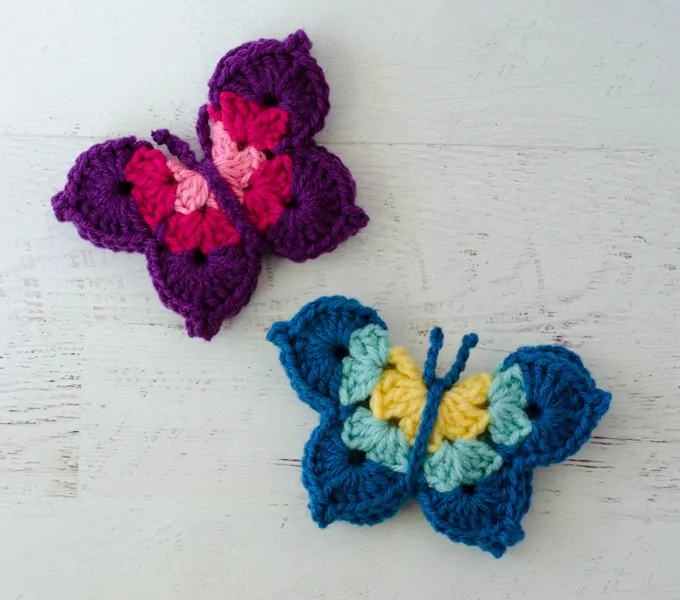 Fast forward a few decades and here I am crocheting butterflies again.  
This free crochet butterfly pattern is so fun to crochet and very fast to put together.  Any scraps will do.  It is like a ruffled granny square with what seems to be way too many stitches, but at the end, when it is folded back upon itself…it's magic..and a butterfly appears.
I added some simple chain for the body and antennae. It would be great as an embellishment on a wreath or a wallhanging. And, of course this crochet butterfly would be lovely as a magnet for your refrigerator.
Related: Small Crochet Projects
Butterfly Basics
This is a great beginner project because it uses such simple stitches: You'll need to know the slip stitch and how to make double crochet stitches. I used worsted weight acrylic yarn but you can use DK weight yarn for a smaller butterfly or a bulky weight yarn for a bigger butterfly. Just be sure to change your hook size to match the yarn you choose.
Pick bold colors, like I did, or work in more subtle colors for a crochet art piece. You could even use a solid color for the butterfly wings on your crochet design. Use your crocheted butterflies to make crochet butterfly magnets or as appliqués for crochet projects like a crochet blanket.
Here's how to make a beautiful crochet butterfly: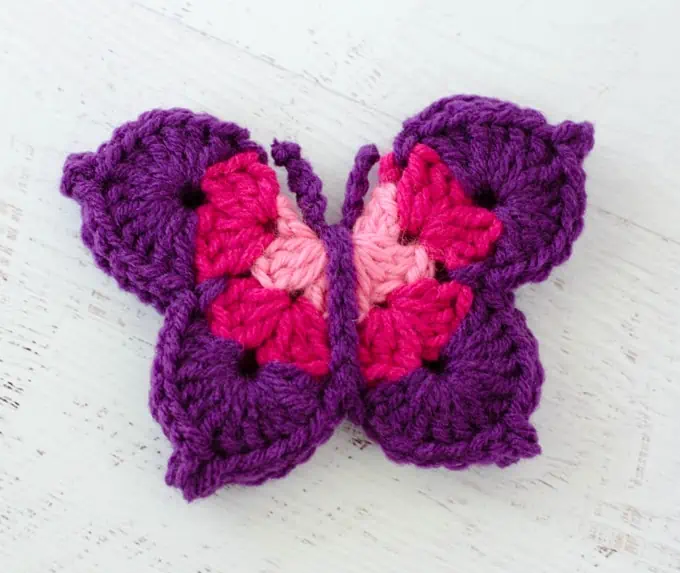 Crochet Butterfly Pattern
Here is what you will need:
Resources and tutorials you may find helpful in following this pattern: Crochet Abbreviations, US to UK Crochet Conversion Chart. Find links to stitches on the "Tutorial" menu: Getting Started will show basic stitches such as the single crochet, double crochet and chain stitch used in many patterns and Crochet Stitch Dictionary shows our growing collection of crochet stitch tutorials.
Crochet Abbreviations:
ch = chain
dc = double crochet
sl st = slip stitch
st = stitch(es)
Butterfly Pattern:
With color 1, chain 6 and join to form a ring.
Row 1: Work the following in the loop: Ch 3 (counts as 1st dc), 2dc, ch 2, *3 dc, ch 2*, repeat * to * 6 more times (8 clusters). Join with sl st to top of starting ch 3. Fasten off color 1.
Row 2: Attach color 2 in any space. [ Ch 3, 2dc, ch 2, 3 dc] in same space as joining, *in next space work [3dc, ch 2, 3 dc]*, repeat * to * 6 more times. Join with sl st to top of starting ch 3. Fasten off color 2.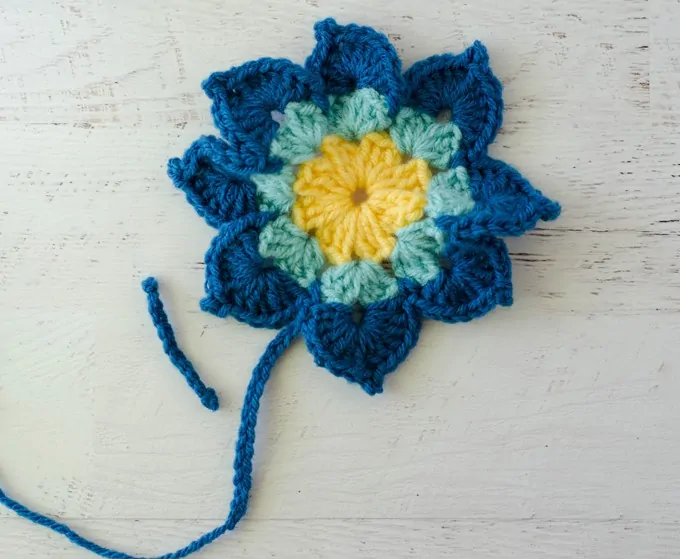 Row 3: Attach color 3 in any ch-2 space. In same space as joining, work [ch3, 5 dc, ch 3, sl st to 1st ch (picot formed), 6 dc], sl st in next space, *in next ch-2 space, work [6dc, ch 3, sl st to 1st ch (picot formed), 6 dc], sl st in next space*, repeat * to * 6 more times. Join with sl st to top of starting ch 3. Do NOT finish off.
Carefully fold butterfly in half. Chain 15 or enough chain stitches to wrap around the fold for a firm fit. Do not sew down just yet. Fasten off, leaving a long strand for sewing.
Antennae:
Chain 14. Fasten off and tie a knot on each end of chain. Pull yarn tight and cut close to the knot.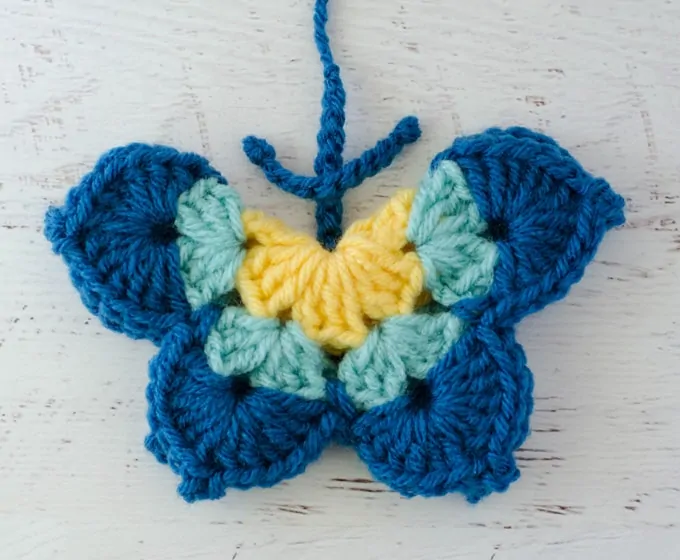 Butterfly Assembly:
Wrap body chain up and around the body, catching the antennae under the chain at the top. Use the yarn tail to sew down firmly.
How fun! A crochet butterfly pattern that is fast and beautiful! Use your colorful butterfly crochet appliqué on another project, spread a little love in your community by hiding crochet butterflies around town or just keep one near your workspace to brighten your day.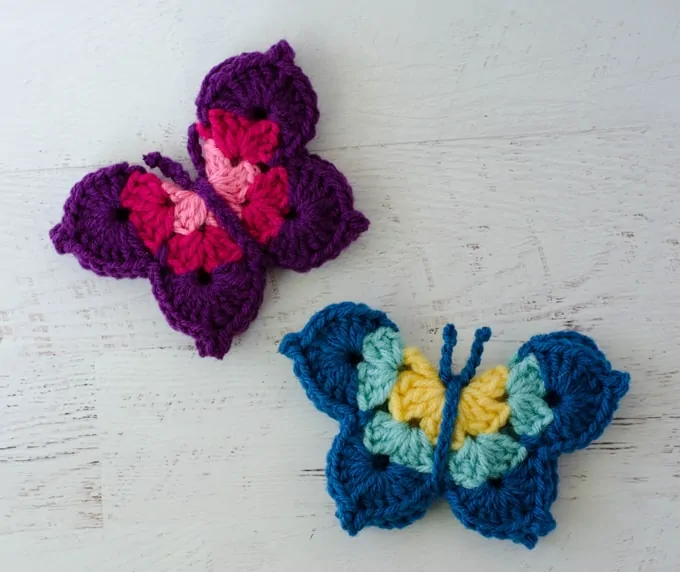 Explore More Crochet Patterns
Do you love crochet as much as I do? I think you're going to love these other fun crochet patterns:
I love seeing your finished projects! If you enjoyed making this Crochet Butterfly I'd love to see yours on Instagram, be sure to tag me @crochet365knittoo. If you are on Facebook, stop over to the Crochet 365 Knit Too Facebook page or pop over to the Crochet365KnitToo Club and share a photo! I'd love to see your work!