18 Beautiful Must-Make Crochet Flower Bouquets
This post may contain referral/affiliate links. Please read my disclosure for more info.
Doesn't everyone kind of love receiving flowers? The only way flowers can get better is when you receive a crochet flower bouquet that will never die!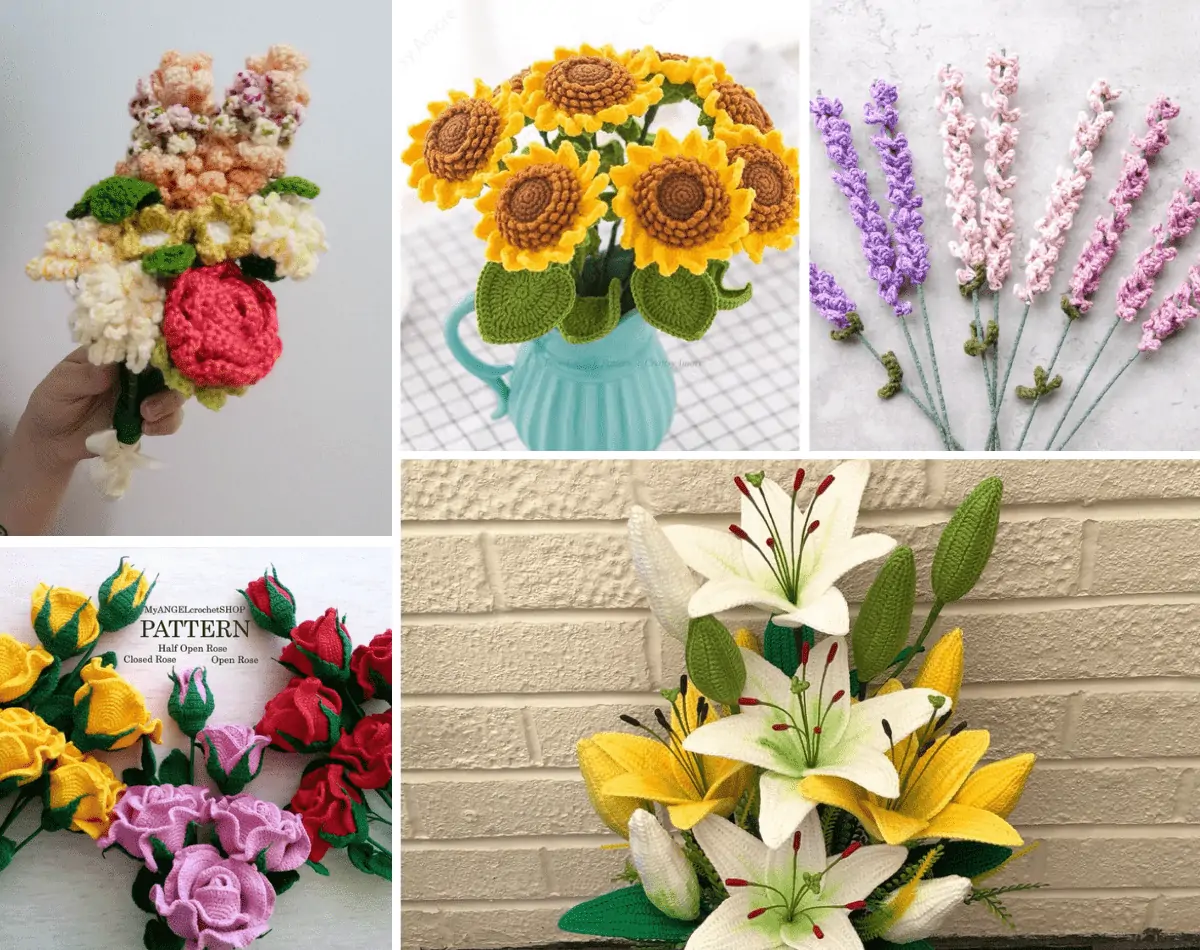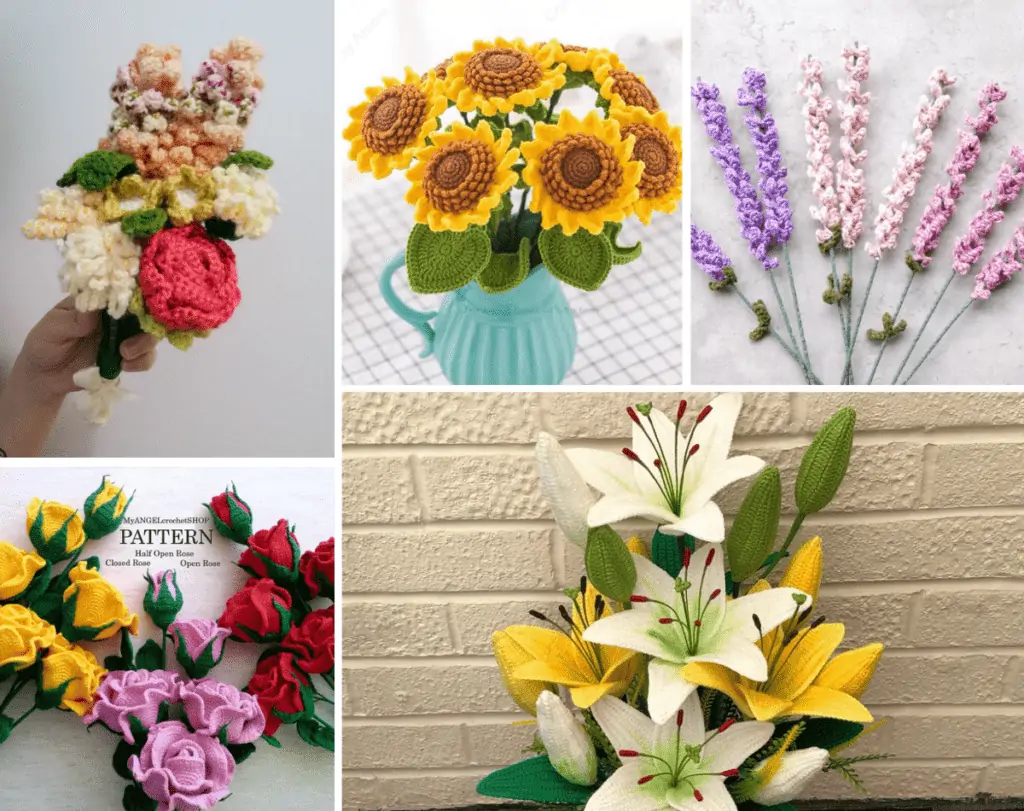 These just look so beautiful that if you make them for yourself they'll look gorgeous around your home. Or brighten up someone's day with a gorgeous bouquet you crocheted yourself!
I love to crochet flowers, but I usually just do flat flowers. So. when I heard about crochet flower bouquets I was so intrigued. I think these patterns are just so beautiful! I'm sure they'll be a fun project, whether you make them as a gift or for yourself.
These patterns use a lot of basic crochet terminology, so make sure that you know how to work a single crochet stitch, double crochet stitch, and slip stitch (sl st).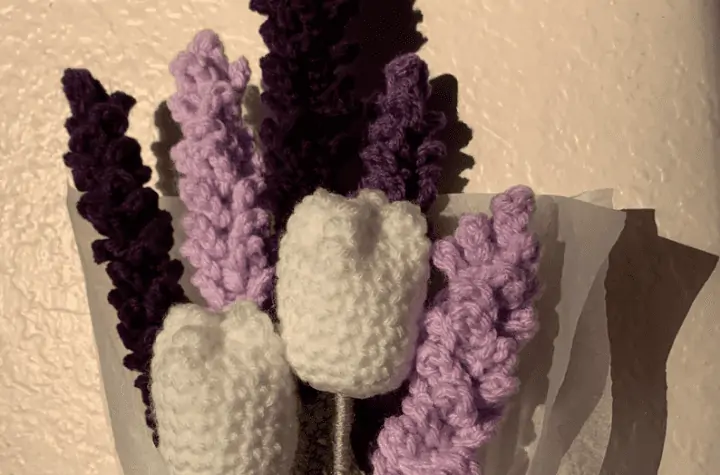 I really love this small Crochet Lavender and Tulip Bouquet by Em Gems US because not only do you get two beautiful flowers, but it also includes these super cute leaves! This is a pattern you will need a hot glue gun for, so keep that in mind as the stems themselves are wrapped in yarn.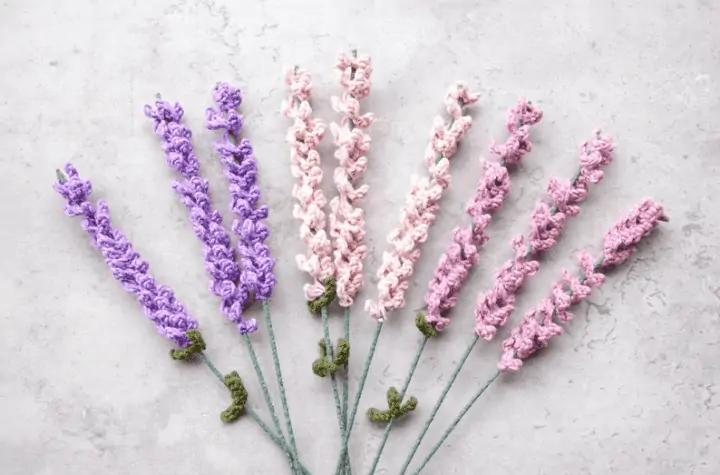 The Lavender Flower by Fibita looks like a real flower to me, honestly. So, if you wanted to be a little more secretive about these being crochet, then this would be a good choice for you.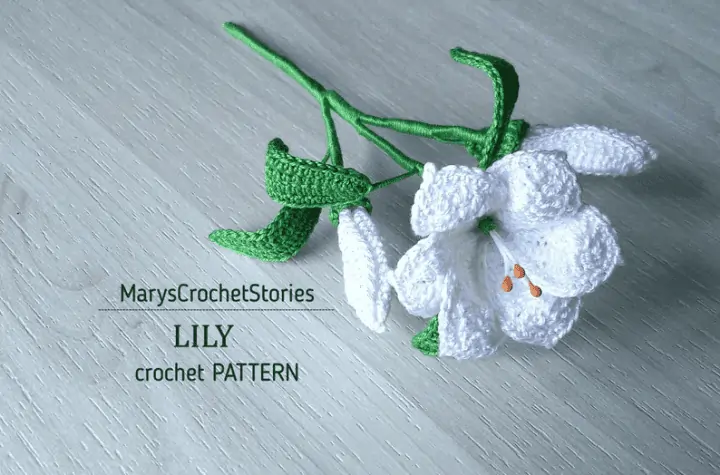 Lilies are just so stunning, that I feel like they are not added to bouquets nearly enough. But, it's time to change that with the Lily Crochet Pattern by Mary's Crochet Stories because it's just such a good pattern. This pattern uses cotton yarn and wire for the stem and bud. Make sure you use a strong enough wire so that your flower is held up well.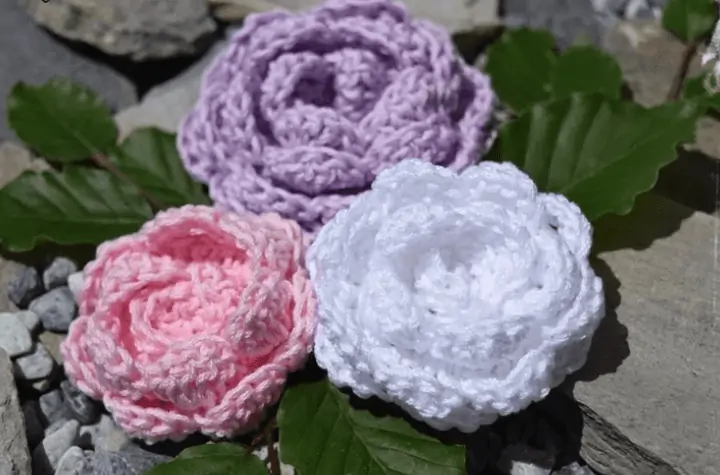 The Peony Crochet Flowers by Jolly Knits are super versatile. While they were originally made to be flat, if you attach t hem to something like a bamboo stick, you can easily add this to a bouquet. Or, you can leave them flat to decorate around the base of your vase.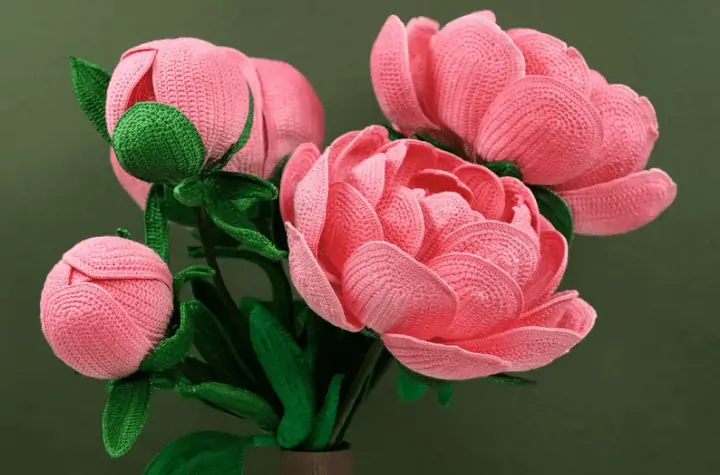 Another peony? Yes, yes indeed. This Crochet Peony Pattern by Happy Patty Crochet has a lot more of a 3-D effect than the previous pattern. This crochet flower pattern is definitely for advanced crocheters, so keep your skill set in mind when choosing your patterns. These flowers are also in multiple states of bloom, which I think is a super fun addition as well.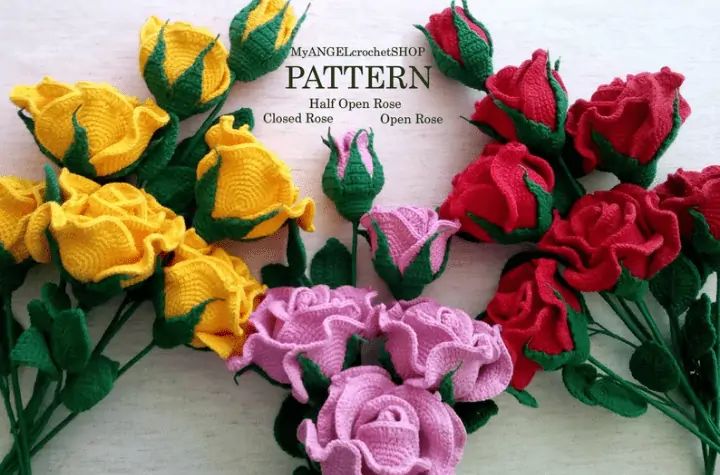 Everyone loves getting roses. Whether it's Valentine's Day or you're surprising a loved one, this is a crochet rose pattern you don't want to miss. The Roses Crochet Pattern by My Angel Crochet Shop is so beautiful. I really love how they made the petal pieces wavy to resemble a real flower.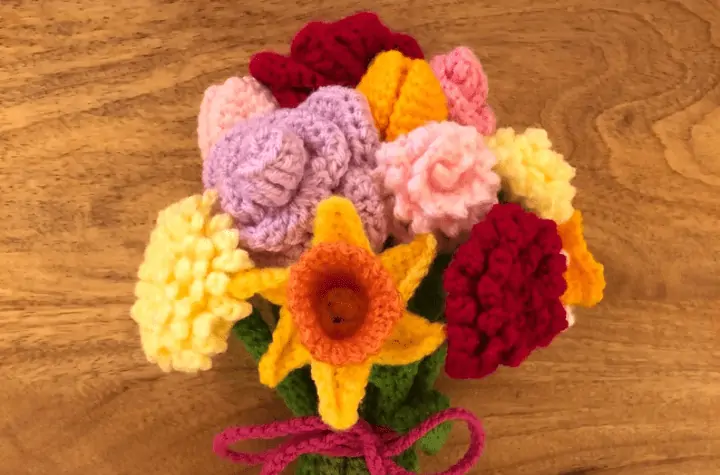 I really love the stitch on the stems of this beauty! This is a very different bouquet from the previous ones and I think it is super fun. The Amigurumi Flower Pattern by Crazy 4 Crochet 71 is a true crochet bouquet that requires only your yarn, hook, and stuffing. The chain of pink yarn to tie this bouquet together is also super cute, but you can really use any scrap yarn you have lying around for this.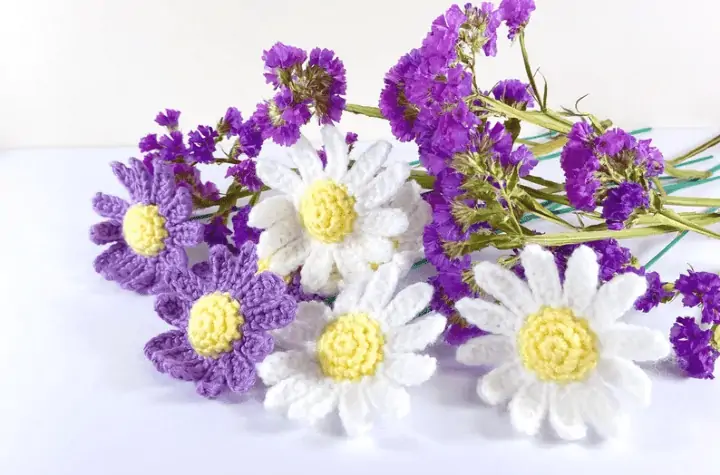 The mix of real flowers and crochet flowers in this picture is just too cute. The Crochet Daisy Pattern by Lingzhi Handmade is a sweet and simple flower that would be a gorgeous addition to any bouquet.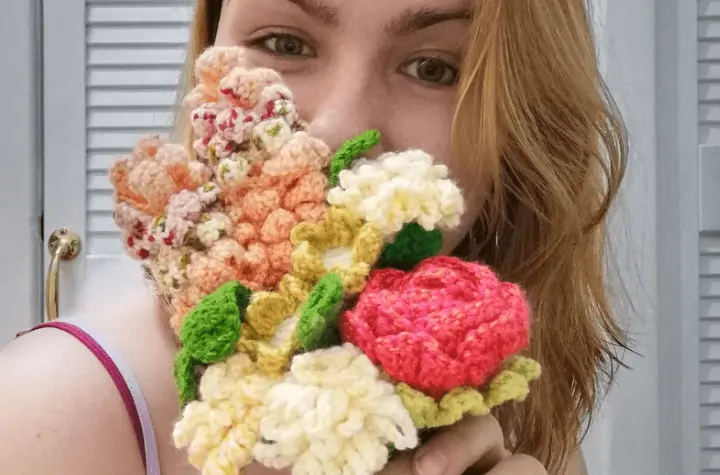 The Crochet Bouquet Flower Pattern by KnittingxWhere is a super easy, beginner-friendly pattern that will give you some absolutely beautiful crochet flowers as a result. The pattern is written in a non traditional way to not include most crochet terminology. The designer feels this makes the pattern easier for beginners. But since that may not be your style, there is an example pattern excerpt shown on the listing, so make sure you review that before purchase.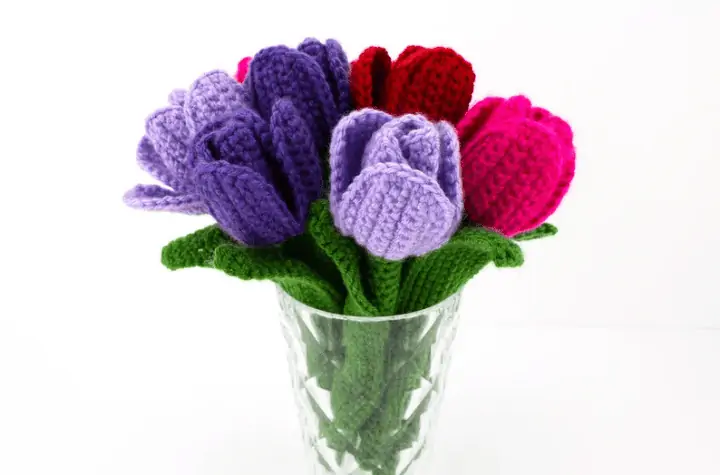 No one can say no to a beautiful vase of tulips. The Crochet Tuplips Pattern by Jean Kris Toys is made entirely of yarn and doesn't include any sticks or wires, which makes it safe for children as well.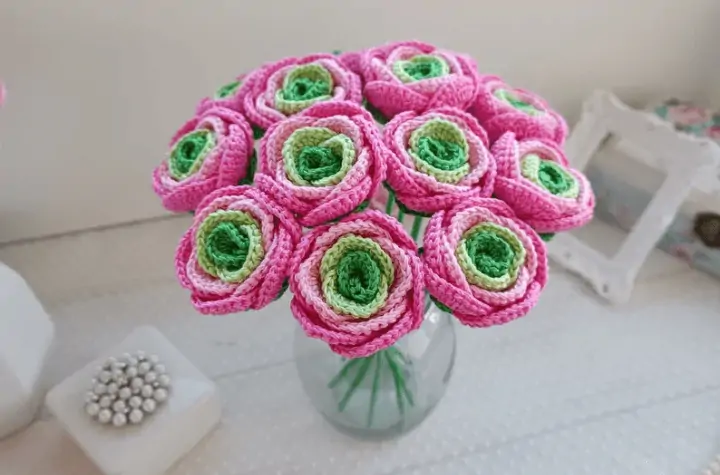 Is everything better when it's multicolored? Maybe. I think the Crochet Flower Pattern by ViTasja is such a fun pop of color for any home. If you've been looking for something to do with your scrap yarn, maybe you can make a bunch of different petals!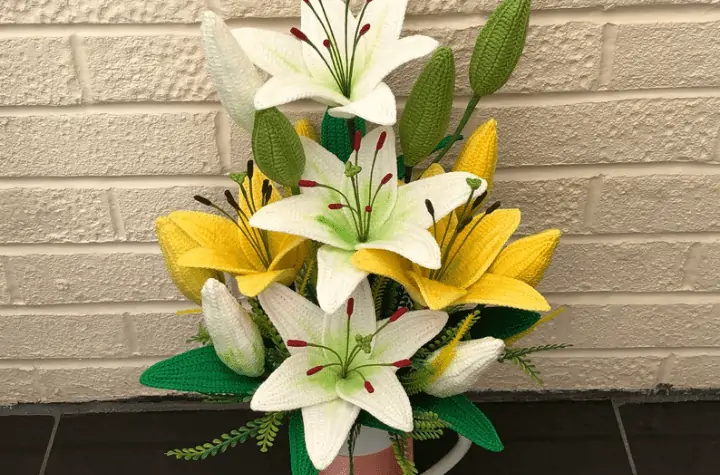 The Crochet Lily Pattern by Natagor Finlayson truly does make a beautiful bouquet. This crochet flower bouquet uses Light Worsted yarn (or DK weight yarn) as well as wiring for the stems. But, for home decor, it is an absolute masterpiece. Don't those lilies just look SO real?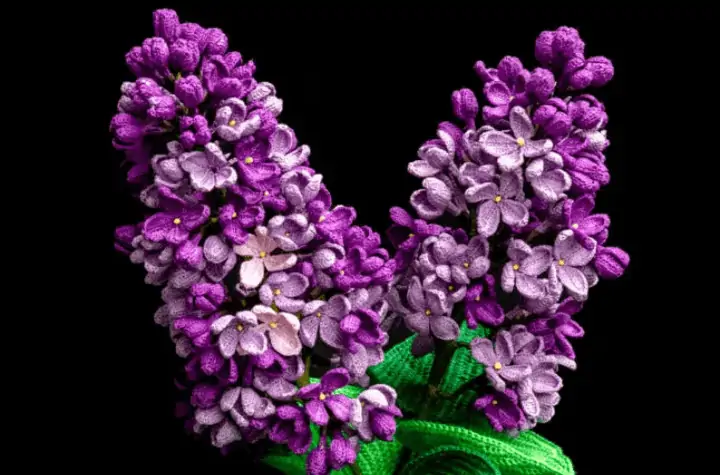 The Crochet Lilac Pattern by Happy Patty Crochet is another pattern that looks like a real flower to me. Isn't it simply amazing what you can do with a crochet hook and some yarn? The thing I really love about this pattern is all the different purples and just how full the flowers are.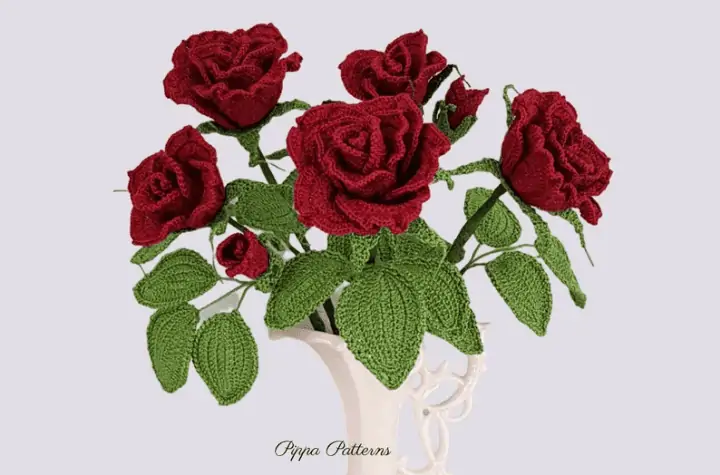 The shape of the petals on this beauty really has my heart. The Crochet Rose Pattern by Pippa Patterns Crochet gives me Beauty and the Beast vibes a bit. So, if you love some Disney decor, I think this could really be the perfect pattern. Honestly, if someone tries that, tag me on Instagram or something because I think it would just be so cute!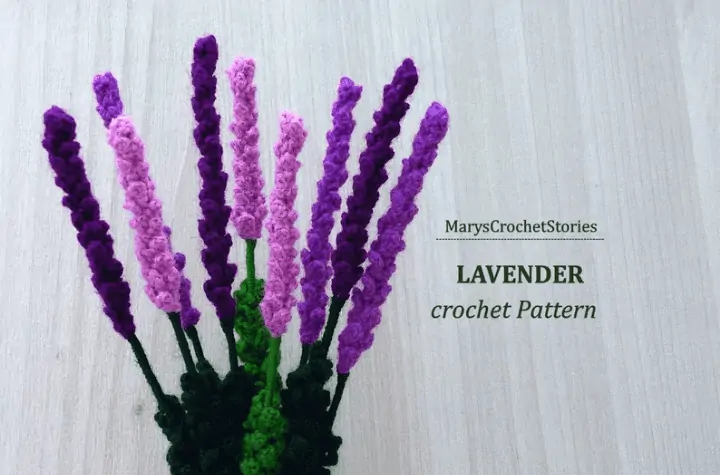 There's no such thing as too much lavender. So, obviously, I had to share another pattern. The Lavender Crochet Pattern by Mary's Crochet Stories is a simple crochet pattern meant for beginners. So, if you're just starting out and not the most familiar with crochet terminology, this is the pattern for you!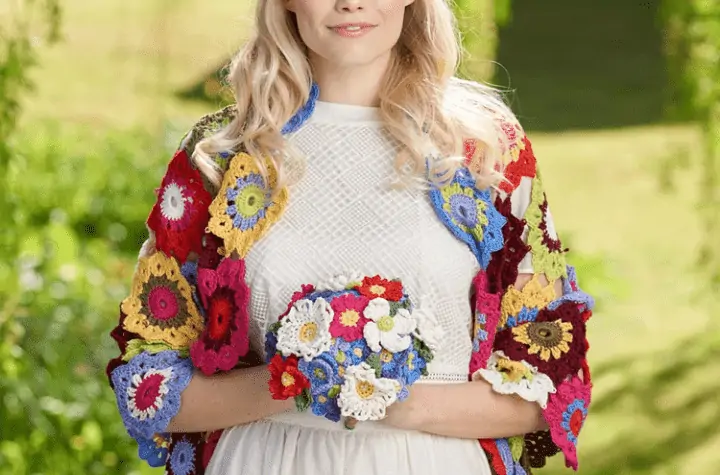 If you're looking to make some stunning flowers for a loved one's big day, then this free crochet pattern is such a great choice. The Crochet Wedding Bouquet by Gathered can be totally customized to the wedding colors and it can be a beautiful keepsake for a bride. Maybe the best of all, this is a free crochet flower pattern, which is always an added bonus!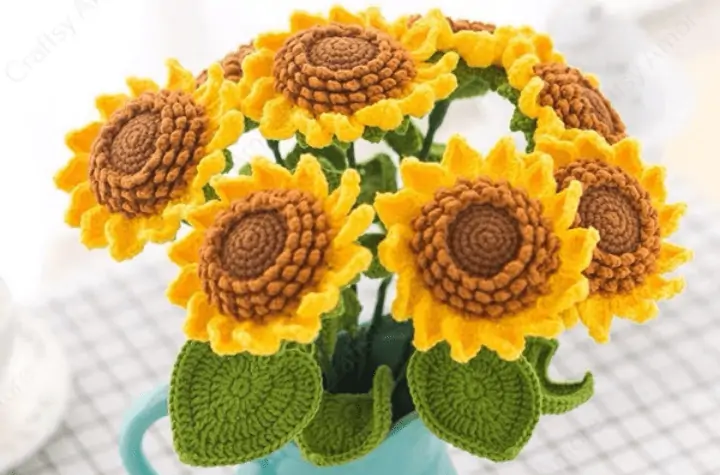 Oh sunflowers, they always remind me of warm weather. I am also a big fan of the leaf design on the Sunflower Bouquet by Caftsy Amore. I also love the seed pod of these sunflowers, I just really think it has a lot of beautiful detail. This is another free pattern as well, so there's no hesitation in trying out these beautiful flowers in your home!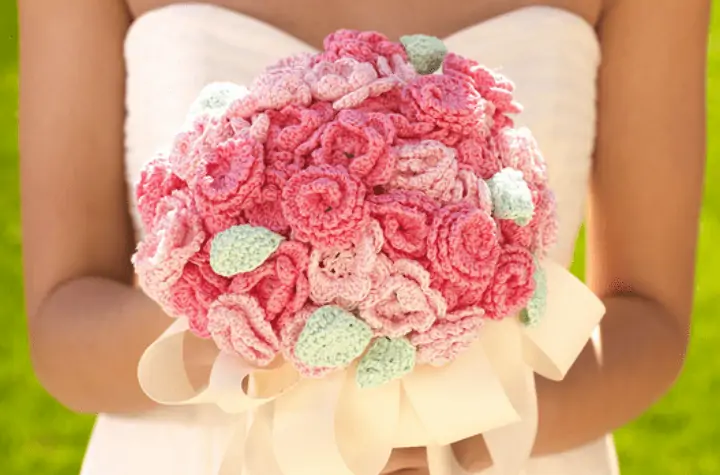 The Crochet Bridal Nosegay Bouquet by Crochet Kingdom is such a beautiful wedding bouquet for a more romantic wedding. This free crochet pattern is an absolute winner and I really love that it looks like pink roses are mixed in. You can also customize the yarn to whatever the colors of the bridal party are so that the bride has a keepsake that will last forever.
Whatever bouquet you choose to make, you will not regret it! Let me know which one you decide to make in the comments.
I love seeing your finished projects! If you enjoyed If you enjoyed making one of my patterns I'd love to see yours on Instagram, be sure to tag me @crochet365knittoo. If you are on Facebook, stop over to the Crochet 365 Knit Too Facebook page or pop over to the Crochet365KnitToo Club and share a photo! I'd love to see your work.