Crochet Mushroom Patterns That Scream Cottage Core
This post may contain referral/affiliate links. Please read my disclosure for more info.
Maybe it's just me, but I feel like I have been seeing quite a few crochet mushroom patterns and I'm completely smitten!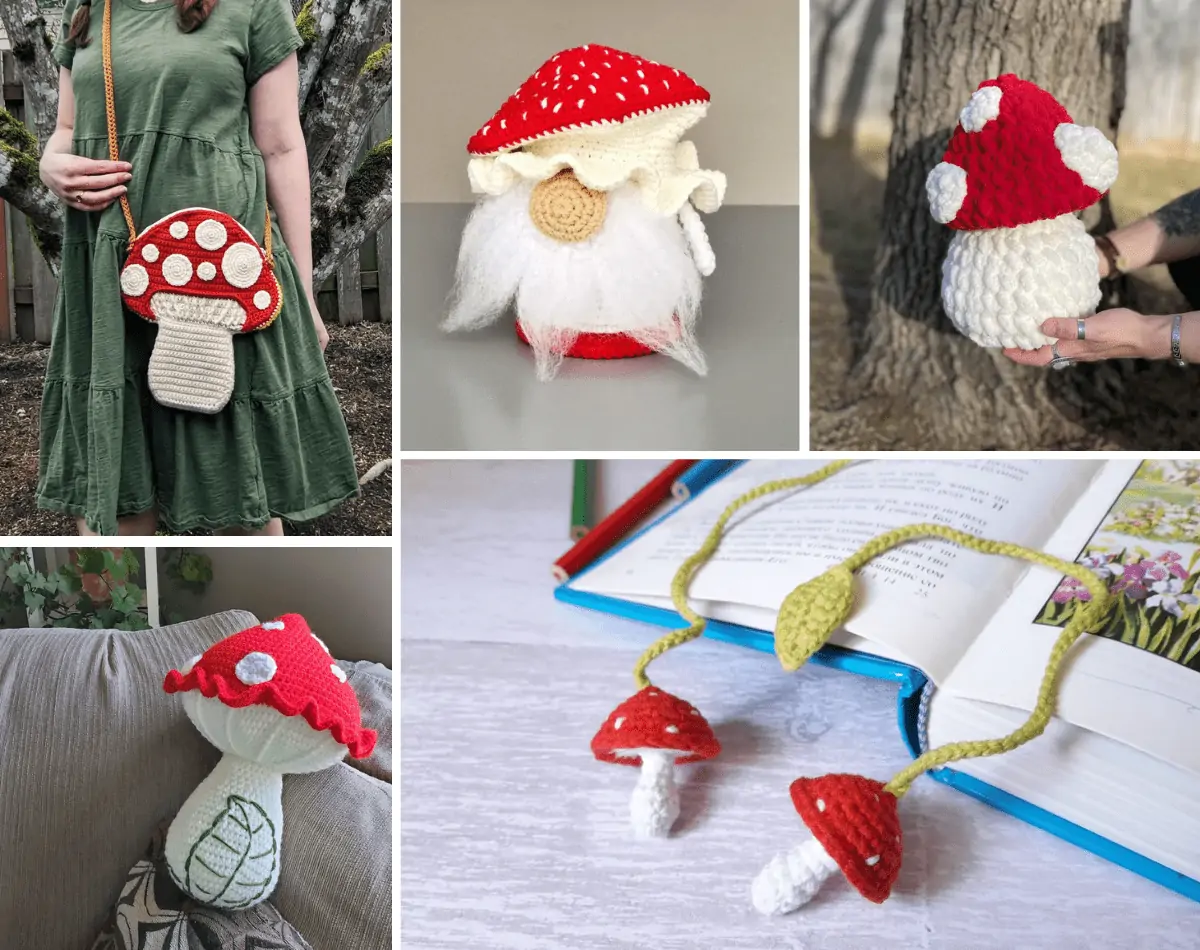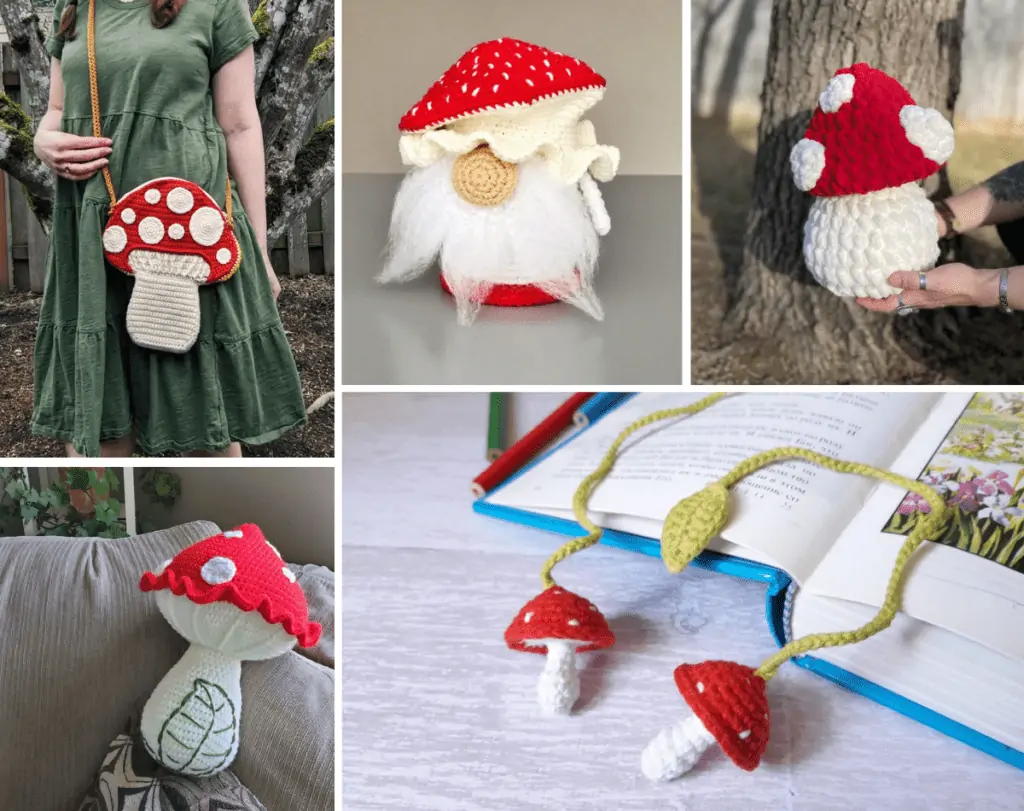 Sigh. There are so many cute mushroom to choose from! Whether you're ready to live your cottage core dreams or you're going to cosplay a fairy in the woods, you're sure to find a mushroom pattern that will have your hook itching to create.
I have organized each crochet mushroom pattern into a few categories for ease of access. Hopefully, this will help you find the perfect pattern for you to make yourself!
Most of these patterns use a variety of basic crochet stitches, so make sure that you know how to work a single crochet stitch, double crochet stitch, and slip stitch (sl st). Many of these patterns require a yarn needle or stuffing for final assembly, so be sure to carefully read through the supply lists before heading to the store.
Since these great patterns won't take a long time to complete, your cute car bling (or really.. any bling..) is just a few steps away!
Mushroom Accessory Patterns
Hear me out, who wouldn't want the cutest mushroom hat to match their mushroom bag? These crochet mushroom patterns will have you booking a garden party before your crochet hook has touched the yarn.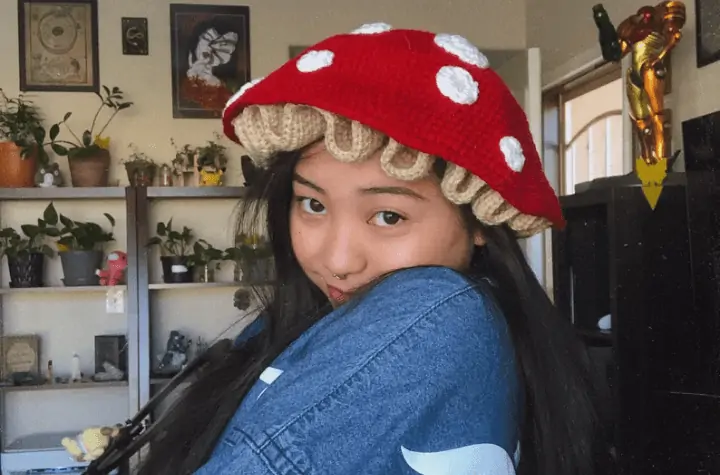 I have never seen a mushroom cap before, but does this not radiate happiness? The Amanita Mushroom Cap Hat by LittlexHumanCrochets will perfectly complement a lovely tea party. Since they say you should have your accessories match, maybe this means you should make a mushroom purse too!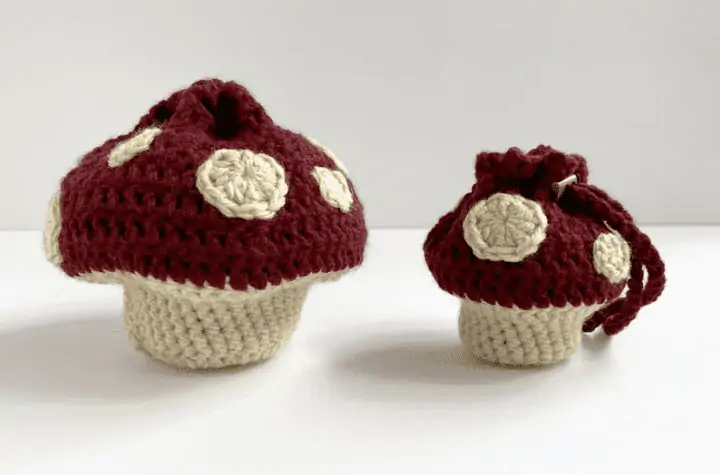 Do you have a dice goblin in your home? Keep all those shiny treasures safe in Craig's Cottage Big & Small Mushroom Dice Bag. If you're not super big into dice-based games, this could also make a super cute little bag with a few modifications. So, if you don't mind adapting a bit, I am sure this would be an adorable option for you as well!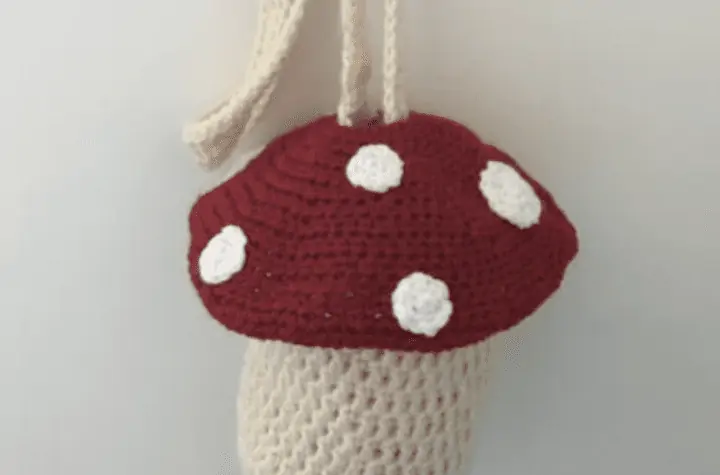 Who doesn't love a cute mushroom bag? This is totally the perfect bag to bring to a local market, or maybe a craft show. Your options are truly endless with Kit and Kaboodle Co's Mushroom Bag.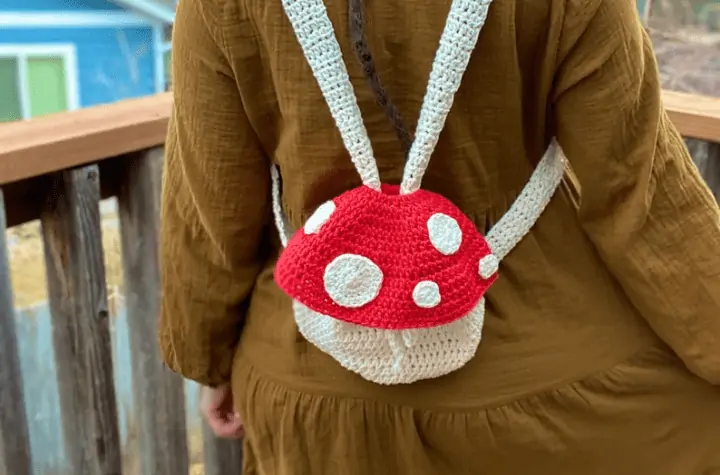 More of a backpack person? The Shroom Backpack by Mama Kass Krochet will absolutely steal your heart. While this pattern as shown is rather small, it can be customized and made a bit larger if you would like. So, if you want to keep it tiny for festivals and daily wear, or want to make it a bit bigger for the kiddos who want to use it as a school bag, you totally can!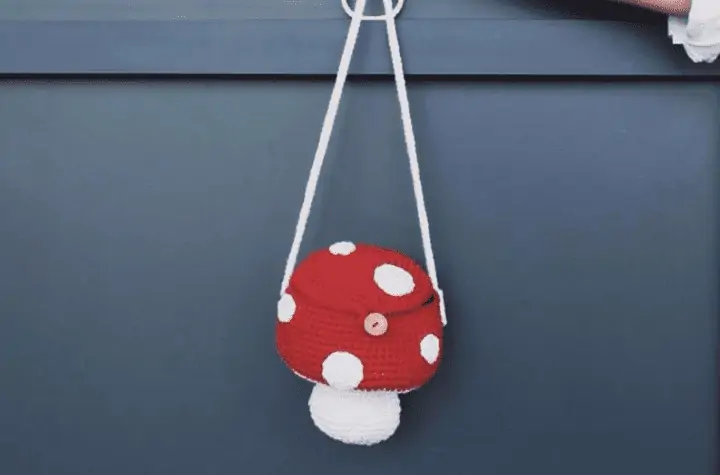 A statement purse can always be a fun touch, especially when it looks so much like an actual mushroom! The Mini Mushroom Bag by Meemanan Patterns is the perfect mix of statement to practicality. Realistically, this bag is meant to serve as wallet size, so keep that in mind when choosing this pattern.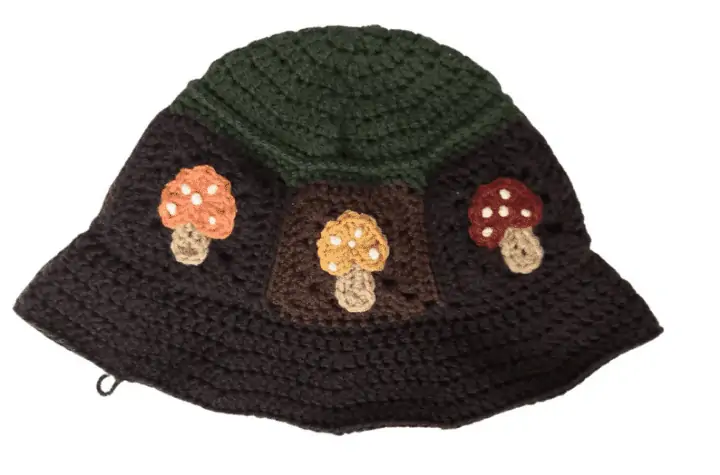 The Forage Fairy Bucket Hat by Crochet By Lynzi Shop is very cute for daily wear and includes some easy granny squares. I really love the little toadstools on these granny squares, it would really just be such a fun bucket hat for going out and about.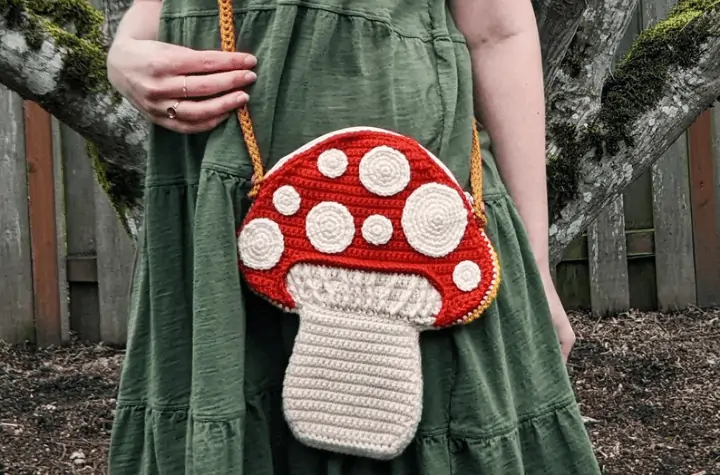 Want more of a traditional flat purse but still want the crochet mushroom aesthetic? Not to worry, Hello Happy has you covered with the Crossbody Mushroom Bag. This pattern uses worsted weight yarn and also features a zipper, which I personally love.
Amigurumi Mushroom Patterns
These crochet mushroom patterns will steal your heart. I think that whoever you make them for will be absoutely in love, I mean, just look at them!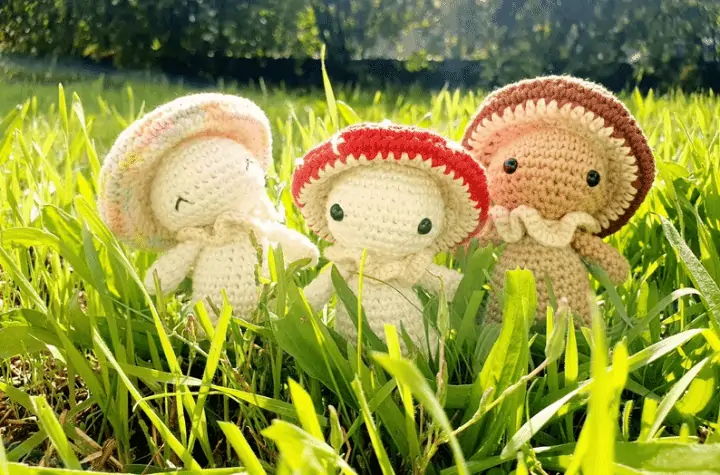 Tell me this isn't just so darling? I really can't get over their little faces! Quinn the Little Mushroom by Critter Stitch Designs is just too cute. If you've been searching for an amigurumi mushroom to make someone special, look no further. They're absolutely going to love this.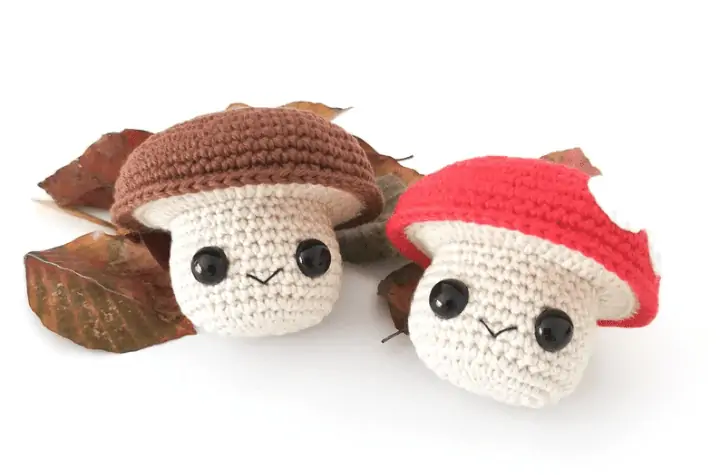 Stitch by Fay has created the Crochet Mushroom Buddy that is honestly as sweet as can be. This amigurumi mushroom is the perfect companion for the forest pixie in your life. Honestly, the tiny little mouths are really getting to me and they're a total win in my book.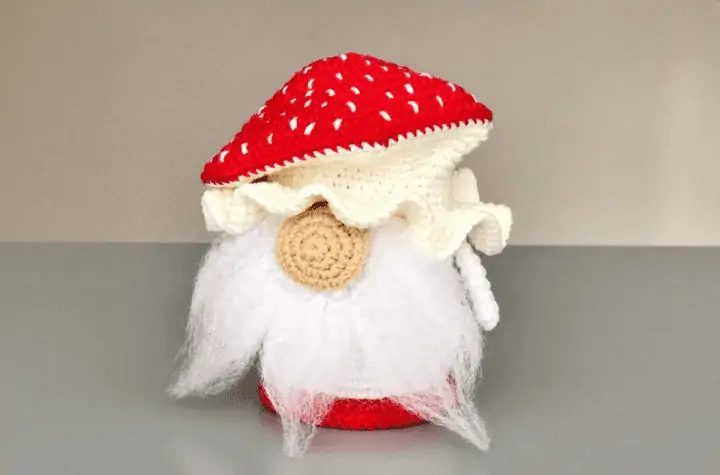 The Mushroom Gnome by Natty Toys is a combination of two things that are super popular right now and this little gentleman turned out super handsome. Also, I love how the easy stitches form the little spots on his head. So cute!
Mushroom Decor Patterns
These patterns will look beautiful wherever they appear in your house. What a great way to add some small but cute cottage core touches around your home or compliment the decor you already have.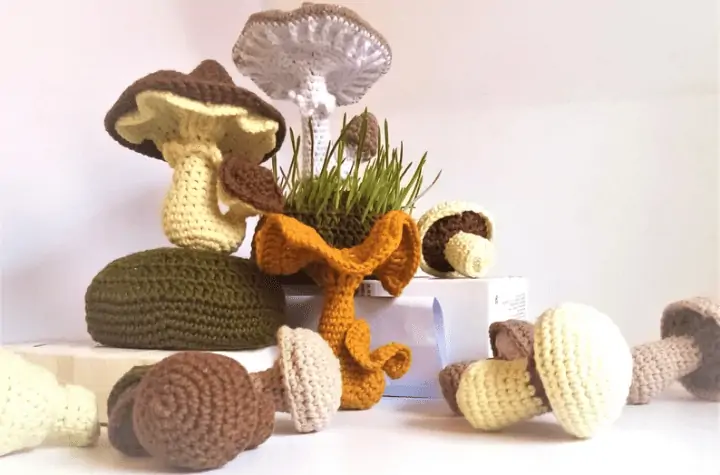 This mushroom collection by Woolay Mo is the perfect addition to your home decor. This pattern also includes a pattern with actual growing seeds, which I think is super fun! There's a variety of mushrooms and you can change up the yarn colors to make them natural or whimsical.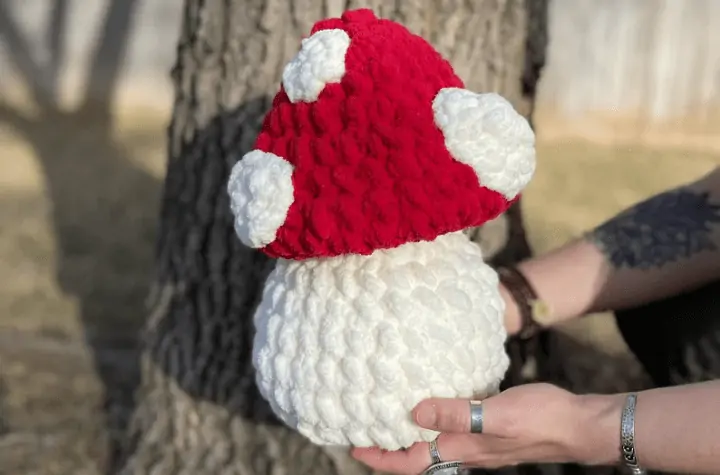 If you've been looking for an excuse to use some super bulky yarn, the Chonky Mushroom Pattern by Mama Kass Krocket is absolutely going to be your cup of tea. This is such a cute mushroom plush that serves as either a cute pillow or an adorable stuffie. This pattern also includes spots on the mushroom cap, which are always a fun touch.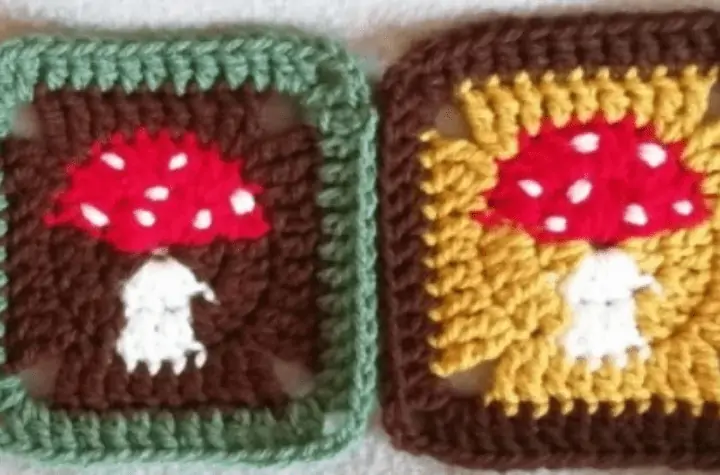 Everyone loves a good granny square, and the Mushroom Granny Square by Sleep Frog Crochet is no exception. This would make such a cute blanket or really anything pattern that calls for a granny square!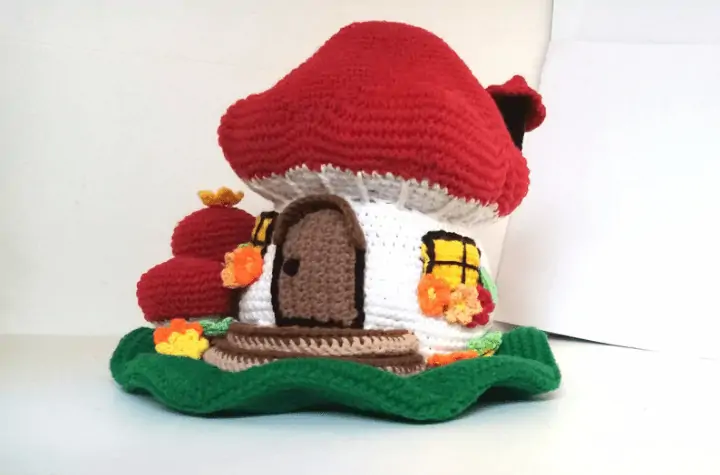 The Mushroom House by Woolay Mo is a must for any indoor fairy garden. I absolutely love all the little details on this pattern! If any of your family or friends is really into cottage core, this will be the perfect gift.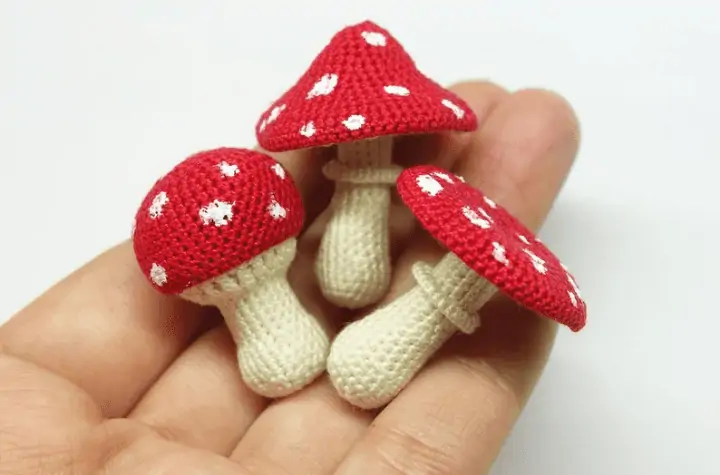 The tiny crochet mushroom by Shrimpink is a total win. These would make super adorable keychains or brooches depending on your style.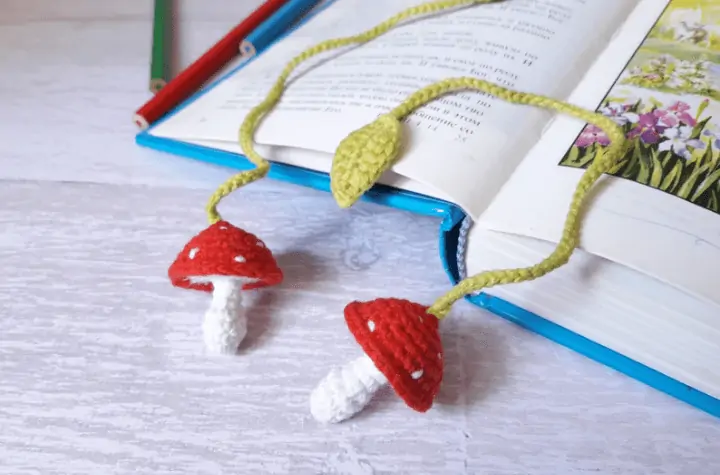 Any book nerds out there? Maybe you can finally get your chaotic friend to stop dog-earing pages by making when this crochet mushroom bookmark by Faina Cute Toys.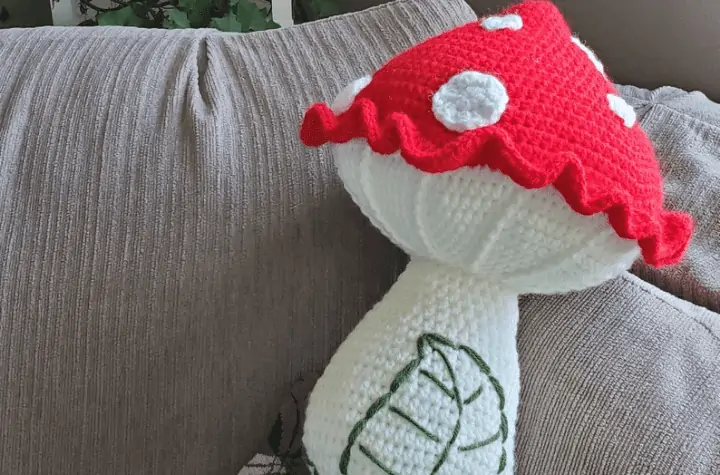 This little toadstool has a whole lot to love. The Crochet Mushroom Pillow Pattern by Brooke's Imaginings looks so cozy. This would look so perfect in a room that's already got a lot of greenery to compliment it.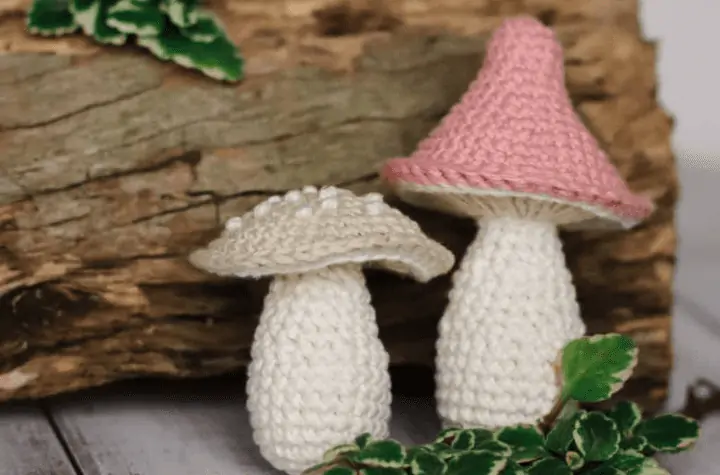 I also wanted to include a free crochet pattern in case you were still trying to figure out if you can make these mushrooms work in your home. Thoresby Cottage has created this cuper cute free crochet mushroom pattern which includes two different style of caps. This pattern uses DK weight yarn and starts with a magic ring, so if you need a little practice with that, this can be a super fun pattern to level up your crochet game!
For a cute mushroom potholder, be sure to check out this crochet potholder pattern post!
I love seeing your finished projects! If you enjoyed making one of my patterns I'd love to see yours on Instagram, be sure to tag me @crochet365knittoo. If you are on Facebook, stop over to the Crochet 365 Knit Too Facebook page or pop over to the Crochet365KnitToo Club and share a photo! I'd love to see your work.