Simply Stunning Crochet Potholder Patterns
This post may contain referral/affiliate links. Please read my disclosure for more info.
A crochet potholder pattern is a simple project that you can complete in a few hours, making them great last-minute gifts! But they are so fun to make, I won't tell if you keep one for yourself!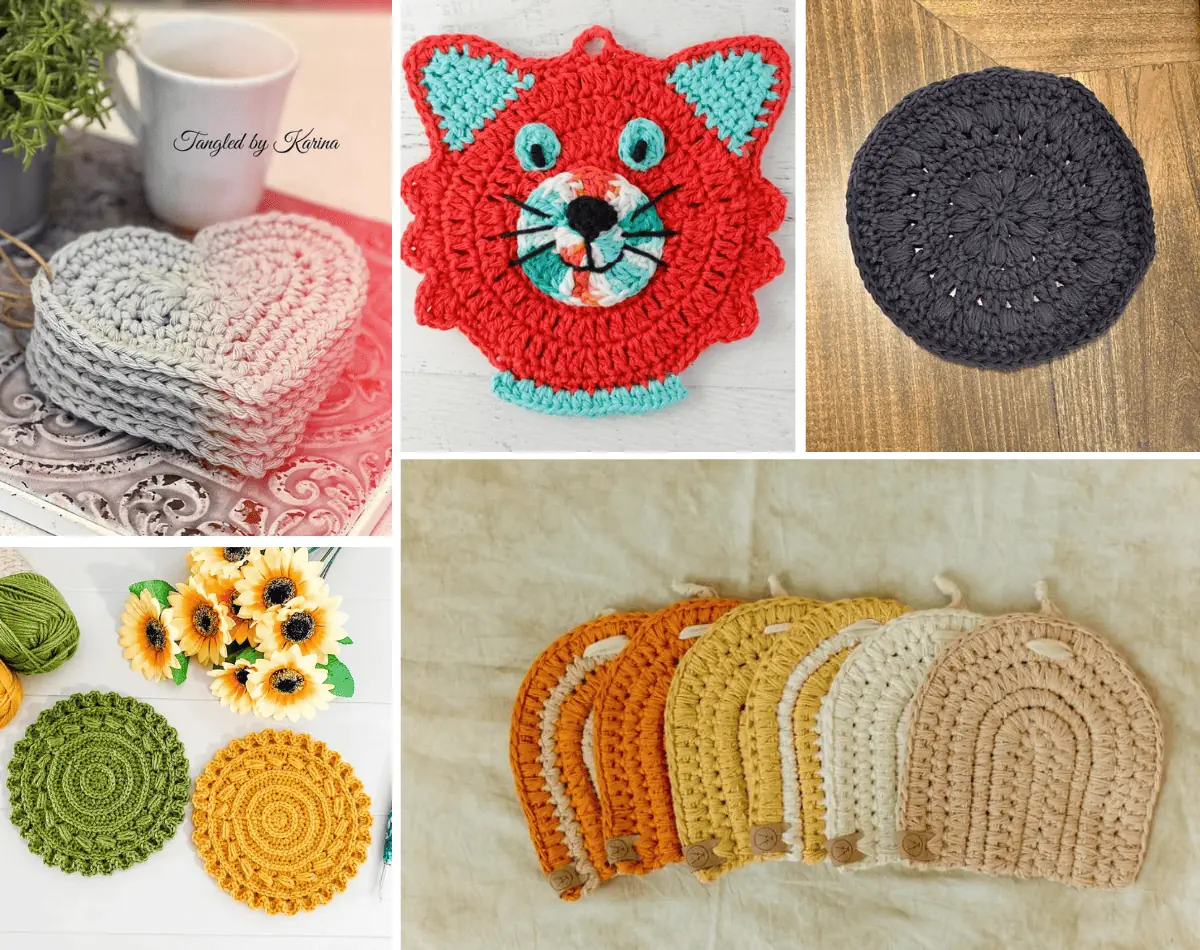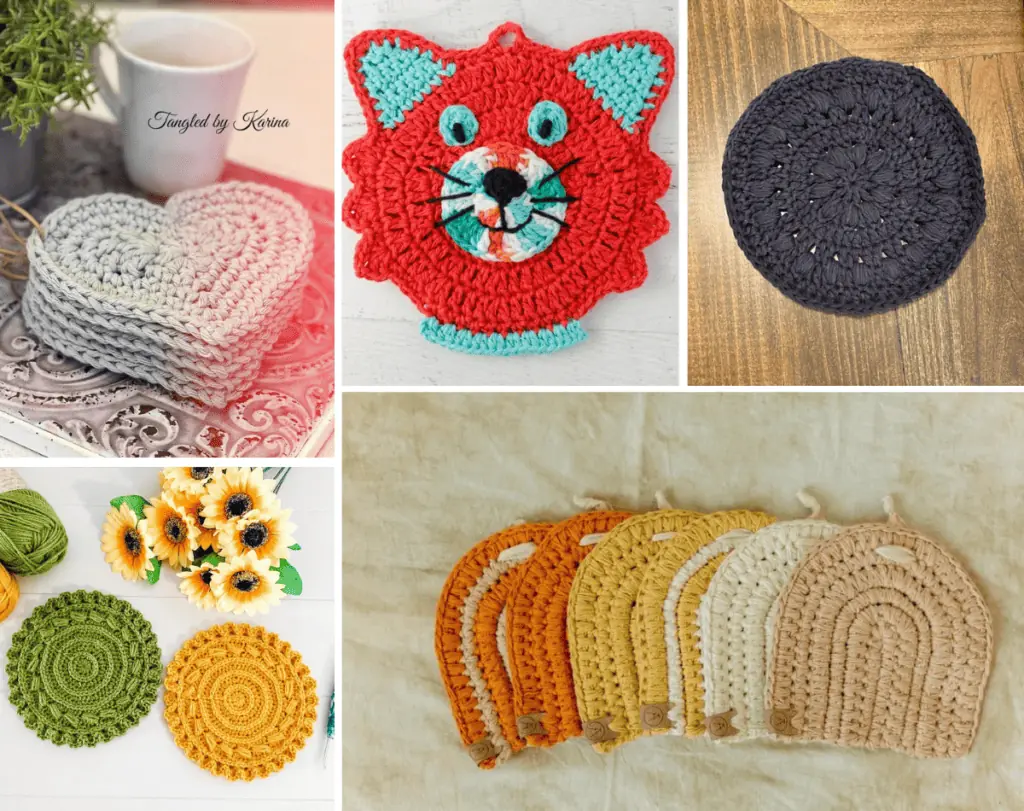 Potholders are also a great project for a beginner crocheter since they can be such a great way to practice a stitch while not doing an overly complicated pattern.
Potholders can be made with a variety of yarn weights, including worsted-weight yarn or thicker yarn like bulky yarn. When you use a lighter-weight yarn like medium-weight cotton yarn, you will probably want to do double thickness to protect your hands from the heat
Can You Use Acrylic Yarn for Crochet Potholders?
You shouldn't use acrylic yarn when making crochet potholders because it can melt. Essentially, acrylic yarn is spun plastic, so if you wouldn't put your hot pans on a cutting board, then I wouldn't recommend using acrylic yarn.
Overall, cotton yarn is a better bet with crochet hot pads. Cotton yarn is able to withstand a lot more heat and doesn't run the risk of burning when hot items are placed on them. Plus, you'll want it to be machine washable since it's very likely they'll get dirty and be spilled upon.
On this note, it's also a good idea to avoid plastic eyes or beads for the same reason. If you use those, make sure that this is just a decorative piece!
Most of these patterns use a variety of basic crochet stitches, so make sure that you know how to work a single crochet stitch, double crochet stitch, and slip stitch (sl st). Since these great patterns won't take a long time to complete, your cute potholder is just a few steps away!
Why A Crochet Potholder is a Perfect Project
I'm a huge fan of small, fast crochet projects with big impact and crochet potholders top my list! They are typically are one evening projects. They look beautiful. It's easy to match your own (or someone else's) decor. And, they are relatively easy to make.
They can also be great stash busters, if you're like me and have a basket of kitchen cotton hanging out just waiting for a good use.
So bust out your crochet hook and check out these darling crochet potholder patterns!
Crochet Potholder Patterns
A crochet potholder pattern is a simple project that you can complete in a few hours. They make for great last minute gifts and are easy to customize to any kitchen decor. Welcome to your next favorite crochet project!
This fun project is ready for all the lovely cat lovers in your life! I designed this pattern in a double-thickness to make sure to give your hand extra protection.
Photo Credit: Raffamusa Design
I adore this mushroom potholder! It would make a lovely handmade gift, especially for someone that is into the cottage-core aesthetic. For more mushroom patterns, check out my crochet mushroom post.
Photo Credit: Silvana Crochet Studio
This gorgeous potholder is a simple pattern, yet beautiful one! It's the perfect beginner project if you're still trying to practice all your crochet stitches.
Photo Credit: Aterg Crochet
This beautiful granny square potholder is so fun, especially if you love a colorful potholder. This would also be a great stash-buster pattern.
Photo Credit: Hygge Crochet Co
All of your hot dishes are going to look so adorable on these little chicken crochet hot pads. If you know someone who is into farmhouse decor, this will be the perfect gift. You also could change the color of the chickens to match the kitchen decor! So fun!
Photo Credit: Spare Room Arts Shop
This beautiful crochet potholder is such a fun design! I love that this is a layered potholder and gives it more dimension. We often serve cherry pie as one of our Thanksgiving options and this would look so great in our holiday spread!
Photo Credit: Aterg Crochet
If you love fun color combinations or you have a whole bunch of scrap yarn, this crochet pot holder pattern is going to be perfect for you. It would also make a great housewarming gift and it's great for using all those bits of leftover yarn from a project you made previously!
Photo Credit: Spare Room Arts Shop
This beautiful pattern is the perfect craft project to add a handmade touch to your kitchen! The best thing is that this oven mitt also looks gorgeously decorative while still being functional.
Photo Credit: Tangled by Karina
If you're looking for a quick pattern that you can work up last minute, this crocheted potholder pattern is perfect. The best part is that this is a practical gift that the receiver will use again and again. 
Photo Credit: Karla's Making It
This magic potholder is beauitful and practical. It doesn't need to be a double-thick potholder because all of the petals create that beautiful thickness! 
Photo Credit: Jewels and Jones
This simple pattern is sure to make a lovely gift! The pattern forms a simple square pattern as it's worked. These crocheted pot holders will match everyone's home decor with simple yarn color changes. Perfection!
Photo Credit: Jooniper Crochet
If you are just starting your crochet journey, you are going to love making this pattern! This pattern is beginner friendly and you'll always find yourself needing another hot pad. Simple. Classic. Beautiful.
Photo Credit: Christina Ann Studios
Whether you make this in your favorite color or you make it in a cute rainbow, this quick project is going to be stunning. I also love that it has a lot of extra thickness to keep your hands safe from burns.
Photo Credit: Falzy Crochet Designs
If you've been looking to practice your puff stitch, this beautiful pattern is perfect for crochet inspiration for the summer! I love that it looks like a little sun. But I also love that you can also match it to whatever color scheme you already have going on in your home.
Photo Credit: Little Monkey Shop
I love the subtle flower design on this gorgeous hot pad. This pattern is also adjustable so you can make it in whatever size you need!
I love seeing your finished projects! If you enjoyed making one of my patterns I'd love to see yours on Instagram, be sure to tag me @crochet365knittoo. If you are on Facebook, stop over to the Crochet 365 Knit Too Facebook page or pop over to the Crochet365KnitToo Club and share a photo! I'd love to see your work.