Crochet Octopus For Preemies
This post may contain referral/affiliate links. Please read my disclosure for more info.
A Crochet octopus is fun to make and offers comfort to babies! Maybe you want to crochet an octopus for preemies, crochet one for a young child or make an octopus amigurumi for yourself!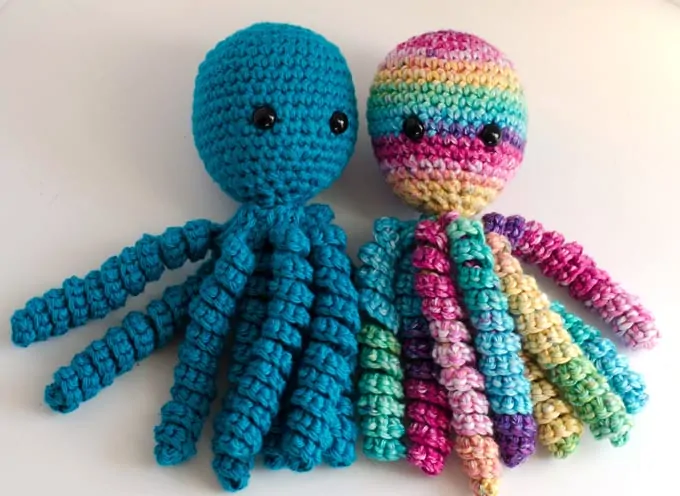 Let's be honest here.. weaving fingers into those curly octopus tentacles is delightful. Even if you're NOT a baby.
My venture into crochet octopuses started with a news article about a father in Denmark who asked for a crocheted octopus for his baby. Hospital staff observed that the premature babies grasped the curly tentacles of the octopus instead of pulling at their tubes. The theory is that the curly tentacles mimic the umbilical cord and comfort the baby! What an amazing thought ~ that yarn and hook can lead to comfort for a premature baby!
It touched my heart. But of course, at the time I couldn't find an octopus pattern that was made just the way I like. I'm not a fan of sewing on extra pieces when I can crochet something on instead. I also like a round octopus head, but acknowledge that an octopus really should have a slight oval shape as a nod to a real octopus.
So my version has a slightly oblong head and a clever construction for attaching the tentacles. This well loved preemieoctopus has been viewed more than 600,000 times in the 2 years since it's debut. It is a well loved and easy to follow crochet pattern.
Essentials
If this crochet octopus toy is your first time working an amigurumi pattern, here are a few tips to get you started with this free crochet pattern:
Start with a magic ring (also called a magic circle) to make your starting stitches nice and tight. Wondering how magic rings work? Be sure to check out my magic ring tutorial!
The octopus free pattern is worked mostly in single crochet. You'll also need to know the chain stitch, and sl st (slip stitch). And of course, you will need stuffing and a tapestry needle to finish off your crochet octopus.
If you know how to single crochet and chain stitch you'll be well on your way to making this octopus toy. Amigurumi are worked in continuous rounds which can make it hard to keep track of your rows. That's why I always use a stitch markers on the last stitch in a row.
I love that there are not a bunch of octopus body pieces in this cute crochet octopus pattern; there is no fastening off and attaching separate crochet curlicue tentacles. The pattern is worked in one piece, starting at the top of the head.
Other crocheters will use the stitch marker in the first single crochet stitch of the row. Or use a scrap piece of contrasting color yarn wedged between the first and last stitch of the row to keep track. It is really easy to lose your place, so pick a way of tracking each row and be consistent.
If you are making this crochet octopus with intentions of donating it, you should contact your particular hospital to get their requirements. Every hospital is different and has different rules for donated items.
How Do You Embroider An

Face

?
Finishing touches are so important to an adorable baby octopus amigurumi. The first thing to consider is safety. While I love the look of a pair of safety eyes on amigurumi, they might not be the best choice for a premature baby or very young children. Always consider safety when making handmade toys for babies and children. Its best to supervise play to avoid any choking hazards.
Embroidered features made out of simple stitches are just as lovely and a great alternative to safety eyes. Use embroider needles and floss or choose a contrasting or dark yarn and use french knots and back stitches to make eyes and a mouth, if desired. Or make sleepy eyes with simple straight stitches.
Crochet Octopus Pattern
Here is what you will need:
A small hook produces a tight finished product and no stuffing will show through the stitches (and no small holes for tiny fingers to slip into). The tentacles are just the right length–long enough to be fun, but not too long for an octopus for preemies!
With worsted weight cotton yarn and a C hook, make a magic ring.
R1: 6 sc into ring (6 st)
R2: 2 sc in ea st around (12 st)
R3: *sc in next st, 2 sc in next st, repeat from * around (18 st)
R4: *sc in next 2 st, 2 sc in next st, repeat from * around (24 st)
R5: *sc in next 3 st, 2 sc in next st, repeat from * around (30 st)
R6: *sc in next 4 st, 2 sc in next st, repeat from * around (36 st)
R7-12: sc around (36 st)
R13: *sc in next 4 st, sc 2 tog, repeat from * around (30 st)
R14: sc around (30 st)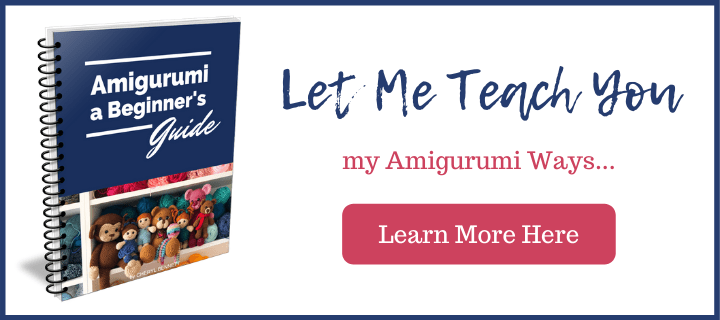 If you are using safety eyes, now is the time to attach them. Using 9mm safety eyes, attach between rows 12 & 13, allowing approximately 5 stitches in between, or whatever distance looks good to you. If you are embroidering the eyes for an octopus for a small child, do so after the octopus is stuffed and completed.
R15: *sc in next 3 st, sc 2 tog, repeat from * around (24 st)
R16: sc around (24 st)
R17: *sc in next 2 st, sc 2 tog, repeat from * around. (18 st)
R18: *sc in next st, sc 2 tog, repeat from * around (12 st)
Stuff the octopus. Now you will work the next row in the front loop only. Later you will come back through on the underside to grab those back loops and finish off the octopus. (Read here to learn about stitch parts.)
R19: working in the front loop only, *sc in the next st, sc 2 tog, repeat from * around (8 st).
Now comes the fun part: Making the tentacles for our octopus amigurumi! I love this part best because it starts with a long chain stitch and then you make that chain stitch curl! So fun!
Make the tentacles as follows:
*ch 50. sc in the 2nd ch from hook. 2 sc in ea chain across. When back to the body, sl st in the next stitch. Repeat from * 7 more times to make a total of 8 tentacles.
Arrange the octopus so that the tentacles are overlapping the body/head and the open end is up towards you. You will be working in the free loops from row 19 which are now on the underside of your octopus. They can be a bit difficult to see, so just do your best and sc 2 together around. Fasten off yarn and then weave the yarn through the remaining stitches and pull tight.
Crochet Octopus Frequently Asked Questions
This crochet octopus is one of the most favorite of all crochet patterns. It is just so fun and fast to make. And it's the kind of gift that warms your heart-spreading love out into the world! Over the years, readers have reached out with questions so here's a little FAQ to help you out on your crochet octopus journey!
What kind of yarn can you use for making the octopuses? I really like using 100% cotton worsted weight yarn for my crochet octopus. I like the crisp stitches and it's an easy material for babies. If that's not important to you or if you are crocheting your octopus for an older child (or even yourself) you might enjoy a different yarn fiber.
How to crochet an octopus? If you're wondering how to crochet an octopus step by step, this post is perfect for you. Just follow the directions, one step at a time and you will have a darling little crochet octopus when you are done! Be sure to follow the links if you get stuck on a particular crochet stitch and you're new to pattern reading, be sure to learn how with my How to read a crochet pattern post.
Is the crochet octopus at a beginner skill level? A crochet octopus requires a little bit of an advanced experience skill level. If you're a beginner with a little bit of experience and are ready to work in the round, work increases and decreases and keep track of your rows, this is a great small project to take your crochet to the intermediate skill level! Just remember to take extra time as you need and be patient with yourself and the cutest crochet octopus will emerge from your hook!
How do you crochet a magic ring? You might notice that my amigurumi patterns all start with a magic ring. That's because a crochet magic circle (aka magic ring) enables you to pull that starting row really tight. Be sure to read my How to Crochet a Magic Ring Post for step by step directions. Readers tell me it really helped them understand how to work this technique.
How do you crochet an octopus tentacles? Or how do you crochet octopus legs? The octopus tentacles is basically a long string of crochet chain stitches to start and then 2 single crochet stitches into each chain stitch.
What to do when tentacles are not twisted much? This is a great question. For some people 2 stitches into each chain using the same yarn and hook size as in the pattern creates the same twisted tentacle look as I achieved. But for others, the tentacle pieces are too loose and looks more like wavy spiral crocheting on leg. This is because we all crochet differently. You might crochet tighter or looser than I do. Or you could have chosen a different yarn and hook combination. In any case, this is an easy fix. Simply add ONE MORE stitch to each chain stitch (So THREE single crochet stitches instead of two).
Can you make this pattern out of different yarn? Yes, you certainly can! You can make a cute baby octopus plushies out of bulky blanket yarn like Bernat Blanket Super Bulky 6 yarn, Bernat Pipsqueak Extra Soft Bulky Weight Yarn or another bulky yarn weight. You can also go smaller than a worsted weight 4 yarn, such as a DK weight yarn or even thread. If using a different weight yarn, just adjust the hook size for the yarn. Be sure to also allow for additional yarn if going bigger as a larger octopus will take more yarn.
This is an excellent scrap yarn project perfect for a baby birthday gift or cute baby shower gifts. Remember, though, if you are gifting toys to babies to embroider black yarn eyes (or other contrasting favorite yarn colors). Just pick your favorite color of yarn and your cuddliest baby gift is a few moments away!
How do you crochet small animals? Maybe this adventure into crocheting an octopus has you excited about crocheting even more crochet dolls and toys! I love crocheting amigurumi so much that I wrote an entire amigurumi ebook! Or if you just want to dip your toe into the crochet toy pool, you might enjoy my free Amigurumi Secrets with this tip sheet for my newsletter subscribers:
More Free Baby Crochet Patterns
If you love this Crochet Octopus pattern, you might also like to check out these other patterns for babies. You can find all our Baby Crochet Patterns here.

1. Hippo Rattle // 2. Friendly Crochet Spider // 3. Snowman Octopus
Explore Even More Crochet Patterns
Do you love crochet as much as I do? I think you're going to love these other free crochet patterns:
I love seeing your finished projects! If you enjoyed making the Crochet Octopus Pattern I'd love to see yours on Instagram, be sure to tag me @crochet365knittoo. If you are on Facebook, stop over to the Crochet 365 Knit Too Facebook page or pop over to the Crochet365KnitToo Club and share a photo! I'd love to see your work!