Oh my goodness I LOVE these guys!  An octopus for preemies!  So cute and so fun! If you've read the news lately, you may have heard about how these little octopi are comforting premature babies in neo natal units.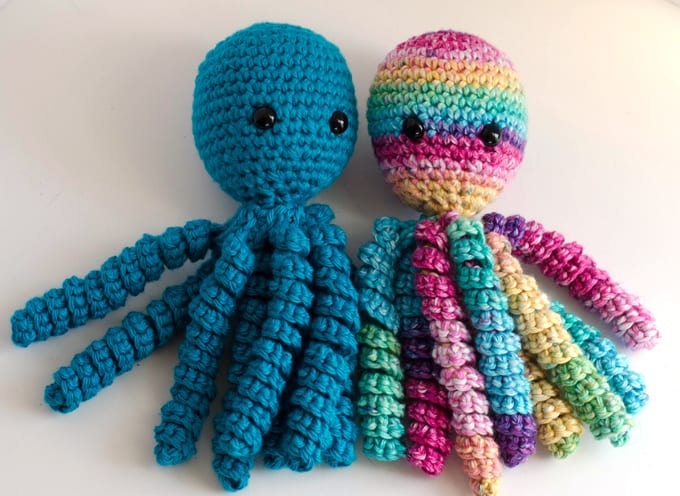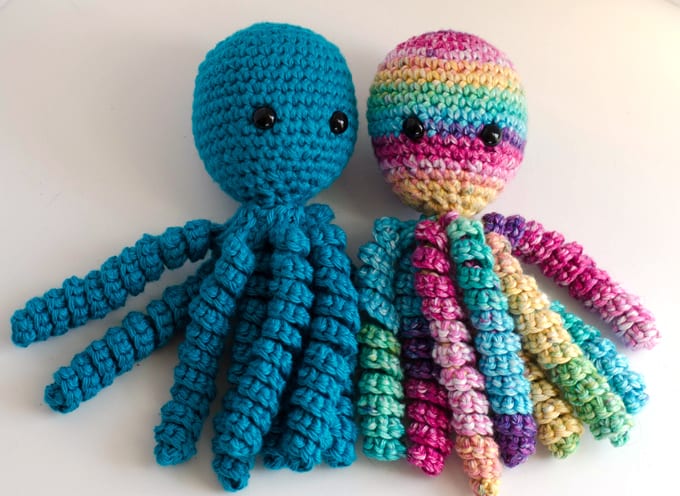 You can read a great article here.  A few years ago in Denmark, a father asked for a crocheted octopus for his baby.  Hospital staff observed that the premature babies grasped the curly tentacles of the octopus instead of pulling at their tubes.  The theory is that the curly tentacles mimic the umbilical cord and comfort the baby! What an amazing thought!
Of course I couldn't find an octopus pattern that was made just the way I like.  I'm not a fan of sewing on extra pieces when I can crochet something on instead.  I also like a round octopus head, but acknowledge that it really should have a slight oval shape as a nod to a real octopus.
So my version has a slightly oblong head and a clever construction for attaching the tentacles.  I used safety eyes, but you could embroider facial features instead.
Making an octopus for preemies?  A word about safety eyes.  Some people feel that they are perfectly fine and very secure.  If you've ever tried to remove them, you know they seem impossible to get apart once they are put together.  But other people feel there is a small chance they could wiggle out in between the stitches.  If they came out, they could cause a choking hazard.
If you are making this crochet octopus with intentions of donating it, you should contact your particular hospital to get their requirements.  Every hospital is different and has different rules for donated items.  And, like any other toy for a baby or small child, please supervise and take any other precautions to put safety first.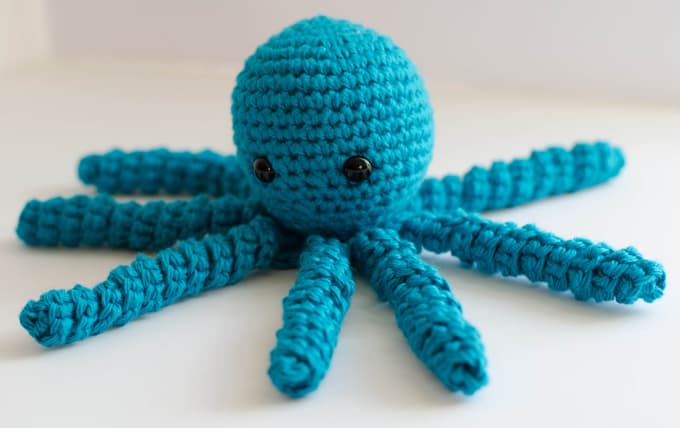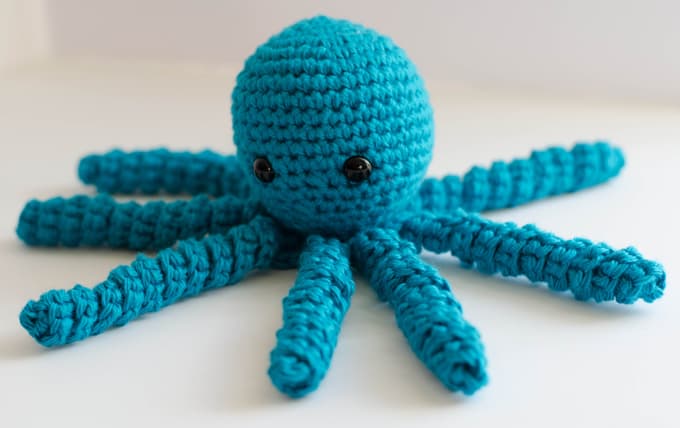 Octopus For A Preemie Pattern
Purchase an ad-free printable version of this pattern
Here is what you will need:
A small hook produces a tight finished product and no stuffing will show through the stitches (and no small holes for tiny fingers to slip into).  The tentacles are just the right length–long enough to be fun, but not too long for an octopus for preemies!
With worsted weight cotton yarn and a C hook, make a magic ring.
R1:  6 sc into ring (6 st)
R2:  2 sc in ea st around (12 st)
R3: *sc in next st, 2 sc in next st, repeat from * around (18 st)
R4: *sc in next 2 st, 2 sc in next st, repeat from * around (24 st)
R5: *sc in next 3 st, 2 sc in next st, repeat from * around (30 st)
R6: *sc in next 4 st, 2 sc in next st, repeat from * around (36 st)
R7-12: sc around (36 st)
R13: *sc in next 4 st, sc 2 tog, repeat from * around (30 st)
R14: sc around (30 st)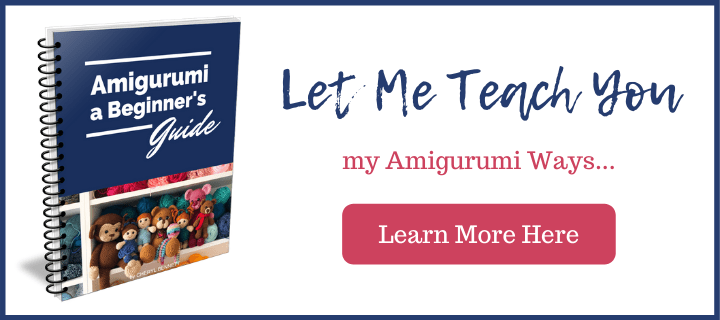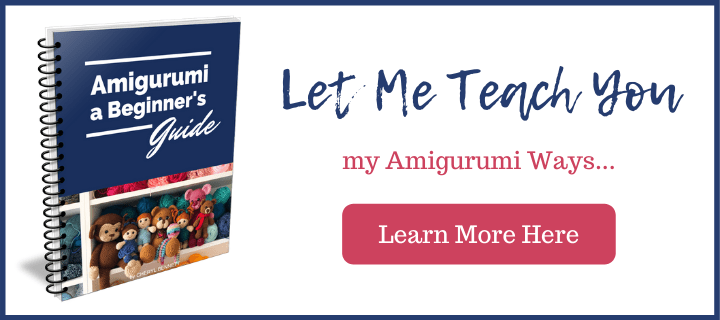 If you are using safety eyes, now is  the time to attach them.  Using 9mm safety eyes, attach between rows 12 & 13, allowing approximately 5 stitches in between, or whatever distance looks good to you.  If you are embroidering the eyes for an octopus for a small child, do so after the octopus is stuffed and completed.
R15: *sc in next 3 st, sc 2 tog, repeat from * around (24 st)
R16: sc around (24 st)
R17: *sc in next 2 st, sc 2 tog, repeat from * around. (18 st)
R18: *sc in next st, sc 2 tog, repeat from * around (12 st)
Stuff the octopus.  Now you will work the next row in the front loop only.  Later you will come back through on the underside to grab those back loops and finish off the octopus.  (Read here to learn about stitch parts.)
R19:  working in the front loop only, *sc in the next st, sc 2 tog, repeat from * around (8 st).
Now make the tentacles as follows:
*ch 50.  sc in the 2nd ch from hook.  2 sc in ea chain across.  When back to the body, sl st in the next stitch.  Repeat from * 7 more times to make a total of 8 tentacles.
Arrange the octopus so that the tentacles are overlapping the body/head and the open end is up towards you.  You will be working in the free loops from row 19 which are now on the underside of your octopus.  They can be a bit difficult to see, so just do your best and sc 2 together around.  Fasten off yarn and then weave the yarn through the remaining stitches and pull tight.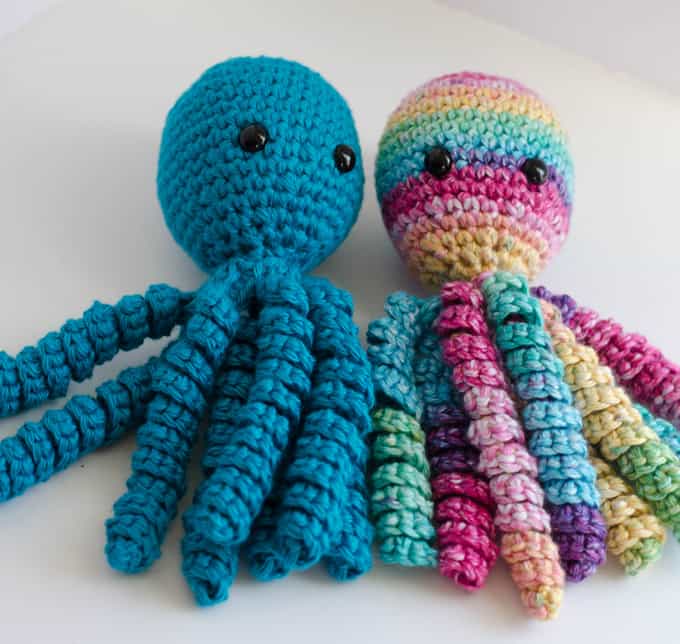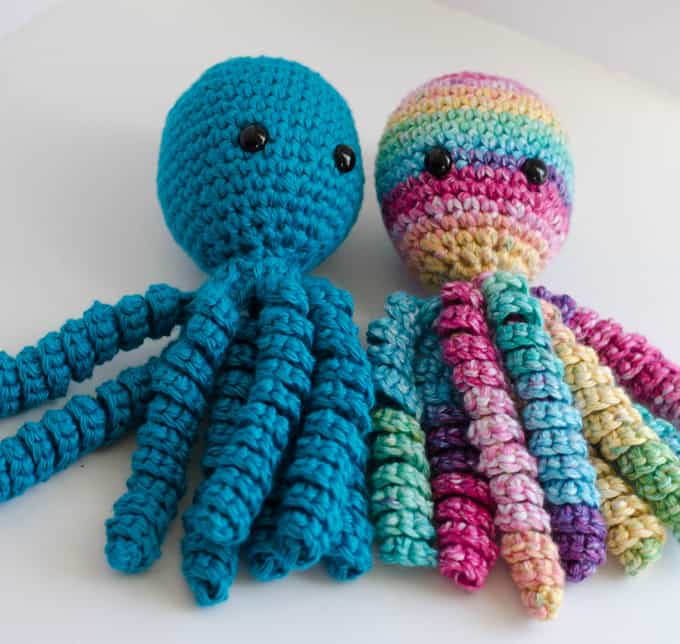 Here's a slightly different angle of the octopus so you can better see how the tentacles attach. And voila!  An adorably sweet crochet octopus to love!
Looking for more FREE baby Crochet Patterns?  Check out all the adorable patterns here!
I love seeing your finished projects! If you share your Crochet Octopus for Preemies on Instagram, be sure to tag me @crochet365knittoo.  If you are on Facebook, stop over to the Crochet 365 Knit Too Facebook page and share a photo!  I'd love to see your work!
Sign up for my weekly newsletter so you won't miss a thing!  Be sure to get your FREE Crochet & Knitting Journal here.
Written pattern copyright Cheryl Bennett 2017, all rights reserved.  Please do not reprint or repost this pattern.  If you would like to share this Octopus For Preemies pattern with others, just link to this page.  If you'd like to make items for sale from this pattern, please visit my About page for more information.