Prepare to meet the easiest Crochet Heart Pattern on the planet.  Perfect for any time you need a little bit lovely goodness in your life.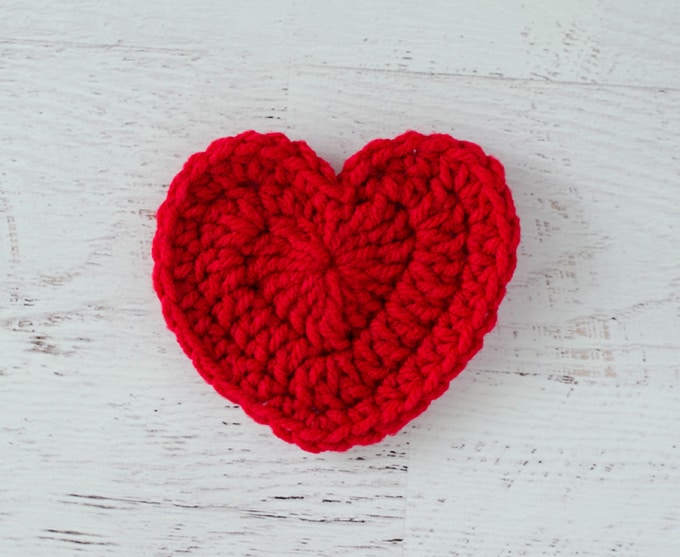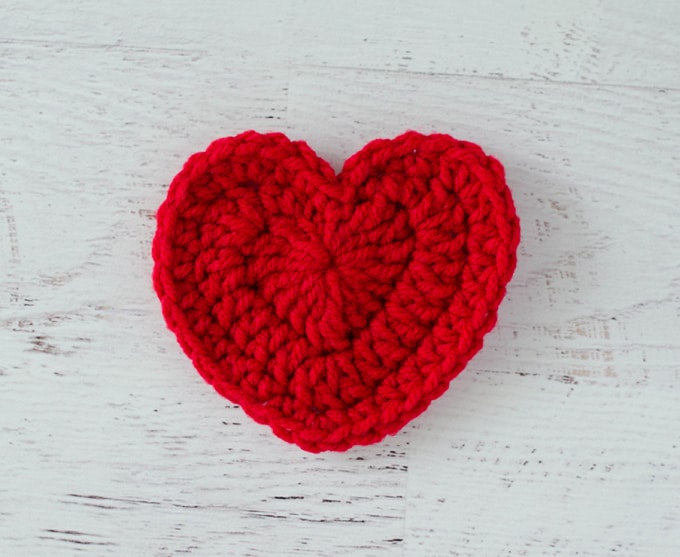 Who says hearts are just for Valentine's day?  This crochet heart is perfect for stringing together in a garland.  It would make a great decoration on a package instead of a bow.  Or you could use it to send a little love message to your significant other or your kids.  My husband and I have a little block sign that we hide for the other to find. You read about that here.  Maybe you could try the same 'game' with a crochet heart instead.  Hiding a little heart would be an easy way to say 'I love you'.
I originally designed this crochet heart when I wanted a cute Easter Bunny face for my Easter Bunny Wall Hanging.  That pattern is a paid pattern in my shops, but you can see photos and read more about it here.
More Free Crochet Embellishment Patterns
If you love this Crochet Heart pattern, you might also like to check out these other embellishment patterns.  You can find all our Embellishment Crochet Patterns here.


1. Mandala Flower //   2. Black Eyed Susan //  3. African Flower
And now… to crochet your new love… this easy crochet heart!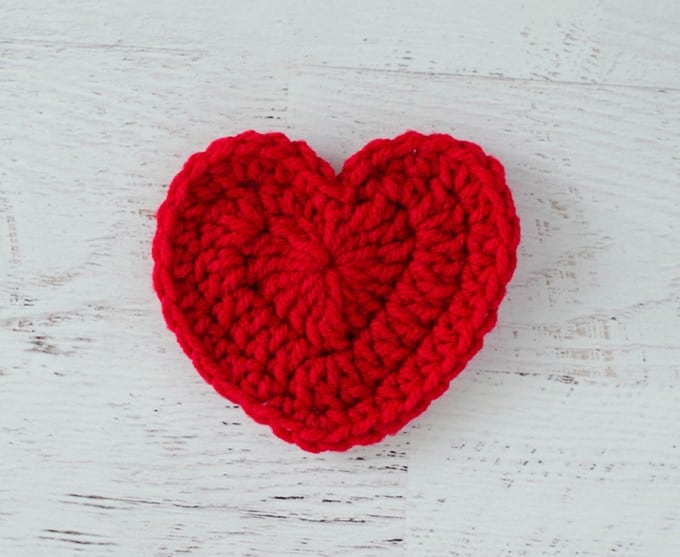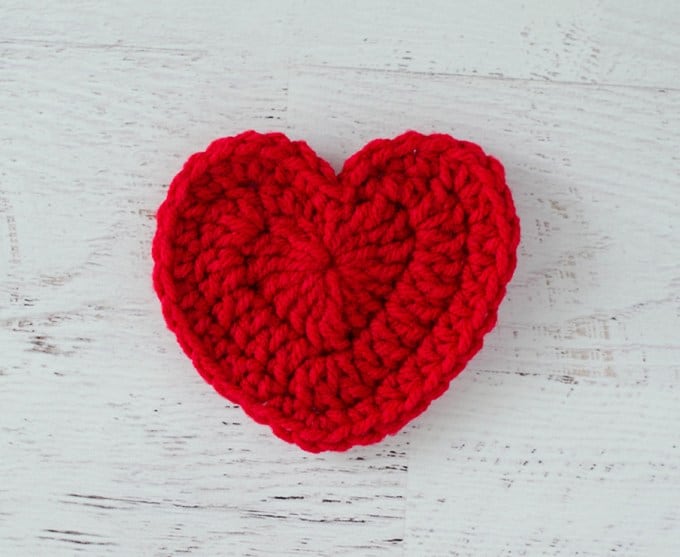 Crochet Heart Pattern
Materials:
US H8/5.00 mm crochet hook (these are my absolute favorite hooks I recommend to everyone!)
US G6/4mm crochet hook
Worsted weight yarn: 3 oz red yarn and, sample used Lion Brand Vanna's Choice worsted weight yarn in Scarlett
Scraps of worsted weight white and pink for the small hearts, sample used Vanna's Choice brand in pink and white.
Resources and tutorials you may find helpful in following this pattern: Crochet Abbreviations, US to UK Crochet Conversion Chart.  Find links to stitches on the "Tutorial" menu: Getting Started will show basic stitches used in many patterns and Crochet Stitch Dictionary shows our growing collection of crochet stitch tutorials.
Size:
This 3-row crochet heart measures 4 inches wide and 3.5 inches tall when complete.  If you're looking for a smaller heart, read on for two cute options!
Medium Crochet Heart Pattern
With red yarn, make a magic ring. WORK ALL OF ROW 1 into the magic ring as follows:
R1: ch 2, 3 tr, 4 dc, tr, 4 dc, 3 tr, ch 2. Pull magic ring almost closed and then sl st into the center. Pull tight.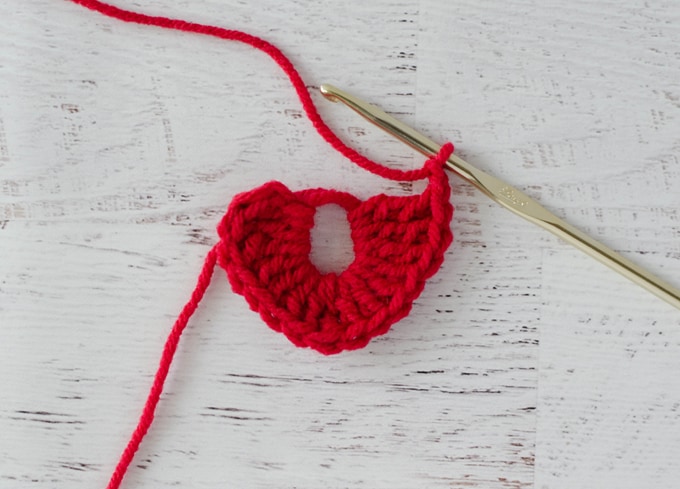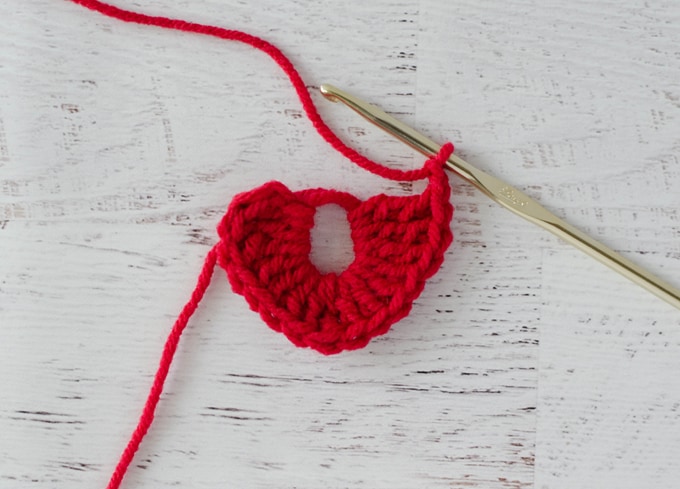 R2: sc in side of starting ch2, 2 hdc in next st, 3 dc in next st, 2 dc in next st, dc in next 4 st, 3 dc in next st, dc in next 4 st, 2 dc in next st, 3 dc in next st, 2 hdc in next st, sc and sl st in side of last ch 2 space.
R3: sc in next 2 st, hdc in next st, 3 hdc in next st, 2 hdc in next st, hdc in next 7 st, sc in next st, 3 sc in next st, sc, in next st, hdc in next 7 st, 2 hdc in next st, 3 hdc in next st, hdc in next st, sc in next 2 st, sl st to next st. Finish off.
How to Make a Small Crochet Heart
If you are looking for a smaller heart you can follow the larger heart pattern and stop at row 2.  This will create a similar heart shape as the large heart, but smaller. If you look at the photo, the heart on the left was made following the above directions, ending at row 2.
OR.. How about THESE cute tiny crochet hearts?  They are a slightly different shape.  A little more oblong with a more defined point.  Here you can see both the small and the tiny crochet heart.  Here's how to make a tiny crochet heart.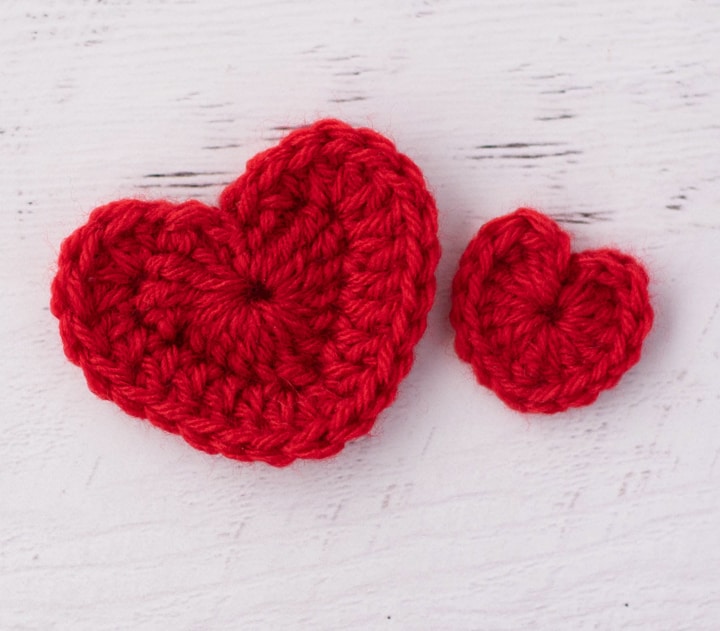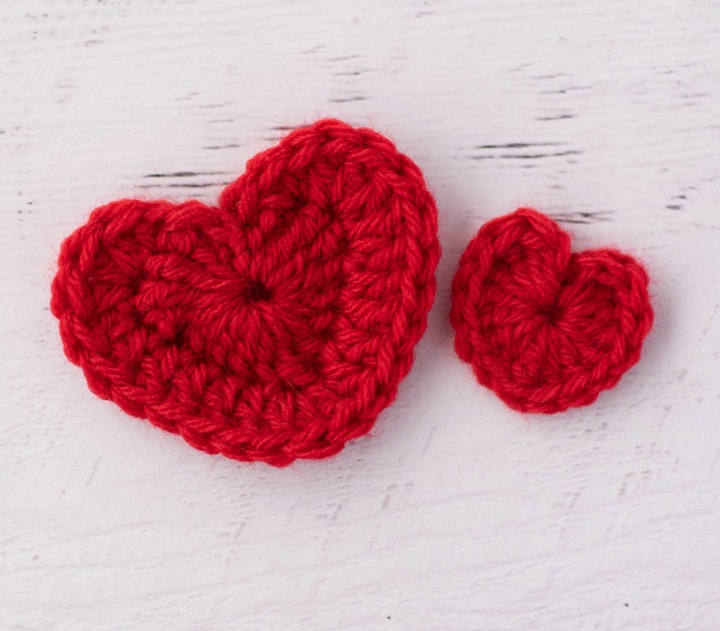 How to Crochet a Tiny Heart
Using red, pink and white yarn scraps to make these tiny hearts as follows:
Make a magic ring.  Work the following all inside the magic ring:  ch2, 2 tc, 5 dc, tc, 5 dc, 2 tc, ch 2, sl st to  magic ring.  Carefully pull the ring tight.  The stitches will form a heart shape.  Fasten off and weave in ends.
I used the tiny hearts on the Heart Wine Cozy that you can find here.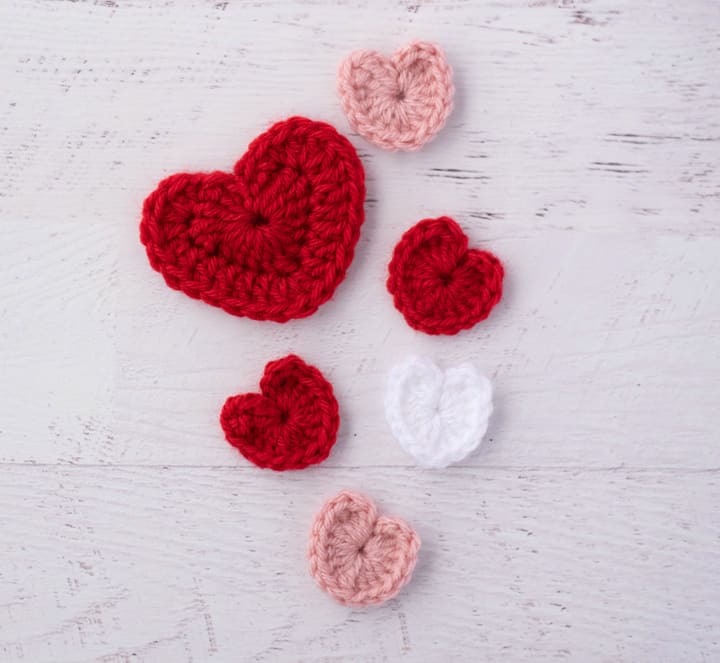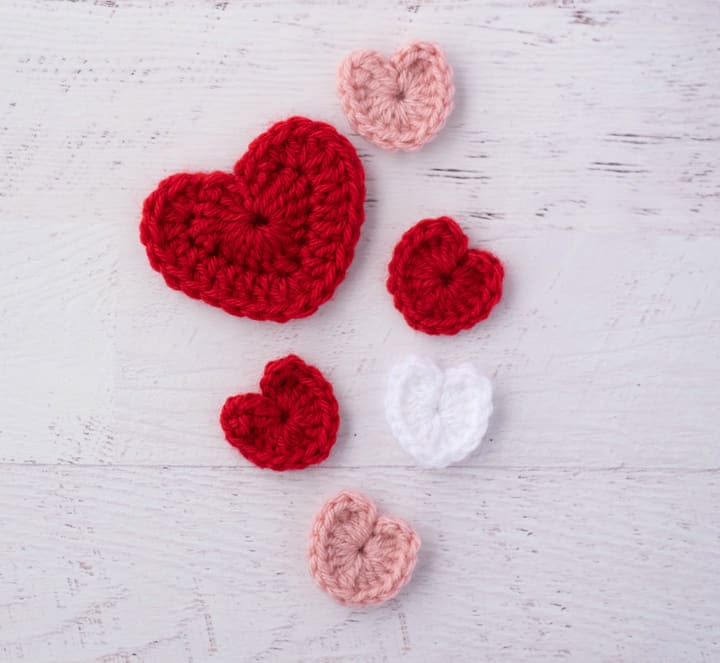 I love seeing your finished projects!  If you enjoyed the crochet heart pattern,  I'd love to see your crochet hearts on Instagram, be sure to tag me @crochet365knittoo.  If you are on Facebook, stop over to the Crochet 365 Knit Too Facebook page or pop over to the Crochet365KnitToo Club and share a photo!  I'd love to see your work!