Crochet Heart Pattern
This post may contain referral/affiliate links. Please read my disclosure for more info.
Prepare to meet the easiest Crochet Heart Pattern on the planet. Perfect for any time you need a little bit lovely goodness in your life. And really… lately? Who doesn't need a crochet heart to brighten your world?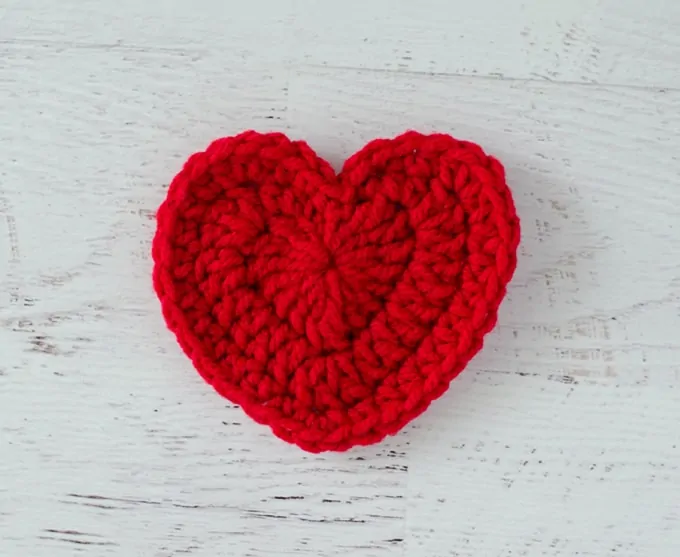 You're about to get three completely adorable and free crochet heart patterns. The first is a medium size heart. Make it in red yarn for a traditional red heart. Go for pink and white. Or go all out non-traditional in your favorite colors!
Easy Crochet Hearts
These adorable crochet hearts are the perfect thing to make for Valentine's Day gifts and decorations. You can use them in so many ways!
Crochet hearts are a fun and easy way to show your love this Valentine's Day. Whether you're making them as applique motifs, a garland, or coasters, these crochet hearts are sure to bring a smile to everyone's face. With some scrap yarn and a crochet hook, you can make these cute little hearts in no time at all.
More Crochet Heart Patterns
If you love these heart pattern, you might also like to check out these darling patterns: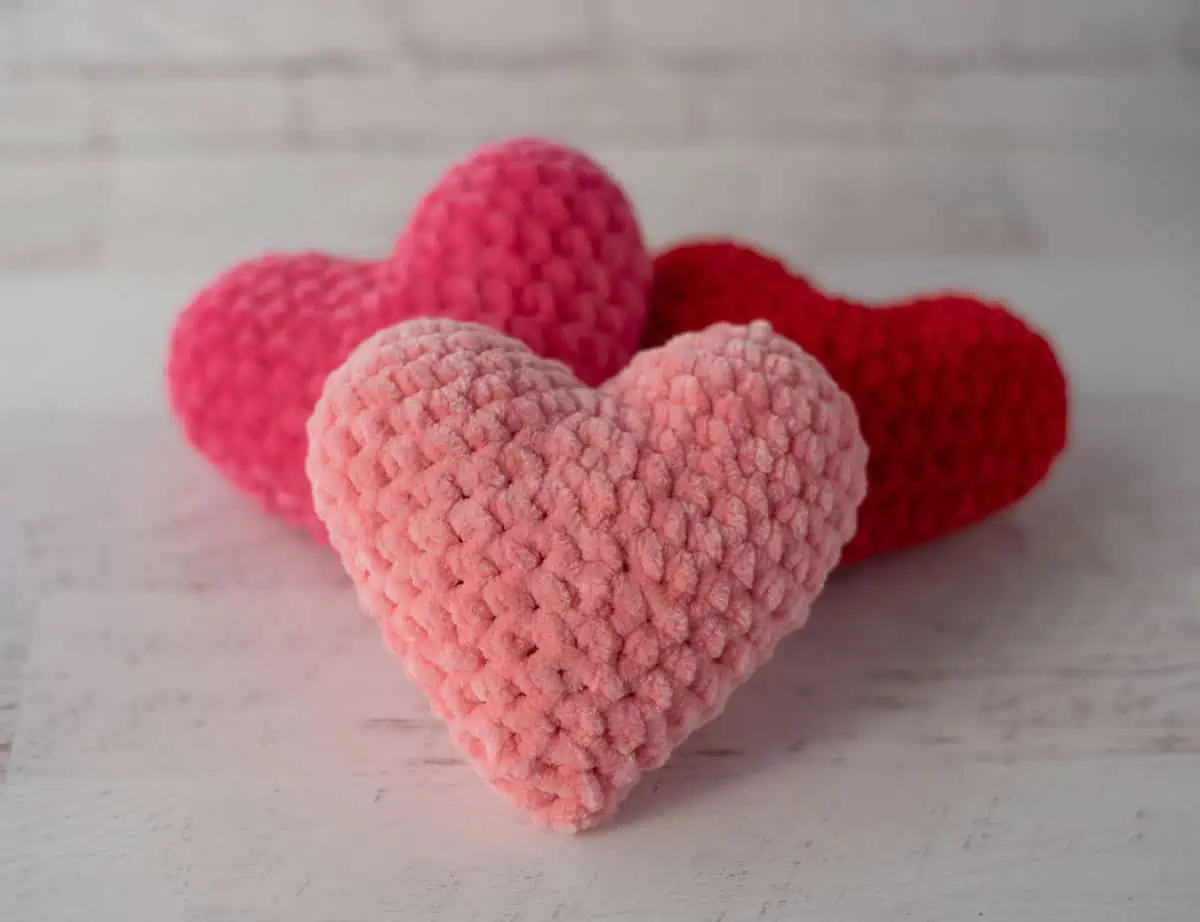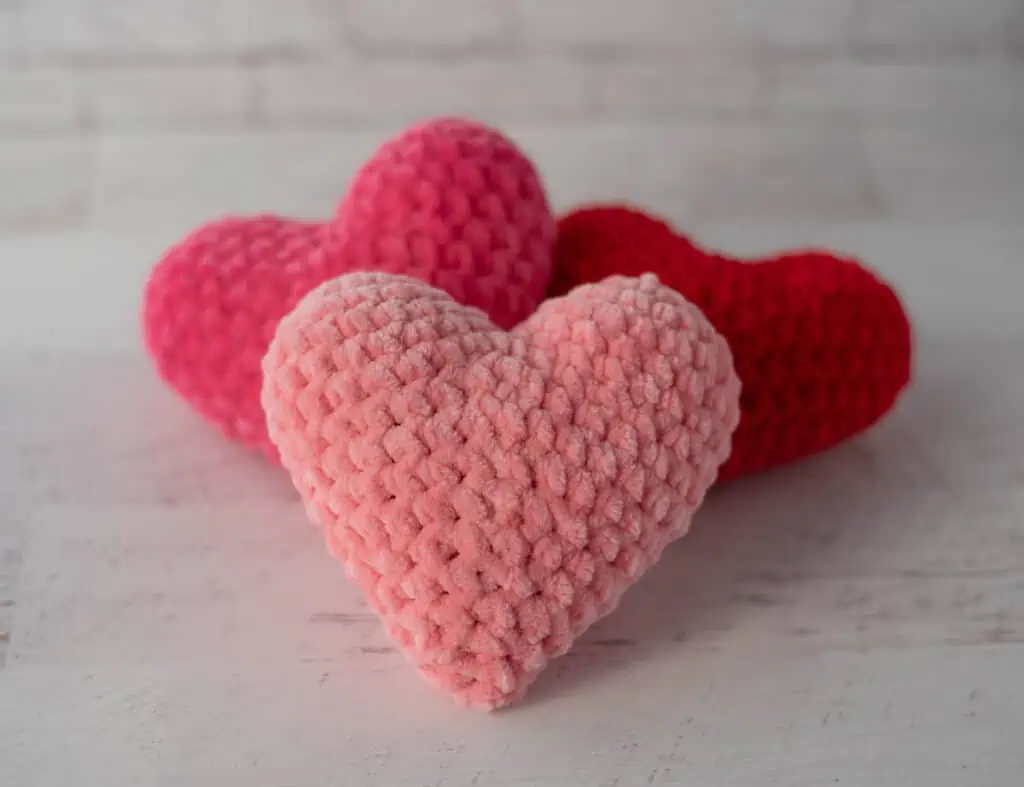 Amigurumi Heart // Valentine Crochet Bottle Cover
For even more heart inspired patterns, check out this post: Crochet Valentine Patterns.
What Will You Use These Hearts For?
Crochet heart patterns are not just for Valentine's day either! Make a crochet heart for an applique on a bag or scarf. String several crochet hearts together for a beautiful heart garland. It would make a great decoration on a package instead of a bow.
Or how about working this heart crochet pattern with a heavier weight cotton yarn for perfectly sized heart coasters? Adorable. I'm telling you.. it would make me smile every time I put down my glass!
Remember those boxes of heart candies you received as a kid? You know the pink and white variety with sentiments such as "Be Mine", "Love Bird" and "Kiss Me"? How about making a few crochet hearts and embroidering fun love words on top?! Too cute!
Or you could use this cute heart crochet pattern to send a little love message to your significant other or your kids. My husband and I have a little block sign that we hide for the other to find. You read about that here . Maybe you could try the same 'game' with a crochet heart instead. Hiding a little heart would be an easy way to say 'I love you'. Or follow the free pattern directions for the small heart and tuck into your love's pocket to find later.
This pattern is so versatile. In addition to the mini hearts and other heart appliqués sizes, you can use a larger or smaller size crochet hook and a different yarn weight to make all kinds of crochet hearts! Use a super bulky yarn and a large hook size to make a small crochet heart pillow or crochet thread for a tiny crochet heart appliqué. Crochet the solid heart motif twice, grab a wisp of stuffing and viola: amigurumi hearts!
How to Crochet A ?
The secret to my crochet heart patterns are stitches worked in a magic ring (also called a magic loop or magic circle). You simply make a magic ring, insert your hook to form basic crochet stitches of varying sizes: single crochet, double crochet, treble crochet. The sequence of the different size crochet stitches form the heart shape! So easy you'll be digging into your yarn stash and crocheting hearts like crazy!
And now… to crochet your new love… this easy crochet heart pattern!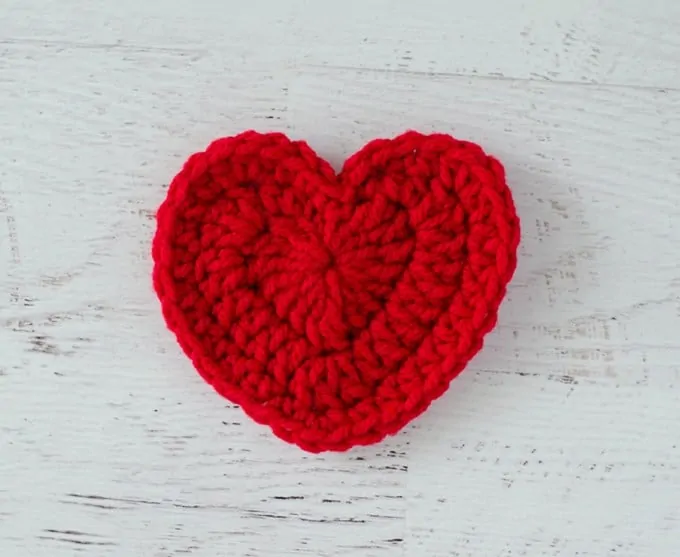 Crochet Heart Pattern
Materials:
Stitches and Abbreviations:
Resources and tutorials you may find helpful in following this pattern: Crochet Abbreviations, US to UK Crochet Conversion Chart.  Find links to stitches on the "Tutorial" menu: Getting Started will show basic stitches and the Crochet Stitch Dictionary shows our growing collection of crochet stitch tutorials.
Pattern Variations: 3 Sizes
My original crochet heart pattern is a medium size heart. This 3-row crochet heart measures 4 inches wide and 3.5 inches tall when complete. If you're looking for a smaller heart, read on for more cute options!
Medium Crochet Heart Pattern
With red yarn and the H8/5.00 mm crochet hook, make a magic ring. WORK ALL OF ROW 1 into the magic ring as follows:
R1: ch 2, 3 tr, 4 dc, tr, 4 dc, 3 tr, ch 2. Pull magic ring almost closed and then slip stitch (sl st) into the center. Pull tight.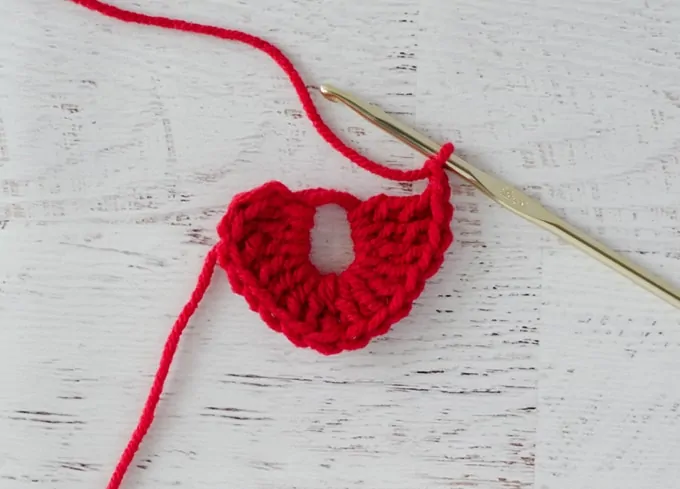 R2: sc in side of starting ch2, 2 hdc in next st, 3 dc in next st, 2 dc in next st, dc in next 4 st, 3 dc in next st, dc in next 4 st, 2 dc in next st, 3 dc in next st, 2 hdc in next st, sc and sl st in side of last ch 2 space.
R3: sc in next 2 st, hdc in next st, 3 hdc in next st, 2 hdc in next st, hdc in next 7 st, sc in next st, 3 sc in next st, sc, in next st, hdc in next 7 st, 2 hdc in next st, 3 hdc in next st, hdc in next st, sc in next 2 st, sl st to next st. Finish off.
How Do You Make A ?
If you are looking for a smaller crochet heart you can follow the larger heart pattern and stop at row 2. This will create a similar heart shape as the large heart, but smaller. If you look at the photo, the heart on the left was made following the above directions, ending at row 2.
OR.. How about THESE cute tiny crochet hearts? They are a slightly different shape. A little more oblong with a more defined point. Here you can see both the small and the tiny crochet heart. Here's how to make a tiny crochet heart.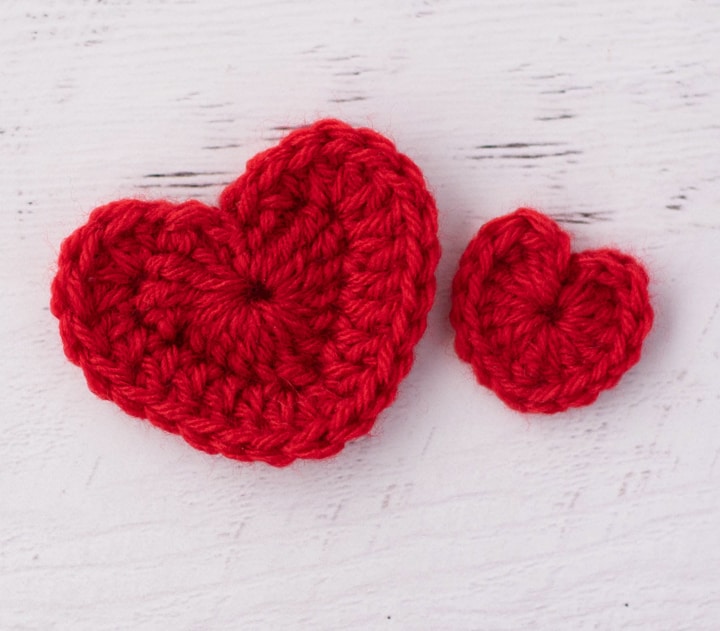 How to
a
Using red, pink and white yarn scraps to make these tiny hearts as follows:
Using the G6/4.00 mm crochet hook, make a magic ring. Work the following all inside the magic ring: ch2, 2 tc, 5 dc, tc, 5 dc, 2 tc, ch 2, sl st to magic ring. Carefully pull the ring tight. The stitches will form a heart shape. Fasten off and weave in ends.
I used the tiny hearts on the Heart Wine Cozy that you can find here (which is another of my free patterns).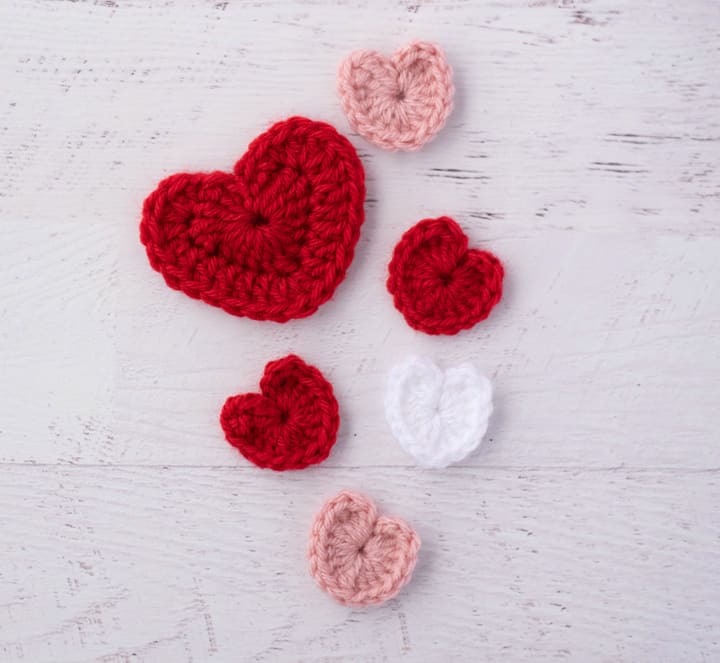 More Free Crochet Embellishment Patterns
If you love this Crochet Heart pattern, you might also like to check out these other free crochet patterns. You can find all our Embellishment Crochet Patterns here.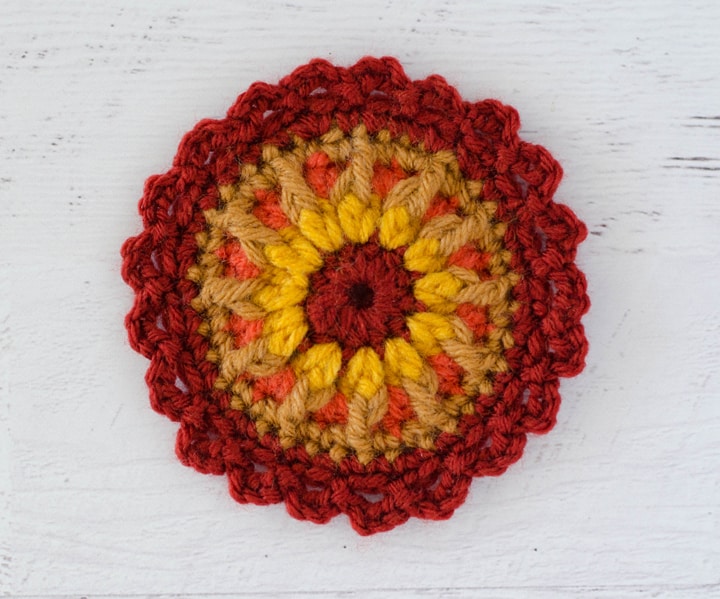 1. Mandala Flower // 2. Black Eyed Susan // 3. African Flower
I love seeing your finished projects! If you enjoyed the crochet heart pattern, I'd love to see your crochet hearts on Instagram, be sure to tag me @crochet365knittoo or save to Pinterest. If you are on Facebook, stop over to the Crochet 365 Knit Too Facebook page or pop over to the Crochet365KnitToo Club and share a photo! I'd love to see your work!