Snowman Octopus
This post may contain referral/affiliate links. Please read my disclosure for more info.
Sometimes I crochet something that just completely makes me happy. Like all the bad things in the world just fade away into meaningless nothingness. Take this crochet snowman octopus. Every time I see this guy, my heart sings.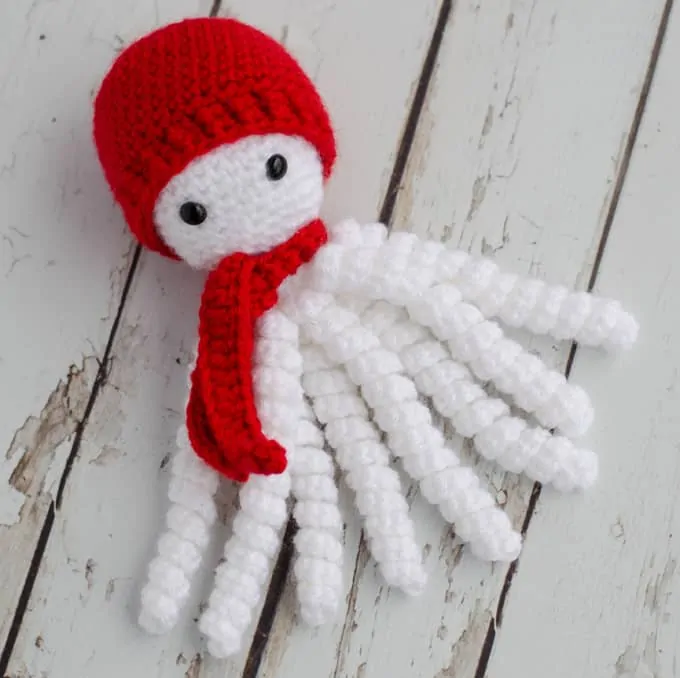 I mean really, what is NOT to love about it. You take my Crochet Octopus pattern (and you can find that right here) and you make this guy with white yarn. I decided to use white worsted weight yarn with a bit larger hook than I normally use for this pattern. I used Vanna's Choice Worsted Weight yarn in white with an E4/3.5mm hook. THEN.. you give him a hat and a scarf and voila: Snowman Octopus! I think you might need one for your desk at work which is exactly where mine is going when I finish up this post. That way I can look at his snowy goodness and feel better about the dark, cold days of winter.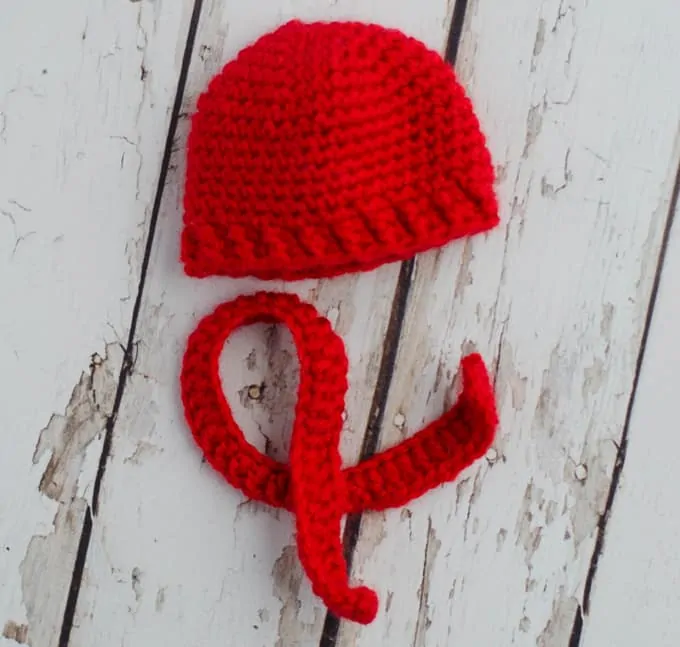 Want an ad-free printable version? Scroll down for how to get one FREE!
Snowman Octopus
Here is what you will need: Materials:
Resources and tutorials you may find helpful in following this pattern: Crochet Abbreviations, US to UK Crochet Conversion Chart. Find links to stitches on the "Tutorial" menu: Getting Started will show basic stitches used in many patterns and Crochet Stitch Dictionary shows our growing collection of crochet stitch tutorials. I really like to use the invisible seamless join when finishing pieces that get sewn together. This pattern uses single crochet post stitches. These are worked exactly like the post stitches I taught you about here…just in single crochet instead.
Size:
Hat and scarf fit a white snowman octopus made out of worsted weight yarn and a US E4/3.5 hook. The finished snowman octopus with hat measures just about 9″ from the top of the hat to the bottom of the tentacles. Your gauge and measurements may differ. The important thing is to use the same size hook for the octopus AND the hat and scarf.
Snowman:
Make the snowman using white worsted weight yarn, following the pattern here for a crochet octopus. I used white Vanna's Choice yarn and used a US E4/3.5 crochet hook, which is a larger hook than specified in the pattern.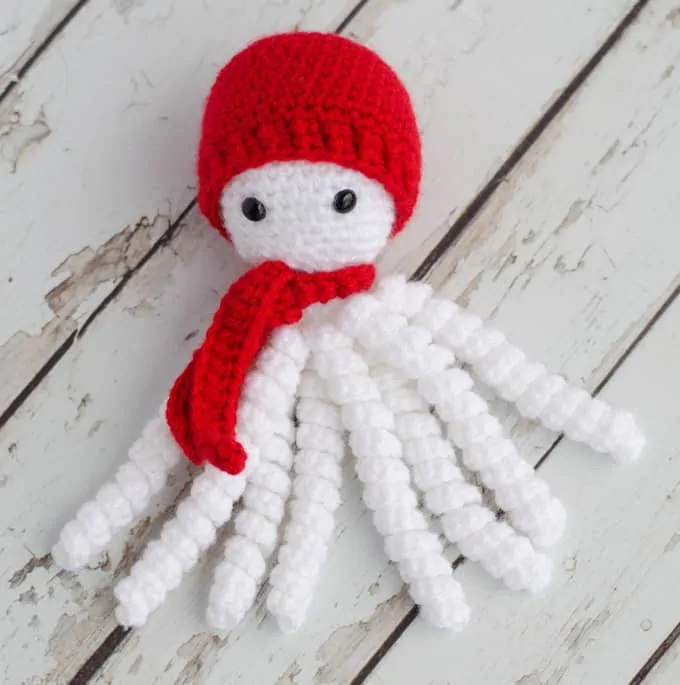 Hat:
Make a magic ring R1: 6 sc into ring (6 st). Do not join, work in rounds. R2: 2 sc in ea st around (12 st) R3: *sc in next st, 2 sc in next st, repeat from * around (18 st) R4: *sc in next 2 st, 2 sc in next st, repeat from * around (24 st) R5: *sc in next 3 st, 2 sc in next st, repeat from * around (30 st) R6: *sc in next 4 st, 2 sc in next st, repeat from * around (36 st) R7-13: sc around. At the end of row 13, sl st to next st to prepare for joined rounds. (36 st) R14: ch 1, sc around. Join with sl st to top of first stitch in row (36 st) R15-16: ch1, *work front post sc in next st, work back post sc in next stitch, repeat from * around. Join with sl st to first stitch. (36 st). Fasten off and weave in ends.
Scarf:
Ch 52 R1: dc in the 3rdchain from the hook. Dc in remaining chains until the 2ndto last chain. Ch 2 and sl st in the last chain. Fasten off and weave in ends.
Subscribers to my Newsletter get Access to my secret library of freebies including an ad-free printable version of this cute hat and scarf. Perfect for making a snowman octopus!
Looking for the Crochet Octopus Pattern? Click HERE! I love seeing your finished projects!
I love seeing your finished projects! If you enjoyed making one of my patterns I'd love to see yours on Instagram, be sure to tag me @crochet365knittoo. If you are on Facebook, stop over to the Crochet 365 Knit Too Facebook page or pop over to the Crochet365KnitToo Club and share a photo! I'd love to see your work!