Friendly Crochet Spider
This post may contain referral/affiliate links. Please read my disclosure for more info.
The cuteness, I tell you! I think I might even be in love with this little friendly crochet spider!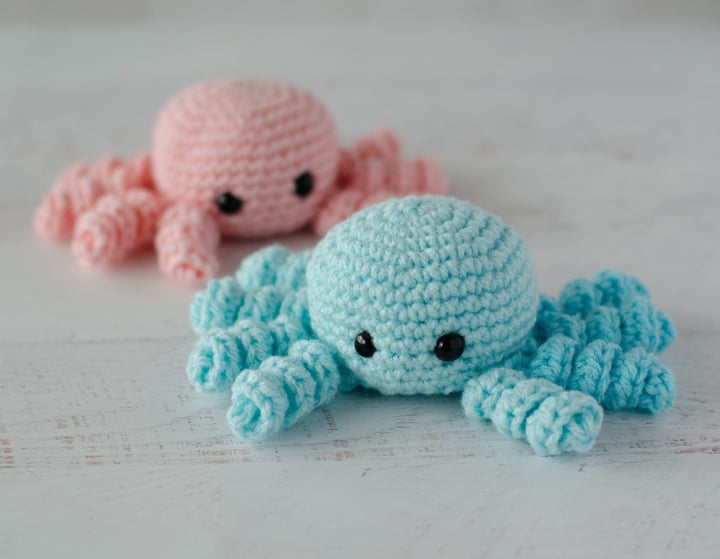 How about you? Would you be swatting this one away if you found it in your house? Or making a few for a nice decoration to tuck here and there to make you smile?
Let me tell you the story of this friendly and cute spider crochet pattern! So I was meandering around online, always on the lookout for crochet goodness, and bam. I saw it. A crochet spider.
But it was dark and gloomy and had like a gazillion eyes … which is probably accurate in some sense, but I didn't like looking at all those eyes. Honestly, it was a bit of a creepy crochet spider, but it got me thinking.
Must a spider be dark, gloomy and scary looking?
I mean.. couldn't it be cute and adorable and kind of fun instead?
And behold this darling, cute, squishy bit of crochet goodness sprang forth from my hook! Just look at that beautiful pastel beauty! Who wouldn't want that tucked into a corner of a desk or shelf?
Make this adorable spider as a great gift for the spider lovers in your life or really, for anyone who my want a small spider in their everyday or Halloween crochet decor.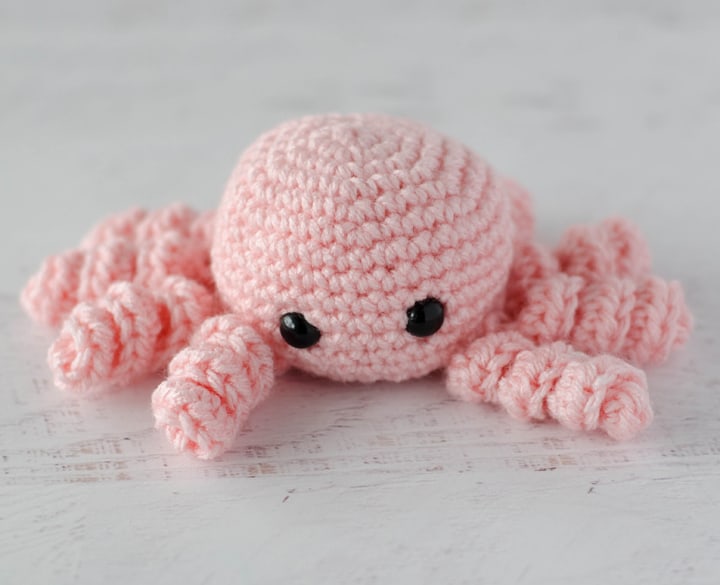 This crochet spider looks an awful lot like a re-imagined Crochet Octopus, don't you think? And if a tiny baby might like to stick his little fingers into an octopus tentacle then maybe he might like a curly little spider leg too, right?
This amigurumi spider pattern is the perfect size for babies. Just make sure to embroider the eyes instead on your cuddly spider so he's safe for your little guy!
I used a bit of leftover yarn from the Sedge Stitch Baby Afghan and the Strawberry Lemon Peel Baby Blanket for my pastel pink and blue spiders! My favorite is the pink-colored yarn and I really think it made the perfect amigurumi spider crochet pattern.
You'll find this spin-off of the Crochet Octopus to be a fun crochet project, I think. A tad shorter with a flat bottom and some cleverness going on with the curly spider legs. I think you might like to make one or three or something! Because you probably need them in life. I know I do!
This adorable spider requires only basic crochet skills and uses simple stitches for a quick project. It is primarily worked with single crochet stitches in continuous rounds for the spider's body. I highly recommend a stitch marker to keep track of rows.
The legs of this friendly spider free pattern gets its curl by working multiple half double crochet stitches into each chain.
More Free Baby Crochet Patterns
If you love this Friendly Crochet Spider pattern, you might also like to check out these other patterns for babies. You can find all our Baby Crochet Patterns here.
Let's get started with this adorable crochet spider amigurumi pattern!
Crochet Spider Pattern
Materials
Here is what you will need:
Resources and tutorials you may find helpful in following this pattern: Crochet Abbreviations, US to UK Crochet Conversion Chart.  Find links to basic stitches on the "Tutorial" menu: Getting Started will show basic stitches such as single crochet (sc), half double crochet (hdc) and double crochet (dc) and Crochet Stitch Dictionary shows our growing collection of crochet stitch tutorials.
Crochet Spider Size
The finished size of this spider is approximately 2″ tall and 6″ wide from the end of one spider leg to the other.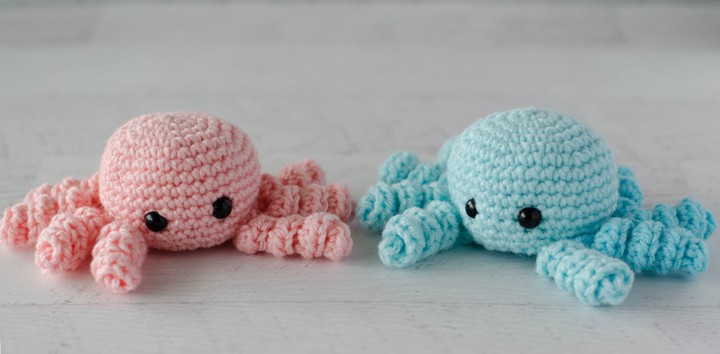 Crochet Spider
Make a magic ring.
R1: 6 sc into ring (6 st)
R2: 2 sc in ea st around (12 st)
R3: *sc in next st, 2 sc in next st, repeat from * around (18 st)
R4: *sc in next 2 st, 2 sc in next st, repeat from * around (24 st)
R5: *sc in next 3 st, 2 sc in next st, repeat from * around (30 st)
R6: *sc in next 4 st, 2 sc in next st, repeat from * around (36 st)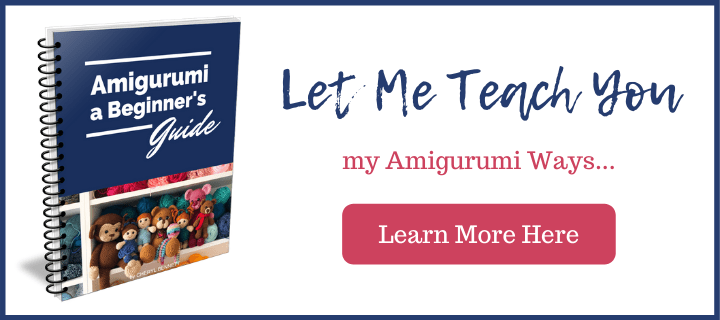 R7-11: sc around (36 st)
R12: *sc in next 4 st, sc 2 tog, repeat from * around (30 st)
R13: Legs are worked while crocheting this row as follows: sc in next 4 st, *sl st in front loop only (FLO) of next st, ch 18, 2 hdc in 2nd chain from hook, 2hdc in each chain, sl st in FLO of next stitch (one leg made)*. Repeat from * to * 3 more times. Sc in next 7 st, repeat from * to * 4 more times to form 4 legs on the opposite side of the spider. Sc in last 3 st.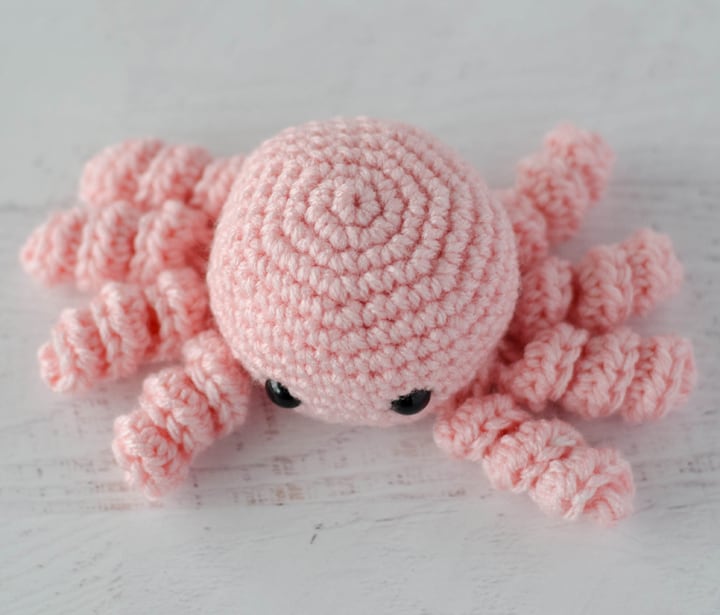 R14: In this row, when you get to the legs, work through the back loop only on the body to go under the legs: *sc in next 3 st, sc 2 tog, repeat from * around. (24 st) Carefully check this round to make sure your stitch count is correct; it's easy to add or lose stitches when working under the legs.
If you are using safety eyes, now is the time to attach them. Using 9mm safety eyes, attach between rows 10 & 11, allowing approximately 4 stitches between the eyes. For small children, considering embroidering eyes instead after the spider is stuffed and completed.
R15: *sc in next 2 st, sc 2 tog, repeat from * around. (18 st)
R16: *sc in next st, sc 2 tog, repeat from * around (12 st)
Stuff the spider.
R17: *sc 2 tog, repeat from * around (6 st). Fasten off, weave end through last stitches and pull tight.
Halloween Spider
Wondering if you can make this crochet spider as a spooky touch for Halloween? Of course! Make this spider amigurumi crochet toy in black yarn or orange yarn to use for your Halloween fall decorating! 
You might enjoy the spider web lovey, a really cute crochet spider web pattern incorporating this fun spider! You can check out the free blanket crochet pattern for the Spider on a Web Crochet Lovey here.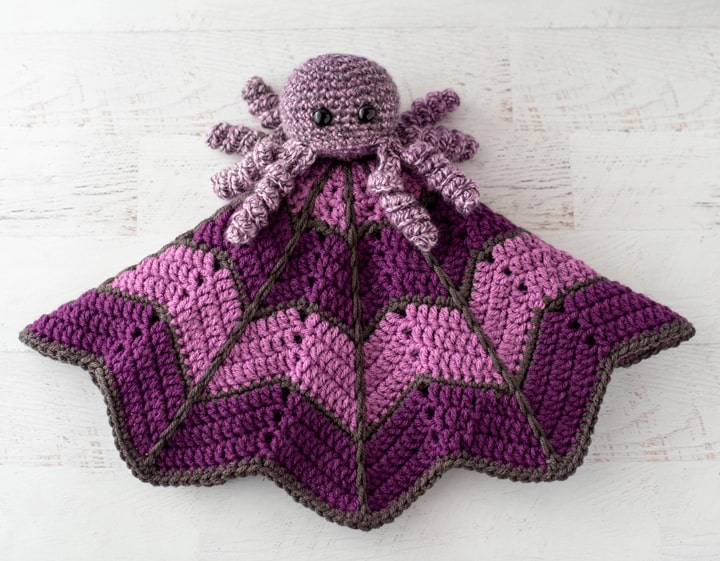 And, of course, you can make your crochet spider different sizes by working in different sized yarn. A bulky or super bulky yarn will result in a larger spider while a thinner yarn will make a smaller spider. Definitely an easy project to jazz up your Halloween decorations or to add a little fun into your everyday life!
I love seeing your finished projects!  If you enjoyed making the Friendly Crochet Spider I'd love to see yours on Instagram, be sure to tag me @crochet365knittoo.  If you are on Facebook, stop over to the Crochet 365 Knit Too Facebook page or pop over to the Crochet365KnitToo Club and share a photo!  I'd love to see your work!