Crochet Sedge Stitch Baby Afghan
This post may contain referral/affiliate links. Please read my disclosure for more info.
My friends meet your next favorite thing:  The Crochet Sedge Stitch Baby Afghan.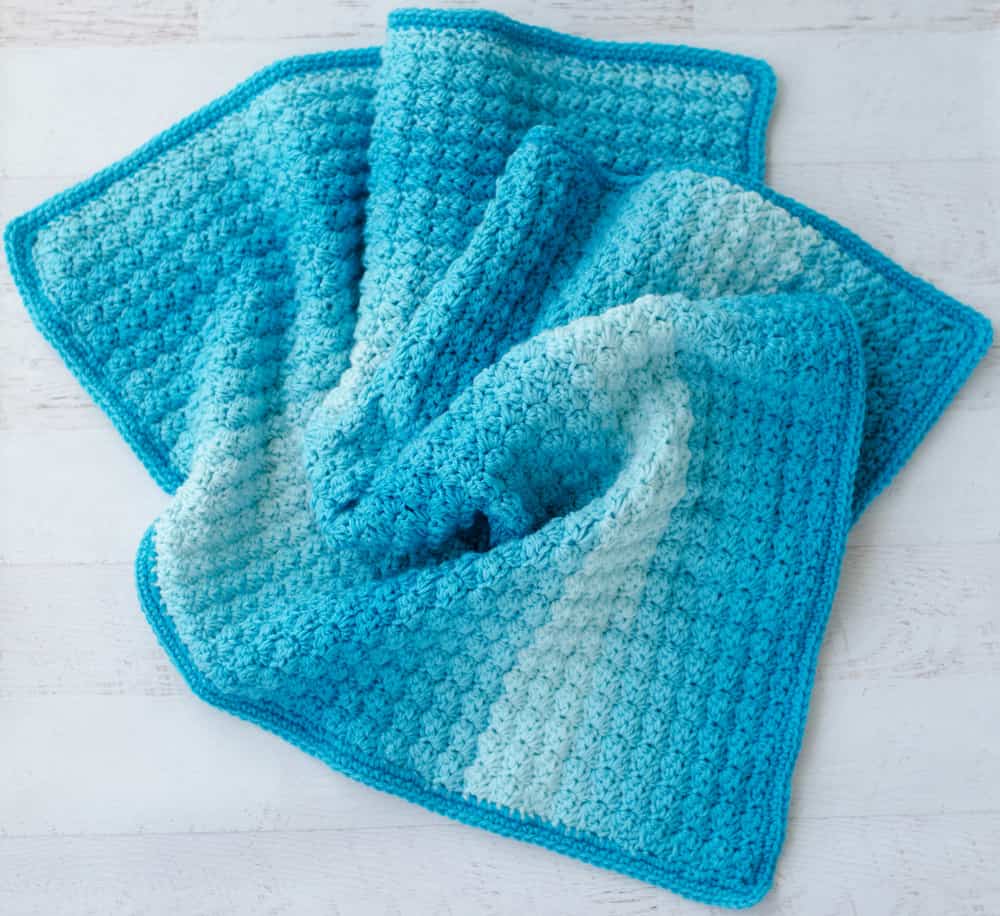 The best crochet projects, in my eyes anyway, have 3 key components:  Amazing yarn, an easy stitch pattern, and are adaptable to slight variations I might want to make.  I love a brainless wonder.  The kind of project you can laze around in your living room, mindlessly crocheting for hours while you drink your favorite beverage and binge watch Netflix. And if you want to take it on vacation or some such other crocheting adventure, it's game to go without too much fuss.
This, my friends, is THAT project:  Introducing the crochet sedge stitch baby afghan!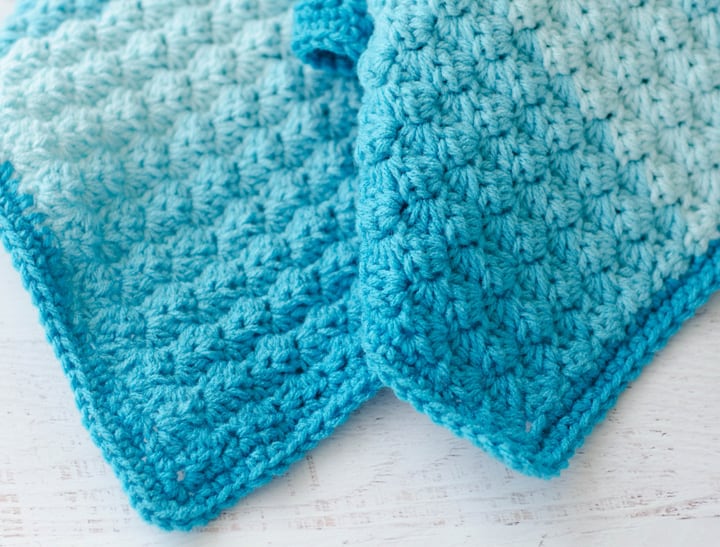 First up: Amazing yarn.  I was visiting my friend Amanda's site over on Love Life Yarn and stumbled upon this amazing blanket. And I had to know… what was this gorgeous yarn.  Are you sitting down?  Because it's Red Heart Ombre.
Yup.  The brand my grandma loved that is so easily available here in the United States. Walk into just about any Walmart, Joann or Michael's and grab 2 skeins of this beautiful bit of goodness and your affordable, next favorite project is practically on your hook!
Be prepared though.. the Ombre line is so gorgeous you might have trouble deciding on the best colorway. I immediately fell in love with all the pinks and purples (check them all out here).  But my coworker is expecting a baby boy, so I went for a more traditional blue.  This blanket is in "Scuba" color–which might be the perfect name because it reminds of the changing colors of the ocean waves.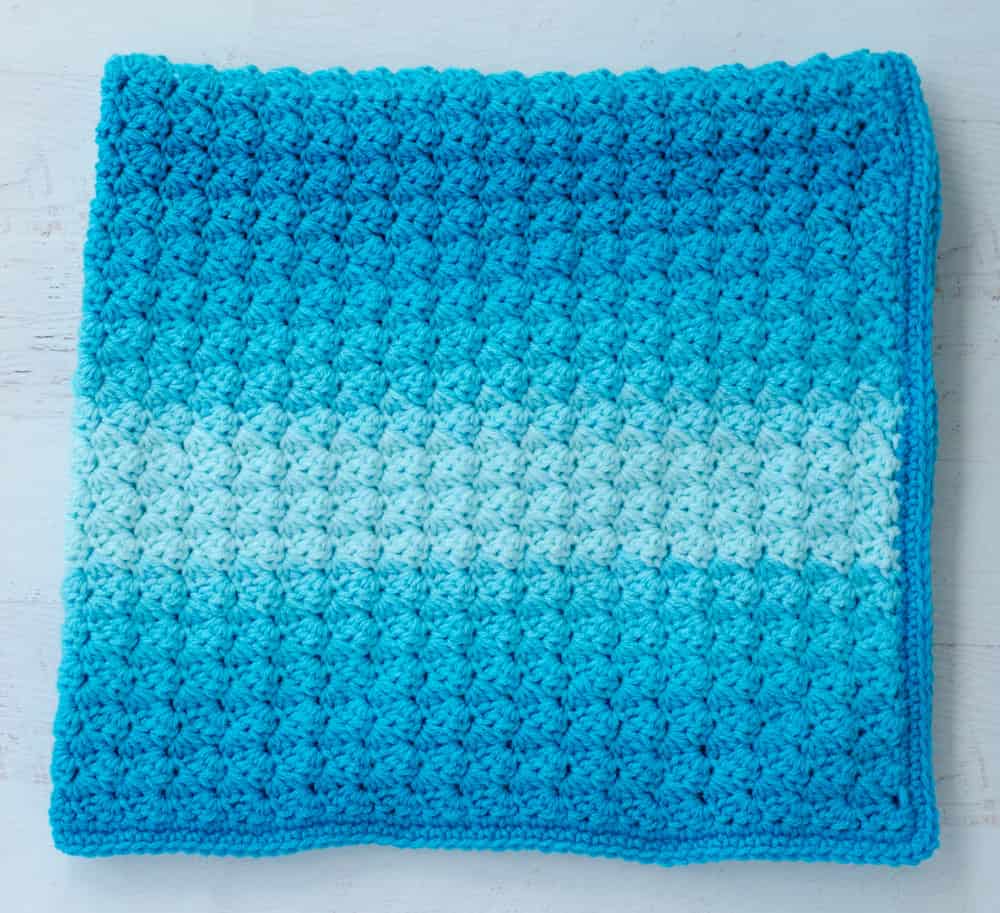 The crochet sedge stitch is so easy to learn.  Just a single crochet, half double crochet and a double crochet in a single stitch.  Couldn't be easier to memorize and get your crochet mojo going.
And the flexibility of the pattern.  The pattern is a 3 stitch repeat so it's easy to make it larger or smaller.  You can get all the details on the sedge stitch here.  Note that the ombre transitions might appear a little different if you drastically change the size.  I rather like the changes in a baby size blanket. The Crochet Sedge Stitch Baby Afghan would also be lovely in other worsted weight yarns and would even be a great scrap afghan project.
Are you in?!  Let's get going!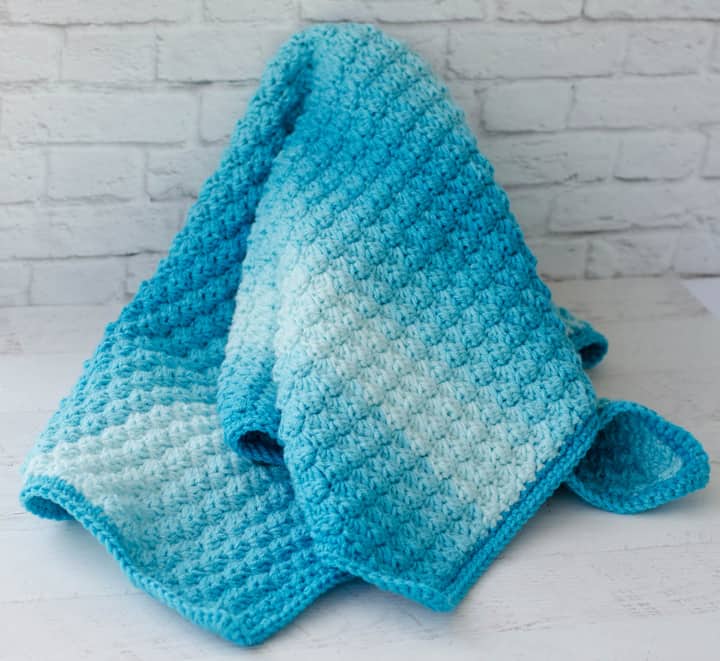 Purchase an ad-free printable version of the Crochet Sedge Stitch Baby Afghan pattern here!
Crochet Sedge Stitch ~ A Crochet Baby Afghan
Here is what you will need:
18 oz Red Heart Super Saver Ombre Worsted Weight Yarn, color shown is Scuba
Tapestry needle and scissors
Resources and tutorials you may find helpful in following this pattern: Crochet Abbreviations, US to UK Crochet Conversion Chart.  Find links to stitches on the "Tutorial" menu: Getting Started will show basic stitches used in many patterns and Crochet Stitch Dictionary shows our growing collection of crochet stitch tutorials.
Sedge Stitch Baby Blanket is approximately 28″ x 28″.  However if yours turns out bigger or smaller it will still be a lovely blanket!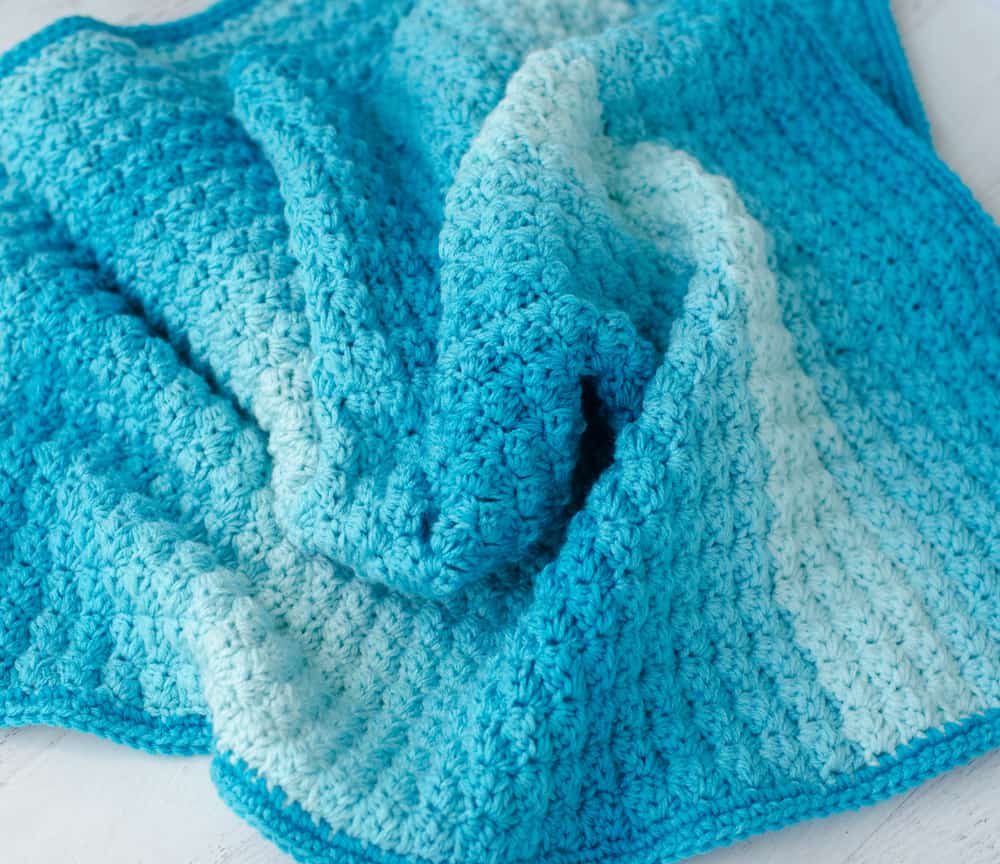 Chain 105.  (Note: to make afghan larger or smaller, chain in a multiple of 3 to the length you desire)
R1: In the 2nd ch from hook, work a hdc and a dc.  *Skip 2 ch.  In next ch, work (sc, hdc, dc).  Repeat from * across to last ch.  Sc in last ch.  Turn (105 st)
R2: Ch 1, (hdc and dc) in next st.  *Skip next 2 st.  In next st (which is the sc from the prior row), work (sc, hdc, dc).  Repeat from * to last 2 stitches in row.  Skip next stitch.  Sc into the last stitch. (105 st)
Subsequent Rows:  Repeat row 2 to desired length.  For this baby afghan, I continued until the afghan was square. At the end of the last row, fasten off and weave in ends.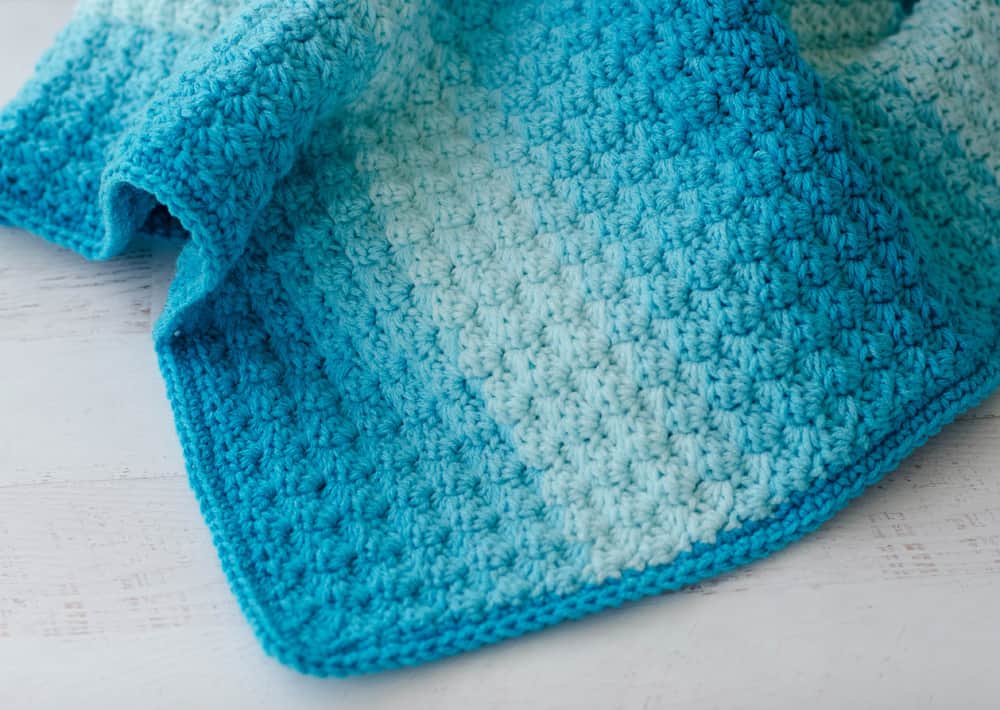 Sedge Stitch Baby Blanket Border:
Attach yarn with a slip stitch in a corner.  Work 2 rows of single crochet evenly spaced around afghan, working 3 stitches in each corner.  Fasten off after 2nd row and weave in ends.  Block afghan, if desired.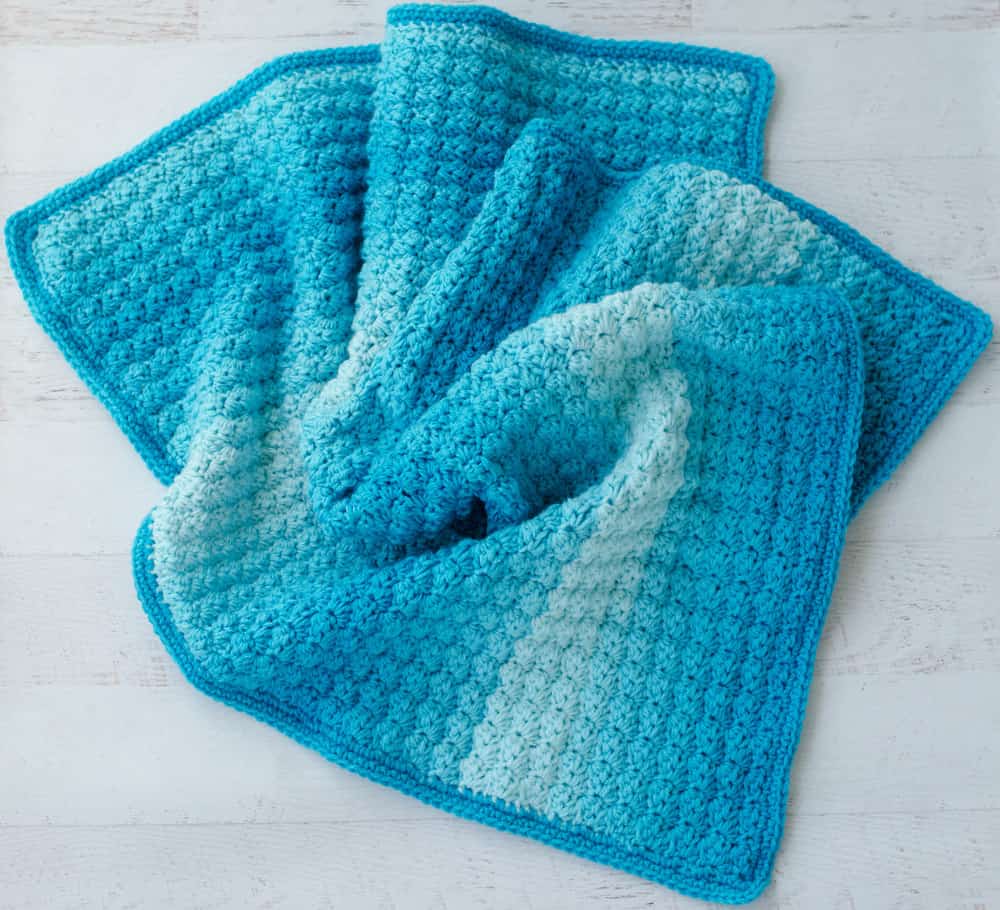 Purchase an ad-free printable version of the Crochet Sedge Stitch Baby Afghan pattern here!
I love seeing your finished projects!  If you enjoyed making the Crochet Sedge Stitch Baby Afghan,  I'd love to see yours on Instagram, be sure to tag me @crochet365knittoo.  If you are on Facebook, stop over to the Crochet 365 Knit Too Facebook page or pop over to the Crochet365KnitToo Club and share a photo!  I'd love to see your work!