Crochet Christmas Ornaments to Dazzle Your Tree
This post may contain referral/affiliate links. Please read my disclosure for more info.
Is there anything that will get you more into the holiday spirit than creating some crochet Christmas ornaments? Nothing quite beats the cozy warm glow of lights on a beautifully decorated Christmas tree.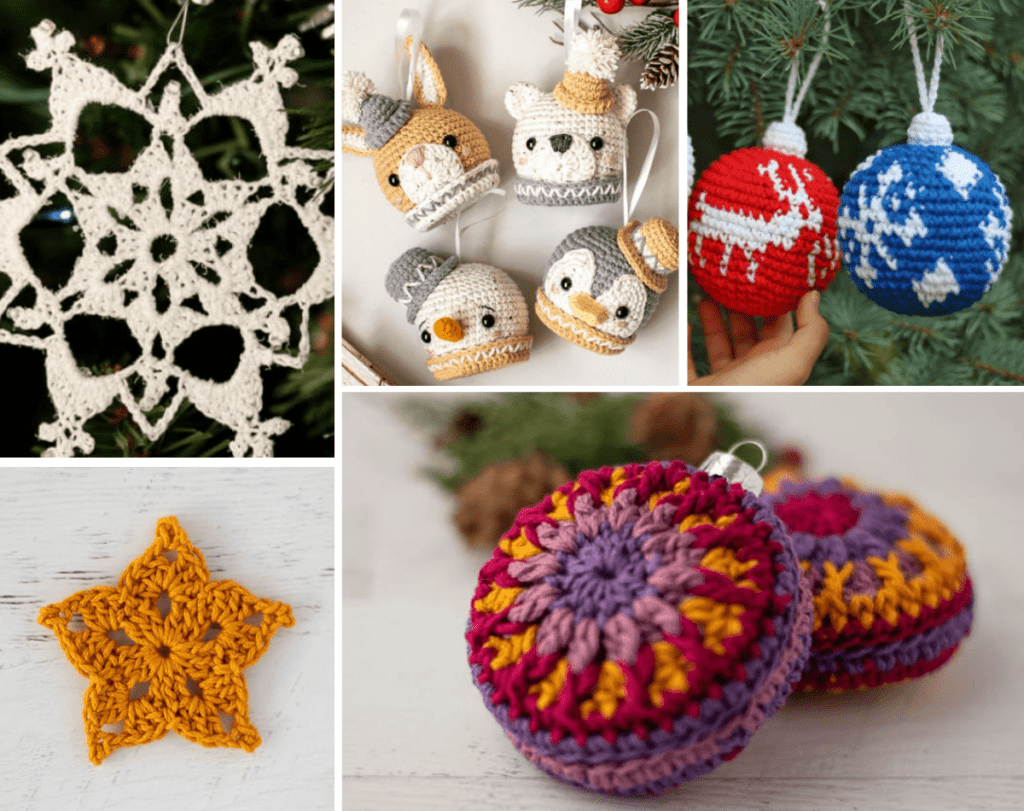 Whether you're looking to deck out your tree in all its holiday glory or you're just looking for one special ornament this year, these adorable Christmas ornament crochet patterns are sure to be a perfect fit.
One of my favorite things to do every year is to pull out each ornament and savor the rush of memories. My son's childhood handwriting on the construction paper gift he was SO excited to give. The glass-blown ornament was bought on a cold November afternoon from a local artisan.
Handmade beaded stars, crocheted angels, a candy cane hiding between branches, and a crochet ornament here and there flood my soul with my grandmother's laugh and I think of her hands on them before mine. Memories of different times and places make me feel the range of emotions of a life well lived.
But every year, no matter the crowded nature of my tree, I find a way to tuck in just one more. One more glorious, beautiful bit to remember THIS year by… So some future Christmas season I can smile and fondly remember the present and those who've lived and loved with me this year.
And so I bring to you my favorite Christmas ornament crochet patterns by some of my favorite designers. Perhaps you'll find a cute ornament to crochet for yourself to treasure. Or make a crochet ornament to gift to someone else.
Christmas Ornament Crochet Patterns
These crochet Christmas ornament patterns are my favorites. Grab your crochet hooks, some yarn, and get ready to dive into these fun Christmas crochet patterns!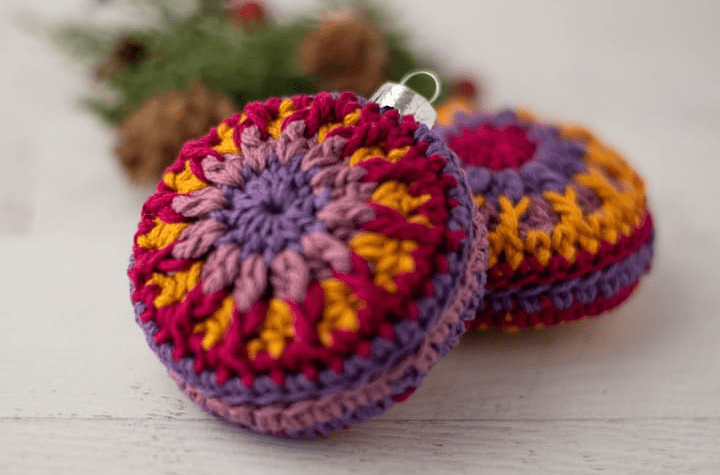 This gorgeous Christmas Ornament in jewel-tone colors brings a classic look to the tree. This fun ornament pattern can be crocheted in an evening making it the perfect quick project for those last-minute rush gifts! Plus, you can make it in your friend's favorite colors to really personalize it to every person you make it for.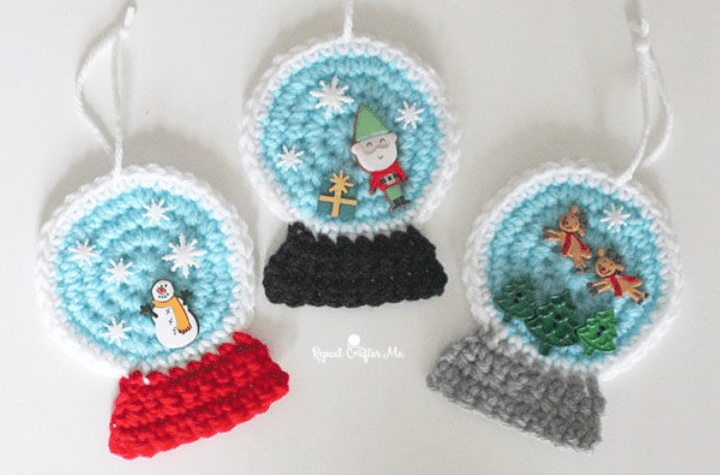 I love a crochet ornament pattern that is a fun twist on something else, like these cute Snow Globe Ornaments by Repeat Crafter Me. I love how they incorporate fun Christmas buttons like the tiny snowman, reindeer, snowflake, and trees! So cute!
What a perfect project to crochet out of yarn scraps using simple stitches for beginners! Plus, they will make such a stunning tree decoration and give your tree a little more of a story.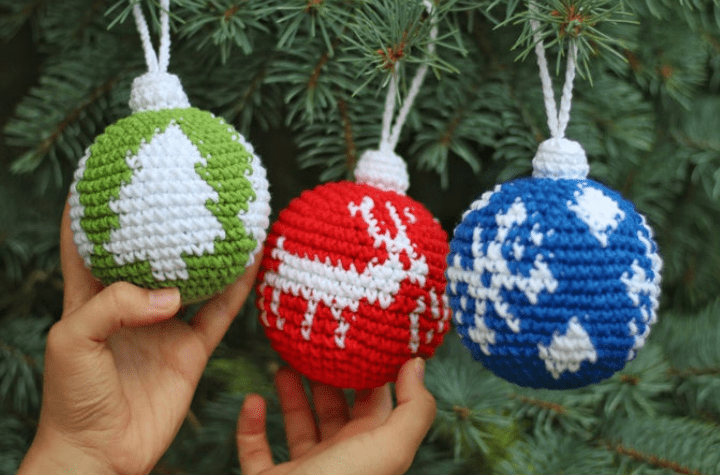 No crochet Christmas would be complete without these 3-in-1 Ball Ornaments by Frant's Toys. I especially love the snowflake and reindeer baubles, but the Christmas Tree is pretty cute too!
To make this crochet ornament, you'll need to know how to single crochet and be familiar with tapestry crochet. Pair your favorite holiday solid scrap yarn with white and make a set of this fun crochet Christmas ornaments for a festive holiday season!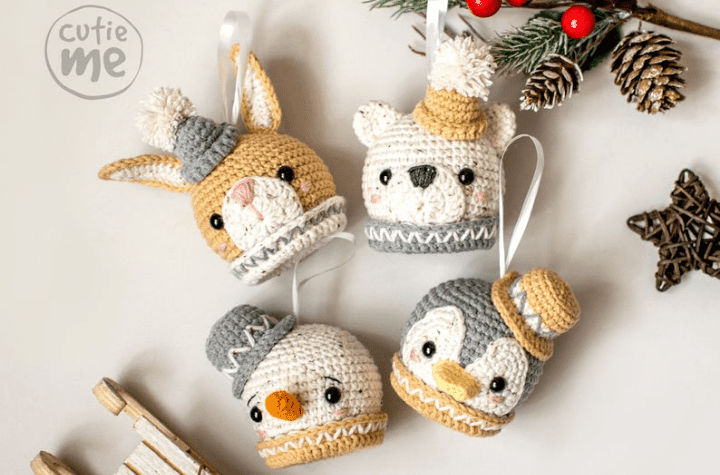 How about these crochet Christmas decorations for your tree!? These Christmas Balls Ornaments by Cutie Me Store are so sweet! I love the modern style of the muted colors. These crochet Christmas ornaments are perfect for an intermediate crocheter and you'll end up with something absolutely adorable.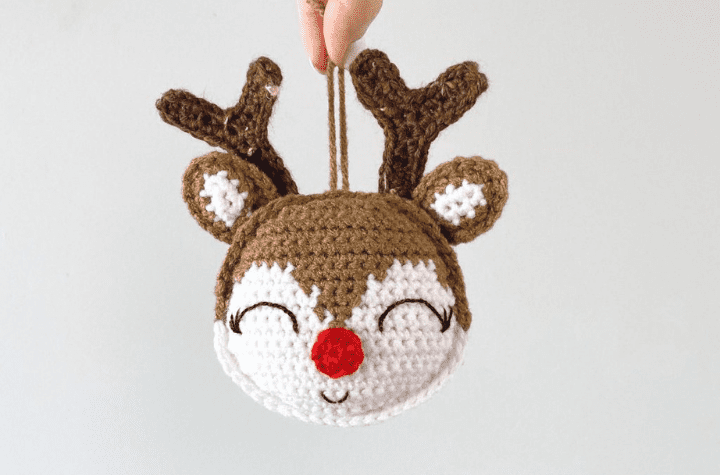 If you're going for a classic, you might want to check out this adorable crochet reindeer Christmas ornament by Spin A Yarn Crochet. The fast and fun Rudolph Ornament would also look great as a gift tag on a package!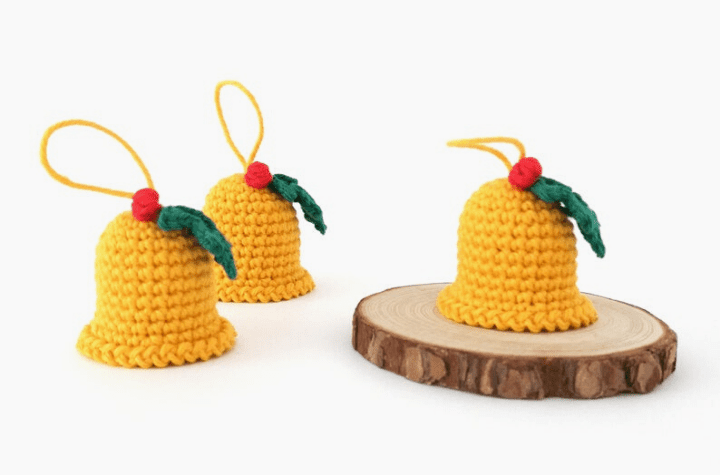 These bells by Stitch By Fay are simply beautiful crochet ornaments and they remind me of Christmas at my Grandmother's! This would be such a fun crochet project to make.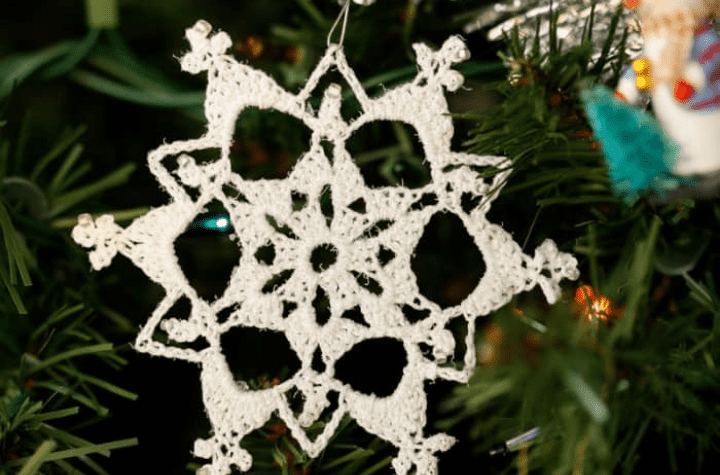 Can't go wrong with a classic! Busy Creating Memories Crochet Snowflake Ornament captures Christmas nostalgia with this simple, elegant design!
This ornament uses basic crochet stitches like chain stitches, single crochet stitches, and double crochet stitches to form the beautiful snowflake. Use a crochet ornament or two for crochet Christmas decorations around your home (a crochet garland would be lovely) or tie one onto a Christmas gift as a gift topper.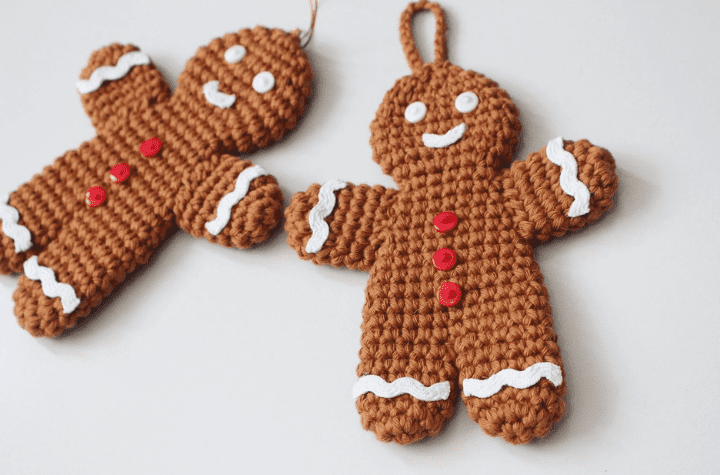 Nothing like a classic gingerbread man to really show that holiday spirit. They would look adorable on your Christmas Tree! You can practically smell this deliciously adorable Gingerbread Man Ornament by I Heart Gantsilyo! Be sure to check out our collection of crochet gingerbread too!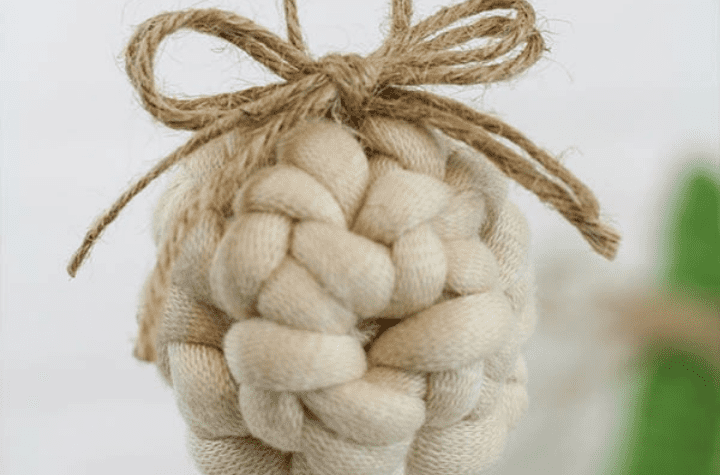 Ahh… this Rustic Ornament by Winding Road Crochet is so simple yet so perfect! This is a must for a minimalistic-themed Christmas Tree or in a bowl on the table for your Christmas decor.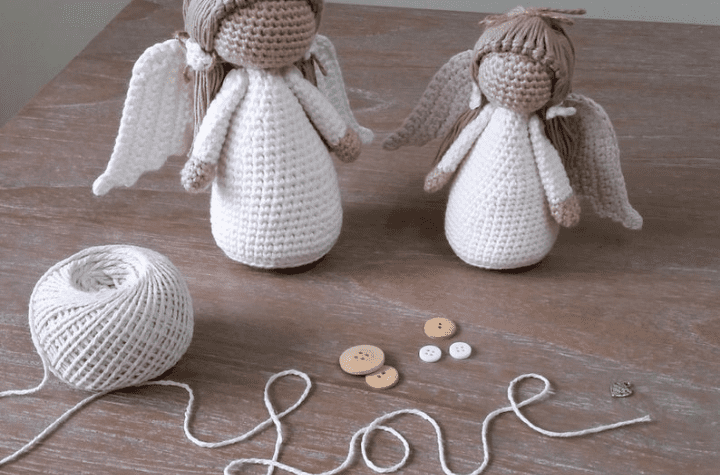 These Angels by Cubby House Kids would make an elegant addition to your Christmas tree this year. They would also make a gorgeous holiday decoration for your office or tucked on a shelf in your home.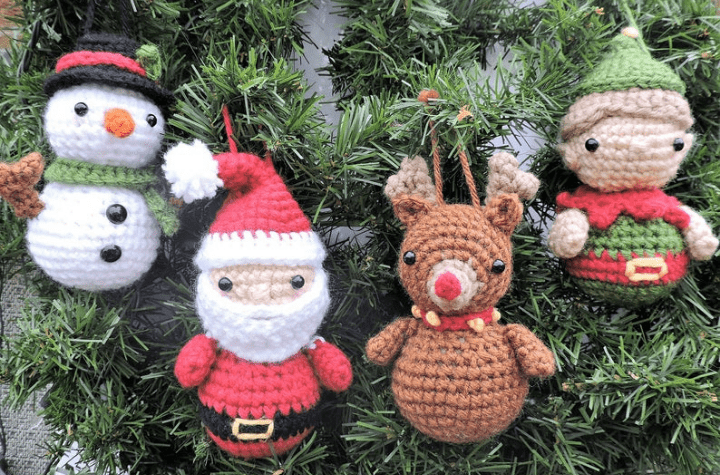 Crochet to Play sure knows adorable Christmas Ornaments! I can't decide if I love the snowman ornament or Santa Claus best… or maybe the reindeer… and that adorable elf! Sigh. Who wouldn't want these cuties scattered around the tree?
They really are so adorable, they can't help but spread holiday cheer wherever you put them. That cute beard and Santa hat on the Santa ornament really makes me smile!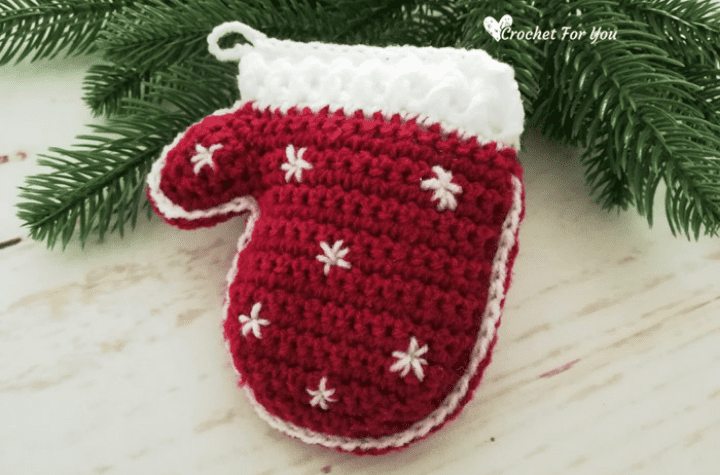 This free crochet pattern Mitten Ornament by Crochet For You gave me the grandest idea. What if you put little chocolate kisses in the mitten for an extra special surprise on Christmas morning? Every holiday season deserves some chocolate, I say! Plus, since this is a rather simple design it's the perfect crochet project if you're looking for a quick gift.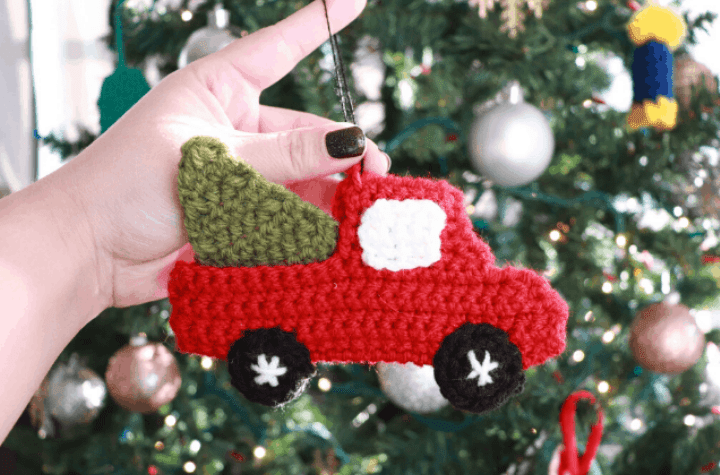 I don't know about you, but I'm digging this Red Truck Crocheted Ornament by Maria's Blue Crayon. It just has that rough and tough, rustic feel to it that makes you want to run outside and build a snowman! Personally, I love that it includes the holiday tree in the back of the pickup, and the yarn colors are simply perfect!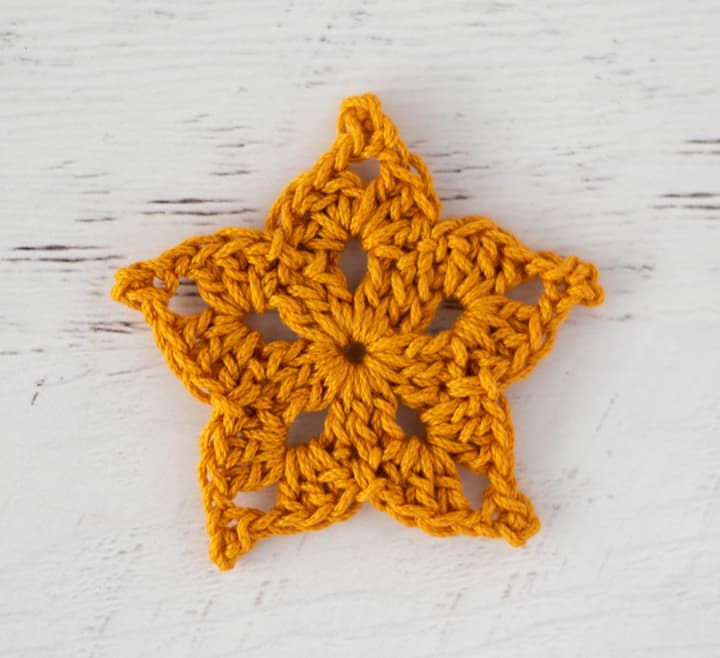 The crochet star applique makes a lovely Christmas star ornament. Just work a little chain on one of the points and you have easy crochet Christmas ornaments ready for your Christmas tree!
Plus, you can make it in a bunch of vibrant colors so they stand out on your Christmas tree, or make them in more traditional colors so it adds just a bit of festive decor.
I love seeing your finished projects! If you enjoyed making these crochet ornament patterns I'd love to see yours on Instagram, be sure to tag me @crochet365knittoo. If you are on Facebook, stop over to the Crochet 365 Knit Too Facebook page or pop over to the Crochet365KnitToo Club and share a photo! I'd love to see your work!