Crochet Snowman Coasters
This post may contain referral/affiliate links. Please read my disclosure for more info.
These crochet snowman coasters make my winter heart so happy. Cozy and warm while at the same time decidedly cold and wintery. Perfect for a hot cup of cocoa.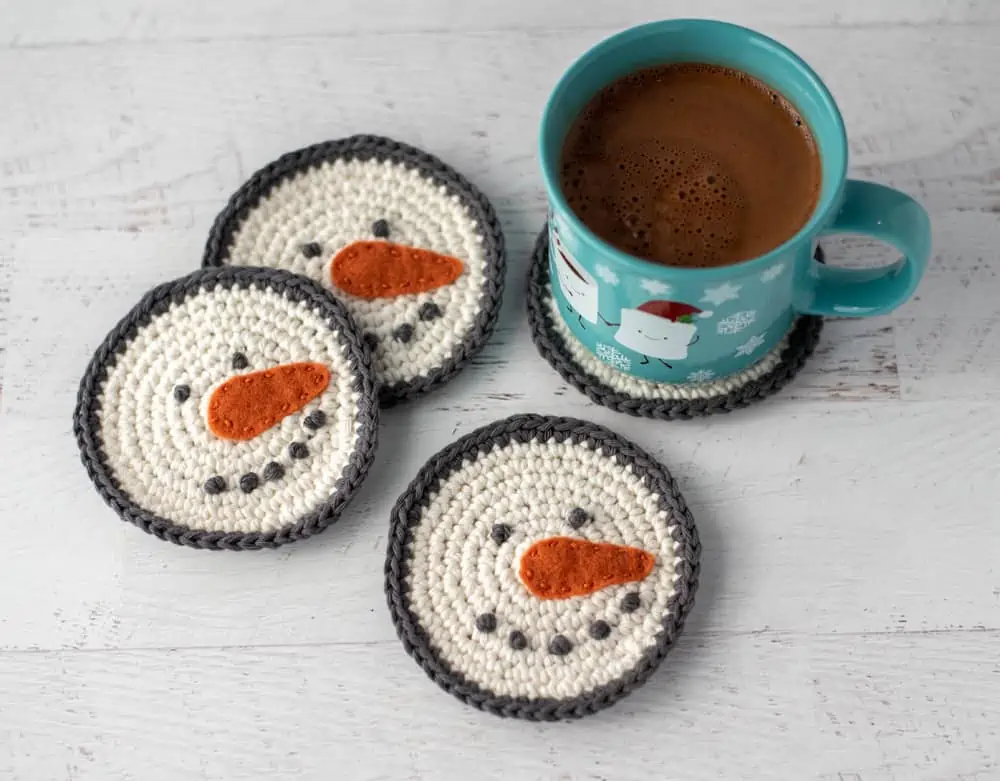 There's something magical about a good snowfall.  Glorious, pristine snow blanketing the earth.  Deep enough to cover the blades of grass.  Blotting out imperfections and making everything seem clean and right with the world.  
But even better is when the snow is "snowman snow" … that perfectly delightful sticky mixture that is just right for making a good snowman.
Making a snowman is always a good time.  Friends and laughter.  First you start by scooping a bit in your hands to make a small ball, then you drop it and roll it this way and that until it gets bigger and bigger.  
It might two or more of you to lift the second huge snowball onto the first.  Then it's scavenging for the things that make the snowman come to life: sticks and hats and various found things.
And afterward, it is back inside for hot chocolate. More laughter and warming up cold hands and toes. Red cheeks. Wet mittens. Not knowing for sure if the warm feeling flowing through your body is from the hot chocolate or the good company, but loving it all the same.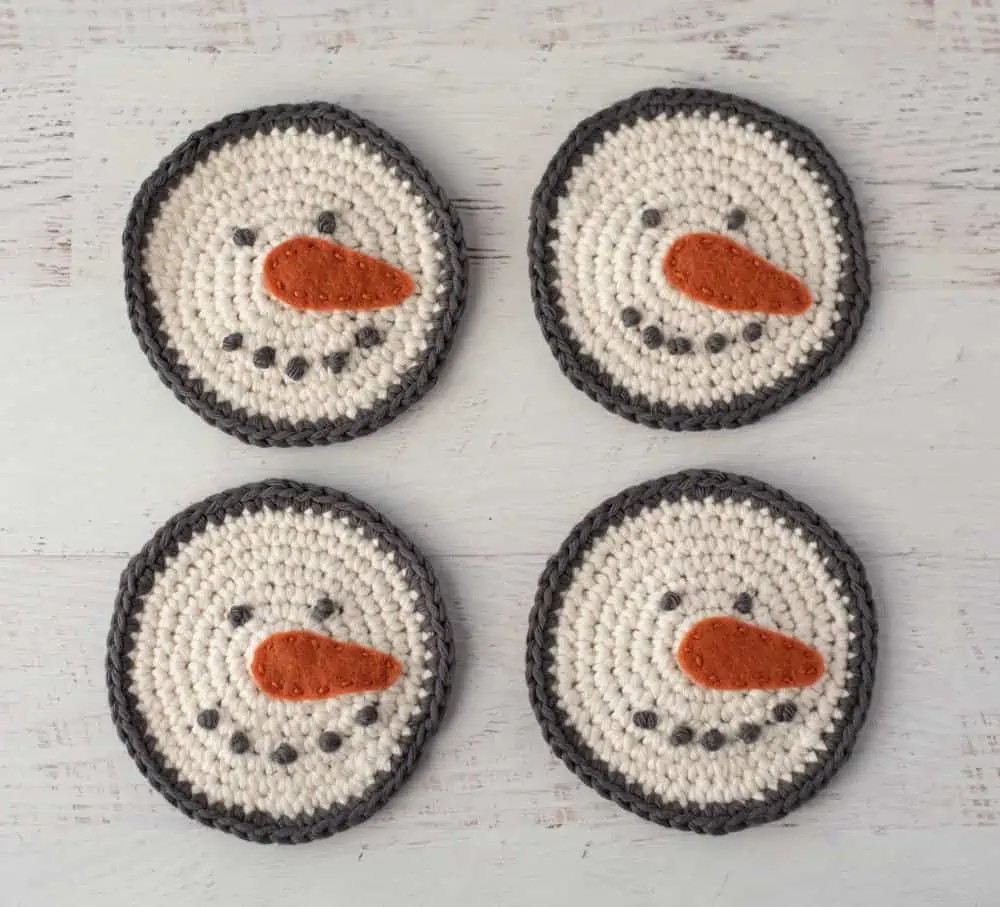 These snowman coasters bring all the warm cozy feelings of a good snowman adventure right into your living space. Make them out of cotton yarn and a bit of orange felt. This fast and fun project will make you smile from the first snow to the last of the season
Crochet Snowman Coasters
Here is what you will need:
US G 6/4.00 mm crochet hook (these are my absolute favorite hooks I recommend to everyone!)
Worsted Weight Cotton Yarn

Main (white): 1-1/2 oz, sample used Paintbox Cotton Aran in Light Champagne (Col 603)
Contrast (Gray): 1/2 oz, sample used Paintbox Cotton Aran in Granite Grey (Col 607)

Orange Felt
Embroidery Floss to match felt color
Resources and tutorials you may find helpful in following this pattern: Crochet Abbreviations, US to UK Crochet Conversion Chart. Find links to stitches on the "Tutorial" menu: Getting Started will show basic stitches used in many patterns and Crochet Stitch Dictionary shows our growing collection of crochet stitch tutorials.
Snowman Coaster Size:
Each finished coaster measures approximately 4″ across
Snowman Coasters (Make 4):
With White Color yarn, make a magic ring
R1: 6 sc into ring (6 sts). (Do not join, worked in rounds)
R2: 2 sc in ea st (12 st)
R3: *sc in next st, 2 sc in next. Repeat from * around. (18 st)
R4: *sc in next 2 st, 2 sc in next. Repeat from * around. (24 st)
R5: sc in next 2 st, 2sc in next, *sc in next 3 st, 2 sc in next. Repeat from * around, sc in last st. (30 st)
R6: *sc in next 4 st, 2 sc in next. Repeat from * around. (36 st)
R7: sc in next 2 st, 2 sc in next, *sc in next 5 st, 2 sc in next.  Repeat from * around until 3 stitches remain.  Sc in next 3 st.  (42 st)
R8: *sc in next 6 st, 2 sc in next. Repeat from * around. At the end of the round, sl st to next st, changing to gray in this last stitch. (48 st)
Final round of coaster is a joined round (instead of a continuous round)
R9: With gray, ch 1 and sc in same st, sc in next 6 st, 2 sc in next, *sc in next 7 st, 2 sc in next. Repeat from * around. At end of the round join to first sc in row with an invisible join (or slip stitch to first stitch, if you prefer). (54 st)
Fasten off and weave in ends.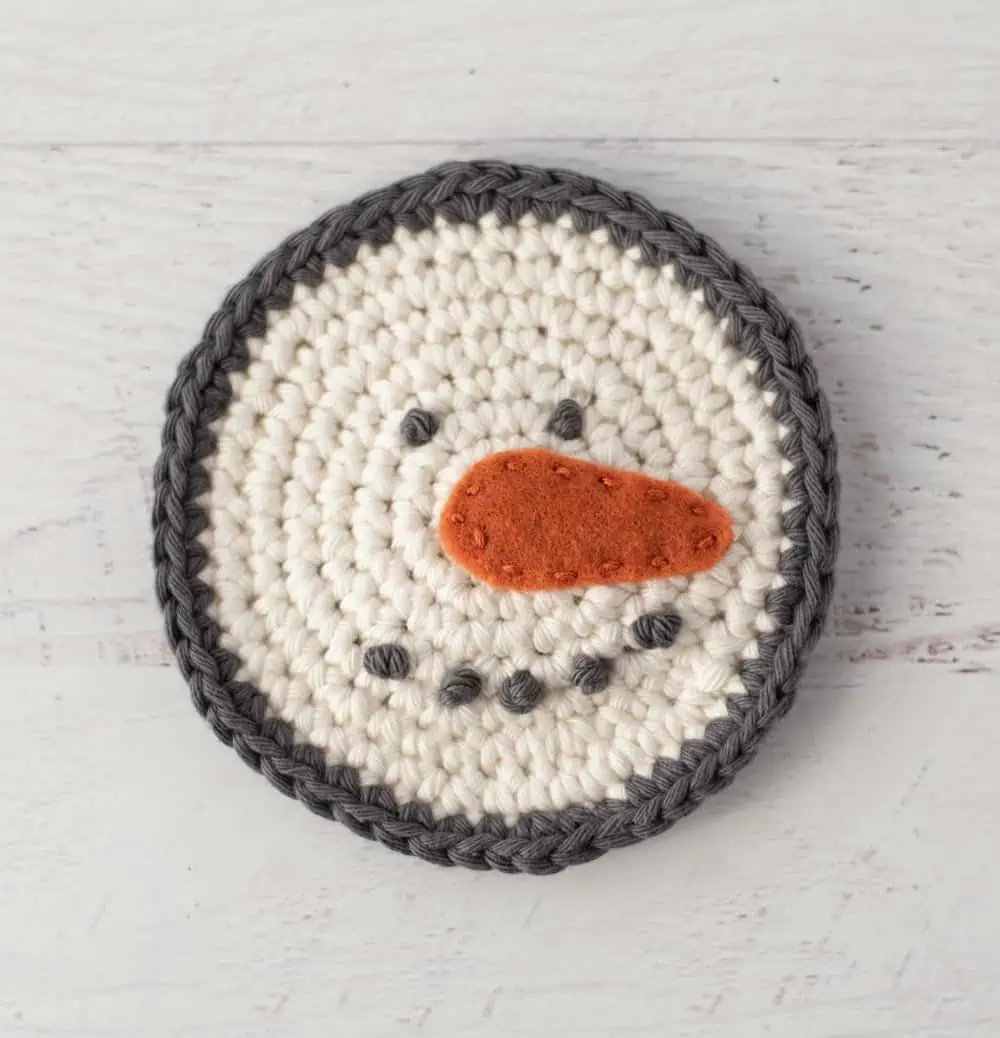 Carrot Nose (Make 4):
Make a template for a carrot nose out of paper and audition the nose on the coaster before cutting out felt.
First, Draw and then cut out an oblong triangle approximately ¾" across at the wide end approximately 2" long. Use scissors to round corners. You may even wish to make the straight edges a bit rounded.
Lay the paper nose piece on the snowman coaster to determine size, trimming the piece to fit the snowman's face as desired. This might take a few tries.
When you are pleased with the shape, cut 4 carrot noses out of felt and carefully sew them on the snowman coaster using matching embroidery floss and running stitches, referring to photo.
Use gray yarn to embroider small French knots for the eyes and mouth.  The eyes are located between rounds 3 & 4 and are approximately 5 stitches apart.  The stitches for the mouth are located between rows 5 & 6.  It is helpful to use sewing pins to test the placement of the eyes and mouth before embroidering.
More Free Crochet Snowman Patterns
If you love these Crochet Snowman Coasters pattern, you might also like to check out these other snowman patterns perfect for your crochet hook!
I love seeing your finished projects! If you enjoyed making the Crochet Snowman Coasters, I'd love to see yours on Instagram, be sure to tag me @crochet365knittoo. If you are on Facebook, stop over to the Crochet 365 Knit Too Facebook page or pop over to the Crochet365KnitToo Club and share a photo! I'd love to see your work!