Easy Crochet Star Pattern
This post may contain referral/affiliate links. Please read my disclosure for more info.
Get ready to meet your cutest little make yet! This easy crochet star pattern may look all fancy and complicated, but here's a little secret: you are 2 rows away from adorable! Get ready to crochet these sweet crochet stars!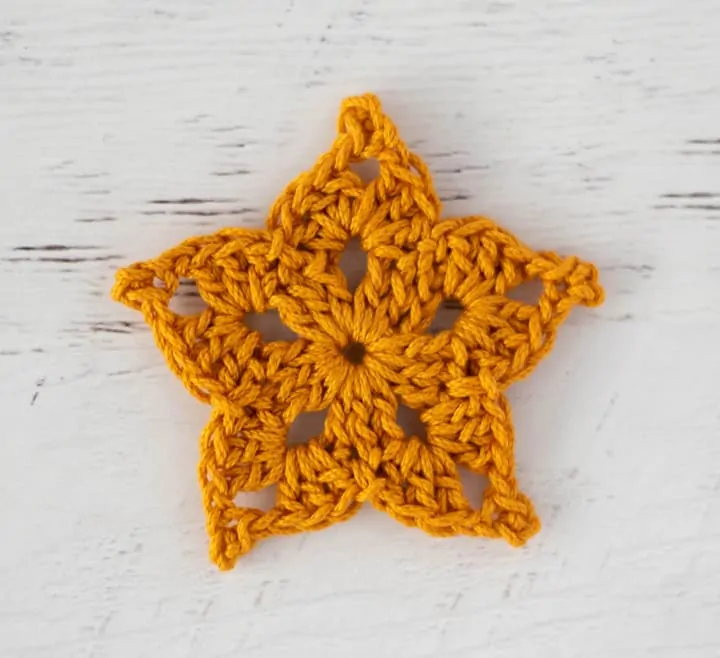 The truth is… you never quite know when an adorable little crochet star applique pattern is going to come in handy. Maybe you're wrapping gifts and need a beautiful quick crochet star pattern to give you a little something-something to go on top. Maybe you need an easy crochet star ornament pattern you can make quickly out of stash yarn. Or maybe you just need a little smile…for yourself or for someone else. This simple crochet star pattern can truly be anything you want!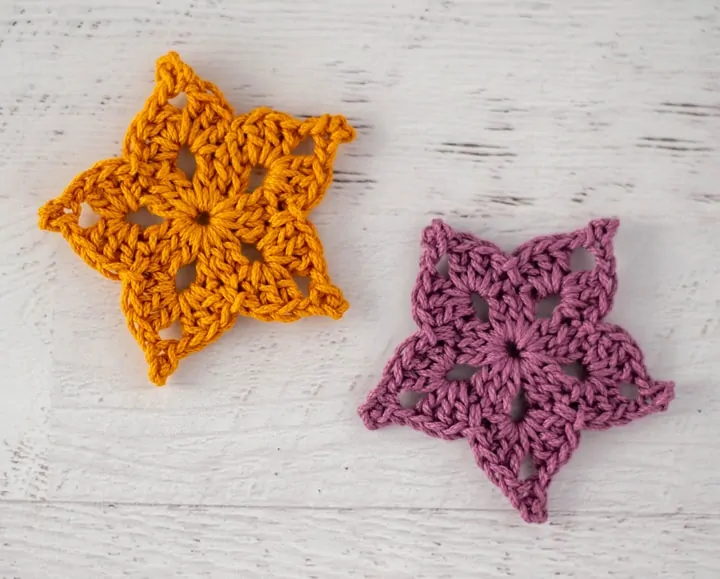 Let's get real here… there are a few things in life that UNIVERSALLY bring a smile to someone's face: Sunshine. Rainbows. And Stars. I'm sure there must be a study on this somewhere. Maybe? If not, then there should be!
Think about it. You could literally change the world one easy crochet star at a time.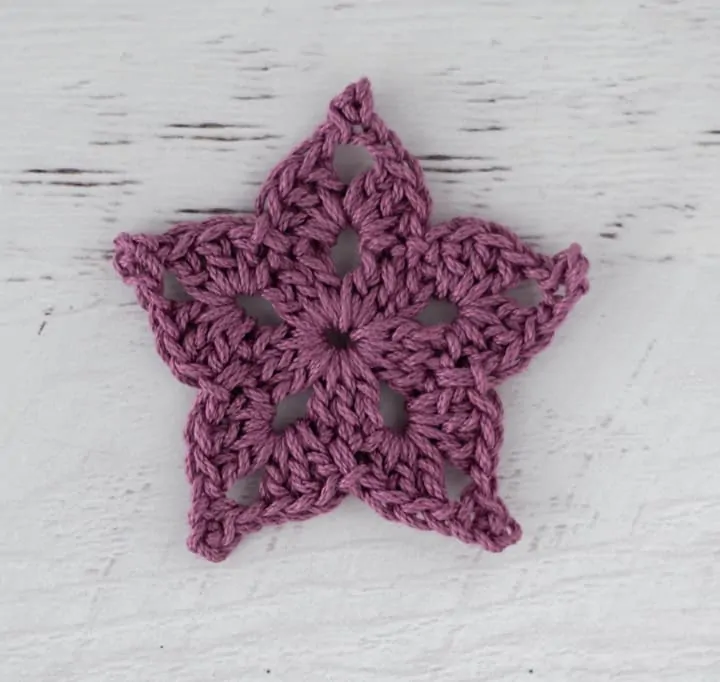 But first, you have to make the star. I love this crochet star pattern on so many levels. I love that it's a great stash buster. That little bit of leftover yarn goodness you don't quite know what to do with… yup, star material. You can change hook size and yarn weight and make this in all sorts of fun sizes. Plus, you can make it with so many yarn colors to make it look unique to who the star is for!
This star crochet pattern is great for a Christmas Ornament or for topping a Crochet Christmas Tree. It would look mighty fine on a crochet hat or anywhere else you might like a beautiful star appliqué. Hang one in every window. Or make a garland of stars. Honestly, these would also look adorable on a baby blanket!
These cutie pie crochet stars have a bit of a nod to the ordinary granny square. This cute little star starts out as a variation of a granny square and then goes wild in that 2nd row! The little star point of the five-pointed star is formed by picots.
If you've never made picots before, not to worry… they are easy to do. Just chain a few stitches and slip stitch back into one of the earlier chains. And if you want a loop for hanging, just work a few extra chains as part of the picot on a star point.
MORE HOLIDAY PATTERNS
If you love the Crochet Ornament Pattern, you might also like to check out these other patterns for the season:

1. Snowman // 2. Crochet Stocking // 3. Snowman Wine Cozy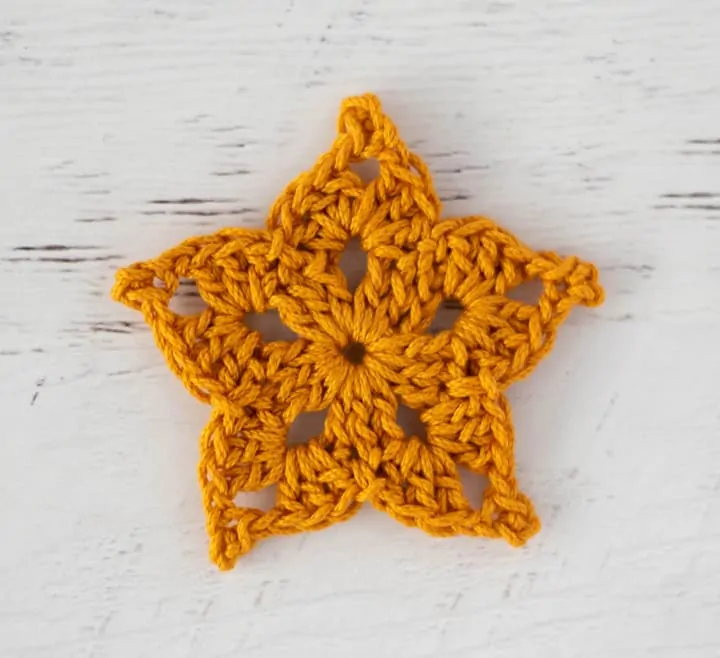 Easy Crochet Star Pattern
Here is what you will need to make yourself this beautiful five-pointed star:
Resources and tutorials you may find helpful in following this lovely crochet star pattern: Crochet Abbreviations, US to UK Crochet Conversion Chart. Find links to stitches on the "Tutorial" menu: Getting Started will show basic crochet stitches such as double crochet stitches, slip stitch stitches, and chain stitches used in this free crochet pattern as well as other basic stitches such as the half double crochet stitch, single crochet stitch, and treble crochet stitch. The Crochet Stitch Dictionary shows our growing collection of crochet stitch tutorials.
Crochet Star Size:
The finished item is approximately 3.5" across at the widest point.
Crochet Star Skill Level:
This is a beginner star crochet pattern that uses basic crochet stitches to create your lovely crochet stars.
Crochet Star Pattern:
Ch 5 and join with sl st to form a ring.
R1: Ch 3 (counts as 1 dc here and throughout), 2dc, ch 3, *3dc, ch 3. Repeat from * 3 times for a total of 5 dc clusters. Join with sl st to top of starting ch.
R2: Sl st into the next dc, *in the next ch 3 space work (3dc, ch 4, sl st in 3rd ch from hook (forms picot), ch 1, 3 dc). Skip next dc, sl st in the next dc (which is the middle dc of the next dc cluster). Repeat from * around, ending by sl st into starting sl st. Finish off and weave in ends.
If you love crocheted stars, you might just love the lovely crochet star stitch too!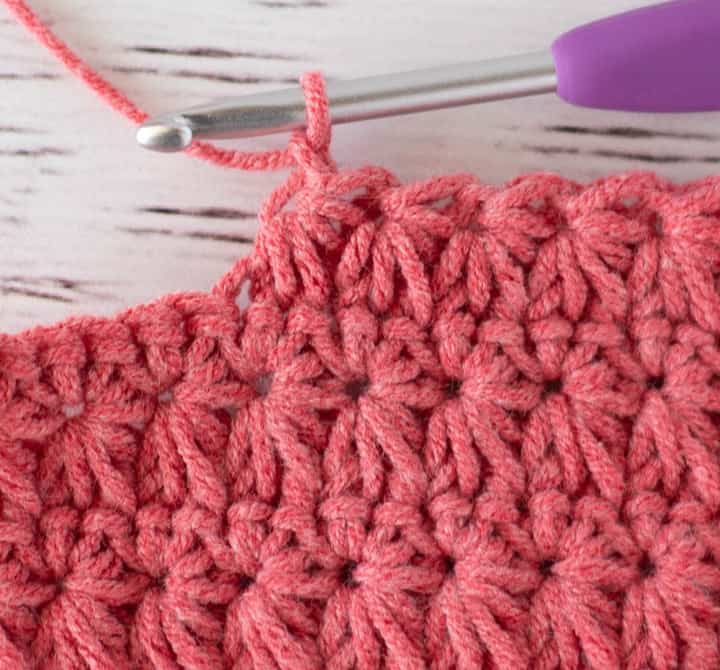 Now, by following this complete star pattern you should have a handsome crochet star that is ready to decorate your home.
Looking for ideas for this pattern? You could make a bunch of colorful crochet stars and turn them into a crochet star wall, which would be simply stunning. You could also turn your crocheted stars into a crocheted star garland which will really get you in the mood for the holidays.
Whatever you decide to do with your cute crochet stars, you'll absolutely love having this pattern on hand during the holidays.
Explore More Crochet Patterns
Do you love crochet as much as I do? I think you're going to love these other fun crochet patterns:
I love seeing your finished projects! If you enjoyed making this Crochet Star Pattern I'd love to see yours on Crochet 365 Knit Too Facebook page or pop over to the Crochet365KnitToo Club and share a photo! I'd love to see your work and all your beautiful, colorful stars!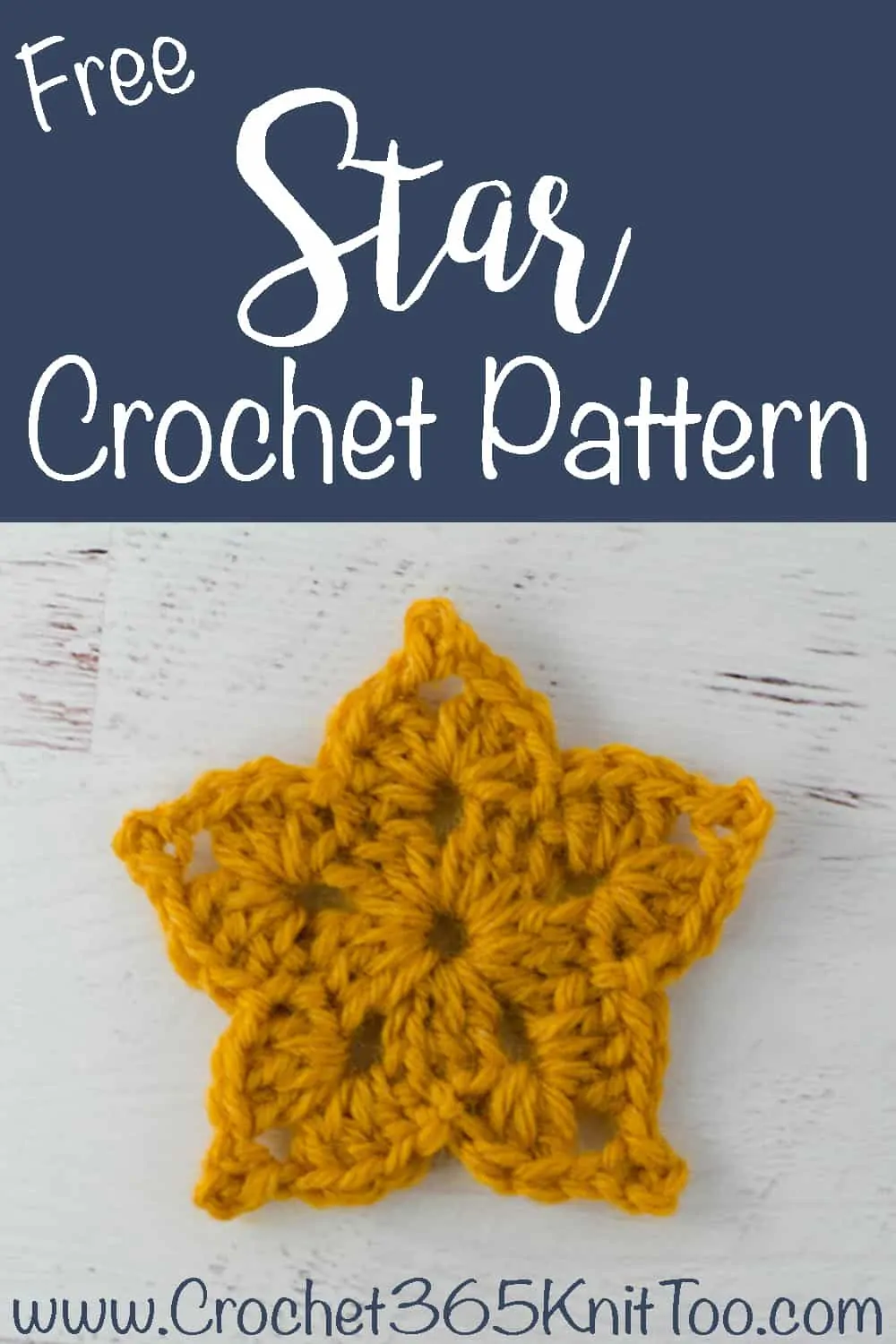 SaveSave