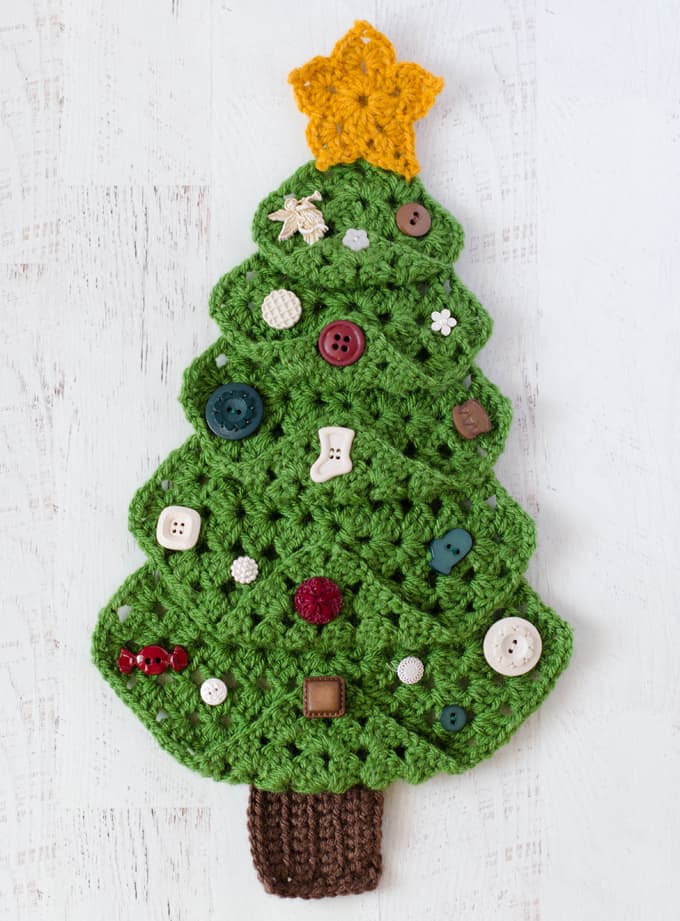 Oh Christmas.  How I love you.  And I just love this fun Granny Square Christmas Tree decoration.  Don't you love a quick crochet project that you can whip out in an evening?  This Granny Christmas Tree is just the thing.  It is a great use for all those fun holiday buttons that you want to buy, but can't quite justify spending money on.
If you've been with me for awhile, you know that I previously had this pattern listed for sale in my Etsy, Craftsy and Ravelry shops. After a lot of thought, I decided to take it out of the shops and offer it here for free on the blog.  Let me tell you why.  I'm not the first person to fashion granny squares into a Christmas Tree Shape and even though I did design the star and the tree trunk, I felt like the pattern didn't quite belong with the other unique things in my shop.
I offered the star pattern as an appliqué on the blog a few months ago.   Now you get the complete tree too!  Without further ado, here is the Granny Christmas Tree in its entirety for you to enjoy.
Granny Christmas Tree Pattern
Here is what you will need:
Worsted weight yarn

Green, approx 840 yards (Vanna's Choice, 172 Kelly Green in example)
Scraps of Gold and Brown

Crochet Hook Size G
Assorted buttons (design used Christmas pack of assorted buttons from Hobby Lobby)
Tapestry needle, sewing thread & needle for sewing on button ornaments
Finished size:  About 17″ tall.  Note, your results may vary depending on your gauge and on how you sew the boughs and star together.
Resources and tutorials you may find helpful in following this pattern: Crochet Abbreviations, US to UK Crochet Conversion Chart.  Find links to stitches on the "Tutorial" menu: Getting Started will show basic stitches used in many patterns and Crochet Stitch Dictionary shows our growing collection of crochet stitch tutorials.

Star
With gold, ch 5 and join with sl st to form a ring.
R1: Ch 3 (counts as 1 dc here and throughout), 2dc, ch 3, *3dc, ch 3. Repeat from * 3 times for a total of 5 dc clusters. Join with sl st to top of starting ch.
R2: Sl st into the next dc, in the next ch 3 space, *3dc, ch 4, sl st in 3rd ch from hook (forms picot), ch 1, 3 dc. Skip next dc, sl st in the next dc (which is the middle dc of the next dc cluster). Repeat from * around, ending by sl st into starting sl st. Finish off and weave in ends.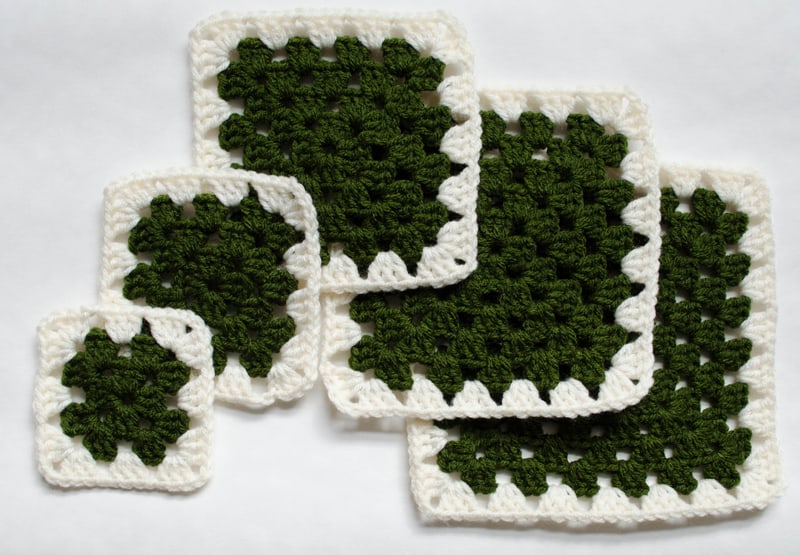 Tree Boughs
Tree boughs consist of 5 granny squares of increasing size. Make 1 each with 3 rows, 4 rows, 5 rows, 6 rows and 7 rows.  (Note:  You can make the tree boughs in a single color (as in the top photo) or make the last round white to resemble a snow covered tree (as in the photo above)
With green, ch 5 and join with a sl st to form a ring.
R1: Ch 3 (counts as 1 dc here and throughout), 2 dc, ch 2, *3 dc, ch 2, repeat from * 2 more times. Join with sl st to start of row.
R2: Sl st in next 2 dc and into next space, in corner space, ch 3, 2 dc, ch 2, 3 dc, ch 1. *In next corner, work 3 dc, ch 2, 3 dc, ch 1. Repeat from * 2 more times. Sl st to the top of starting ch 3.
R3 and subsequent rows: Sl st in next 2 dc and into next space, in corner space, ch 3, 2 dc, ch 2, 3 dc, ch 1. 3 dc, ch 1 in each space until reaching next corner. In corner, work 3dc, ch 2, 3 dc. Proceed accordingly, working 3 dc, ch 1 in each non-corner space and 3dc, ch 2, 3 dc in each corner. End each row with a sl st to the top of starting ch 3.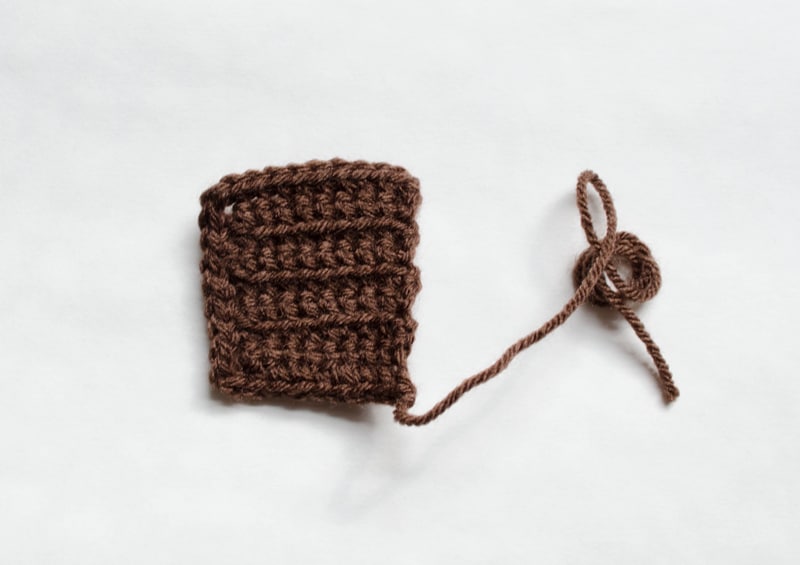 Tree Trunk
R1: Ch 10, in 2nd ch from hook, sc across (9 sc)
R2-R7: Ch 1, turn, sc in back loops only
R8: Ch 1, turn, sc in back loops only across to last sc. In last sc work 3 sc, rotate work and sc across bottom of tree trunk, at next corner work 3 sc, sc across side of trunk. Finish off, leaving an end for sewing trunk on to tree.
Finishing
Turn one corner up to the center of each square and sew down. Layer squares using photo for reference and sew into place. Sew star on top of tree. Crochet loop for hanging (see below).  Sew trunk to bottom of tree. Randomly sew buttons for ornaments.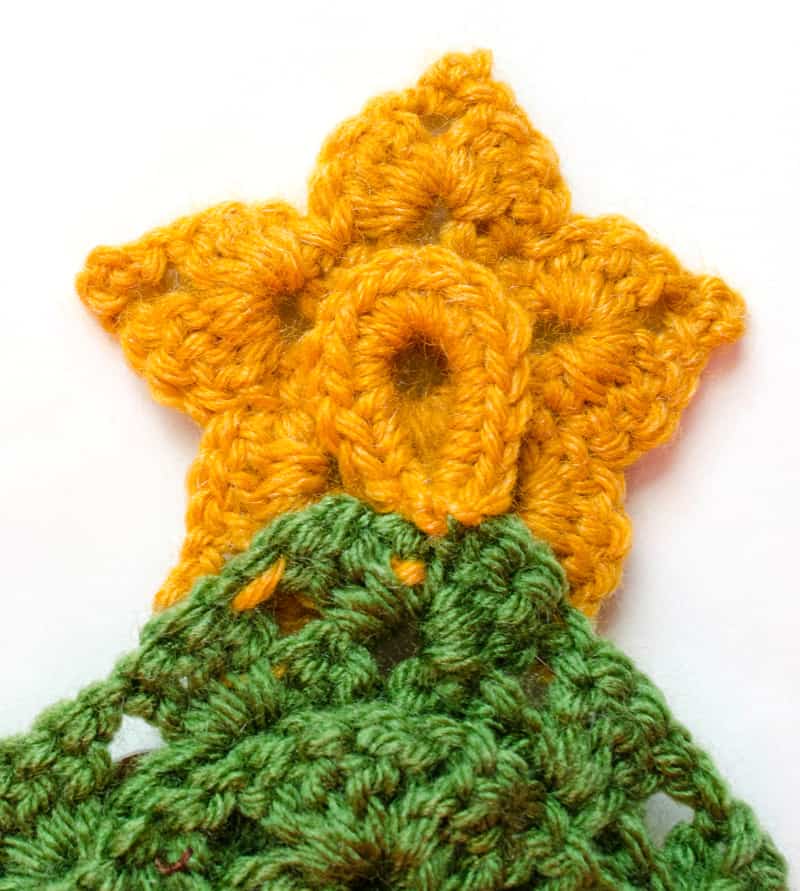 Loop for Hanging
Attach gold with slip stitch to top corner of tree behind the star. Ch 10, sl st to beginning. Keeping right side facing, sc 15 in loop and attach to 1st sc. Fasten off and use ends to firmly secure.
And there you go!  A Granny Christmas Tree to brighten up your holidays!

SaveSaveSaveSaveSaveSave
SaveSave
SaveSave
Subscribe to the Newsletter
Get crochet patterns, news, special offers and other crochet goodness straight to your in box. Look for your first email to get access to The Vault, where you can download a free crochet & knit journal and other crochet goodies!