Christmas Crochet Afghans to Keep You Cozy
This post may contain referral/affiliate links. Please read my disclosure for more info.
Hello there, Christmas crochet afghans! I don't know about you, but something about the cooler temperatures really calls my crochet heart. And this collection of blanket designs is like my personal eye candy.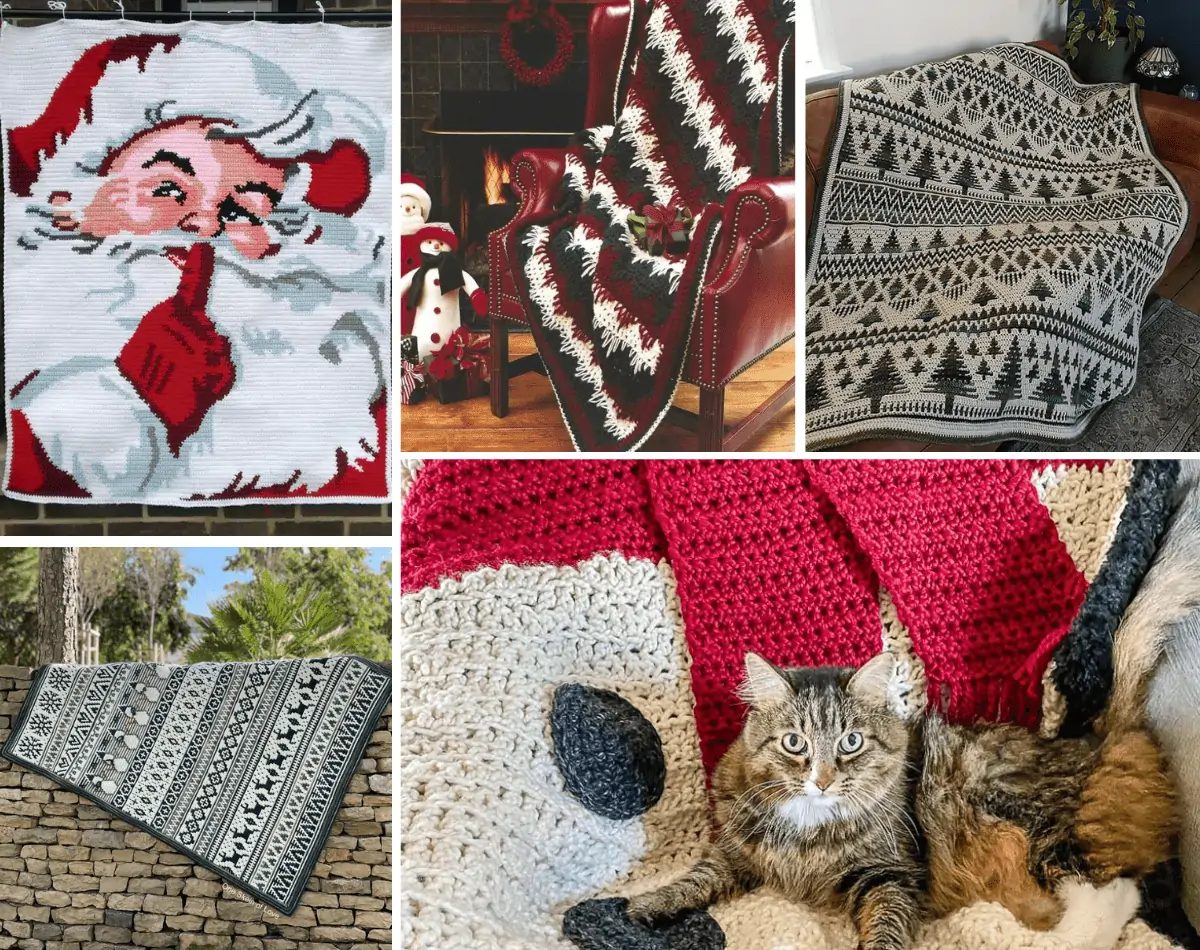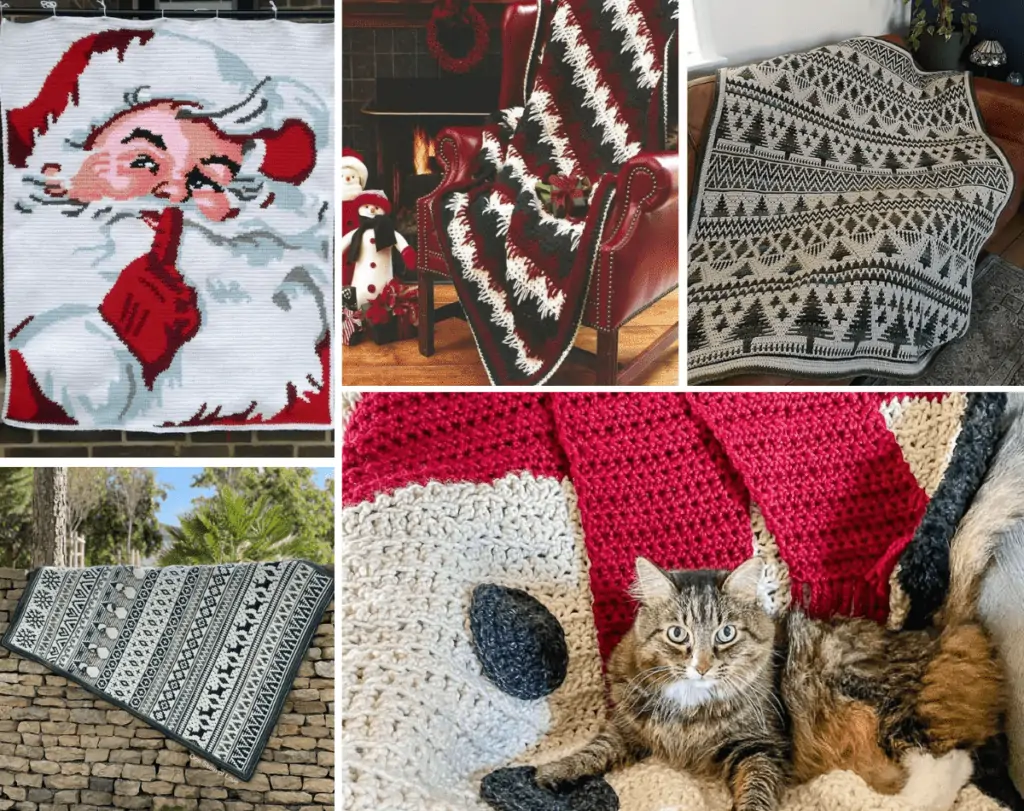 Are you ready to get into the holiday spirit? Let's dive into these cozy and festive crochet blanket patterns that'll keep you warm the entire winter season.
Most of these patterns use a variety of basic crochet stitches, so make sure that you know how to work a single crochet stitch, double crochet stitch, and slip stitch (sl st). With all these stitches in hand, your cozy blanket will be ready for the holiday season in no time!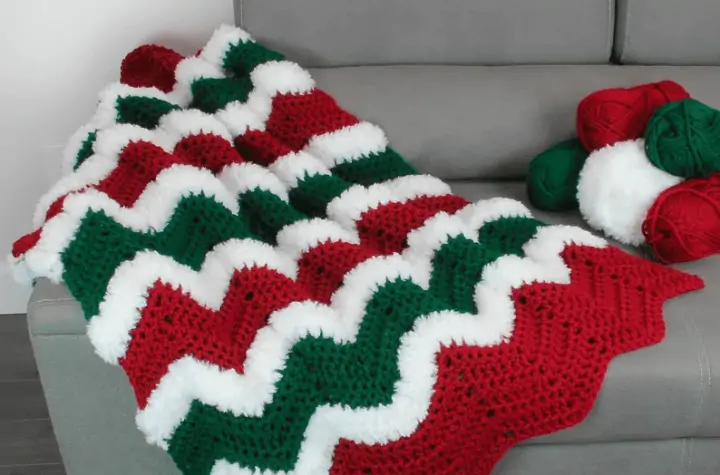 The Easy Design's Christmas Crochet Afghan Pattern is so beautiful! I love the squiggles of colors. Plus, did you see they used super bulky yarn and faux fur yarn? How adorable! This crochet pattern also comes in three different sizes so you're sure to get it the perfect size you need!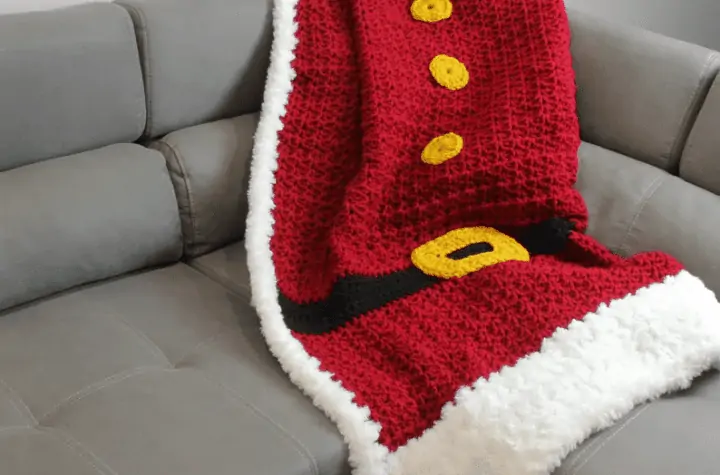 Honestly, I think we all need this gorgeous crochet Santa blanket by The Easy Design. I mean, this blanket pattern is simply stunning. I really love the white yarn trim on this blanket, it really just pulls this fun design together for me.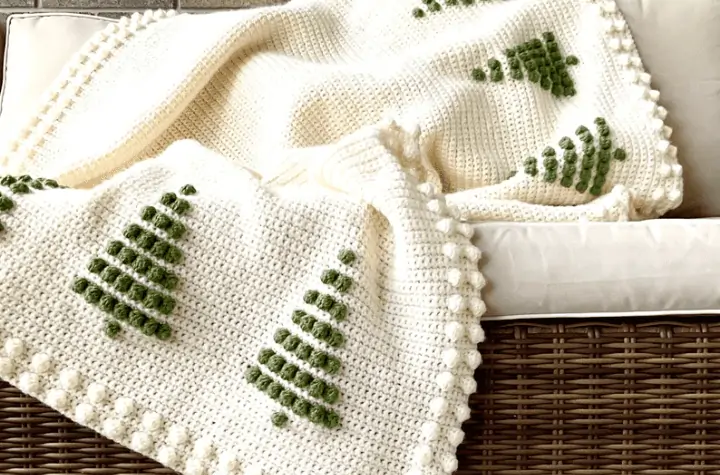 This elegant crochet blanket pattern by Seacliffe Cottage is perfect if you want a more modern feel for your Winter decor. Honestly, any time I see Winter-related items, I really get in the mood for the holiday season, is that just me?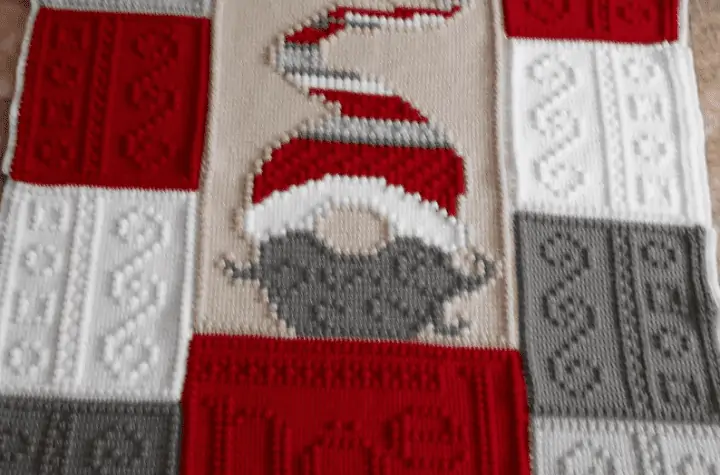 The Noel Christmas crochet afghan by Color and Shape Design is just too perfect! This is such a fun crochet holiday blanket and your guests are sure to love this pattern!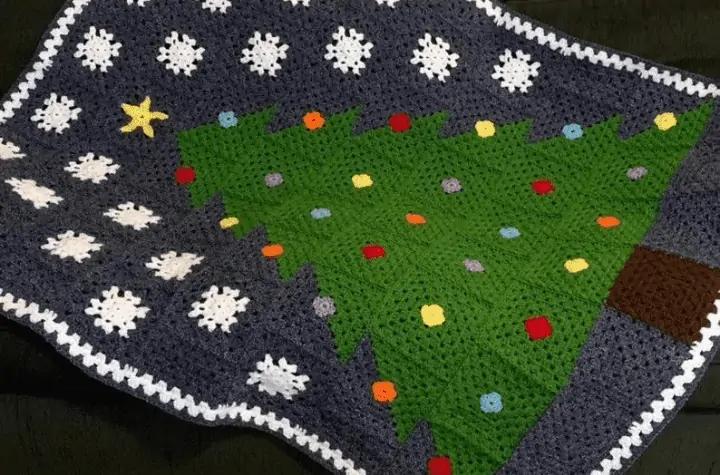 The Christmas Tree afghan crochet pattern by Change Path Crochet is an absolutely gorgeous blanket that's created using specialized granny squares that are joined together at the end. This pattern can also be made with or without ornaments, but personally, I think the ornaments are adorable.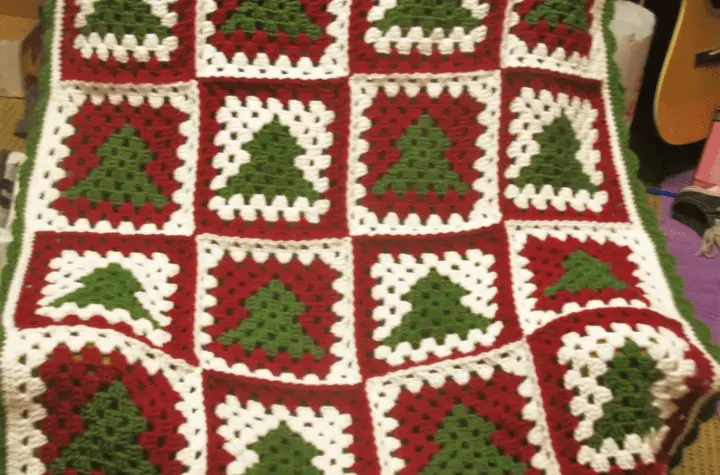 I love all the stunning holiday colors on this beautiful crochet throw blanket by Sensible Designs! This pattern can also be purchased with access to a video tutorial if that's more your style.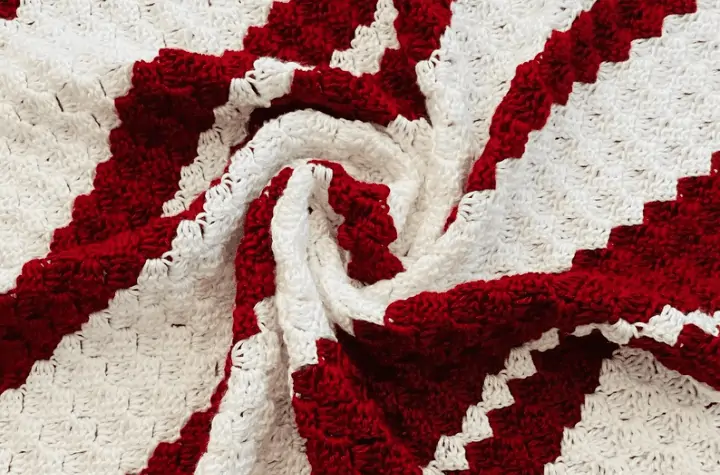 If you're a fan of the C2C Crochet Technique, then you're going to love this Christmas Corner to Corner Crochet Afghan Pattern by Lakeview Cottage Kids! This pattern is candy cane themed and I think it's absolutely adorable.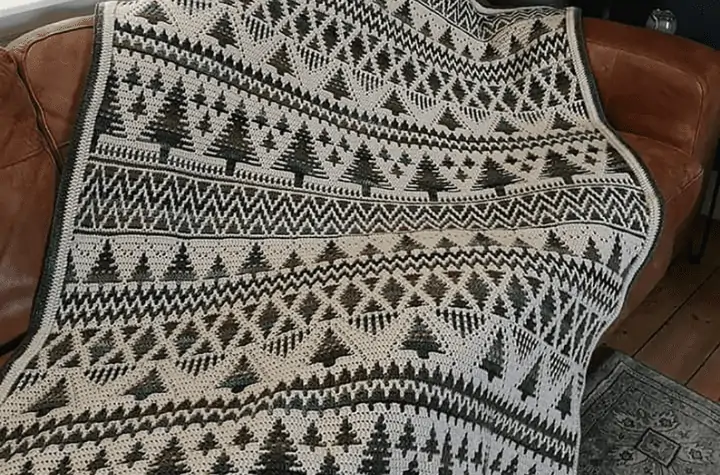 This pattern is GORGEOUS! The Sholach Christmas Trees pattern by Get Yer Hook On is such an elegant crochet blanket pattern that maybe we all need. I mean, come on. If you make this for someone as a gift, you're pretty much going to win person of the year in their hearts.
This pattern uses the Mosaic Crochet technique. Be sure to snag this awesome Mosaic Crochet Ebook with Video tutorials by Nicki's Homemade Crafts to learn all about this fun technique!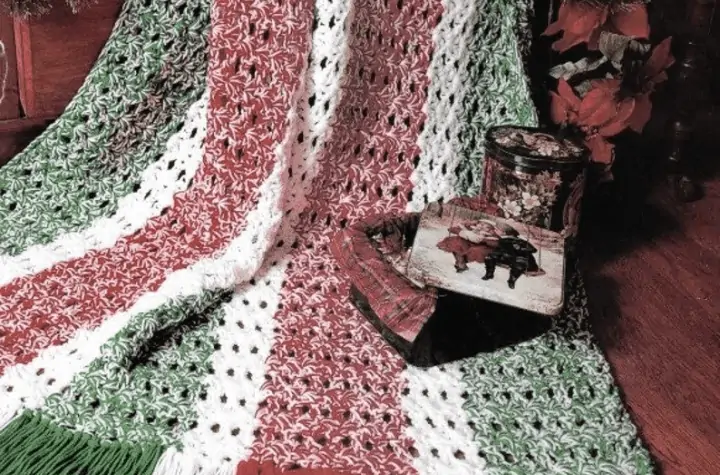 If you're more into a retro vintage vibe, the Night Owl Creates has you absolutely covered with this beautiful blanket. Personally, I really love the fringe on the bottom of the blanket, I think it just adds a lot of character. Plus, this pattern is estimated to take about 8 hours so It's a great fast weekend project if you are looking for a last minute gift to make.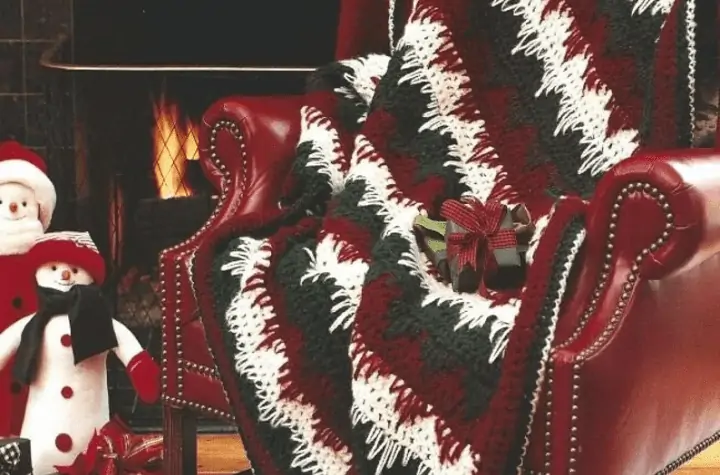 Chickie By The Sea's Vintage Crochet Christmas Stripe Afghan is absolutely beautiful. I love the strands of yarn that seem to dangle off the stripes in those drop down stitches that give more character. It's just such an elegant crochet blanket pattern.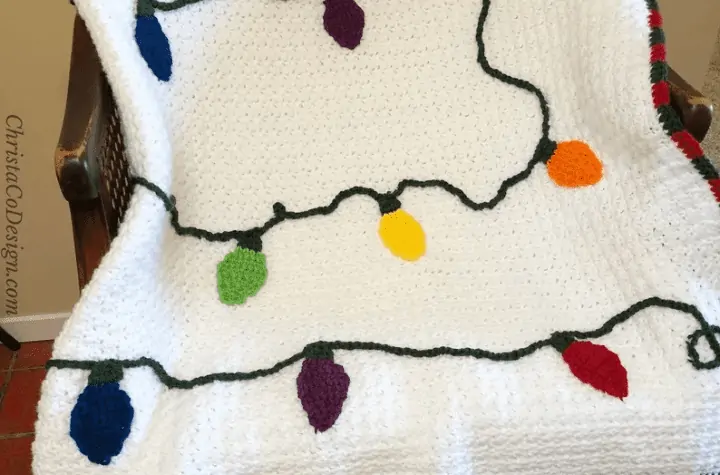 The Christmas Lights blanket pattern by Christa Co Design is so cute! It's a little hard to see but there's a gorgeous green and red border around the entire blanket that I really love. This pattern can be made in ten sizes, ranging from a Lovey to a King-sized blanket! How cool!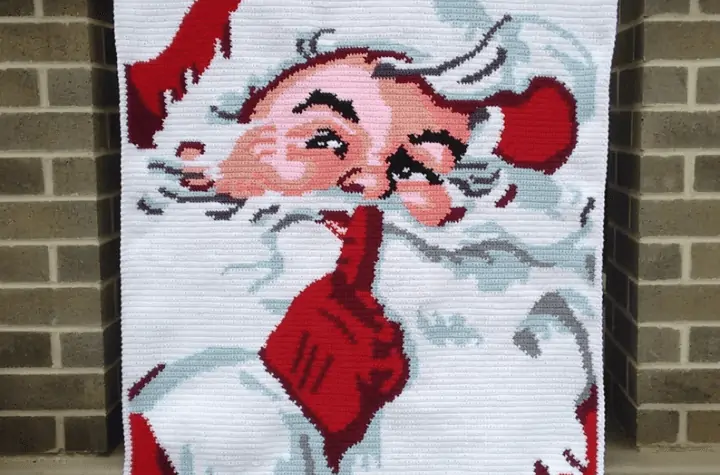 If you're wanting your throw blanket to be more of an art piece, this crochet quieting Santa by Gaggy's Graphs uses only single crochet stitches and a graph. Honestly, you could totally hang this up as a tapestry; it's that beautiful.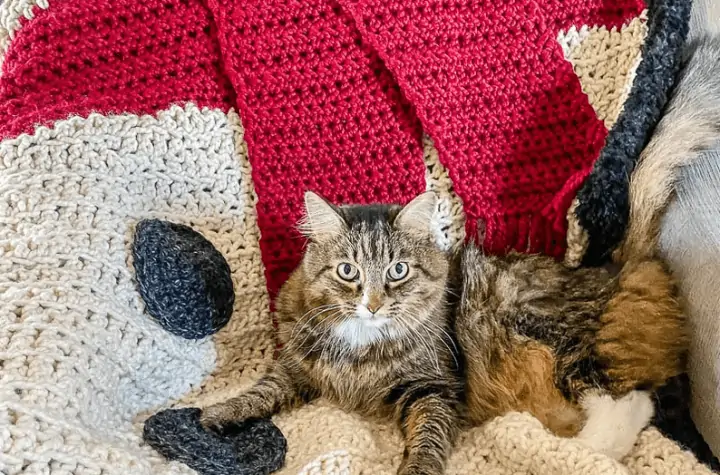 Who doesn't love a beautiful snowman afghan? Left in Knots really came through with this beautiful blanket design. Also, this pattern uses strictly Lion Brand yarn, including the faux fur that looks like it would make this blanket extra cozy.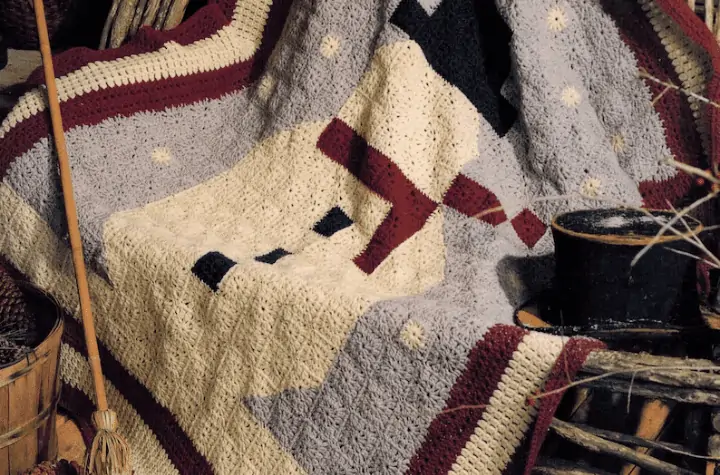 Dana's Crafts Canada has a different take on a beautiful snowman that you'll absolutely adore. This is is a perfect afghan throw blanket crochet pattern to add a little holiday flair to your couch.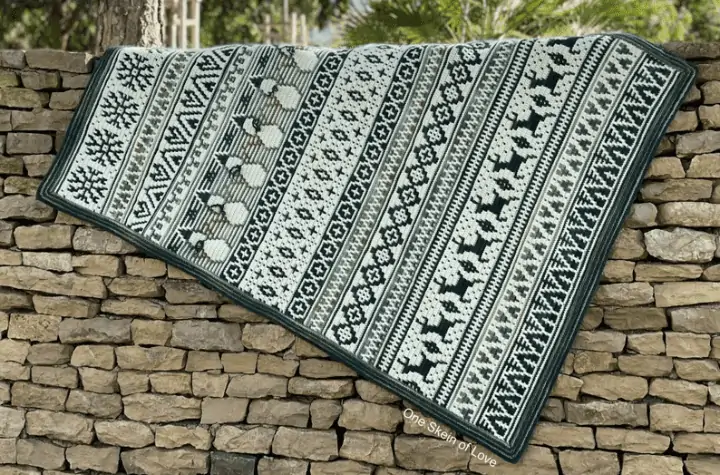 If you've always wanted to get into mosaic crochet patterns, then this Winter Wonderland crochet blankets pattern by One Skein of Love Crafts is for you! This pattern also includes 14 different patterns so you can fully customize it to you.
Whether you'll be keeping this pattern for yourself or you're looking for a fun gift, you'll adore making these fun holiday afghan patterns.
I love seeing your finished projects! If you enjoyed making one of my patterns I'd love to see yours on Instagram, be sure to tag me @crochet365knittoo. If you are on Facebook, stop over to the Crochet 365 Knit Too Facebook page or pop over to the Crochet365KnitToo Club and share a photo! I'd love to see your work.