14 Stunning Crochet Snowmen to Warm Your Heart
This post may contain referral/affiliate links. Please read my disclosure for more info.
Well hello there, cuteness! Get ready to meet the most adorable crochet snowmen. These crochet patterns are sure to warm your heart on cold winter days!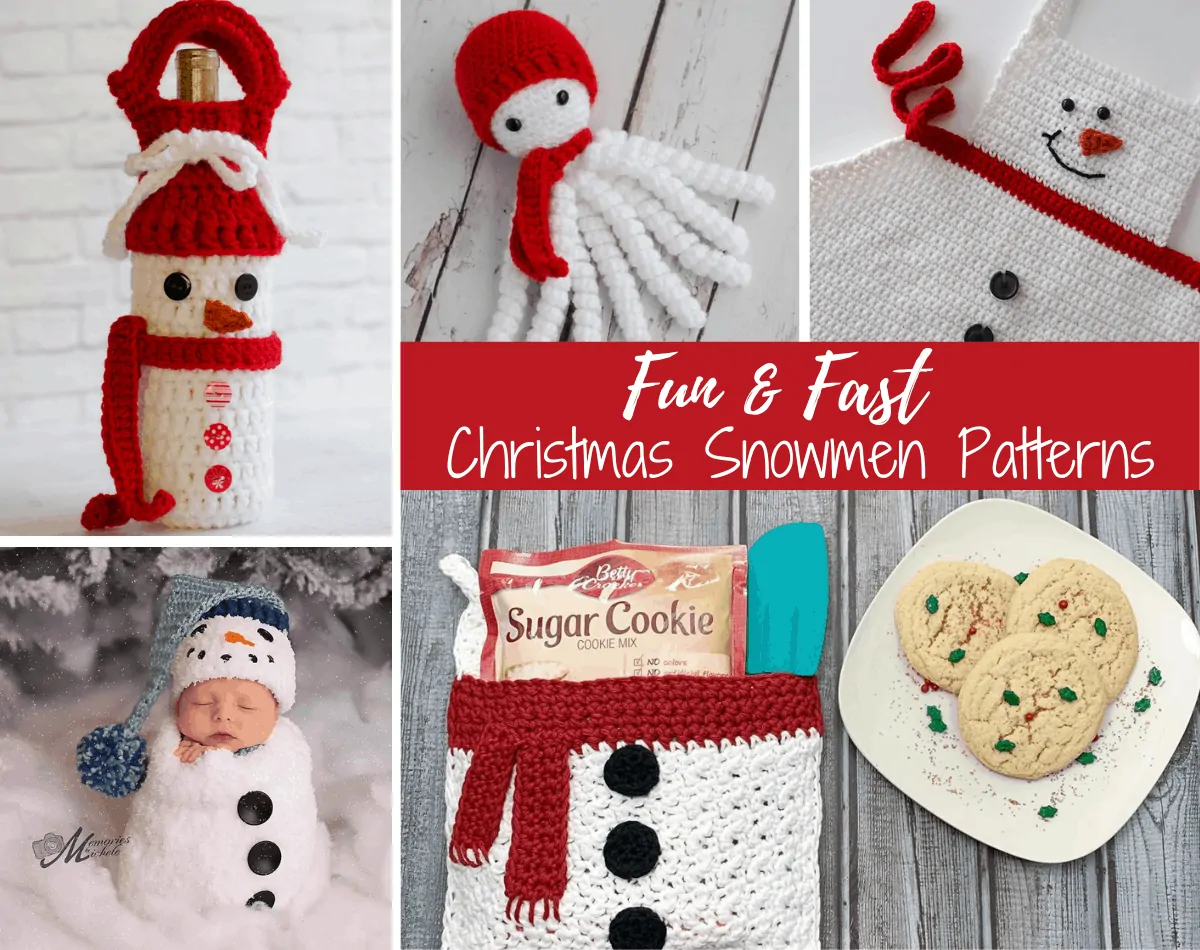 Crochet snowmen speak to all the good things about winter. When the snow is just right –that sticky wet variety– it is immensely satisfying to gather a few of your favorite people and roll balls of snow into a big delightful snowman! It's a marvel really… this making of something from nothing and then decorating it with bits and things you find around.
Just like the 'actual' snow variety, crochet snowmen are guaranteed to bring a smile. It's one of the few crochet wonders that are expressed in so many different ways–from stuffed creatures to wearables to things for your home.
Features for Your Crochet Snowmen
Lets talk the essential crochet snowmen features and decisions you might want to make if you're going to make one of these crochet snowmen. First up.. facial features. A Carrot nose. This is seriously a universal characteristic.. but with a lot of wiggle room. You can crochet a carrot nose or buy a carrot shaped button like this one.
Eyes made out of coal is a traditional choice for the 'real' variety, so safety eyes or black buttons do the job nicely in these crochet snowmen patterns. And mouth options vary from no mouth at all, to an embroidered smile to a series of dots which can be made with fabric paint or buttons.
A scarf is almost (but not quite) mandatory and you'll find many of these crochet snowmen have one. And something to set off the top is what really makes these crochet snowmen special… whether a stocking hat style, a top hat, ear muffs or just a crochet element that "feels" like a hat is the perfect finishing touch.
Let's dive into the best crochet snowmen…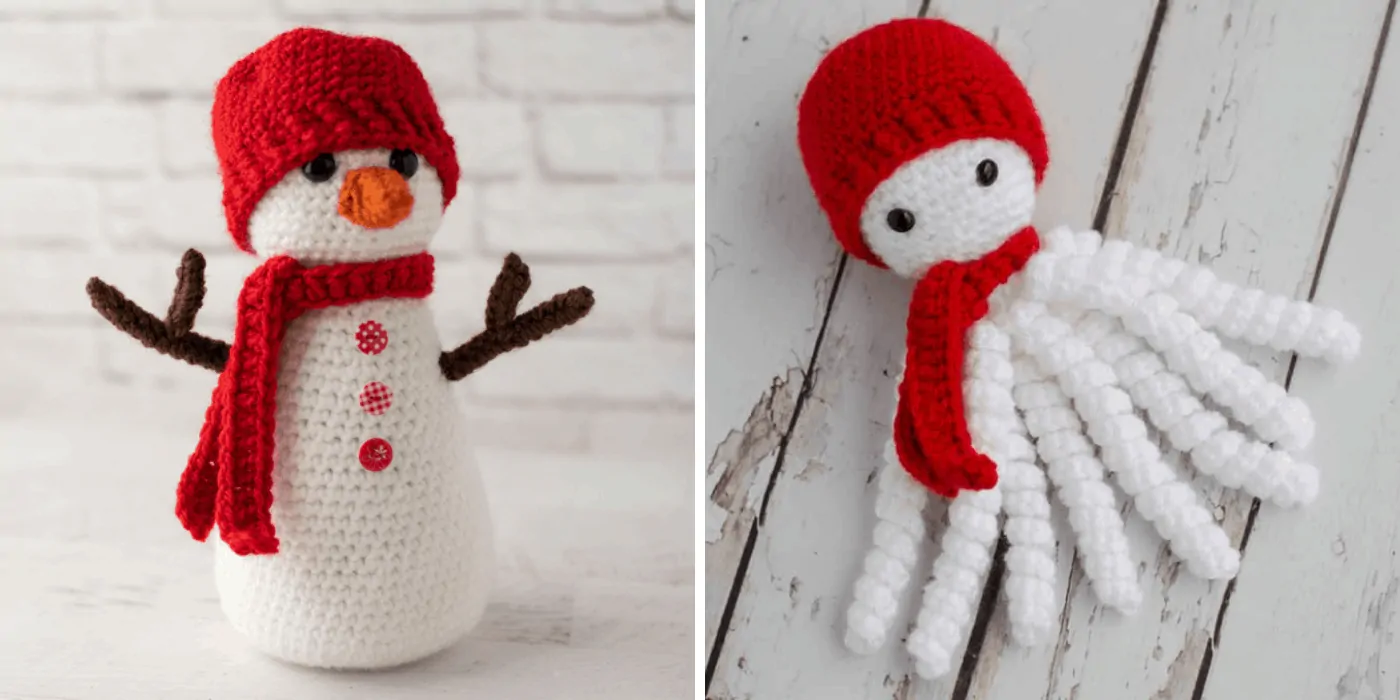 Is it awful to say that my FAVORITE snowman is my own design? Check out my free and adorable crochet snowman pattern here!
And don't forget the baby! This adorable Snowman Octopus is perfect for the littlest of littles.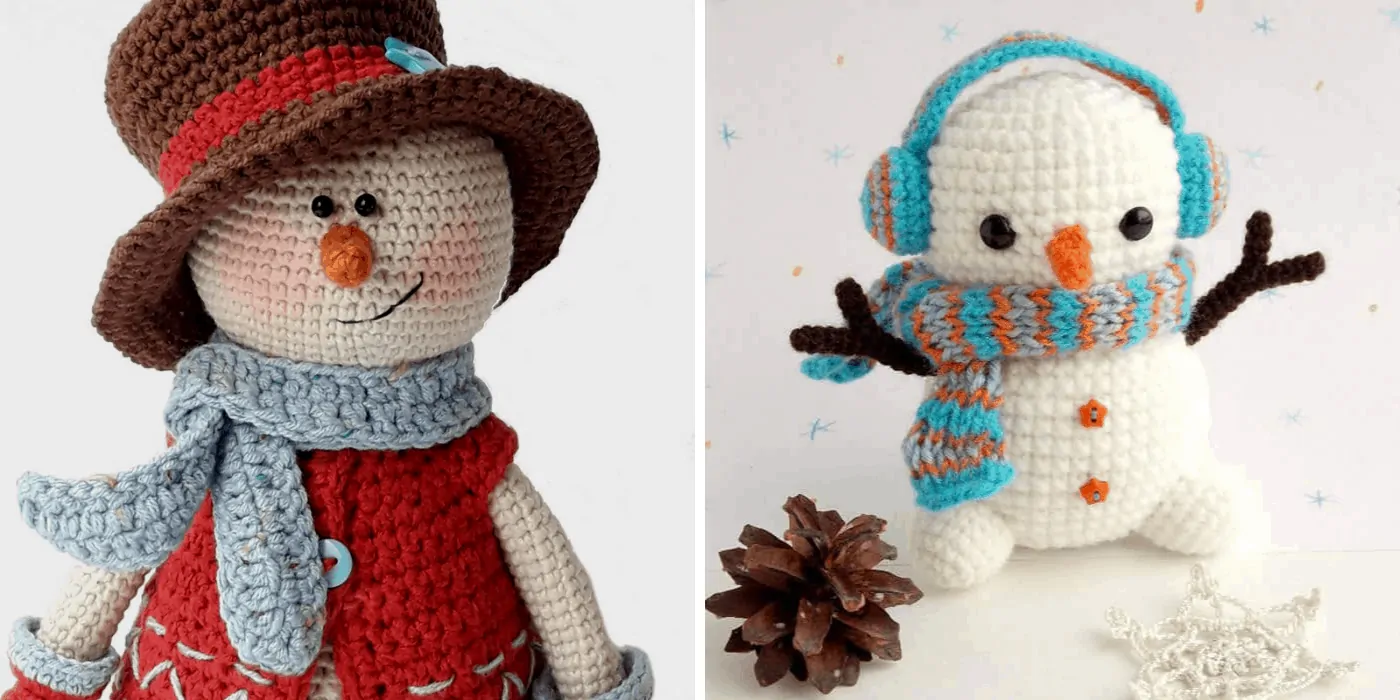 This blushing Amigurumi by Knit a Miracle just warms my heart!
I can't get enough of these headphones on Amigurumi Today's cutie! And those star buttons? So cute!
Don't forget the crochet home decor! Crochet Snowmen abound for your home life!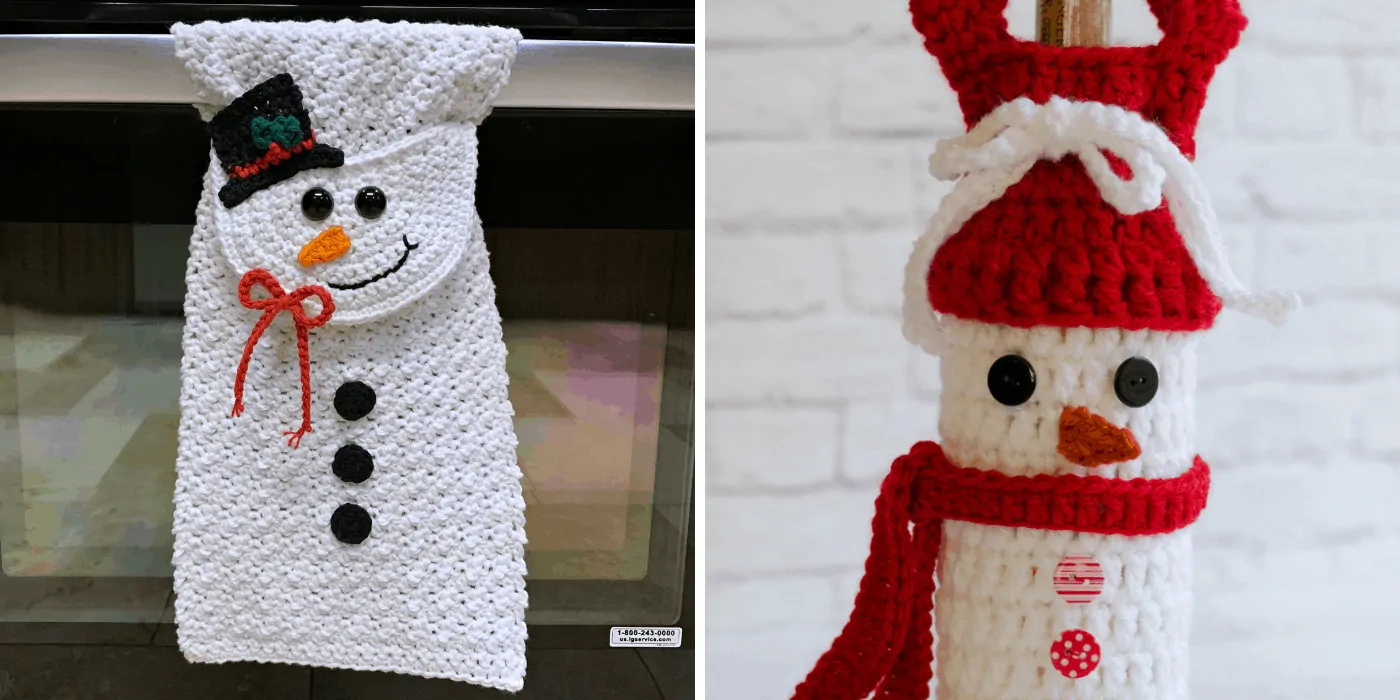 A Crocheted Simplicity has this adorable Kitchen Towel that brings a fun festive spirit to any culinary gathering! My Snowman Wine Cozy is perfect for a Christmas party or just jazzin' up your own home. You might even like surprising a friend with a porch drop gift!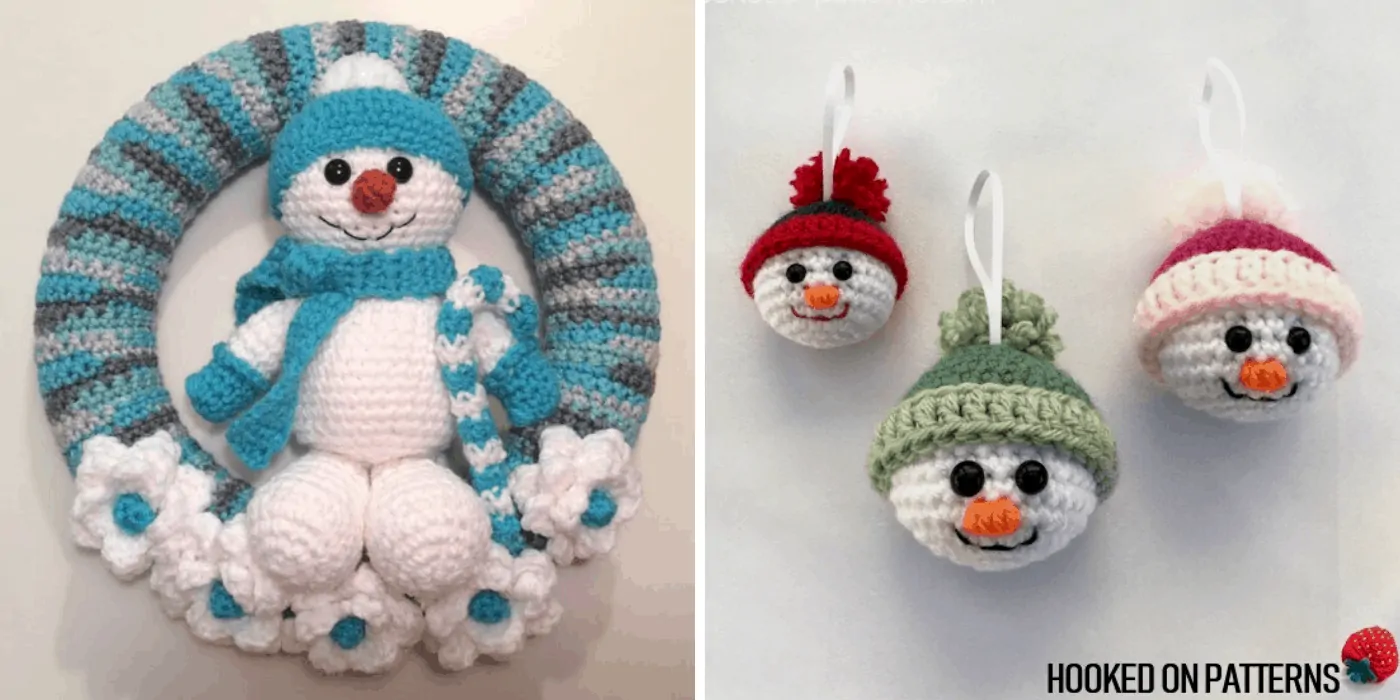 Who else needs this Winter Wreath by Teddy Wings greeting their holiday guests at the door? I know I do!
These Baubles by Hooked on Patterns are great for using up some holiday project scrap yarn! I especially like the little noses on these guys!
What about crochet snowmen wearables? I've got you covered there too!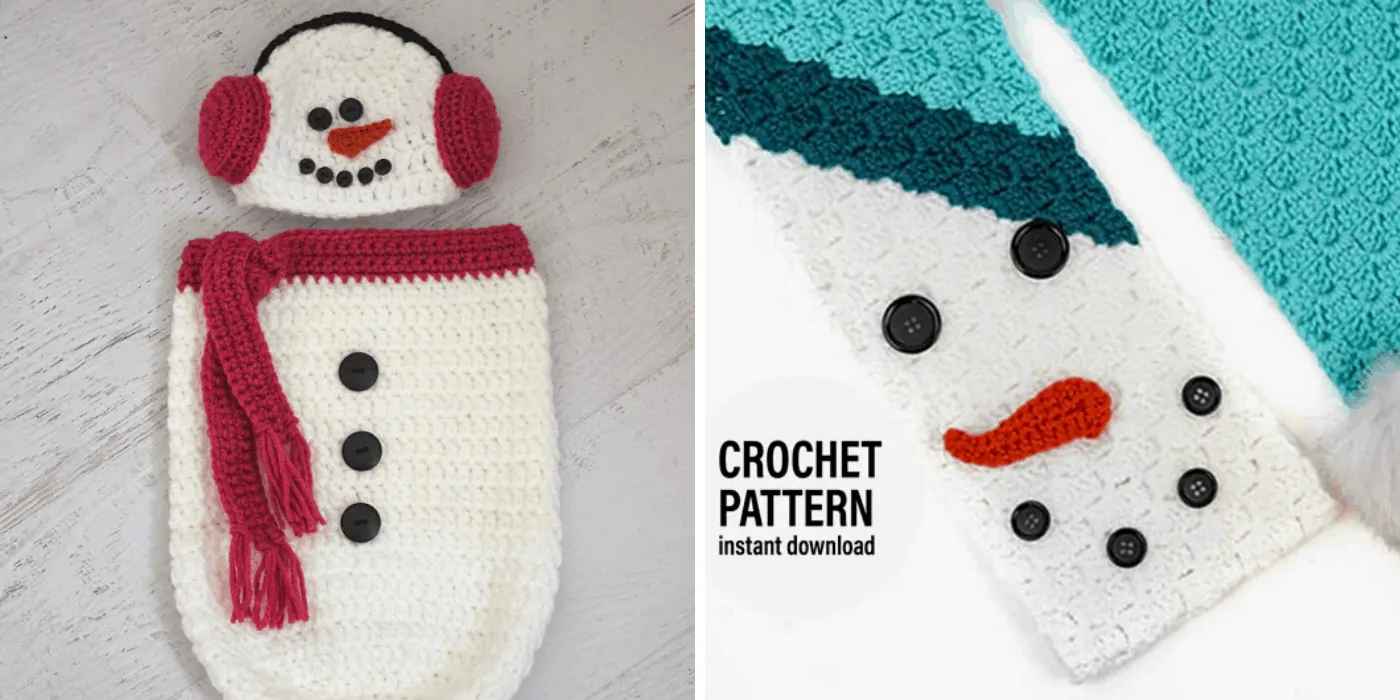 I need to find a little guy to scoop up into this adorable Ear Muff Hat and Cocoon by Repeat Crafter Me! Soooo darn cute!
And for the older kids at heart, how about this adorable C2C Scarf from Winding Road Crochet's this holiday season?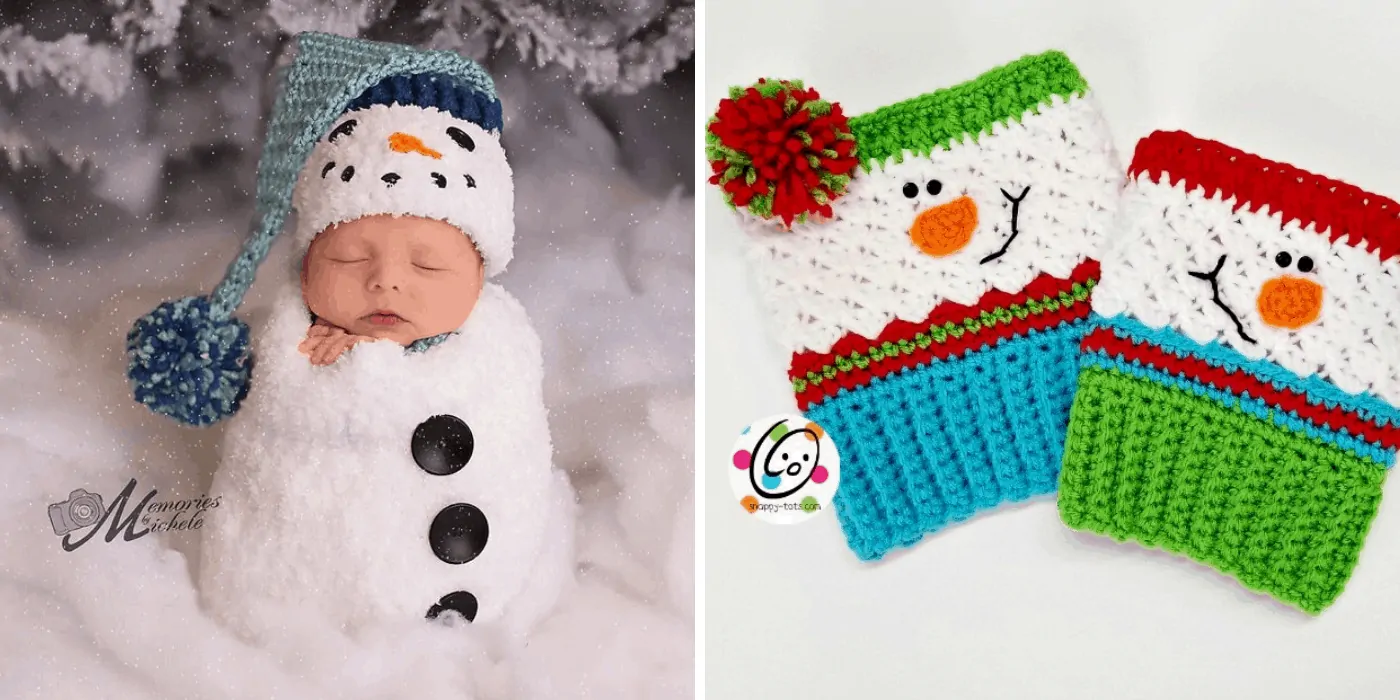 There is no such thing as too big a pom pom for this Newborn Hat by AMK Crochet! Kind of jealous . . . that baby looks snug as a bug!
These Boot Cuffs by Snappy Tots have such fun and vibrant colors! Great for matching or mixing! What adorable crochet snowmen!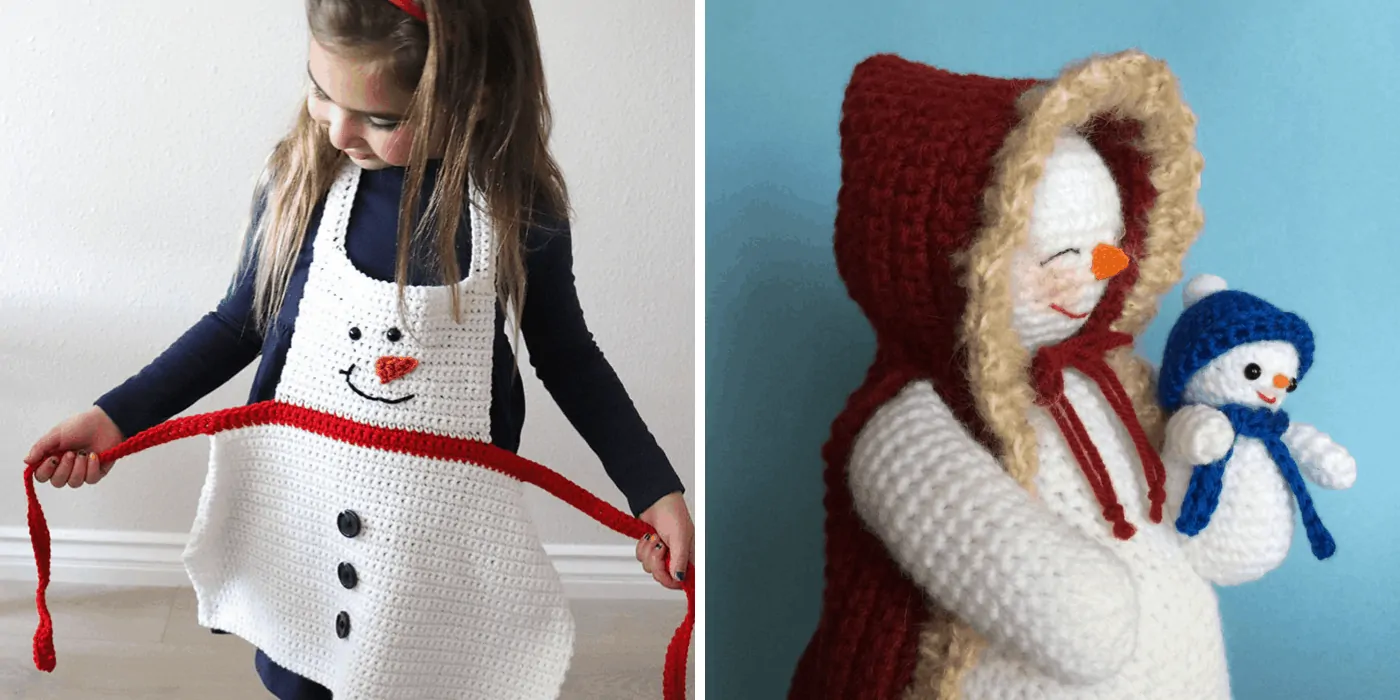 The kiddos will be begging to help out in the kitchen with this Adorable Apron by Repeat Crafter Me! Maybe they'll do the dishes too . . . wink, wink.
Warning: cuteness overload! Check out this Mommy and Baby by BVOE's Store! Their little faces just make me smile.
What do you think? Are you ready to rock your crochet universe with these adorable crochet snowmen?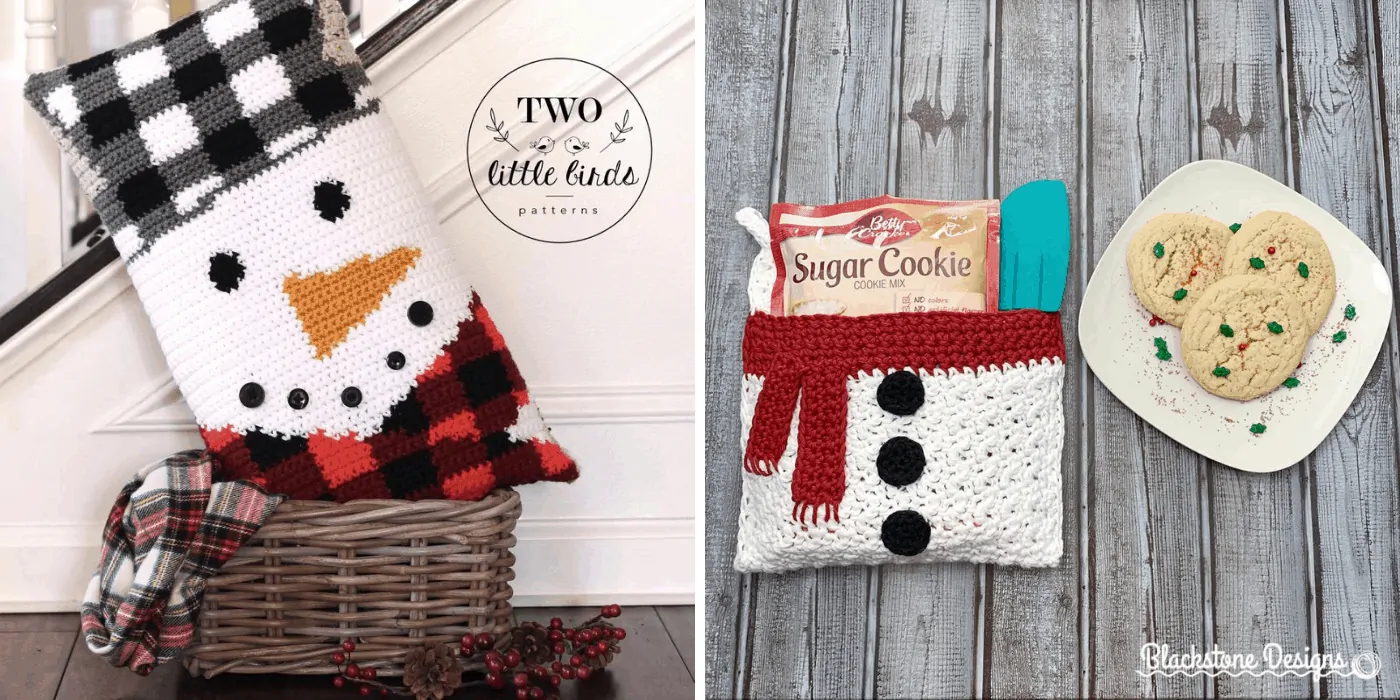 Need a classic crochet project to decorate your house this holiday season? Try out this Cute Pillow by Two Little Birds Patterns! Who else is a sucker for plaid?
This Adorable Pot Holder by Blackstone Designs is genius! A fun pocket for gifting a cookie mix.. so fun!
Did you love this journey through all my favorite crochet snowmen patterns? Are you having a hard time deciding which one to make first?! The struggle is real… but oh so fun!
More Crochet Christmas Patterns
If you love these Crochet Snowmen patterns, you might also like to check out these other Crochet Christmas Patterns:

1. Santa Wine Cozy // 2. Crochet Star // 3. Granny Christmas Tree
I love seeing your finished projects! If you enjoyed making these Crochet Snowmen I'd love to see yours on Instagram, be sure to tag me @crochet365knittoo. If you are on Facebook, stop over to the Crochet 365 Knit Too Facebook page or pop over to the Crochet365KnitToo Club and share a photo! I'd love to see your work!