Spectacular Crochet Gingerbread You'll Love to Make
This post may contain referral/affiliate links. Please read my disclosure for more info.
Crochet Gingerbread! Whoever decided that the deliciously spicy warm smell of the holidays needed to be translated into crochet was a genius!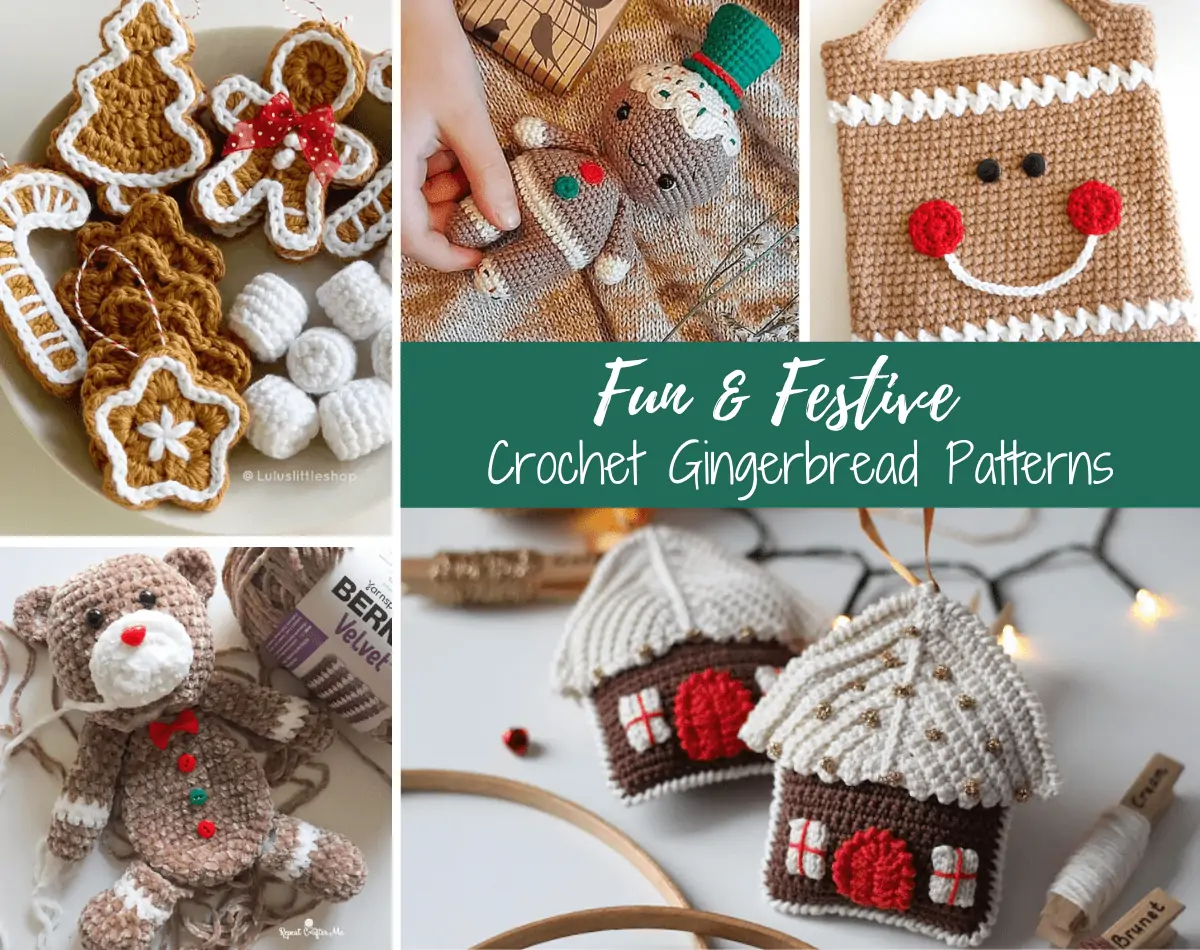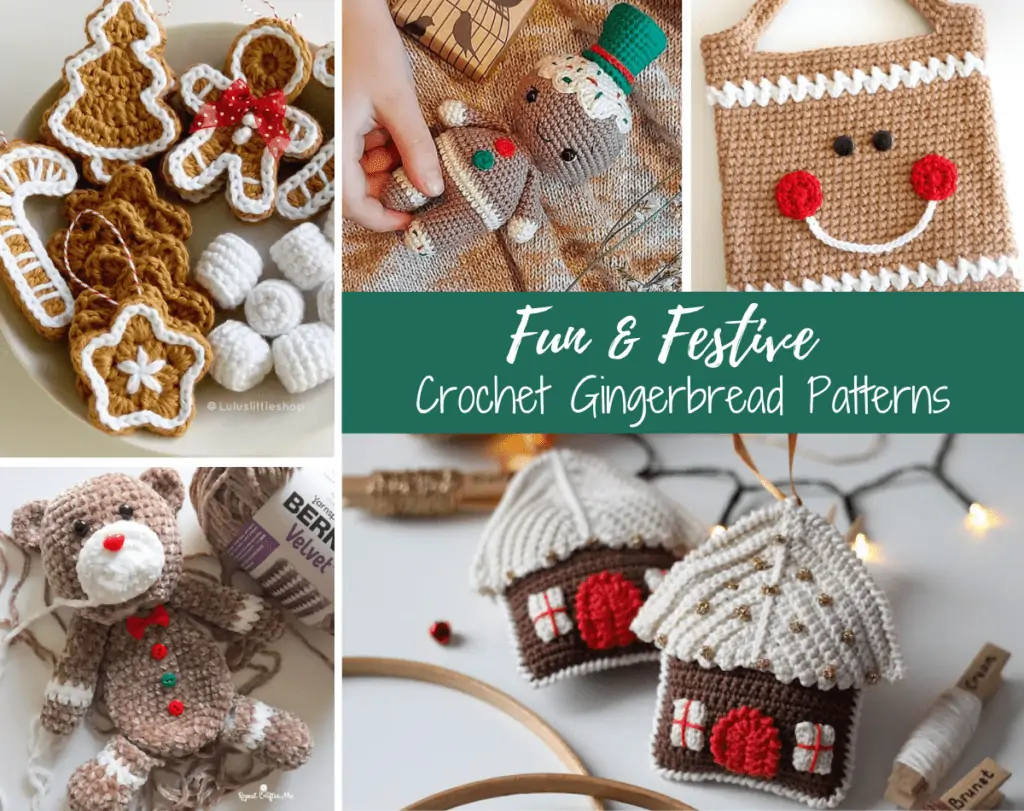 I mean, let's think about it. The perfect cozy, warm shade of brown yarn matched with the endless white yarn deliciousness we almost always have in our stash pile! Perfect!
I started a crochet gingerbread house a few years ago before our move and set it aside for other things. The other day I looked up at a high shelf in my craft closet and there it was, like a little beacon of crochet joy!
I've already done the tricky parts, the cardboard foundation and crocheting each house piece out of light brown yarn to fit perfectly in place. It just needs all the finishing touches: the crochet white icing, a candy cane or two. Maybe even a Christmas Tree nearby to round out the scene. Delicious!
Best Crochet Gingerbread Patterns
Let's dive into my favorite gingerbread crochet patterns just waiting for your crochet hook!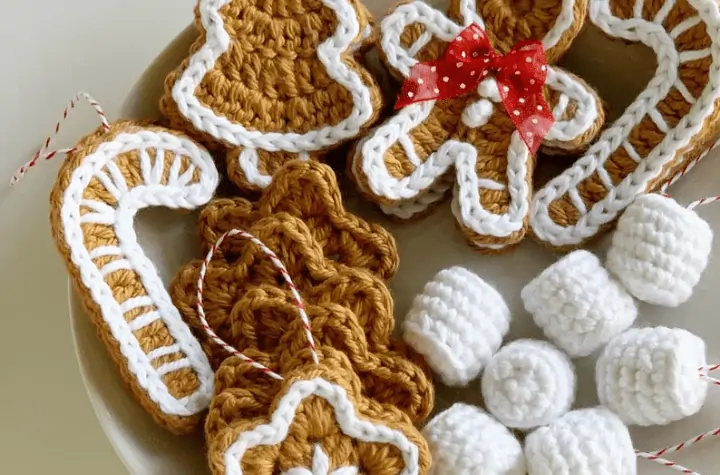 I just want to gobble up all of these delicious cookies from Lulus Little Shop! This delicious no-calorie crochet cookie set crochet pattern features 5 crochet charts for fun and fast crocheting. The pattern calls for some glue and I'd recommend a fabric glue over hot glue to keep the flexible feel of the project.
These would look great on your Christmas tree, on a wreath or garland, or as a cute addition to your holiday decorating! I especially love the darling gingerbread man with his cute red bow and stitch detail!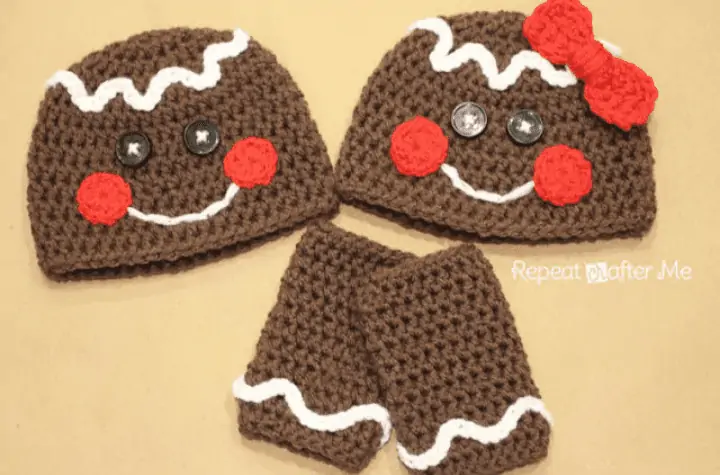 This darling beanie and legging crochet gingerbread set from Repeat Crafter Me is so cute! This free crochet pattern comes in multiple sizes so you can make a hat for everyone in the family! I love the button eyes and crochet icing detail! This would be so fun to stitch!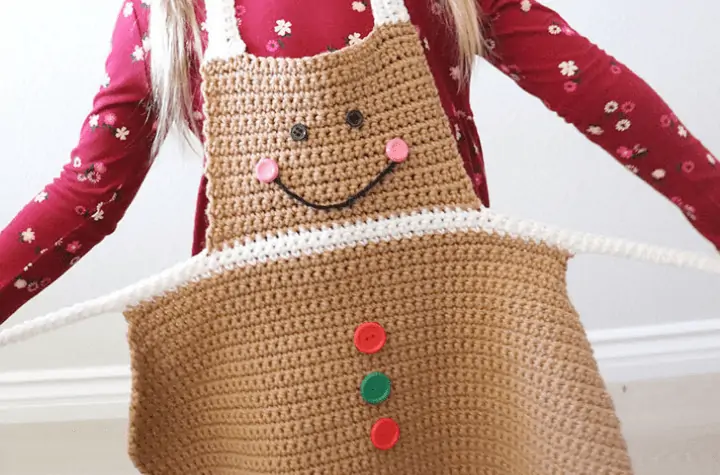 Who wouldn't want to bake some yummy Christmas cookies in this gingerbread apron from Repeat Crafter Me? This free pattern uses beige yarn and white yarn and fun buttons for easy embellishing! I especially love the use of black yarn for the little smiley face. It's also a fun project if you prefer turning and working row by row instead of in the round!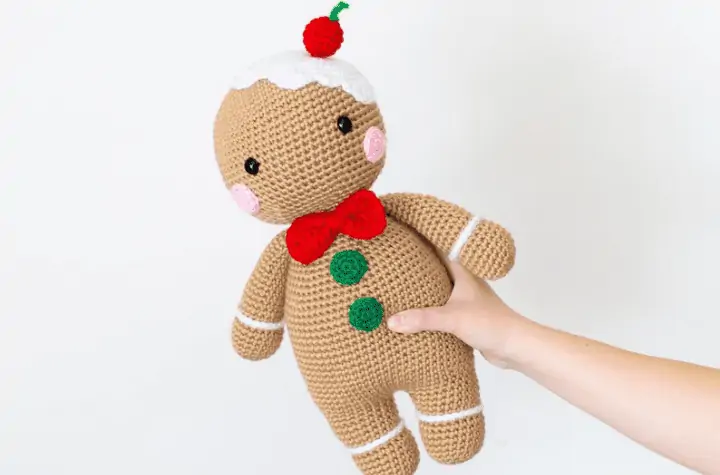 I can just imagine cuddling up by a fire on Christmas morning with Bunnies and Yarn's beautiful crochet gingerbread man. This gingerbread man crochet pattern uses worsted weight yarn and each row is worked in the round in single crochet stitches. The gingerbread man is a bit bigger than most, turning out to be just under 14″ when done.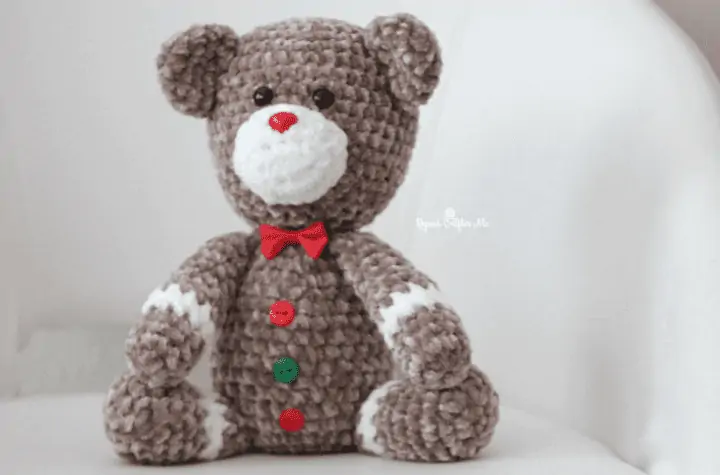 This teddy bear looks SO SOFT! Repeat Crafter Me has hit it out of the park with a teddy bear that leans in a gingerbread direction. I love him! He would be such a fun crochet project!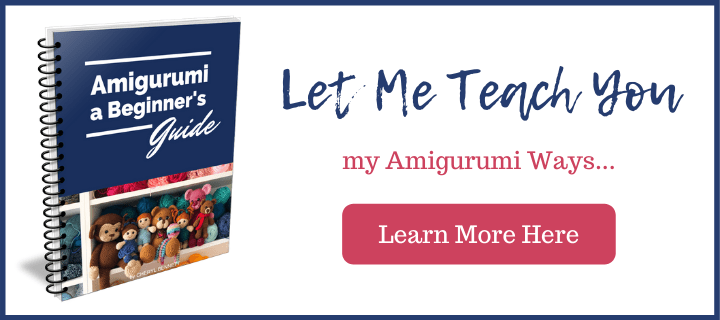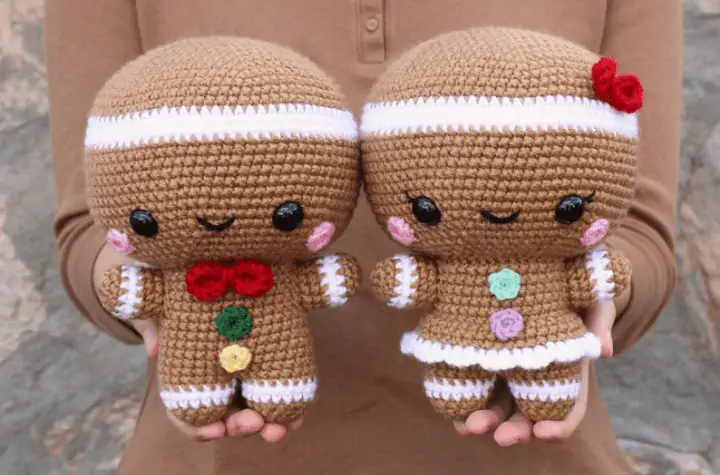 I love these big gingerbread heads on the little bodies! This pattern by Storyland Amis is such a cute idea for a gingerbread man and gingerbread lady! This crochet pattern would be great for Christmas!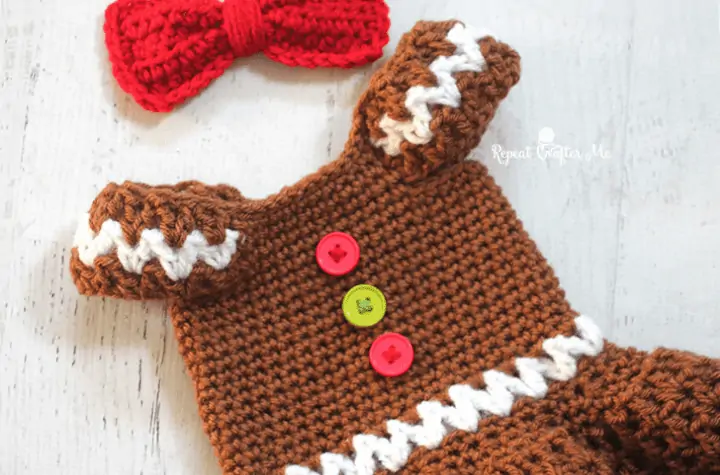 I wish this gingerbread dress by Repeat Crafter Me fit me! I love the clever use of the V stitch in white to make the icing! This pattern features worsted weight yarn and is sized to fit a 2T to 3T, however, the designer gives some direction for sizing if you wish to make it a bit smaller or bigger. Maybe the best part, this darling crochet gingerbread is a free pattern!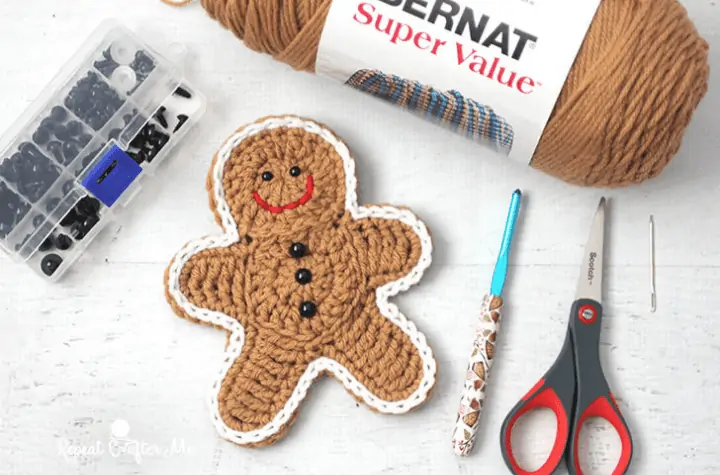 If you're looking for an easy, quick crochet gingerbread man, Repeat Crafter Me has you covered with a classic and traditional gingerbread man pattern! Plus, it's a free pattern!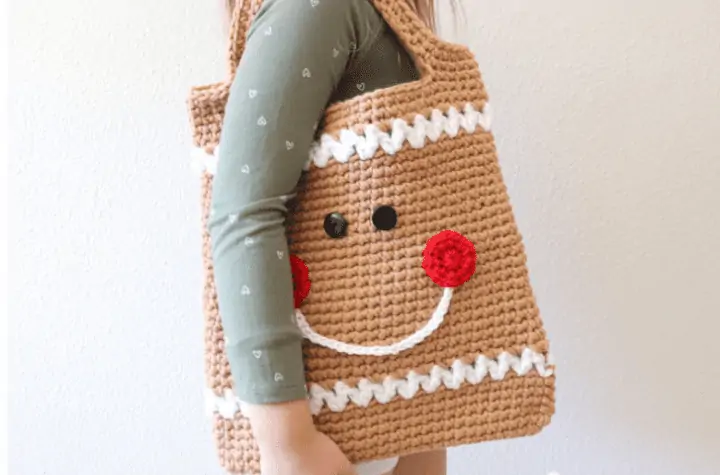 What would you put in this bag by Repeat Crafter Me? Endless possibilities! This is perfect for an adult or a child! Crochet gingerbread on the go!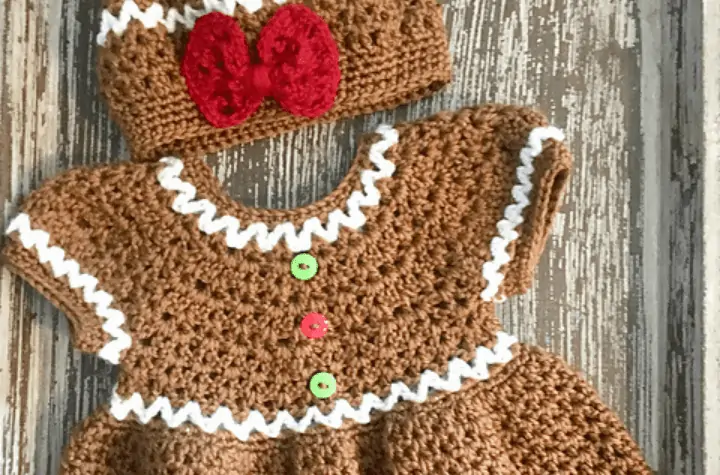 I can't decide what I love best. The darling dress with its zig-zag crochet icing or that sweet little beret! My Full Hands and Heart has such a cute little gingerbread outfit! The pattern fits sizes 3 months to 4T and uses worsted-weight soft baby yarn. Crochet hook size varies according to dress size. Adorable!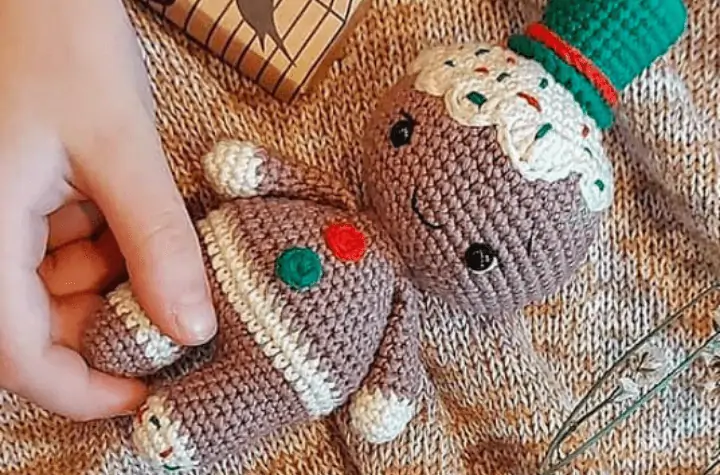 How can you resist Lovely Craft's gingerbread man with this top hat? I love this spin on the traditional crochet gingerbread man!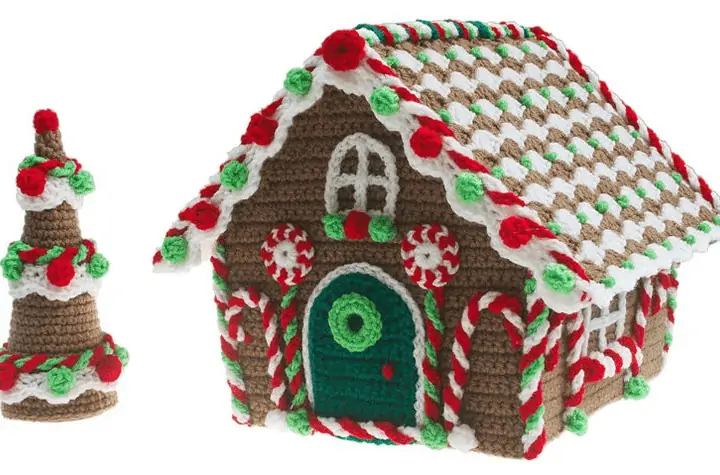 Don't you just love candy cane season? I can smell the peppermint goodness of Gourmet Crochet's gingerbread house through this picture! I love the simple Christmas tree and all the details on this fun crochet gingerbread house!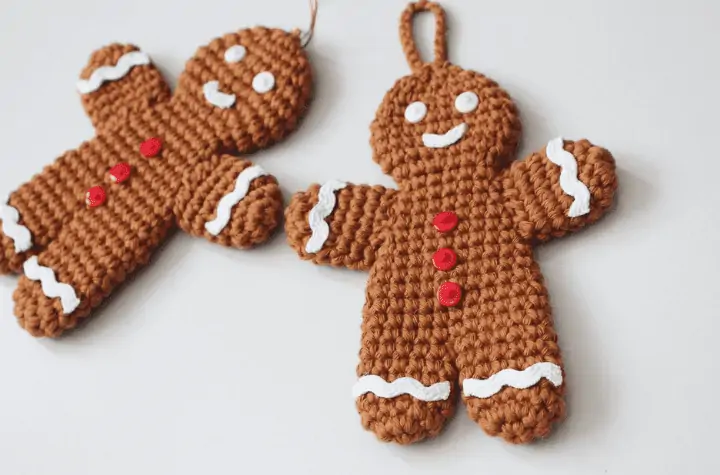 Need a traditional crochet gingerbread ornament? I Heart Gantsilyo has got your back! I like how this gingerbread people pattern is essentially an unstuffed amigurumi.
This pattern is designed to be crocheted in separate pieces, so work the first leg, then the second leg, then the rest of the body in one piece. Then crochet the first arm and second arm and sew them onto the body! Easy peasy! Just an evening with yarn and hook and a few minutes with your tapestry needle to sew in an end or two along with sewing on the buttons and trim pieces.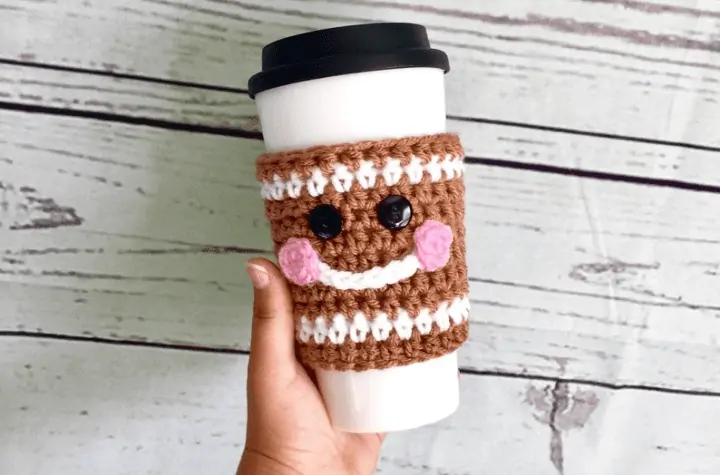 Ready for your favorite seasonal coffee drink? Not without Okie Girl Bling n Things' gingerbread travel mug cover! The color changes are easy to do since this is worked in rows.
This is a fun and fast crochet make using simple stitches and very few ends to weave in at the end! The simple eyes and embellishments are easy to add with a yarn needle and yarn and add the final touch! So grab your hook and bust out a Christmas gift or two or keep it for yourself. I won't tell!
MORE HOLIDAY PATTERNS
If you love Crochet Gingerbread Patterns, you might also like to check out these other patterns for the season:

1. Snowman Wine Cozy // 2. Easy Crochet Star // 3. Elaine the Elf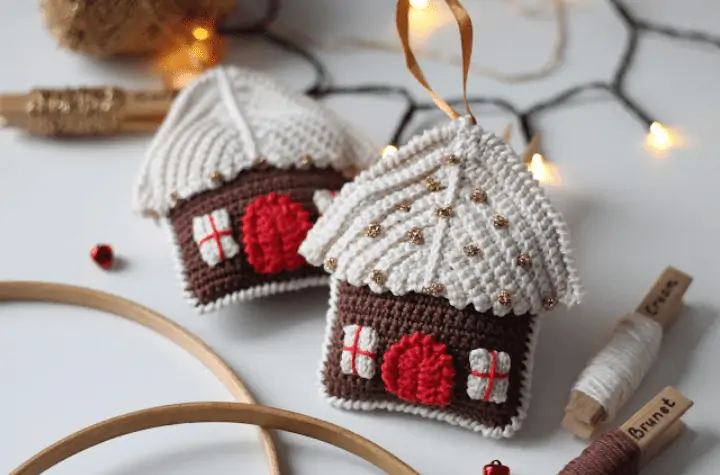 I love the little gold speaks in Knitted Story Bears' gingerbread house ornaments! So classy and fun! This would be a great scrap yarn project for Christmas gift-giving!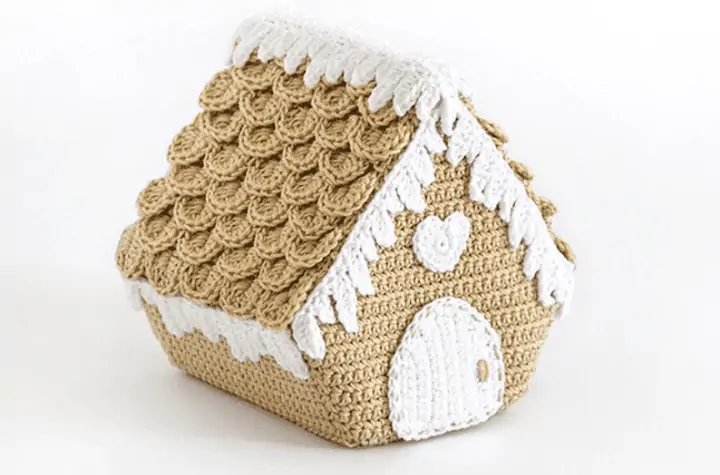 I love the dragon scale stitch look Airali Design uses for this roof! How creative! You also could change out the color of the door and heart if you're looking for a more traditional Christmas color scheme.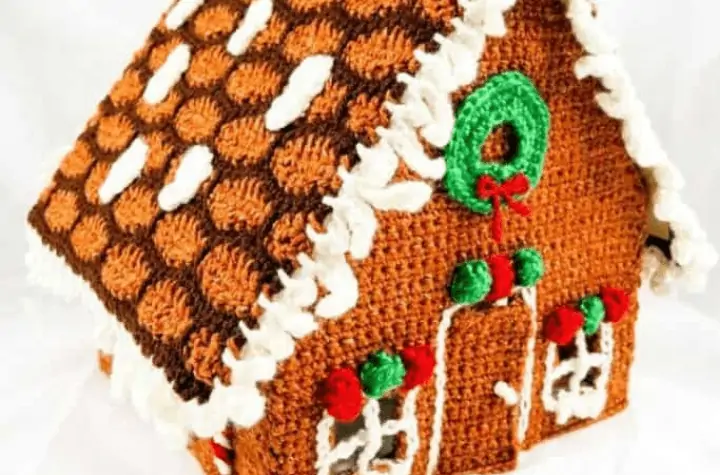 I want to live in this gingerbread house! Nicki's Homemade Crafts offers this fun and easy-to-make Gingerbread house. I especially love the stitching on the roof, adding dimension without a lot of extra crochet time!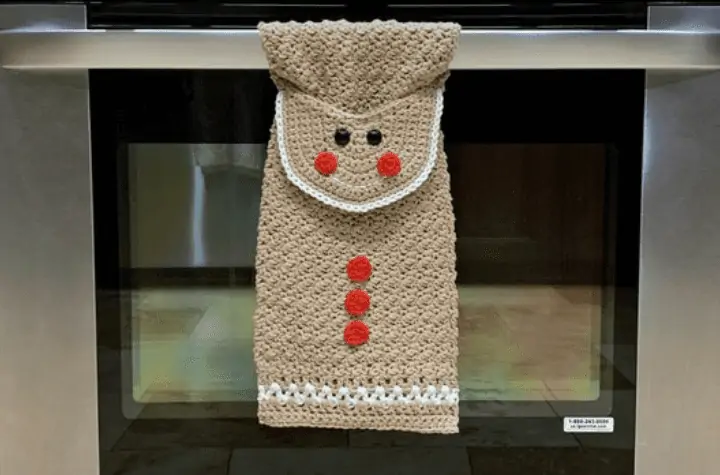 Looking for the perfect kitchen decor for that Christmas party? A Crocheted Simplicity has got the project for you! I made this cutie as a gift last year and it was a big hit. I used the same cotton beige yarn as in the crochet pattern and it turned out perfect!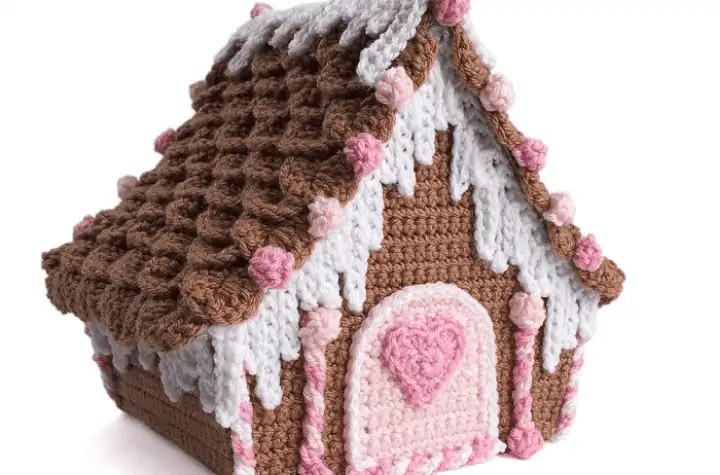 This gingerbread house by Pink Mambo looks like a fairytale! After finishing each crocheted piece, be sure to leave a long tail for sewing the pieces together. This is the darling crochet gingerbread that sits half-finished on my closet shelf! I need to decide if I want to go with the pink yarn in the pattern or switch up the yarn to more traditional Christmas colors. Decisions. Decisions.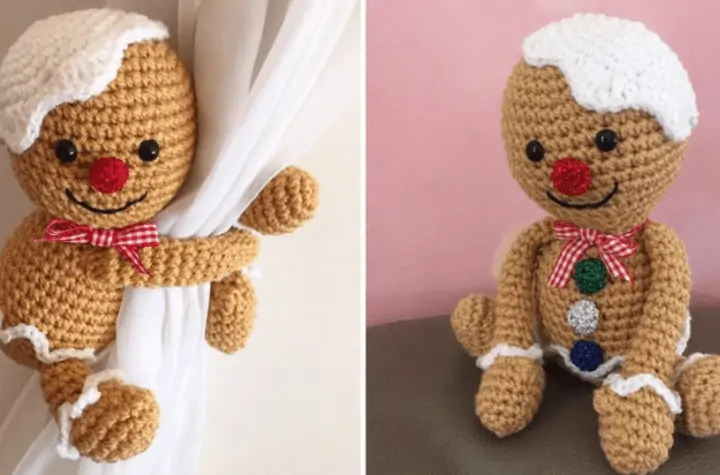 I need this gingerbread man holding up my window curtains yesterday! Cosy Patterns might just have the most adorable crochet gingerbread man idea ever! I love the darling eyes. This one would be fun to stitch! Too, too cute!
Whatever crochet gingerbread pattern strikes your fancy, it's very easy to get started. A toasty brown color and white worsted yarn weight from your favorite brands like Bernat, Red Heart Super Saver, or Hobby Lobby I Love This Yarn is easy to find and knowledge of a few basic stitches like single crochet (sc), half double crochet (hdc), double crochet (dc), chain and slip stitch will cover most of what you need to know. A Crochet Gingerbread man, woman, or house is perfect for the holiday season!
I love seeing your finished projects! If you enjoyed making a crochet gingerbread project, I'd love to see yours on Instagram. If you are on Facebook, stop over to the Crochet 365 Knit Too Facebook page or pop over to the Crochet365KnitToo Club and share a photo! I'd love to see your work!