Crochet Tree Skirt Patterns That Sleigh
This post may contain referral/affiliate links. Please read my disclosure for more info.
It's time to start feeling the holiday spirit with a stunning tree skirt crochet pattern that will absolutely steal your breath away! Honestly, each of these patterns is beautiful for different reasons, so you're sure to find one that suits your fancy.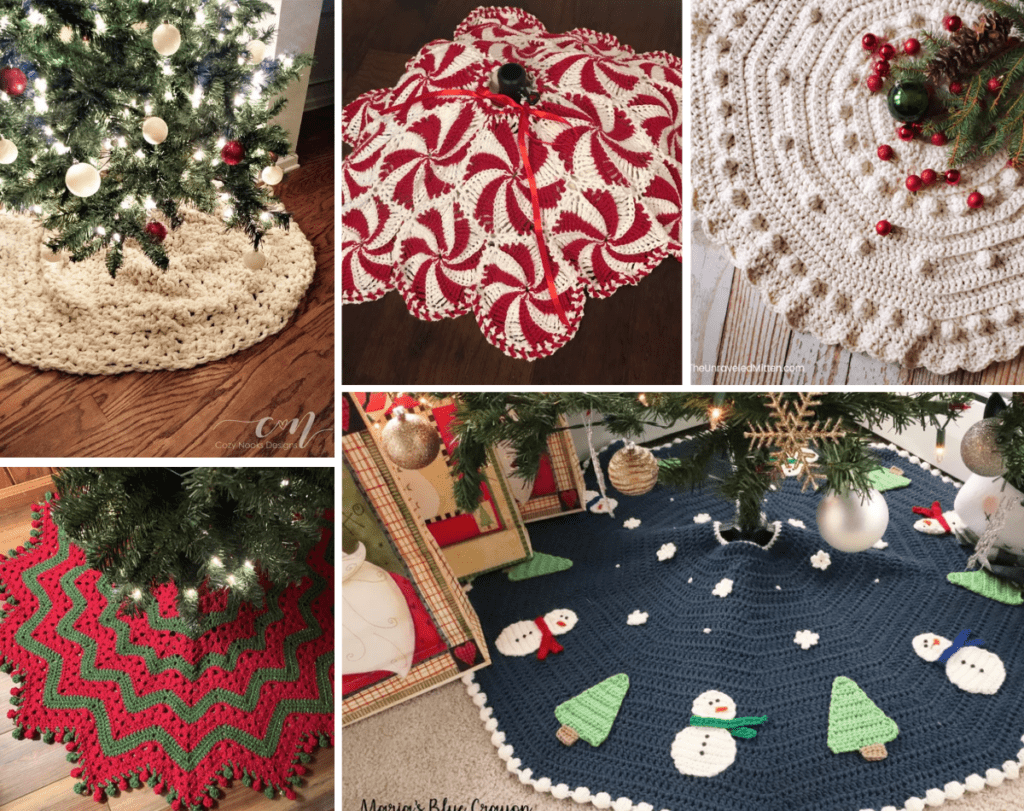 Feeling traditional red and green or do you lean more towards a modern feel? Whichever way you lean, these stunning crochet tree skirt patterns are sure to be the perfect compliment to your Christmas tree!
Most of these patterns use a variety of basic crochet stitches, so make sure that you know how to work a single crochet stitch, double crochet stitch, and slip stitch (sl st). These adorable tree skirts are just a few steps away.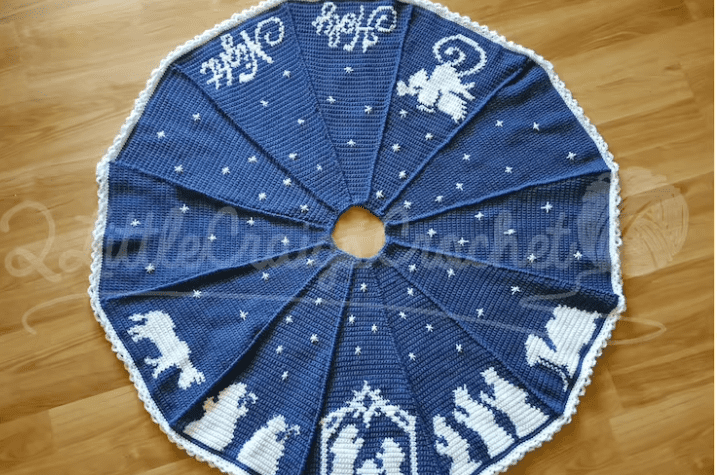 This Crochet Christmas Tree Skirt by 2 Little Craigs Crochet features an absolutely beautiful nativity scene that you're sure to love. If you're a fan of circular tree skirts, this one's finished size measures about 48″ in diameter.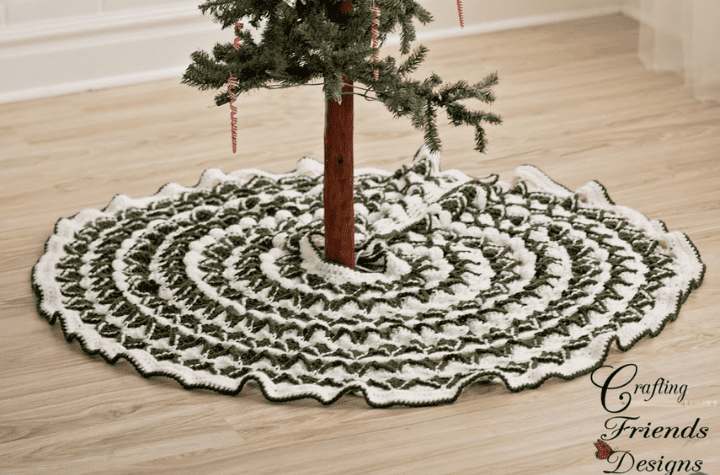 Sometimes, you really want a subtle tree skirt that adds to the beauty of your Christmas tree, not takes away from it. This gorgeous crochet pattern is by Crafting Friends Designs and it turned out simply stunning!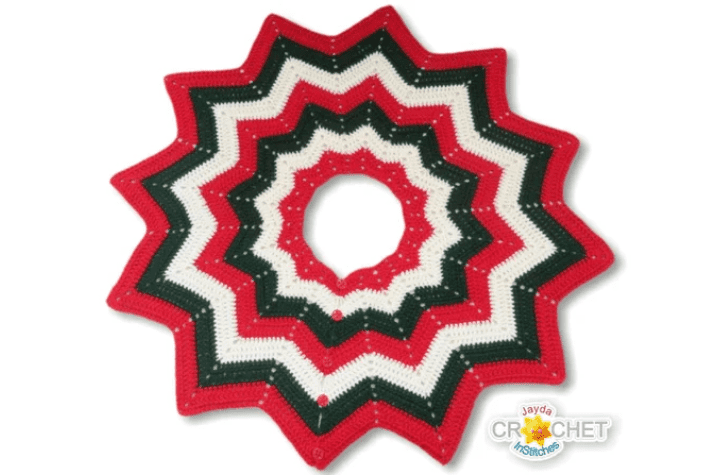 If you like to mix it up a bit when it comes to your tree skirts, the twelve-point star skirt by Jayda In Stitches is going to be a perfect option for you. This pattern only requires you to know simple crochet stitches, so this quick pattern is a perfect beginner-friendly tree skirt option.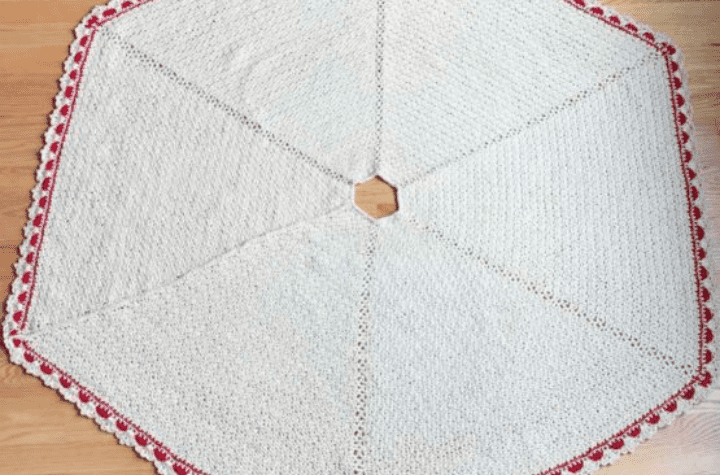 The Textured Tree Skirt pattern by Stitches N Scraps is so stinking cute! I love the little bit of detail that goes into this beautiful skirt. This post is a free pattern, but it does include some special stitches, so be sure to check that out before starting.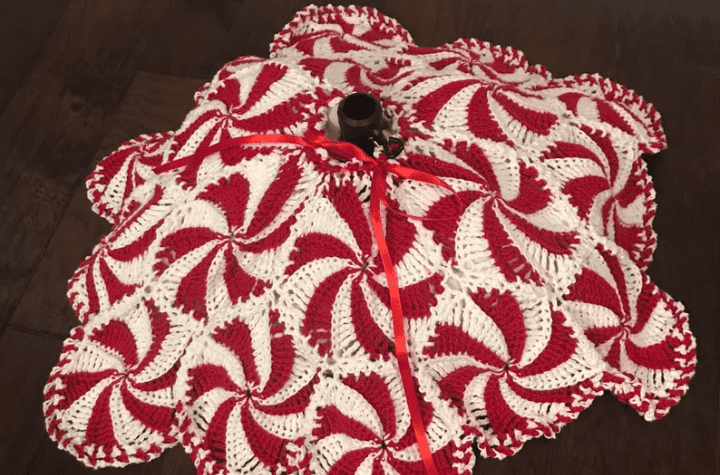 Maybe it's just me, but peppermint always reminds me of Christmas. I really love this Peppermint Swirl Tree Skirt by Crafts by DD and it includes options to make it into a blanket pattern, coasters, and a potholder pattern.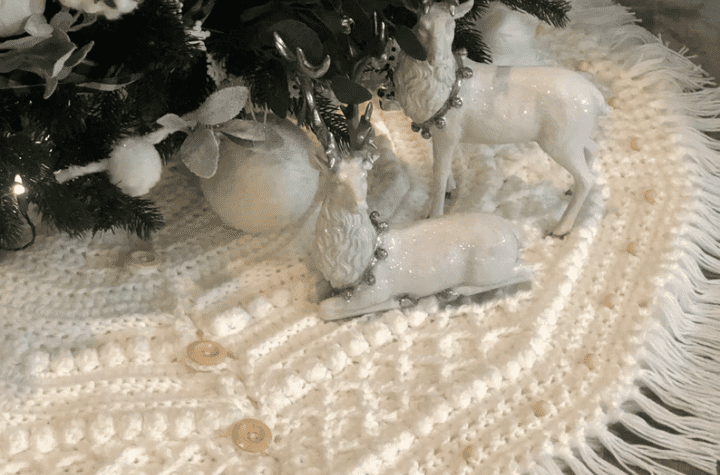 If you tend to lean towards a more modern style, the Boho Tree Skirt by tldotcrochet is perfect. This pattern is specifically for artificial trees so it has only a 2″ diameter hole in the center.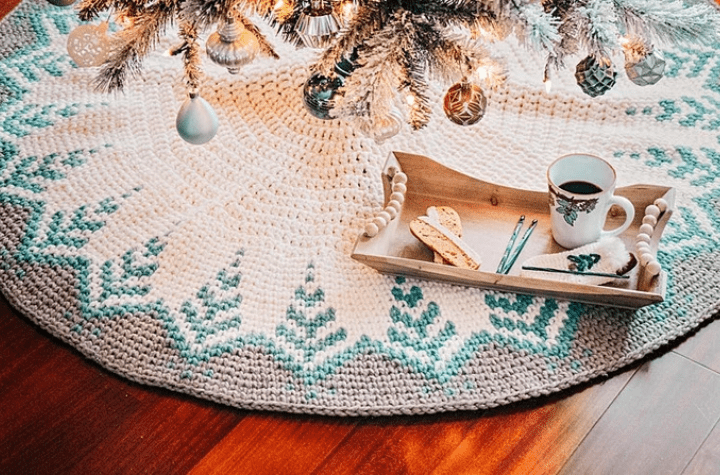 I love the simple elegance of the Pine Crochet Christmas Tree Skirt by Briana K Designs. This pattern adds just some small pops of color to really keep the focus on the tree itself.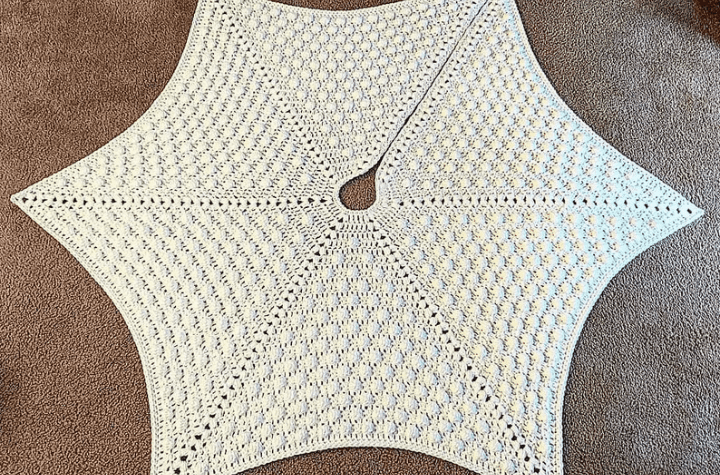 There's never been a better reason to bust out the bobble stitches than this gorgeous tree skirt crochet pattern by In Stitches by Nicki. I love the all-white yarn with a bit of texture to make it still stand out. If this doesn't get your crochet hook itching to get crafting, I don't know what will!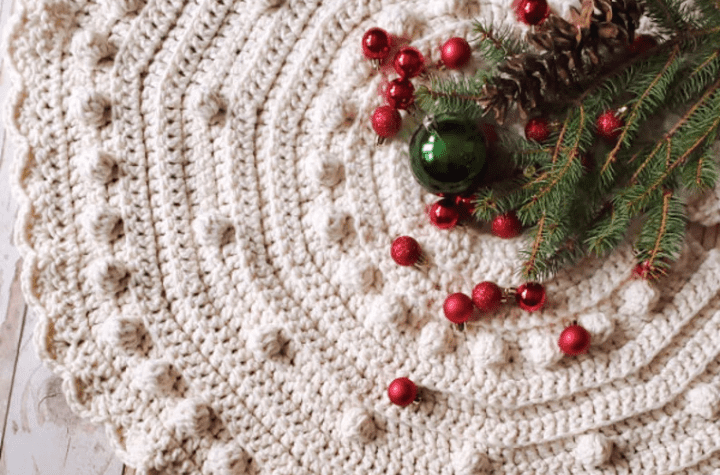 I love a reason to get out the chunky yarn, especially if the pattern is this pretty! The Unraveled Mitten created this stunning Chunky Bobbled Christmas Tree Skirt and I think it turned out beautifully. This pattern also comes in three different sizes, so it will be perfect no matter the size of your tree.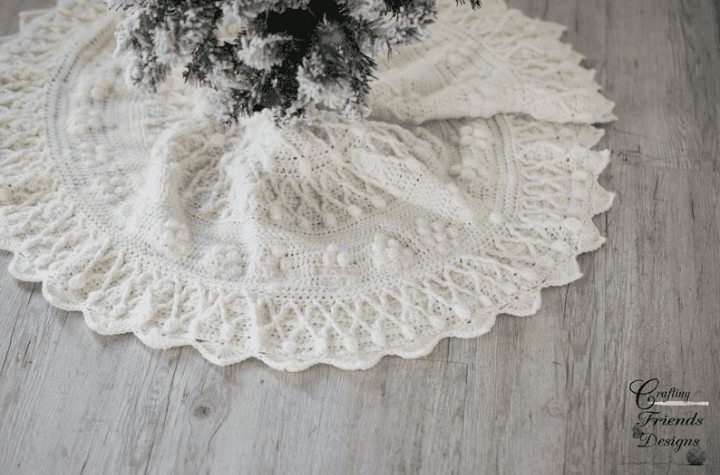 The Royal Christmas Tree Skirt by Crafting Friends Designs will definitely let you work on a variety of special stitches which will make this a very fun crochet project if you are wanting to level up your crochet game.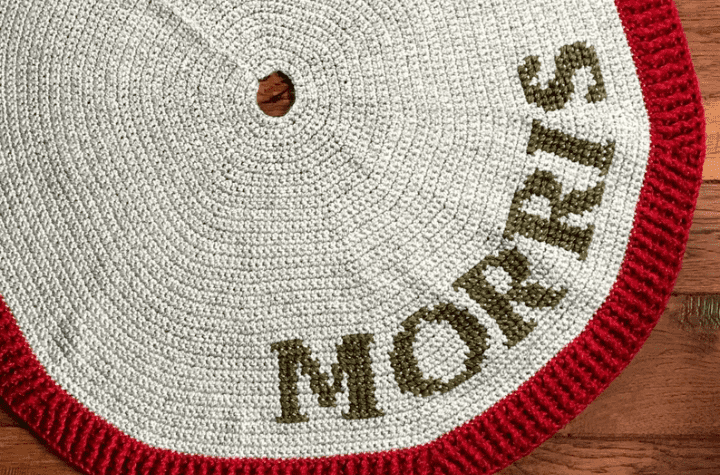 Honestly, don't we all love some monogrammed items? This tree skirt by Remington Lane Crochet includes a chart that will teach you how to add letters to this super cute pattern to give it a more personalized touch.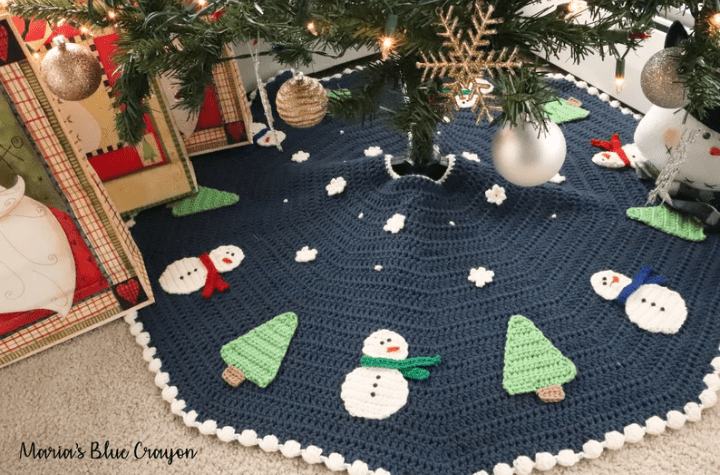 The little snowmen and trees on Maria's Blue Crayon tree skirt are just too stinking cute! I just love the look of this pattern so much, I think the little snowflakes were a good touch.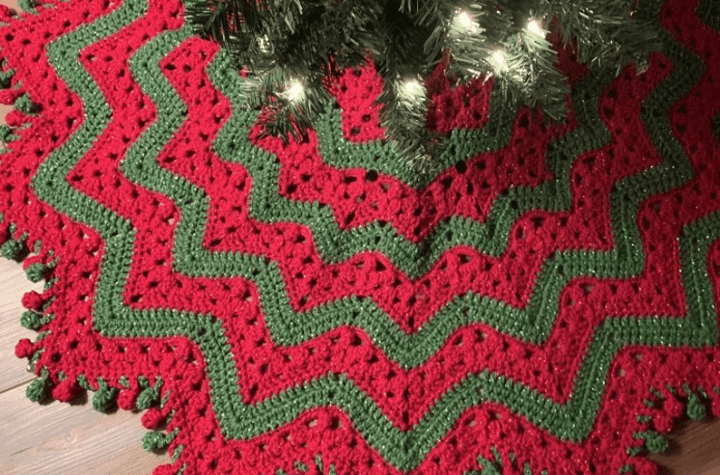 The pom pom edge on the Star Holiday Skirt by Betty McKnit is so adorable. The green and red yarn definitely really encompasses the holiday season vibes.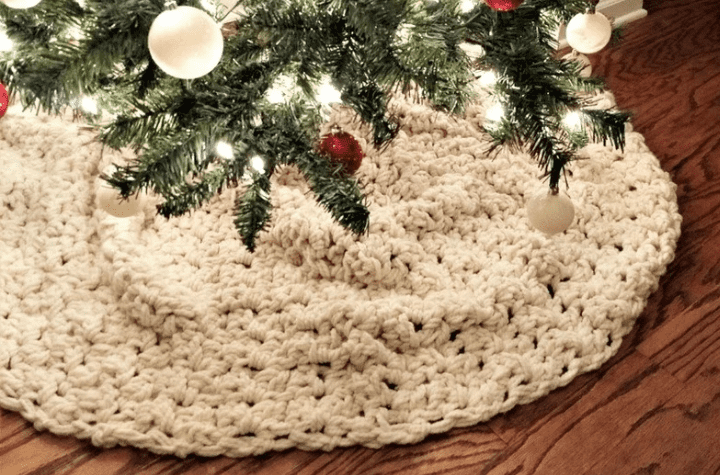 For some reason, when I look at this pattern by Cozy Nooks Designs, the base of the tree looks like it's covered in snow, which I kind of love. So, if that's something you'll think you enjoy, this may just be the pattern for you!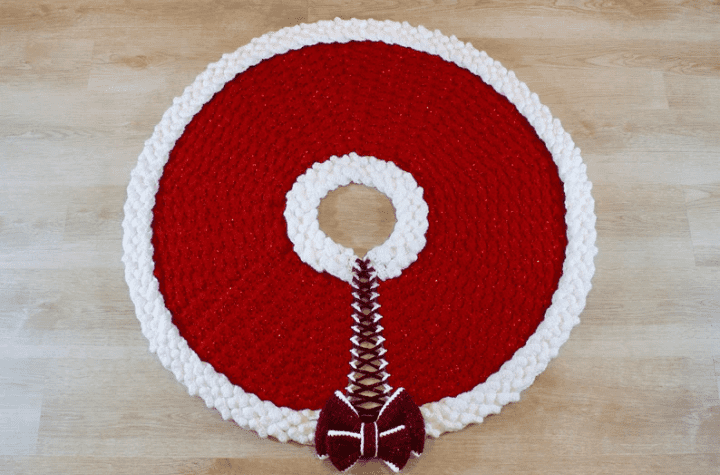 This pattern by Bri Abby HMA reminds me a bit of a wreath and honestly, the bow is an absolute show stopper! How can you resist?
I love seeing your finished projects! If you enjoyed making one of my patterns I'd love to see yours on Instagram, be sure to tag me @crochet365knittoo. If you are on Facebook, stop over to the Crochet 365 Knit Too Facebook page or pop over to the Crochet365KnitToo Club and share a photo! I'd love to see your work.