Best Crochet Nativity Sets To Make This Christmas
This post may contain referral/affiliate links. Please read my disclosure for more info.
A crochet nativity set warms my heart like no other during the Christmas season, so I had to share some of the best crochet nativity patterns that you'll absolutely love making this holiday season.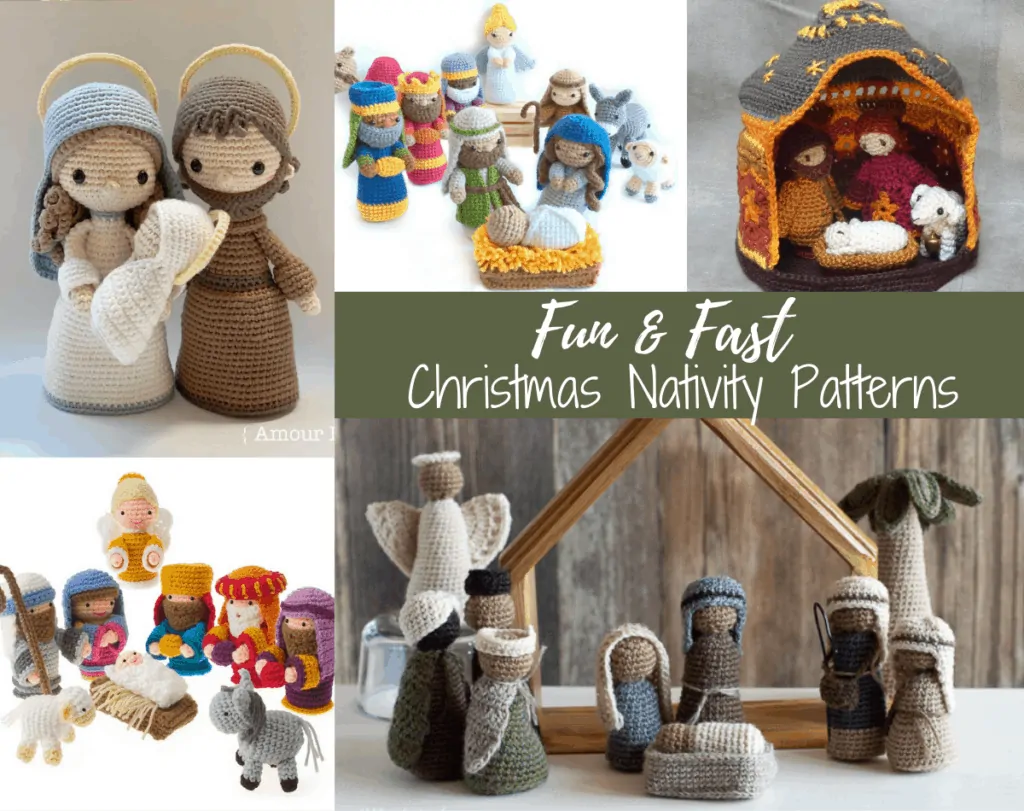 There's always room for an extra crochet nativity, I always say. Maybe you want a crochet nativity set that children can touch and play with to bring meaning to the season, or maybe you would just like to add a little something special to your holiday decor. A gorgeous nativity set might be the perfect addition to make this year!
If you've ever shopped for a nativity set, you know that there is a wide assortment of pieces available, of course, Mary, Joseph, and baby Jesus are in all the sets. But some of the other pieces can vary. Some nativity sets have 3 kings and sometimes not. Sometimes there are multiple shepherds and other times just one shepherd. And the assortment of animals varies too.
When I was growing up, our family nativity set had a cow… but I hardly ever spot a cow in modern manger scenes at all!
If you are making a crochet nativity set, it's helpful to think about the size of your crochet nativity. Do you want the main 3 piece holy family and no more? And how many of the other pieces are important to you? It's also helpful to look at how many inches tall the pieces are. Will they fit in your designated stable? Or will you be displaying them on their own without a stable? Will they fit on your mantle or table or display area?
If you're just getting into amigurumi (crochet stuffed toys) or if you're looking to perfect your making, be sure to grab my best amigurumi tips:
Let's talk about the time factor for crocheting a nativity scene. I know I sometimes get excited and think I can do all the crochet things, and then it gets to a couple of weeks before Christmas and I realize I need to pare back… way back.
How can you gift a crochet nativity set when you really don't have the time? I suggest prioritizing your makes. Start with Mary, Joseph, and Jesus. At the end of the day, the holy family is the 3 most important pieces of the set.
If you have time, then make the angel too. If not, that becomes next year's project. Then group the rest of the set as you have time to finish them. Maybe the 3 wise men are one year's stunning gift. The animals and shepherd can be another year's gift.
The important thing is to remember the reason for the season and that you can still have a lovely crochet nativity even if it's not all the way complete.
Holy Family Crochet Nativity Patterns
To celebrate my favorite time of the year, here are my absolute favorite crochet nativities you might enjoy crocheting this season. Since these are small patterns, you can get away with using some balls of leftover yarn and just change up some colors to match what you have left.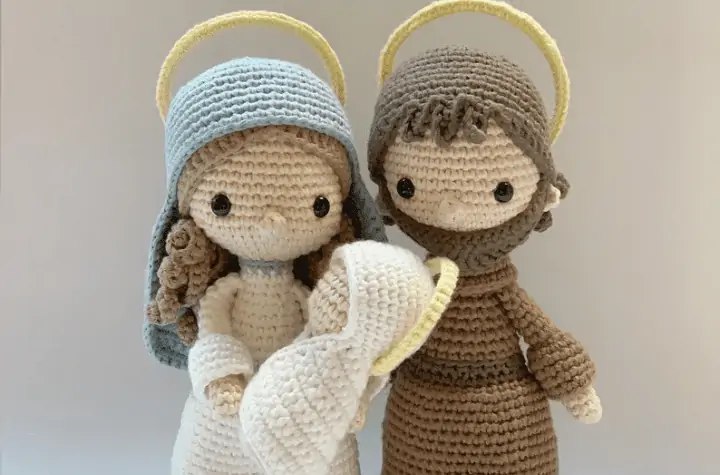 This simple amigurumi nativity set is precious! I just love the texture Amour Fou Crochet gave the hair! I love the halos (which is a rarity for crochet nativity sets). And I completely love the simple, classic style of this set.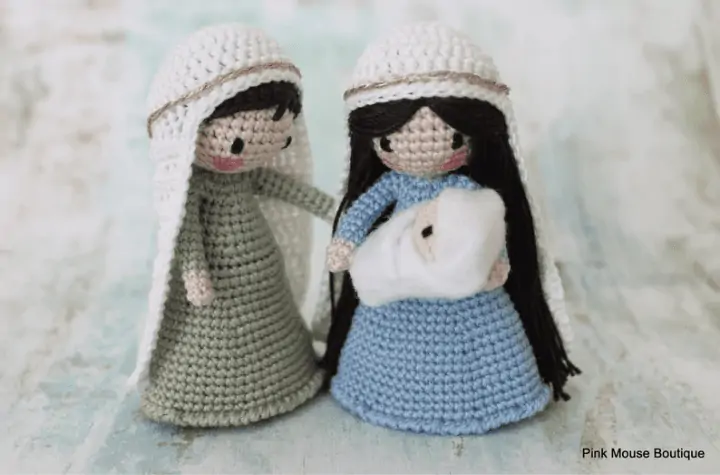 How about Pink Mouse Boutique's simple yet elegant Waldorf-inspired set? These nativity minis are so cute with the blush on their little cheeks and they just look like a very happy, holy family.
MORE HOLIDAY PATTERNS
Before we dive into even more crochet nativity patterns, Don't forget, I have even MORE holiday crochet to enjoy. You might like to check out these other patterns for the season:

1. Crochet Snowman // 2. Easy Crochet Star // 3. Elaine the Elf
Full Amigurumi Nativity Scene Crochet Patterns
If you're looking for more of the full scene with a crocheted nativity angel, some wise men, and maybe even a few animals, this will be the perfect holiday decoration for you!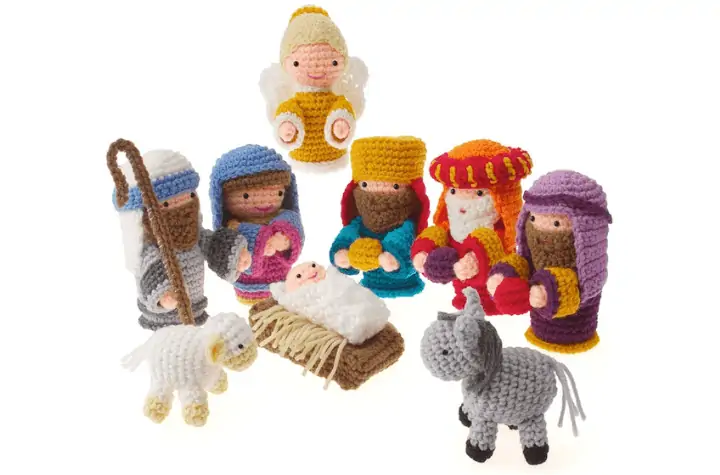 Oh my goodness, am I ever digging those wise men and their hats! Crochet Gourmet's Christmas Holiday Set is the perfect project to incorporate your love of crochet into your Christmas decorations this year! I love all the colors of yarn and I also enjoy the lacey vibe of the angel's wings.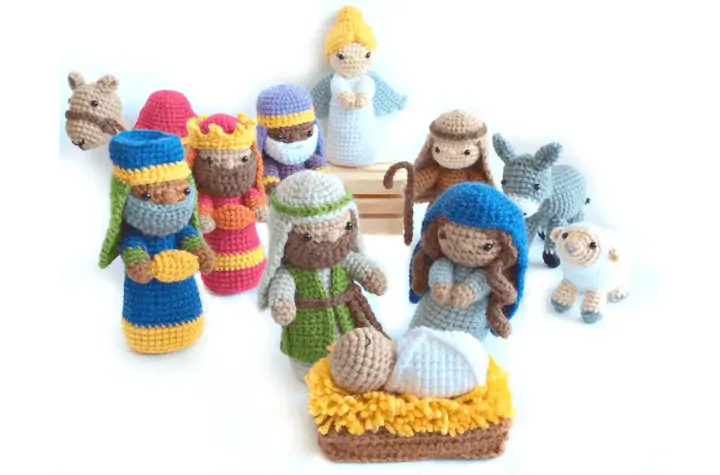 It was a tough choice, but Crochet to Play's set is on my crochet hook this year! Jennifer's designs are always so cute so this pattern could easily become your favorite crochet nativity set.
Would you check out those little curls on Mary's head? Sigh. You might notice that baby Jesus and the manger are a bit bigger in this particular set. That's done on purpose to keep the focus on the infant Jesus. I love that little bit of evangelization built into a crochet nativity set!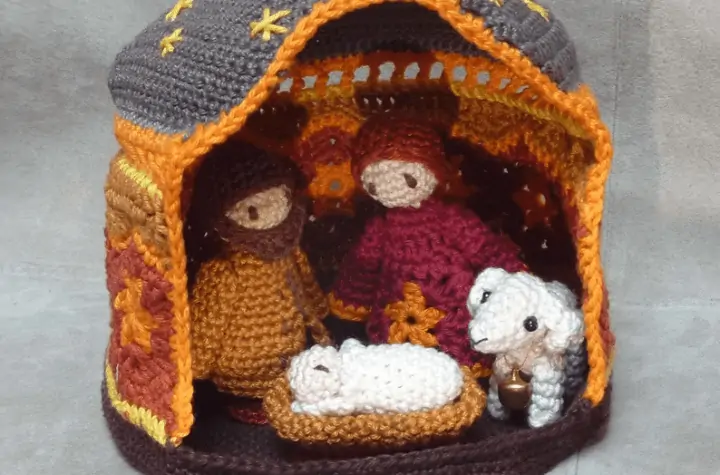 I love how Mamas Crochet Patterns even included a crochet manger in this adorable crochet nativity set! Such a fun use of warm earthy tones in this crochet nativity… makes me want to sit by the fireplace and get crocheting!
Plus, if you're planning out your crochet gift ideas, this pattern becomes even easier to gift since the stable pattern is already included.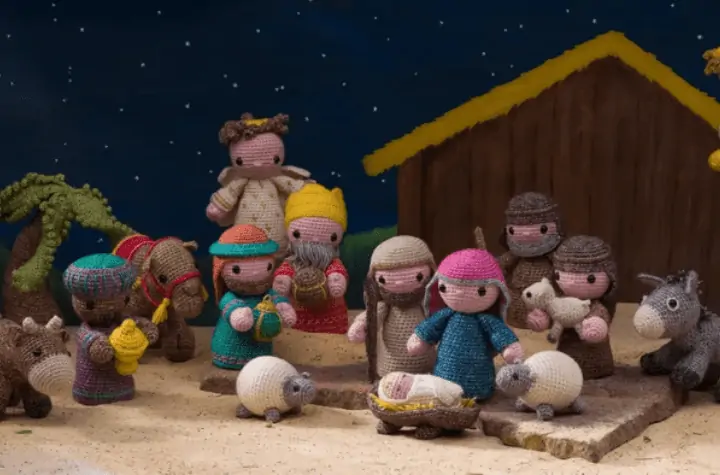 Amigurum isnl brought out all the bells and whistles with this gorgeous crochet Nativity scene. We have angels, we have wise men, fluffy sheep, a manger… and best of all? That adorable camel! I also love that there's an option to use shredded paper for hay. I must remember to pick some of that up for my own crochet nativity display!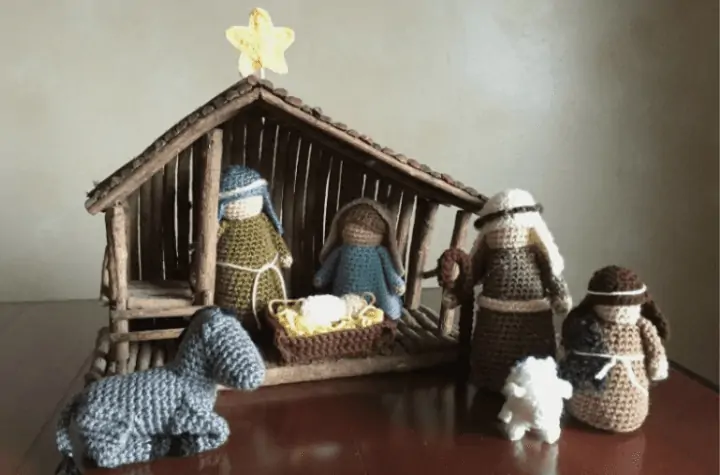 This nativity set by 5 Little Monsters has the cutest little donkey and sheep! I love the way the donkey sits too, it's just like the nativities I grew up with as a child! The Christmas Star above the stable is a nice touch as well.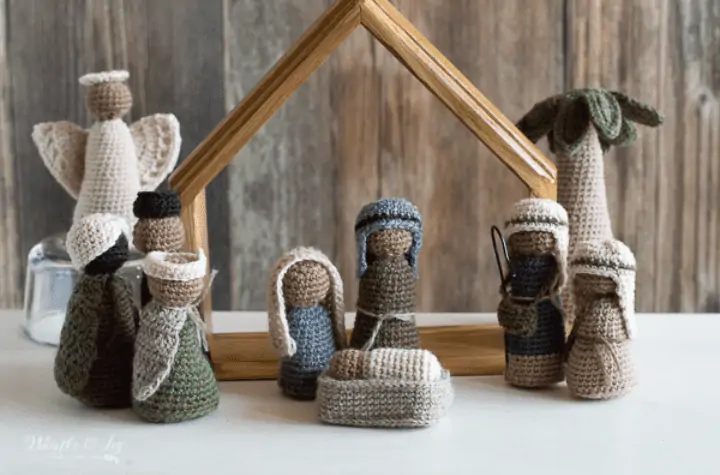 The angel's wings in this Crochet Nativity Set by Whistle & Ivy are absolutely gorgeous! So intricate yet so simple at the same time! Love that vibe!
Want to take the next step in your amigurumi-making? You might like my ebook on all things amigurumi: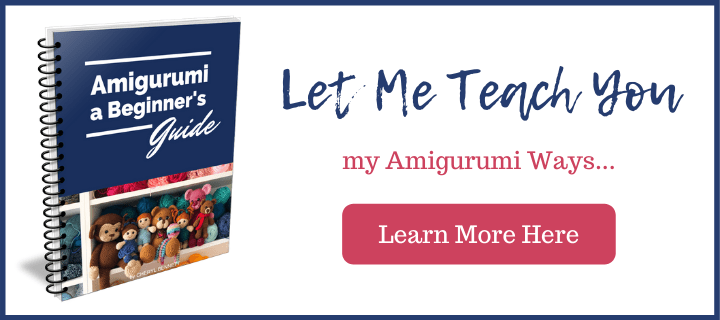 I love seeing your finished projects! If you enjoyed making a Crochet Nativity Set I'd love to see yours on Instagram, be sure to tag me @crochet365knittoo. If you are on Facebook, stop over to the Crochet 365 Knit Too Facebook page or pop over to the Crochet365KnitToo Club and share a photo! I'd love to see your work!