This Christmas Crochet Ornament just might be the crown jewel of the Christmas tree.  A little bit vintage.  A bit sassy.  And way too much fun to crochet!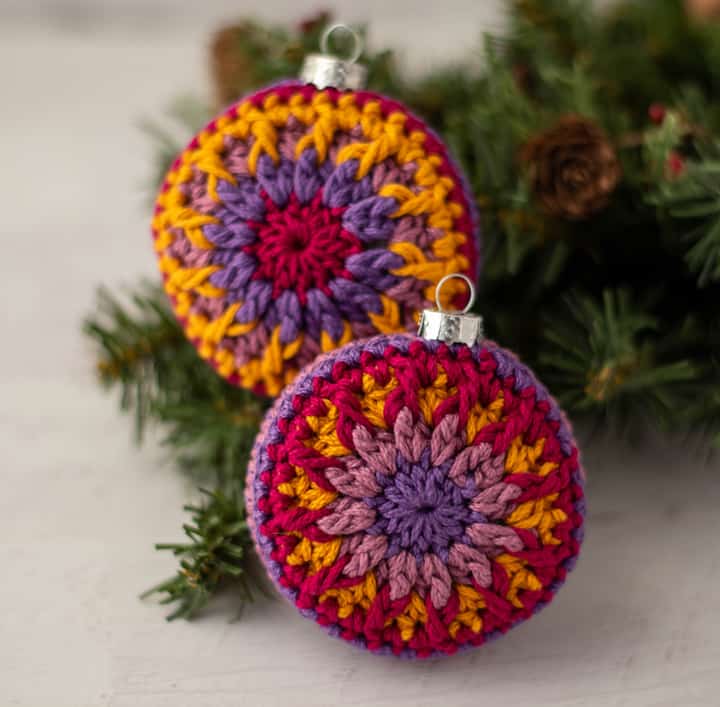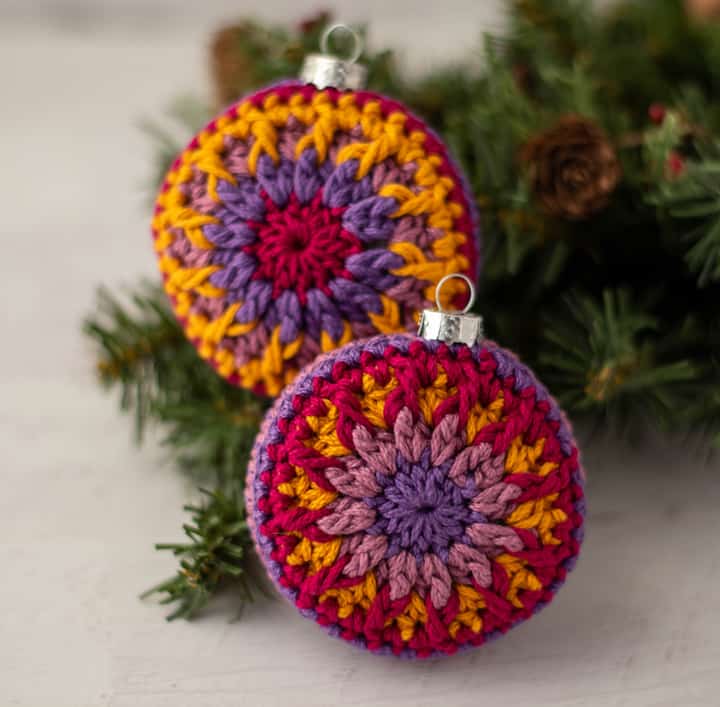 Christmas at my grandma's was the most fun of all.  Better than Christmas morning.  Just thinking about it brings tears to my eyes and makes my heart skip a beat as I just FEEL all the excitement of that childhood version of myself.. oh so long ago.
Back when it wasn't so easy to see grandparents who lived far away, going to Grandma and Grandpa's house was a great adventure! The trip was always made a week or two before Christmas. Often on snowy, cold days when we weren't quite sure the car would make the trip.. but we went anyway!  My sisters and I would sing and play games in the car on the way… so excited… for what awaited!
And when we arrived!  Oh what a treat!  Before the car was even parked in the drive, Grandma had the door flung wide open to greet us with her big boisterous smile.  Dad would holler at us to wait for the car to fully stop before opening the doors.  But we never listened. Car doors flung open hard, coats awry and unzipped, we ran just as fast as we could.. up the porch steps and into the biggest warm hug you can imagine.  And the best words of all: "Grandma is SO happy to see you girls!"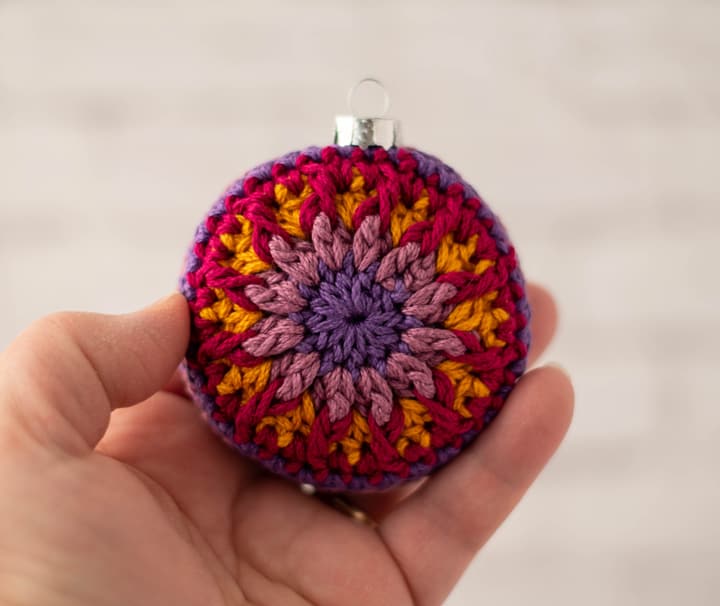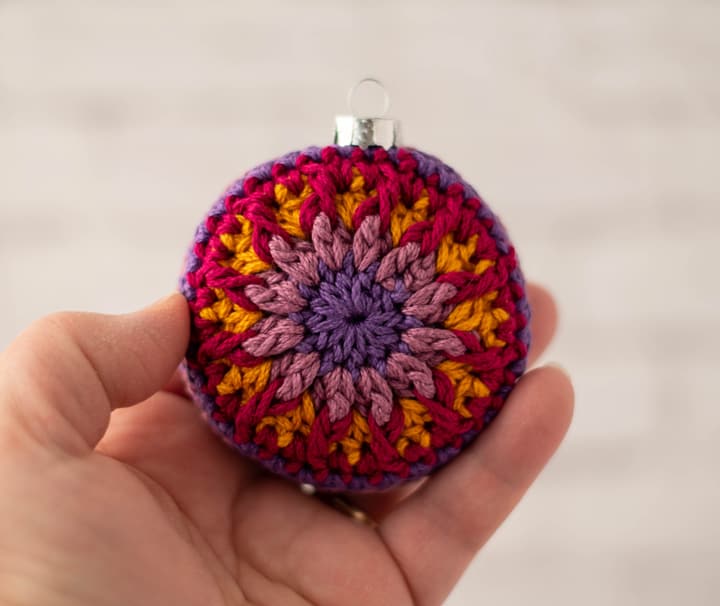 In we went to all the smells that meant Grandma's house.. warm dinner.  Baked goods.  All the usual Christmas things.  The paper Santa with the legs and arms that moved when you pulled a little string.  The many wrapped gifts.
And the tree.  Oh the Christmas tree.  Little goodies hung here and there.  Candy canes. Chocolates.  Little ornaments that grandma made that particular year… and all these things would come off the tree as the weekend  progressed.  Candy would be eaten.  The cute little ornament you spied might be given to you at a special moment.
There was always just enough to enjoy, savor and share. Warm and cozy. Love and full bellies.
MORE HOLIDAY PATTERNS
If you love the Crochet Ornament Pattern, you might also like to check out these other patterns for the season:


1. Snowman //   2. Crochet Stocking //   3. Snowman Wine Cozy
For whatever reason, these lovely crochet ornaments remind me of grandma.  They remind me of how she always made every single moment one to be savored. How she loved each one of us with a deep, gut wrenching fierceness that we felt to our bones.
She really never did things halfway.  She was always out there.. full on.. living life on her own terms.  And maybe that's why these crochet ornaments remind me so much of her.  Bold.  Beautiful.  Simple in a way and yet stunning too.  Full of love and life in a year when we really need it the most.
I miss that lady like nobody's business.
What I wouldn't give to run up those porch steps again to that big squishy grandma hug. But maybe.. just maybe.. she's looking down and seeing her granddaughter… I can see her shaking her head wondering what in the world all the tears are for.. but I think she might like what I've created here.. in my corner of the world.. all the bits of color and string, looped and chained into beautiful things that pass along smiles to so many.  It's not a bad legacy to pass on really.
And so.. grab some colors that remind you of all the good in the world and let's work this crochet ornament pattern!
You might notice this looks a bit like the Kaleidoscope Coasters and the Mandala flower.  And you would be right.. this is a bit of a variation.  Just a few small changes to make this bit of cuteness!
The metal topper is from a purchased Christmas ornament.  I used the piece off a clear plastic craft ornament from the fabric store.  But you could repurpose on off an old ornament you already have.  Or omit the metal bit altogether and chain a lovely loop to hang your crochet ornament from your tree!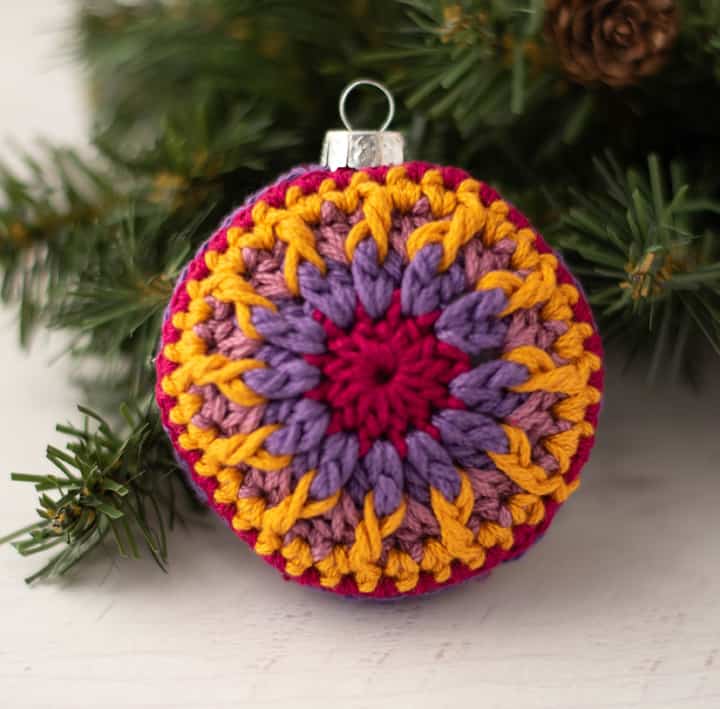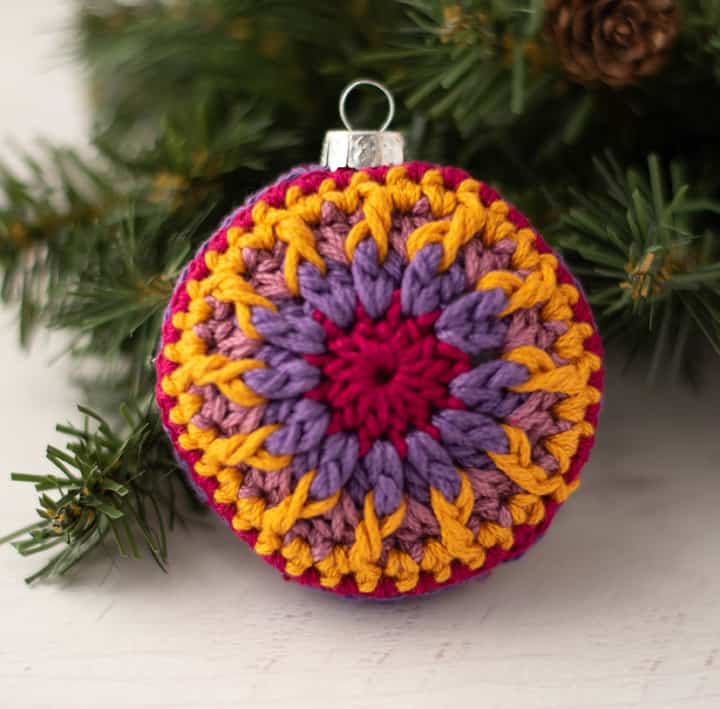 Purchase an ad-free printable version of the Vintage Vibe Crochet Ornament Pattern Here
Vintage Vibe Crochet Ornament
Here is what you will need:
Worsted weight cotton yarn.  Sample used scraps of Lion Brand 24/7 Yarn in 4 colors, Each ornament uses approximately 17 yards.
Fiberfill Stuffing
Metal portion off of a purchased Christmas ornament
Tapestry needle and scissors
Resources and tutorials you may find helpful in following this pattern: Crochet Abbreviations, US to UK Crochet Conversion Chart.  Find links to stitches on the "Tutorial" menu: Getting Started will show basic stitches used in many patterns and Crochet Stitch Dictionary shows our growing collection of crochet stitch tutorials.
Finished ornament is approximately 3-1/8″ in diameter (excluding the hanger).
Crochet Christmas Ornament:
Each Ornament uses 4 colors:  Color A, B, C, D
Side One of Ornament:
With color A, Make a Magic Ring.
R1: ch 2 (does NOT count as hdc), work 12 hdc in ring.  Join with slip stitch to top of 1st hdc.  Fasten off color A.  Fasten off color A.
R2:  With color B, join to any stitch, ch 3 (counts as dc), dc in same stitch, 2dc in each stitch around.  Fasten off color B.  (24 st)
The next round is worked in the spaces between the 2 dc in the previous row.
R3:  With color C and using a standing stitch, work *2hdc, ch 1 into first space, skip next 2 st, repeat from * around. Join with slip stitch to top of first hdc.  Fasten off color C.
R4:  With Color D, join with a slip stitch to the first stitch in previous round.  Ch 1, sc in same st as joining, sc in next st, work a dc front post stitch around the next stitch in row 2, *sc in next 2 st, work a dc front post stitch around next stitch in row 2.  Repeat from * around.  Fasten off.  (36 st) If you are unsure how to make a post stitch, see the tutorial here:  https://www.crochet365knittoo.com/crochet-post-stitches/
R5:  With Color A, ch 1 and sc around.  Fasten off color A.
R6:  With Color B, ch 1 and sc around. Fasten off color B, leaving long strand for sewing.
Side Two of Ornament:
Make as for first side through row 5 (do NOT crochet row 6).

Finishing The Crochet Ornament:
Sew two halves together using the long strand from row 6 (Color B), pausing to carefully stuff as you go, to keep the ornament shape flat and circular.
Take metal loop portion off of a purchased ornament.  Observe the construction of the metal loop.  The metal wire that holds the loop into the ornament works by applying pressure to squeeze close and then when it releases into the ornament it expands and holds in place.  When the metal piece is removed from the purchased ornament, squeeze it partially closed and wiggle it in between the stitches on the top of the ornament.  When it is in place, let go and the wires will expand and dig into the stuffing, holding it in place on top of the ornament.
You may add a small amount of glue if the metal feels too loose on the ornament.  Or alternatively, omit the metal portion altogether and crochet a chain loop instead for hanging.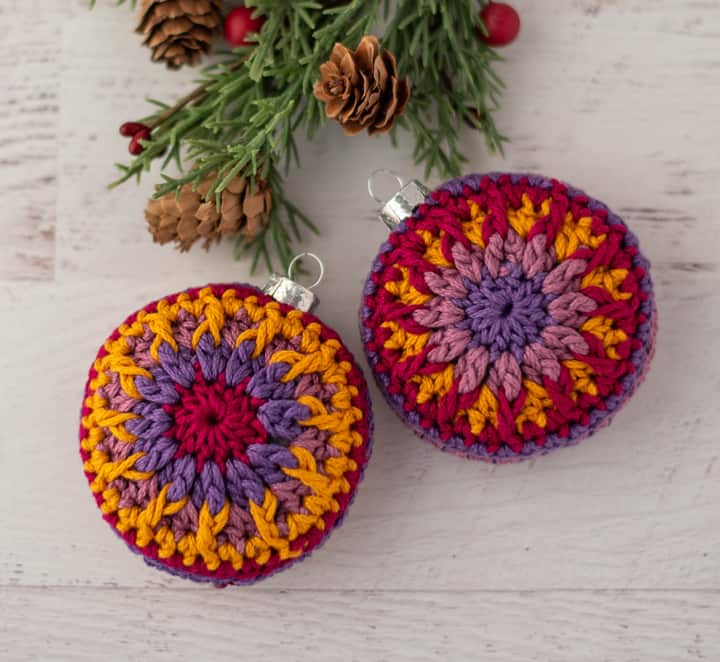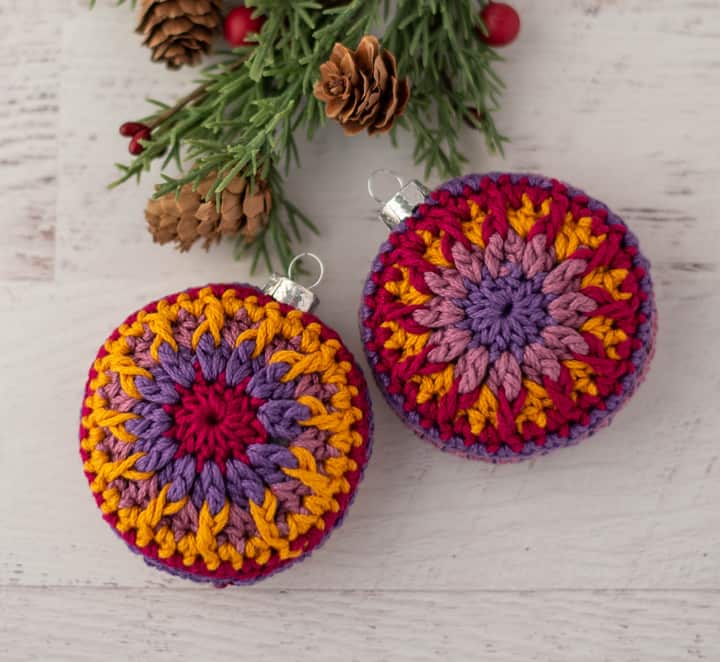 Purchase an ad-free printable version of the Vintage Vibe Crochet Ornament Pattern Here
I love seeing your finished projects! If you enjoyed making this Vintage Vibe Crochet Ornament Pattern I'd love to see yours on Instagram, be sure to tag me @crochet365knittoo.  If you are on Facebook, stop over to the Crochet 365 Knit Too Facebook page or pop over to the Crochet365KnitToo Club and share a photo!  I'd love to see your work!