Granny Stocking: Glorious Crochet for the Sentimental at Heart
This post may contain referral/affiliate links. Please read my disclosure for more info.
Nothing quite says Christmas like a Granny Stocking. It brings back memories of grandma and simpler days. Jumping out of bed on a cold December morning, thinking of Santa and surprises under the tree.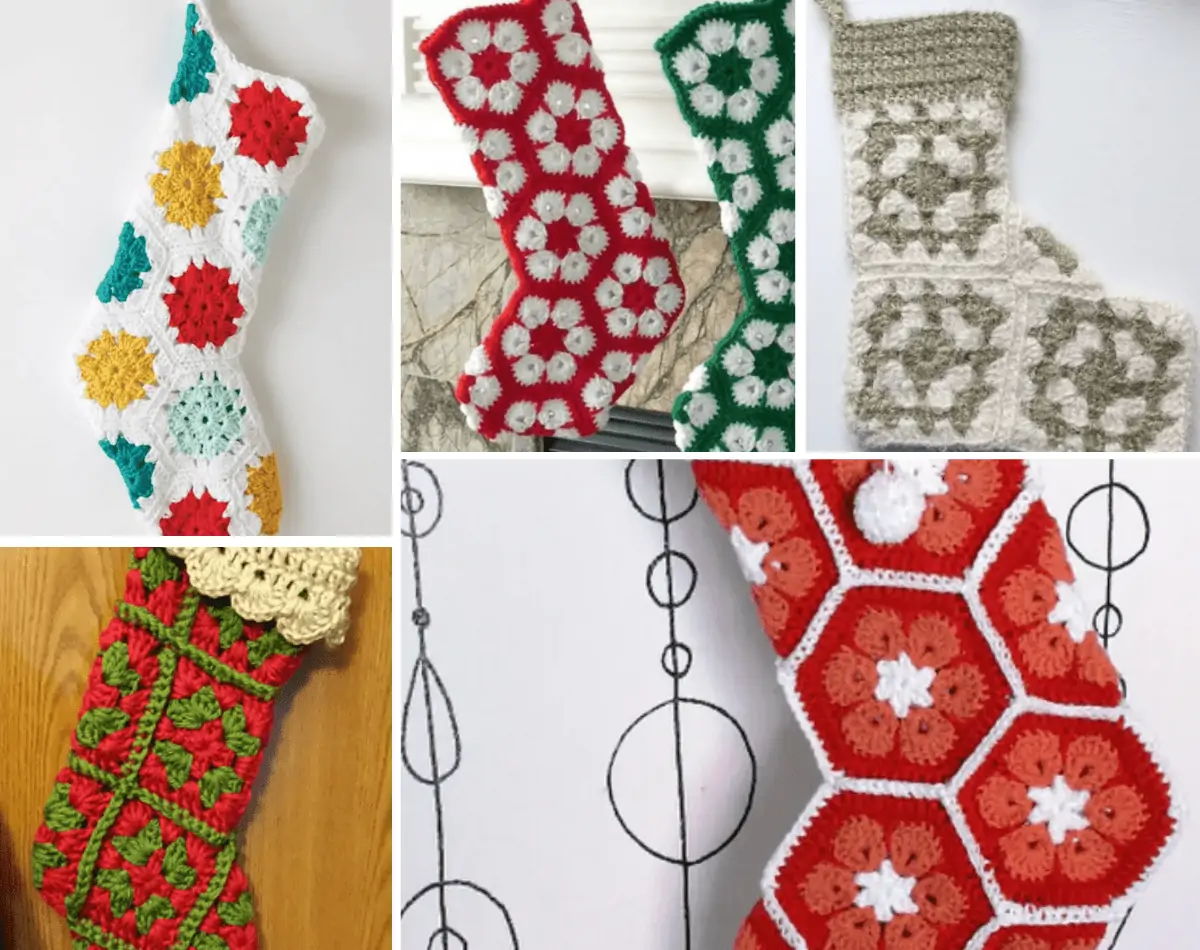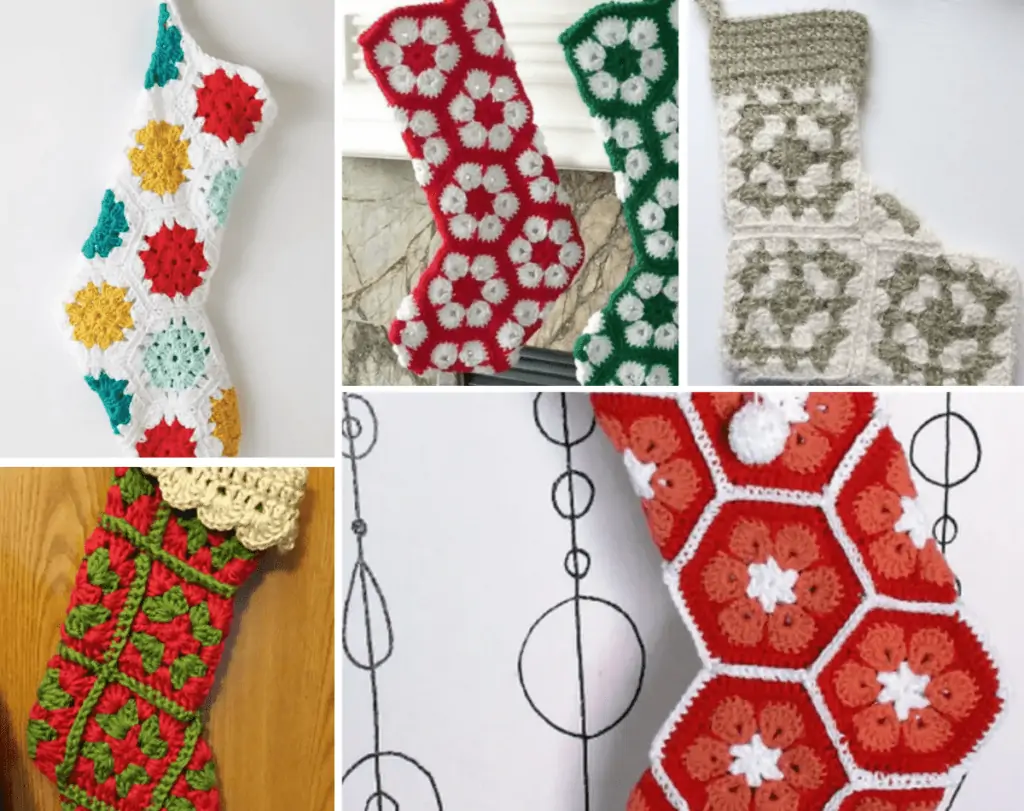 A warm, cozy home with good food smells drifting in from the kitchen. Laughter and smiles with the people you love best.
If you have crochet in your DNA, you likely have an old granny stocking packed away. Crocheted with love by someone close to you. Maybe made by your grandma, aunt, or mother. Most likely a traditional red, green, and white, using the traditional granny square pattern. Maybe the stocking of your memory is stuffed with toys and good treats, bulging here and there.
Get ready to meet the best collection of granny stockings… well… since ever!  From traditional granny square stockings to nontraditional layouts to granny stockings out of similar motifs these granny stocking patterns will inspire your Christmas heart.  Whether you're drawn to the nostalgic granny square Christmas stocking of your childhood or a modern spin on a classic, you're sure to find something you love.
How to Crochet a Granny Stocking
The beauty of crocheting a granny stocking lies at its heart the basic granny square. This motif is often the first project of a beginner crocheter featuring basics like a foundation ring, chain stitch, slip stitch, and double crochet. As the rows progress, groups of double crochet stitches are worked in the space formed between the clusters of double crochet in the previous row. You can learn more about how to crochet a basic granny square here.
Most stockings are worked in worsted weight yarn, but working the pattern in a different weight yarn will make a larger or smaller, but equally useful and enjoyable stocking. Just choose a crochet hook in the appropriate size for the yarn you choose.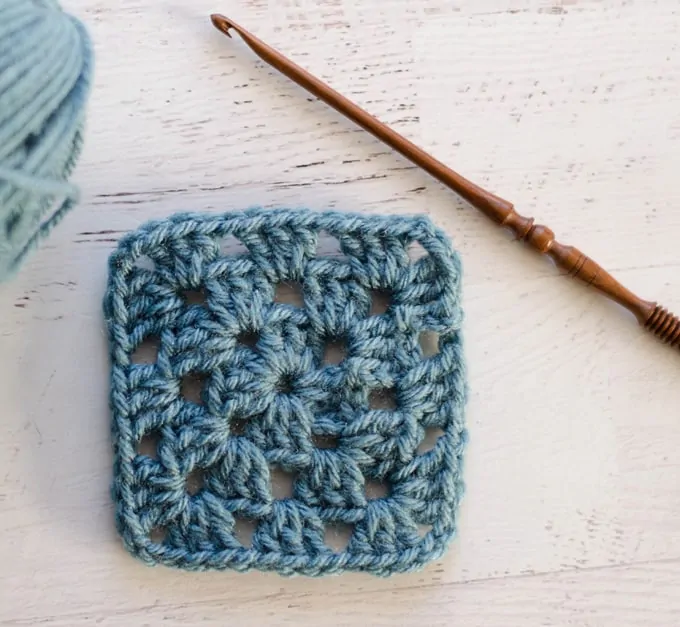 The granny squares are then joined to form the granny square stocking. To join you can whip stitch the squares together with an end of yarn and a tapestry needle. Or you can crochet them together, most often with a slip stitch (sl st). Once the squares are joined, a cuff is worked at the top. Even a simple cuff out of single crochet worked from the right side of the stocking looks lovely.
Of course, Christmas Stockings can be made with other motifs too. You'll love this collection of granny square Christmas stockings. There are plenty of choices from basic to elaborate to fill your crochet heart with joy!
Granny Stocking Crochet Patterns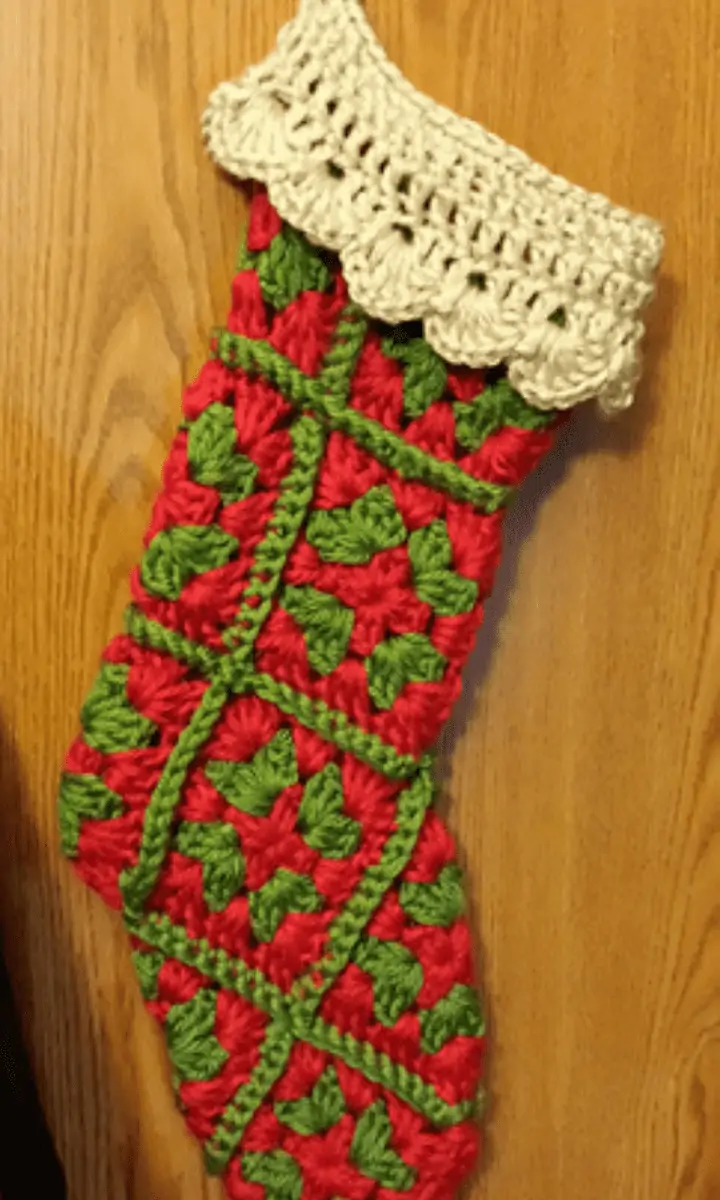 I love the lacey look of this trim for Crochetown's traditional Christmas stocking!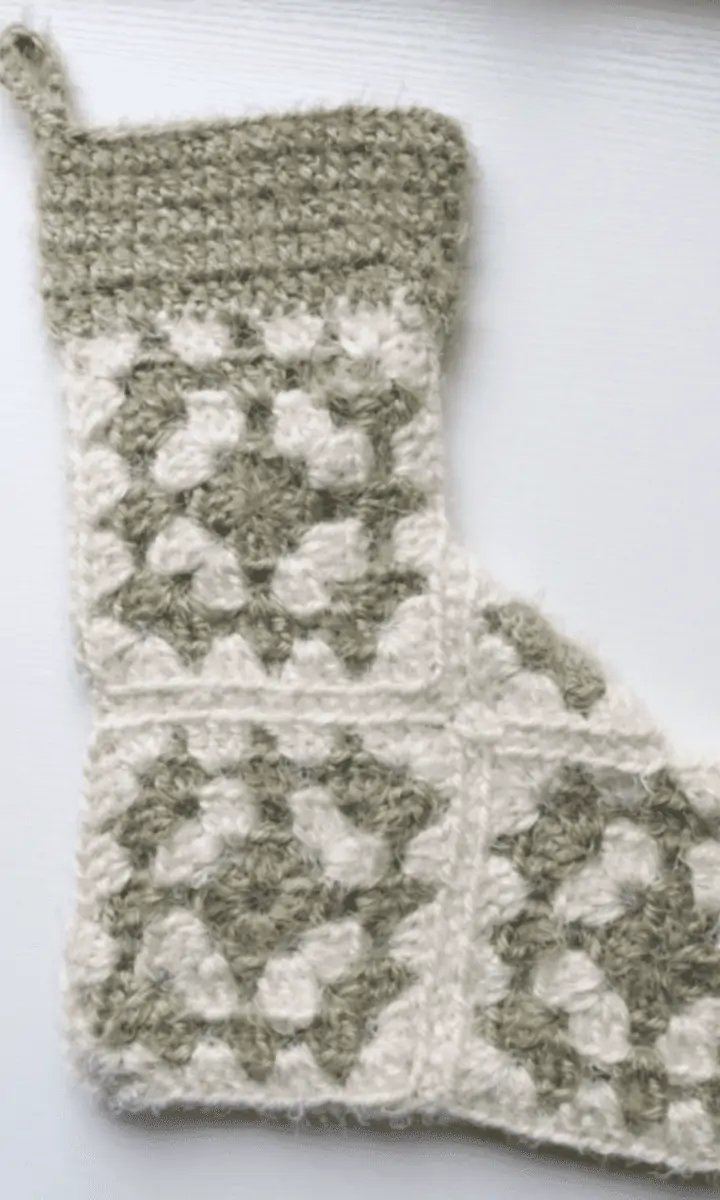 You really can't go wrong with a classic silver and white stocking like this pattern from Melanie Ham. I love the elegance of this granny stocking!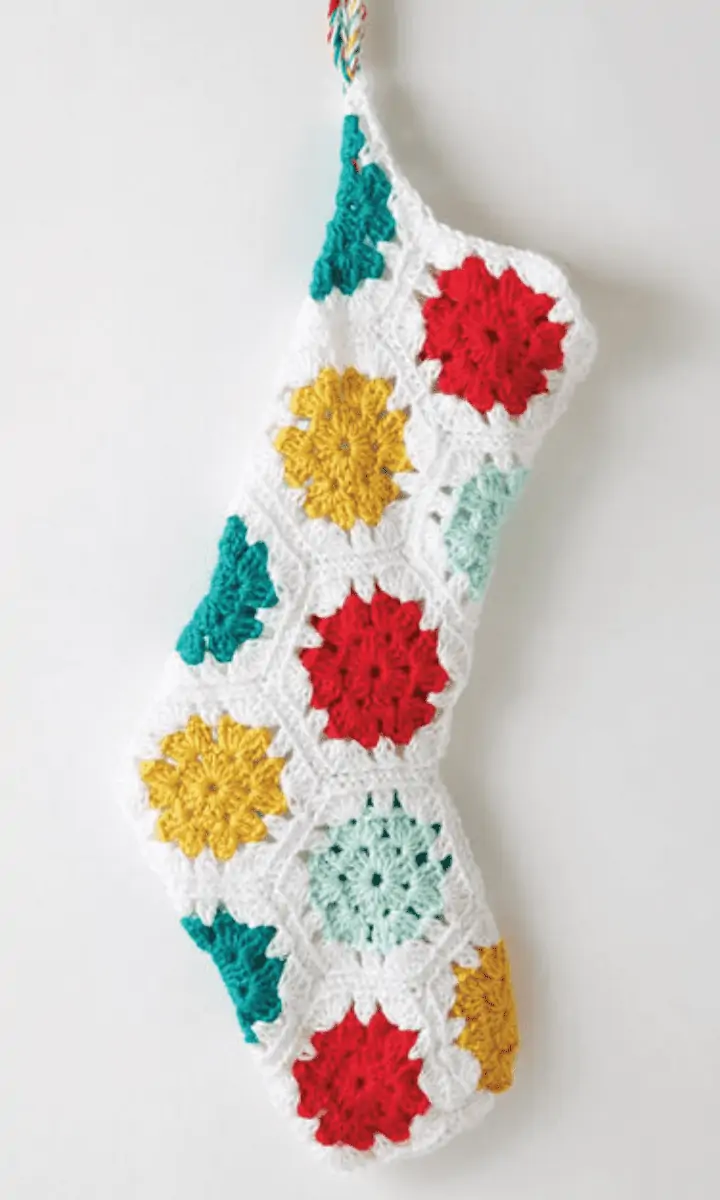 On the other side of the spectrum, I can't get enough of Yarnspirations' oh-so-colorful crochet stocking!  Great use of a hexagon granny motif!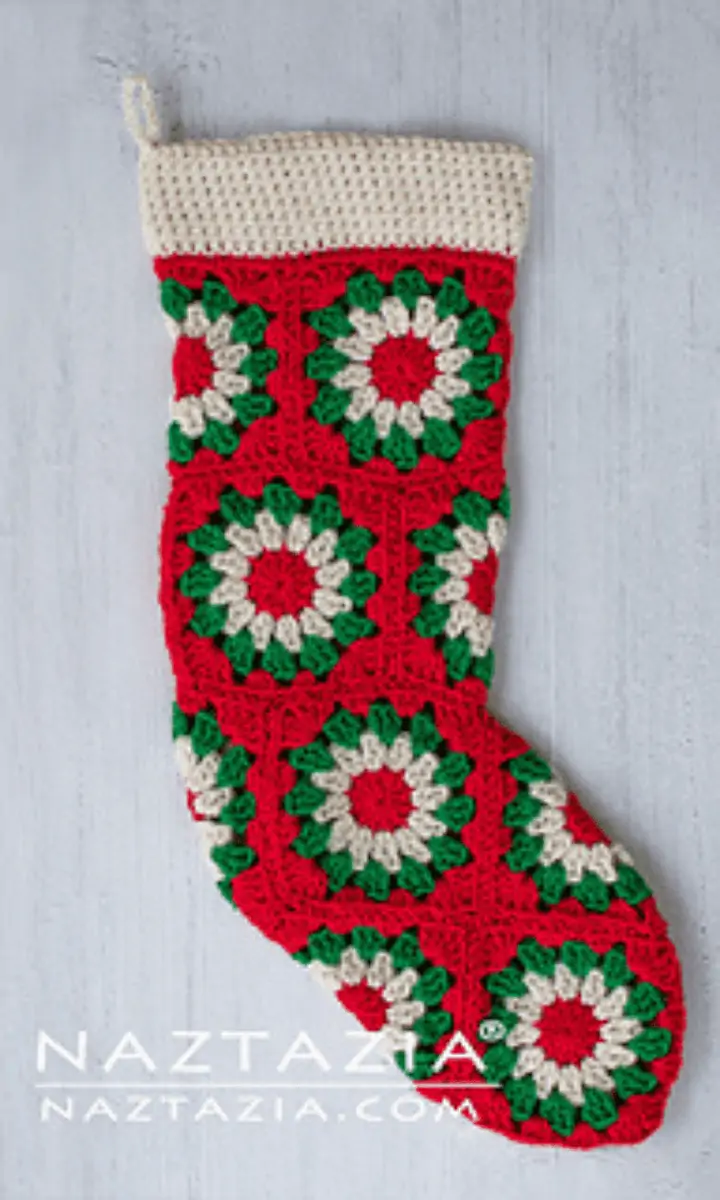 This round-to-granny square motif by Naztazia with the solid cuff would be perfect for hanging on a mantle.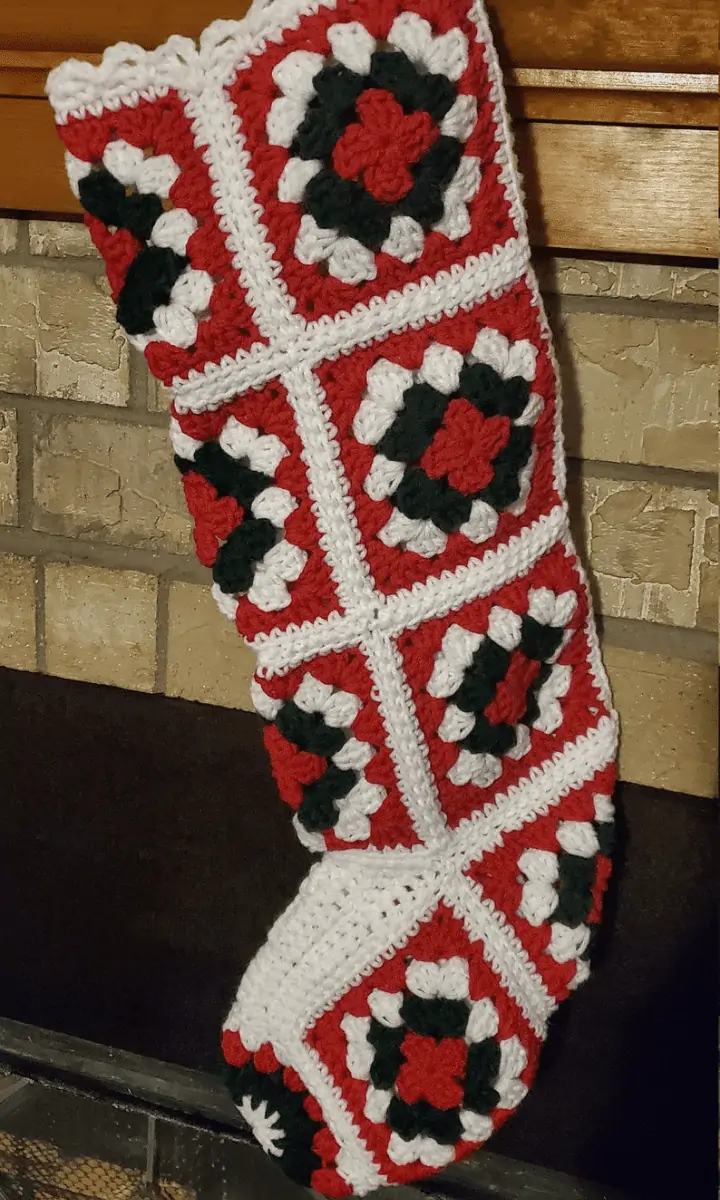 Crochet Bot Kris is taking a walk on the wild side and I am loving it! Adding some black and a little trim is just the thing to make your next crochet granny stocking stand out from the rest!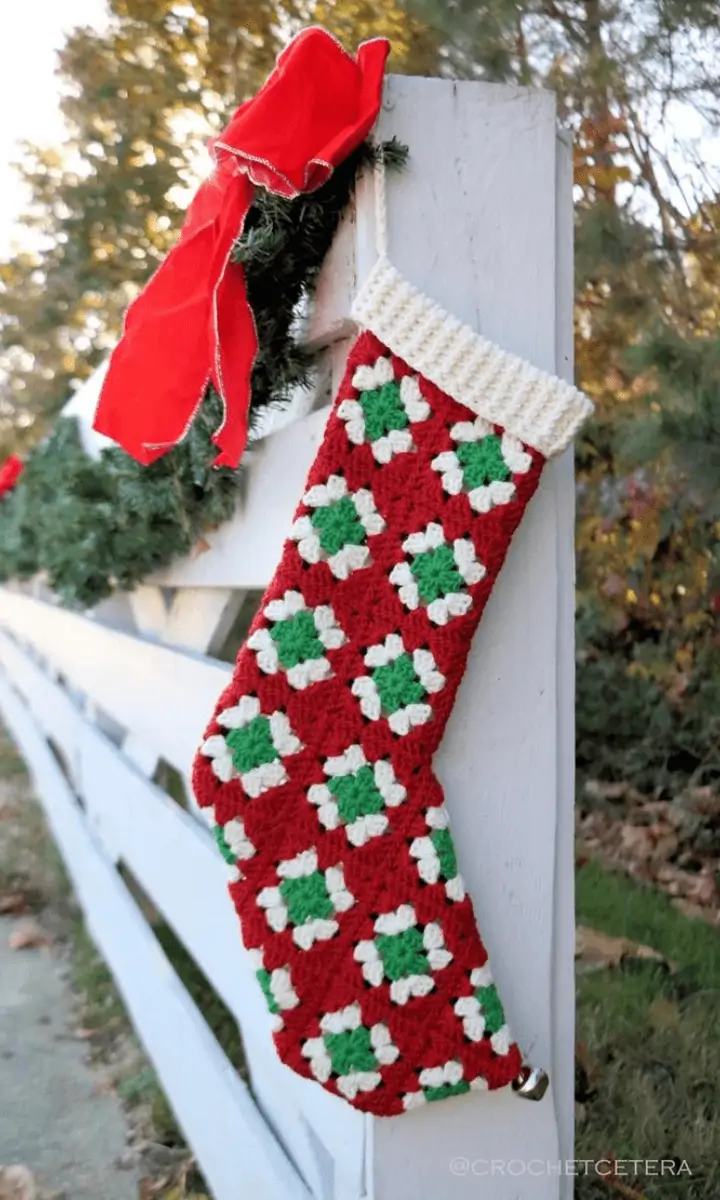 Not loving the larger granny squares? Not a problem for Crochet Cetera! This granny stocking has the cutest little squares that are sure to light up your world! I love the large size of this stocking and the placement of the squares for a nice stocking shape.
Looking for a twist on the Granny Stocking?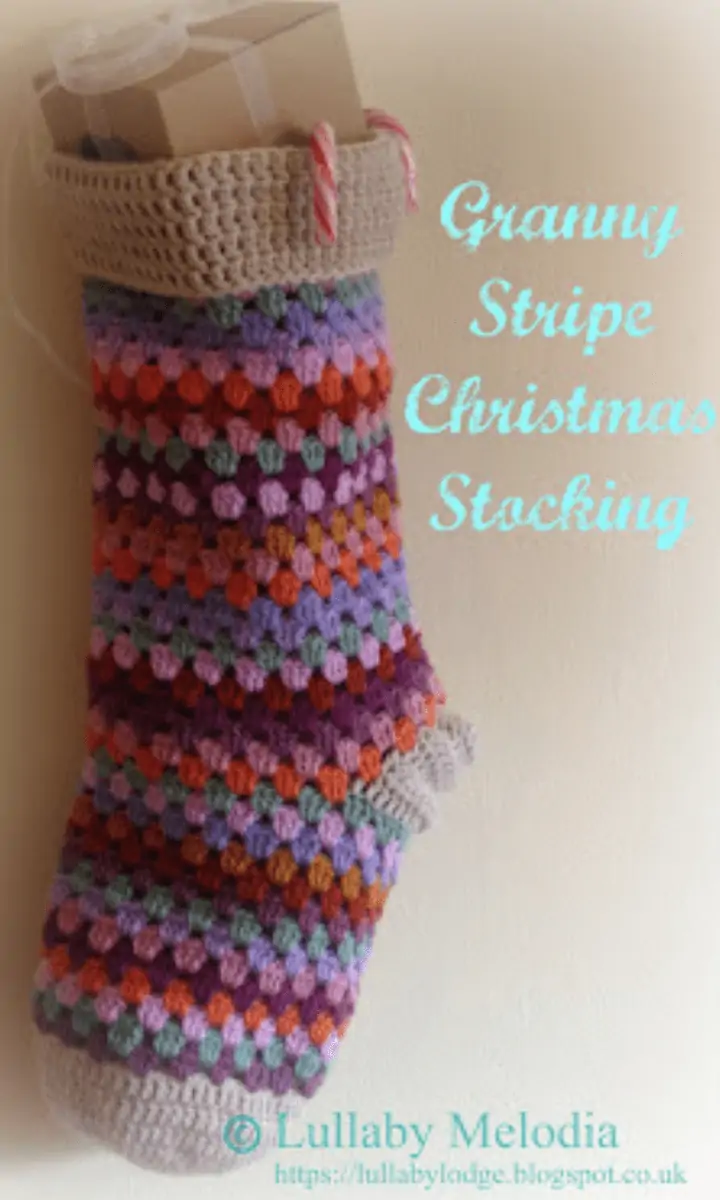 Who wouldn't be proud to display this fun granny-striped stocking by Lullaby Lodge? I love the use of colors and I have to admit, avoiding all that seaming at the end is certainly appealing!  The heel, toe, and stocking top are worked in simple stitches.  This one would look great in classic colors or with stash yarn to coordinate with your decor.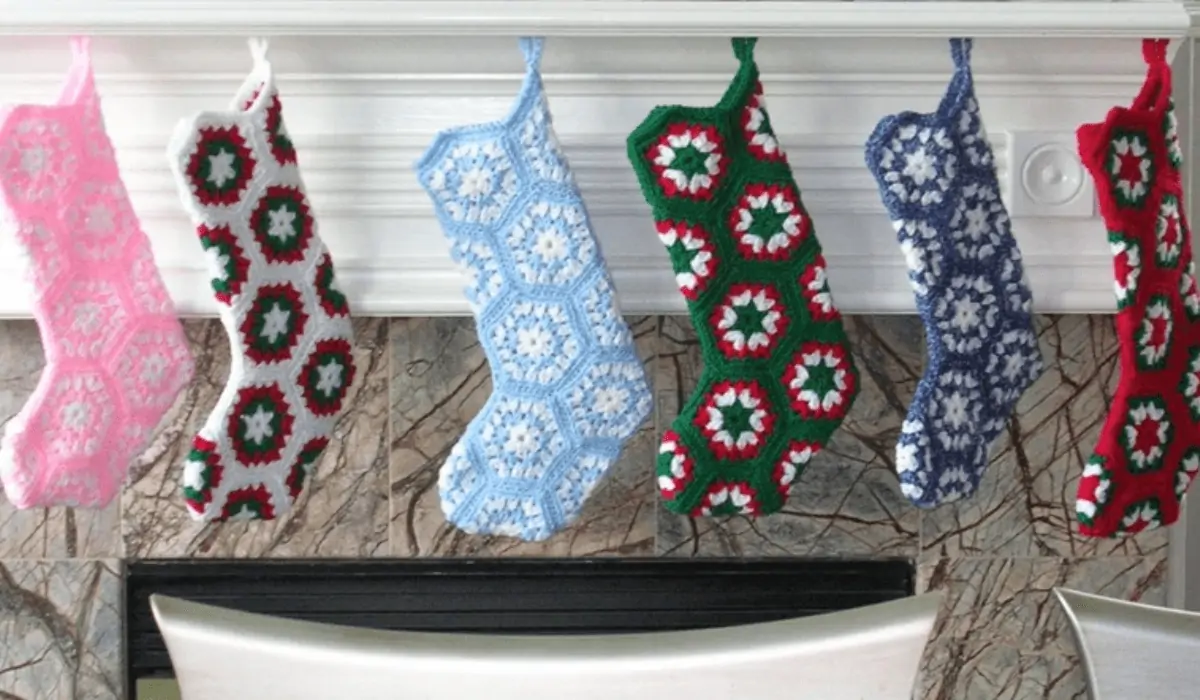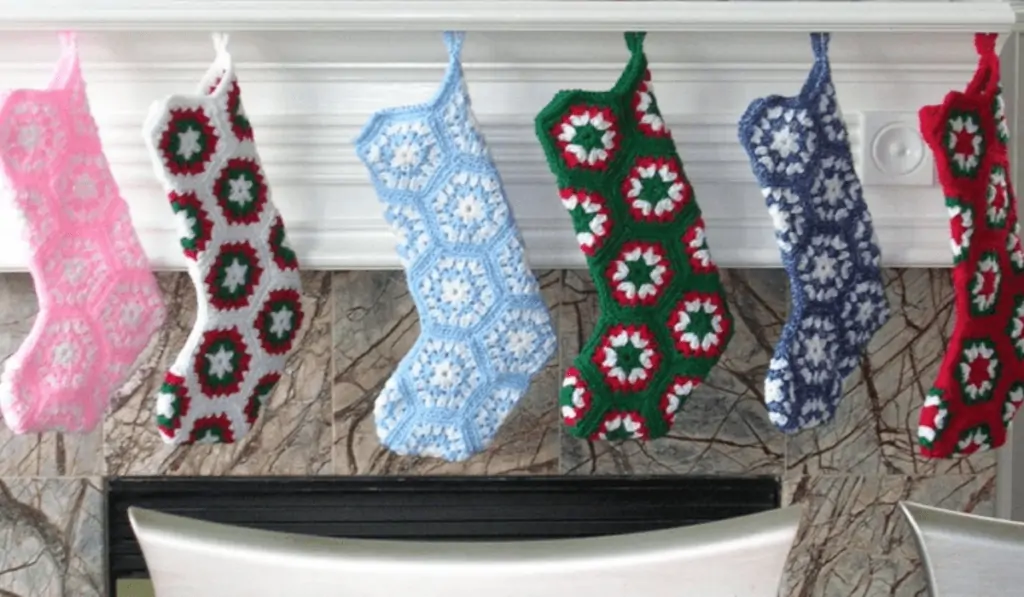 It's beginning to look a lot like Christmas with these stockings from Holiday Imaginations! I love how each of these stockings looks very different by simply switching up the color placement.  This would be fun for similar, yet different stockings for each family member.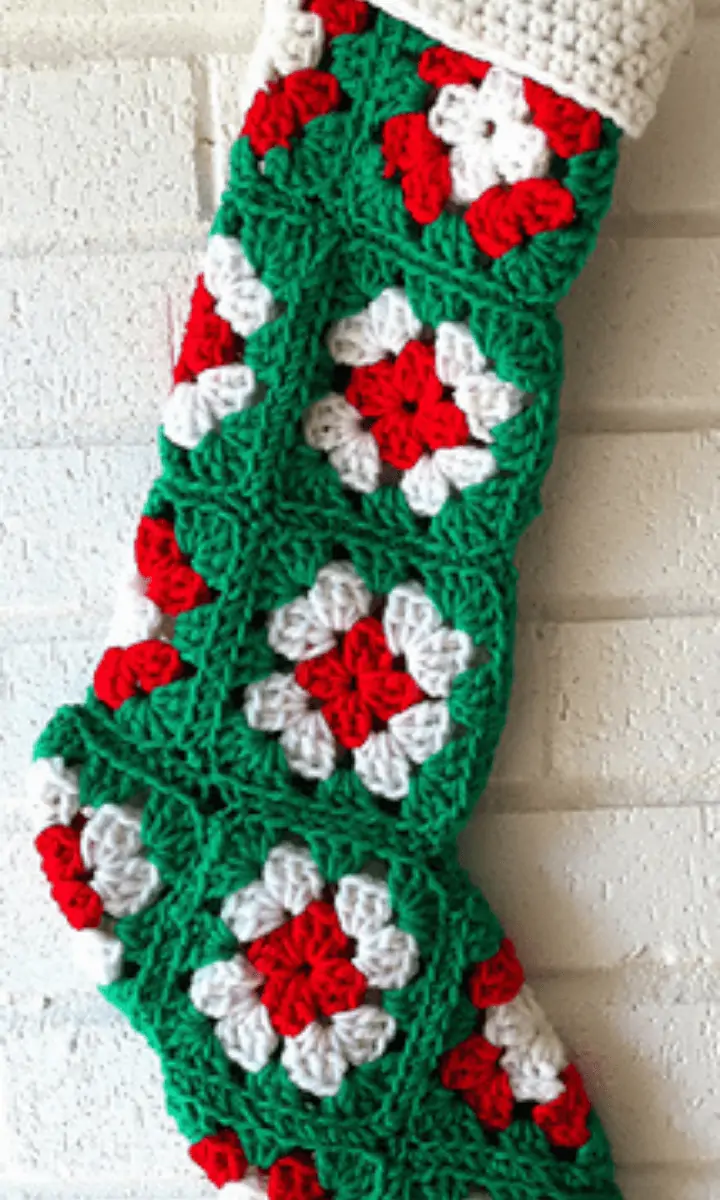 I am loving this shade of green in Maggie Weldon's stocking here! And the touch of red and white yarn is just enough to make the granny stocking cute and festive!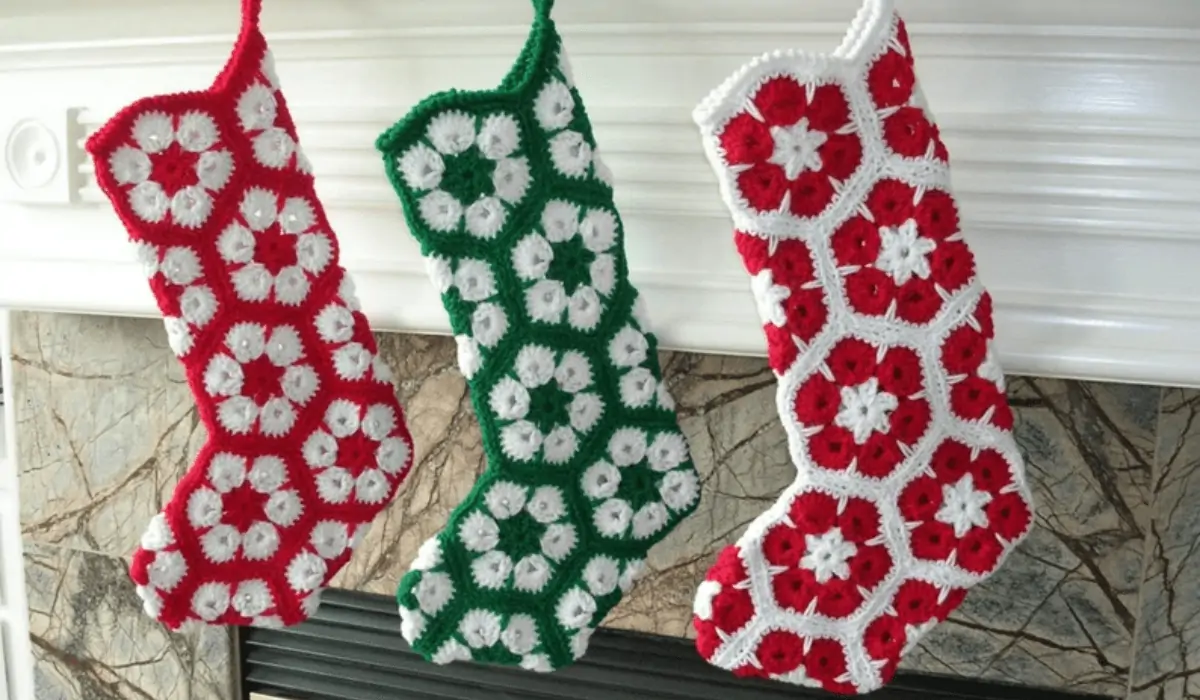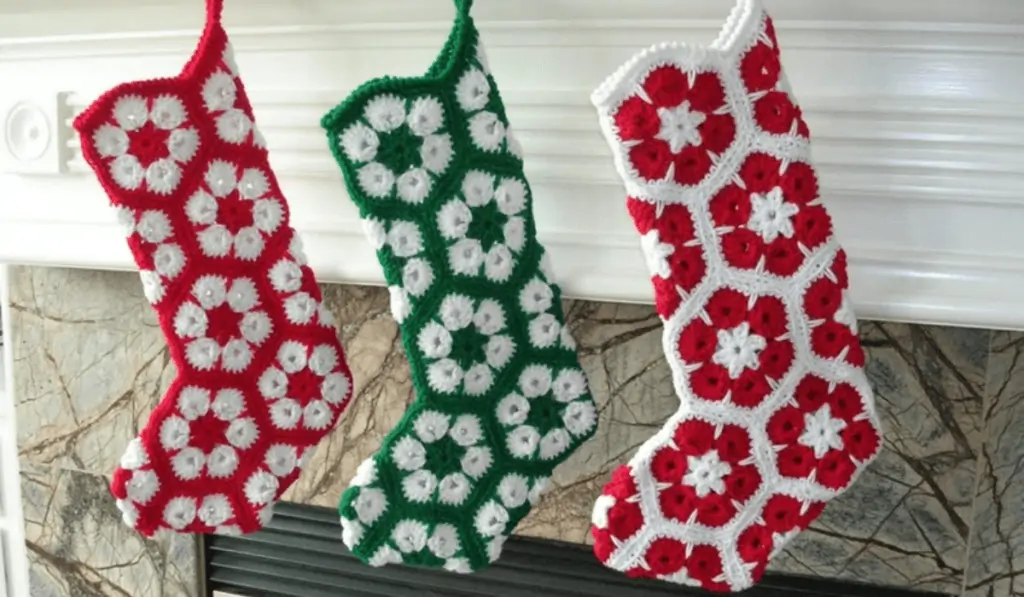 Ready to move past the regular granny squares? This gorgeous stocking pattern by Holiday Imaginations uses a Crochet African Flower motif instead! Adds a beautiful feminine and floral touch to your holiday decor!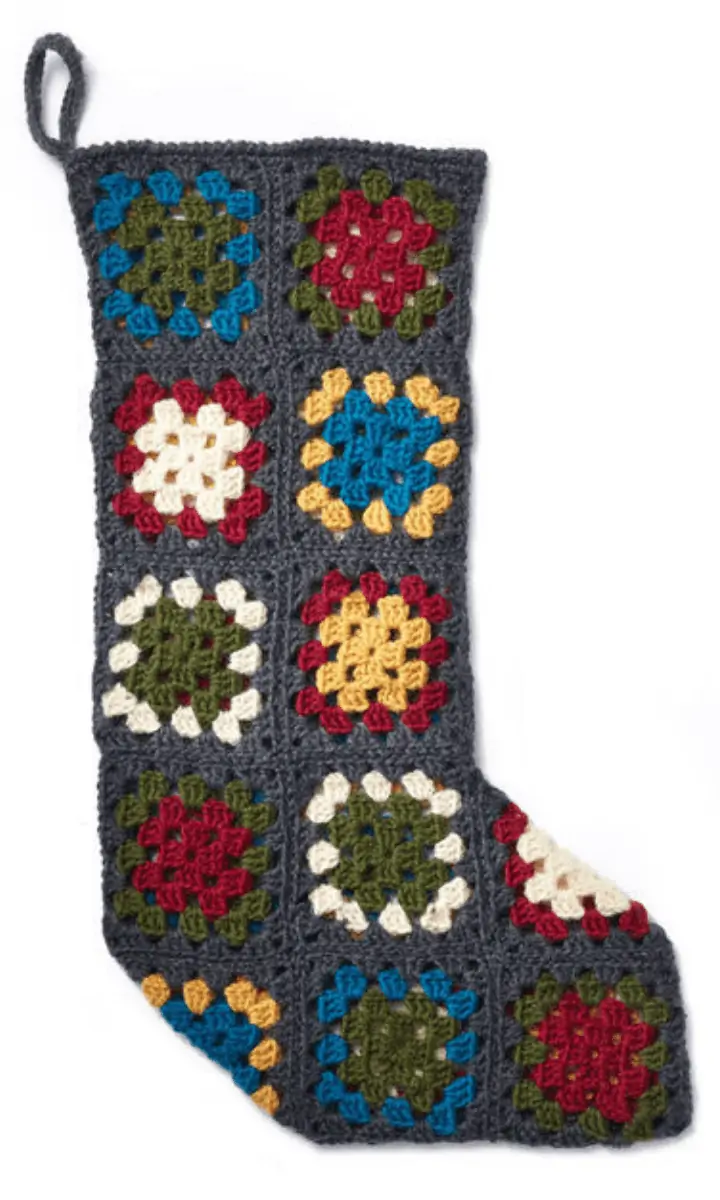 Want to add some color but also keep things cohesive? Yarnspirations inspires creativity with this fun and easy crochet granny stocking pattern.
MORE HOLIDAY PATTERNS
If you love the Crochet Stocking Pattern, you might also like to check out these other patterns for the season:

1. Snowman // 2. Easy Crochet Star // 3. Snowman Wine Cozy
And even more Christmas Stockings to Crochet…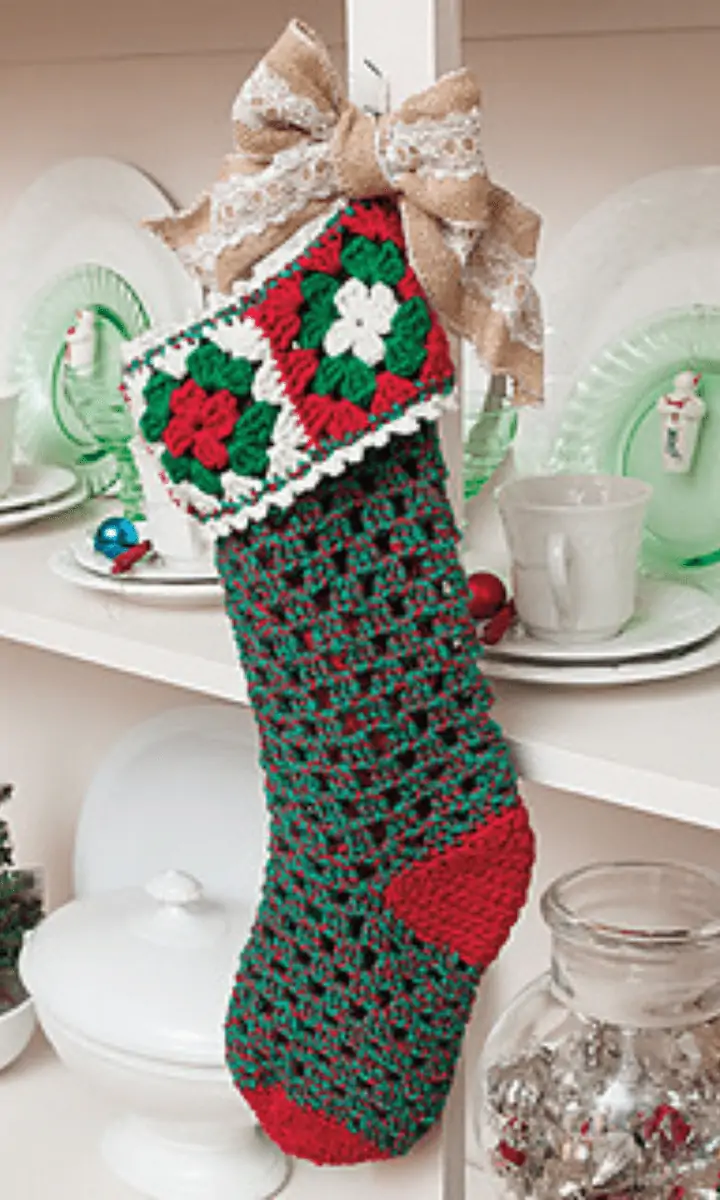 This holly jolly stocking combines granny squares and granny rows! Lisa Gentry gives us the best of both worlds and I am loving it!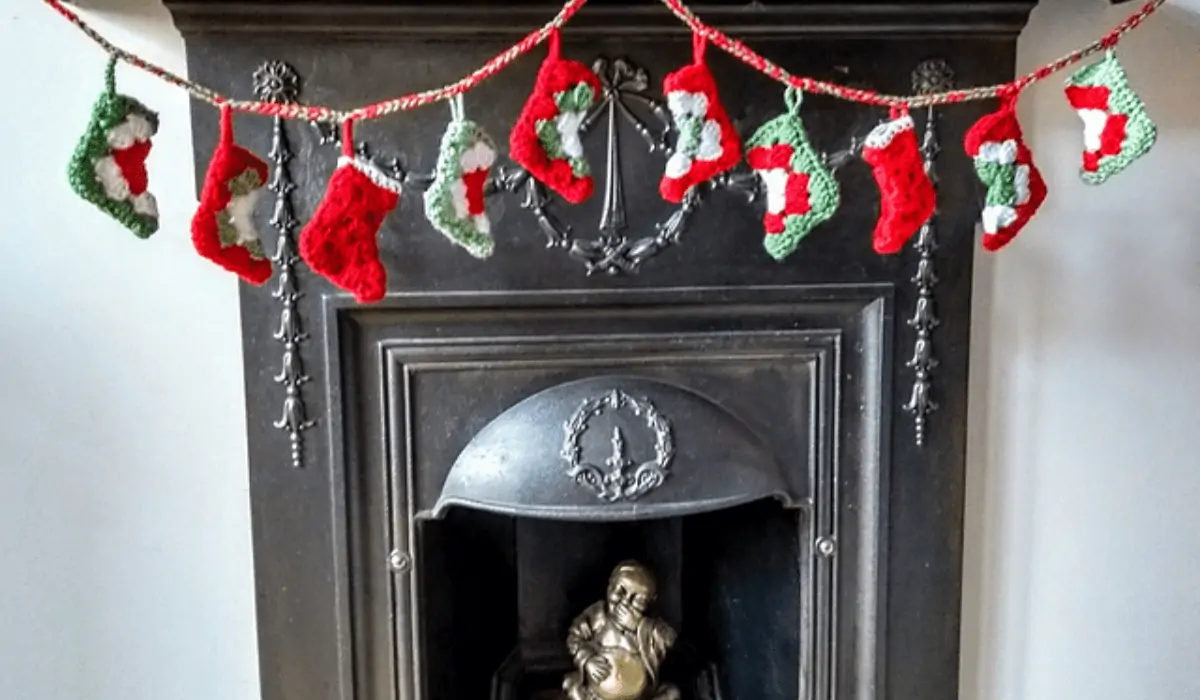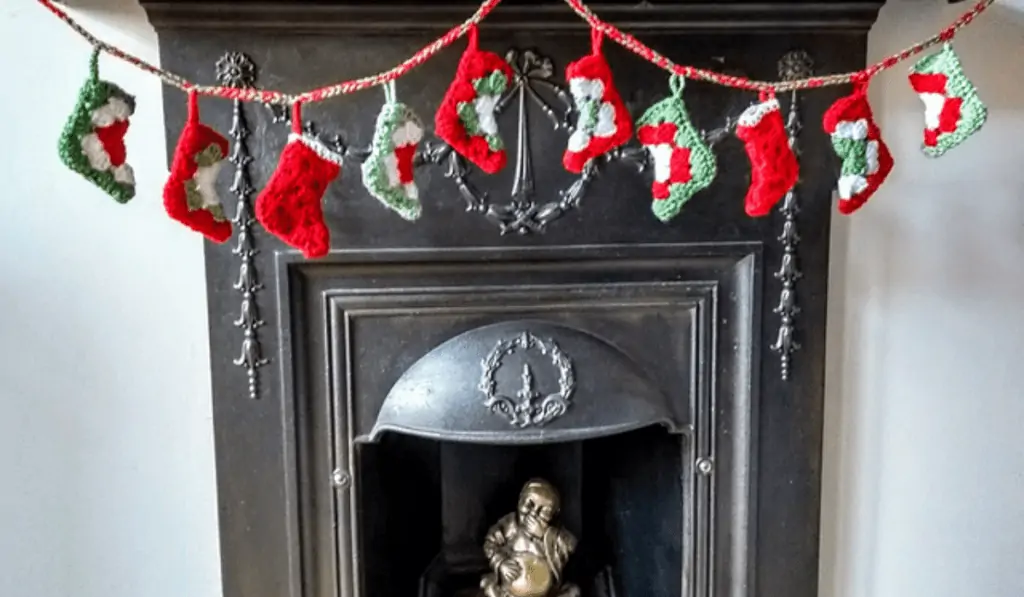 These tiny granny Christmas stockings by Kaz Hall are just adorable! They are quick and easy to make with a fold and one simple seam. Hang them on a tree as an ornament, string them on a garland or tuck a small piece of candy and tie the ornament on a gift in place of a bow.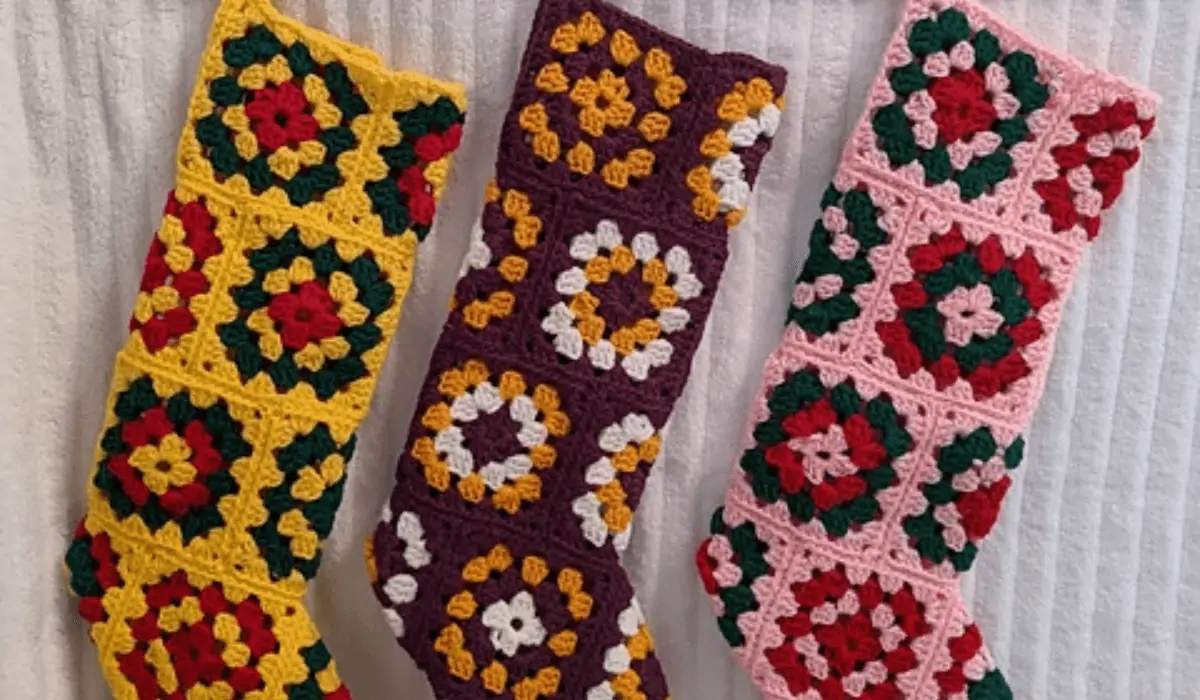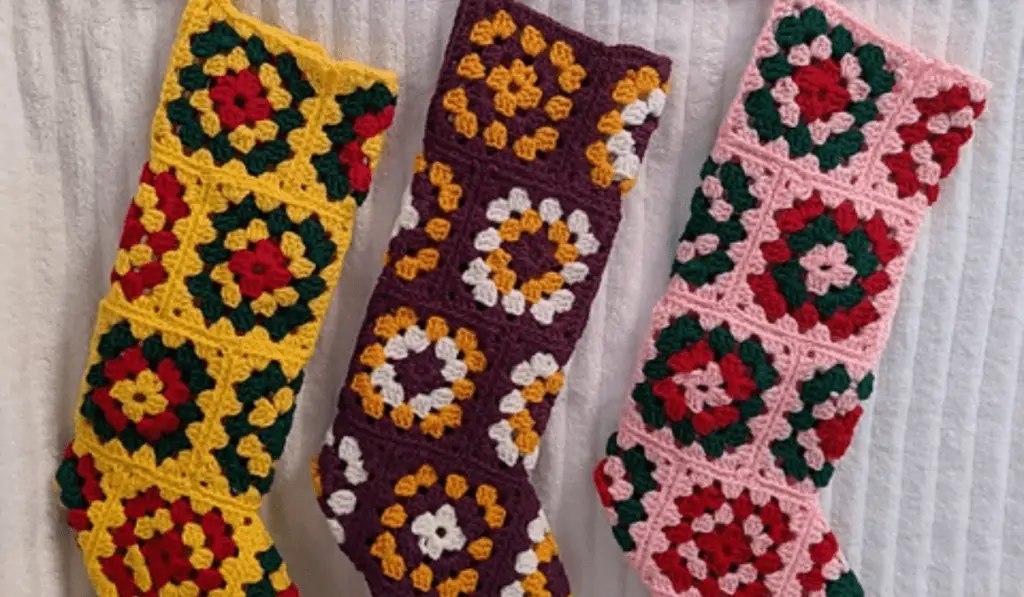 What a neat way to keep the red and green cohesive in these stockings by Whitney Lemme, but also make each one unique for everyone in the family!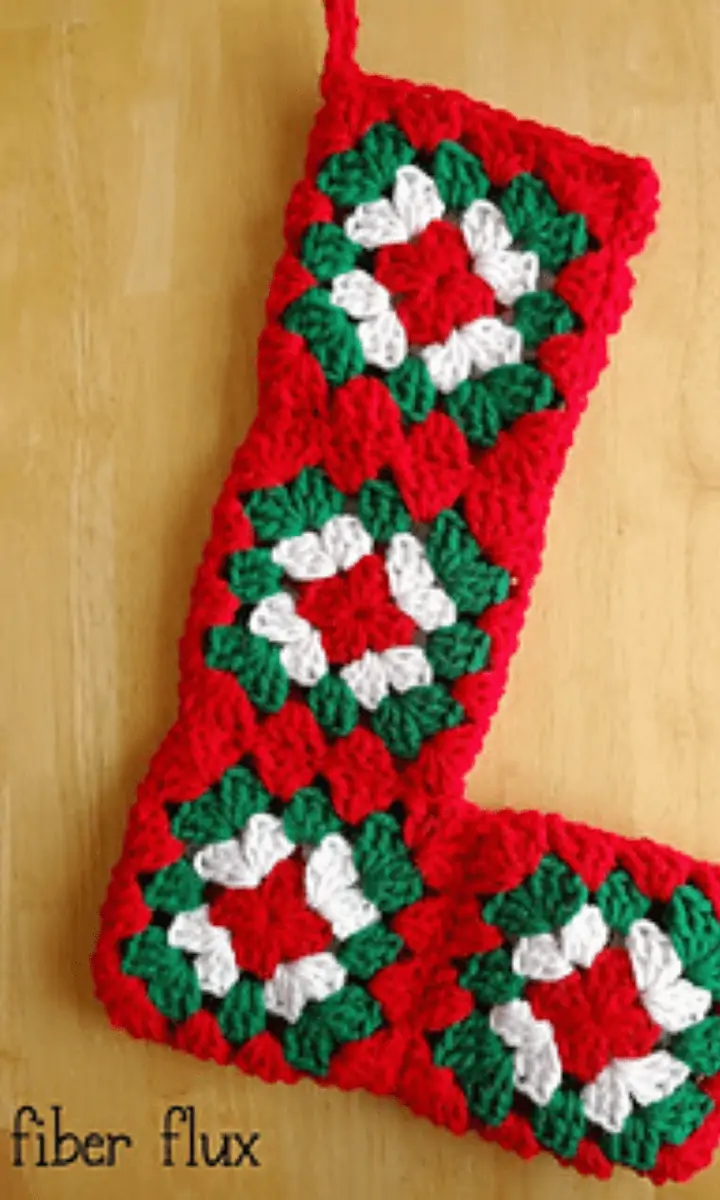 Want to keep it simple? You can't go wrong with Fiber Flux's red, green, and white granny stocking!  This is a classic granny style in an easy-to-configure square placement.  Beautiful!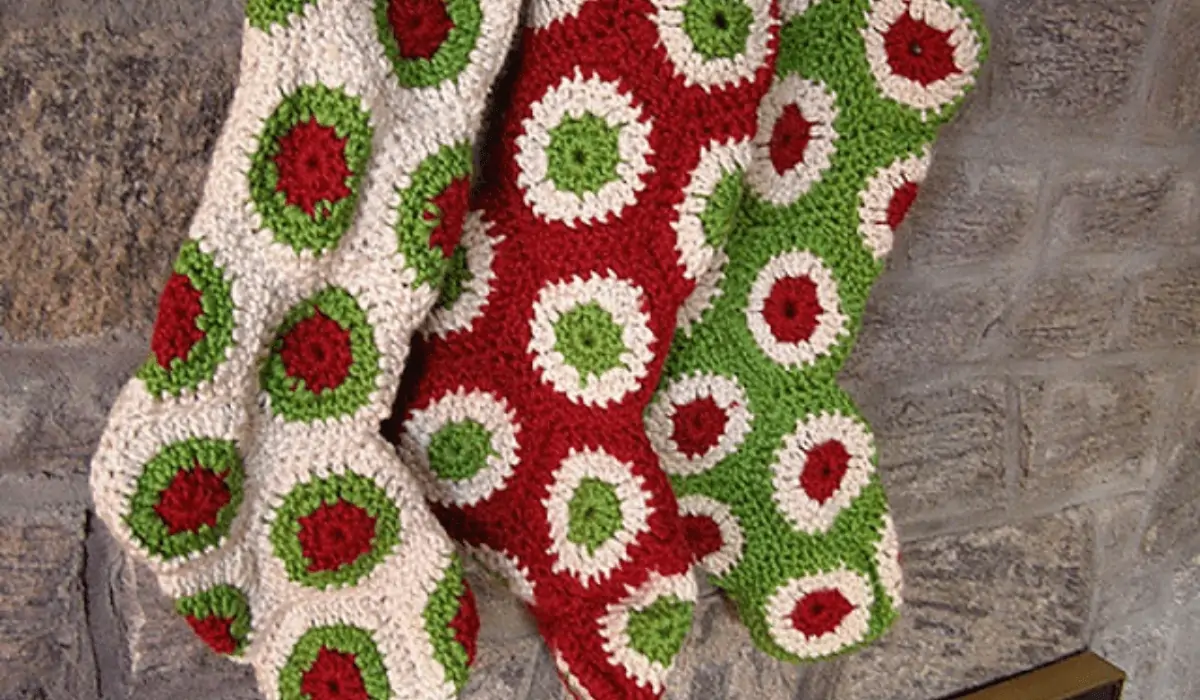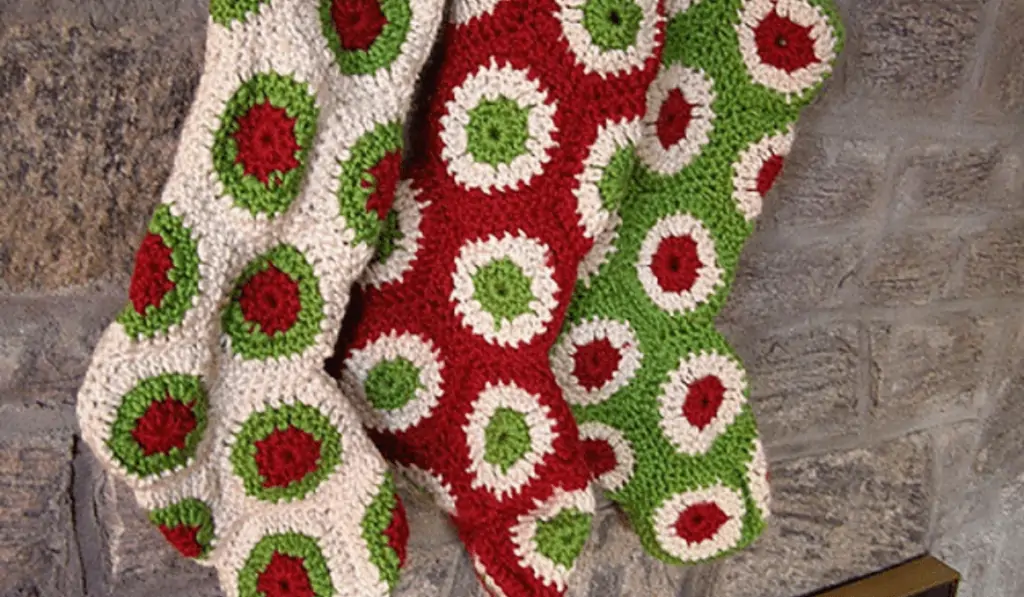 I love this twist on the classic from Priscilla Hewitt. The green, white and red yarn worked in a round-to-hexagon motif makes a stunning, modern stocking for today.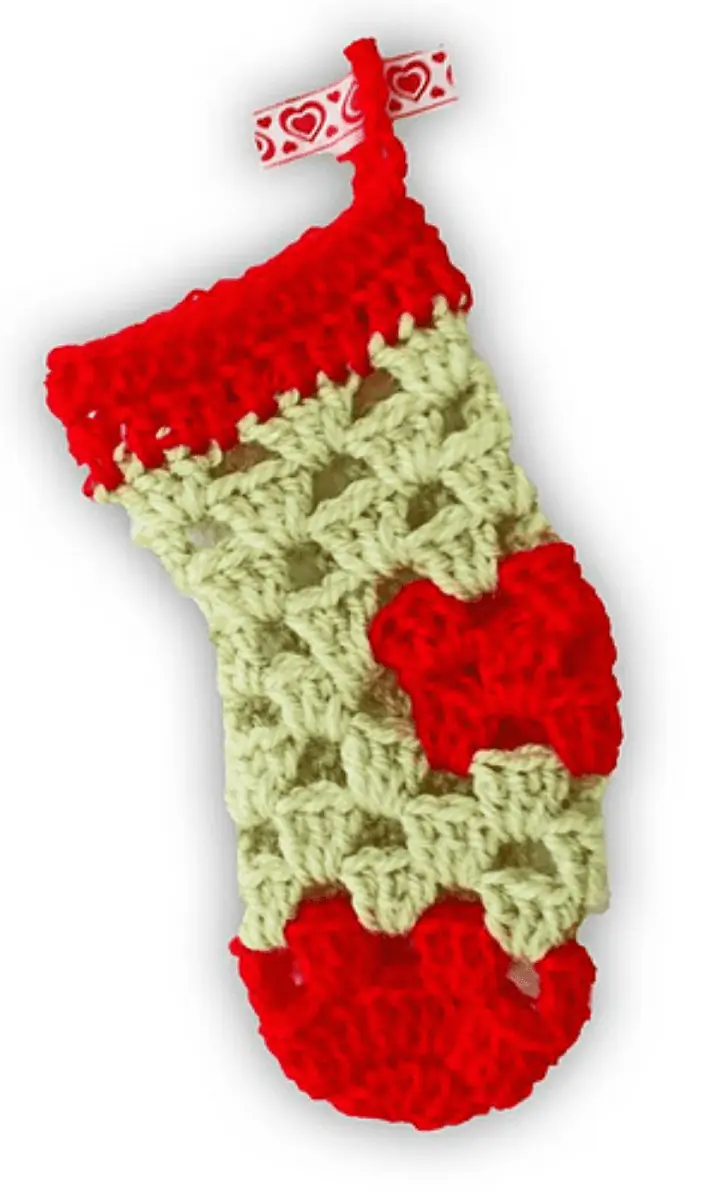 This little baby stocking by Ile Marquez is just the cutest! This darling ornament would be beautiful on your Christmas tree!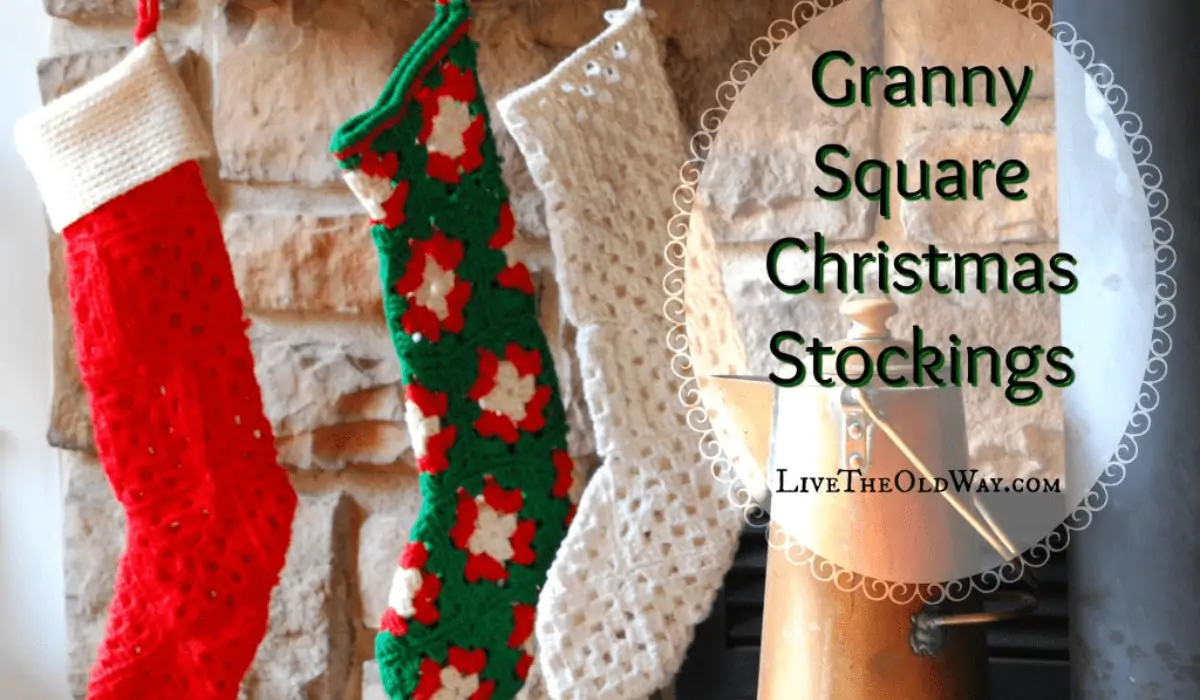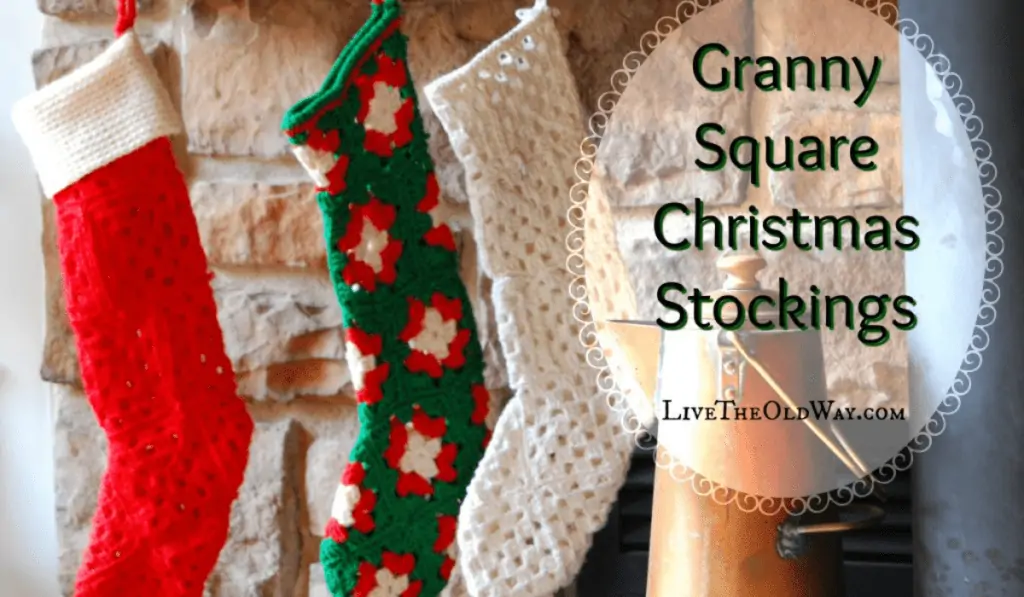 I love that this pattern by Live The Old Way offers a visual for both a solid and striped stocking! The hard part is how to decide which one you like best!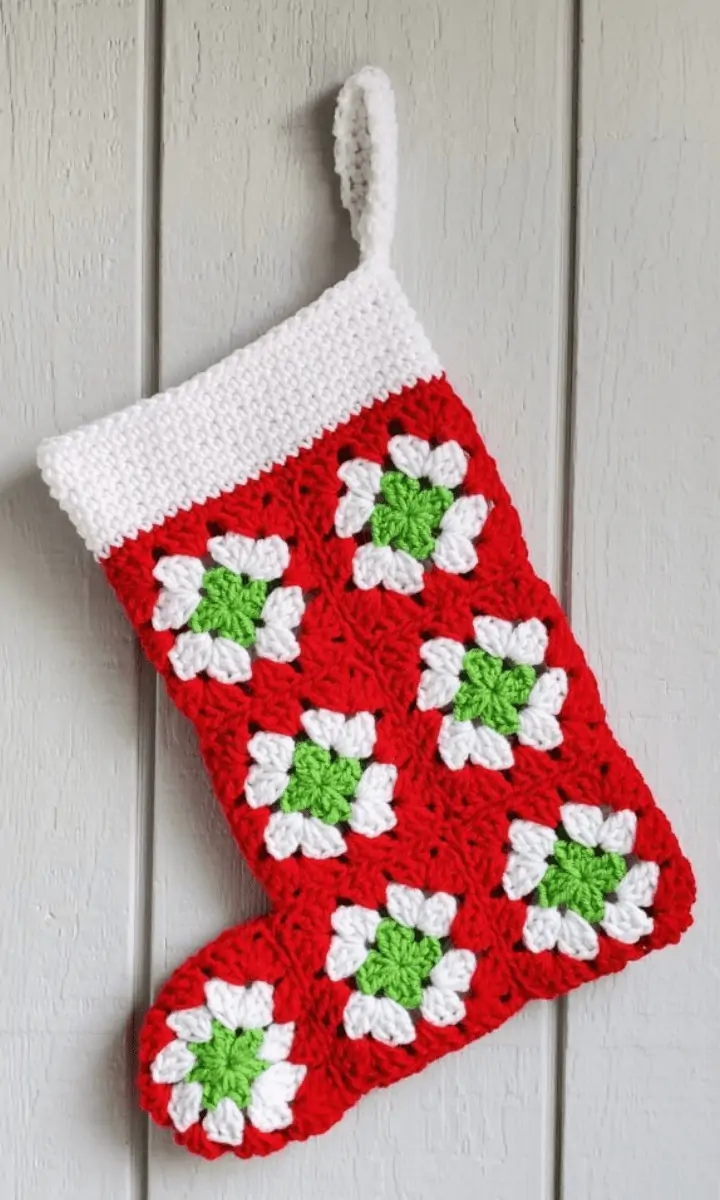 Need a nice fat stocking for all those Christmas goodies? Sweet Bee Crochet offers a fun and festive way to spoil your loved ones this holiday season!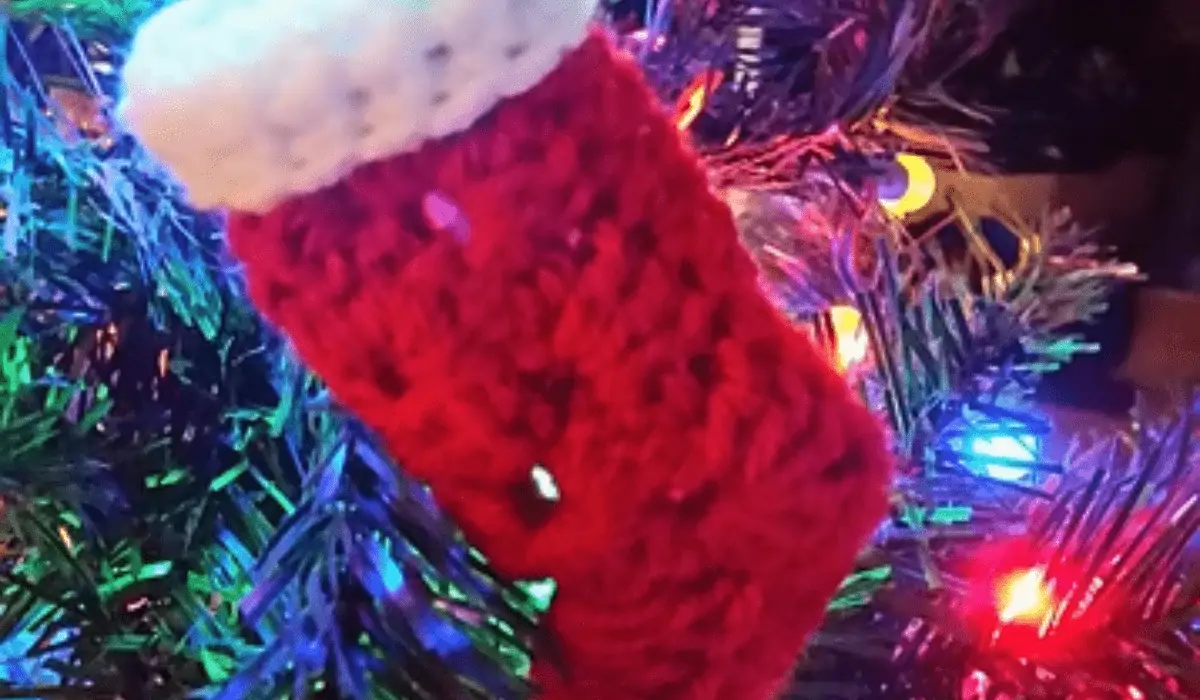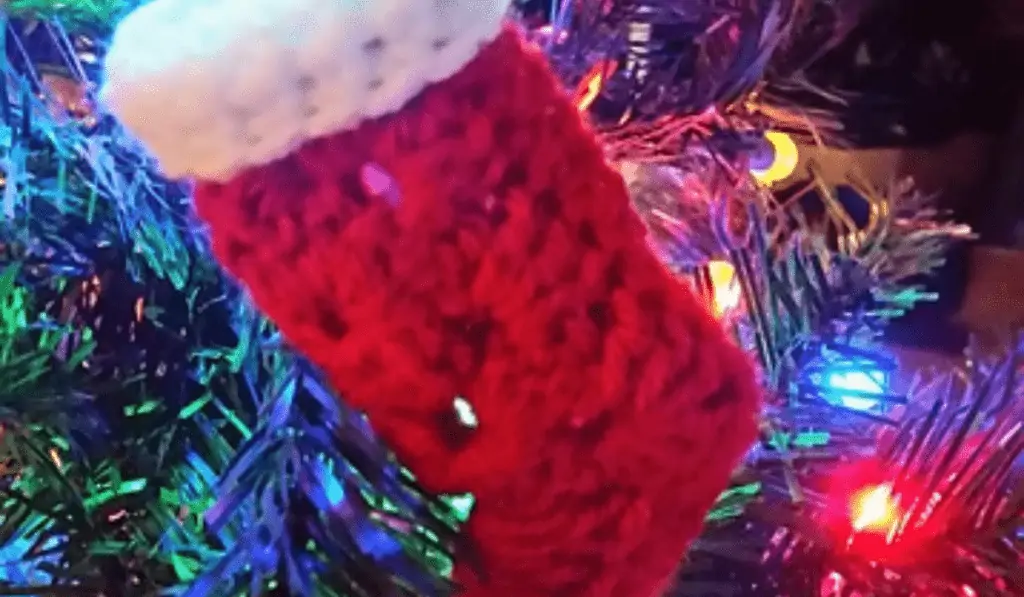 Here is just another small stocking that will melt your heart! Amy B Stitched brings us the classic red stocking with a white trim in the cutest way possible!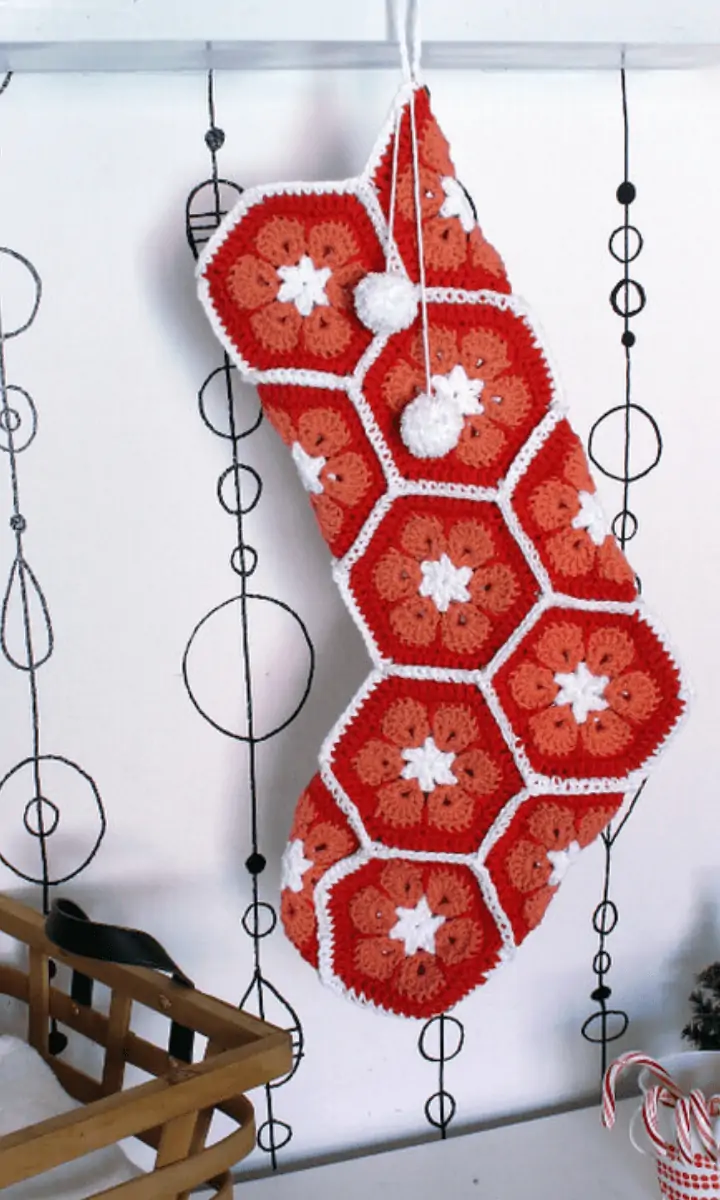 This show-stopper stocking by Persia Lou shows that you don't have to stick to just the traditional granny square! This African flower-style stocking is one of my favorites, but my heart is stolen by those darling pom poms dangling from the top.
Weren't these motif granny stocking patterns so fun? I just love Christmas crochet projects!
If you're looking for a non-granny style stocking, be sure to check out my Crochet Christmas Stocking pattern complete with fur trim!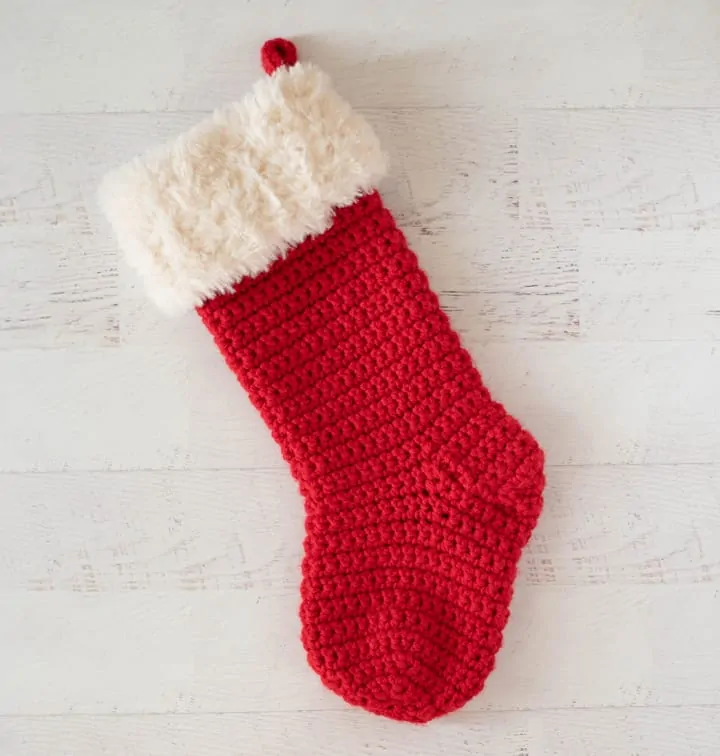 Happy Crocheting!
I love seeing your finished projects! If you enjoyed making one of my patterns I'd love to see yours on Instagram, be sure to tag me @crochet365knittoo. If you are on Facebook, stop over to the Crochet 365 Knit Too Facebook page or pop over to the Crochet365KnitToo Club and share a photo! I'd love to see your work!