Crochet Garland Patterns for Every Season
This post may contain referral/affiliate links. Please read my disclosure for more info.
Crochet garlands can look stunning all year round! Let's look at a few crochet garland ideas to get you rolling.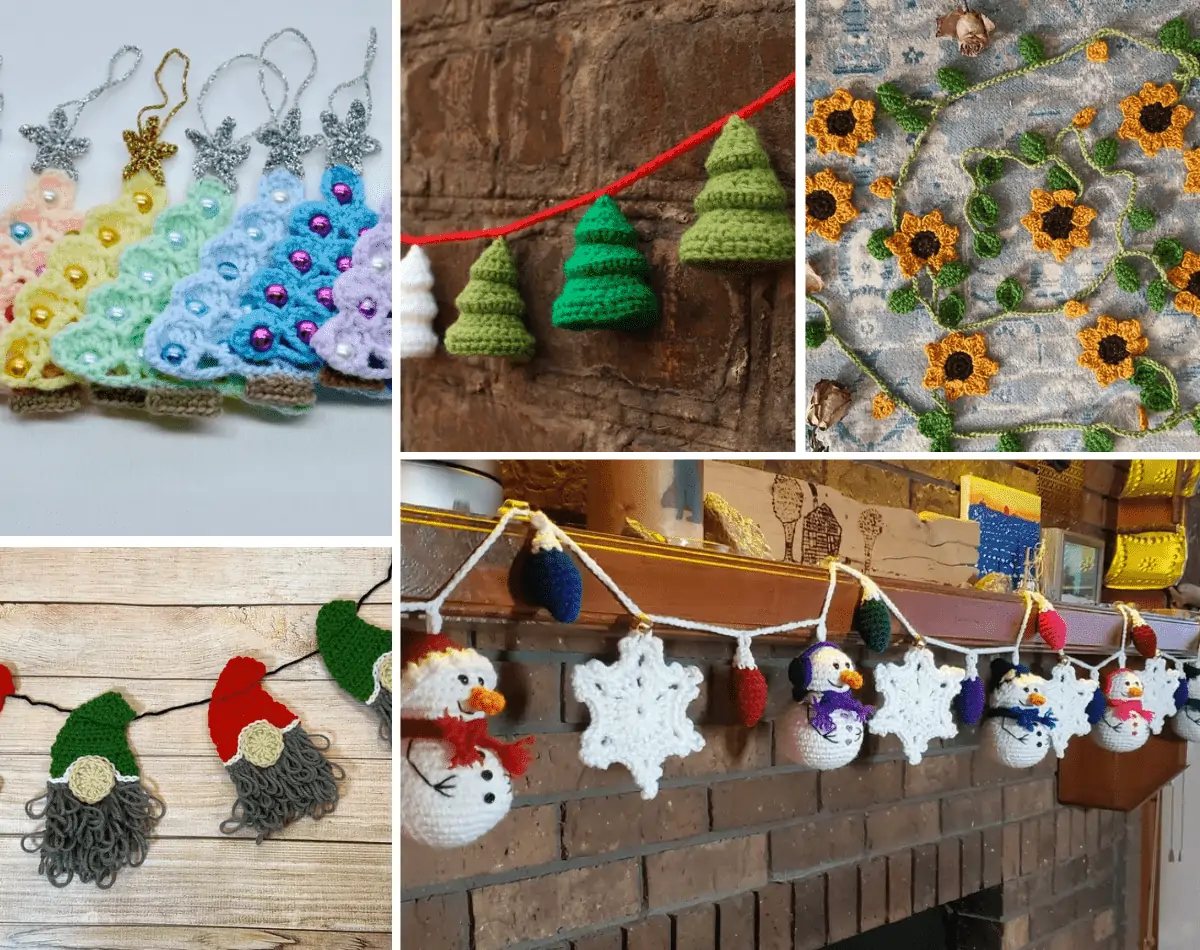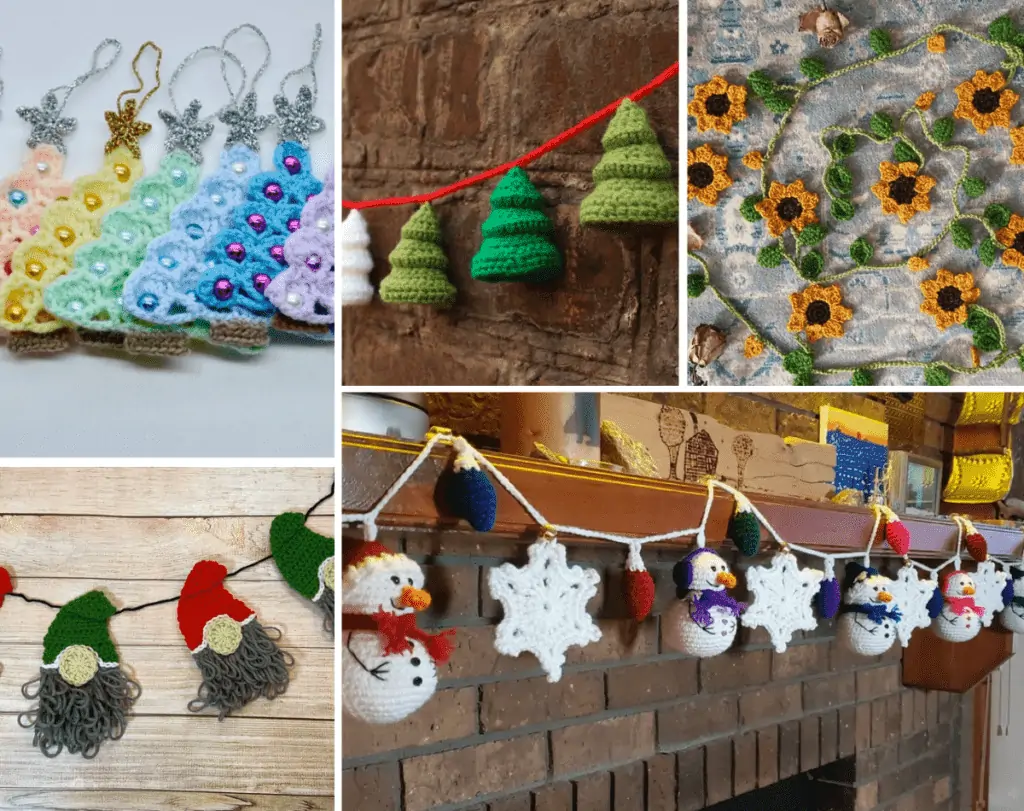 A handmade crochet garland is always going to look beautiful, whether you're using crochet flowers or something more seasonal.
A lovely crochet garland pattern can make awesome decor even better whether you're looking for crochet mantle decor, a beautiful wall hanging, adorable nursery decor, something to go around a basket for table decor, or something different. You're sure to find many uses for a crocheted garland!
Most of these patterns use a variety of basic crochet stitches, so make sure that you know how to work a single crochet stitch, double crochet stitch, and slip stitch (sl st). Since these great patterns won't take a long time to complete, your cute crochet garland is just a few steps away!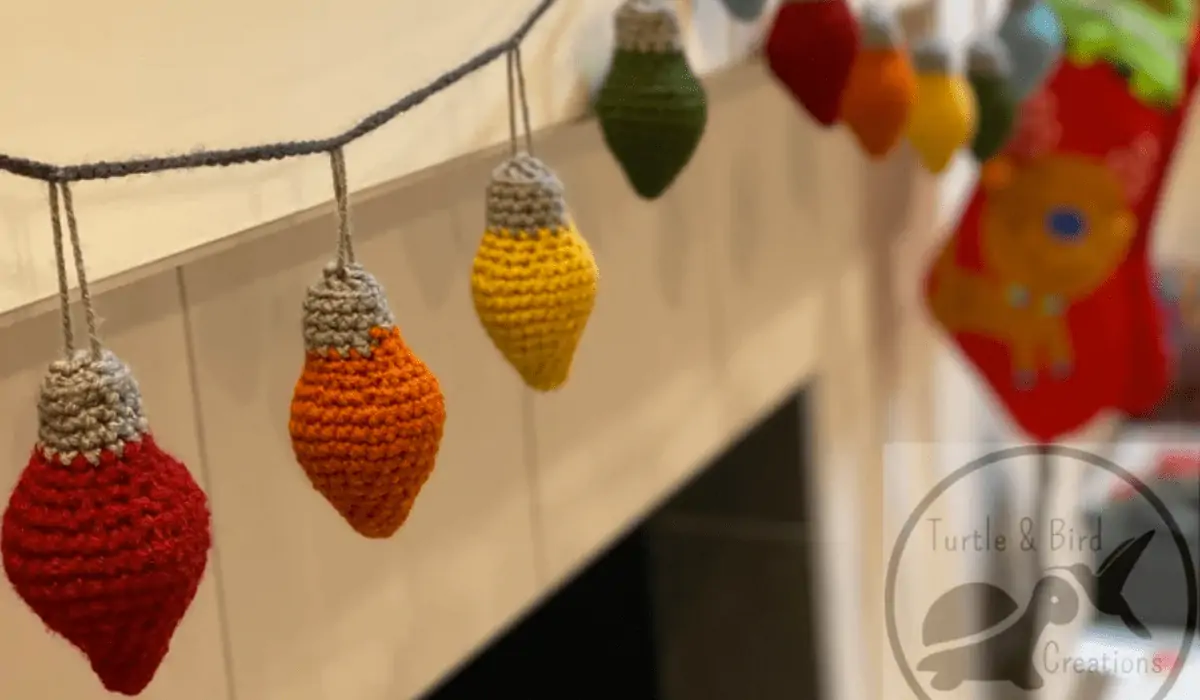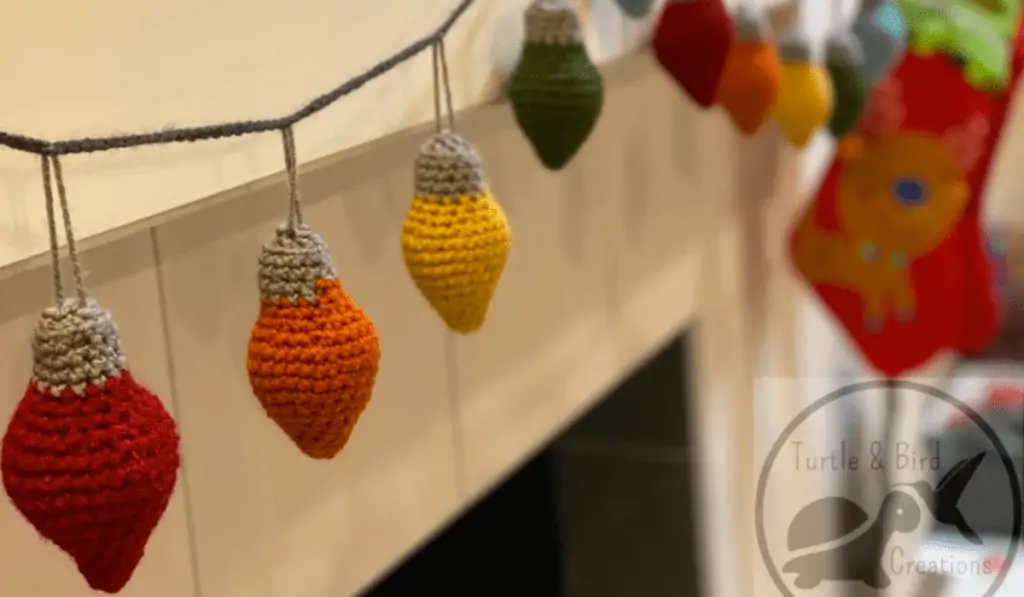 I love this light garland by Turtle Bird TX! Christmas lights are one of my favorite things during the holidays, which is one reason I really love this garland. Wouldn't it be fun to hang it on a string of Christmas lights? So cute!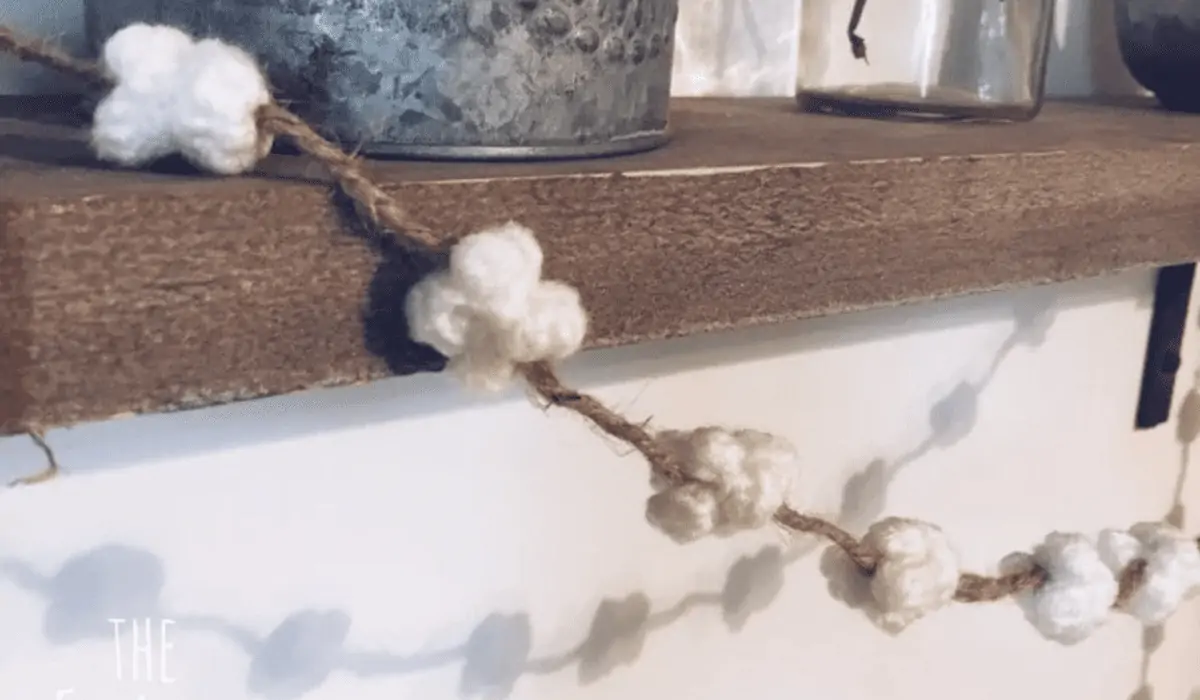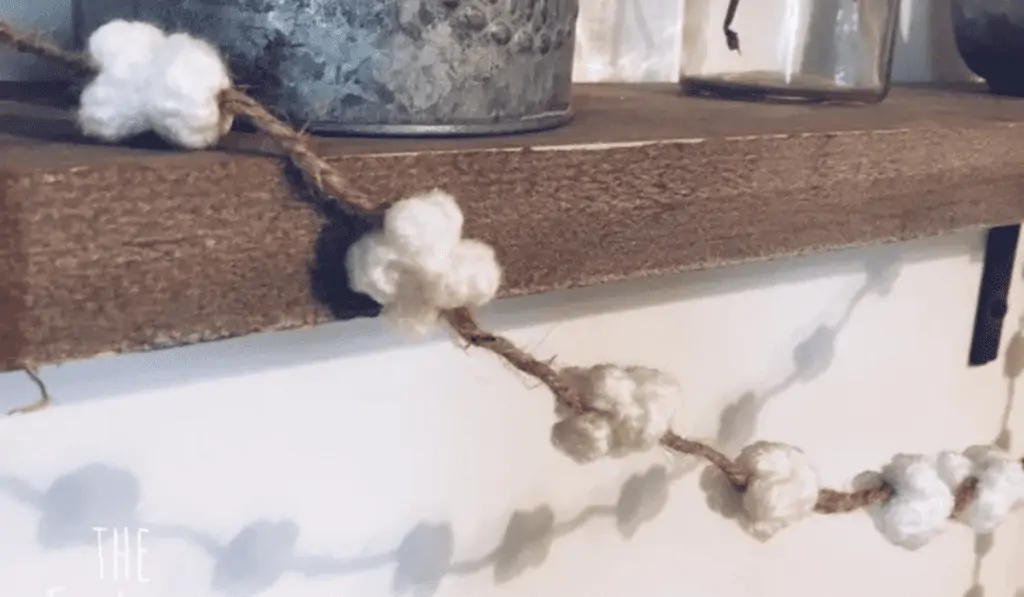 There can be a variety of reasons you can't have an actual string of popcorn around your tree, but this cute crochet popcorn garland by The Farmhouse Nook solves that problem. Plus, no more need to restring popcorn every year!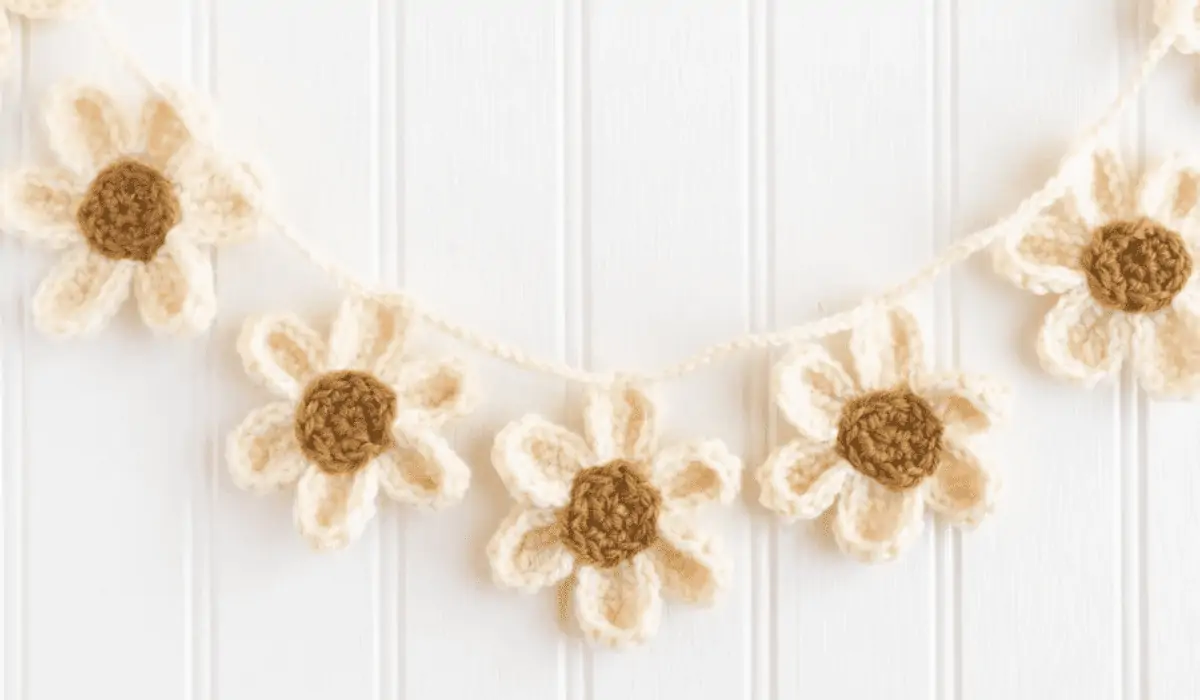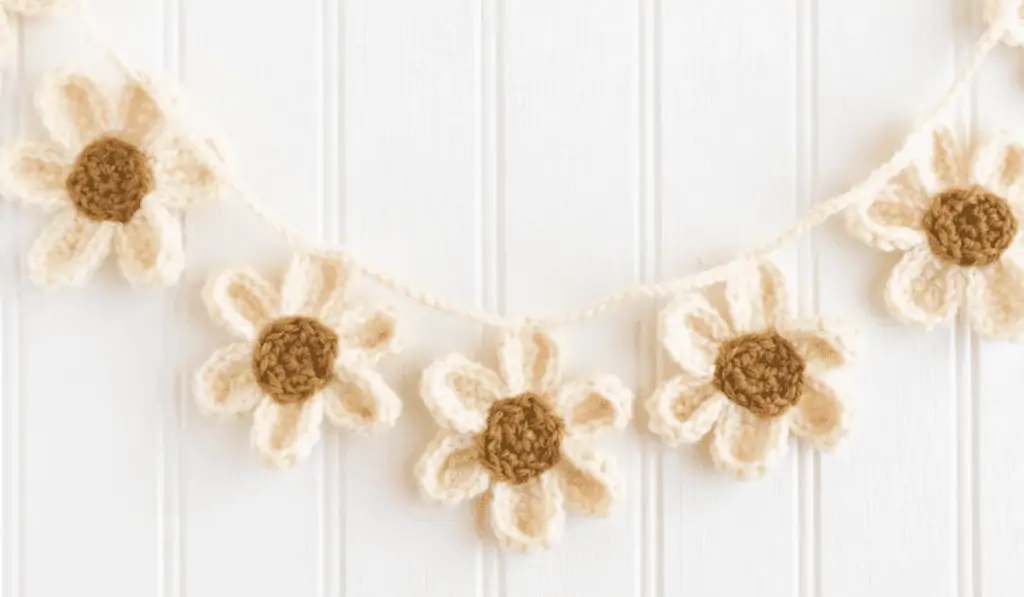 Who doesn't love a crochet daisy garland? This pattern by Our Friendly World is super cute, I love that this is a pattern that could stay up all year round and look gorgeous.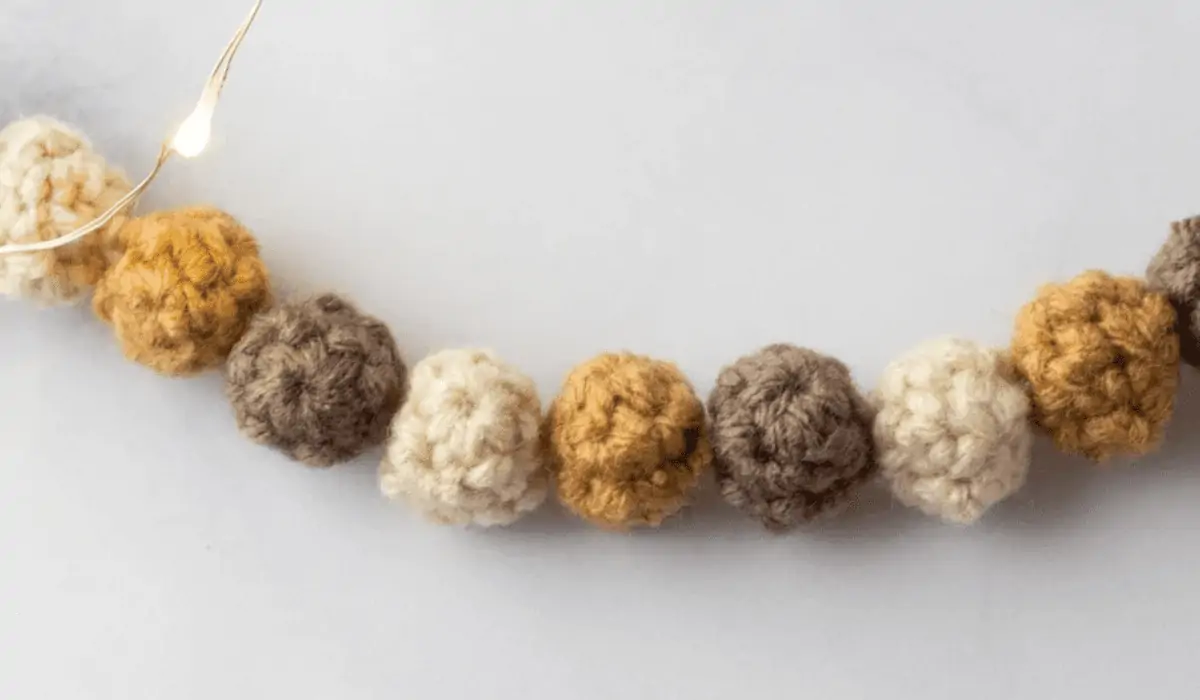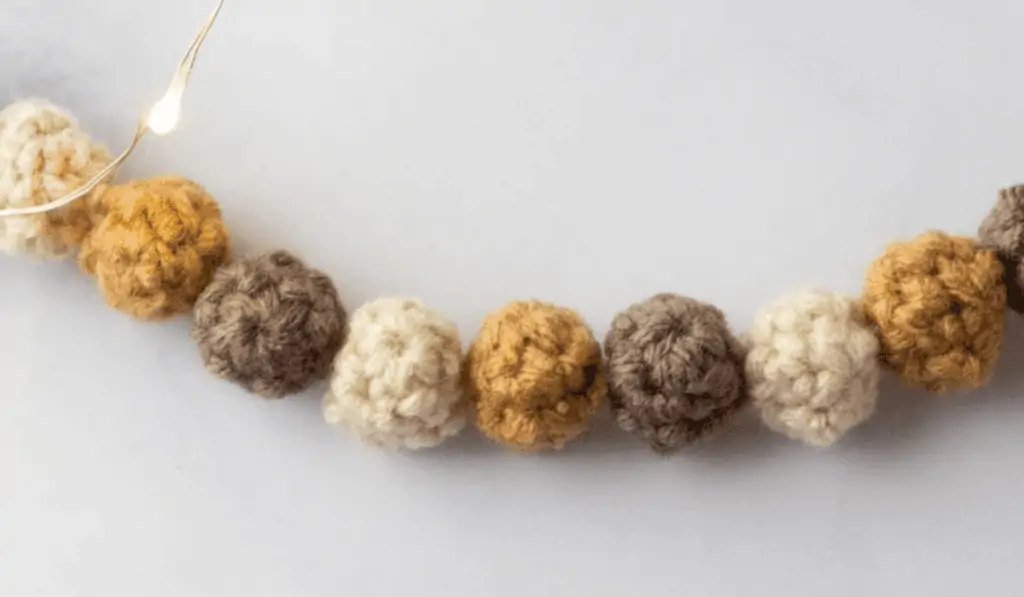 This is such a fun project! This ball garland pattern by Cozy Stars Crochet would not only look super cute on your Christmas tree, but you can also make these into fun ball ornaments that bring different elements of this garland into other parts of your tree or home.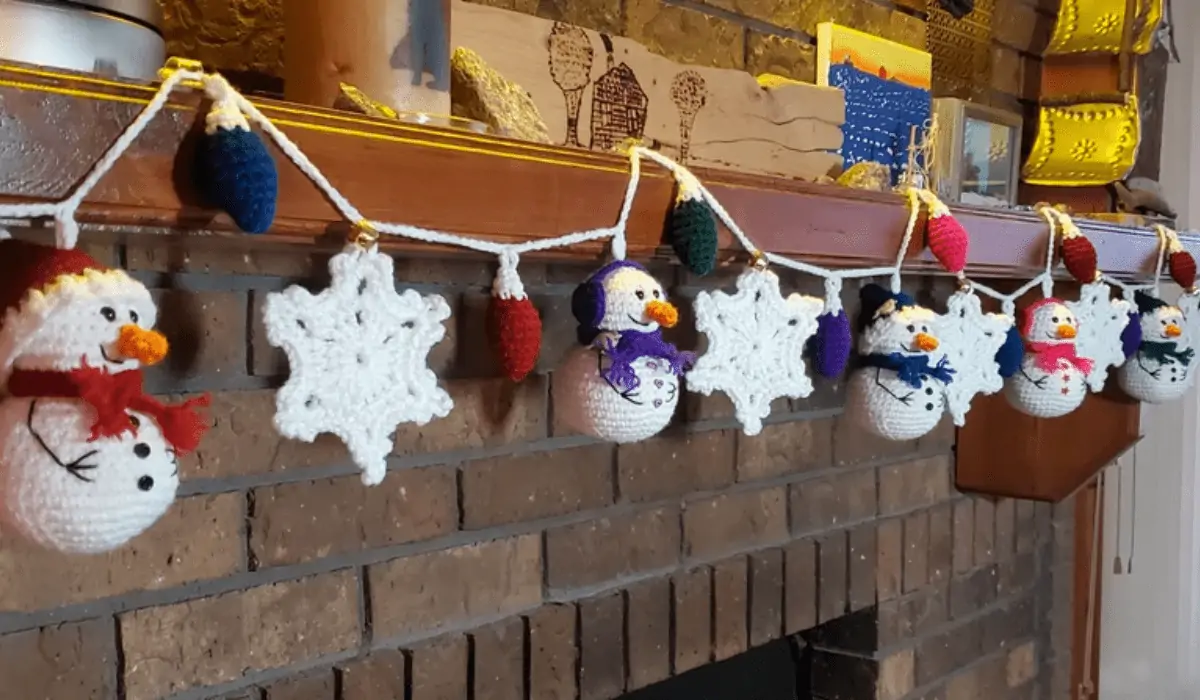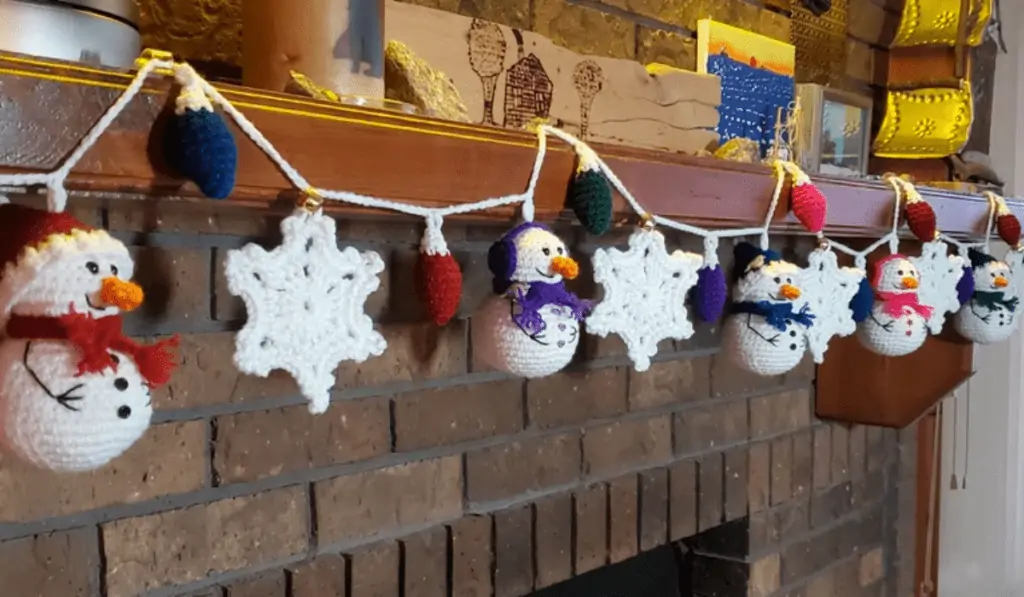 This snowman, Christmas lights, and snowflake garland by Brooke's Yarn Barn are super cute! I love this different take on a cool snowflake garland and all the different color options of scarves, hats, and earmuffs.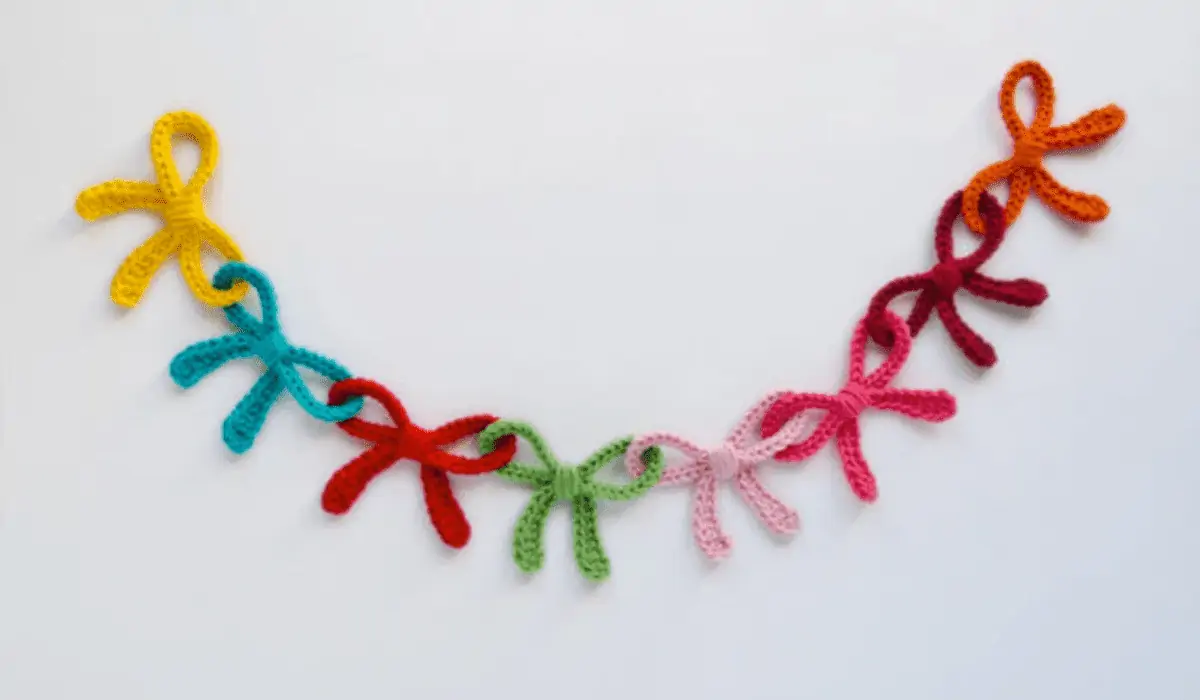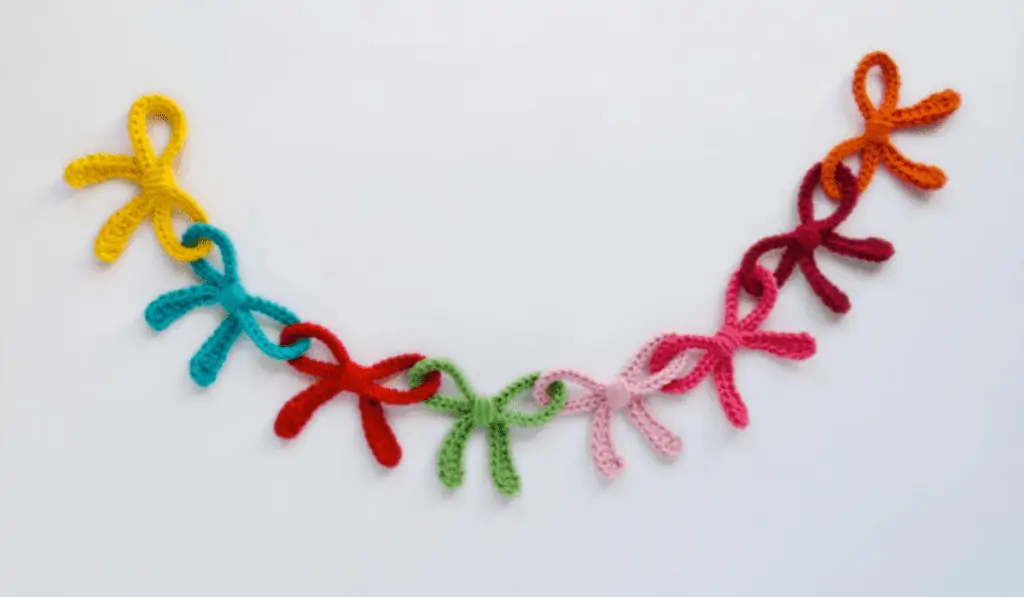 I love the idea of this crochet bow garland pattern by One and Two Company. Wouldn't it look so cute in a kid's bedroom?It would also be a beautiful holiday garland to use for gift wrapping instead of ribbon.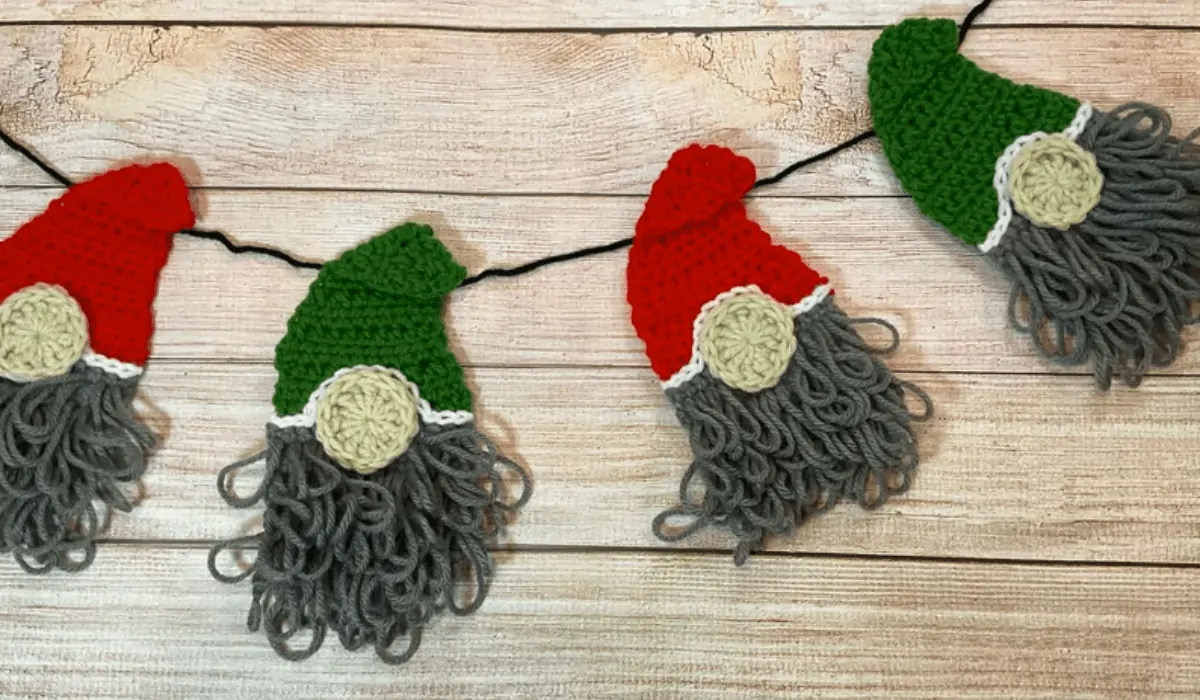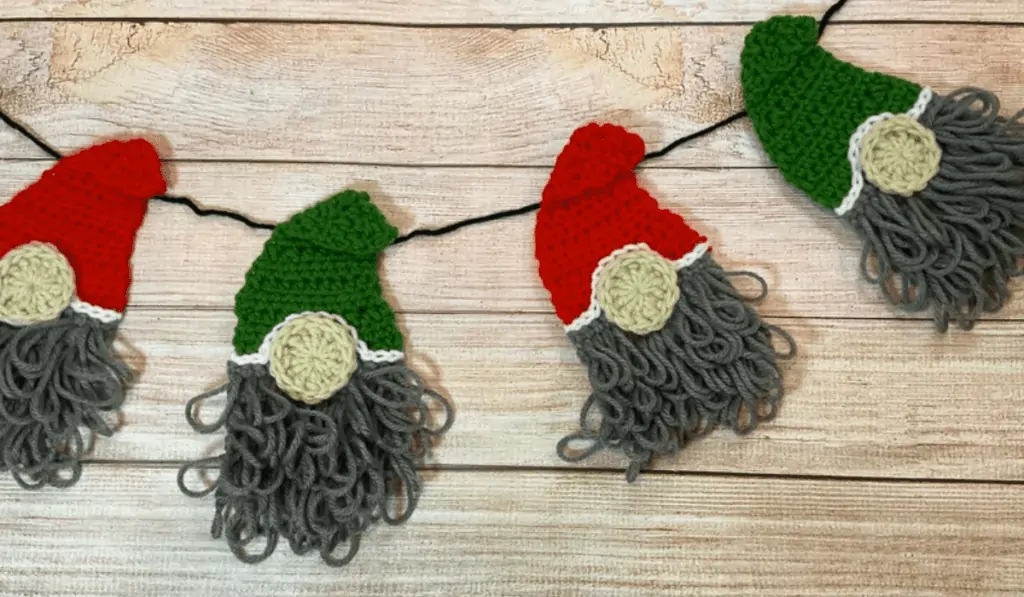 How can you resist this gnome garland by Scruffy City Stitches? This pattern is just so fun! Personally, I love the traditional colors of this yarn, but you can easily trade it out for your favorite yarn colors and make this beautiful garland all your own.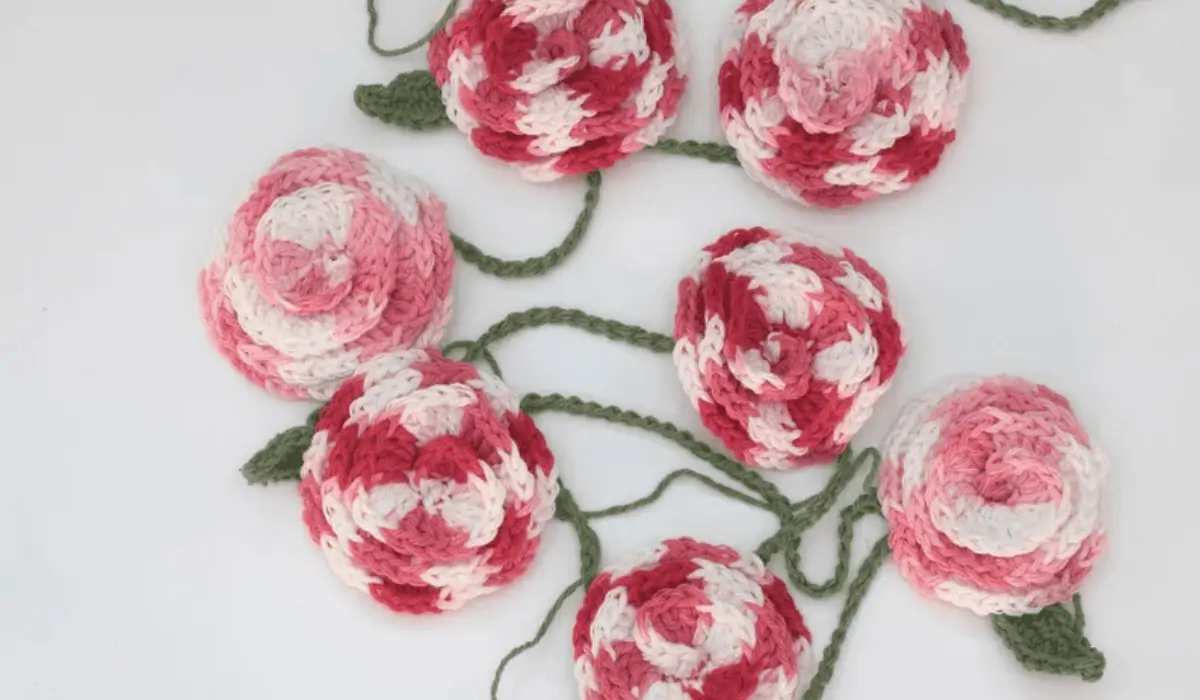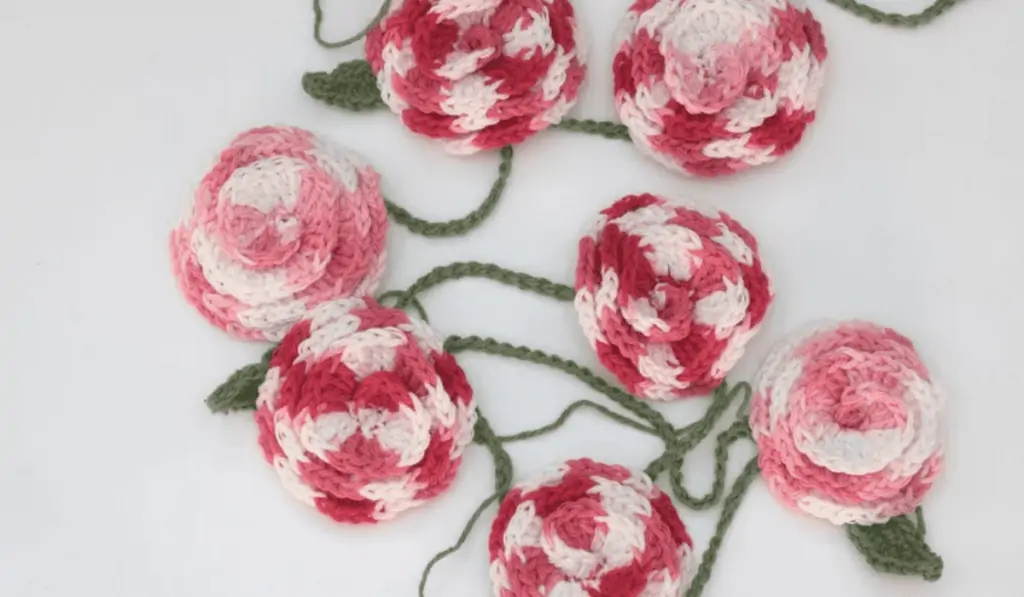 The stripes of pink and white yarn on this floral garland by Beaded Wire are super cute! This crochet pattern would be perfect for hanging down a wall with some fairy lights.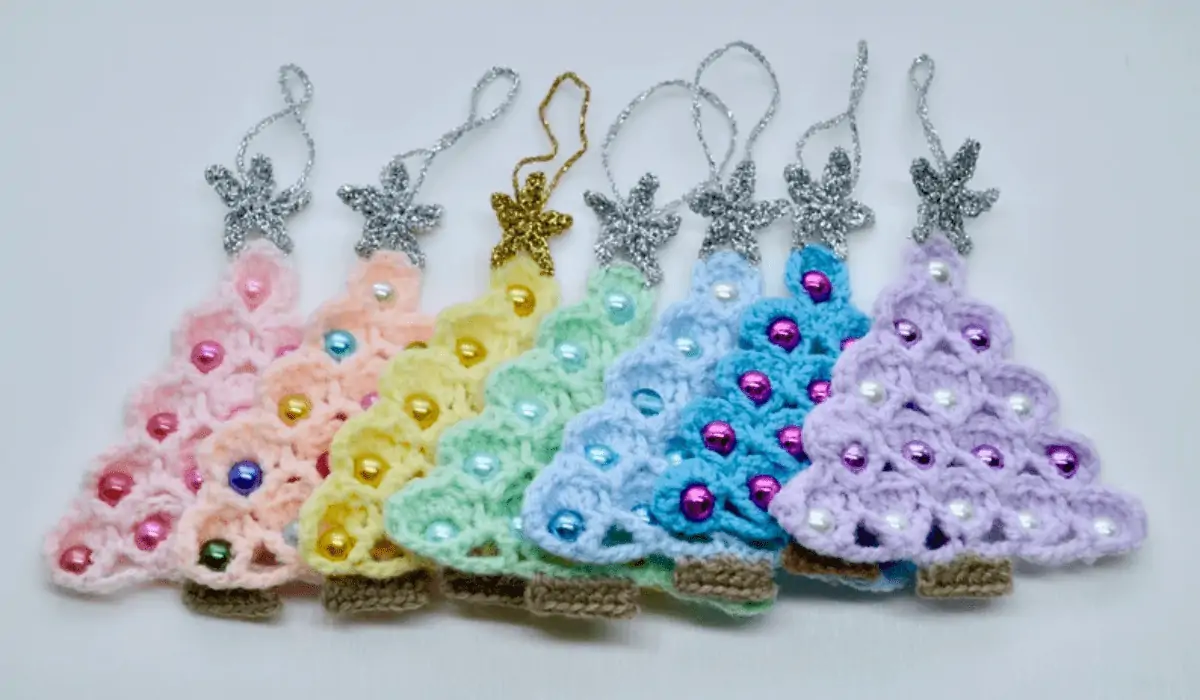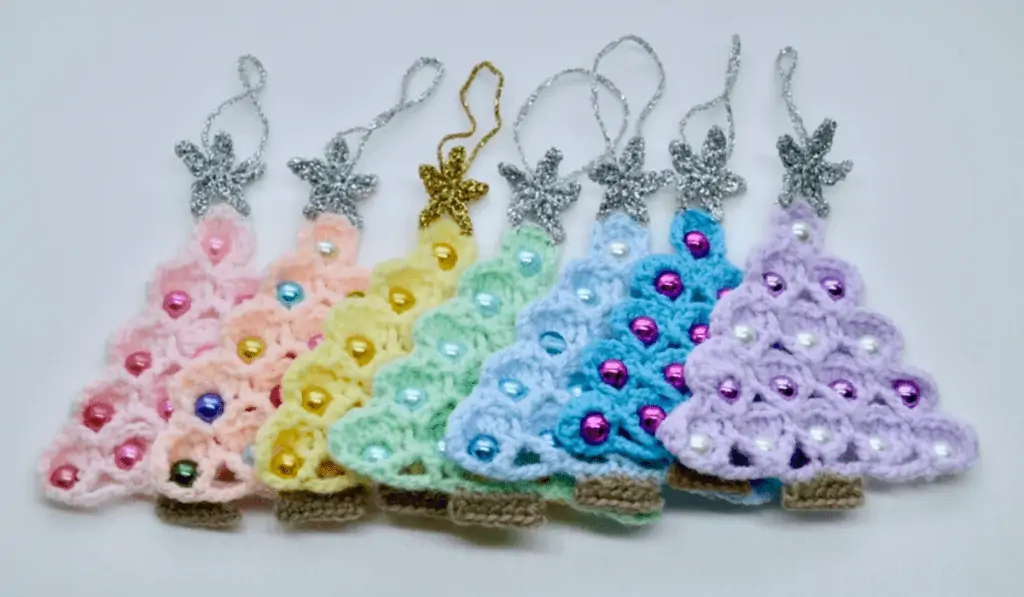 These tree ornaments by Hugles will make a stunning tree garland that is perfect for Christmas. I especially love that this decorative garland also has ornaments on the little trees themselves. Is there anything better to get you in the holiday spirit?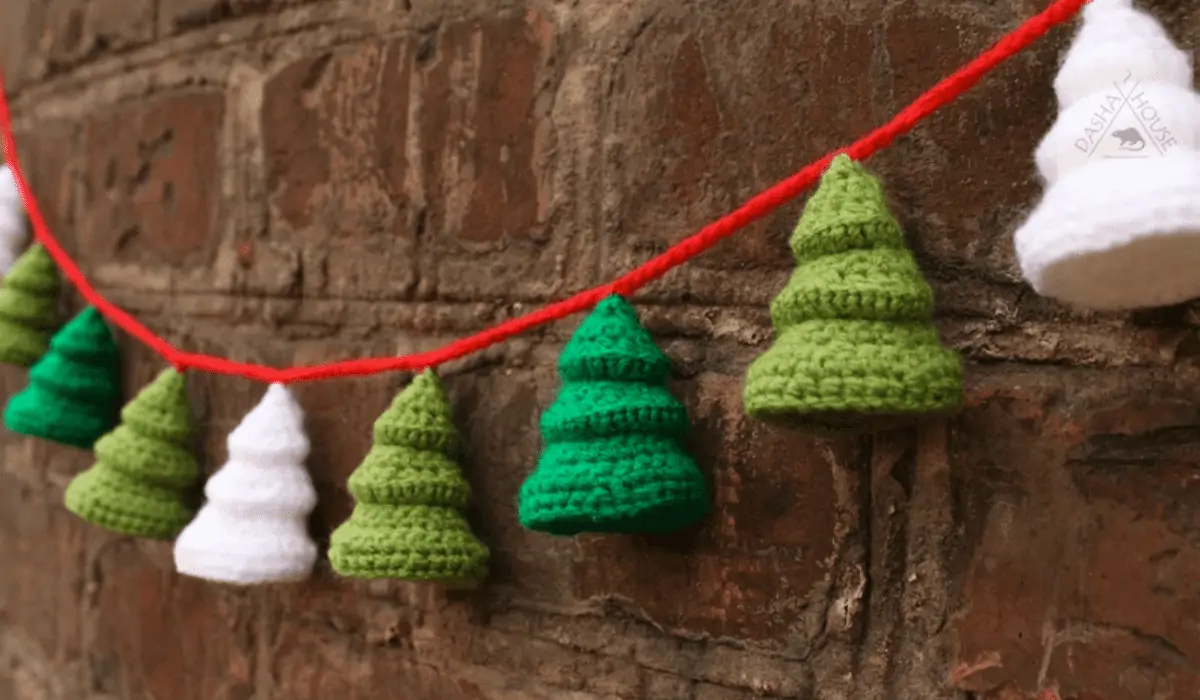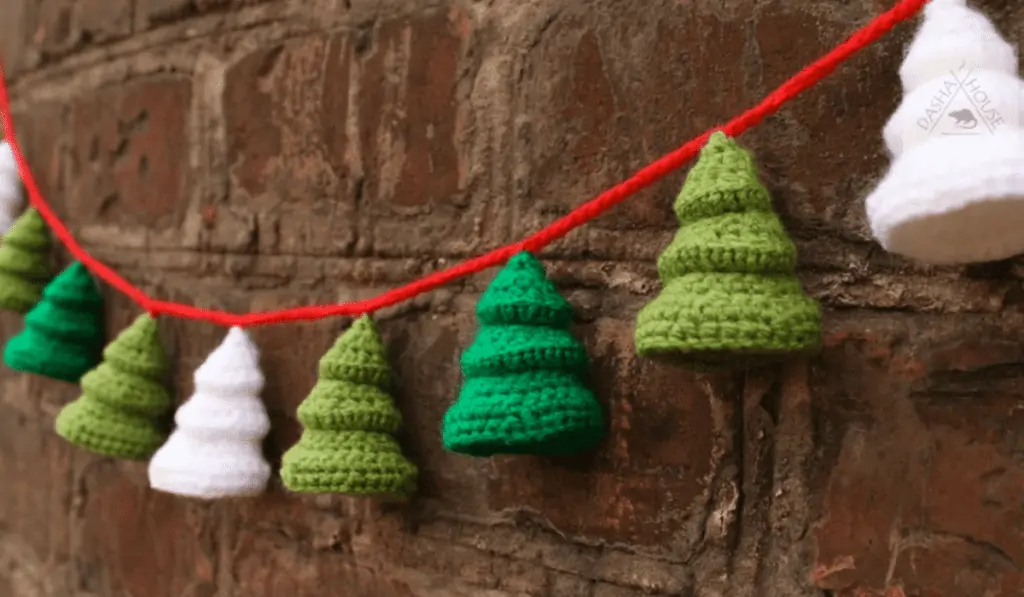 I love the way this 3D tree garland by Dasha House looks! It's such a cute pattern. One of the pictures shows the little trees being lit by the fairy lights, which is absolutely adorable.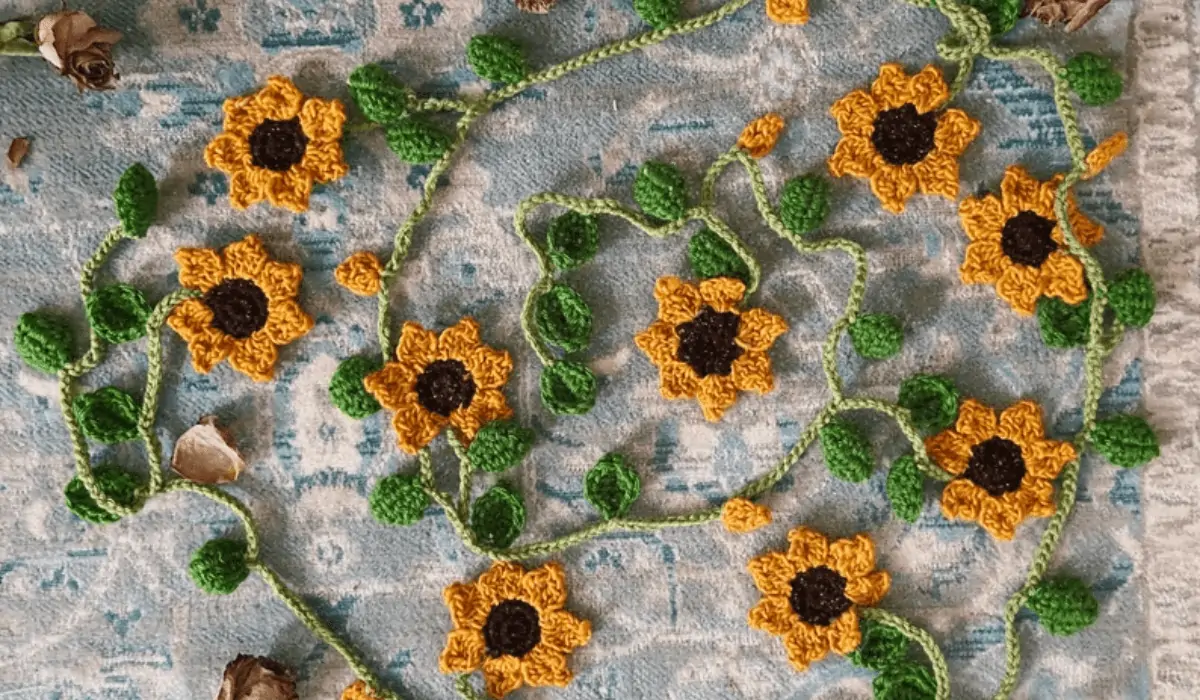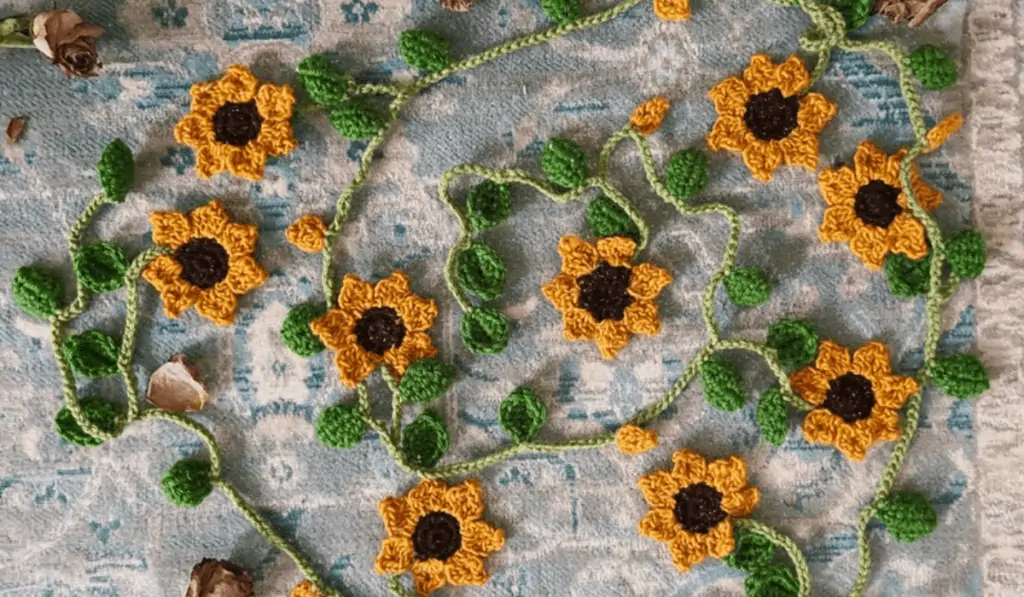 You know I love sunflowers, and this adorable floral garland pattern by Knit Sprout Studio is no different. This could be such a cute garland to hang at a baby shower, on party tables, or as a cute backdrop.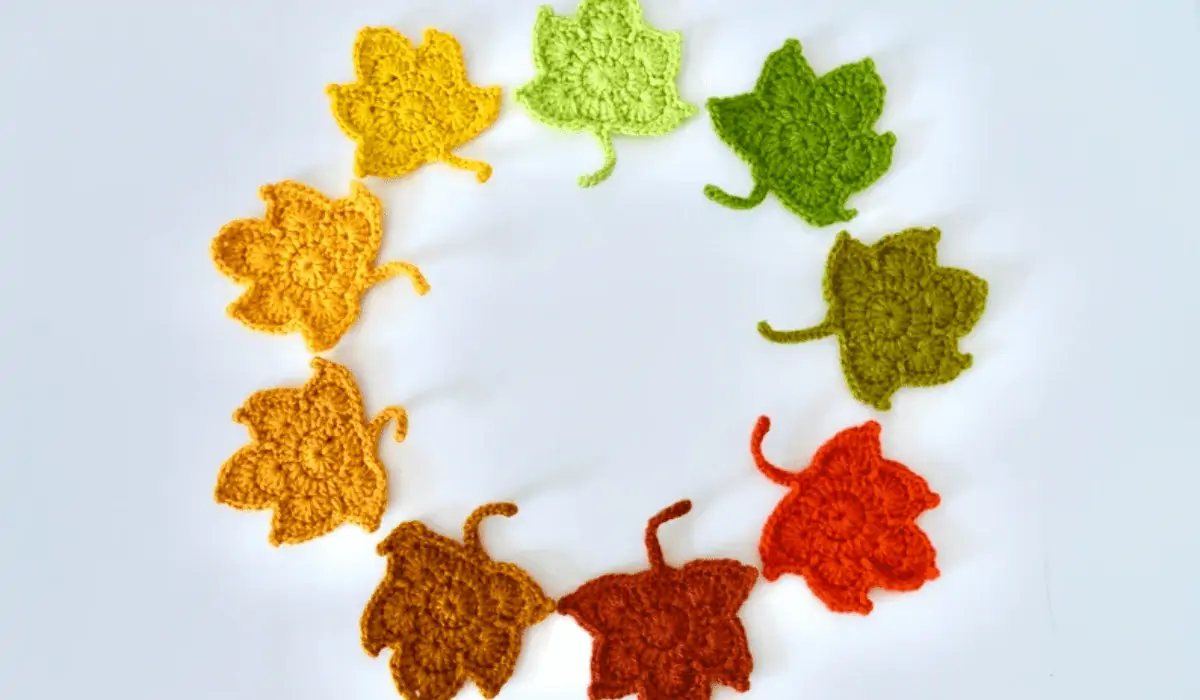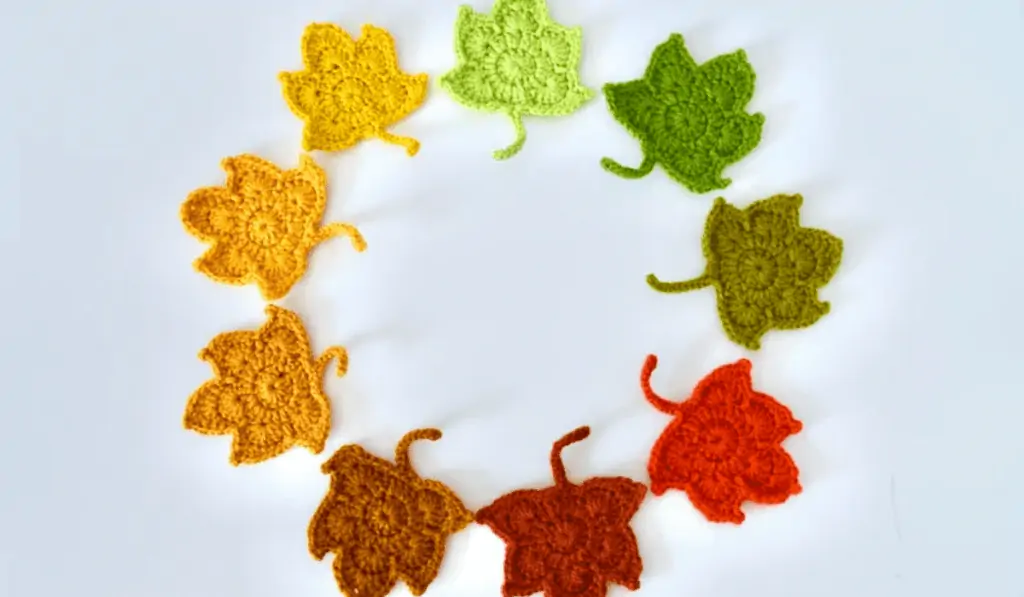 If you're looking for a cute crochet fall garland, these maple leaves would make such a cute maple leaf garland! I love the detailing on this pattern by Hugles and how you can see all the different color options and how cute each of them looks.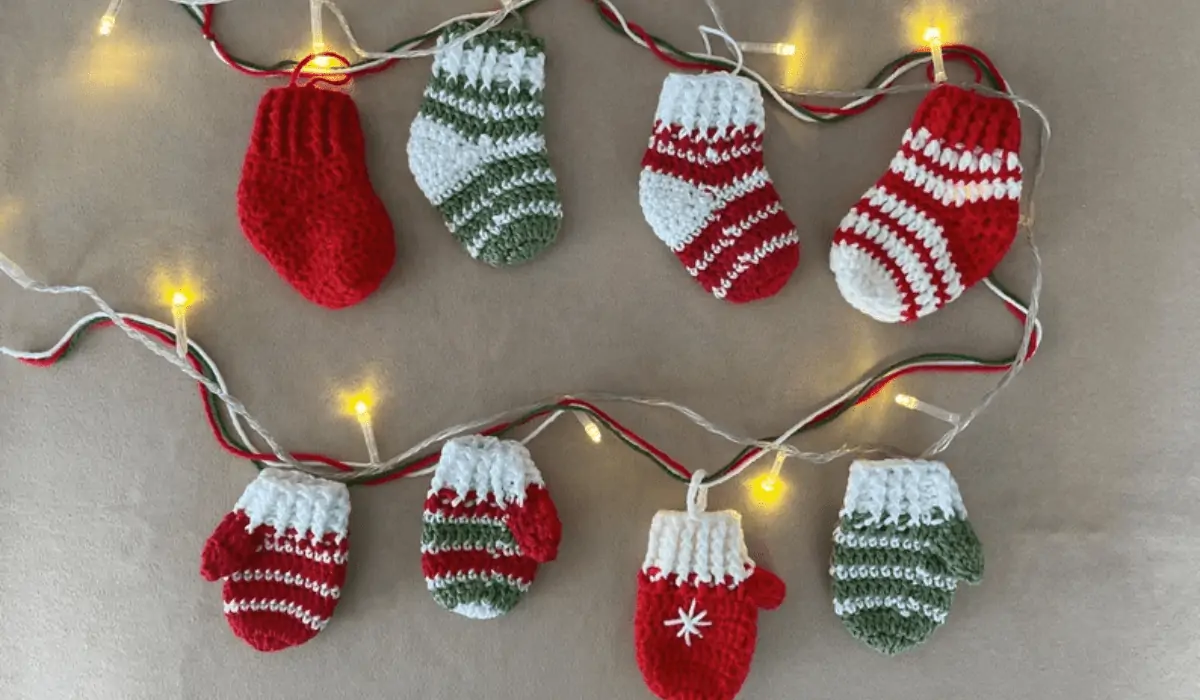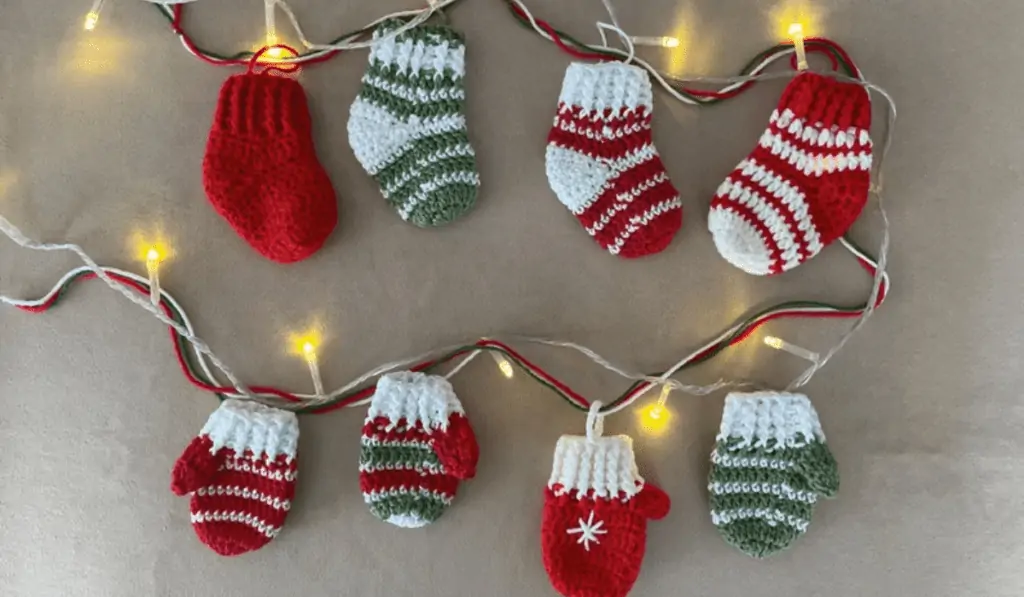 There is really something about the fairy lights going around this garland that I think is simply beautiful. I love this stocking and mitten garland by Crochet Club Store Co. Honestly, there is really something about a crochet mitten garland that brings in the Winter season.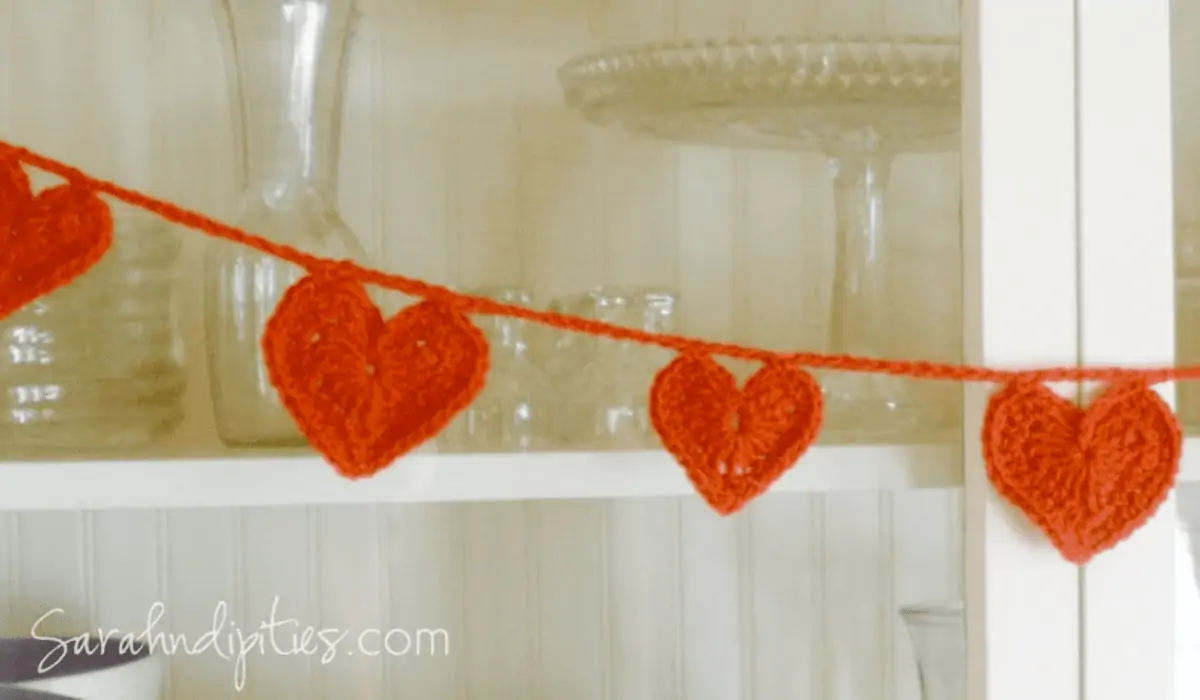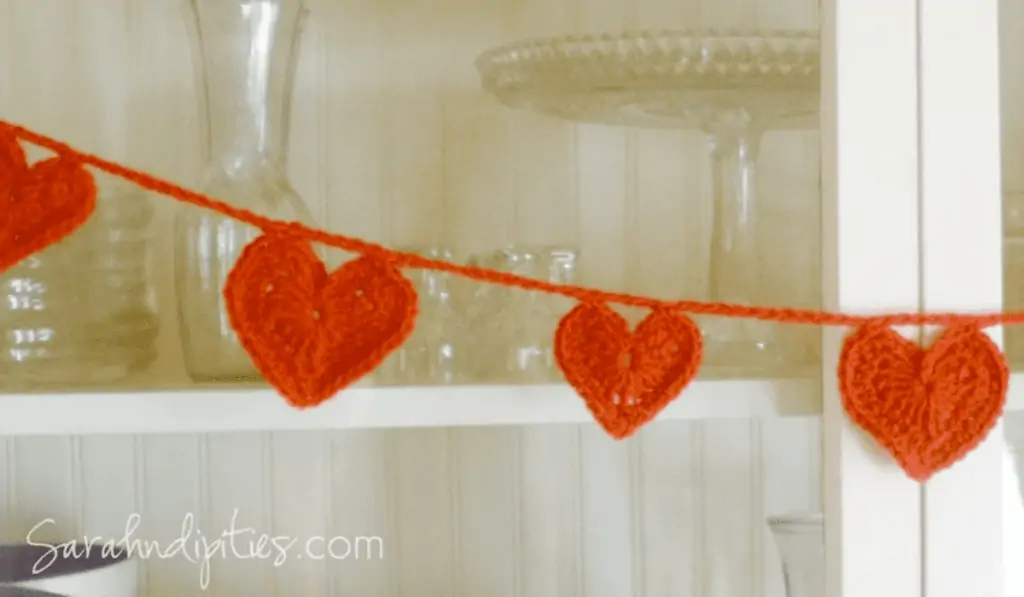 I didn't know I needed a crochet hearts garland until I saw this pattern by Sarahndipities. Honestly, this brilliant heart garland will absolutely be perfect for Valentine's day!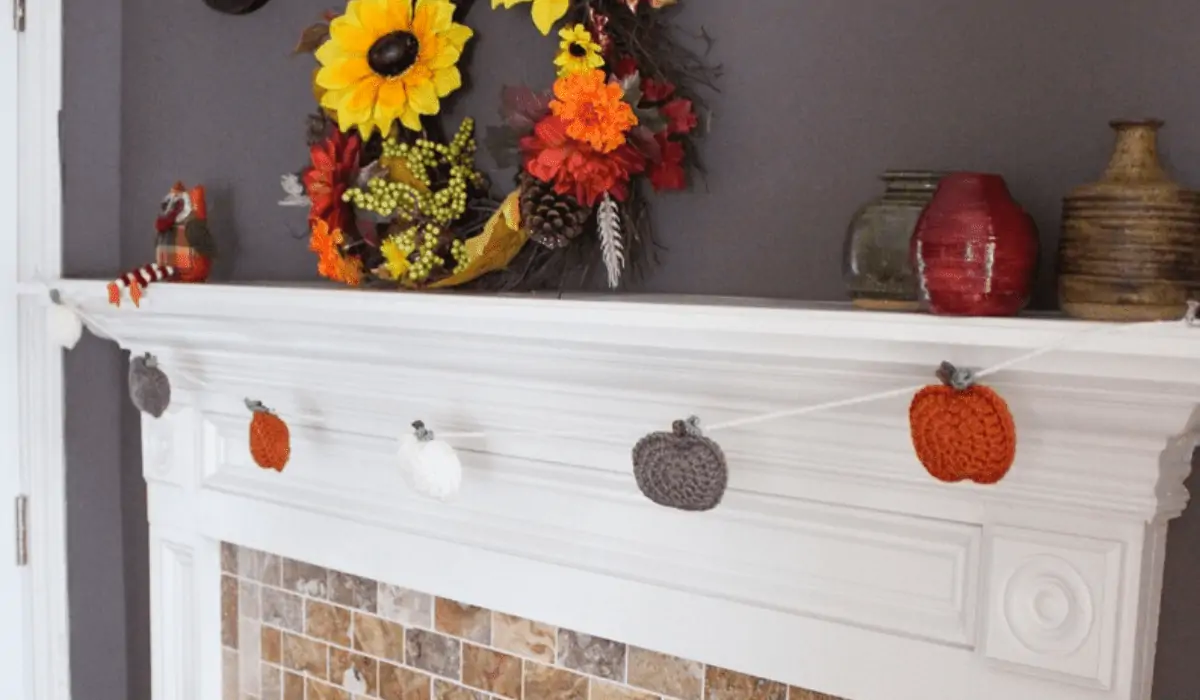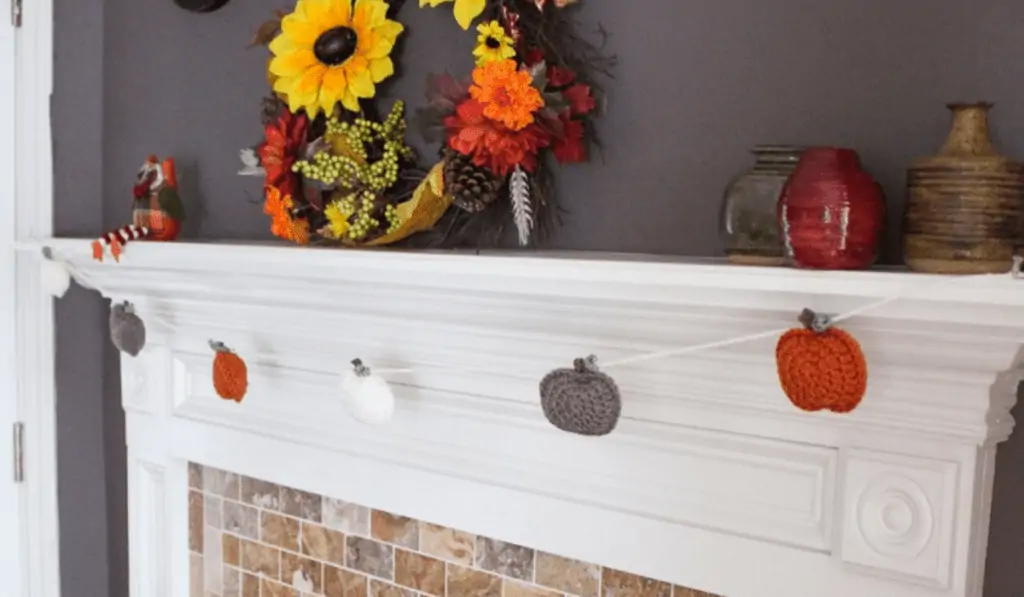 If you need the perfect garland for fall, this rustic pumpkin garland by The Knotted Nest Shop is a great option to hang on your fireplace mantel.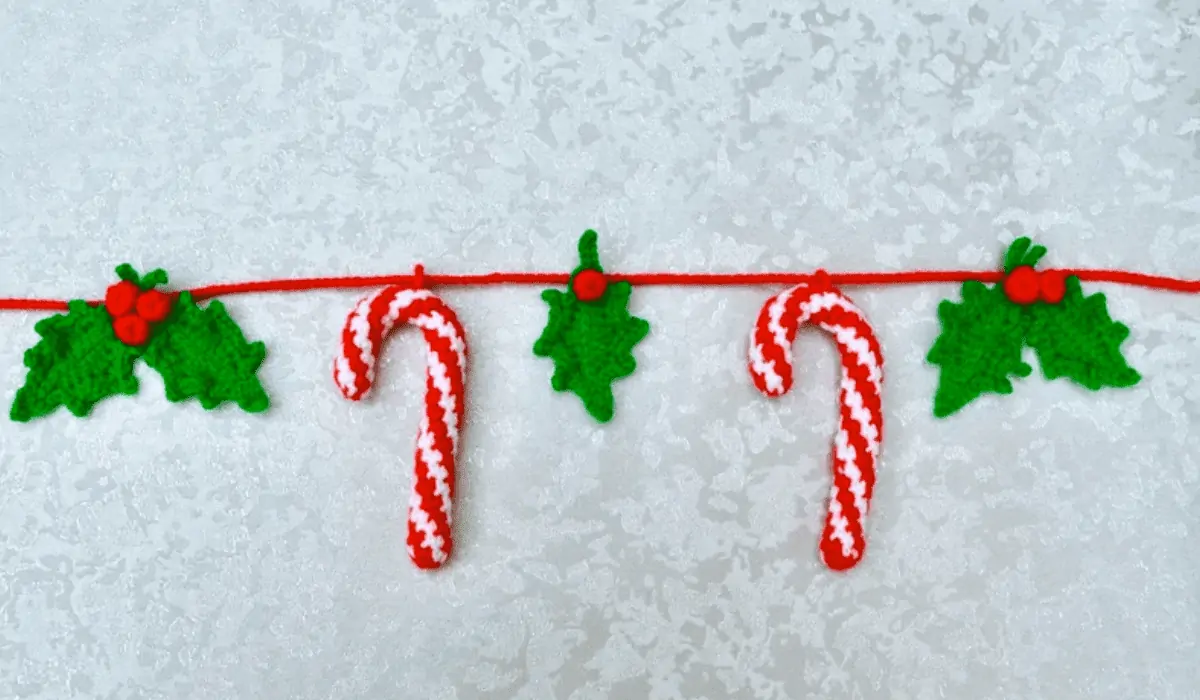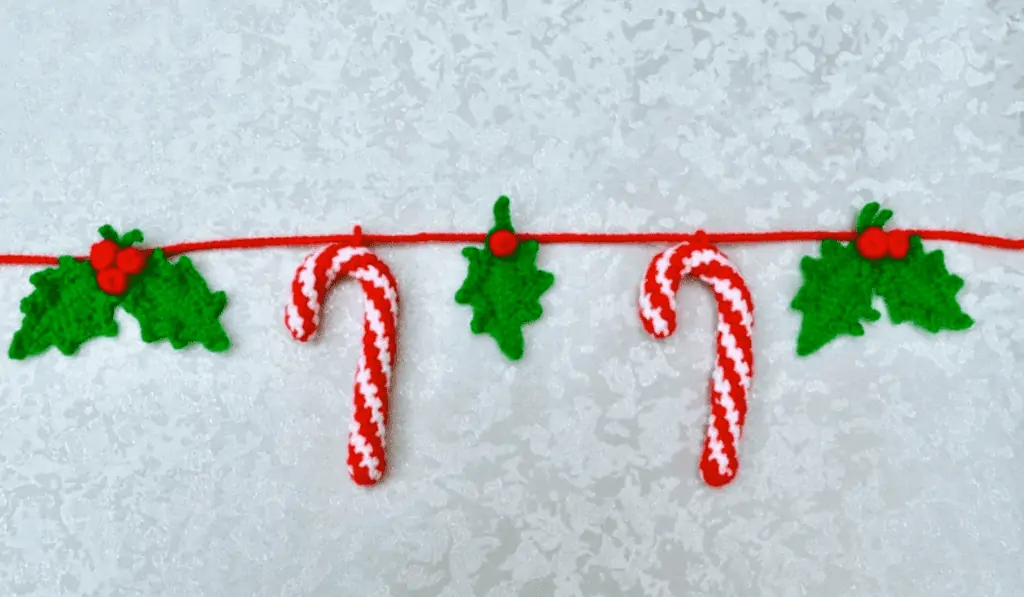 Whether you want a crochet holly garland, a crochet candy cane garland, or a mix of both, this crochet garland pattern by Hugles is perfect for you.
I love seeing your finished projects! If you enjoyed making one of my patterns I'd love to see yours on Instagram, be sure to tag me @crochet365knittoo. If you are on Facebook, stop over to the Crochet 365 Knit Too Facebook page or pop over to the Crochet365KnitToo Club and share a photo! I'd love to see your work.