Sunburst Granny Square
This post may contain referral/affiliate links. Please read my disclosure for more info.
This might be my all time favorite granny square. She's pretty. A little sassy. And 100% put together. My friends: Meet the Sunburst Granny Square.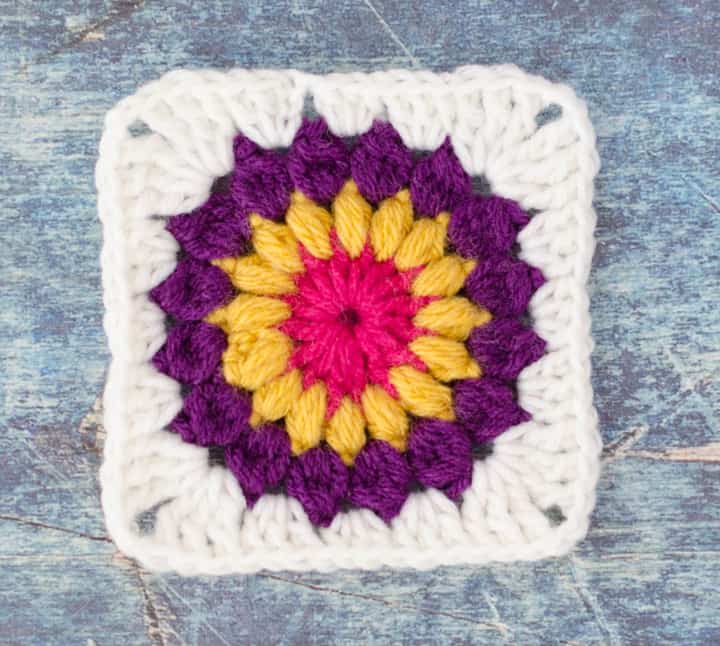 I love a good granny square. And so do a lot of you. They are pretty, easy to learn and pack a visual punch. You can use them in so many ways. An afghan. A bag. Really just about anything and everything can have a granny square component.
And I love a design that builds on an old favorite. We've covered a basic granny square pattern and an easy baby blanket. And we used a fun Daisy Square in the very popular Daisy Mae bag. And of course a simpler solid granny square in the Boho Boss Bag.
I've been drooling over this Sunburst Granny Square…well…just about forever. I love it made in bright, bold colors like the first photo and used in a pillow or afghan. With the flat braid join? Swoon. Can you imagine it? Be still my heart!
Or how about changing up the color scheme to make a cute sunflower! You'll find this little beauty the feature square in the Sunflower Granny Square Bag!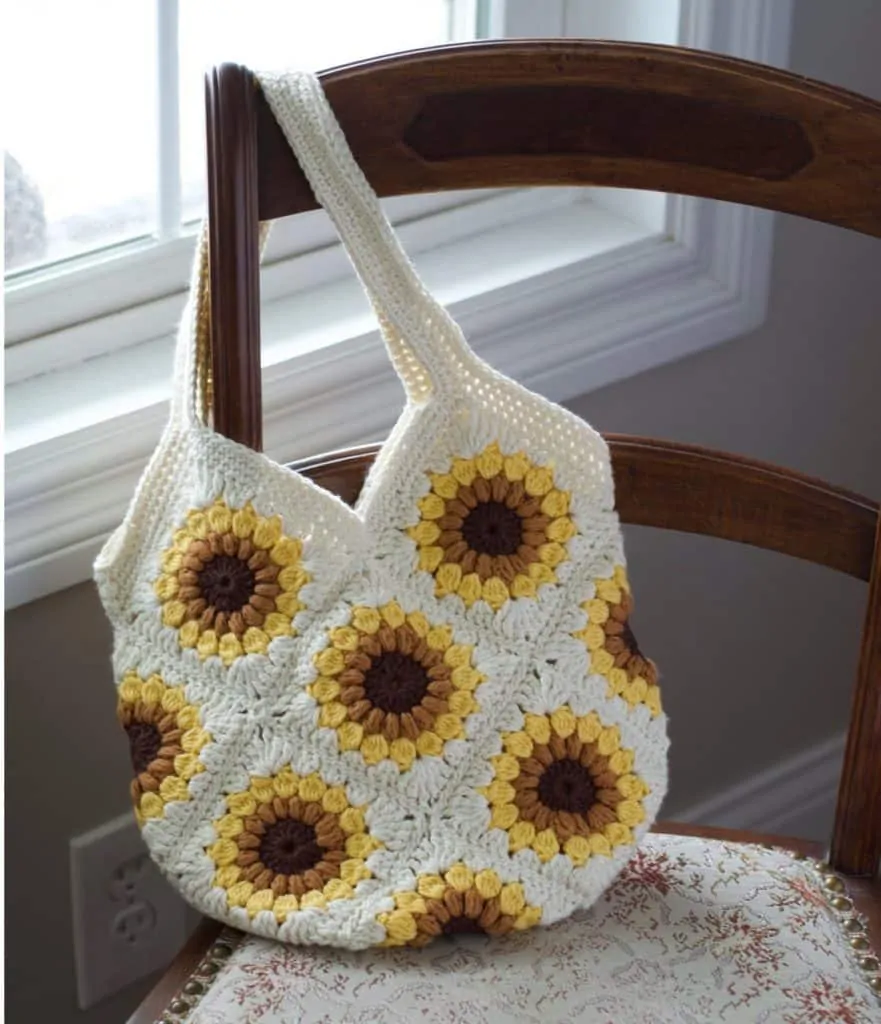 Frequently Asked Granny Questions
I get a lot of questions on the beloved granny square, so I thought I'd take a quick minute to answer some basic granny square questions before we dive into this gorgeous Sunburst Granny Square…
Are Granny Squares in Style? This is such a great question because a granny square is so fun to crochet, but modern crocheters often like modern makes. The granny square has stood the test of time. Color choice makes a big difference in "dating" a crochet granny square to a particular era in time. And there are a slew of variations that modernize the basic granny square pattern. This Sunburst Granny Square is the perfect example of that. So yes, granny squares are still in style!
What is a Granny Square Used For? A granny square is really versatile. Many people like to join several for a crochetblanket. Others will use a crochet granny square for a pillow, bag or purse. The possibilities are really endless!
How Do You Add A Row To A Granny Square? Maybe you're wondering how you can make this larger or how big is a typical granny square. There are two things that affect the size of a granny square. The first is gauge which is dependent upon hook size and yarn weight. You can read more about crochet gauge here. The second is to continue the established basic granny square pattern into additional rows. Simply work sets of 3 double crochets: a set in each space on the side and in each corner work 3 double crochet, chain 2, 3 double crochet.
How Do You End A Granny Square? There are two choices for ending a classic granny square. After the last stitch, simply slip stitch to the top of the starting chain of the prior row. Or if you prefer a more seamless finish, instead of a sl st, use an invisible join.
How Many Granny Squares Does It Take to Make a Blanket? Many, many crocheters want to know how to make a granny square blanket. It really depends on the size of the finished crochet granny square and the desired size of the finished blanket. Whether you're crocheting a traditional granny square, a solid granny square or any other crochet square, the first step is to measure the finished square. Either look to the information in the crochet pattern or measure the afghan square itself. You can get more information in this great post on how much yarn to crochet a blanket.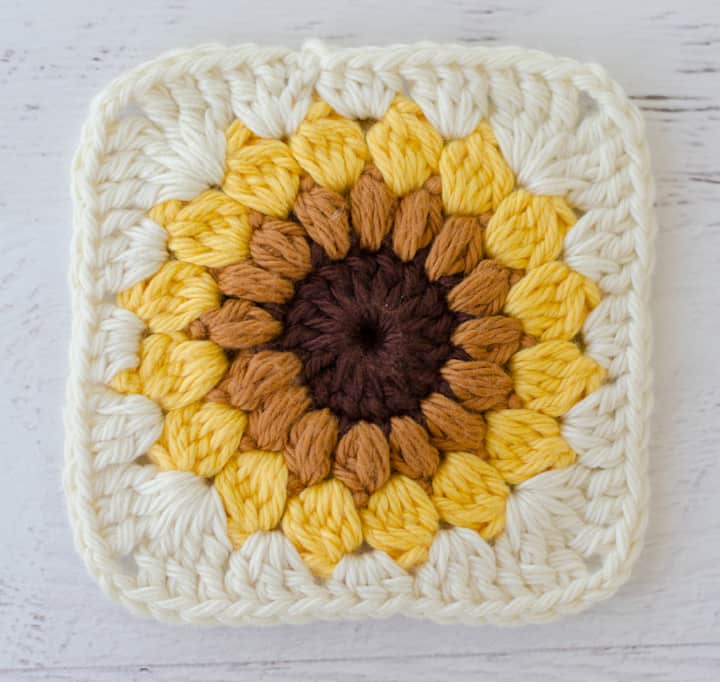 Sunburst Granny Square
Here is What You'll Need:
Resources and tutorials you may find helpful in following this pattern: Crochet Abbreviations, US to UK Crochet Conversion Chart. Find links to stitches on the "Tutorial" menu: Getting Started will show basic stitches used in many patterns and Crochet Stitch Dictionary shows our growing collection of crochet stitch tutorials. I really like to use the invisible seamless join when finishing pieces that get sewn together (in this project this is an optional step).
Size:
Each square is approximately 4″ x 4″. Your gauge may vary.
Sunburst Granny
Row 1: Using first color and a G hook, ch 5 and join with a slip stitch to the 1st chain to form a loop. Ch 3 (counts as first dc), make 15 dc into the loop. Join to top of 1st stitch in the row. (16 st) Fasten off 1st color.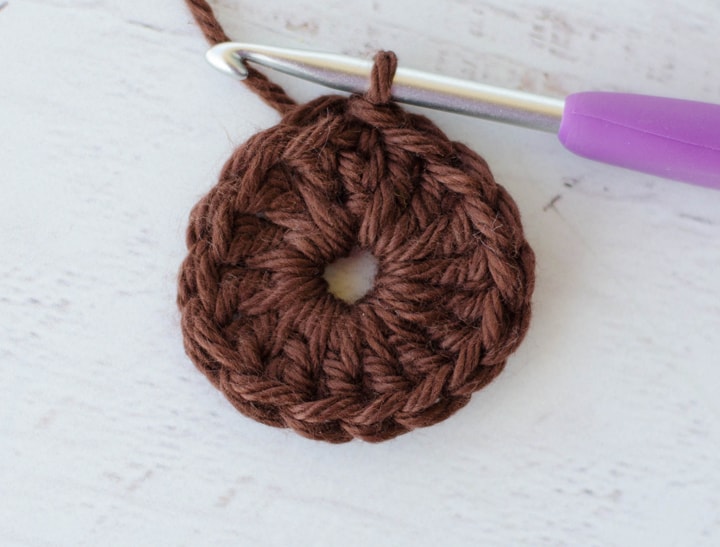 Row 2 is made with puff stitches. First, attach the 2nd color and chain 2. *Yarn over, insert hook into same stitch as joining and and pull up a loop to the height of a double crochet (3 loops on hook). Then yarn over again and insert hook into the same stitch and pull up another loop ( 5 loops on hook). Yarn over again, insert hook into the same space and pull up another loop. (7 loops on hook). Pull yarn through all loops. Chain 1 to lock in the stitch. First puff stitch made.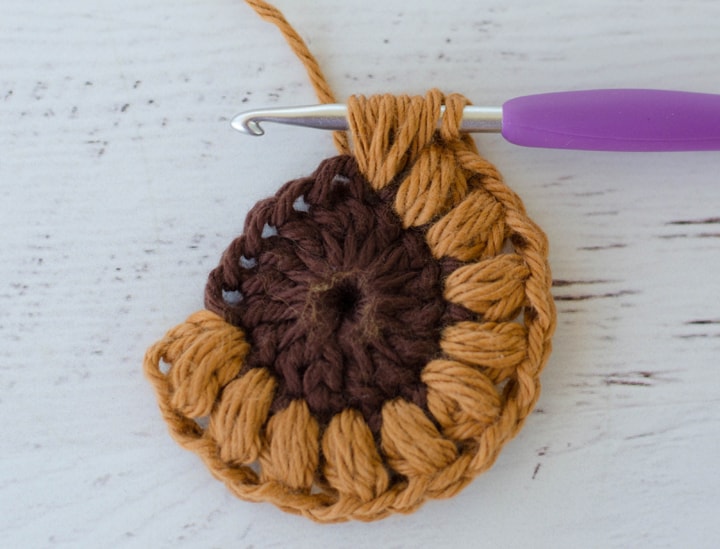 Continue to make puff stitches in all the stitches in the previous row as follows: Yarn over, insert hook into next stitch and pull up a loop to the height of a double crochet (3 loops on hook). Then yarn over again and insert hook into the same stitch and pull up another loop ( 5 loops on hook). Yarn over again, insert hook into the same space and pull up another loop. (7 loops on hook). Pull yarn through all loops. Chain 1 to lock in the stitch. At end of row 2, there will be 16 puff stitches. Join to the top of the first stitch. Fasten off Color 2. (16 puff stitches).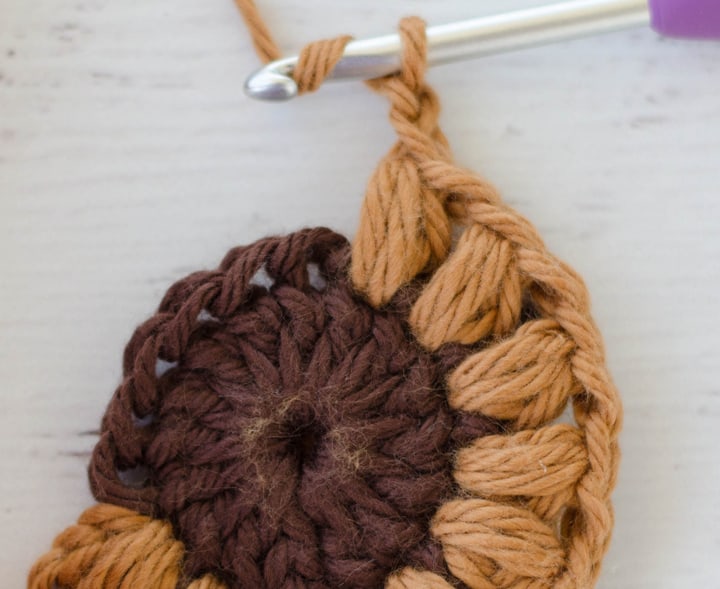 Row 3: This row is worked with bobbles. For a detailed tutorial on bobbles, click here. You can start the row in one of 2 ways. Either attach color 3 in between 2 stitches and chain 3. Or start with a standing stitch. I started with a slip stitch of the new color on my hook, carefully held a yarn over and got going with a bobble as follows:
Bobble: Yarn over, insert hook into space between 2 puff stitches and pull up a loop. Yarn over and pull through 2 loops (this leaves 2 loops on hook). Make 3 more incomplete double crochet stitches. There are now 5 loops on the hook.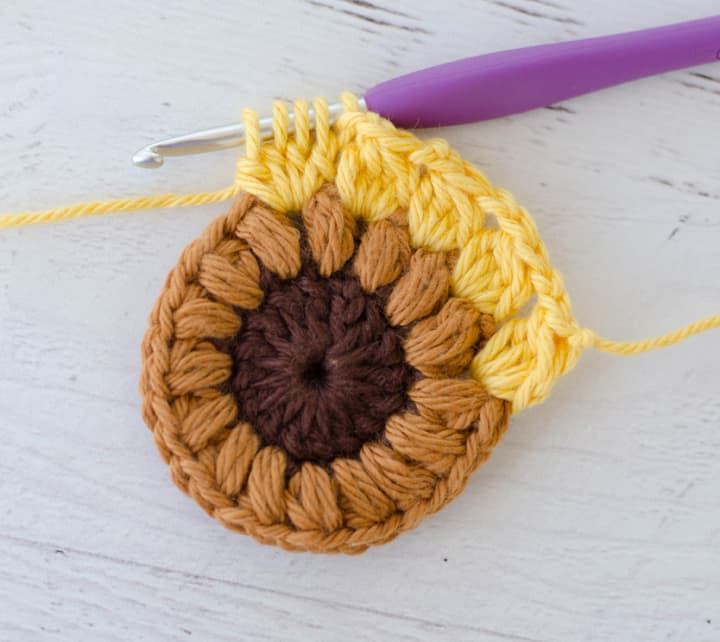 Yarn over and pull through all 5 loops. Chain 2 to lock in the bobble stitch. Continue to work bobbles in every space in the previous row.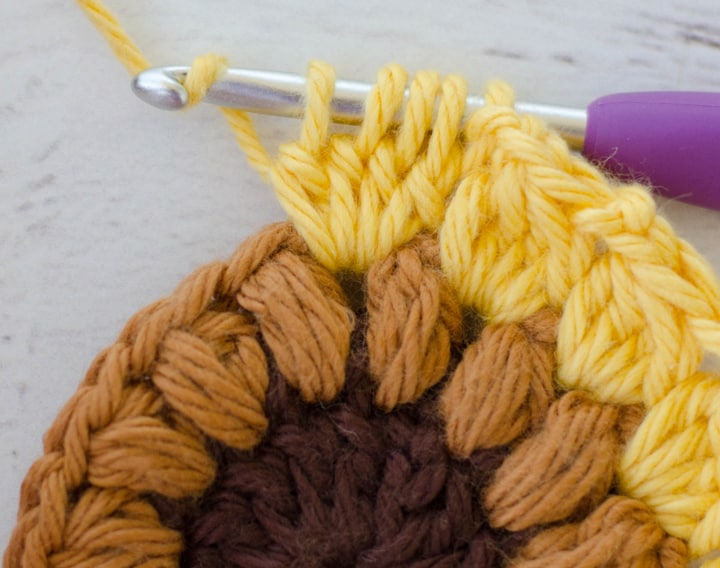 At the end of the row there are 16 bobble stitches. Fasten off color 3.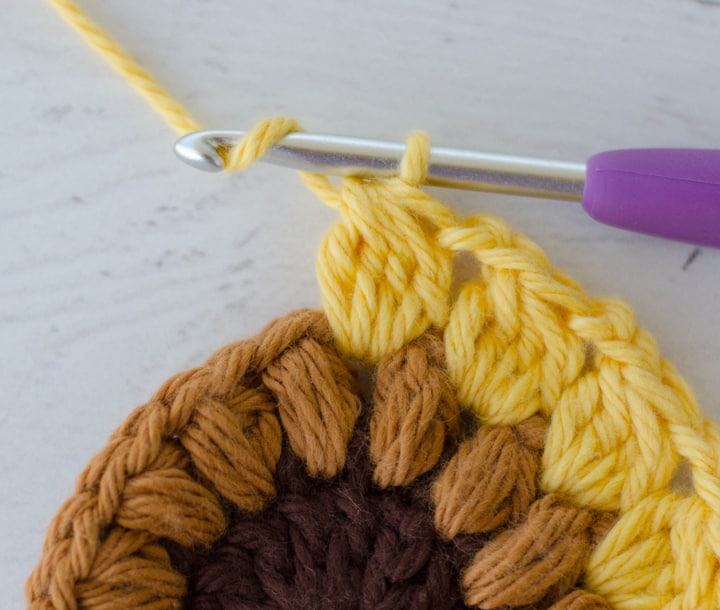 Completed bobble stitch: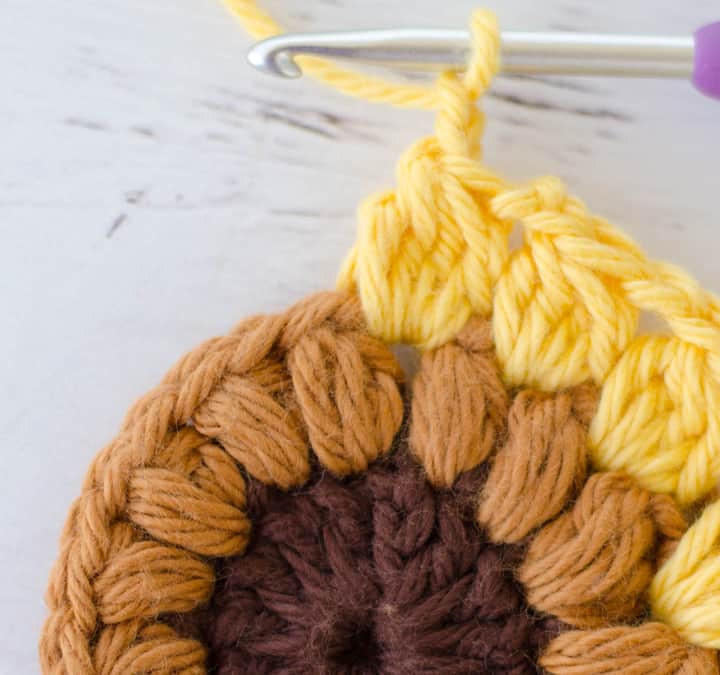 Round Flower to Sunburst Square
The 4th (and final) round turns the round flower into a Sunburst Granny Square! To do this we work varying heights of stitches which makes the final square. Let's get started!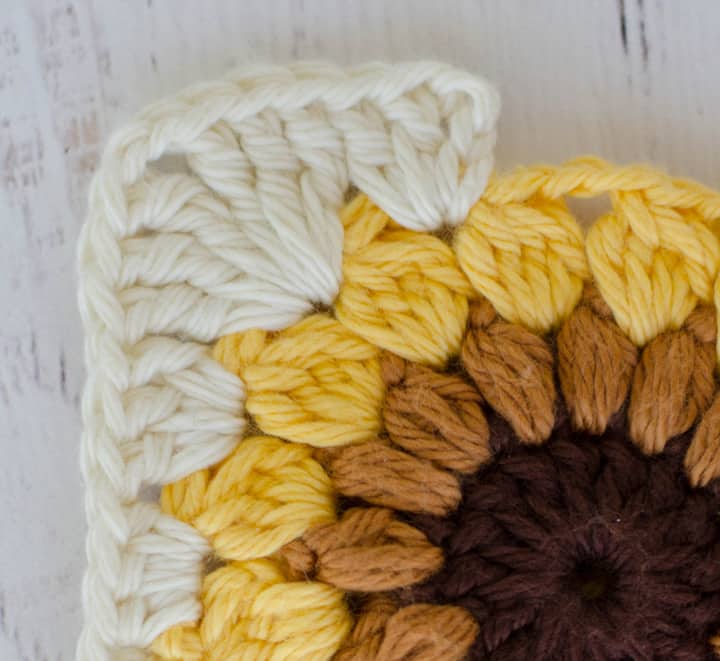 Row 4: Join color 4 in any space in previous round. Chain 3 (counts as 1st dc). 2 dc in same space. *In next space, work all of the following: (3 tc, ch 2, 3 tc). Corner made. 3dc in next space, 3 hdc in next space, 3 dc in next space*. Repeat from * to * . Repeat from * 3 more times. Then work 3 dc in next space, 3 hdc in last space and join to 1st dc in row. I like to use an invisible join for a nice finish.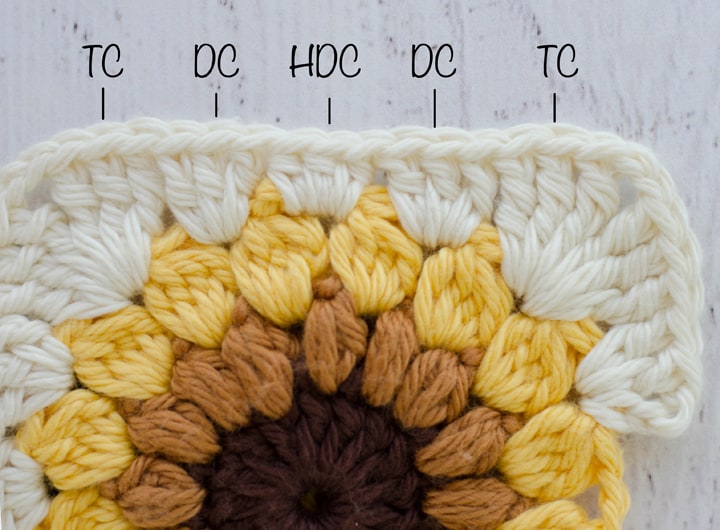 Ta-da! Isn't she a beauty? I just love this Sunburst Granny Square. Don't you?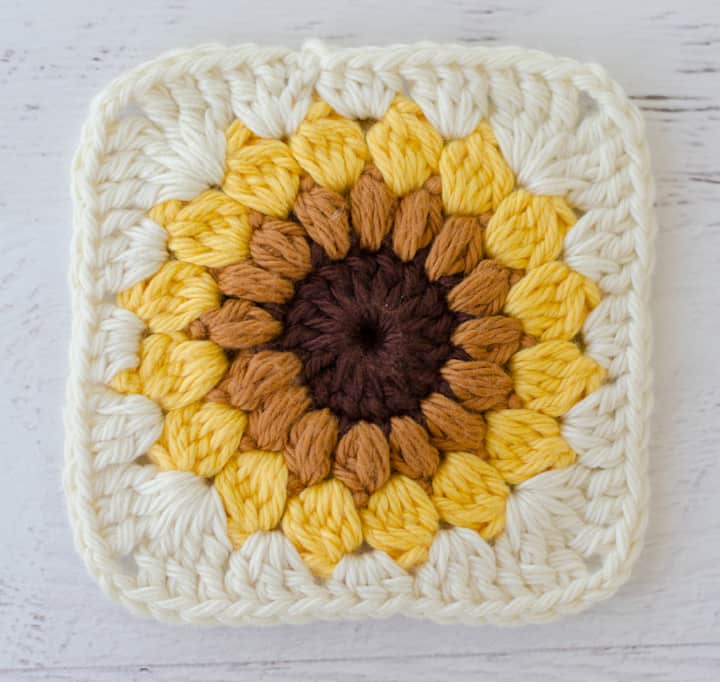 More Free Granny Square Patterns
If you love the Sunburst Granny Square pattern, you might also like to check out these other granny squares. You can find all our Granny Square Patterns here.

1. Solid Granny Square // 2. Puff Daisy Square // 3. Basic Granny Square Pattern
Explore More Crochet Patterns
Do you love crochet as much as I do? I think you're going to love these other free crochet patterns:
I love seeing your finished projects! If you are enjoyed this Sunburst Granny Square, I'd love to see your granny square and finished projects on Instagram, be sure to tag me @crochet365knittoo. If you are on Facebook, stop over to the Crochet 365 Knit Too Facebook page or pop over to the Crochet365KnitToo Club and share a photo! I'd love to see your work!