Bloom Anyway Granny Square Blanket
This post may contain referral/affiliate links. Please read my disclosure for more info.
Sometimes the most beautiful things come out of the unexpected. Out of the leftover bits, something glorious and marvelous emerges: This breathtaking Granny Square Blanket!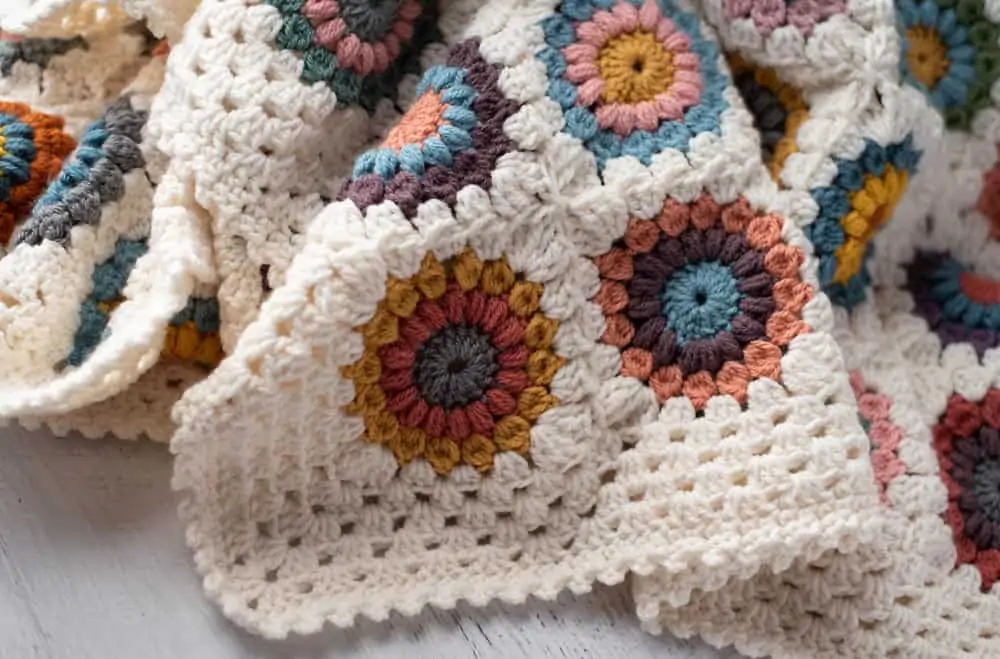 Sometimes you need to just stop. Breathe full breaths in and out. And realize that life is here and now.
Maybe it doesn't really matter that dark things circle around you, trying to catch you in its grasp. The worry. The anger. The confusion.
What matters most is that you plant your feet firmly on the ground. Say 'enough'. And darn it all… Bloom anyway.
And that's what this year's scrap afghan is all about. Finding joy in ourselves and being in the moment. Rejoicing in the goodness deep inside and letting it out in the world in one big swoosh of goodness!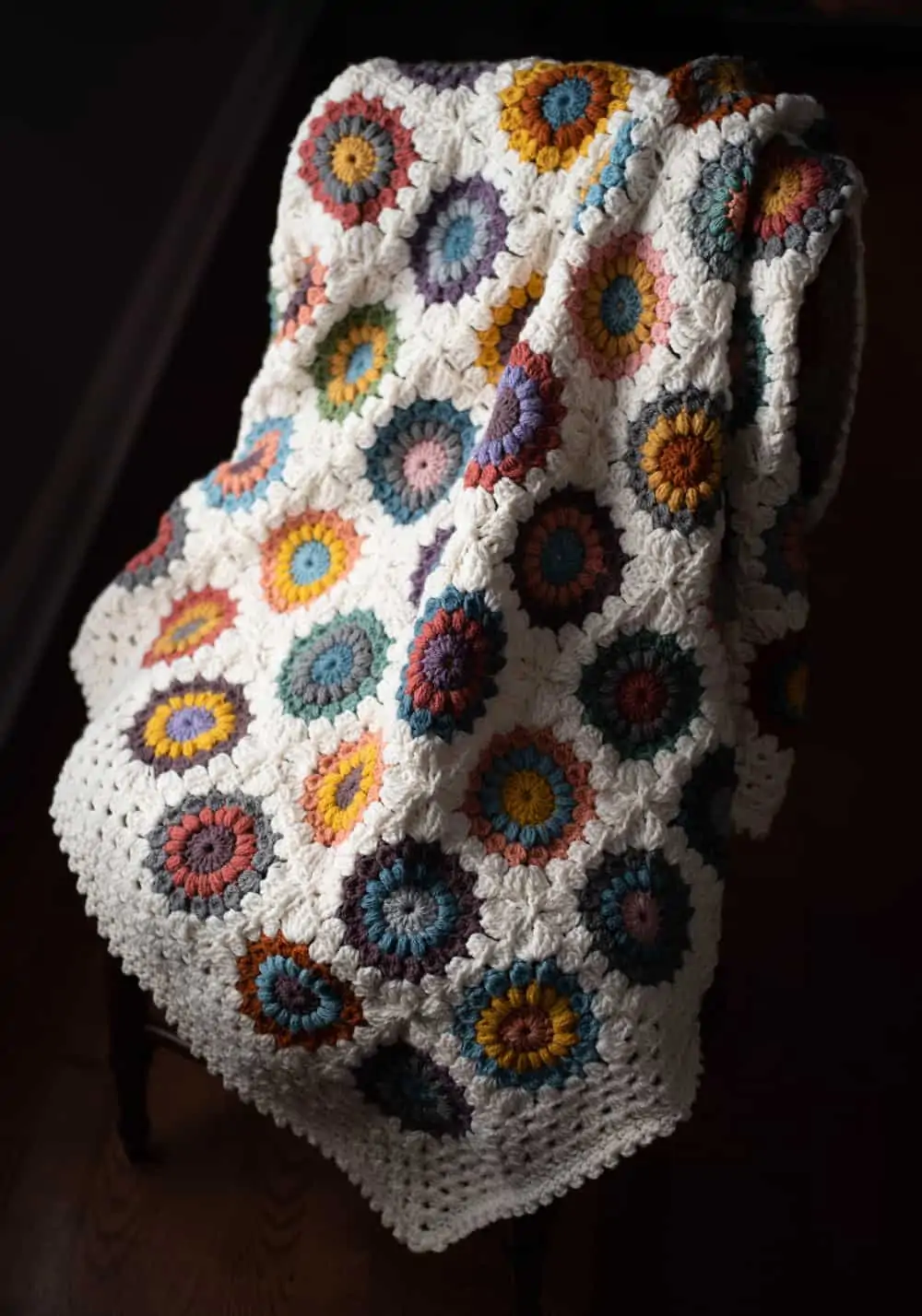 Crochet Granny Square Blanket
Let's talk about this thing of beauty, the Bloom Anyway Granny Square Blanket. It's got a little bit of everything going on.  The motifs start with the Sunburst Granny Square through row 3.  
Then, instead of working the 4th row of the square "as normal", the same stitches are worked as part of a join as you go method.  This both forms the squares and connects them together at the same time!  Finally the blanket is finished with a granny style border and a picot trim in the final round.

Selecting Afghan Yarn
The Granny Square Blanket starts with motifs worked in scrap yarn. I love to gather up bits of my favorite scrap afghan colors and "audition" them together in a basket. The Bloom Anyway afghan was designed for my daughter-in-law, Katie. One Sunday afternoon, Katie and I headed upstairs to my shelves of leftover yarn and she started pulling out skeins that spoke to her heart.
At first I had a hard time with this.. if 100% being honest. I had my mind "made up" on an afghan I thought she'd love in a completely different color way. You know.. MY ideas of her favorite colors. So when I saw Katie gathering all these muted shades I had a hard time wrapping my brain around them.
Before long though, I got right right into it and we had a great time narrowing down the final choices to these colors!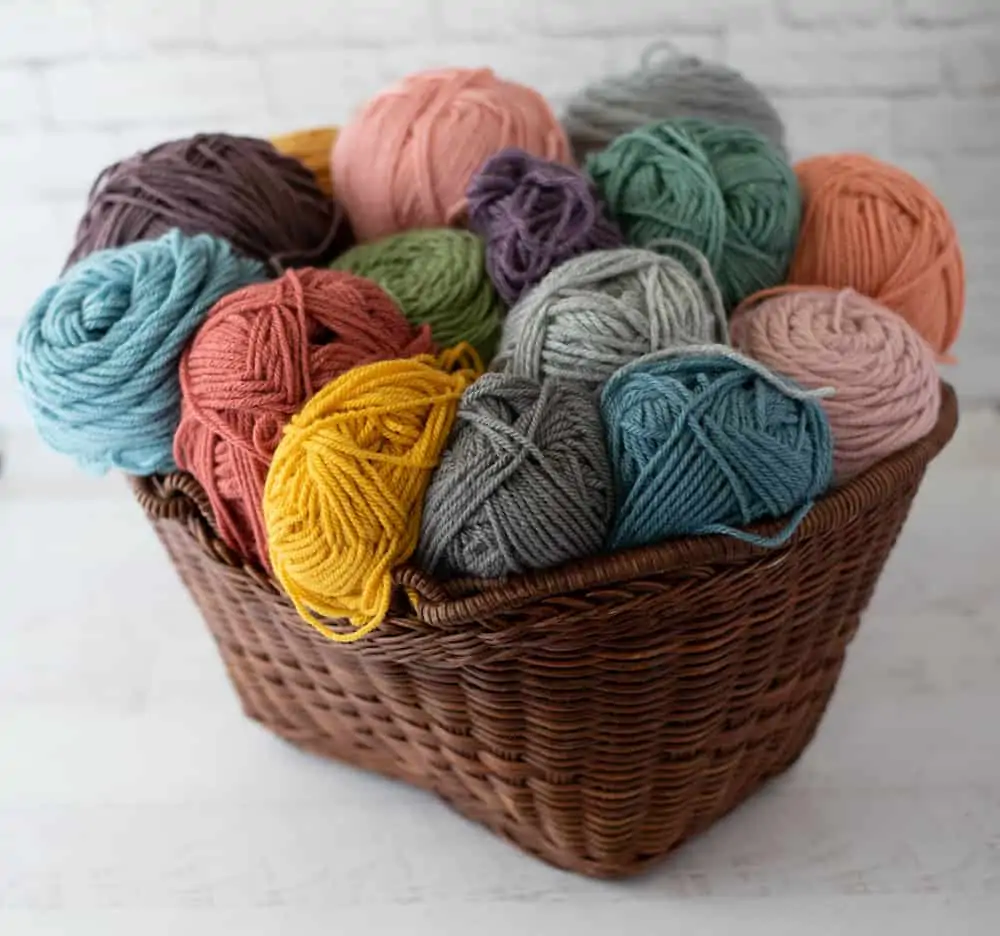 The appeal of a scrap afghan is in using what you have. So please, let your heart be free and try out many different colors from your stash until you find a combination that speaks to you and makes you happy deep inside. Don't worry too much about how much yarn you have for this part. We'll only be using bits and pieces for the motifs that make up the centers of our squares.
You will also need about 30 oz of worsted weight yarn for the border. I love the ivory color I chose, but the Granny Square Blanket would look lovely with a gray or black main color too. Pick a nice neutral color that goes with the color combination of scraps you chose.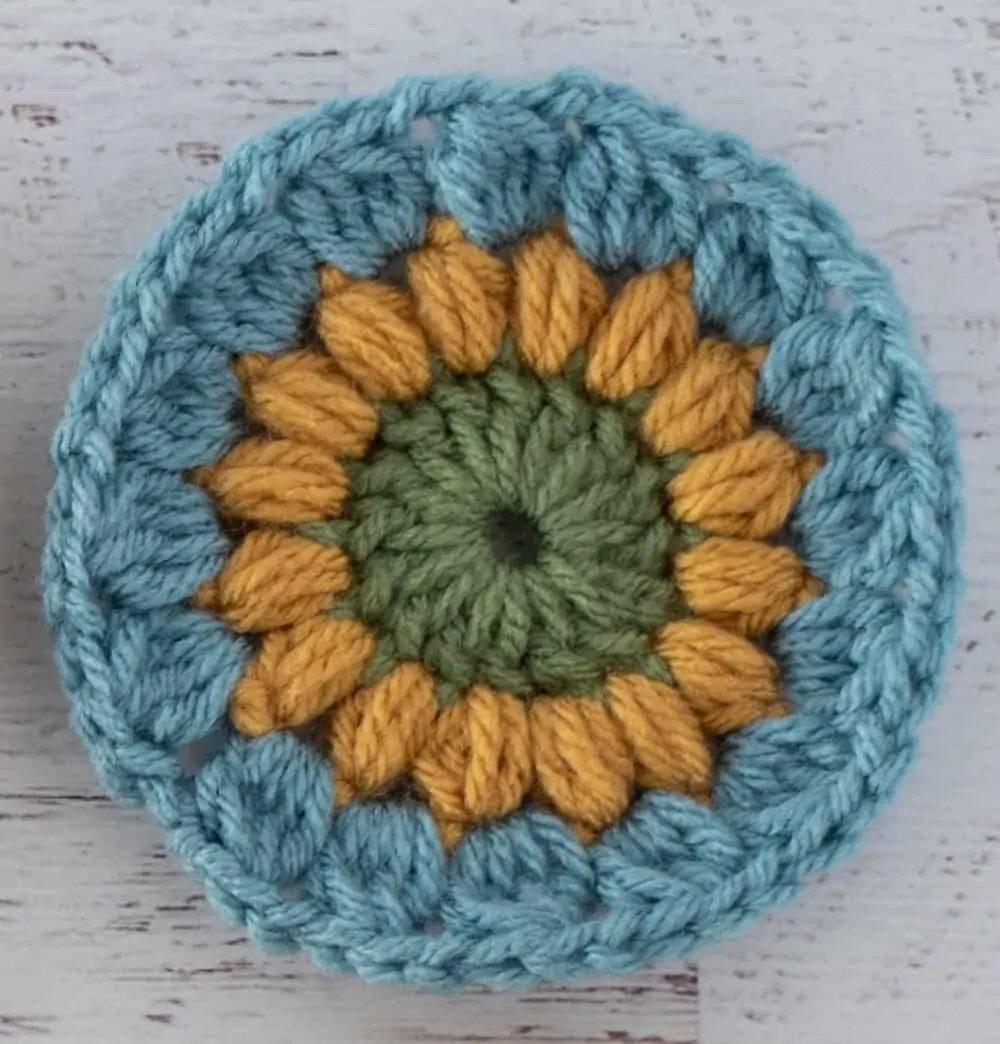 Crochet Sunburst Granny Squares
Let's talk about the motifs themselves and how to make each one a unique combination of colors using the scrap yarn you selected. Use the Sunburst Granny Square pattern through row 3 (scroll down a bit for a link the directions).
The 4th row of the square (or what turns the circle into the square) is worked as part of the continuous join as you go technique. This fun technique minimizes the yarn ends to weave in at the end. Plus it's fun and much faster than making the full square and sewing them together.
However, if you really don't want to join as you go, you can work the 4th row of the sunburst granny in the main color and then sew the squares together, rejoining the pattern instructions for the border.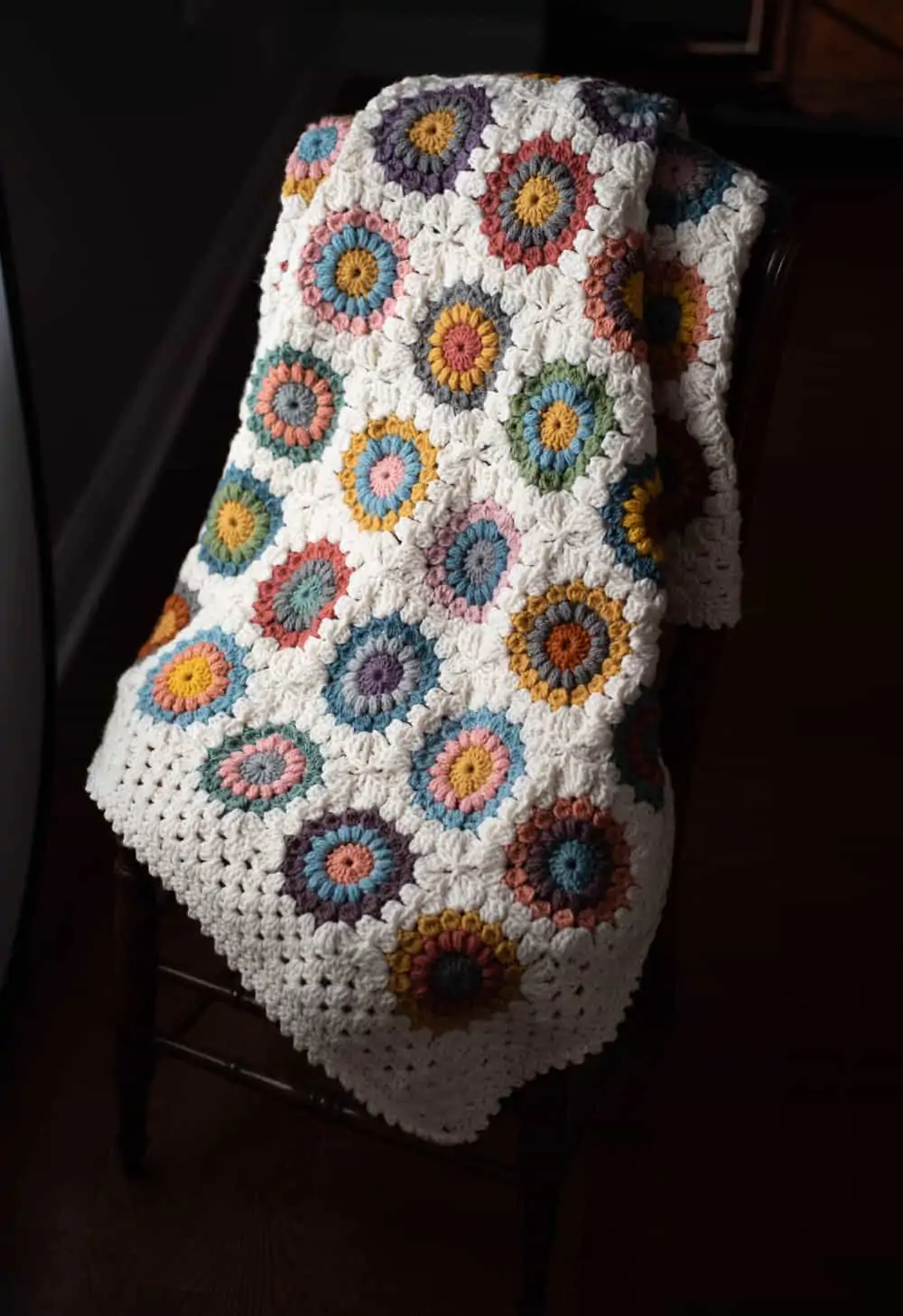 How To Make Unique Color Motifs
I had two color goals for this granny square afghan project: I wanted to make sure I used every color at least once and I wanted every single square to be unique (colors not repeated in the same sequence). Believe it or not, figuring out how to make every square a unique combination of colors had me stumped at first. I found "systems" online, that frankly did not work and left me with motif color combinations I didn't love all!
I knew there had to be a better way! Then I thought up this color planning method and it worked out so well! Start by picking out 3 colors that you love together. Then I'll show you how to strategically create 6 motifs out of the same 3 colors.
I found that if I liked the 3 colors together, I always liked the 6 motifs. And if I fell in love with a color (the gold and burnt oranges were my favorite in this afghan), I could just swap out one of the 3 colors and create 6 more unique motifs! It was so fun! I just needed to make sure I did not combine the same 3 colors more than once. Such an easy way to get unique motifs without over taxing the brain!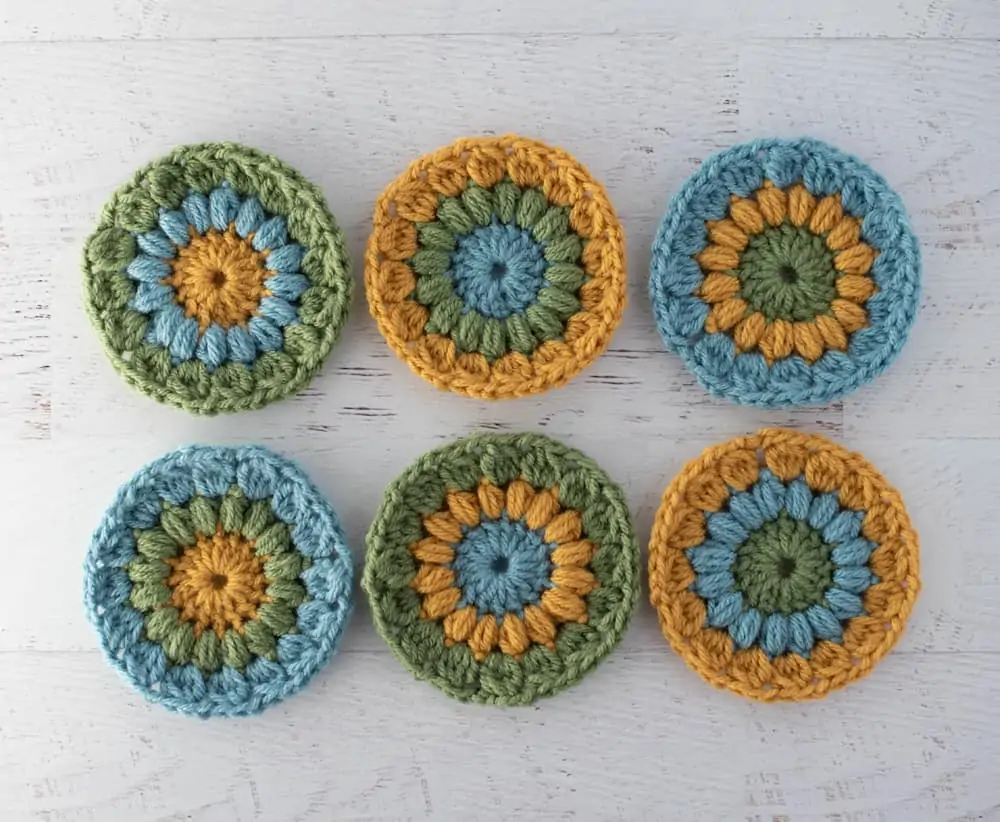 Here's how this works:
Pick 3 colors and assign each color a number (1, 2 and 3)
Follow this chart to make 6 unique motifs with the same 3 colors
3 Colors = 6 Motifs
1, 2, 3
2, 3, 1
3, 1, 2
1, 3, 2
2, 1, 3
3, 2, 1
Repeat these 2 steps with a different set of 3 colors for 6 new motifs. Note that only 1 color needs to change in order for the complete set of 6 to be different. As long as you pick 3 colors that have not yet been used together, this method will create a unique set of 6 motifs! Repeat this process until all motifs have been made.
Want a free copy of the free crochet pattern for this granny square afghan? Newsletter subscribers get access to a resource library packed with crochet freebies to make your crochet heart soar and are the first to know when I publish new crochet patterns!
Let's dive into this gorgeous granny square blanket pattern.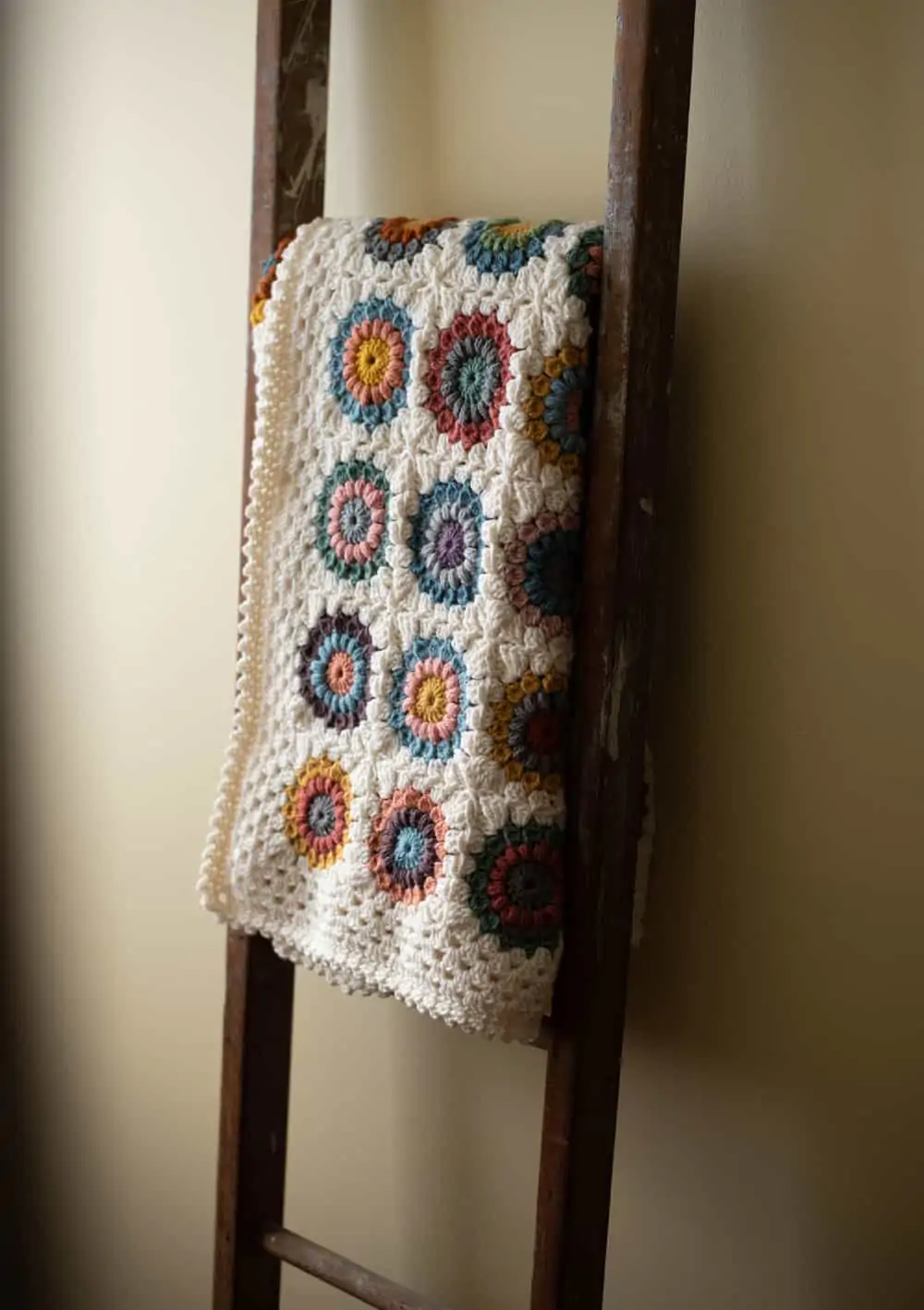 Sunburst Granny Square Blanket
Here is what you will need:
Resources and tutorials you may find helpful in following this pattern: Crochet Abbreviations, US to UK Crochet Conversion Chart. Find links to stitches on the "Tutorial" menu: Getting Started will show basic stitches such as single crochet, half double crochet, double crochet, treble crochet, slip stitch and chain stitch. Crochet Stitch Dictionary shows our growing collection of crochet stitch tutorials.
Size: Crochet Blanket is 50" x 60". A square worked through round 4 is 5" across. If using the join as you go method of joining, a motif (after round 3 is approximately 4").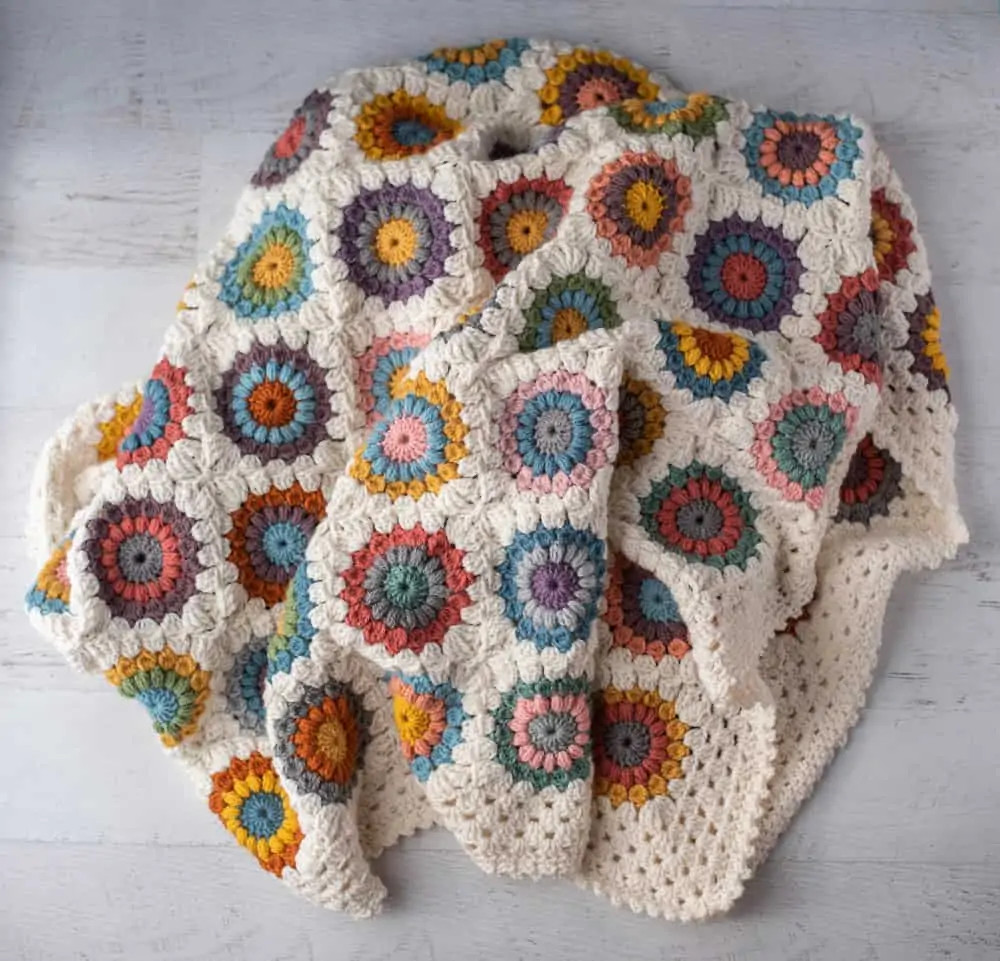 Construction Note: Before starting this granny square afghan, you need to decide how you'll join the granny square motifs. I joined my afghan with a join as you go method. Therefore, I worked all the sunburst granny squares through round 3. Then, I joined them together while working the final round. Instructions are written assuming a join as you go method.
(However, you can work the complete 4-row Sunburst granny square and sew them together instead. To do this, work the granny squares through round 4 (making sure to work the final round in the main color). Then sew them together with a whip stitch.)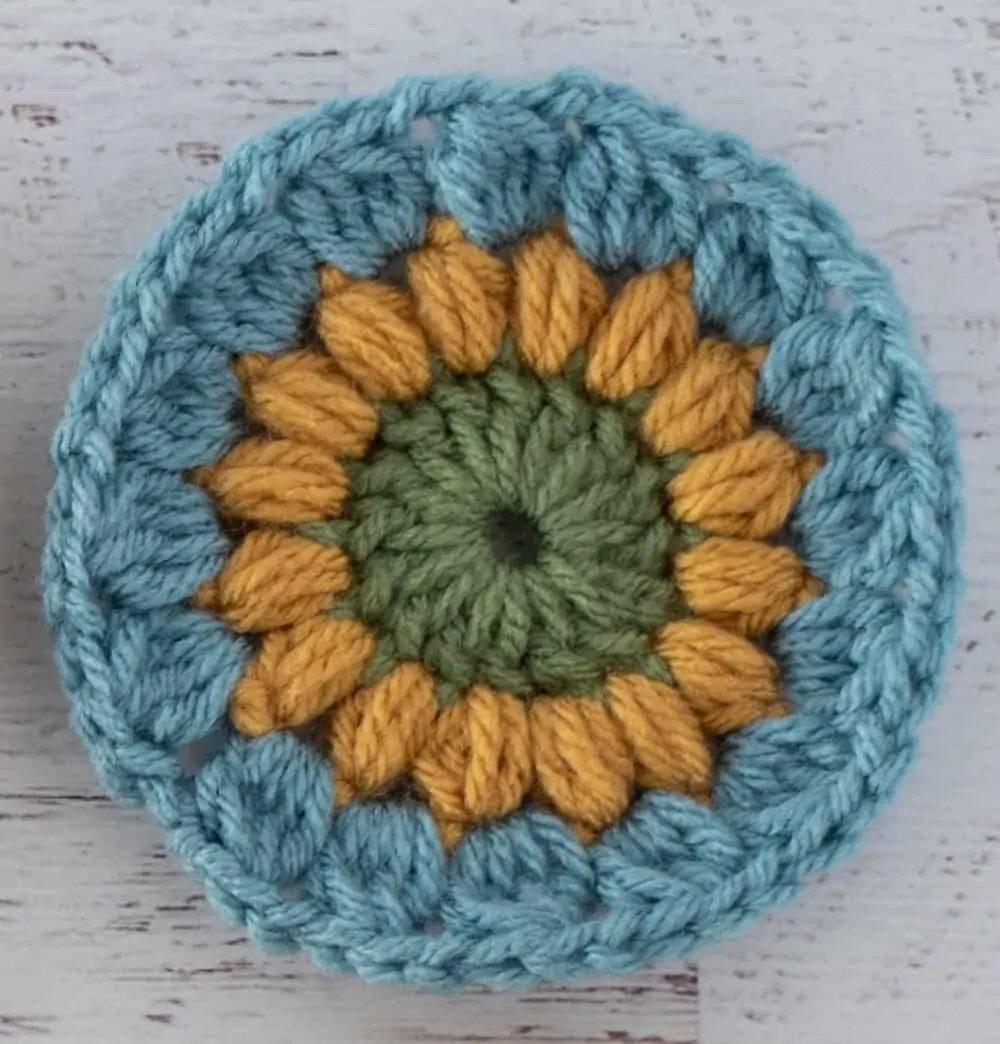 Crochet Sunburst Granny Square Motifs
Make 99 Sunburst granny motifs following the instructions for the Sunburst Granny Square, working ONLY through row 3.
Preparing to Join the Motifs
It is really important to understand what happens in this next step. We are working one more row around each motif WHILE joining it to the next motif.
Because the motif is a circle after row 3 and we need it to be a square, the joining row is worked in varying stitch heights to square off the circle.
It's important to get an understanding of what stitches are worked. See the chart below on how to turn the sunburst granny motif into a square: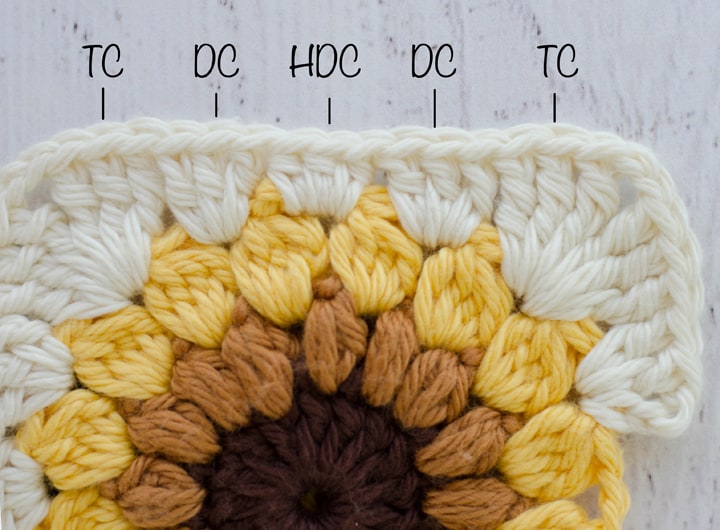 In the photo, the corner is made up of a cluster of 3 treble crochets (I've abbreviated this TC in the photo), a chain 2 and another set of 3 treble crochets. These are the tallest stitches and make the corner.
Next to this is a cluster of 3 double crochets.
In the center space of the circle-turned-square, 3 half double crochets are worked.
You will be working these stitch heights AS you are joining as you go. If this feels unfamiliar, be sure to refer to this photos as you go and to take time to check your work to make sure you didn't accidently work the wrong stitch.
As you are working, the circles are turning into squares and joining together.
Join As You Go
Find a large area to lay out the completed motifs (the bed or floor work great for this). Arrange the motifs 9 across by 11 down. Then step back to look at the color pattern created by the motif and rearrange the motifs until you are pleased with the layout.
Pause at this point to read ahead on how the Join As You Go method works. That way you can stack each row of motifs so you attach them in the proper order as you work. Don't worry too much if you make a mistake and a motif gets attached out of order. At the end of the day, this IS a scrap afghan and not meant to be perfect.
Follow the instructions for Join As You Go Granny Squares to crochet the last row on each motif (turning them into squares) while simultaneously joining the squares together.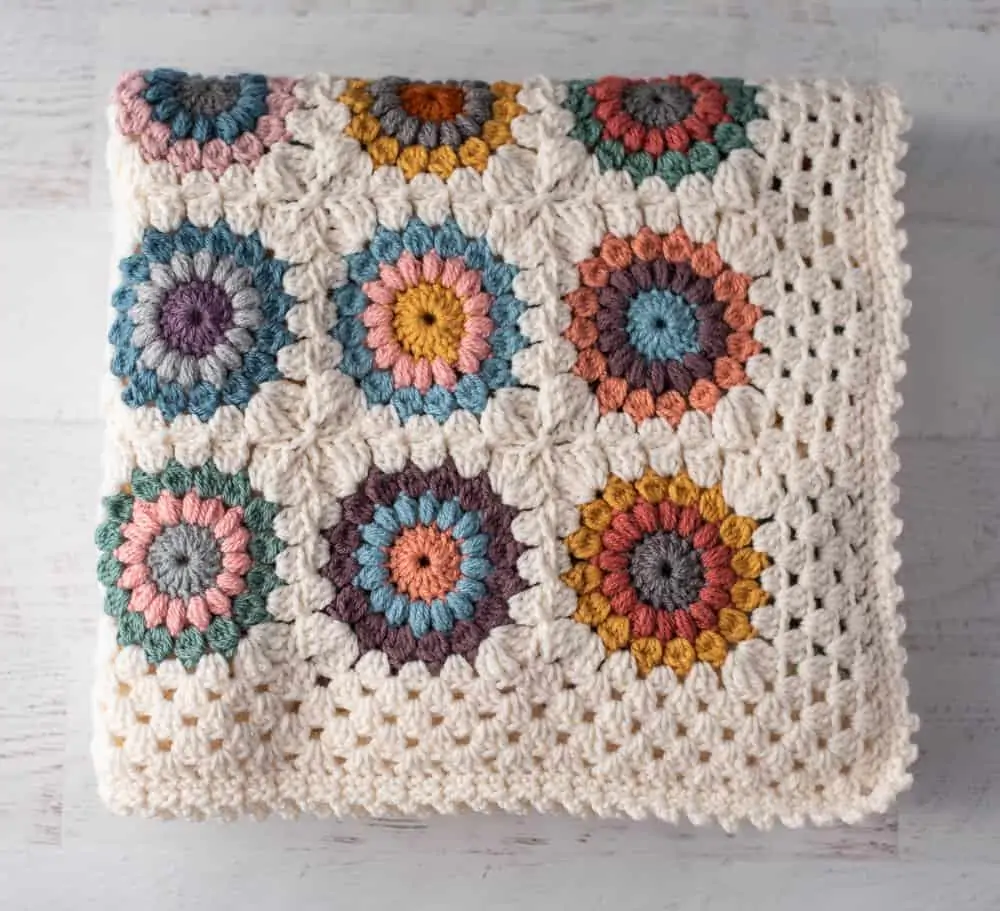 Granny Square Blanket Border
Note Before Beginning: Rows 1-4 of the afghan border are in a granny style (with a variation for row 1 see below). In the corners work (3 dc, ch 2 3 dc) and work 3 dc into all the spaces on the sides. Be sure to look at the photo as you are working row 1 and note how the cluster of 4 stitches (instead of 3) at the point where 2 squares come together.
R1: Attach yarn in the first space to the left of a corner. Chain 3 (counts as first dc), work 2 more dc in that space. Work 3 dc in each space until you come to the first corner. Note that there are 2 corner square spaces next to each other (one from each adjacent square that were joined together). Work 2 dc into the first corner space and then 2 dc into the next corner space (this gives the appearance of a 4 stitch double crochet cluster). Continue working across row in this manner until the corner of the afghan. Then work (3 dc, ch 2, 3 dc) into the corner space. Continue working 3 dc into each side space, working the 2dc/2dc when you come to the corner spaces where the 2 afghan squares join and then working (3dc, ch 2, 3 dc) in each of the 4 afghan corners. At the end of the row, join with a slip stitch to the starting chain.
R2-4: Slip stitch to the next space. Ch 3 and work 2 dc into the same space. Then work in a traditional granny pattern: work 3 dc into each space across each side and (3 dc, ch 2, 3 dc) into the corner space. At the end of the row, join with a slip stitch to the starting chain.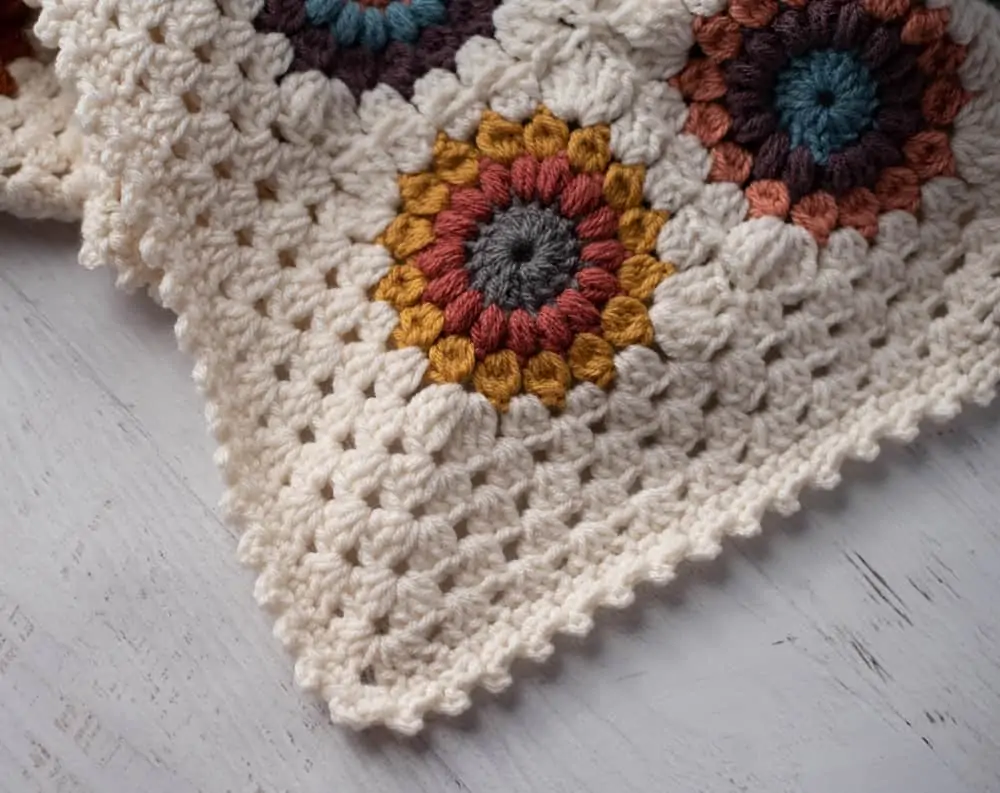 R5: ch 1, sc in same space as joining. Sc around, working a sc into each dc in the previous round. Work 3 sc in each corner space. Fasten off yarn (see note)
Note: In the next round, the very corner stitch needs to have the (sc, ch-3, sc) picot combination. For ease in understanding, I suggest fastening off the yarn in round 5 and re-attaching it for round 6). However you may wish to adjust your stitches a bit (by slip stitching to the next stitch if need be) so that you can achieve this goal without fastening off the yarn at the end of round 5. Also note that if your stitch count is off you may need to fudge a bit to get that picot in the very corner stitch.
R6: Reattach yarn to the corner stich of any corner. In the same stitch work all of the following: (ch1, sc, ch 3, sc). Skip the next stitch. *in the next stitch work (sc, ch 3, sc), skip the next st. Repeat from * around. Fasten off yarn and weave in any ends.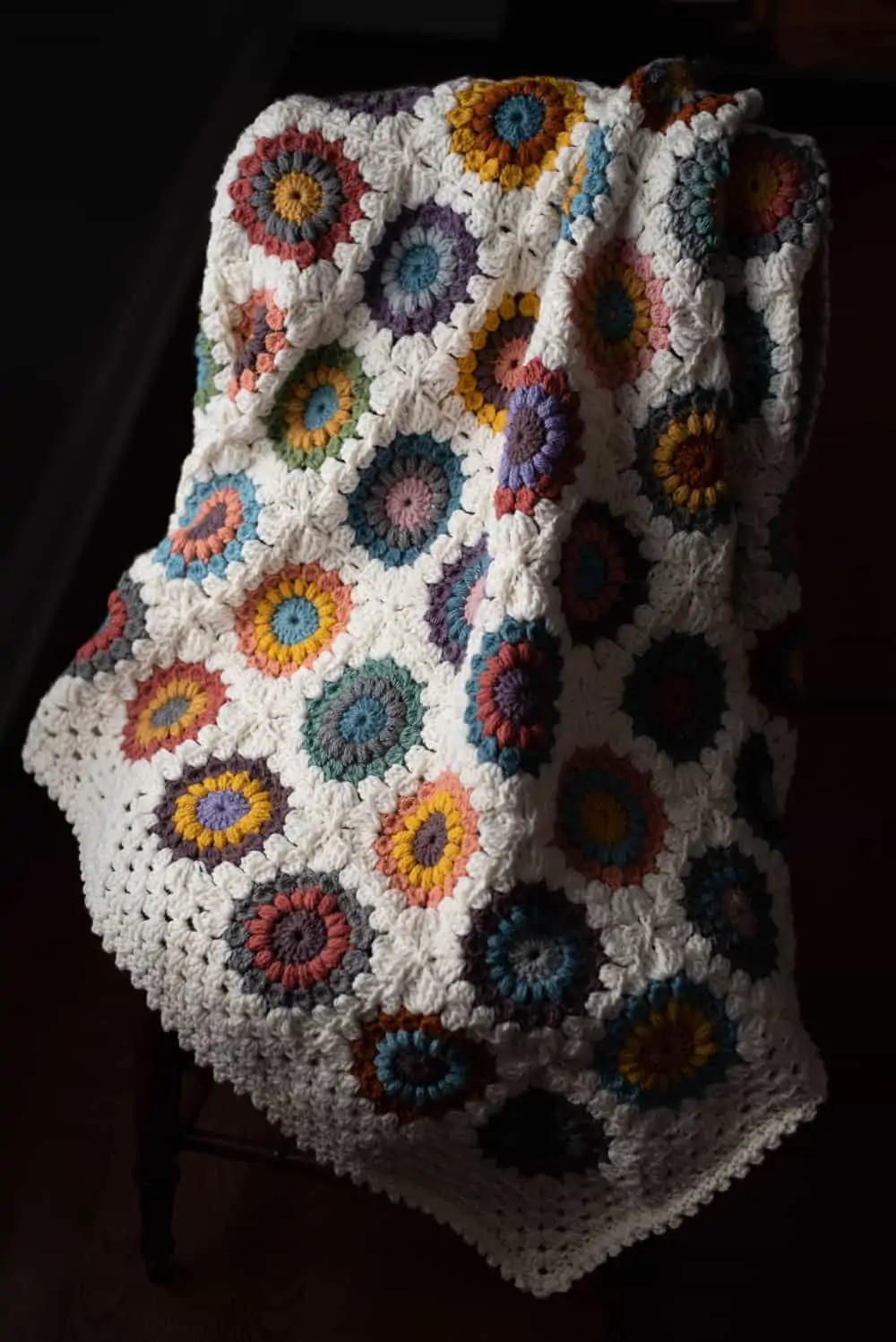 I love seeing your finished projects! If you enjoyed making the Bloom Anyway Granny Square Blanket pattern, I'd love to see yours on Instagram, be sure to tag me @crochet365knittoo. If you are on Facebook, stop over to the Crochet 365 Knit Too Facebook page or pop over to the Crochet365KnitToo Club and share a photo! I'd love to see your work!