Granny Square Baby Blanket
This post may contain referral/affiliate links. Please read my disclosure for more info.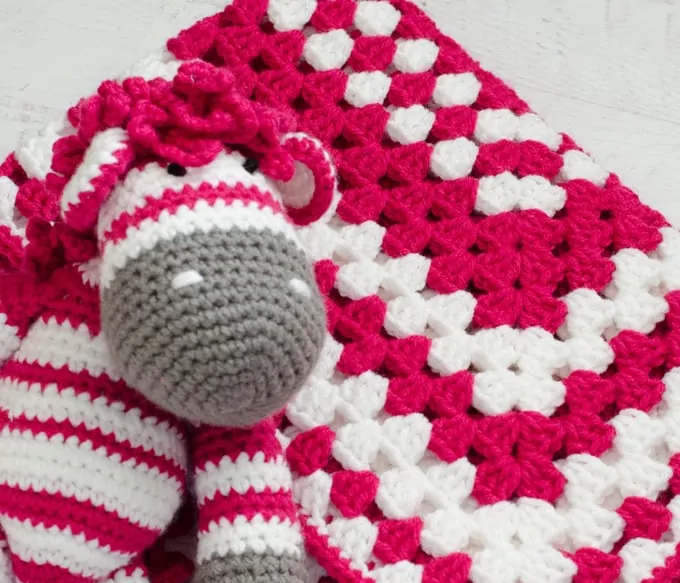 Don't you love when you can take something simple and make something amazing?  I love to do that with cooking sometimes..you know…open up the cupboards, take a can of this, some leftover goodness, some fresh veggies..and voila!  Amazing!  It makes me feel like I made something from absolutely nothing!  And I love that feeling!  I get the same feeling when I use leftover yarn to make something beautiful!  Not only did I make a dent in my yarn stash, but I made something from nothing and didn't spend any extra to do it!  I had some yarn leftover from crocheting this cutie pie Zebra, so I decided to make a Granny Square Baby Blanket to go along with it.  If you would like the zebra pattern, head over to Etsy or Ravelry for the paid pattern.
And I literally played yarn chicken with this project, guys.  If you decide to make both patterns, I used a skein each of Red Heart with Love and used the leftover pink and white for this project.  We all crochet just a bit different so you may get more or less mileage out of your yarn.  Because I was using leftovers, I decided to crochet the blanket until I ran out of yarn. I forgot to measure this one before I gifted it, but I'm guessing it turned out to be less than 30 inches square.  That's a pretty small baby blanket.  Just right for covering a little one in a stroller or for a little one to drag around the house when she gets a bit bigger.
I wanted to show you how to make do with what you have.  And how the simple granny square can get a modern look by color placement.  The granny square is so versatile.  You can make a square blanket as big as you'd like.  Or make many granny squares and join them up together.  Here is how you crochet a granny square if you need a refresher.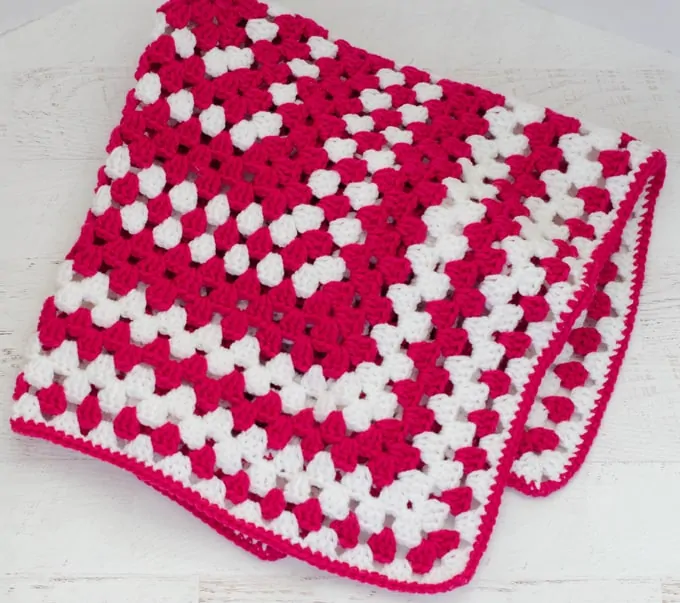 Granny Square Baby Blanket Pattern
Here is what you will need:
Red Heart With Love worsted weight yarn in Hot Pink and White (approx 5 oz of each)
tapestry needle and scissors
Resources and tutorials you may find helpful in following this pattern: Crochet Abbreviations, US to UK Crochet Conversion Chart.  Find links to stitches on the "Tutorial" menu: Getting Started will show basic stitches used in many patterns and Crochet Stitch Dictionary shows our growing collection of crochet stitch tutorials.
Instead of a normal row-by-row pattern, I'm just going to give you basic directions.  Feel free to change colors as you'd like.
For how to make a granny square, head over to this post.  Follow those directions for crocheting the granny square with this ONE exception:
When you start a new color, join it with a slip stitch to any space and chain 3.  The chain 3 counts as the first double crochet.  Then continue as normal for the square.
Here is the color sequence I used for the Granny Square Baby Blanket.  Feel free to adjust and change to use up your own yarn stash:
Rows 1-2: Pink
Row 3: White
Row 4-5: Pink
Row 6:  White
Row 7-9: Pink
Row 10: White
Row 11: Pink
Row 12: White
Row 13-15: Pink
Row 16-17: White
Rows 18-19: Pin
Rows 20-21: White
Row 22: Pink
Row 23:  White
Row 24 (or whatever row is your last row): With pink, single crochet around blanket as follows:  work 1 sc in each dc from the prior row,  work 1 sc in the chain of the ch-1 spaces, work 3 sc in the corner spaces.   Fasten off and weave in ends.
And there you go!  You made a granny square baby blanket!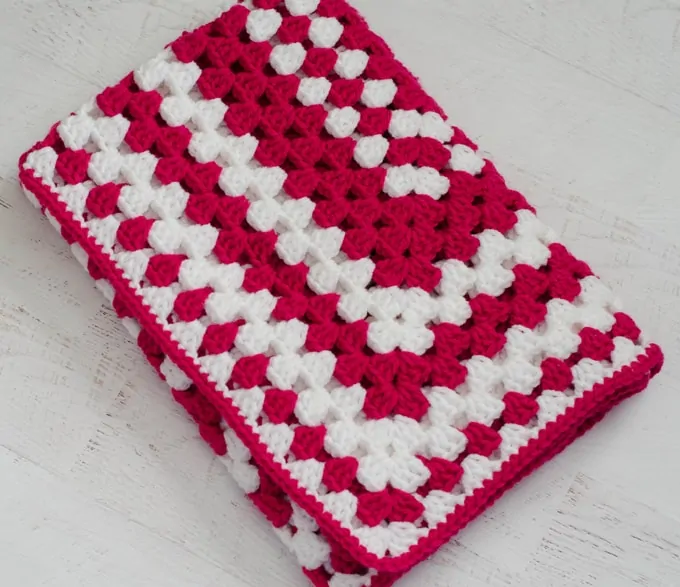 I love seeing your finished projects!  If you enjoyed making the Granny Baby Blanket,  I'd love to see yours on Instagram, be sure to tag me @crochet365knittoo.  If you are on Facebook, stop over to the Crochet 365 Knit Too Facebook page or pop over to the Crochet365KnitToo Club and share a photo!  I'd love to see your work!