How To Crochet a Bobble Stitch
This post may contain referral/affiliate links. Please read my disclosure for more info.
Bobbles and Popcorns and Puffs and Clusters.  Oh MY!  Confused by it all?  Or worse..do you think they're all the same?  Well buckle up, my friend, you're about to learn the right way to crochet a bobble stitch and learn just about every other tidbit about the bobble stitch too!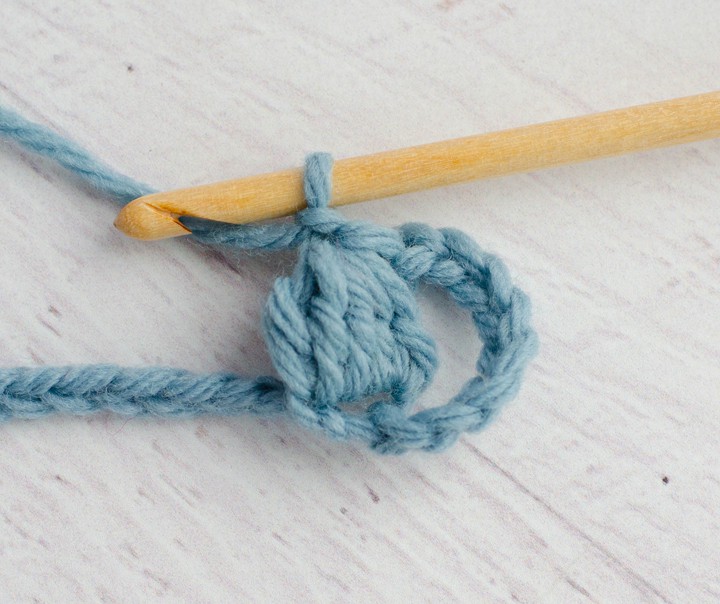 I've been crocheting a long time.  Since I was 7.  And let me tell you… for the longest time, I didn't know a bobble stitch from a popcorn stitch!  It also doesn't help that some online designers don't know either–and they mislabel their stitches!
I'm here to teach you the right way to crochet a bobble stitch in a way you'll be sure to remember!  There are two important characteristics that make the bobble unique.  First is that it is comprised of partially worked (or "incomplete") double crochet stitches.
Second—and this is important to remember–a bobble stitch is joined together at both the bottom of the stitch and the top. This means that as you are making the incomplete double crochets for the bobble stitch, you are working into the same spot.  It also means that the incomplete double crochets come together at the top.
A Few More Bobble Stitch Things to Know
A bobble stitch can be made with 3, 4, or 5 incomplete double crochet stitches.
When half double crochets are used instead of double crochet, it is called a puff stitch.
The bobble stitch is worked in 1 stitch and the next stitch is usually skipped to show off that beautiful bobble!  But there are many variations, so be sure to read your pattern carefully to work your particular bobble correctly.
This tutorial will cover the most common bobble stitch.
Before We Get Started…
If it's your first time making swatches, or it's been awhile, here are a few tips.  When making swatches, be sure to attach hang tags to the swatches so you can remember the stitch you made later. I like these larger hang tags so I can write out the pattern on the back for even easier reference.  It's a great way to remember the stitch as your collection of swatches grows.  You can read everything you need to know about stitch swatching here.
Materials Needed:
Remember, you can make your swatch with any size hook and yarn weight.  Read all about How to Swatch Here.
Stitches and Abbreviations:
Resources and tutorials you may find helpful in following this pattern: Crochet Abbreviations, US to UK Crochet Conversion Chart.  Find links to stitches on the "Tutorial" menu: Getting Started will show basic stitches used in many patterns and Crochet Stitch Dictionary shows our growing collection of crochet stitch tutorials.
How to Crochet the Bobble Stitch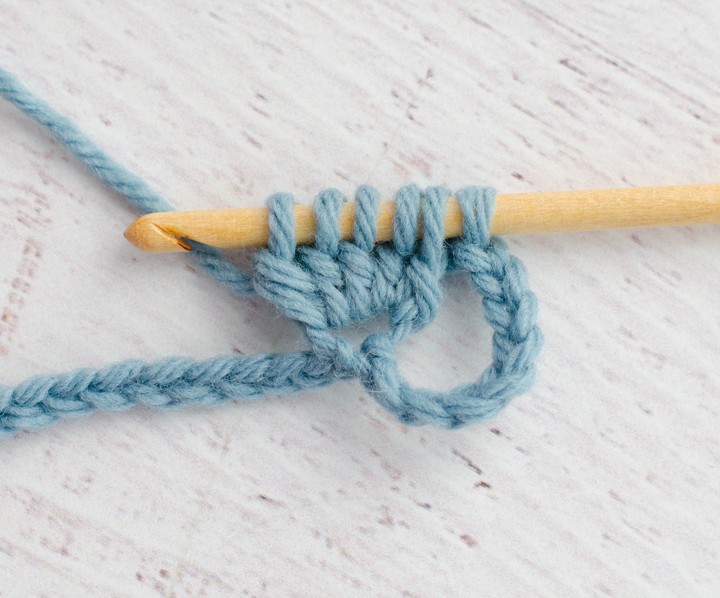 First work 5 incomplete double crochet stitches into the SAME stitch.  An incomplete double crochet is a double crochet that is worked up to the last yarn over that completes the stitch.  Working into the same stitch, yarn over, insert the hook into the stitch and pull up a loop.  Yarn over and pull through 2 loops.  2 loops are left on the hook (and one incomplete double crochet is made).  Repeat these steps 4 more times.
There are now 6 loops on the hook (5 incomplete double crochets).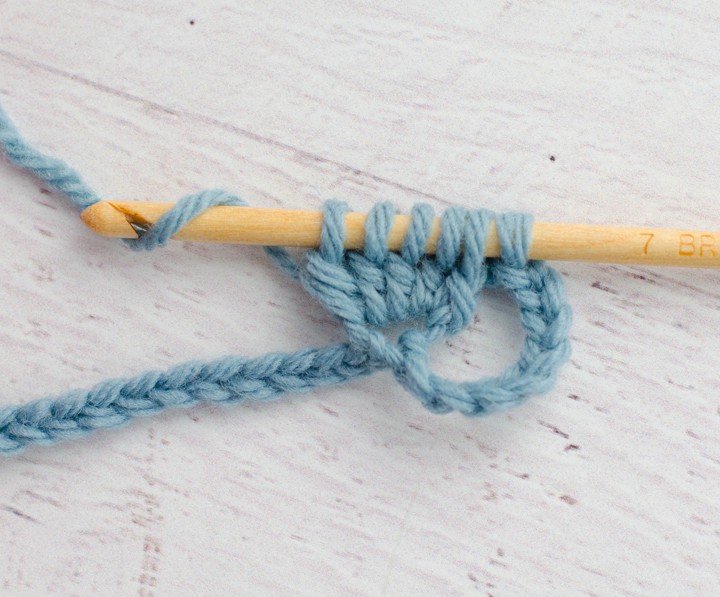 Then, wrap the yarn around the hook and draw the  yarn through all 6 loops.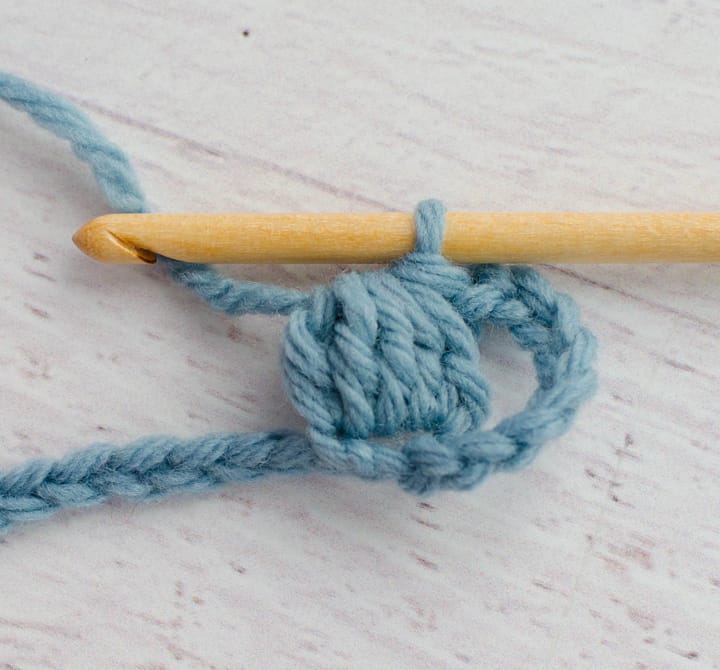 You'll see that you've worked through all the loops, but we don't want them to come loose.  So lock it in by chaining one.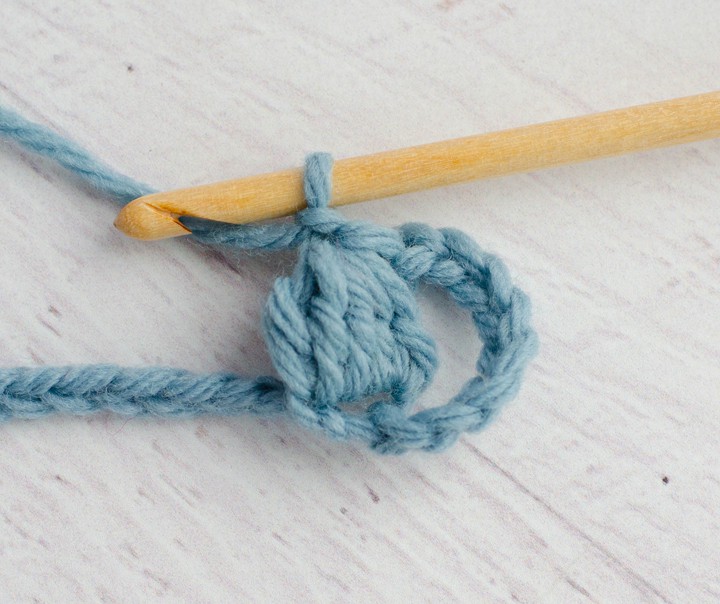 And voila!  You crocheted a bobble stitch!  Notice that the stitch is connected at the bottom (as you worked into the SAME stitch) and at the top when you yarn over and close the stitch.
Bobble Stitch Variations
There are so many ways to vary the look of a bobble stitch.  You can make the bobble stitch with 3, 4 or 5 incomplete double crochet stitches.  You can also make incomplete half double crochet stitches (this is called a Puff stitch).  You can make the bobble stitch 'pop' by surrounding it by single crochet or other stitches.
Bobble stitches are cute designs elements for sweaters and hats.  They also an be used to spell out words in an afghan or to form a design.  Just check out these afghans over on Etsy! So cute!
Or combine the bobble stitch with other easy stitches to make this gorgeous granny square!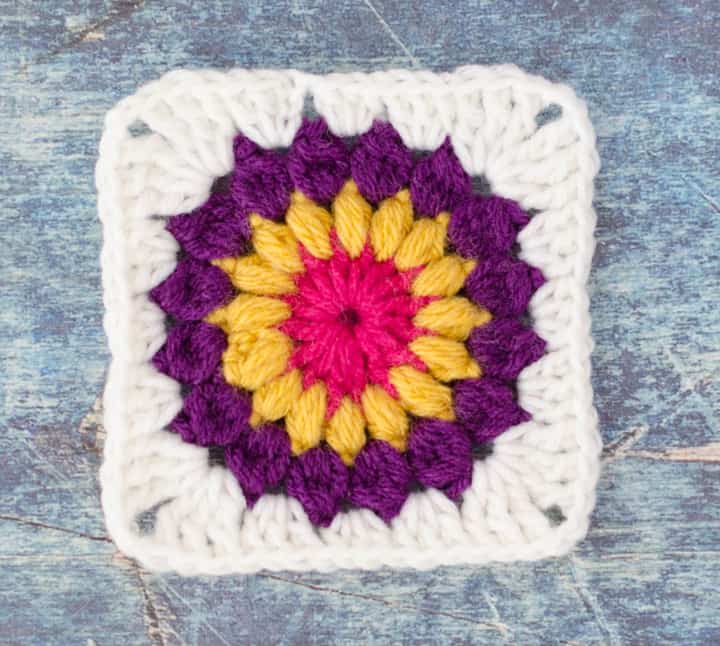 I love seeing your finished projects! If you enjoyed making one of my patterns I'd love to see yours on Instagram, be sure to tag me @crochet365knittoo.  If you are on Facebook, stop over to the Crochet 365 Knit Too Facebook page or pop over to the Crochet365KnitToo Club and share a photo!  I'd love to see your work!