The Cutest Free Christmas Crochet Patterns
This post may contain referral/affiliate links. Please read my disclosure for more info.
These Christmas crochet patterns are begging to get on your crochet hook and.. bonus.. they're all free!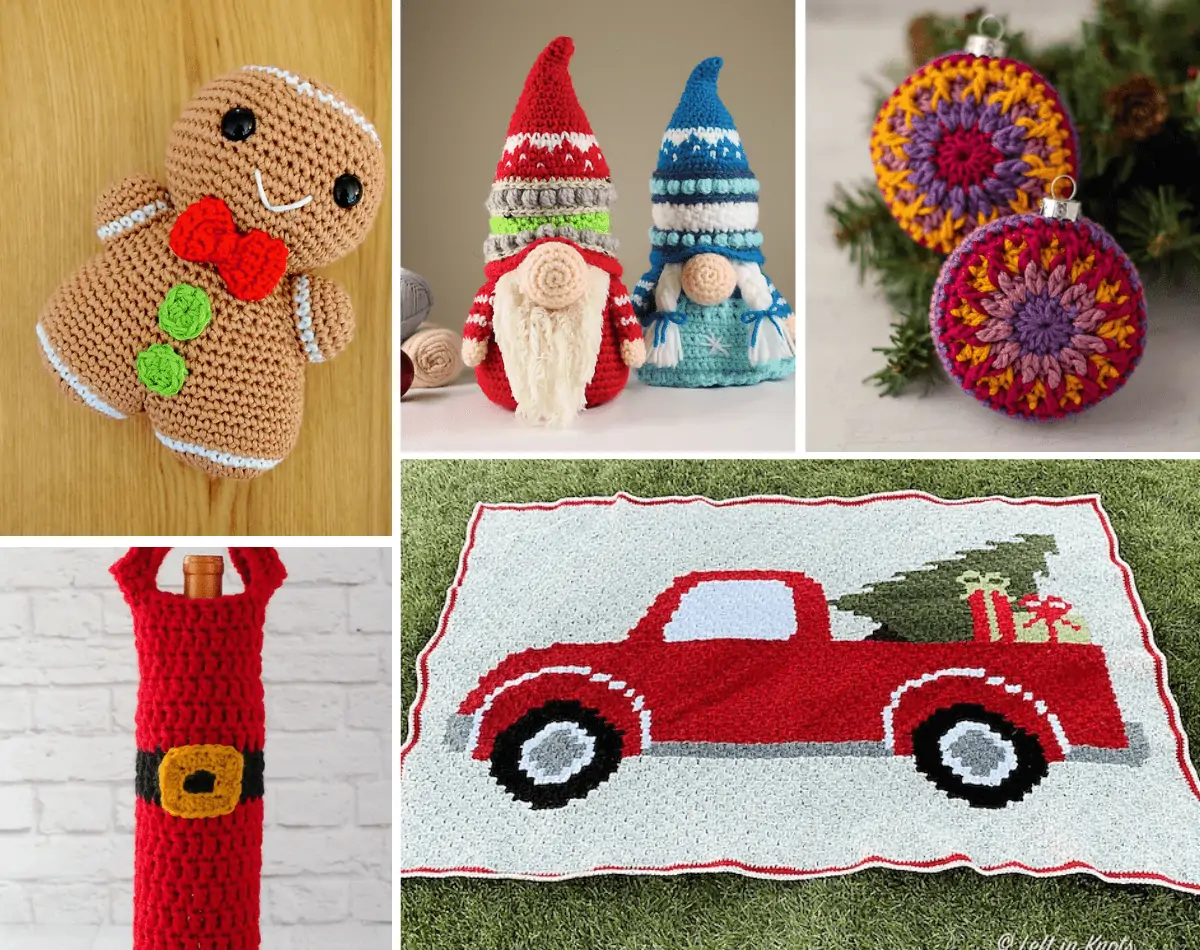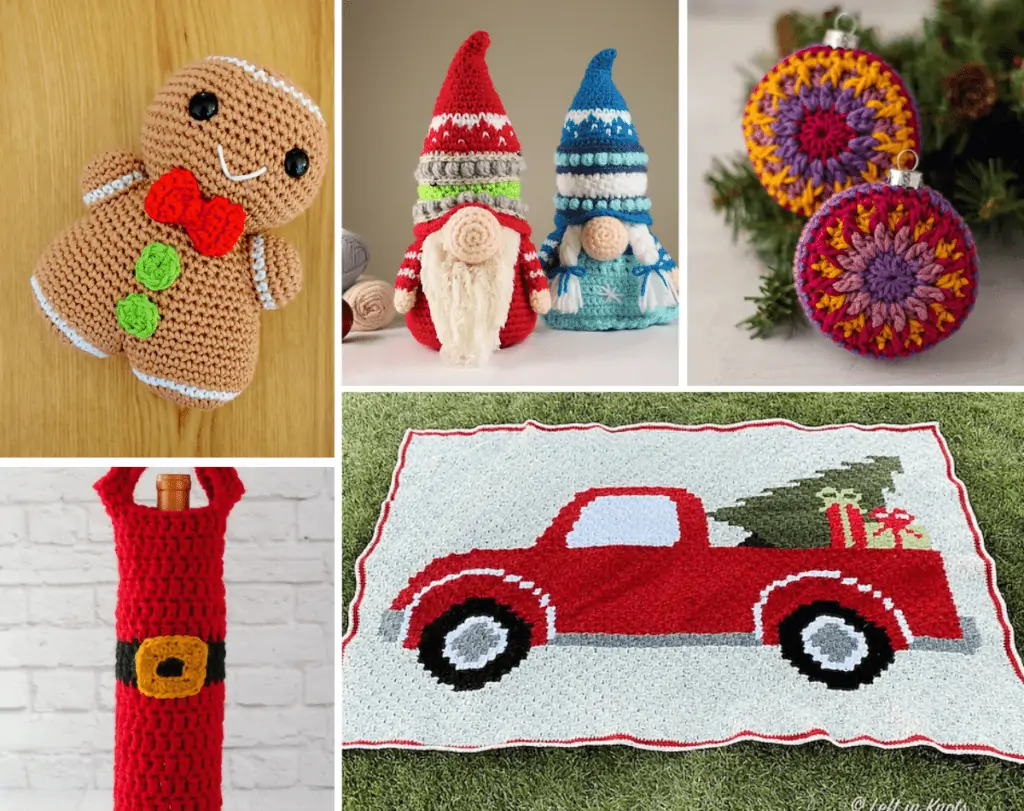 Be prepared to find a lot of adorable crochet projects. It may be hard to choose just one! And because they are all free patterns .. you can splurge on all the crochet!
Most of these patterns use a variety of basic crochet stitches, so make sure that you know how to work a single crochet stitch, double crochet stitch, and slip stitch (sl st). Since these great patterns won't take a long time to complete, your cute crochet is just a few steps away!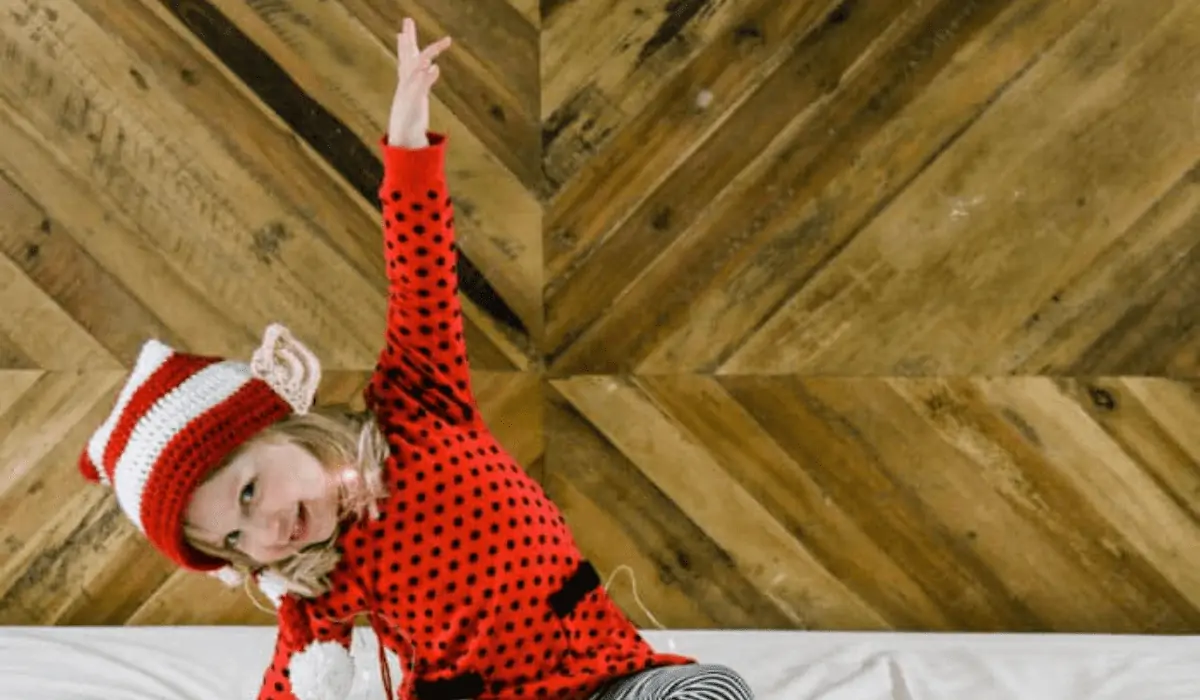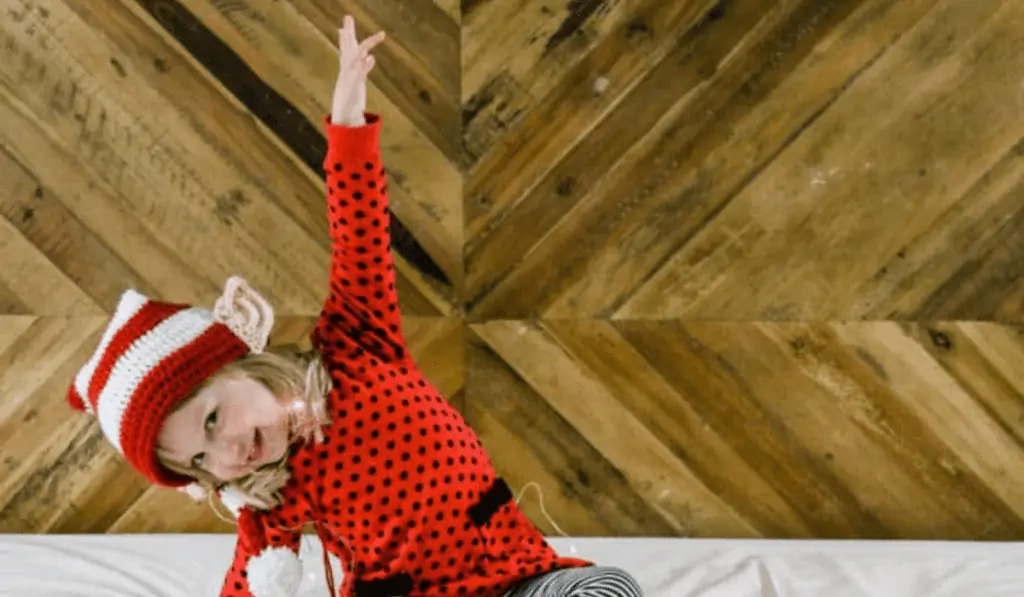 This little elf crochet hat pattern by Make & Do Crew is just absolutely adorable! This awesome pattern is sized for everyone: from a baby crochet pattern all the way up to an adult-sized crochet pattern, depending on who you are making it for.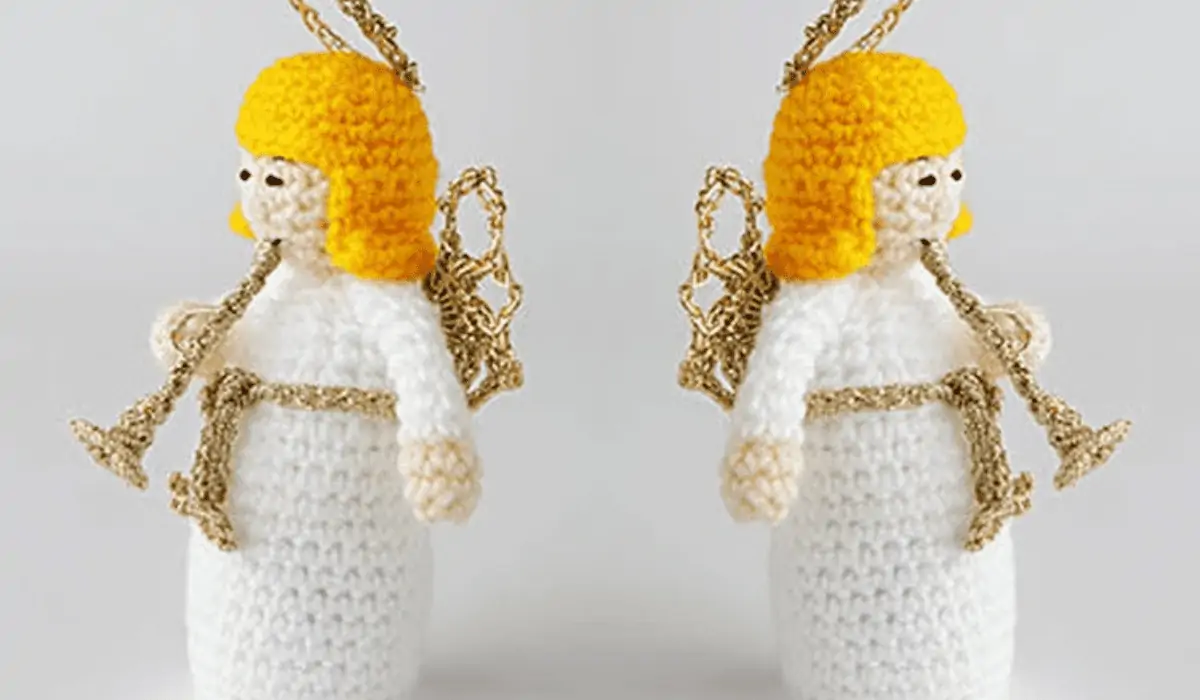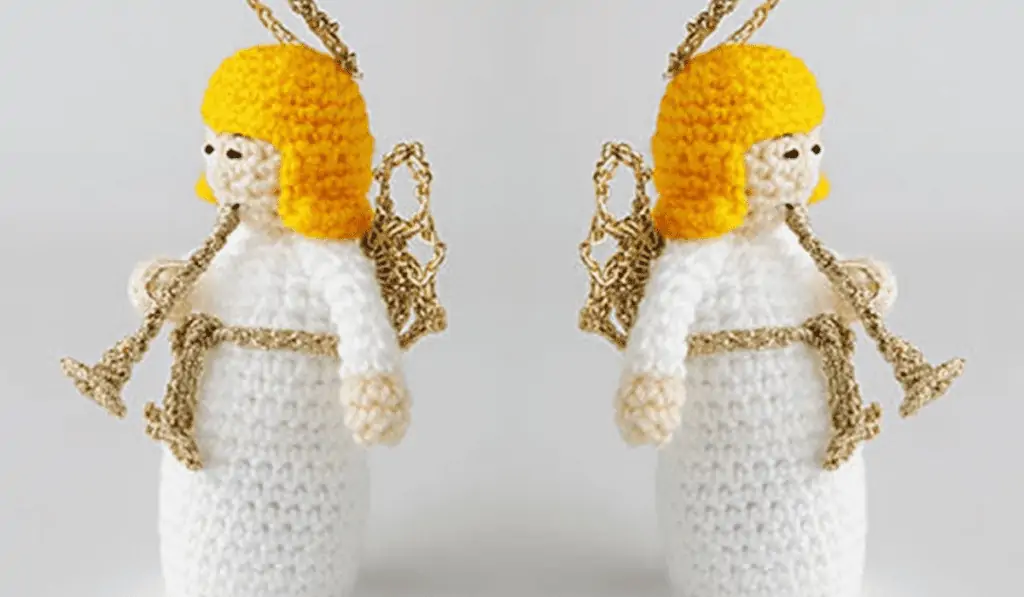 I love a good free crochet angel pattern, and truly this pattern by Cara Medus is incredibly versatile. You can use it in your nativity, as a tree topper, or stuff the angel to make it a toy.
If you're looking for more crochet angel patterns, I've got a whole post! Plus, check out these crochet nativities.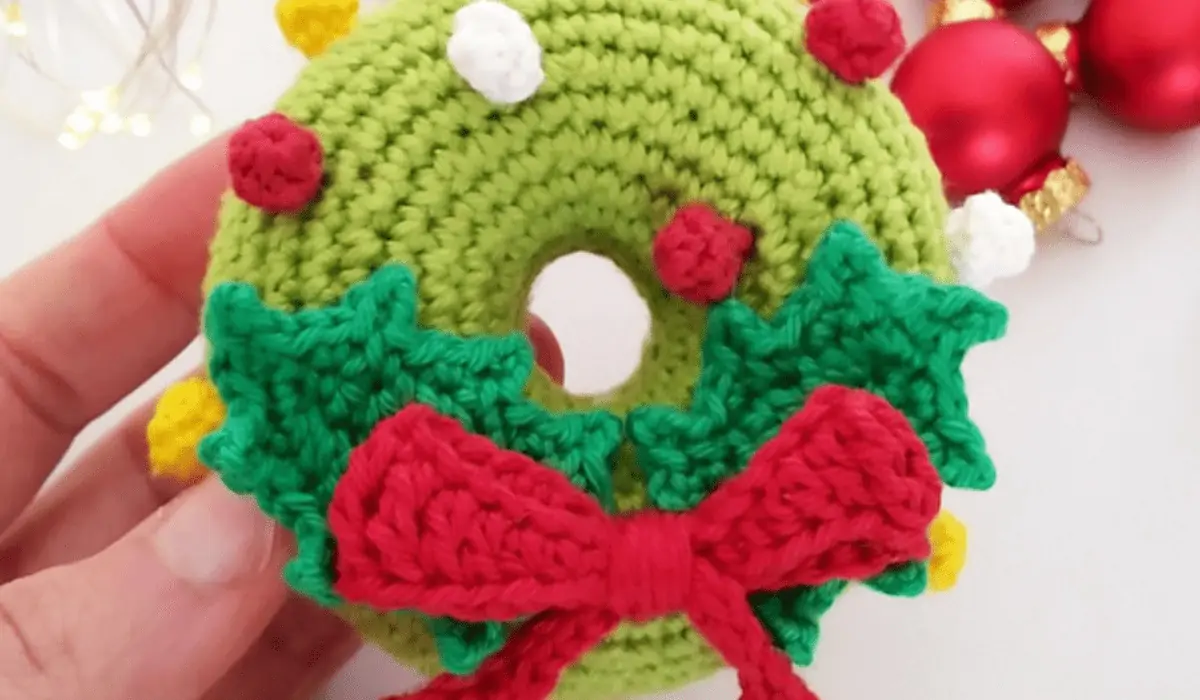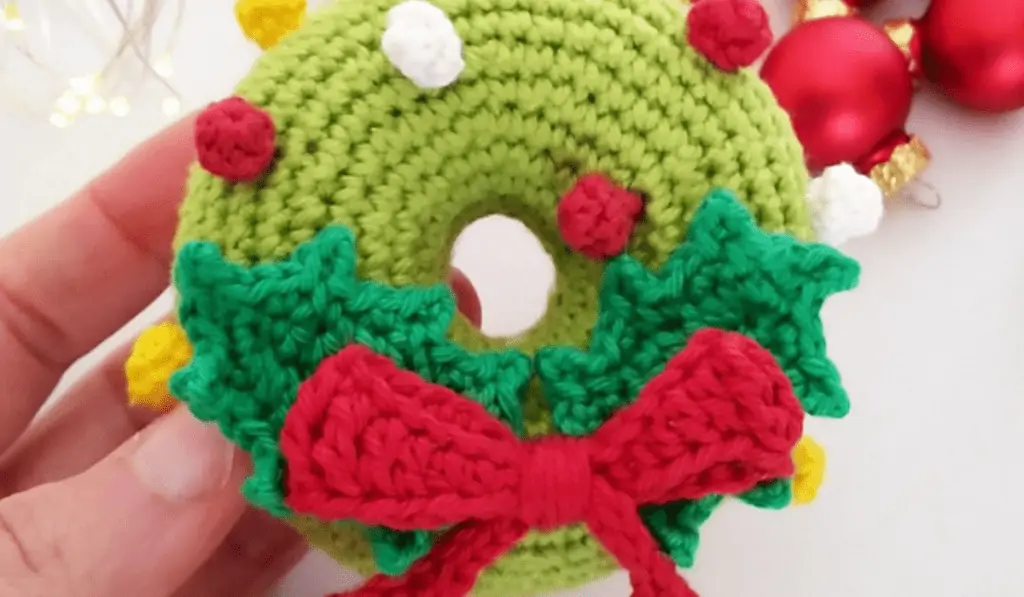 If you need a fun and different amigurumi crochet pattern, or maybe just a fun, new crochet ornament, This wreath by Roffamusa Designs is absolutely adorable. I really like the little circles of color that give this wreath some added flair. Isn't this just the cutest ornament?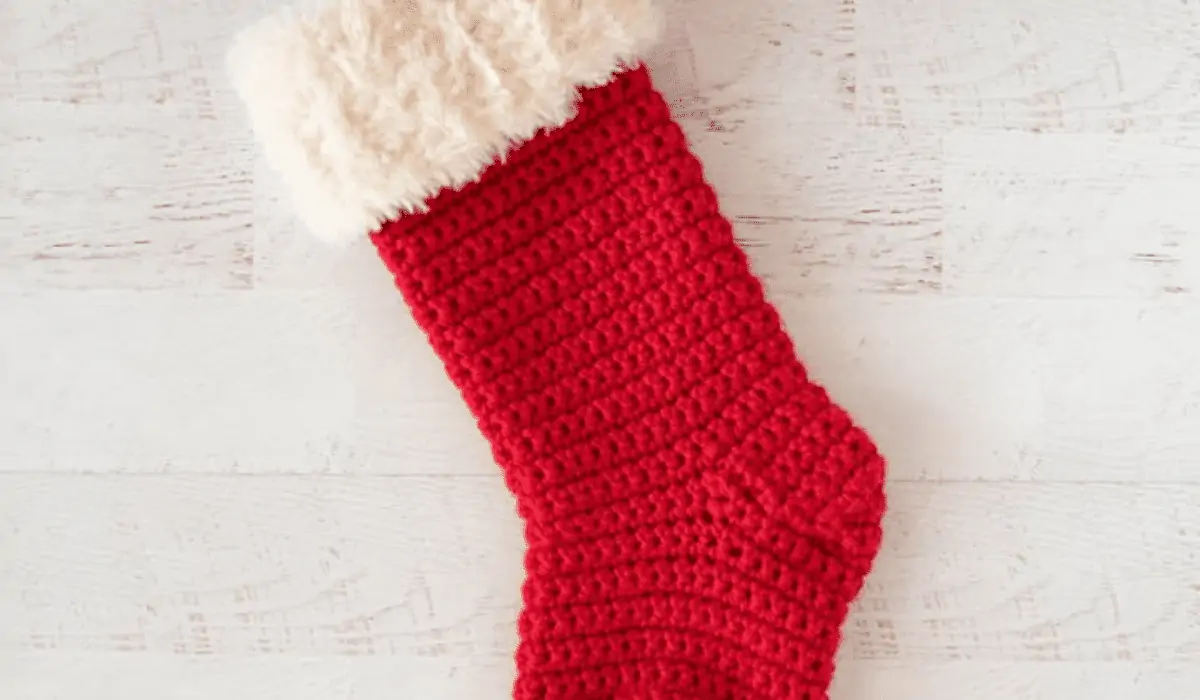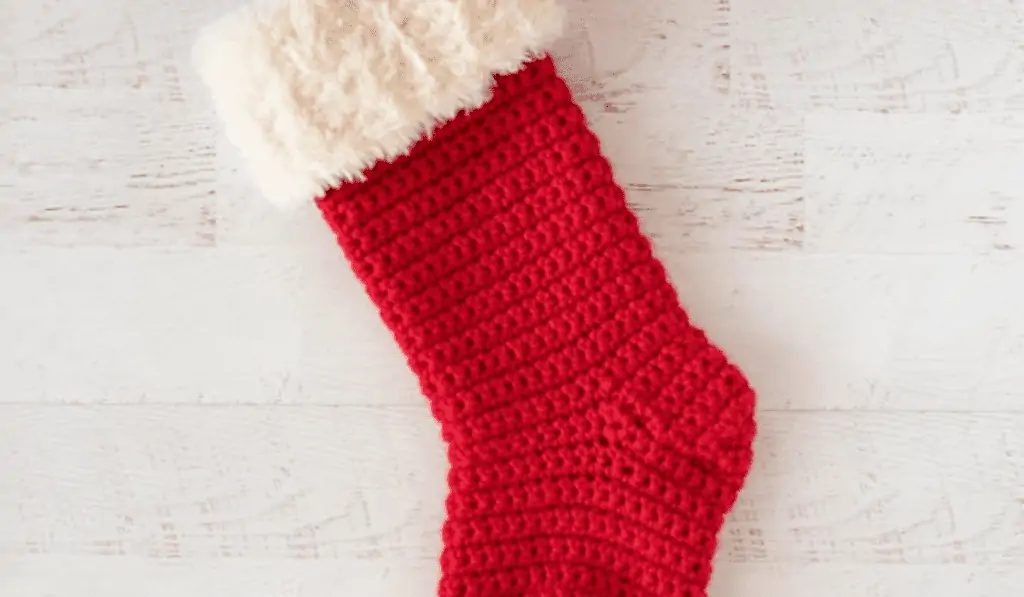 Everyone needs a classic Christmas crochet stocking and my pattern is sure to be a favorite. This pattern is fast and still incredibly fun to make. Plus, it's a great stocking stand-in if you think you may have extra people come for Christmas.
If you want more granny square-based cute stocking patterns, check out my granny stocking post!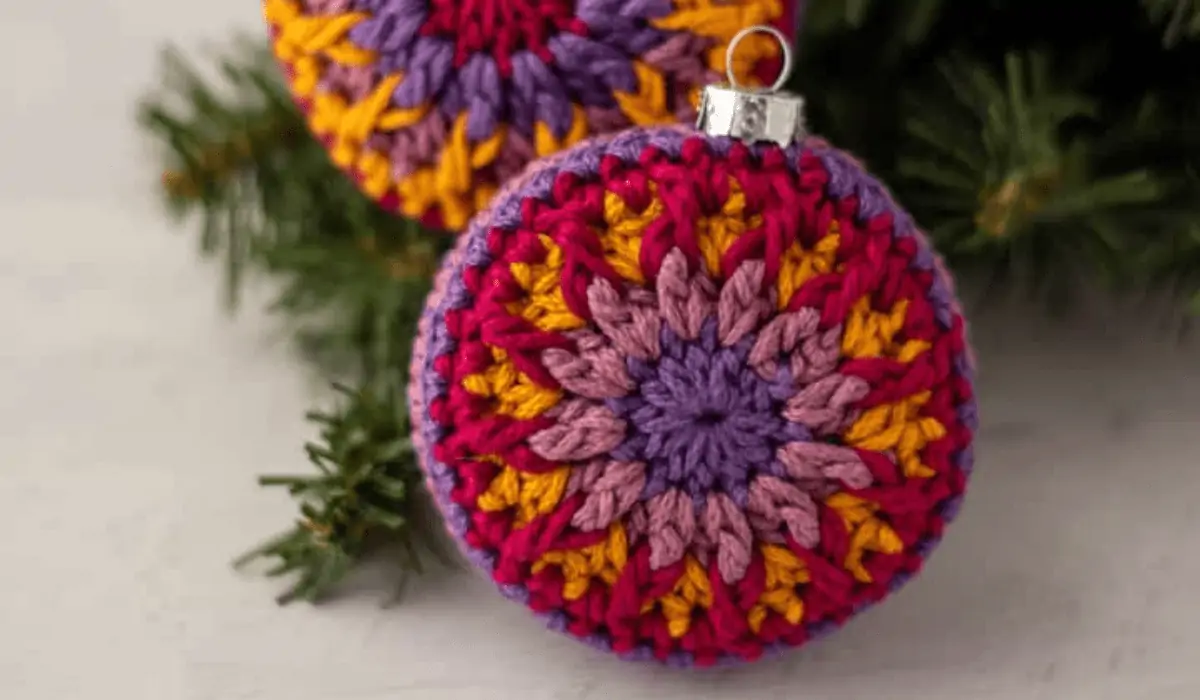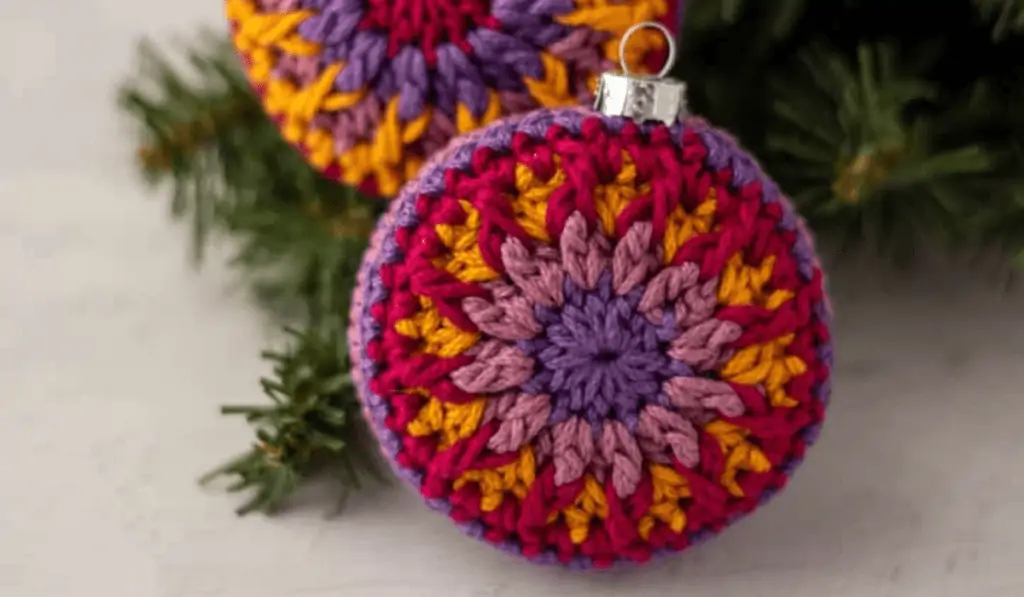 In any Christmas crochet pattern post, I absolutely have to include ornaments. My vintage crochet ornament steals my heart. Plus, it's a great stash buster since it doesn't require large amounts of yarn. So, another excuse to go through the scrap yarn pile, right?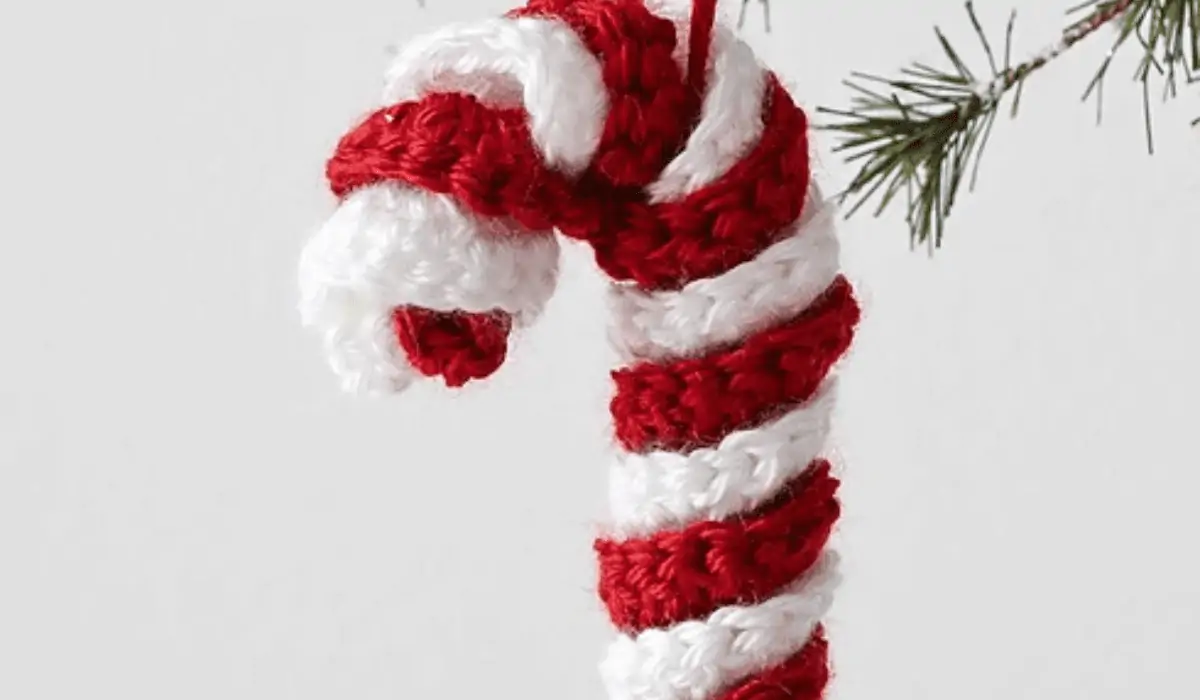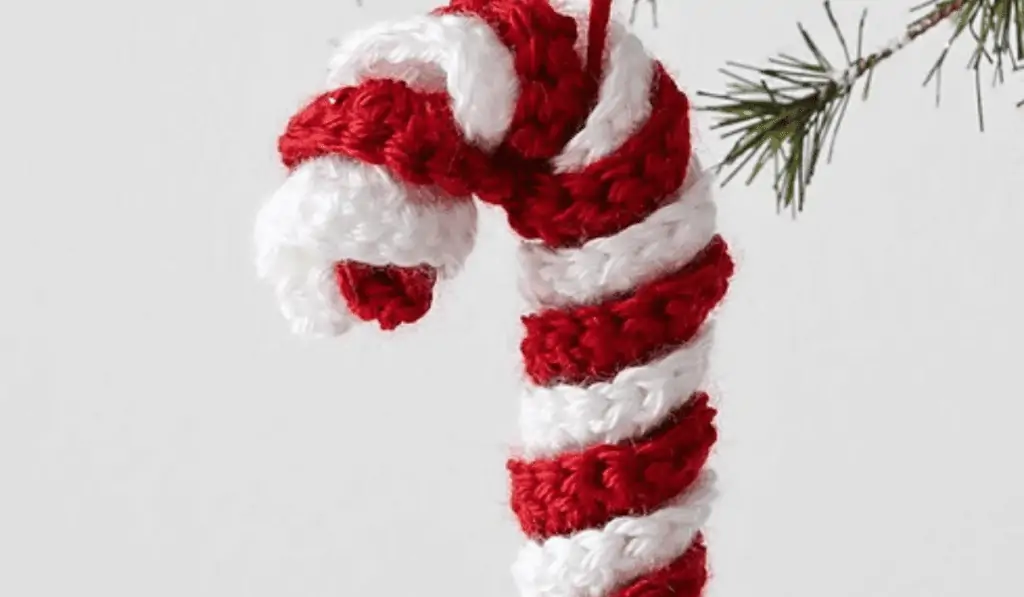 Candy canes always put me into the holiday spirit and this ornament by Yarnspirations is the perfect tree decoration to do just that! Did anyone else's parents put candy canes onto their Christmas trees? At least this adorable tree decoration is not going to end up in someone's tummy a day after it's been put on the tree!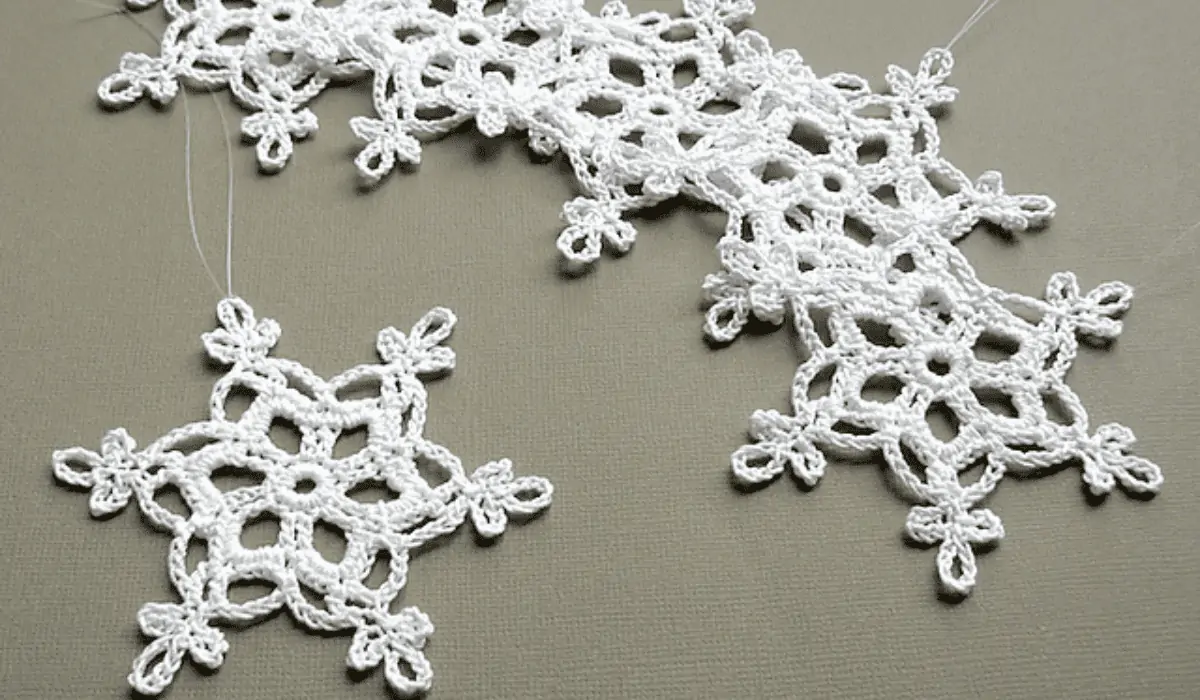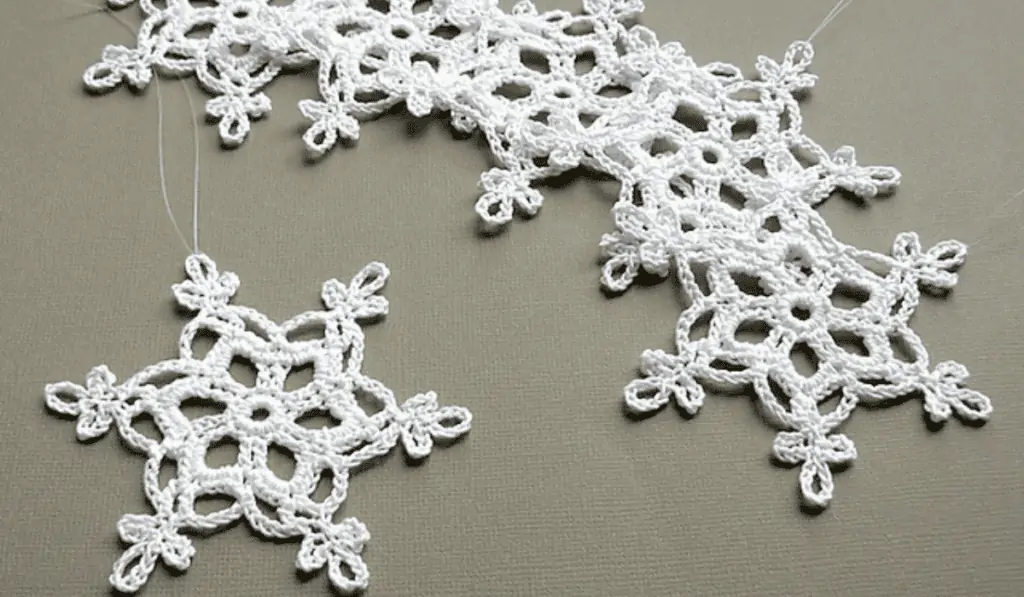 Speaking of ornaments, who doesn't love a snowflake crochet pattern? This pattern by Caitlin Sainio is so cute! Plus, it's the perfect accessory for any holiday gift.
Want more crochet snowflake patterns? Not to worry, I have a whole post on those as well!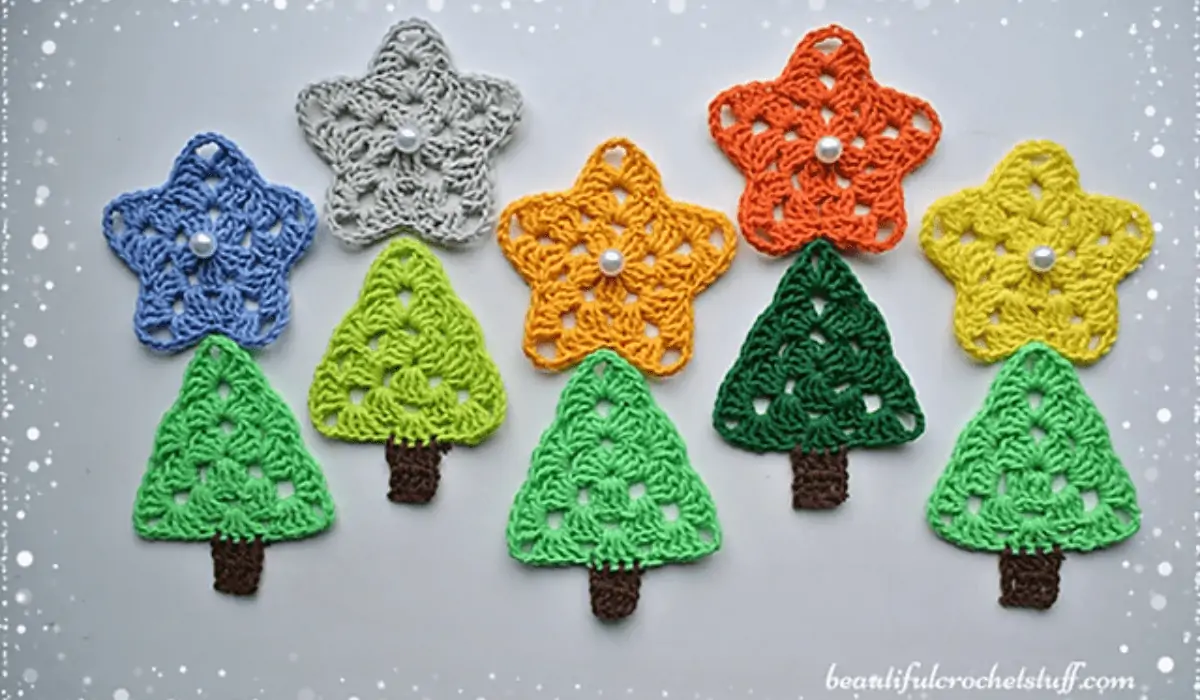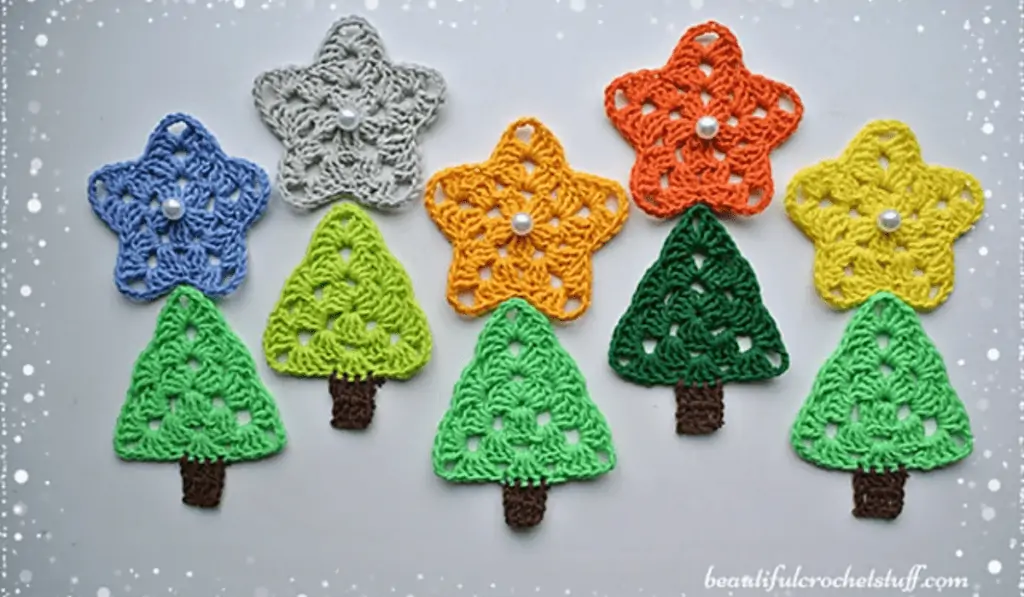 I love these little pine trees! This crochet pattern is by Beautiful Crochet Stuff and it includes a crochet video tutorial.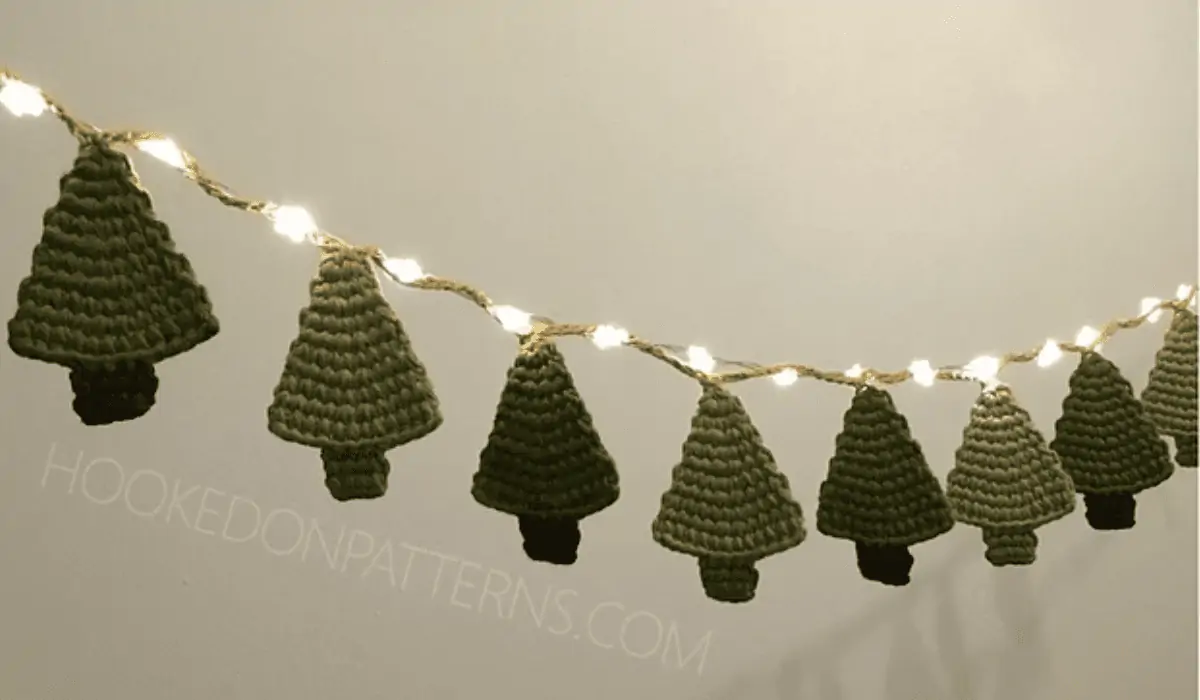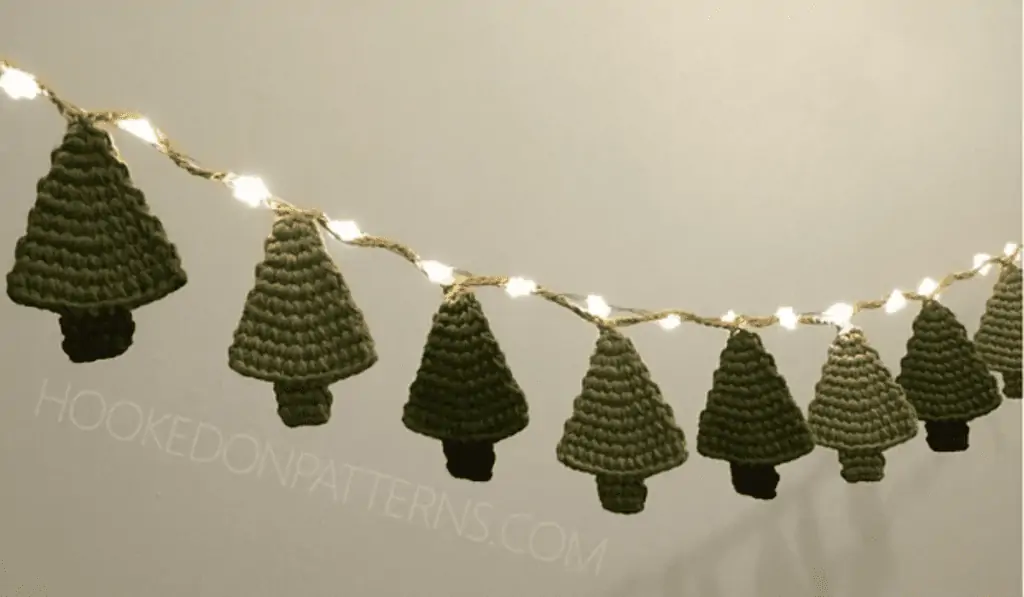 I also absolutely love this mini Christmas tree garland pattern by Hooked on Patterns. I think this will look simply stunning hanging on your mantle.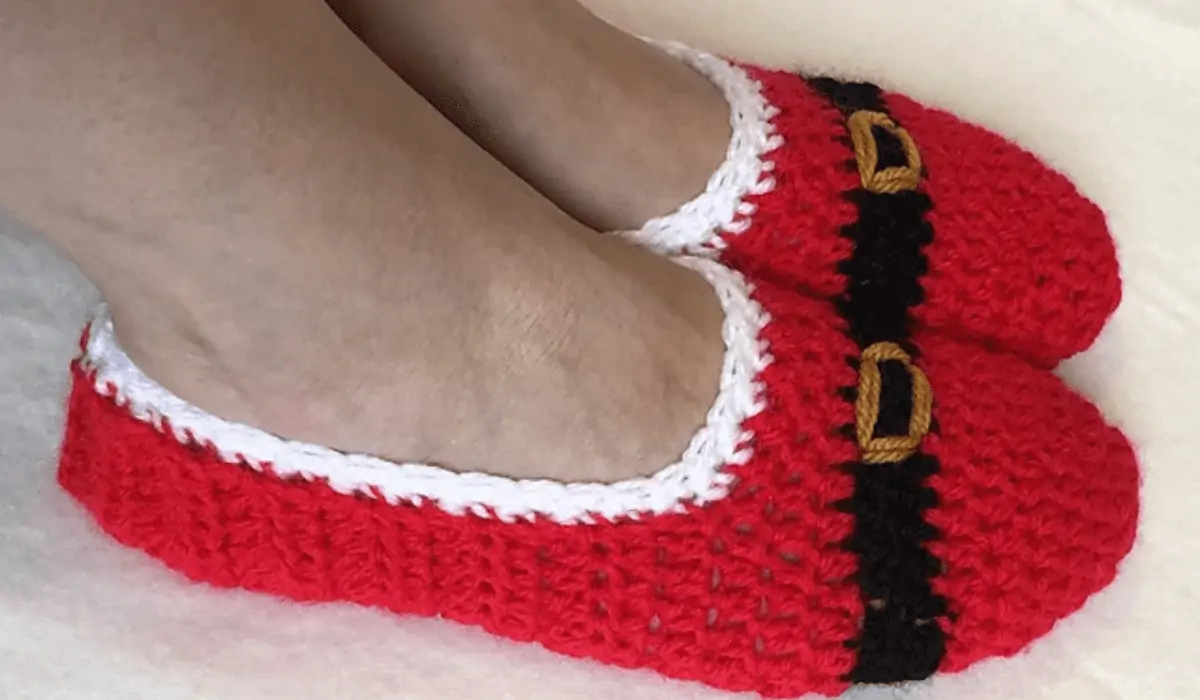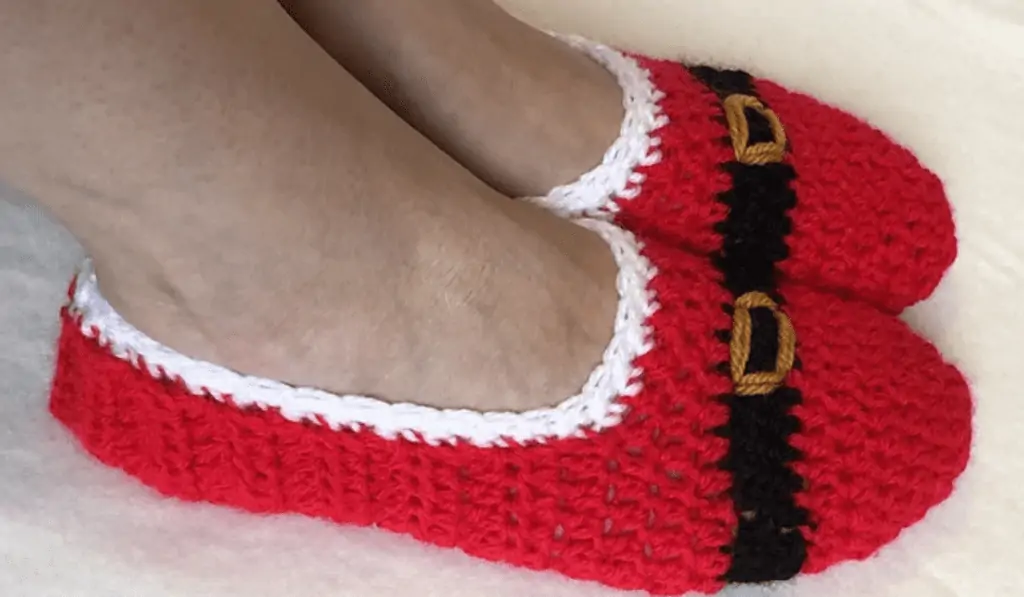 If you're trying to push yourself into the holiday spirit this year, these Santa Claus comfy crochet slipper socks by Dove Crafts UK are absolutely adorable. Don't they just look so cozy?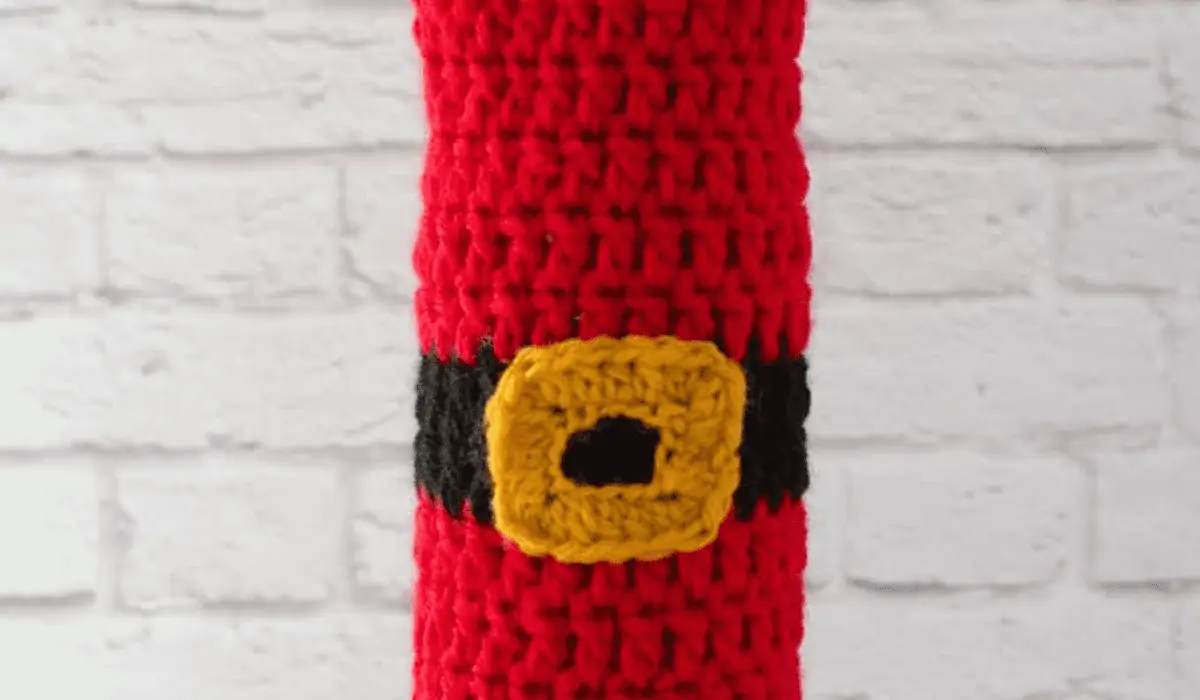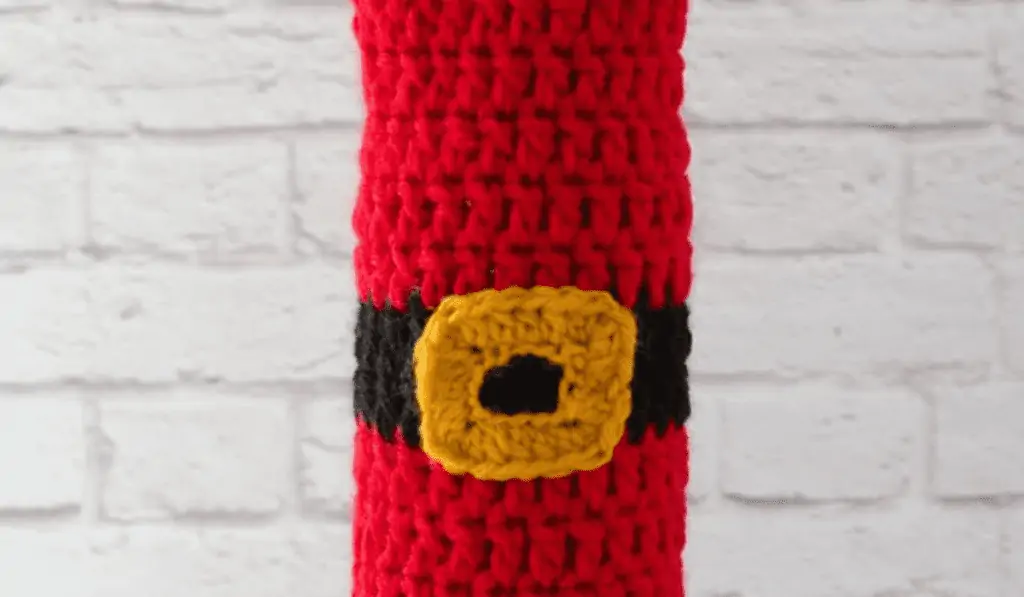 If you're looking for a handmade gift to bring to a holiday party, my Santa Wine Cozy is always a winner! I can't decide which winter wine cozy I love best.. this one, or the snowman wine cozy or the poinsettia. Sigh. So many.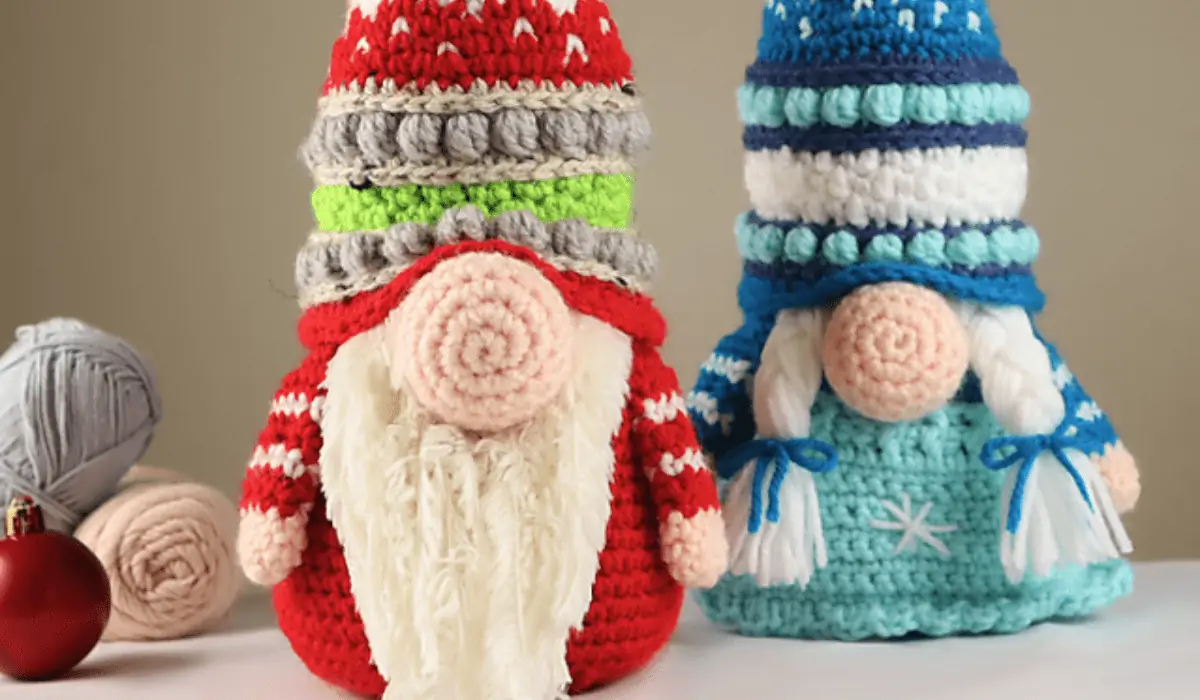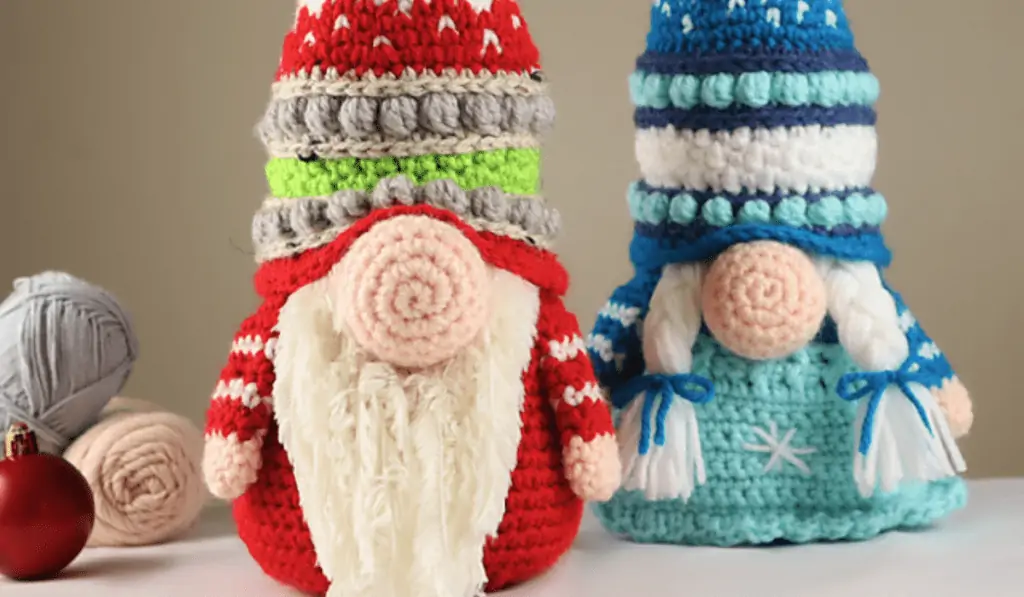 This Christmas gnomes crochet pattern by Stringy Ding Ding is so cute. I really love the look of the hats on these gnomes, it really makes them stand out! I'm also loving the yarn used for the white beard, I think it gives this gnome even more texture and character.
Be sure to check out the crochet gnomes for all seasons (such a fun collection).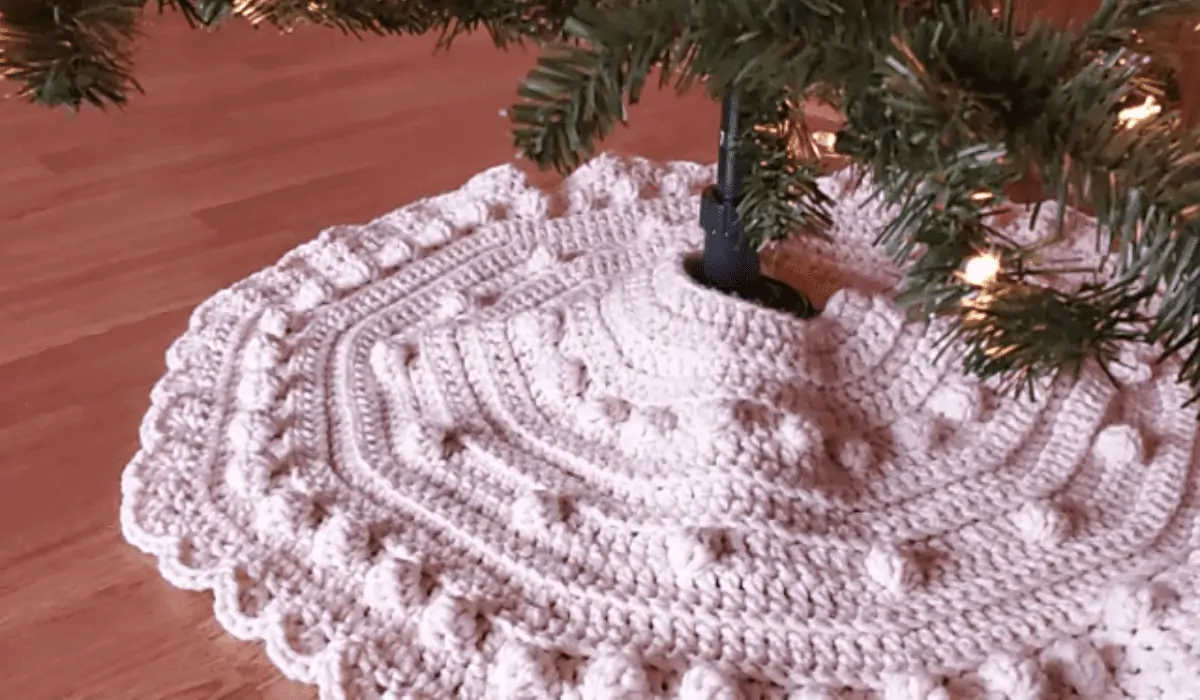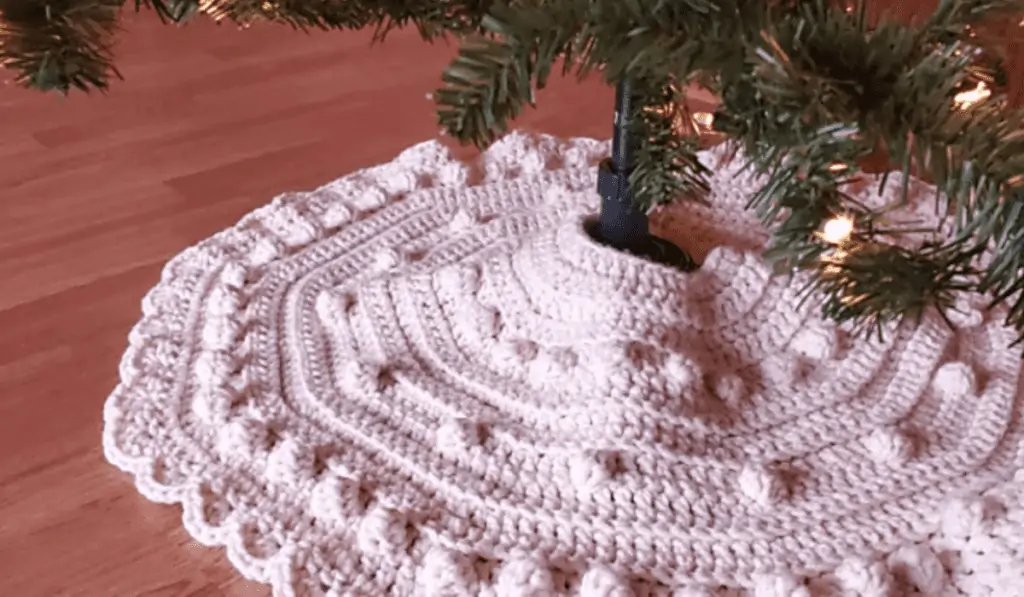 I love a good tree skirt. Whether you have a real tree or an older fake tree that drops needles, you know how the little needles seem to end up in so many different parts of your house. I highly recommend making a tree skirt to try and prevent the needles from going too far. And, let's face it, they look beautiful too! This pattern by The Unraveled Mitten is super cute and chic for those who want a more modern Christmas tree.
Plus, I have a whole post about crochet tree skirt patterns so you're sure to find the perfect one to match your taste.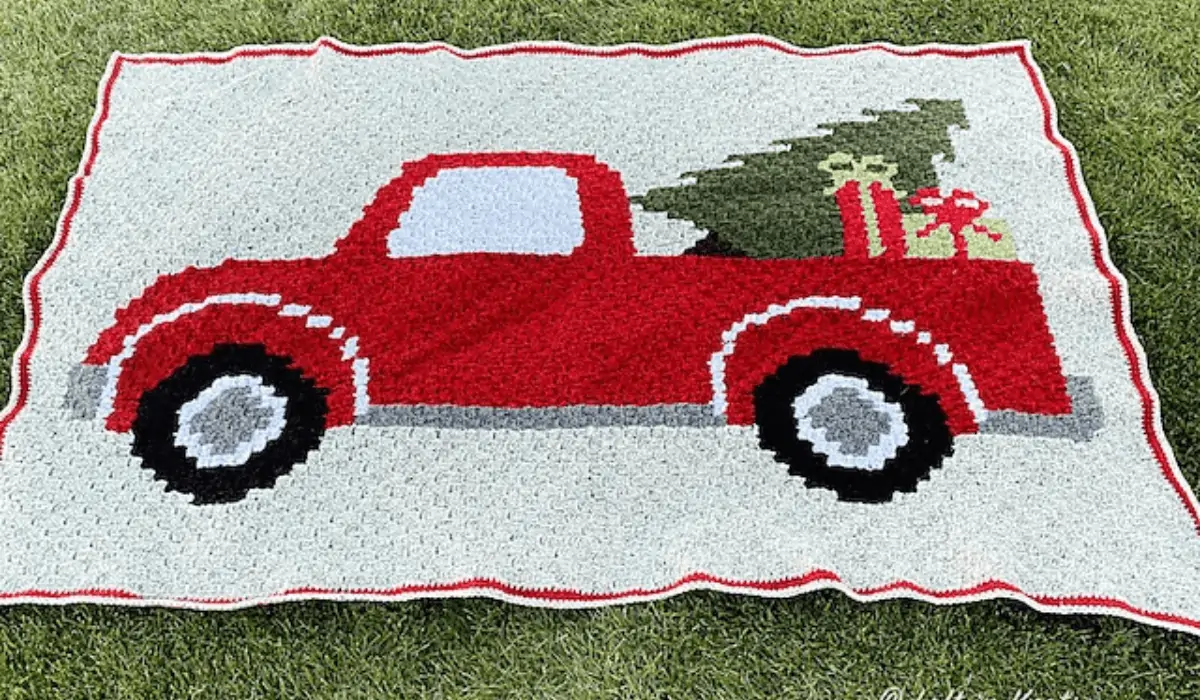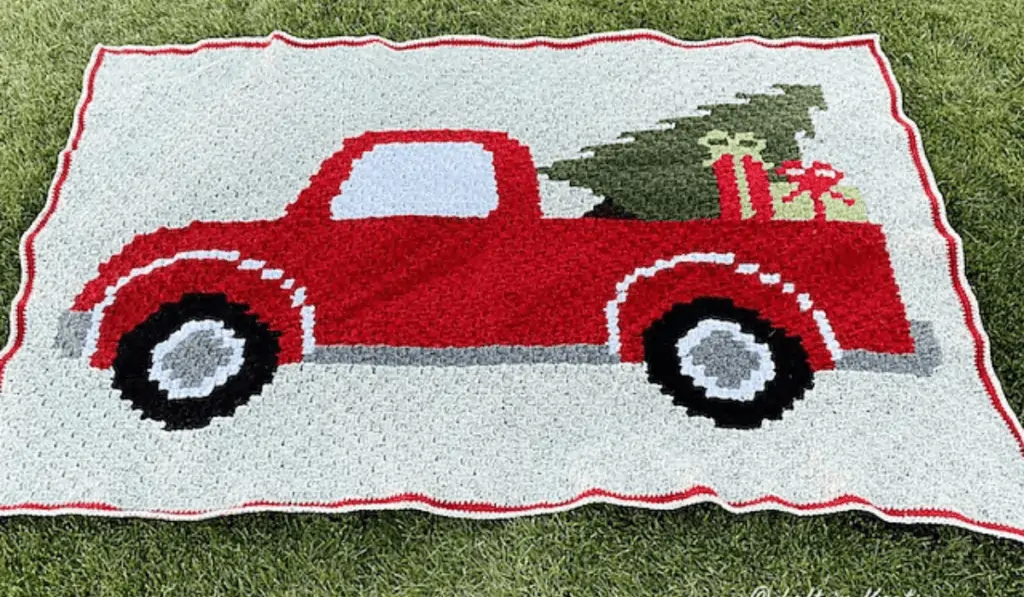 This corner-to-corner crochet afghan by Left in Knots is so cute! Personally, I love all of the vintage red truck stuff that we've been seeing over the last couple of years and this crochet blanket is simply spectacular.
We all need more blanket patterns, right? Be sure to check out my full Christmas crochet afghan pattern post.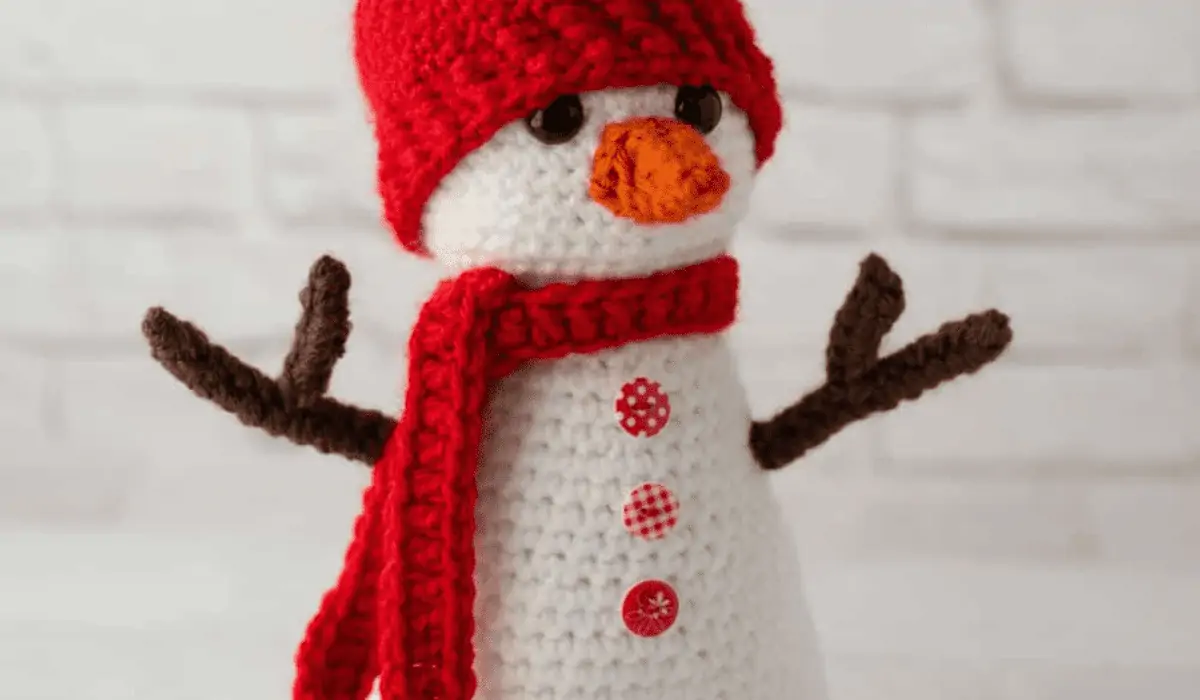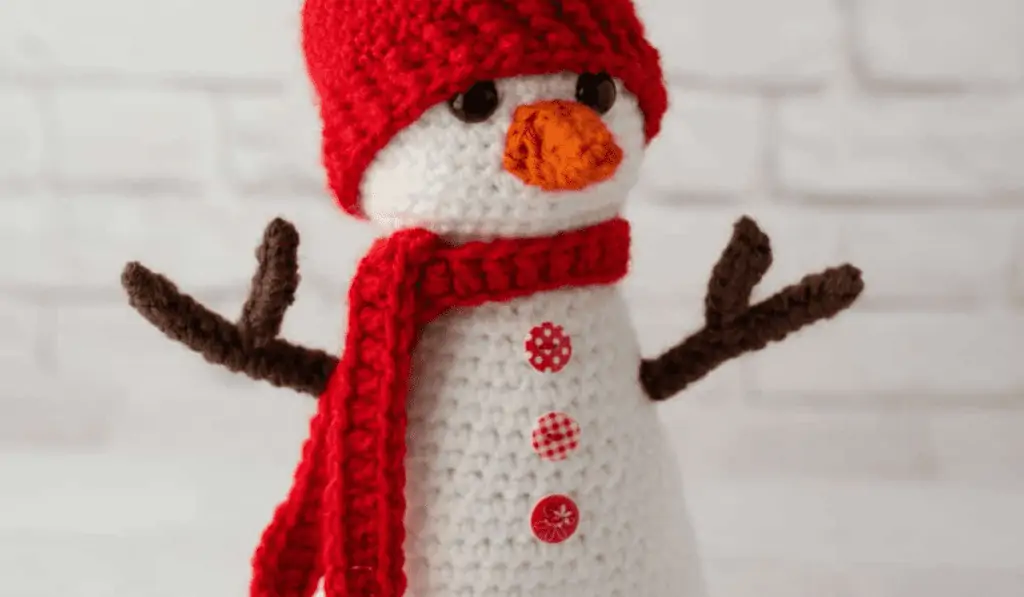 My crochet snowman is sure to absolutely steal your heart! If you're looking for festive decorations this season, then a snowman crochet pattern is simply a must-make.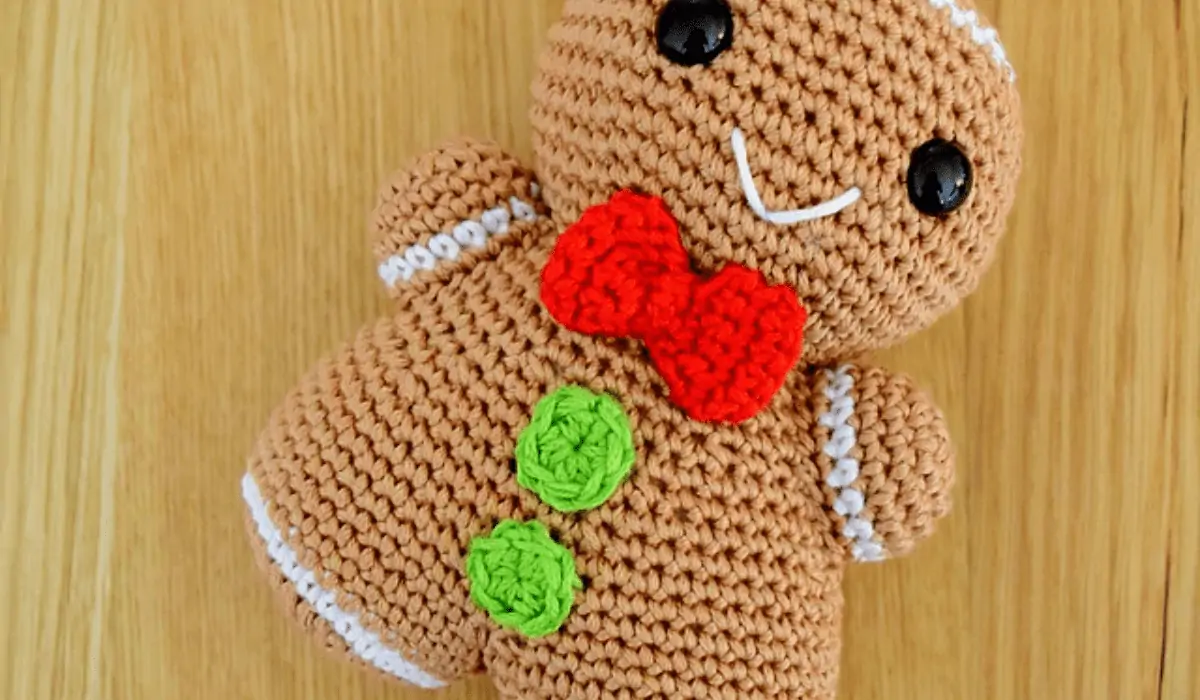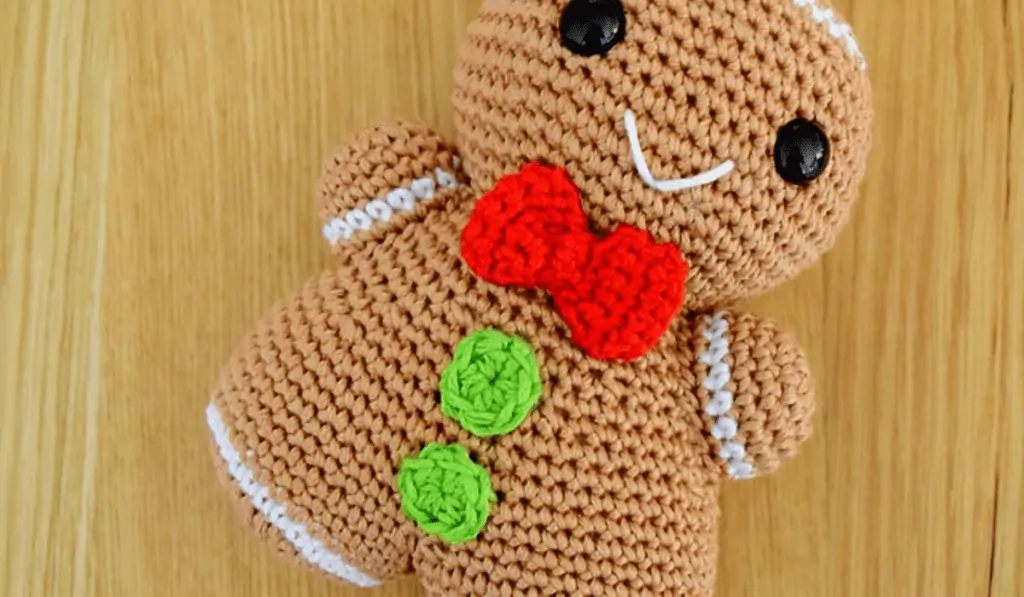 This gingerbread man by Yum Yarn was just too cute not to share! He just looks like such a happy, jolly fellow and I simply adore his little bowtie! Honestly, this would also make the perfect holiday gift for a little one in your life.
I love seeing your finished projects! If you enjoyed making one of my patterns I'd love to see yours on Instagram, be sure to tag me @crochet365knittoo. If you are on Facebook, stop over to the Crochet 365 Knit Too Facebook page or pop over to the Crochet365KnitToo Club and share a photo! I'd love to see your work.