Crochet Sunflower Coaster: Fast and Fun to Make
This post may contain referral/affiliate links. Please read my disclosure for more info.
Be still my sweet summery heart, because this crochet sunflower coaster makes me all kinds of happy.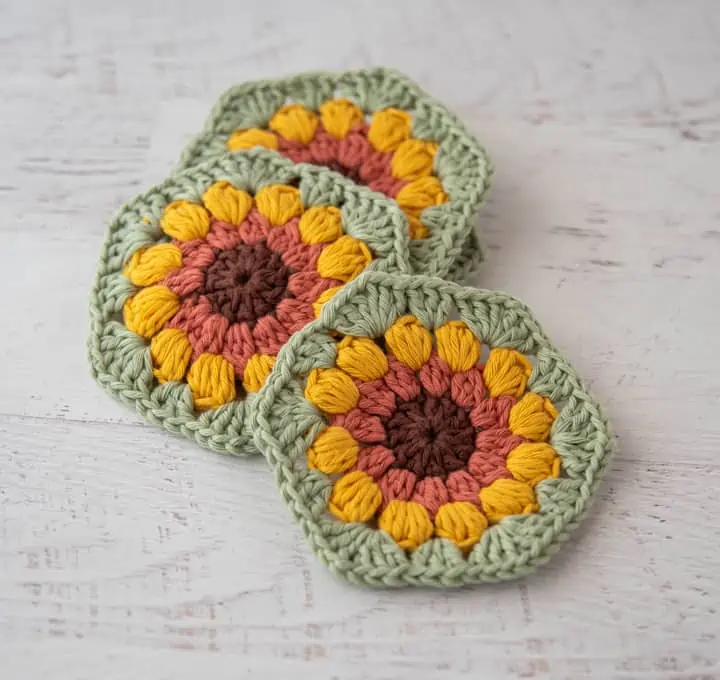 I mean.. really.. what's not to love about a sunflower? Bold. Beautiful. She stands tall above the crowd. Not a care in the world. And shines brightly on despite the adversity around her. She just is.
And maybe that's why I'm completely smitten with this beautiful coaster pattern perfect for your happy décor.  If you can part with these cute coasters, they also make a great gift. They are also oh so fun to crochet whether you're a die hard sunflower lover or you just want an easy project on your hook!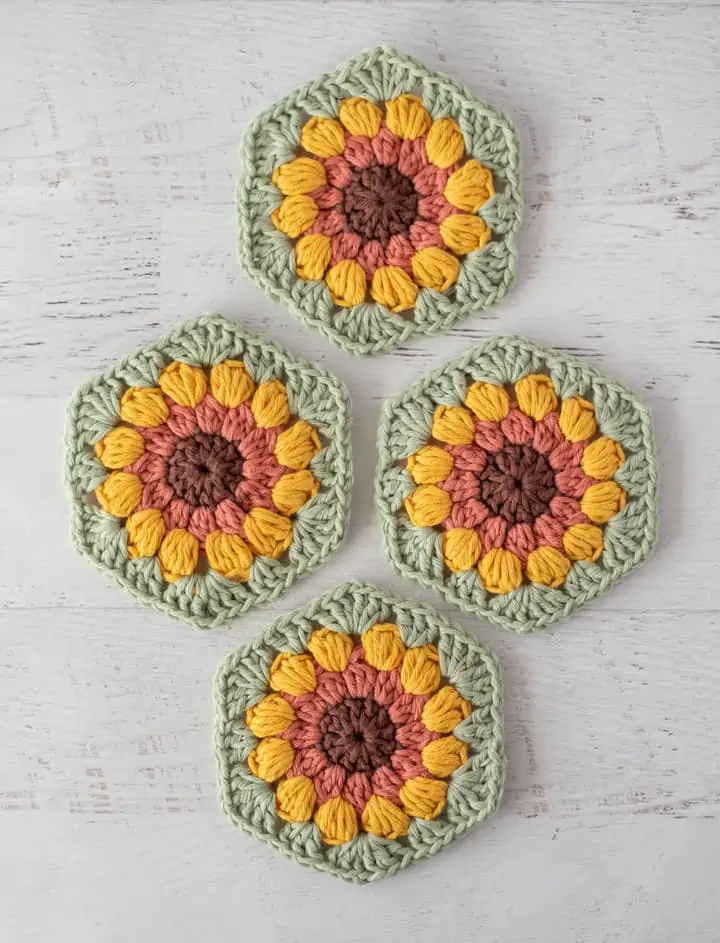 Just look at these beautiful sunflower coasters! Don't they take your breath away? The finished coasters are the perfect size and look so beautiful on a dining room table set up for a special meal. They also look pretty amazing in a living room too!You can even use a different color for the final row to match your decor!
I also love that this free pattern is such a quick project with worsted weight yarn. An evening with your crochet hooks, yarn and a great movie and before you know it you'll have the cutest sunflower coasters. They make great gifts, but you might be so smitten with your beautiful crochet sunflower coaster that you'll simply have to keep it for yourself instead!
Can You Crochet Coasters?
People sometimes wonder if they can crochet coasters? You absolutely can! I love the soft, cozy feel of a coaster made out of yarn and I think a homemade coaster adds to my home decor. Unlike a solid surface coaster, a crocheted coaster will absorb condensation from a glass. In fact, I prefer cotton yarn over acrylic yarn for coasters because is more absorbent.
The crochet sunflower coaster is an easy pattern and looks great on your side table or dining room table no matter what the color combination and it's a great way to use up leftover scrap yarn too! 
More Free Crochet Coaster Patterns
If you love this Crochet Sunflower Coaster pattern, you might also like to check out these other coaster patterns perfect for your crochet hook!
How Do You Crochet A Sunflower Coaster?
This sunflower coaster uses simple stitches: chain stitch, slip stitch and double crochet. You will also need to know how to crochet a bobble stitch and puff stitch, but they are easy to do with my step by step directions! Each coaster is quick to make with this simple pattern.
Crochet Sunflower Coasters
Here is what you will need for 4 Coasters:
US G 6/4.00 mm crochet hook (these are my absolute favorite hooks I recommend to everyone!)
Worsted Weight Cotton Yarn (Sample used Paintbox Cotton Aran as follows)

1/4 oz Brown (Coffee Bean, Col 611)
1/2 oz Orange (Vintage Pink, Col 656)
3/4 oz Yellow (Mustard Yellow, Col 624)
1/2 oz Green (Pistachio Green, Col 625)
Resources and tutorials you may find helpful in following this free crochet pattern: Crochet Abbreviations, US to UK Crochet Conversion Chart.  Find links to stitches on the "Tutorial" menu: Getting Started will show basic stitches such as the slip stitch (sl st), single crochet stitch and double crochet stitch used in many patterns and Crochet Stitch Dictionary shows our growing collection of crochet stitch tutorials.
Sunflower Coaster Size:
Each finished coaster measures approximately 4-1/2″ (point to point across)
Special Stitches
Here are some special stitches to know for this free crochet coaster pattern:
Bobble:  Yarn over, insert hook into stitch and pull up a loop.  Yarn over and pull through 2 loops (this leaves 2 loops on hook; one incomplete double crochet made). Make 2 more incomplete double crochet stitches.  There are now 4 loops on the hook. Yarn over and pull through all 4 loops on hook. For a detailed tutorial on bobbles, click here.  
Puff Stitch: *Yarn over, insert hook into same stitch as joining and and pull up a loop to the height of a double crochet (3 loops on hook). Then yarn over again and insert hook into the same stitch and pull up another loop ( 5 loops on hook). Yarn over again, insert hook into the same space and pull up another loop. (7 loops on hook). Pull yarn through all loops.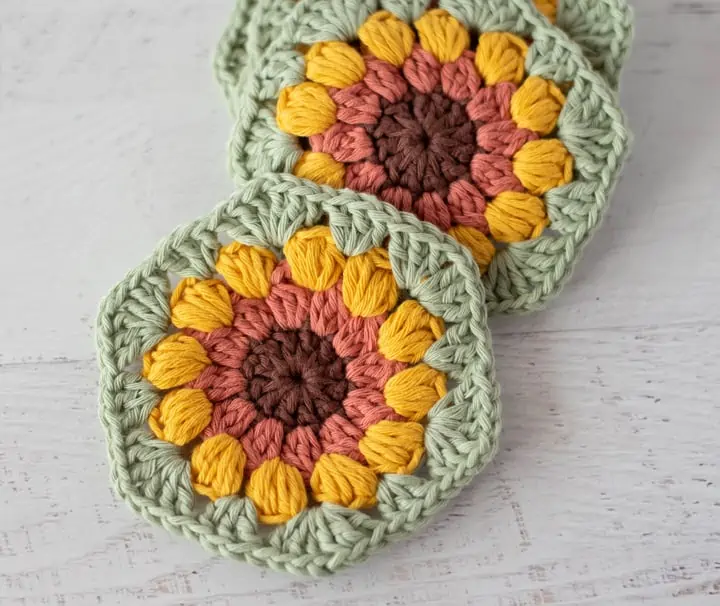 Sunflower Coasters (Make 4):
With Brown yarn, chain 4 and then join to form a ring
R1: Ch 3 (counts as 1st dc), 11 dc into ring. Join with a slip stitch to top of starting chain (12 sts). Fasten off brown yarn.
The next round is worked in bobbles with orange yarn. You can start the row in one of 2 ways. Either attach orange yarn into any stitch from previous row and chain 2 to start the first bobble. Or start with a standing stitch: start with a slip stitch of the new color on the hook, then carefully hold a yarn over to make the first bobble.
R2: With orange yarn and preferred starting method as described above, make a bobble in the first st, ch 1, *bobble in next st, ch 1. Repeat from * around. At end of round, slip stitch to top of starting bobble and fasten off orange yarn. (12 bobbles).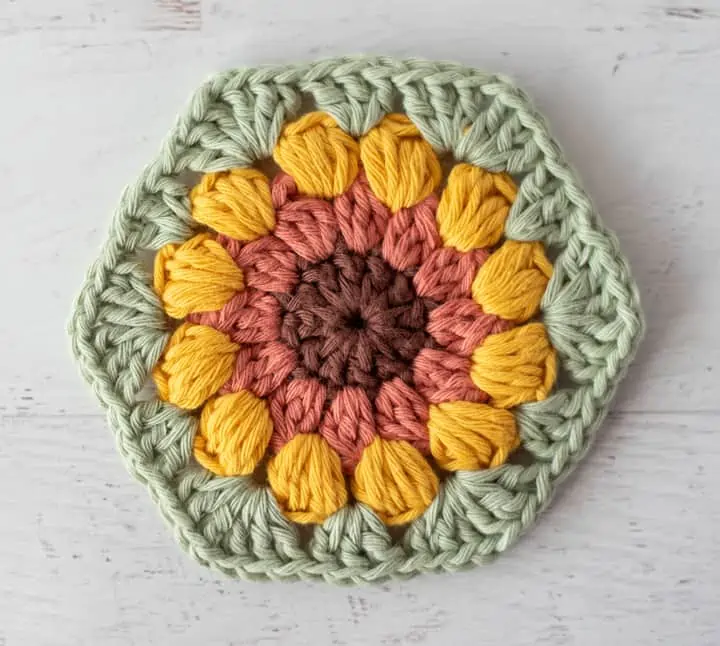 R3: With yellow yarn and preferred starting method as described for the prior row, make puff stitch in a ch-1 space. Ch 1. *puff stitch in next space, ch 1. Repeat from * around. Slip stitch to the top of the first puff stitch. Fasten off yellow yarn. (12 puff stitches).
R4: With green yarn, join with a slip stitch in a ch-1 space in the prior row and chain 3 (counts as first dc), in the same space, work 2dc, ch 1, 3dc (first corner made), 3 dc in next space, *(3dc, ch 1, 3 dc) in next space, 3dc in next space. Repeat from * around. Fasten off green yarn.
Weave in all ends using your yarn needle.
Ta da! Your gorgeous sunflower coaster crochet pattern is complete!
Explore More Crochet Patterns
Here are some other articles you may be interested in if you like to crochet.
I love seeing your finished projects! If you enjoyed making the Crochet Sunflower Coaster pattern, I'd love to see yours on Instagram, be sure to tag me @crochet365knittoo. If you are on Facebook, stop over to the Crochet 365 Knit Too Facebook page or pop over to the Crochet365KnitToo Club and share a photo! I'd love to see your work!