St Patrick's Day Crochet Coasters
This post may contain referral/affiliate links. Please read my disclosure for more info.
You know what's a nice little way to get a holiday into your daily life? Crochet something fun, that's what! Like these darling St Patrick's Day Crochet Coasters.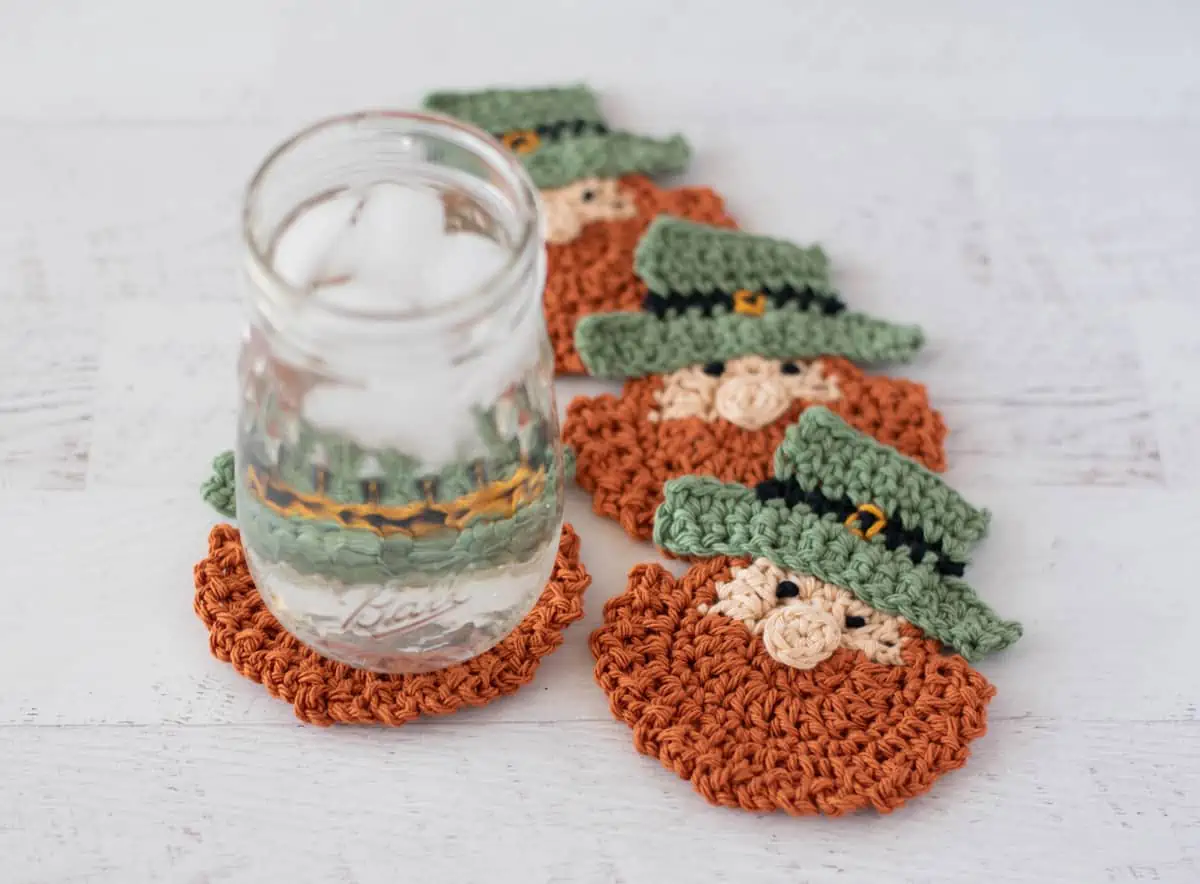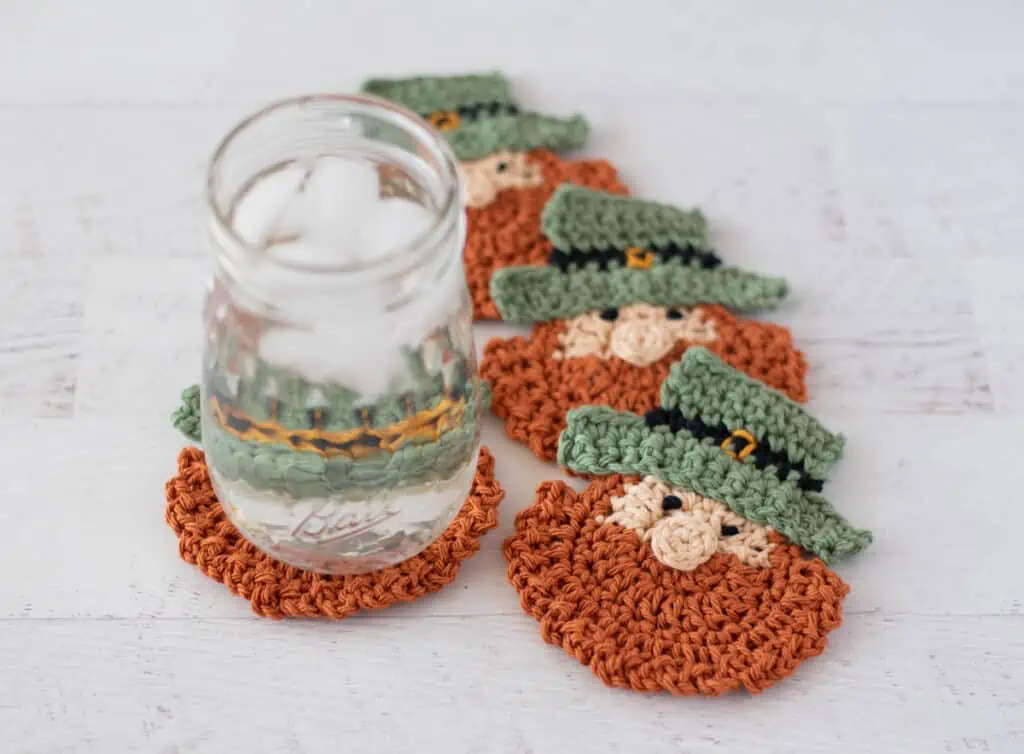 I'm going to be honest here, I'm not Irish. But that doesn't stop me from enjoying this fun holiday with these little cuties on my end tables! Its like my own personal pot of gold .. but of the crochet variety!
Sometimes it takes the words of someone else to inspire a design. It wasn't too long ago that we were working on the best St Patrick's Day Crochet Patterns post and one of my niece's upon spying my little crochet leprechaun appliqué, said "hey, this would make a cute coaster".
I thought, "What a great idea." And then it turned out to be a terrible idea.. but only from the stand point that the original appliqué doesn't work for a coaster AT ALL.
A coaster, after all, needs the surface area to be mostly flat, otherwise a glass isn't too interested in staying on it and.. well.. that's a problem.
So I went to work making a flatter leprechaun that maintained all the original cuteness for this adorable crochet coasters set.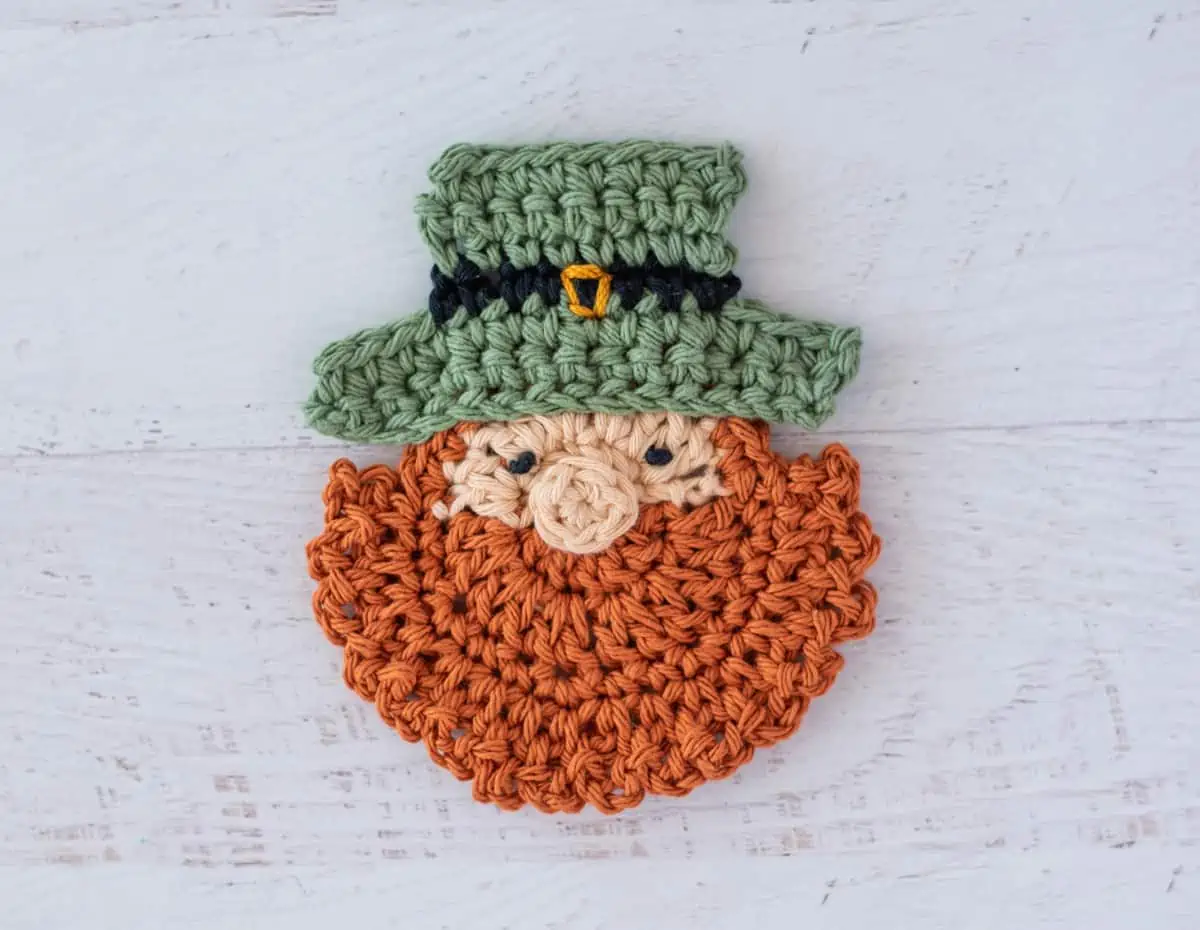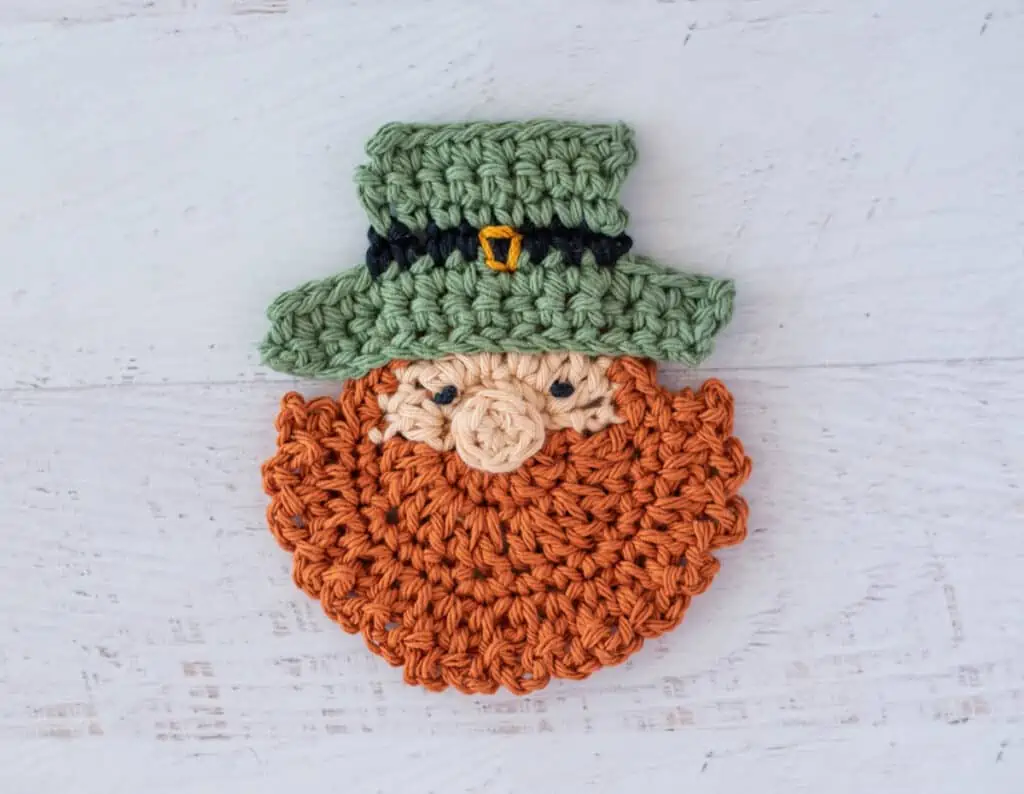 And he sure IS adorable, right? Sigh.
I love making coasters is cotton worsted weight yarn and I used a few different brands of yarn for this crochet project, mostly because I wanted the perfect green and orange. The coasters don't use a lot of yarn, though, so you might find just what you need from your scrap pile!
This coaster requires a bit more concentration, mostly due to the color changes in the face and beard area. We start with a magic ring and work a few rows of double crochet, changing color halfway through the row. If you're not sure how to get a clean color break when changing color be sure to read my post on How to Change Color in Crochet.
Then we continue working in the round, this time turning after each row to make the beard and hair. Finish up with a quick little nose and hat and your coaster is complete!
Leprechaun Crochet Coaster Tips
My best tips for success with the leprechaun's face is to carefully read the pattern to know when you turn your work for a new row and when you just chain up and continue on without turning (the pattern directs you when to turn). And of course changing the color correctly so you don't see the joins is important too.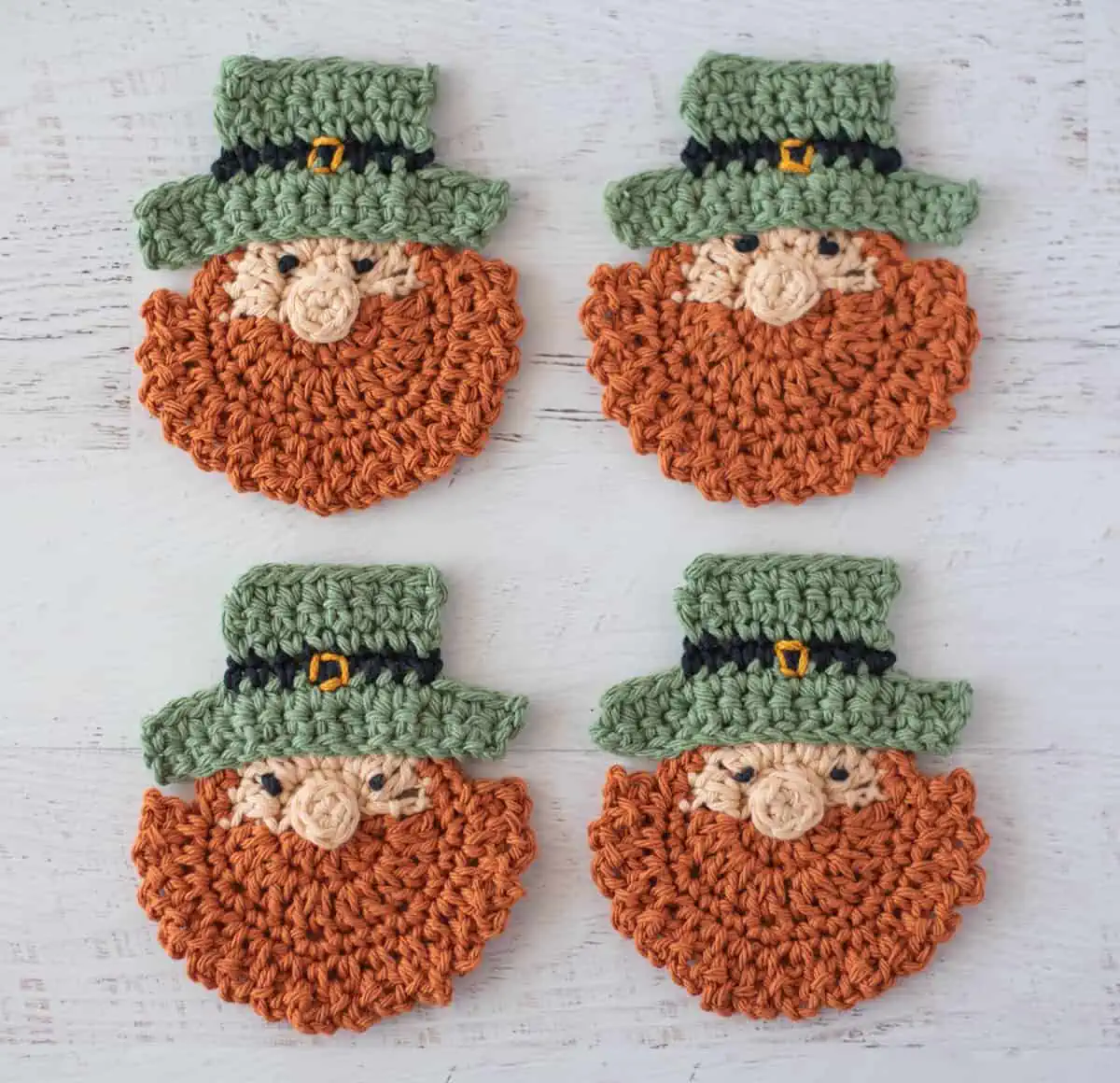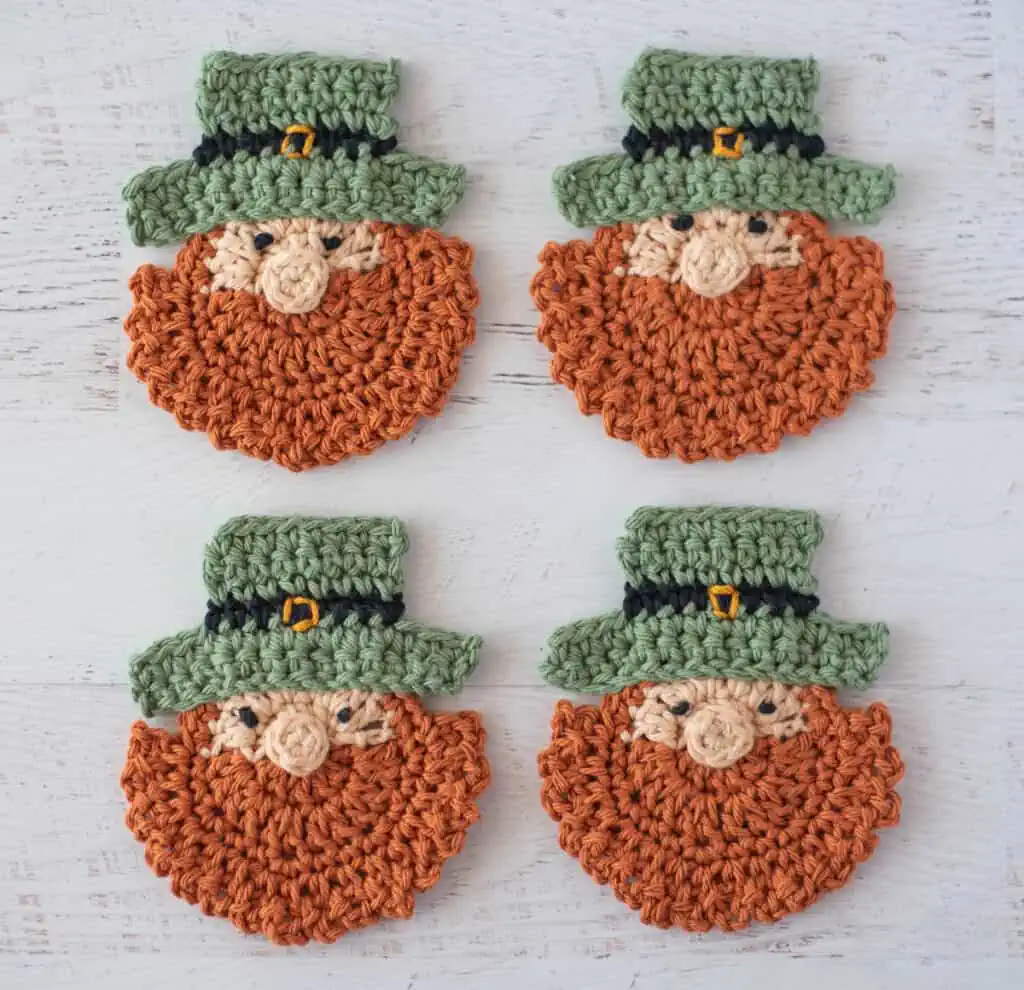 These cute little coasters would make a great gift, but at the moment I'm totally enjoying them in my living room! So fun!
Let's dive into the pattern…
St Patrick's Day Crochet Coasters
Here is what you will need:
US G 6/4.00 mm crochet hook (these are my absolute favorite hooks I recommend to everyone!)
Worsted Weight Cotton Yarn

Peach: 24 yards, sample used Paintbox Cotton Aran in Light Caramel (Col 609)
Orange: 38 yards, sample used Crafter's Secret Cotton in Papaya
Green: 22 yards, sample used Peaches & Crème in Rosemary
Black: 5.5 yards, sample used Paintbox Cotton Aran in Pure Black (Col 602)
Gold: 1 yard, sample used Lion Brand 24/7 in Goldenrod
Resources and tutorials you may find helpful in following this pattern: Crochet Abbreviations, US to UK Crochet Conversion Chart. Find links to stitches on the "Tutorial" menu: Getting Started will show basic stitches such as chain stitch, single crochet and slip stitch used in this pattern and Crochet Stitch Dictionary shows our growing collection of crochet stitch tutorials.
Leprechaun Coaster Size:
Each finished coaster measures approximately 4.75" tall by 4" wide.
Gauge:
Approximately 8 sc to 2"
Note on Changing Colors in This Pattern:
Special note: In the first two rounds of this coaster, half of the round is worked in the peach yarn and half is worked in the orange yarn. To properly change color, work the last stitch until 2 loops remain on hook. Then pull new color through last 2 loops to complete the stitch. Carry unworked yarn in the back of the work and crochet over the yarn until you need it again.
Leprechaun (Make 4):
Note: R1-3 are worked as joined rounds (without turning).
With peach color yarn, make a magic ring.
R1: Ch 3 (counts as 1st dc), work 5 dc in ring, switching to orange yarn in last dc worked, then work 6 dc in orange, changing to peach in the last stitch. Tighten magic ring. Join with sl st to top of 1st st. (12 st)
R2: With peach yarn, ch 3 (counts as 1st dc), dc in same stitch as joining, 2 dc in each of the next 5 st, changing to orange in the last stitch. Then work 2 dc in each of the next 6 st. At end of round, join with sl st to top of 1st st. Fasten off peach yarn and continue with orange yarn for rows 3-5. (24 st)
R3: With orange, ch 1 (does not count as a stitch), *sc in next 2 st, 2 sc in next st. Repeat from * around. Join with sl st to top of 1st st. (32 st)
R4: Turn work, (working 2nd row of Leprechaun's beard). Sc in joining, ch 1, *sc in next sc, ch 1, repeat from * 15 times. End with a sc in next dc, leaving the remainder of stitches unworked.
R5: Turn work, *ch 3, sl stitch in ch-1 sp. Repeat from * around. At end of beard, ch 3 and slip st to sc in row 4 below.
Fasten off yarn and weave in ends.
Leprechaun Hat (Make 4):
R1: With green yarn, Ch 15, sc in 2nd ch from hook and sc across. (14 st)
R2: Ch1, sc across. Fasten off green. This row is the right side. (14 st)
R3: With black yarn and right side facing, skip 1st 3 sc of previous row, and attach with sl stitch. Ch 1 and sc across. (8 st). Fasten off black yarn.
R4: With green yarn and right side facing, attach with sl stitch to 1st black st in row 3. Ch 1 and sc across (8 st)
R5 & R6: Ch 1, sc across. Fasten off green.
Weave in all ends, leaving one strand at bottom of hat for joining to head. Using gold yarn, back stitch the belt buckle in the center of the black band.
Nose (Make 4):
R1: With peach yarn, make a magic ring and sc 6 in the loop. Join with an invisible join (or simply slip stitch to starting sc if you prefer). Pull tight and weave in ends, leaving a long strand for joining.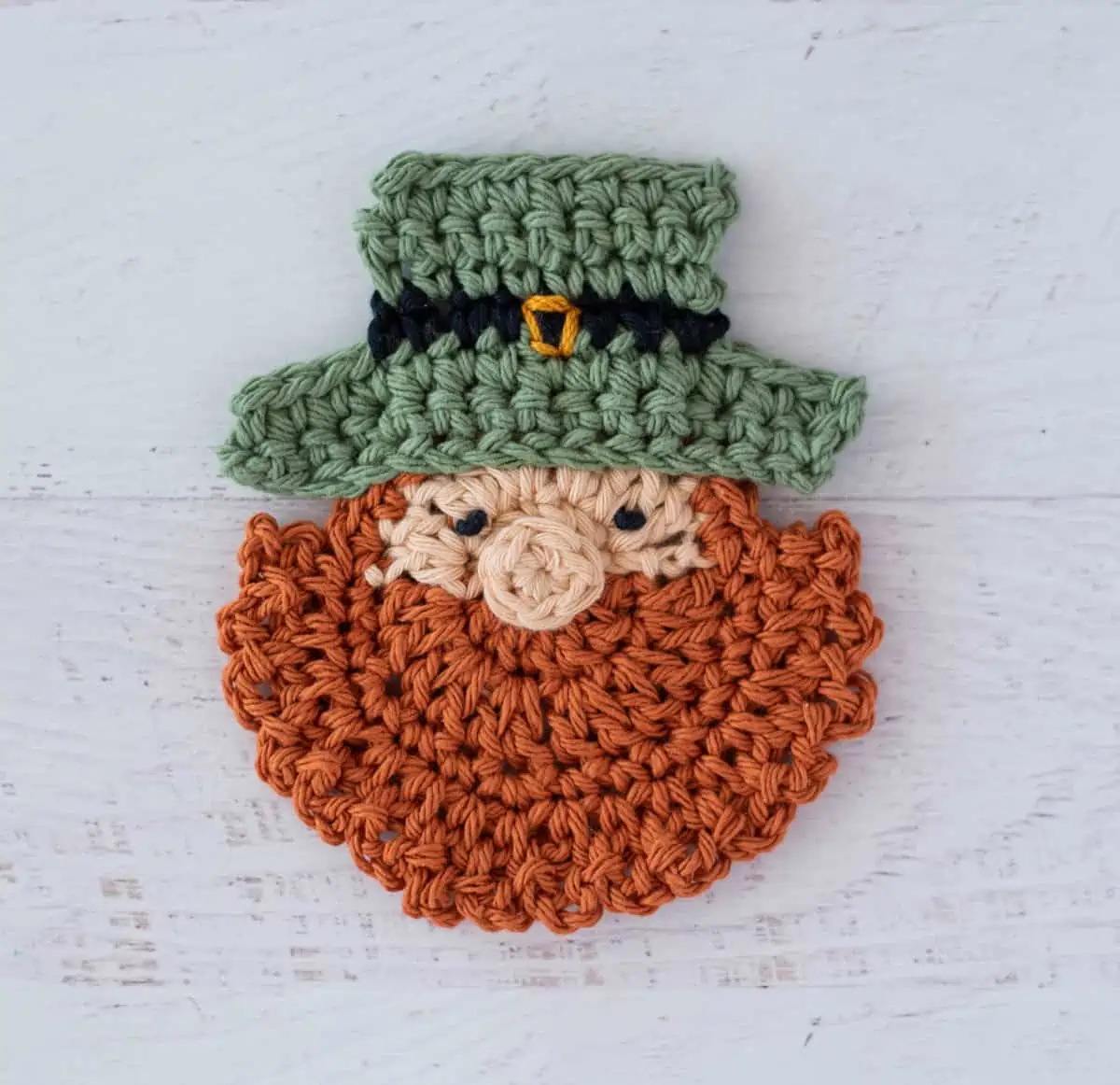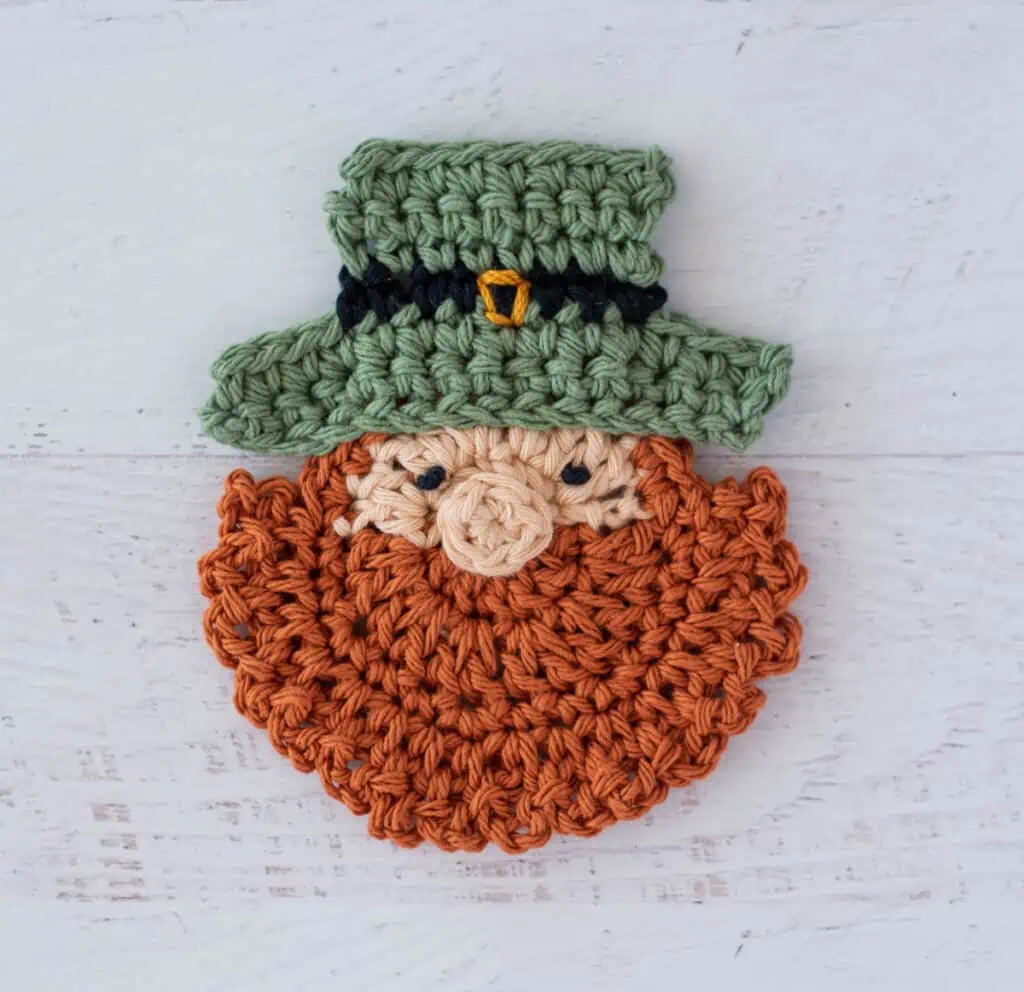 St Patrick's Day Crochet Coaster Assembly:
Sew nose to center of face.
Place hat on leprechaun and carefully sew to head.
Use black yarn to make eyes as follows: Cut a 10" strand of yarn. Make a knot in the middle of the yarn. Then use strands from either side to sew on to face using the photo for reference.
And there you go, four completely adorable St Patricks Day Crochet Coasters perfect for your home! They might not bring you extra luck but your new festive accessory will surely make your home happy!
I love seeing your finished projects! If you enjoyed making the St Patricks Day Crochet Coaster Pattern, I'd love to see yours on Instagram, be sure to tag me @crochet365knittoo. If you are on Facebook, stop over to the Crochet 365 Knit Too Facebook page or pop over to the Crochet365KnitToo Club and share a photo! I'd love to see your work!