Crochet Leprechaun
This post may contain referral/affiliate links. Please read my disclosure for more info.
Step aside, Winter.  Because today we're bringing a bit 'o fun to this here blog.  Introducing.. the crochet leprechaun appliqué!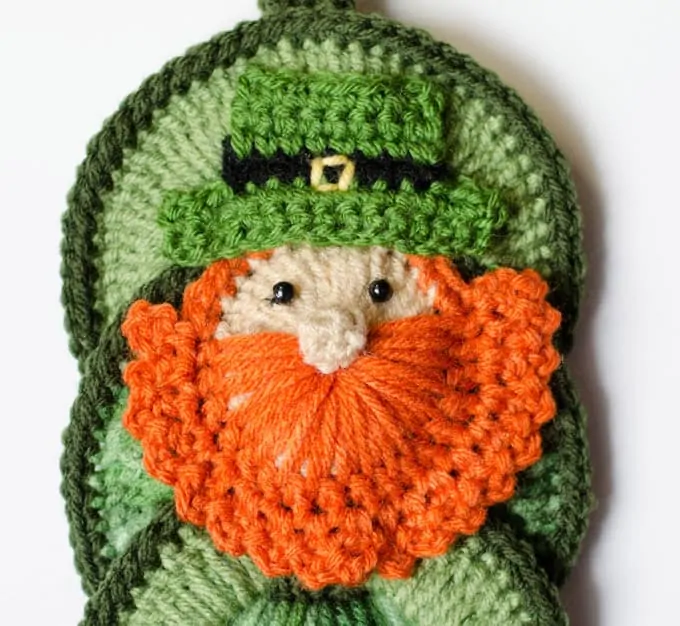 What's not to love about a crochet leprechaun.  He's fun.  He's sassy.  He's here to brighten up a hat, a cup cozy, a sweater…just about anything really.  And you can make him from scrap yarn, which is pretty much the best thing ever.
I designed this guy a few years ago as part of my wall hanging series of patterns that I sell on Ravelry and Etsy.  But he's just so darn cute I thought maybe you'd like to see the appliqué pattern for free right here on the blog!  The entire wallhanging pattern is available for purchase here.
Let's get started on this cute crochet leprechaun!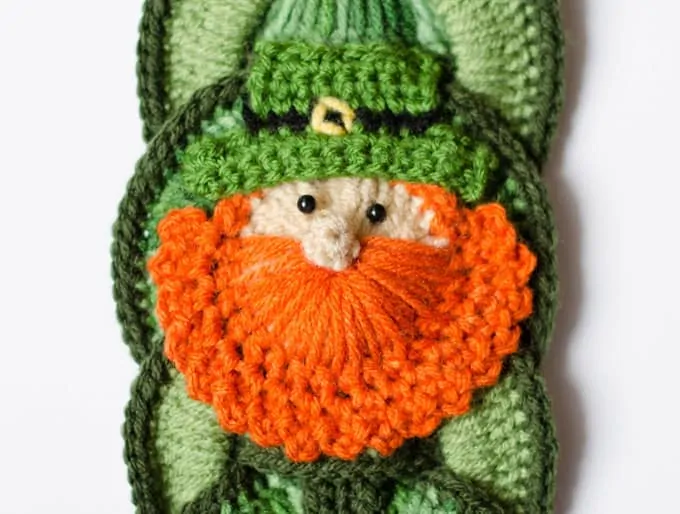 Purchase an ad-free printable version of this pattern
Crochet Leprechaun
Here is what you will need:
Materials:
Resources and tutorials you may find helpful in following this pattern: Crochet Abbreviations, US to UK Crochet Conversion Chart.  Find links to stitches on the "Tutorial" menu: Getting Started will show basic stitches used in many patterns and Crochet Stitch Dictionary shows our growing collection of crochet stitch tutorials.  I really like to use the invisible seamless join when finishing pieces that get sewn together.
Size:
Applique is approximately 4.25″ across at the widest point of beard and 4.75″ tall from the top of the head to the bottom of the beard.
Gauge:
Gauge is not important in this pattern.  You may use other weights of yarn.  Adjust hook size to fit your needs. Note that the size of the crochet leprechaun will vary with a change in hook size and/or yarn weight.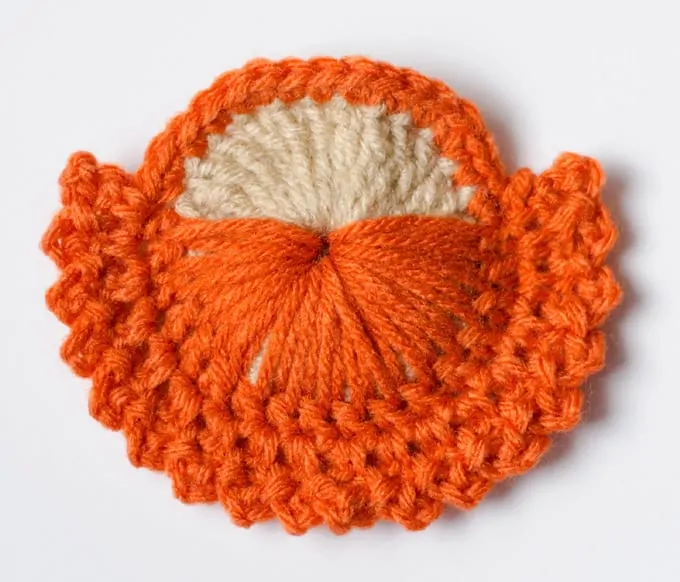 With buff yarn, chain 5 and join to form ring.
R1:  Ch 4 (counts as 1 tr), 23 tr in ring.  Join with sl st to 1st tr.  Fasten off buff yarn.
R2:  With orange, join to a tr with a sl st.  *Sc in next 2 sc, 2 sc in next sc.  Repeat from * 3 times.  Make 17 large dc, working OVER the previous row's tc into the ring.  Be sure to not pull too tight.  Join with sl st to 1st sc.
R3:  Turn work, (working 2nd row of Leprechaun's beard).  Sc in joining, ch 1, *sc in next sc, ch 1 around to last dc of beard.  End with a sc in last dc.
R4: Turn work, *ch 3, sl stitch in ch-1 sp.  Repeat from * around.  At end of beard, ch 3 and slip st to sc in row 3 below.
Nose:
R1:  Make a magic ring and sc 6 in the loop.  Pull tight.
R2:  Without joining, work sc across (6 st).  Sl st to 1ststitch.  Fasten off, leaving a long strand of yarn for weaving.  Draw yarn through the stitches and pull tight and knot off.  Use this strand to put the nose through the center hole of the face and fasten on the wrong side.
Crochet Leprechaun Hat: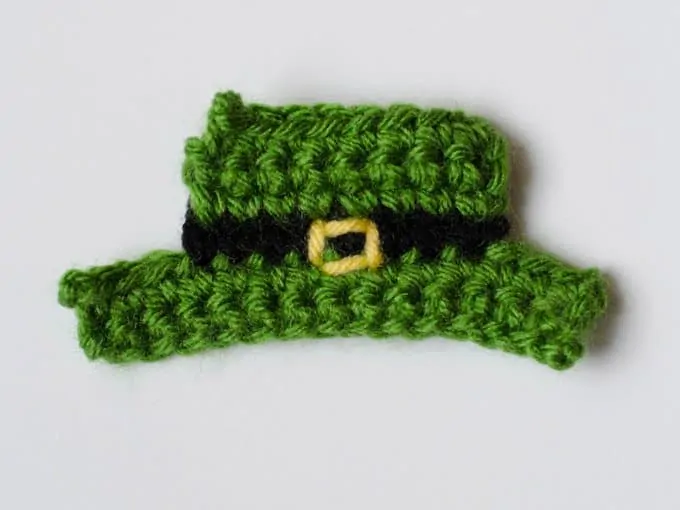 R1:  With Kelly Green, Ch 15, sc in 2ndch from hook and sc across (14 st)
R2:  Ch1, sc across.  Fasten off green.  This row is the right side.
R3:  With Black Yarn and right side facing, skip 1st3 sc of previous row, and attach with sl stitch.  Ch 1 and sc across. (8 st).  Fasten off black yarn.
R4:  With Kelly Green yarn and right side facing, attach with sl stitch to 1stblack st in row 3.  Ch 1 and sc across (8 st)
R5 & R6:  Ch 1, sc across.  Fasten off Green.
Weave in all ends.  Using yellow yarn, back stitch the belt buckle in the center of the black band.
Assembly:
If you haven't already, sew nose to the center of the face.  Sew hat to top of head.  Using sewing thread, sew buttons on for eyes.  Alternatively, eyes can be embroidered with french knots using black yarn.
And your cutie pie crochet Leprechaun is done!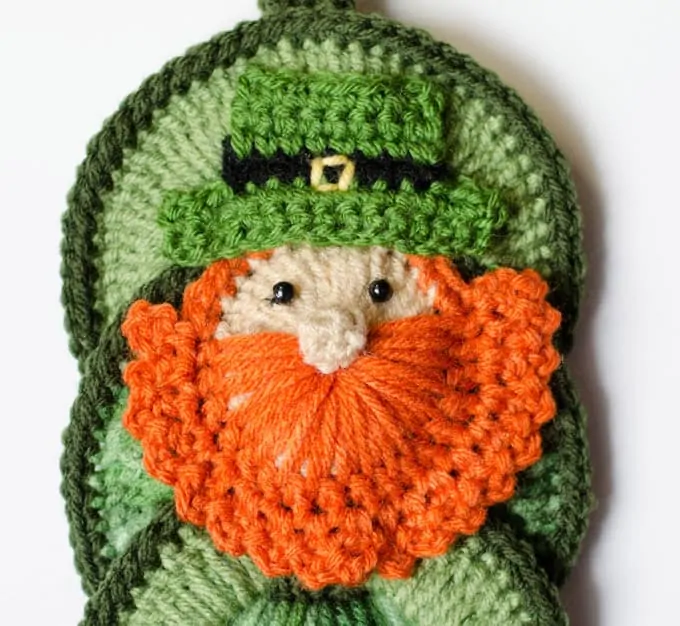 Purchase an ad-free printable version of this pattern!
I love seeing your finished projects! If you enjoyed making one of my patterns I'd love to see yours on Instagram, be sure to tag me @crochet365knittoo.  If you are on Facebook, stop over to the Crochet 365 Knit Too Facebook page or pop over to the Crochet365KnitToo Club and share a photo!  I'd love to see your work!