Crochet Flower Coaster Patterns Sure to Steal Your Heart
This post may contain referral/affiliate links. Please read my disclosure for more info.
There's nothing like a crochet flower coaster to make your living room, or really any room, a little brighter.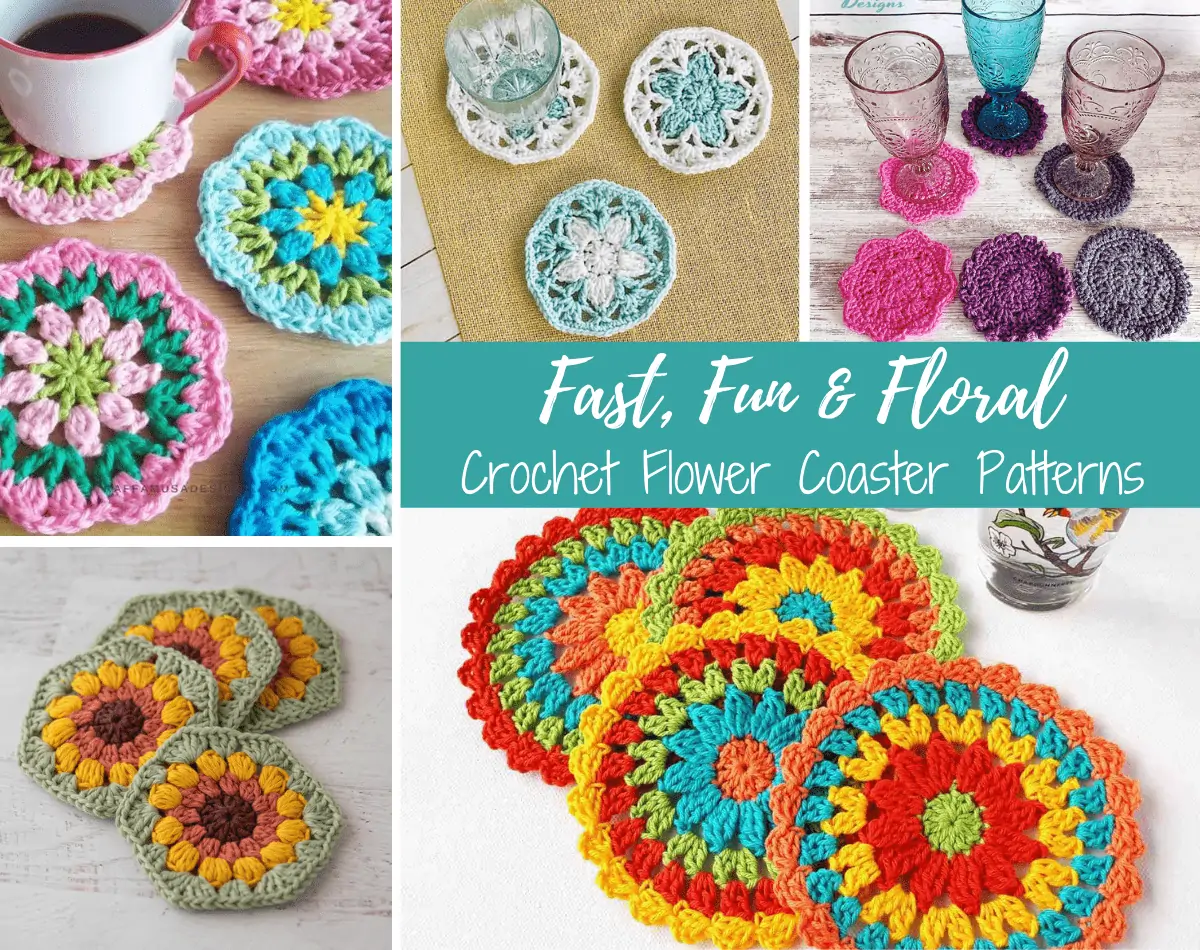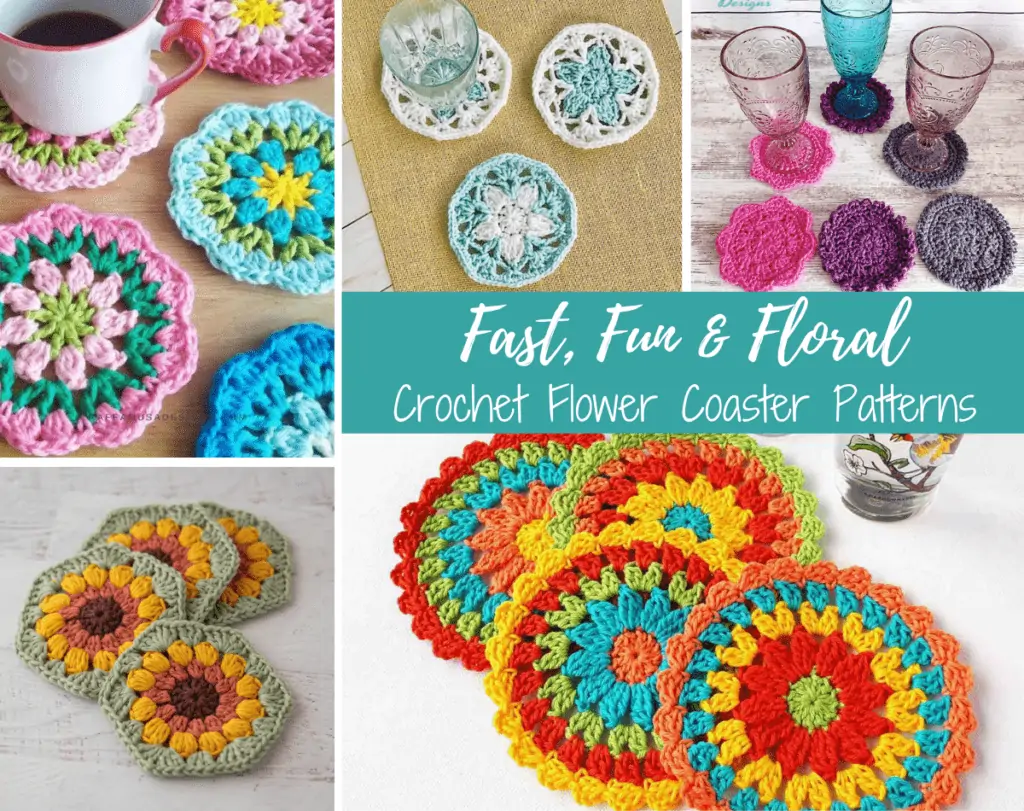 Whether you're looking to add a little spring to your home, or you're ready to live your cottage-core dreams, any one of these crochet flower coasters is sure to win your heart.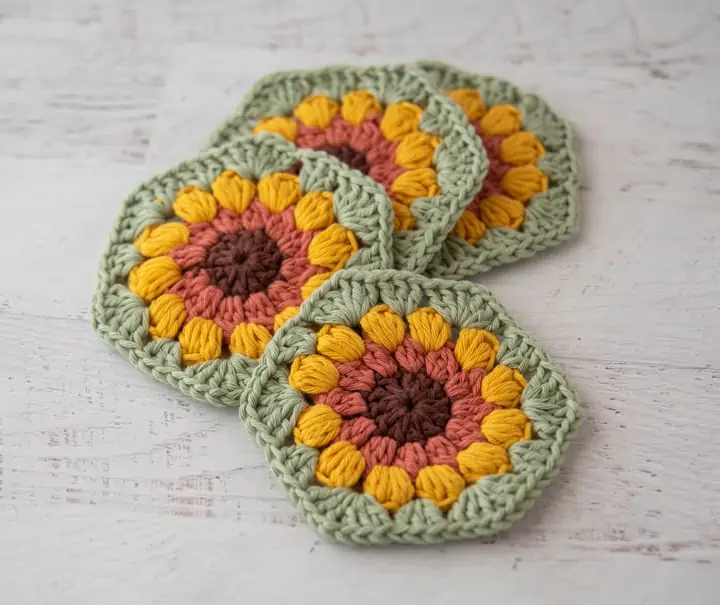 Did you know that olive green is the color of the year for 2022? If you're trying to find even more ways to add this beautiful color to your home, the Crochet Sunflower Coaster is sure to brighten your day. This is a free crochet pattern, which is always an added bonus. Plus, who doesn't love a sunflower?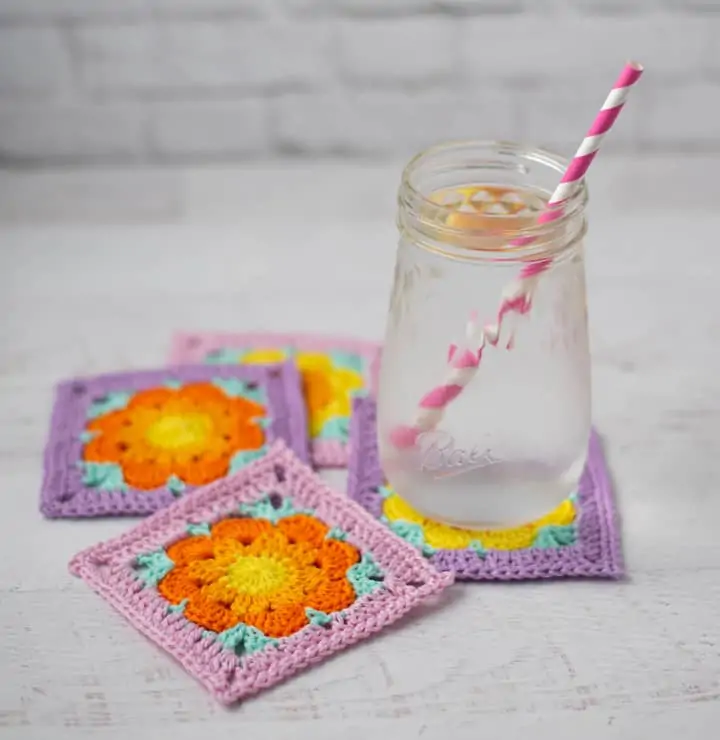 The Cup of Sunshine Coasters by Crochet with Gabriella Rose is stunning! This pattern, designed by my lovely niece Gabi, was previously a guest post here but has now found a new home on Gabi's brand new crochet blog! I am personally a big fan of the yarn choice on these crochet coasters. So many bright colors that are sure to brighten up any home.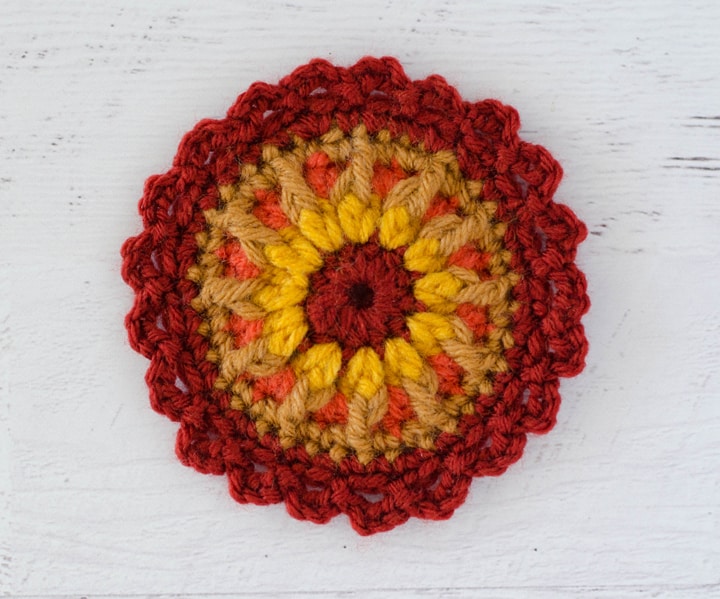 My Crochet Mandala Flower will always have a soft spot in my heart. This lovely coaster has a more moody yarn choice in comparison to most crochet flower coasters, which may be why I have a sweet spot for this beauty. Also, did I mention that this is a free pattern?
The bright and cheery coasters by Raffamusa Designs are so sweet. I am also a big fan of the stitch on the border that makes the entire coaster look like a flower. This is truly a great pattern for that aspect alone, not counting how beautiful the rest of this coaster set is.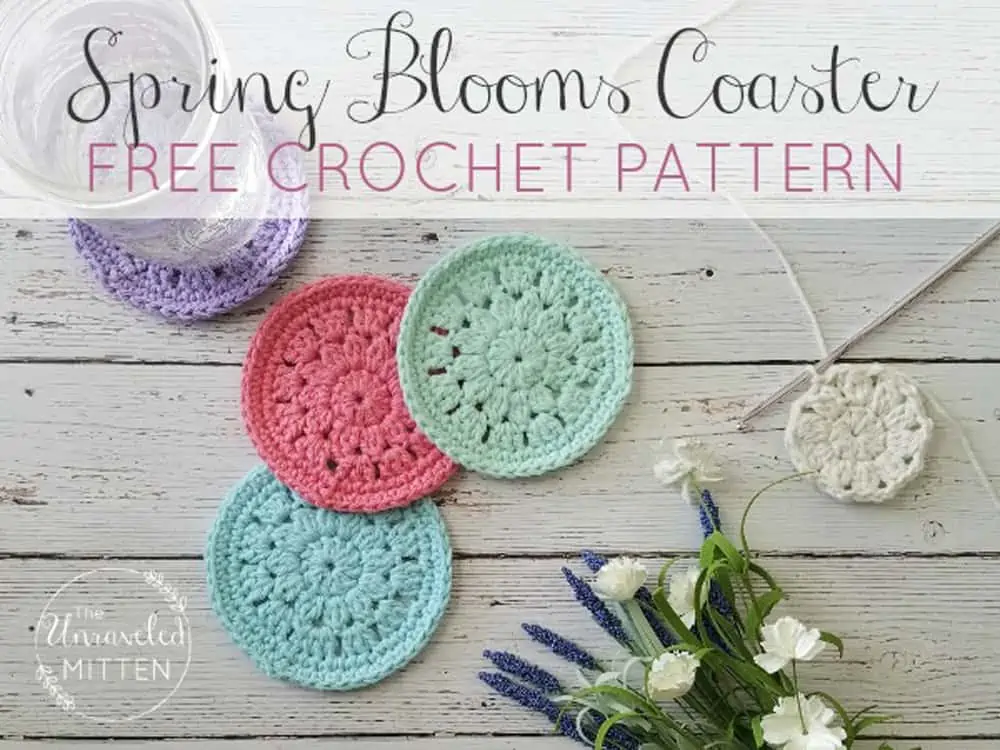 I can't help but think of spring with these fun flower coasters by The Unraveled Mitten. I'm sure that these have you itching to grab your hook and yarn so you can get to crafting.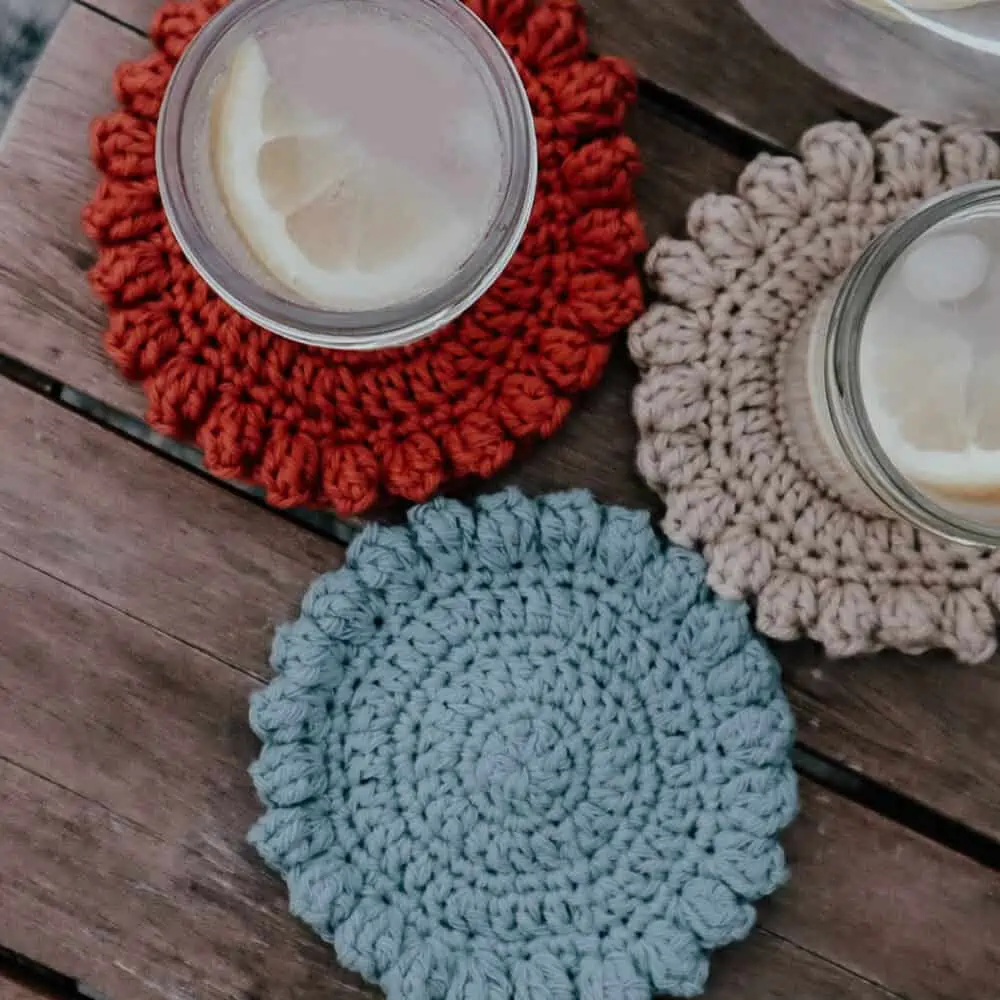 I love the border on these simple coasters by Sigoni Macaroni. These special stitches are a wonderful touch and truly turn this into an absolutely beautiful coaster.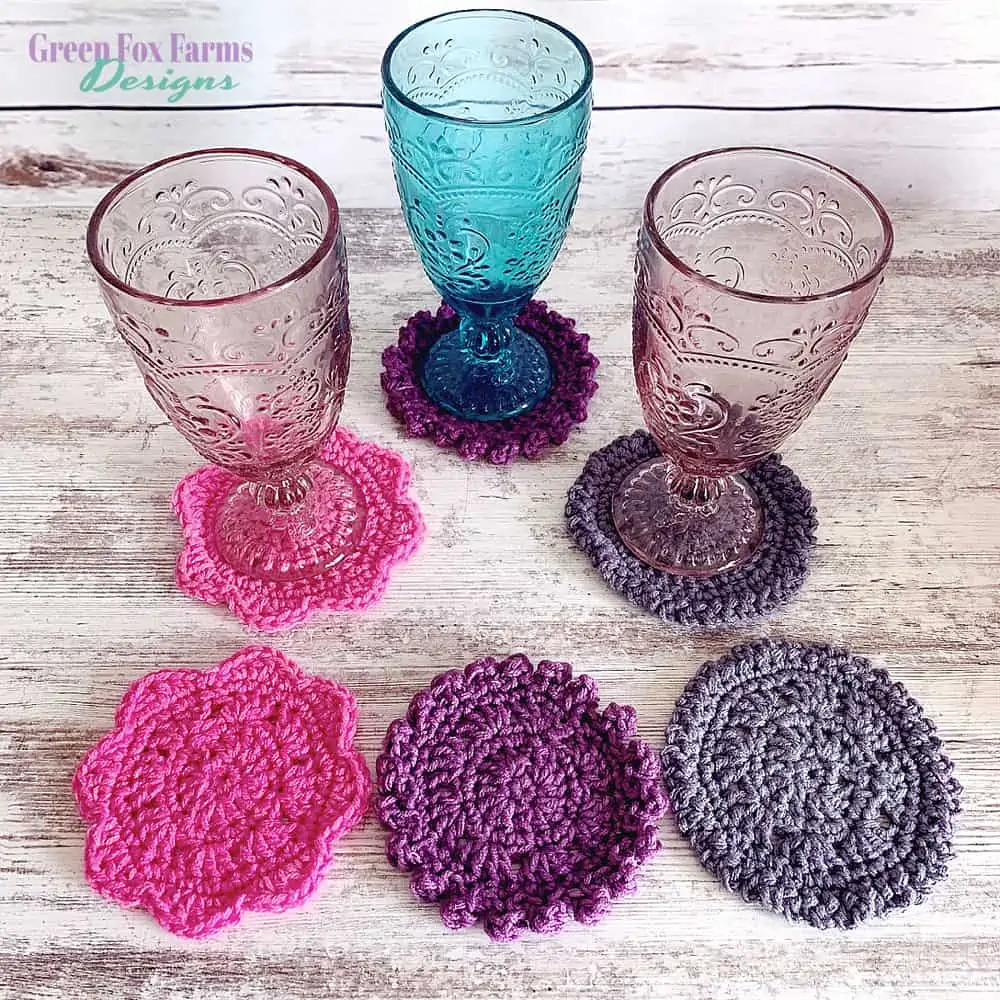 I love the jewel tones and the variations in this fun coaster pattern by Green Fox Farms Designs. This crochet coasters pattern offers a variety of different options that really steal your breath away. Just think about it, you can have a coaster set with quite a few different borders, or you can pick one border-style per room (or maybe per friend if you give them as a gift!).
More Free Crochet for the Home Patterns
If you love the Cup of Sunshine Crochet Flower Coaster pattern, you might also like to check out these other patterns for the home. You can find all our Home Decor Crochet Patterns here.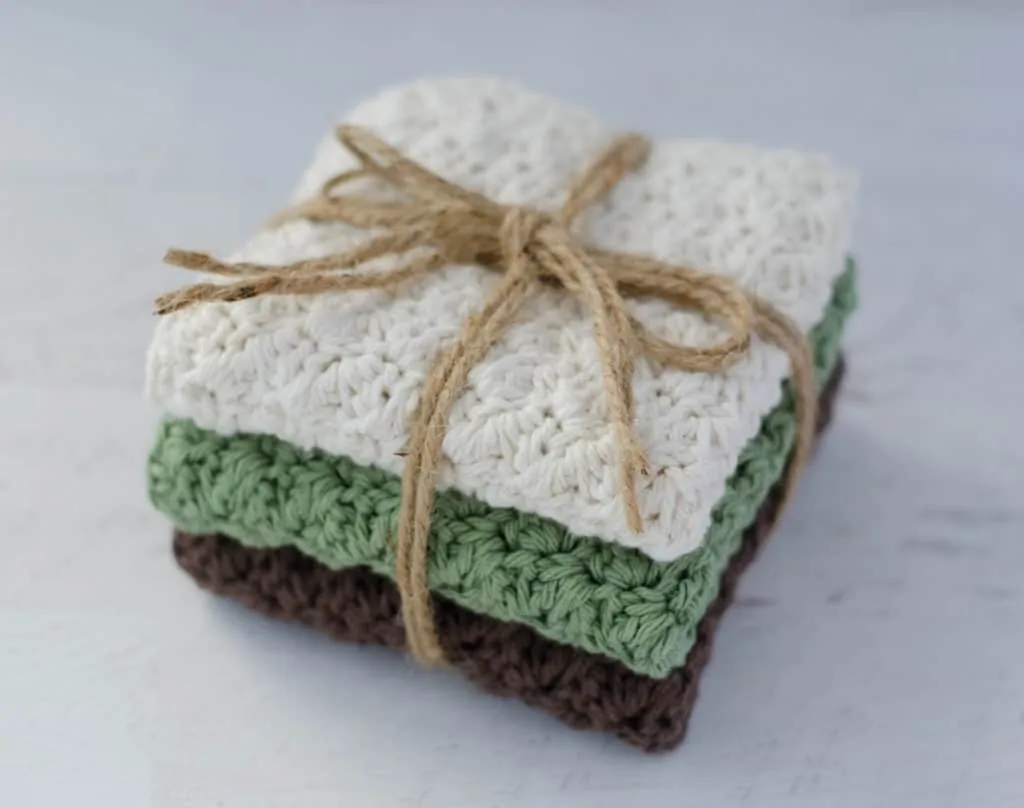 Easy Crochet Dishcloth | Mini Crochet Jute Basket | Round Jute Basket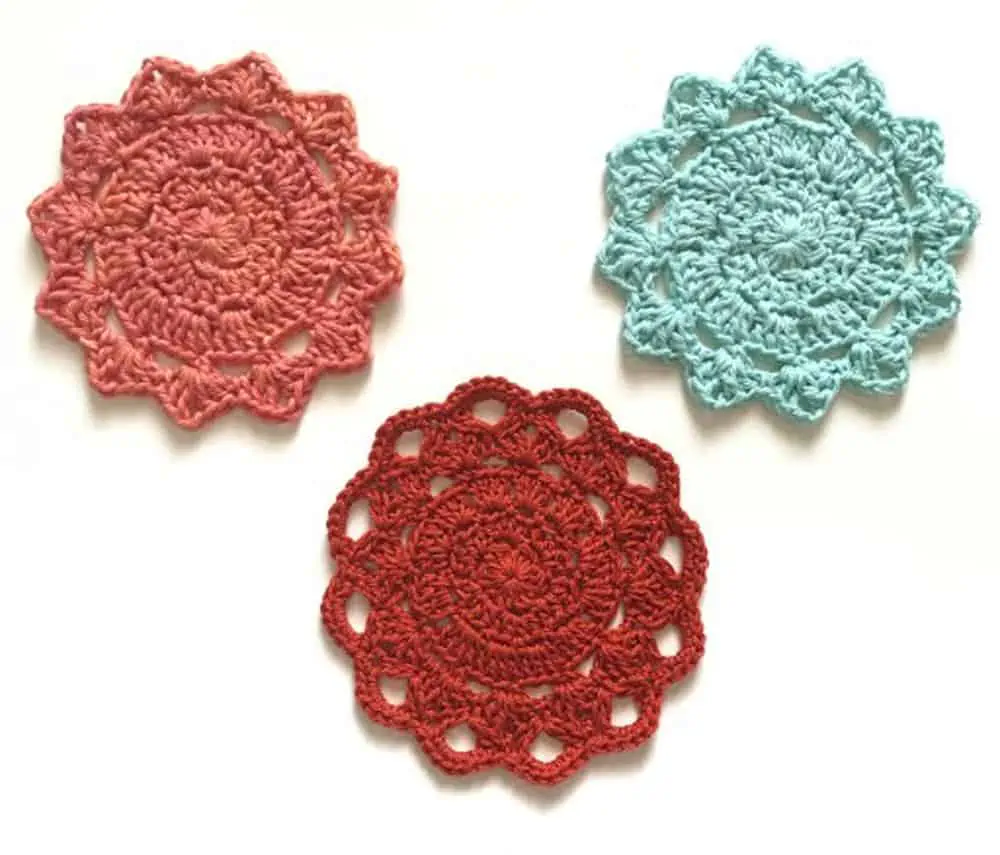 The boho vibe of this fun coaster by Hooks, Books & Wanderlust speaks to my heart. I also love the option for an extra row for a slightly different look. I like how the different color options in this image helps you visualize these cute coasters in your home to match your color palette!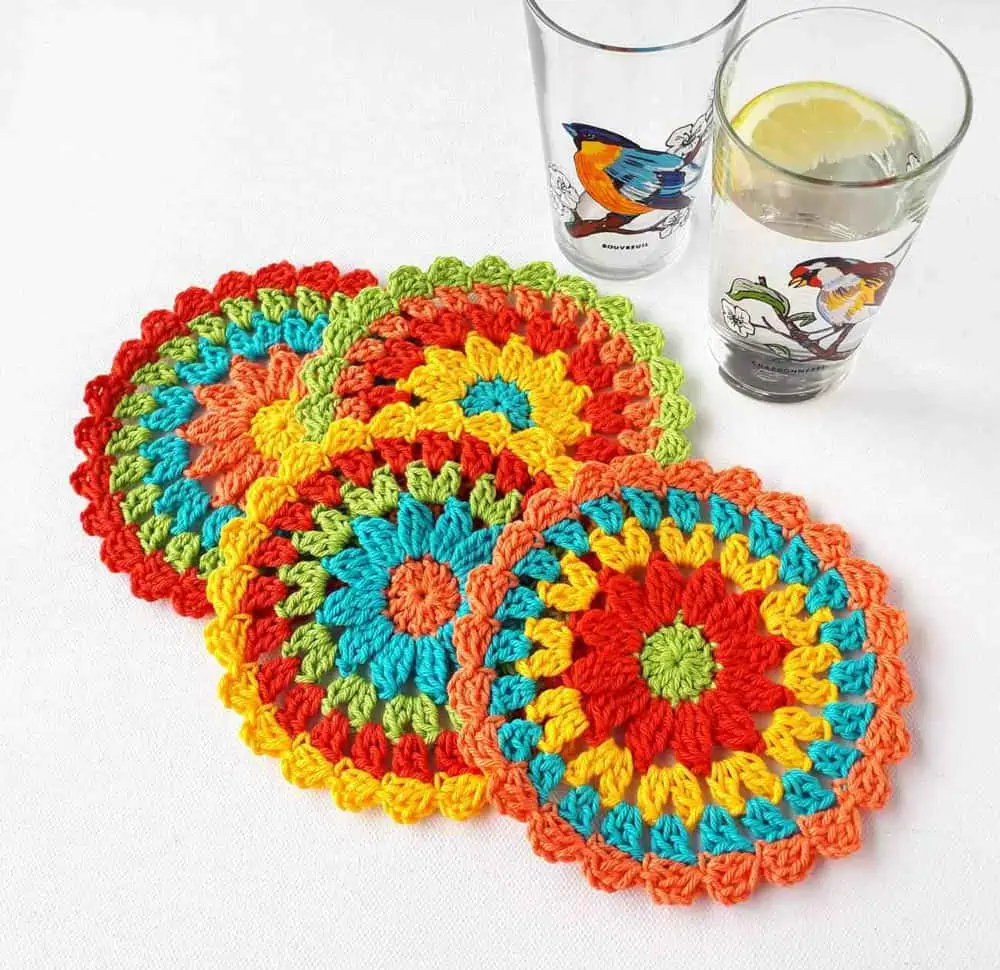 The Zesty Coasters by Annie Design Crochet live up to their fun name! These girls are ready to party! I am not sure if it's the beautiful and bright yarn or the clusters of stitches worked into the chain space in this lovely coaster pattern, but something about it is simply stunning.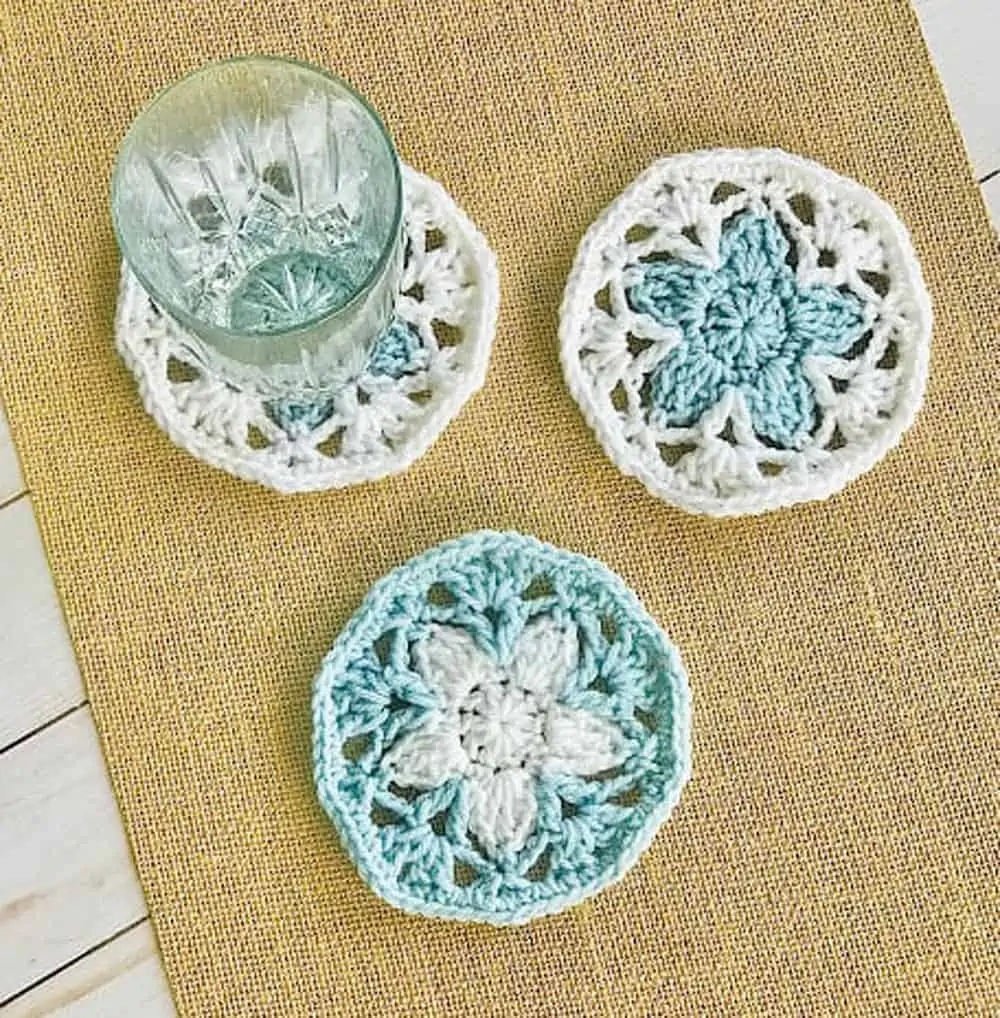 Could these Forget Me Not coasters by Desert Blossom Crafts get any sweeter? The light blue yarn is absolutely beautiful, and I love the option of inverting it to having the blue flowers as well.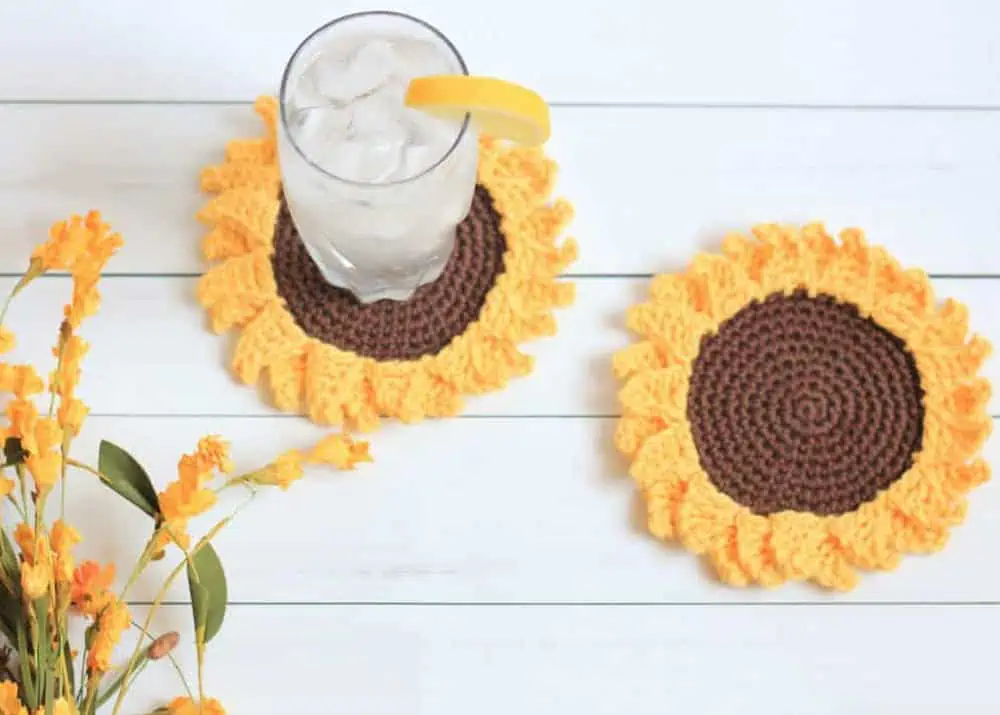 These sunny sunflower coasters by Nana's Crafty Home speaks to my summer heart! It's pretty obvious that a good sunflower coaster always catches my eye, and this coaster set is no exception. I really love the look of the entire coaster shaped like the sunflower bloom itself.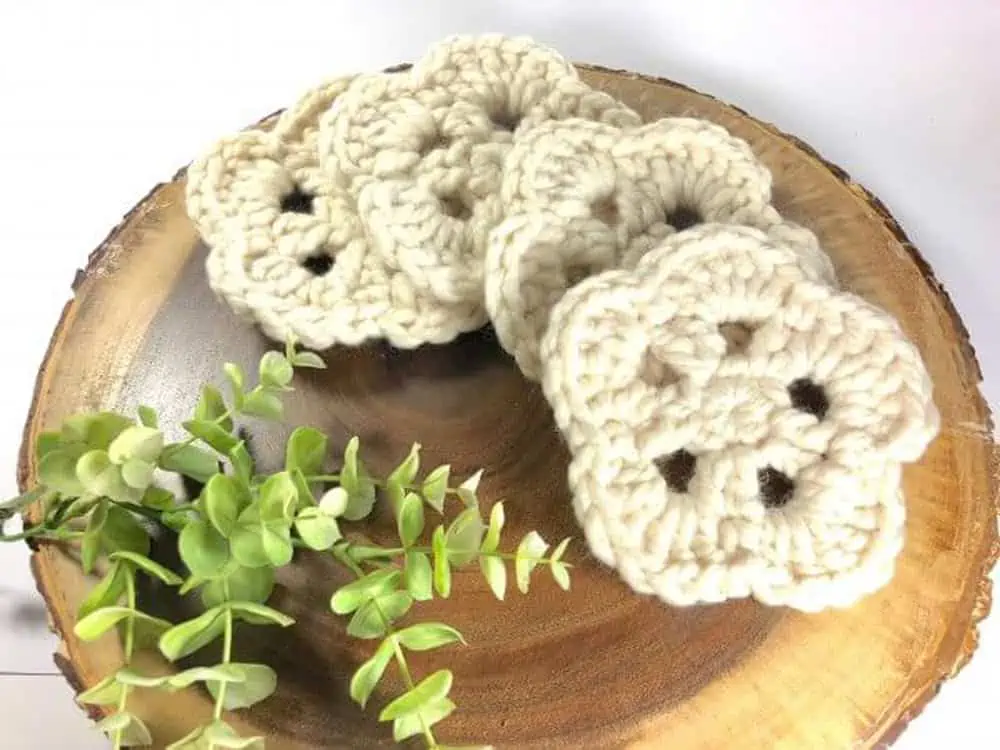 These simple yet sweet coasters by Made with a Twist are fast and fun to make! This is a great pattern for anyone who wants a flower coaster set that looks good in every season. Especially if you choose a neutral color yarn, you can ensure that this beauty looks great in every room.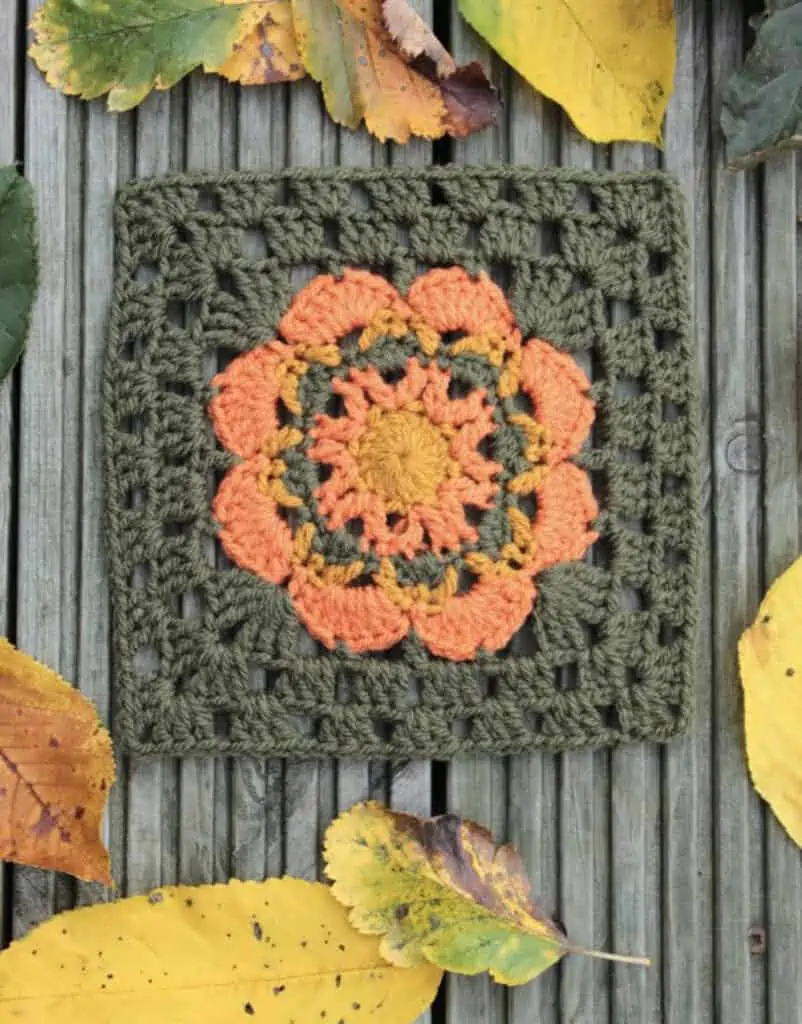 Take the last row or two off of this afghan block by Blue Star Crochet and viola.. a beautiful coaster! I absolutely love the chain space and stitch group details on this flower. This would be a beautiful crochet coaster in a four-season room. Or, maybe this post will inspire you to start an afghan. Either way, this beauty surely has your hook itching to turn this pattern into something beautiful.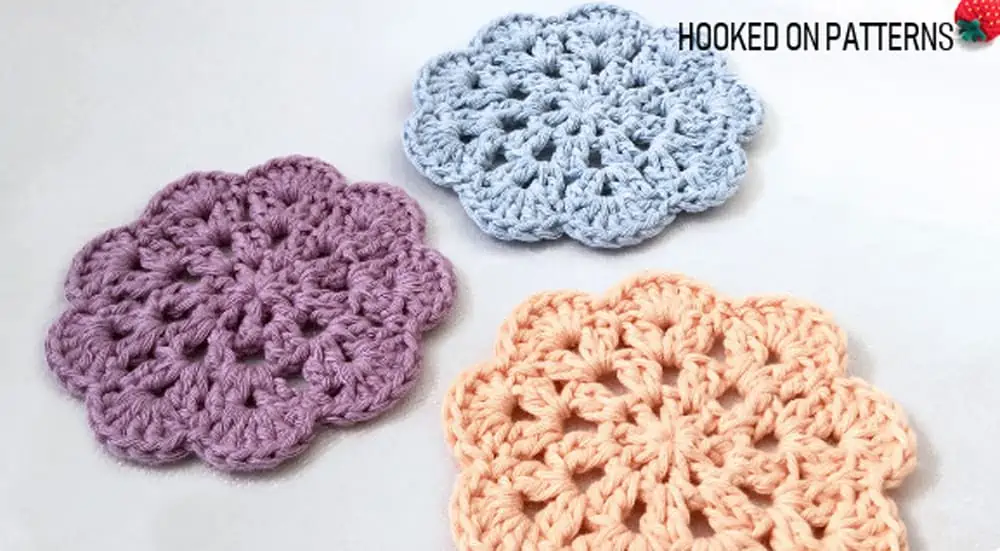 These coasters by Hooked on Patterns look equally beautiful in pastels or bright colors (or you can even do each row a different color). It is such a versatile pattern! These crochet flower coasters are just too cute, no matter what color you choose to do them in.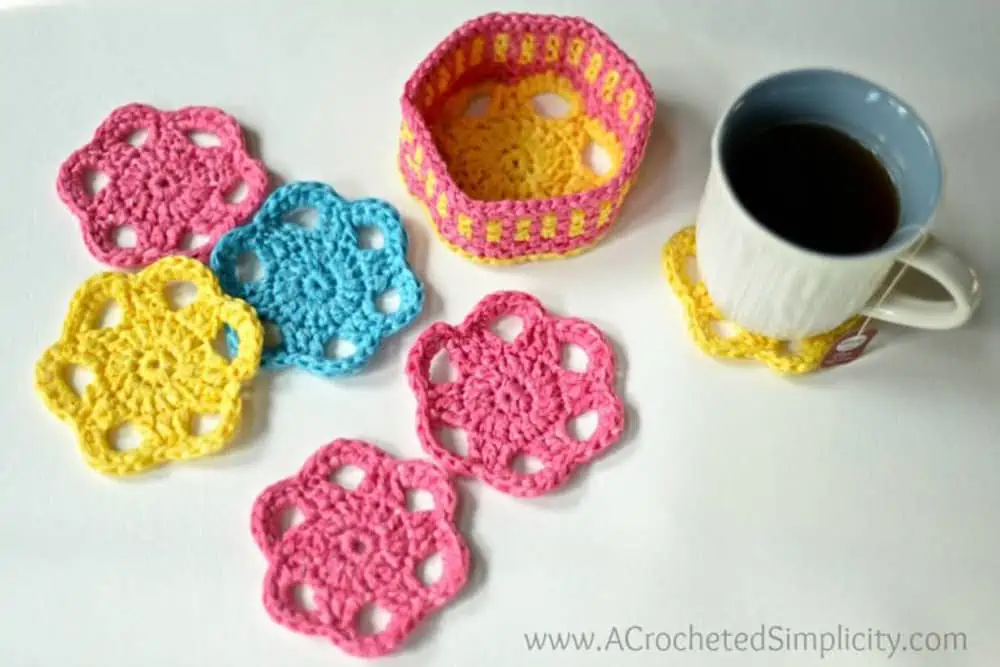 I'm smitten with these fun little coasters from A Crocheted Simplicity. And that little box to store them in? Fantastic! Honestly, the addition of the box make has leveled up this coaster pattern in my opinion. Sure, this coaster set was already cute, but adding the box made it to die for!
I love seeing your finished projects! If you enjoyed making one of my patterns I'd love to see yours on Instagram, be sure to tag me @crochet365knittoo. If you are on Facebook, stop over to the Crochet 365 Knit Too Facebook page or pop over to the Crochet365KnitToo Club and share a photo! I'd love to see your work!