The other day I was looking at my crochet jute basket and the most brilliant upon brilliant idea came to me…  what if I could make a teeny tiny mini crochet jute basket to hold my paperclips for work.  You see, by day, I work for a school district.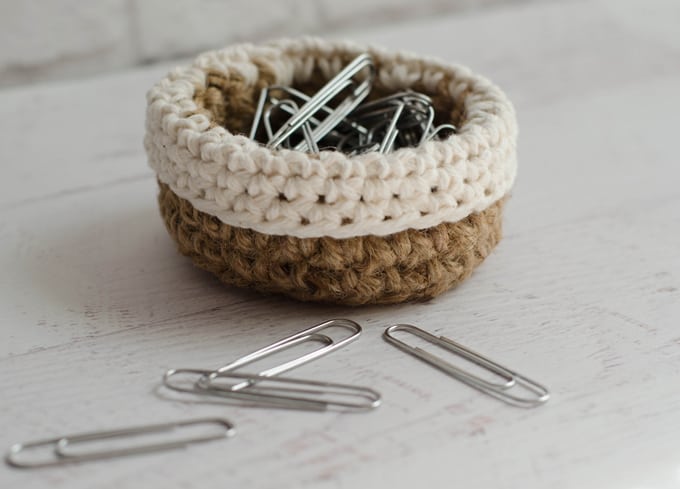 I have an ancient U-shaped desk that I'm 99.9% sure used to hold a typewriter.  If you know anything about most school districts, you know that money is tight and any available dollar goes to educating students, not to outfitting the administration offices with fantastic desks or outrageous office supplies.
As a result, my computer is at one end of the desk and the drawer where my paperclips are stored are way over on the opposite side.  So I end up with little hills of paperclips near my computer that I have to scoop and shovel back to its proper location on a daily basis.
I know.. real world problems. You know, just one of those little annoyances that isn't quite bad enough for you to actually do something about but that just gets under your skin every time you have to deal with it.  Until now.  Until you are sitting in your living room on a Sunday morning and suddenly inspiration strikes!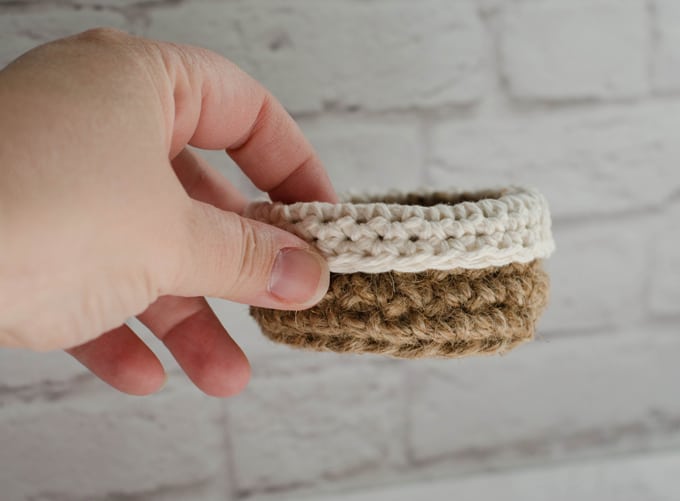 And VOILA!  You create a work of art!  A masterpiece!  Brilliant!  Ok.  So maybe I'm way too excited about this, but I'm telling you…this took me hardly any time at all to make and it has changed my life!  Or at least now I have a darling little basket for my paper clips that is so quiet and so darn stinking cute sitting on my desk.  It makes me smile every time I see it.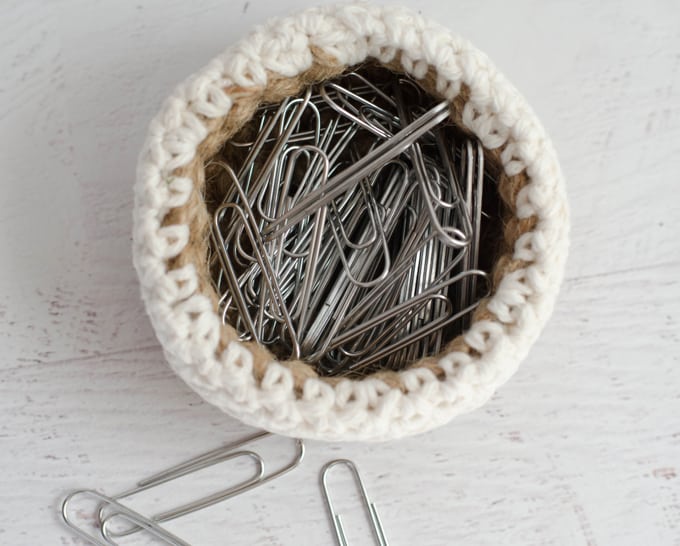 Let me tell you a little bit about this gem, this mini crochet jute basket.  First of all, it is super fast to make.  And if you made my jute crochet basket, you probably have enough yarn and jute twine left over to make this.  I will tell you though, that jute twine?  Well, you're about ready to become a jute twine basket wrangler.
This basket is done in single crochet and a smaller hook size than my other basket.  You'll be pulling on the twine a bit and you'll be oh so happy when you are done with the twine section and welcome the cotton yarn section.  But it is so worth it.  It makes up into a rather sturdy little basket that holds its shape well.  I think you will like it.  It would be great to hold other small things too–like jewelry, for instance.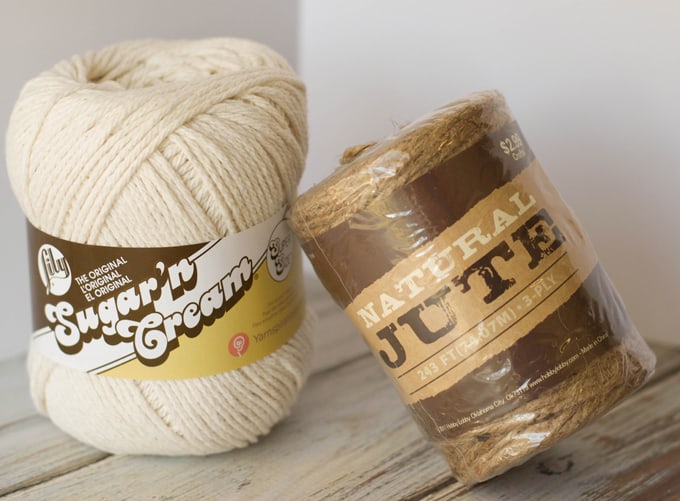 Mini Crochet Jute Basket
Here is what you will need:
worsted weight cotton yarn
Jute twine (I bought mine at Hobby Lobby)
US G/4 mm crochet hook
tapestry needle, scissors.
Resources and tutorials you may find helpful in following this pattern: Crochet Abbreviations, US to UK Crochet Conversion Chart.  Find links to stitches on the "Tutorial" menu: Getting Started will show basic stitches used in many patterns and Crochet Stitch Dictionary shows our growing collection of crochet stitch tutorials.
R1:  With twine, ch2 and work 6 sc in 2nd ch from hook (6 st)
R2: 2 sc in ea st around (12 st)
R3: *sc in next st, 2 sc in next st, repeat from * around (18 st)
R4: *sc in next 2 st, 2 sc in next st, repeat from * around (24 st)
R5: working in back loops only, sc around (24 st)
R6-7: sc around.  At end of of last round, sl st to next st, fasten off. (24 st)
R8:  With the inside of the basket facing you, attach the cotton yarn to any sc.  *sc in the next 3 st, 2 sc in the next*.  Repeat from * around (30 st)
R9-11: sc around.  At end of of last round, sl st to next st, fasten off.  (30 st)
Fold over the cotton yarn portion to the outside to form a cuff over the twine basket.
I love seeing your finished projects! If you enjoyed making one of my patterns I'd love to see yours on Instagram, be sure to tag me @crochet365knittoo.  If you are on Facebook, stop over to the Crochet 365 Knit Too Facebook page or pop over to the Crochet365KnitToo Club and share a photo!  I'd love to see your work!