Crochet Jute Basket Pattern
This post may contain referral/affiliate links. Please read my disclosure for more info.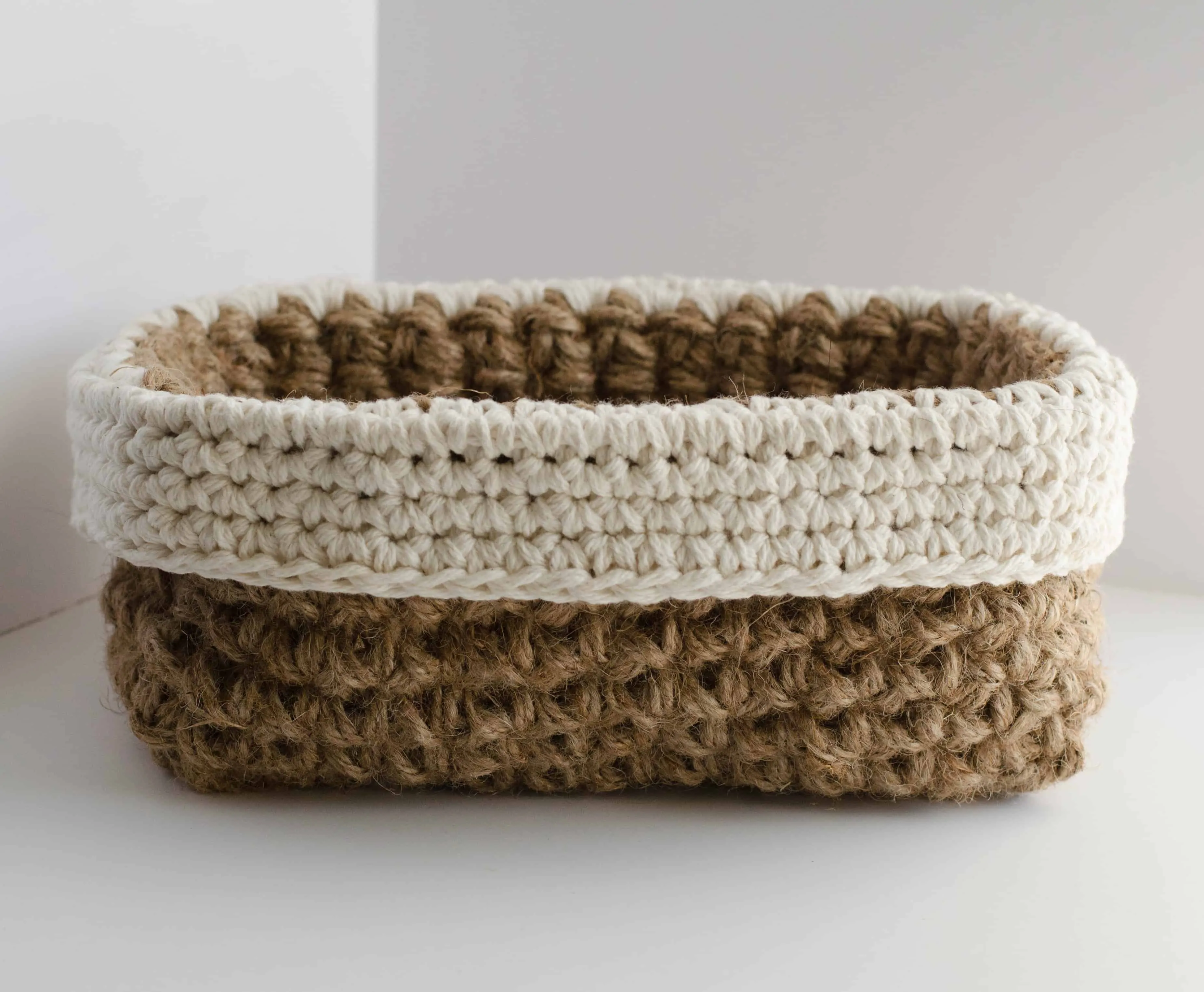 My dad is impossible to buy for.  He has everything.  Seriously. He's always gracious but he's just not the type of person with a lot of wants in life which can really make gift giving a challenge.  This year I decided to design a crochet jute basket pattern.  Super easy and so fun.I filled it with 2 movies, some microwave popcorn and two mini bottles of wine.  I'll be honest… the mini wine bottles came in a 4 pack.. two of them MIGHT have accidentally on purpose been consumed by a certain crocheter.  Gulp.  Well.. you know what they say… give what you love.  And I do love this crochet jute basket.
More Free Crochet for the Home Patterns
If you love this Crochet Jute Basket pattern, you might also like to check out these other patterns for the home.  You can find all our Home Decor Crochet Patterns here.


1. Mama's Easy Crochet Dishcloth //   2. Mini Crochet Jute Basket //  3. Round Jute Basket
After an enjoyable time with the popcorn, movies and wine, this basket now holds a box of facial tissues and resides in my parent's office.  Gotta love a gift that continues to be used! This crochet jute basket is so easy and very fun to make!  Let's dive In!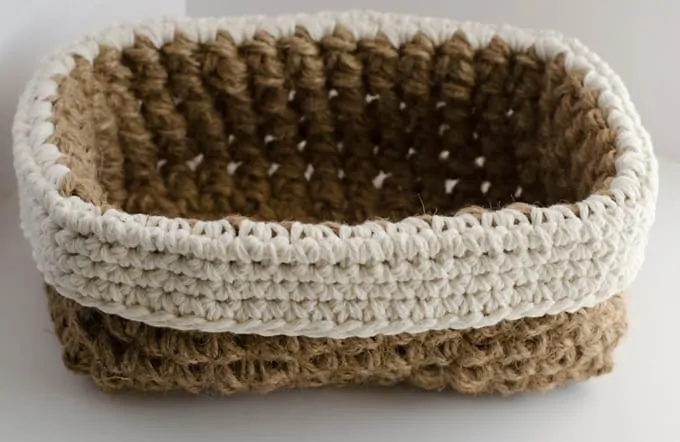 Purchase an ad-free printable version of the Crochet Jute Basket here
Crochet Jute Basket Pattern
Here is what you will need:
Resources and tutorials you may find helpful in following this pattern: Crochet Abbreviations, US to UK Crochet Conversion Chart.  Find links to stitches on the "Tutorial" menu: Getting Started will show basic stitches used in many patterns and Crochet Stitch Dictionary shows our growing collection of crochet stitch tutorials.
Finished jute basket is 11.5" long x 7" wide x 4" tall. (Note that this includes about 1.5" of the white "cuff", so if the white part was extended, the side would be 5.5" tall.)
Jute Basket
Note:  Basket uses 2 strands each of worsted weight cotton yarn and Natural Jute twine.  The Jute twine was purchased at Hobby Lobby.  Two strands are held together in this project. I used 2 balls of each for convenience sake, however you could use only one ball and wind it into two smaller balls for this project.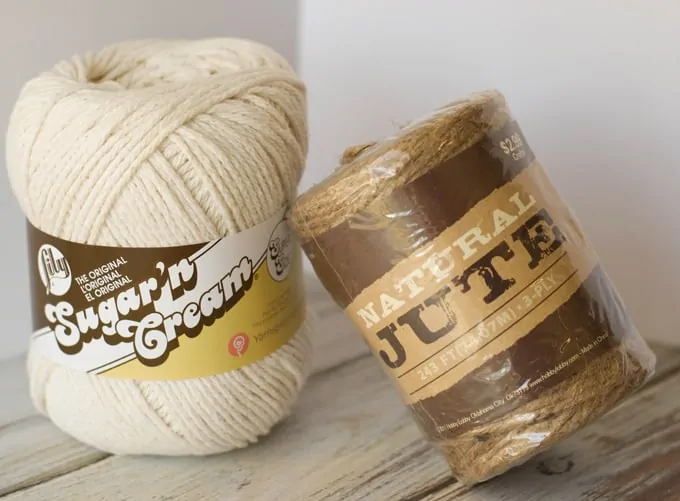 You can adjust this to any size rectangle or square you want.  This is about the size of an oblong facial tissue box.
With the P hook and 2 strands of Jute twine, ch 13
R1:  sc in 2nd ch and across, ch 1 and turn (12 st)
R2-7:  sc across, ch 1 and turn (12 st).
This completes the bottom of the basket. Now get ready for basket wrangling!  Next, we'll single crochet around the rectangle and make the rows going up the basket.  The basket is fairly bendy and you feel like you're wrestling with it a little.  You might have to encourage it to bend or not bend this way or that and to make the corners somewhat corner like.  It gets easier the further up you go and once you do the trim at the top it stays in place pretty nicely.  
R8:  sc around, working 7 sc on each short edge and 12 sc on each long edge.  Start to form the sides, encouraging them to bend up and bend around the corners the best you can as you go along.  Sl st to the 1st sc in this row. (38 st)
R9-14:  ch1, sc around, sl st to 1st st (38 st). Fasten off the Jute twine and say goodbye to that plastic size P hook!
You now should have a crochet jute basket that looks like this: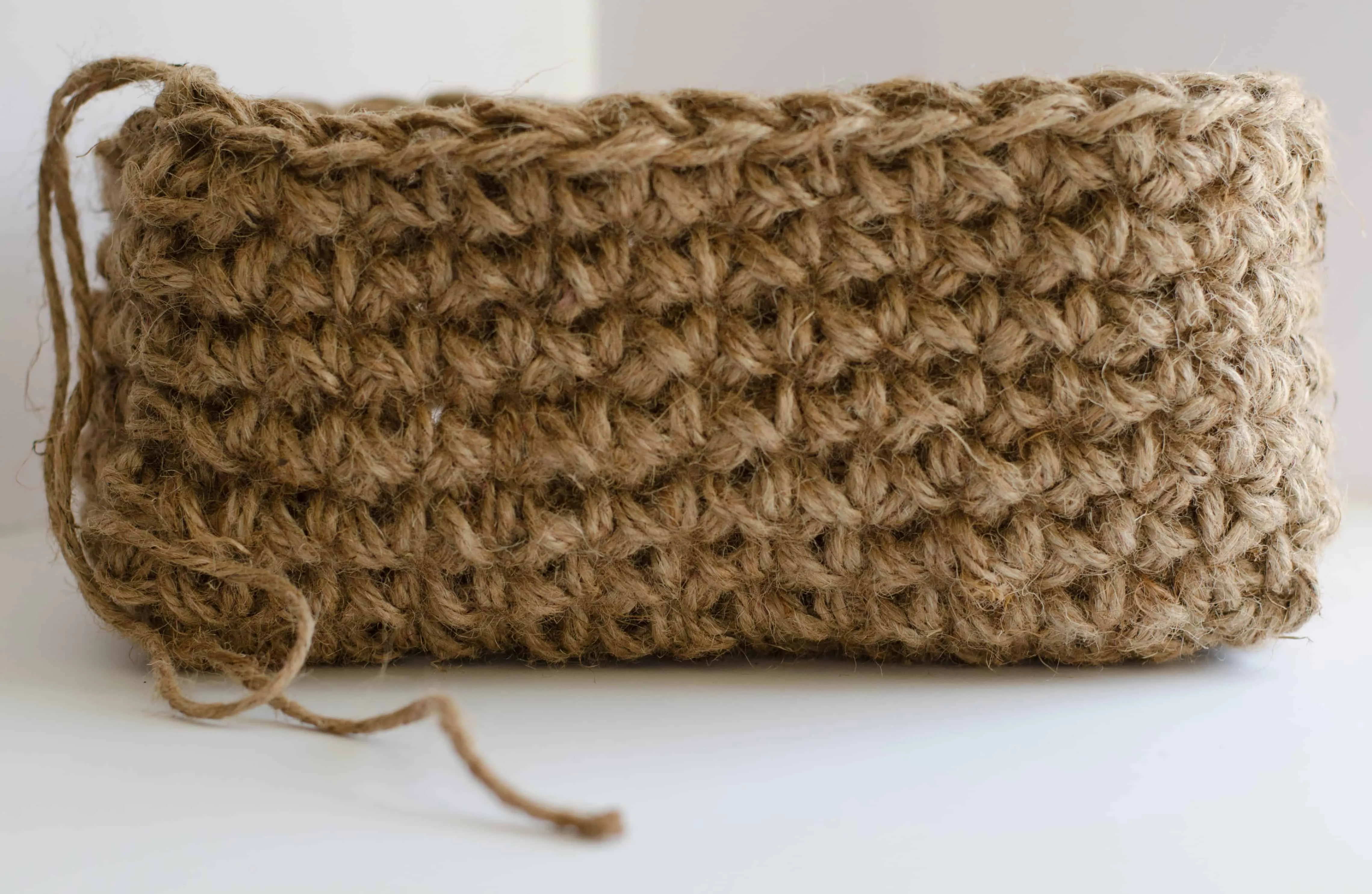 Now you will use 2 strands of cotton yarn and the smaller,  I9/5.5 mm crochet hook.  Since you will end up flipping this down over the basket and you want the finished edge to be on the right side, flip your work around so you are working with the inside of the basket facing you.
Attach the cotton yarn to any stitch on the short side and ch 1.
R15:  2sc in ea stitch around, sl st to 1st sc. (76 st)
R16-19:  ch 1, sc in ea st around.  (76 st)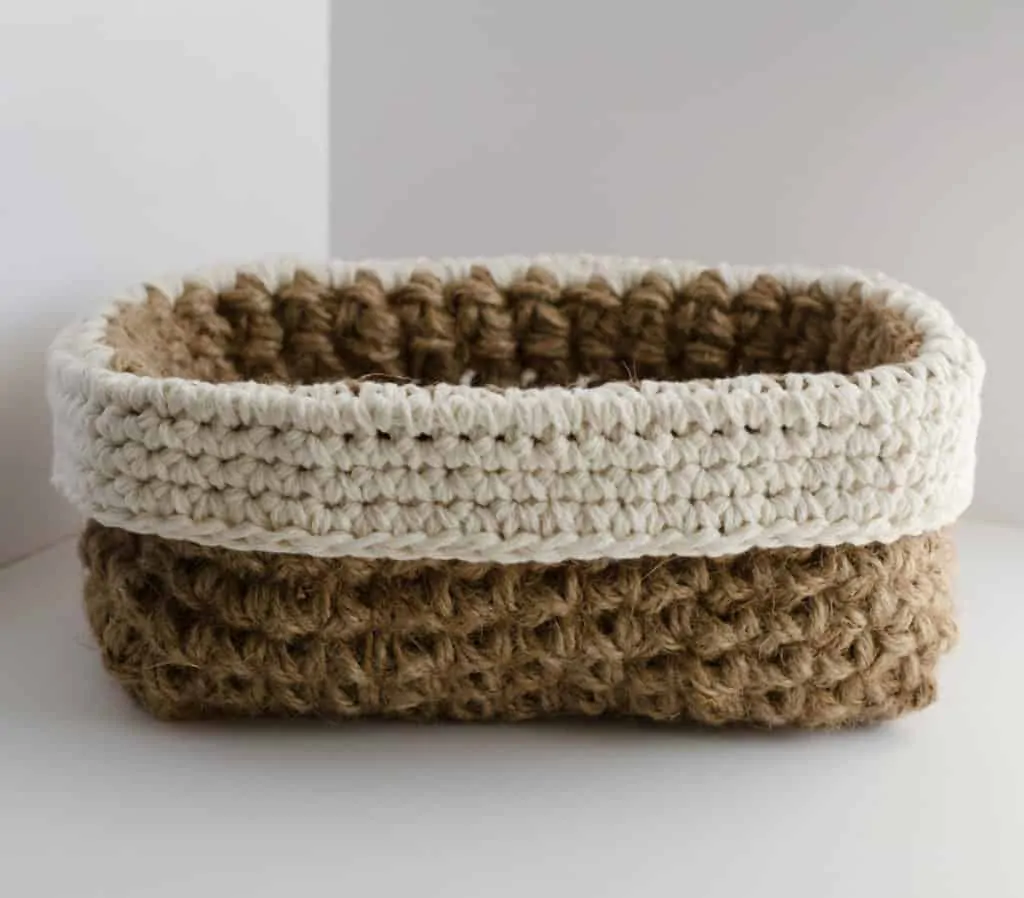 Purchase an ad-free printable version of the Crochet Jute Basket here
I love seeing your finished projects!  If you enjoyed making the Crochet Jute Basket,  I'd love to see yours on Instagram, be sure to tag me @crochet365knittoo.  If you are on Facebook, stop over to the Crochet 365 Knit Too Facebook page or pop over to the Crochet365KnitToo Club and share a photo!  I'd love to see your work!