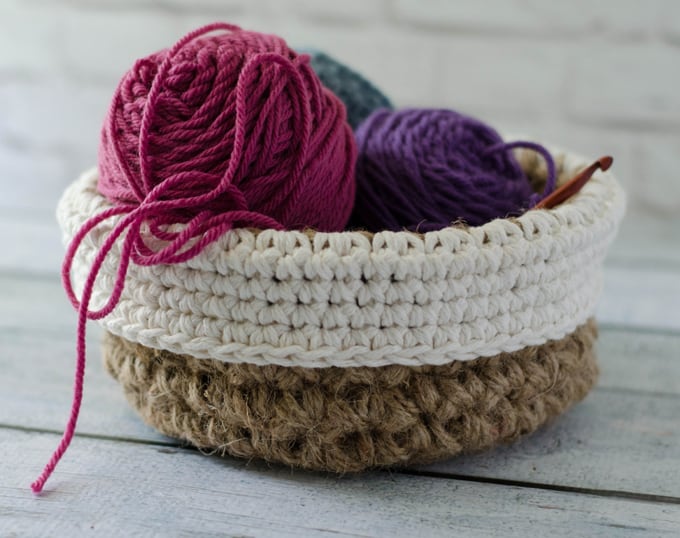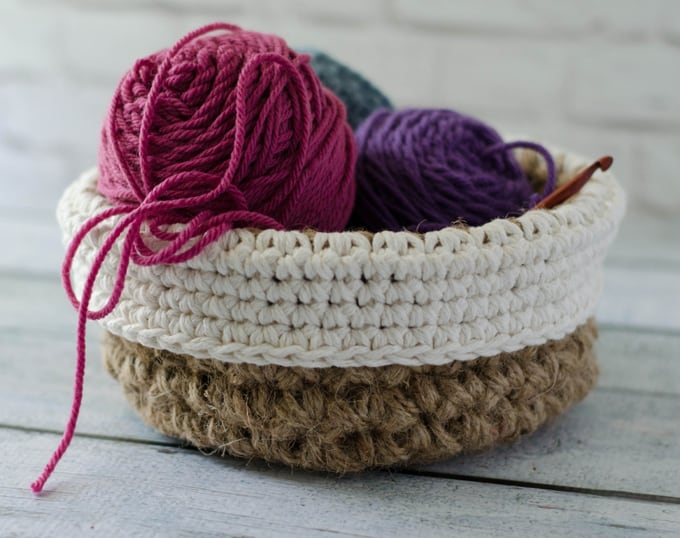 Ever since I designed the rectangle jute basket last year, I've been wanting to design a crochet round jute basket.  I designed  a tiny mini jute basket (which is adorable, by the way, and holds my paper clips at work).  But I hadn't quite gotten around to designing a full size round basket.  But sometimes fate steps in and suddenly you have an imminent need for a perfectly sized crochet round jute basket.
A few weeks ago after an otherwise uneventful weekend, my husband and I were sound asleep when, in the middle of the night, there was a loud crash.  You know the kind.  The worst kind.  The kind that tells you glass–and likely glass you like–the kind that actually means something to you–is now in a gazillion tiny pieces all over your floor.  Only you just woke up and you have no idea what has crashed.  Because who expects that at 3 am, right?
So we get up and I am thinking of far off places in the house where things might have toppled when my husband glances left out the doorway of our bedroom and announces that our 3-shelf wall mounted bookcase in our bathroom now appears to be on the floor of our bathroom.  The shelves survived. What did not were all the vintage and antique teacups, mason jars and other beautiful glass containers I was using to hold all the things that normal people store in their bathroom cupboards and closets.  Only we don't have those because we live in a tiny house.  And to clarify…our tiny house, as I've mentioned before, is the 'small house bachelor guy picked it out' variety and not the cute 'we're minimalists HGTV house'.
Once we cleaned up the mess..and I will tell you it was an ugly one…I decided that all the beautiful glass things needed to go.  I felt pretty horrible that some heirlooms my mother in law entrusted to me before she died and the only thing (a teacup) I inherited from my great grandmother were now porcelain crumbs at the bottom of a dumpster somewhere.  Solution: this beautiful crochet round jute basket.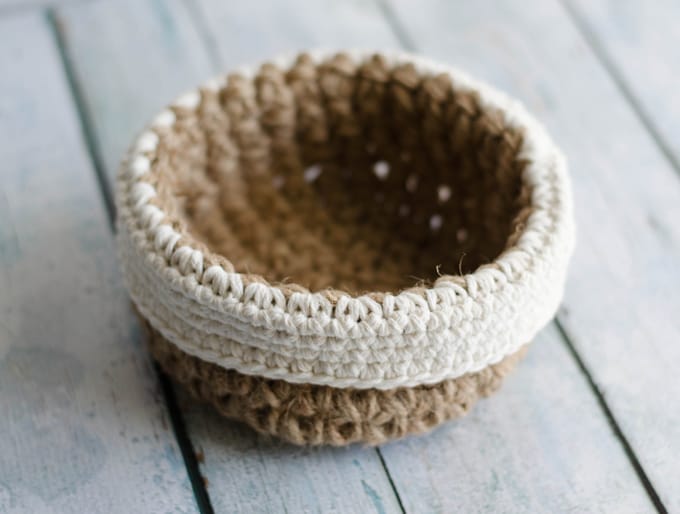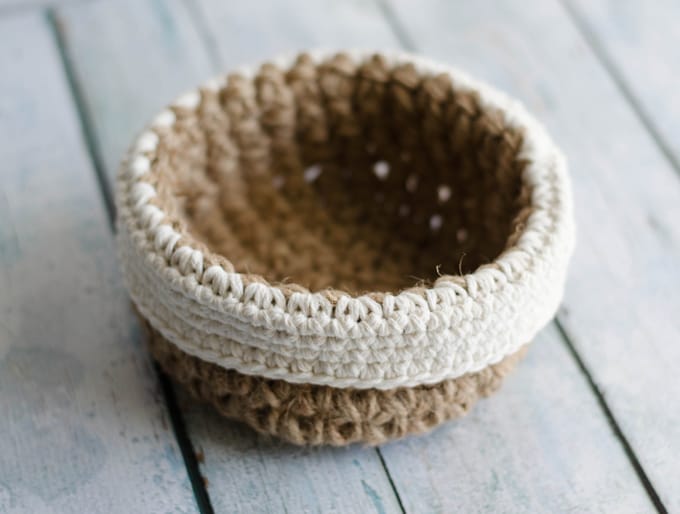 The best part about designing a pattern is getting something the exact size you want!  For this one, I pulled out a storage bowl from my kitchen cabinets, tried it out on my shelf to make sure it was a perfect fit and then started crocheting a round jute basket to roughly the same size.
It is the perfect size for a few balls of yarn and a crochet hook or two.  And perfect for filling with toiletries for a bathroom shelf.  And should it fall off a shelf, it probably won't wake you up.  Which is a pretty nice feature for a basket, wouldn't you say?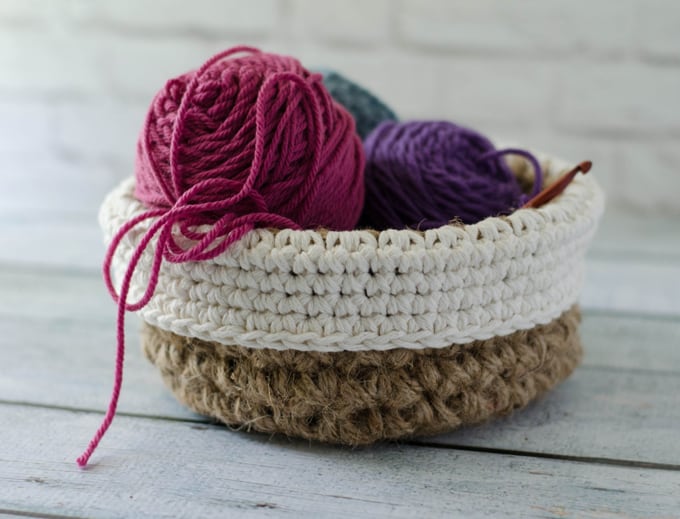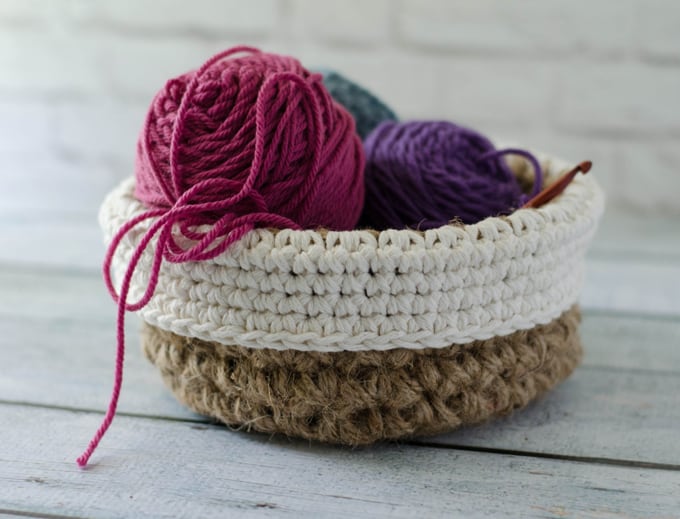 Purchase an ad-free printable version of this pattern
Crochet Round Jute Basket
Here is what you will need:
Finished basket is 3-1/2″ tall and 7-3/4″ across at the widest point.
Note: I used 2 balls of worsted weight cotton yarn and 2 balls of Natural Jute twine.  I bought the Jute twine at Hobby Lobby.  Project uses 2 strands at a time.  If you prefer, you can buy one ball of jute twine and one ball of worsted weight cotton and wind smaller balls so you can work with 2 strands at a time.  
Using 2 strands of Jute Twine, make a magic ring
R1:  6 sc into ring (6 sts).  Do not join; work in rounds.
R2:  2sc in ea st around (12 st)
R3:  *sc in next st, 2sc in next st, repeat from * around (18 st)
R4:  *sc in next 2 st, 2sc in next st, repeat from * around (24 st)
R5:  *sc in next 3 st, 2sc in next st, repeat from * around (30 st) At end of round, slip stitch to next stitch.
Now you will work up the sides of the basket in joined rounds.
R6-10: ch 1, sc in same stitch as joining, sc around, join with sl st to first sc in row.  (30 st)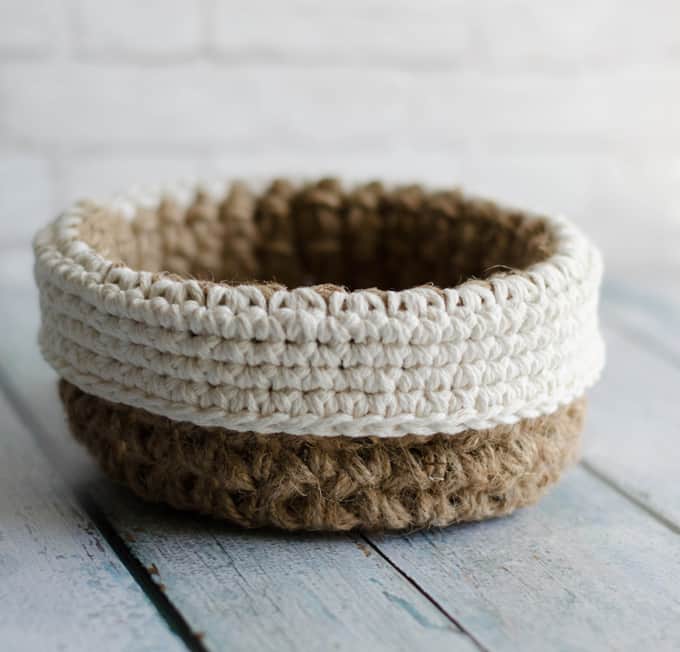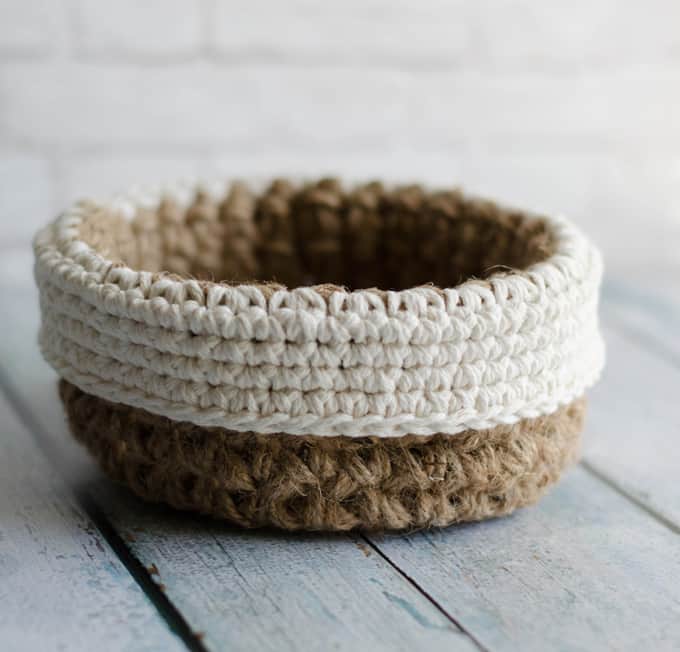 Fasten off Jute.
Using 2 strands of cotton and the I hook, position the basket so you are working with the inside of the basket facing you and attach yarn with a slip stitch. (This may feel odd because normally you work with the outside of the basket facing you.) When done you will end up folding this portion over the basket and you want the finished edge to be on the right side.
R11:  Ch 1, 2sc in same stitch as joining.  2sc in ea st around (60 st).  Join with a slip stitch to first stitch.
R12-15:  ch 1, sc around, join with a slip stitch to first stitch. (60 st).
Fasten off and weave in ends.  This is a great time to use the seamless join technique.
Remember, you can purchase an ad-free version of this pattern, if you would like.
Written pattern copyright Cheryl Bennett 2018, all rights reserved.  Please do not reprint or repost this pattern.  If you would like to share this Crochet Round Jute Basket pattern with others, just link to this page.  If you'd like to make items for sale from this pattern, please visit my About page for more information.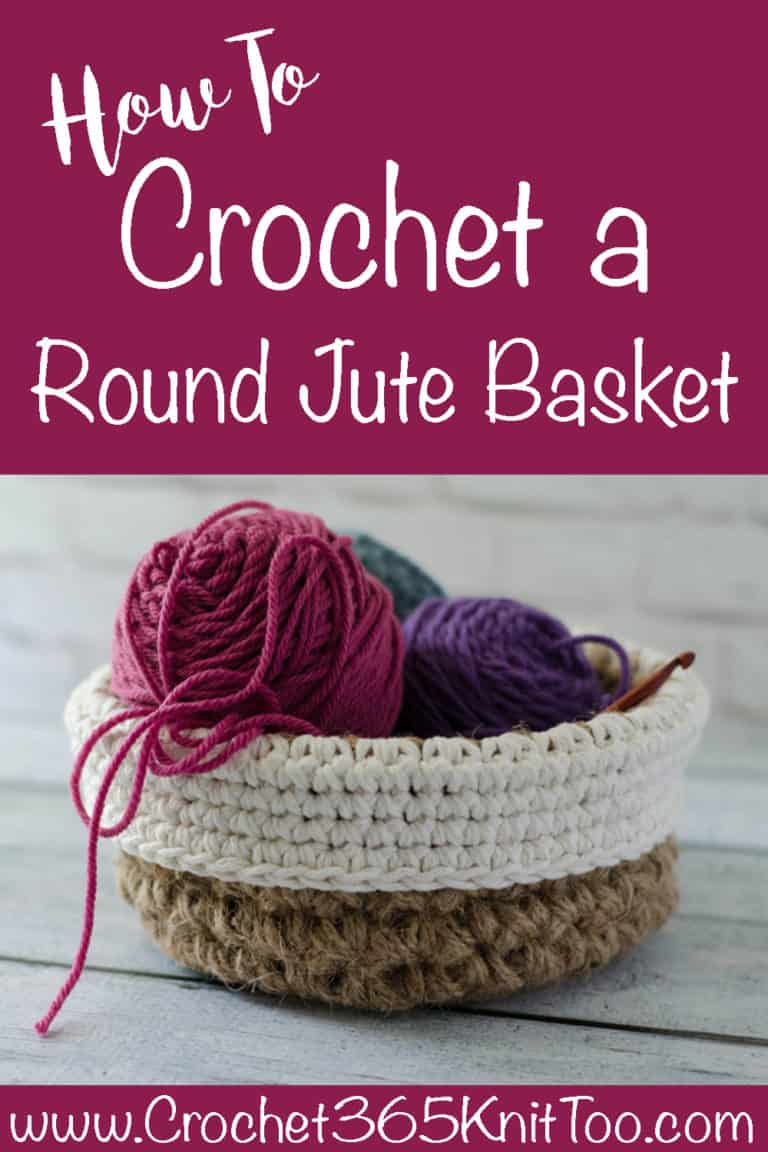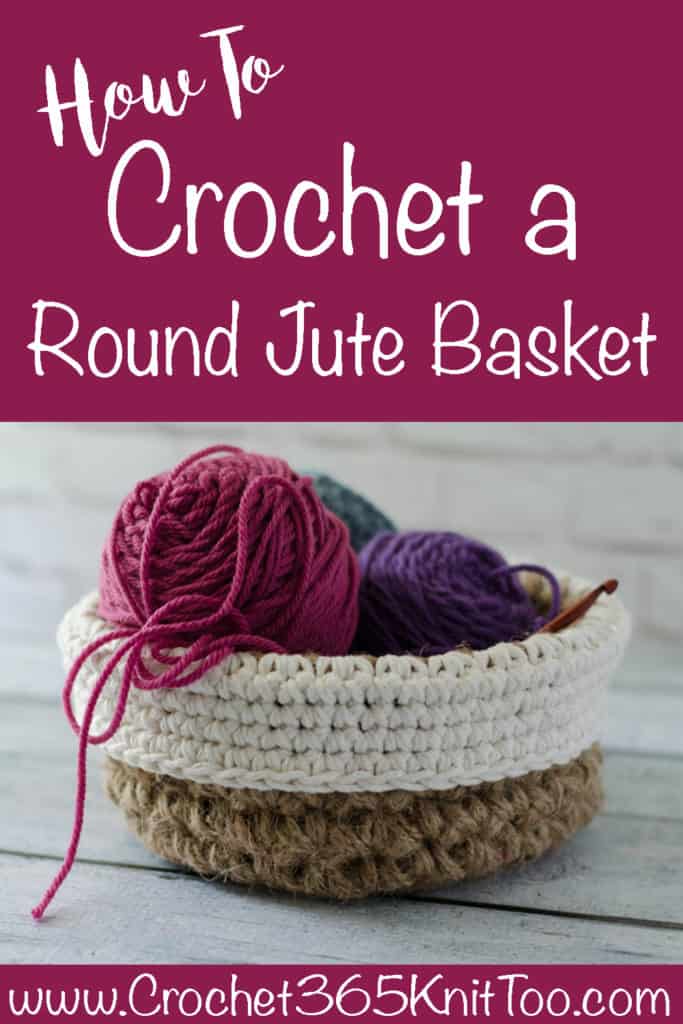 SaveSaveSaveSave
SaveSave
SaveSave
SaveSave
SaveSave
SaveSave
SaveSave
SaveSave