Crochet Citrus Coasters
This post may contain referral/affiliate links. Please read my disclosure for more info.
Nothing quite says summer like icy cold lemonade on a hot day. These crochet citrus coasters will quench your thirst for a fun and fast crochet project!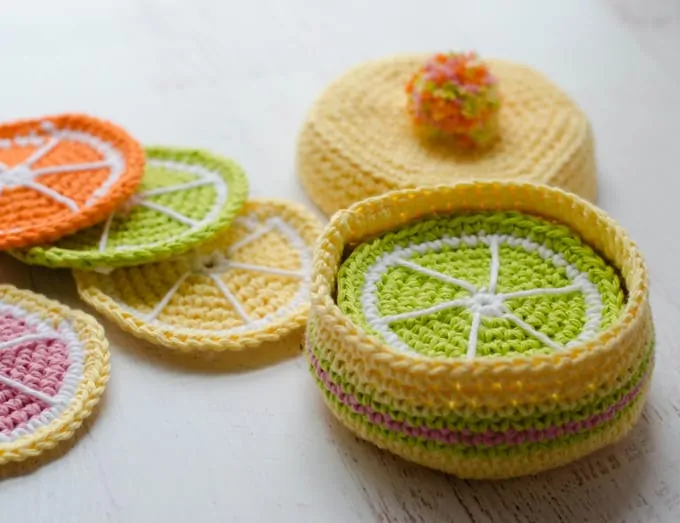 Made with cotton yarn and single crochet, they hold up well and absorb moisture from your glass while protecting your table.  The white fruit membranes are cleverly sewn, a spin on similar coasters. So grab a glass of lemonade and a crochet hook and enjoy!
Crochet Citrus Coasters Pattern
Here is what you will need:
worsted weight cotton yarn
US G6/4.00 mm crochet hook
tapestry needle, scissors.
Resources and tutorials you may find helpful in following this pattern: Crochet Abbreviations, US to UK Crochet Conversion Chart.  Find links to stitches on the "Tutorial" menu: Getting Started will show basic stitches used in many patterns and Crochet Stitch Dictionary shows our growing collection of crochet stitch tutorials.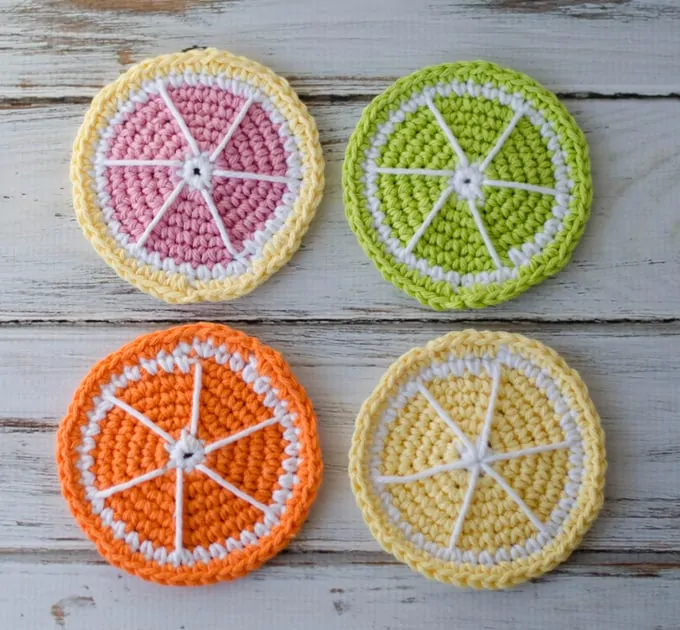 Finished coasters are about 3-3/4″ in diameter.  Use the following color combinations to make 2 each Lemon, Lime, Orange and Grapefruit Coasters:
Lemon:R1: white; R2-6: yellow; R7: white, R8: yellow
Lime: R1: white; R2-6: green; R7: white, R8: green
Orange: R1: white; R2-6: orange; R7: white, R8: orange
Grapefruit: R1: white; R2-6: pink; R7: white, R8: yellow
With White, ch 2.
R1: 6 sc into 2nd st from hook, changing to main color in last st. (6 sts). Work in rounds.
R2: With main color, 2 sc in ea st around (12 st)
R3: *sc in next st, 2 sc in next st, repeat from * around (18 st)
R4: *sc in next 2 st, 2 sc in next st, repeat from * around (24 st)
R5: *sc in next 3 st, 2 sc in next st, repeat from * around (30 st)
R6: *sc in next 4 st, 2 sc in next st, repeat from * around, change to white in last st. (36 st)
R7: With white, *sc in next 5 st, 2 sc in next st, repeat from * around, sl st to 1st st, fasten off, leaving 24" for sewing fruit membrane strands. (42 st)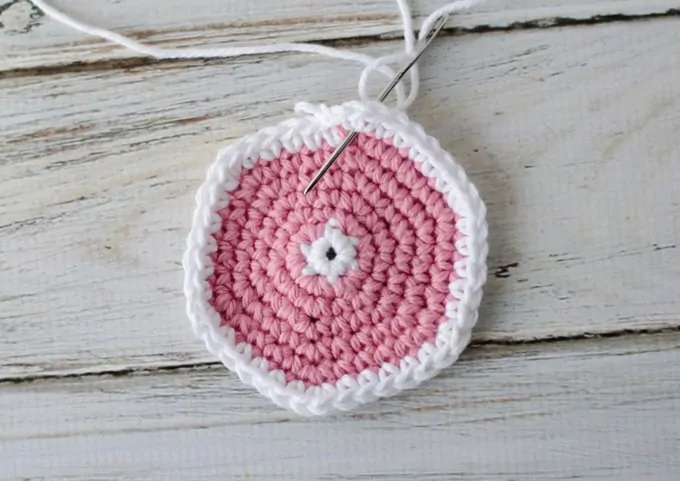 Take time out to sew membranes: On back side, thread yarn back through stitch just worked and come out in the middle of the increase in the front.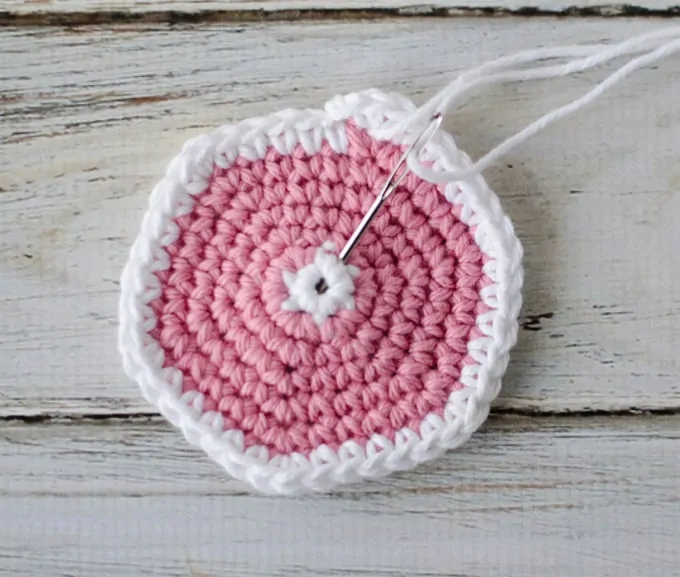 *Make a large stitch down to the top of the 1st row, come out the back and then back up through the starting point.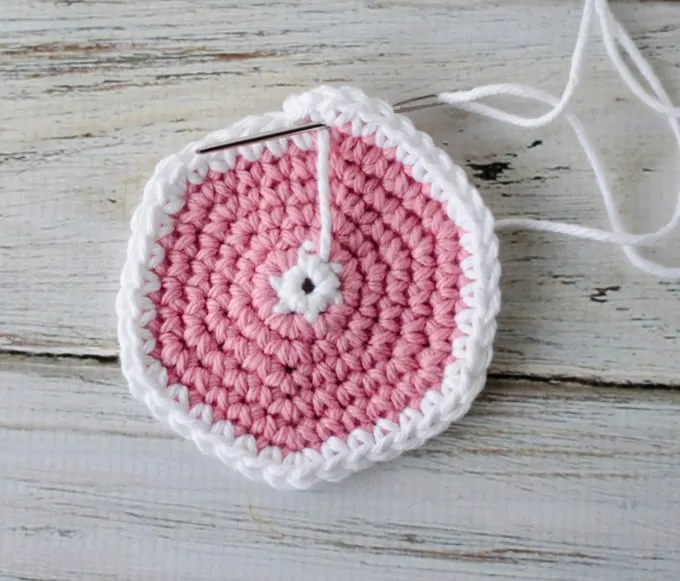 Tighten stitch and ensure it lays nice and neat.  Weave yarn under the next 6 st, so that the yarn is ready to start the next membrane strand, in between the next 2 sc increase.* Repeat * to * around.  When done with the membranes, weave the strand under several white stitches of the previous row and fasten off the white.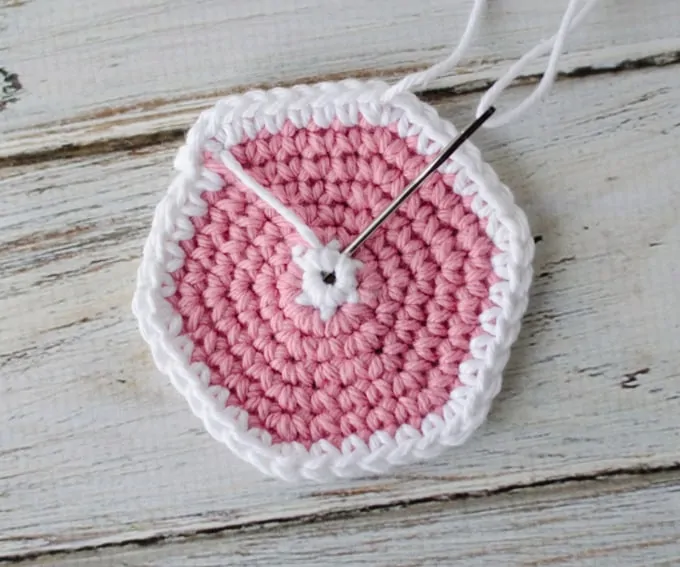 Now we will work the last row of the coaster.  To help make the coaster look more round, we will put our increases in a slightly different spot as follows: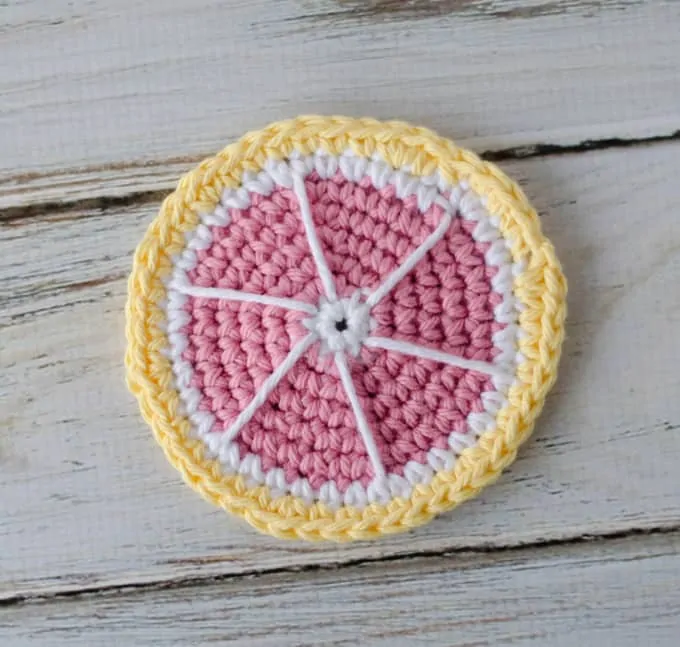 R8: With main color, attach with a standing sc in the middle of a fruit section. *sc in next 6 st, 2 sc in next st, repeat from * around. Attach with slip stitch to starting (48 st). Fasten off and weave in ends.
Be sure to check out the coordinating crochet coaster box too!
I love seeing your finished projects! If you enjoyed the Citrus Coasters I'd love to see yours on Instagram, be sure to tag me @crochet365knittoo.  If you are on Facebook, stop over to the Crochet 365 Knit Too Facebook page or pop over to the Crochet365KnitToo Club and share a photo!  I'd love to see your work!